Look no further. Our annual New Hotel Openings has become the go-to list for the industry insiders. It's the best place to get the scope of the new luxury hotels line-up.
Just like for our Top 60 in 2016, in 2017 we have sifted through hundreds of openings worldwide, narrowing the list to the absolute crème de la crème of hotels, lodges, and resorts launched that year.
Even so, if you think we overlooked a cool new opening, do let us know via our Facebook page or on Twitter. We have been revisiting the list and updating it, especially when we learned about any delayed launch.
A final thought: the hotels are listed in no particular order—perhaps except the first few, at the top. These are definitely our faves.
1Time + Tide Miavana, Nosy Ankao, Madagascar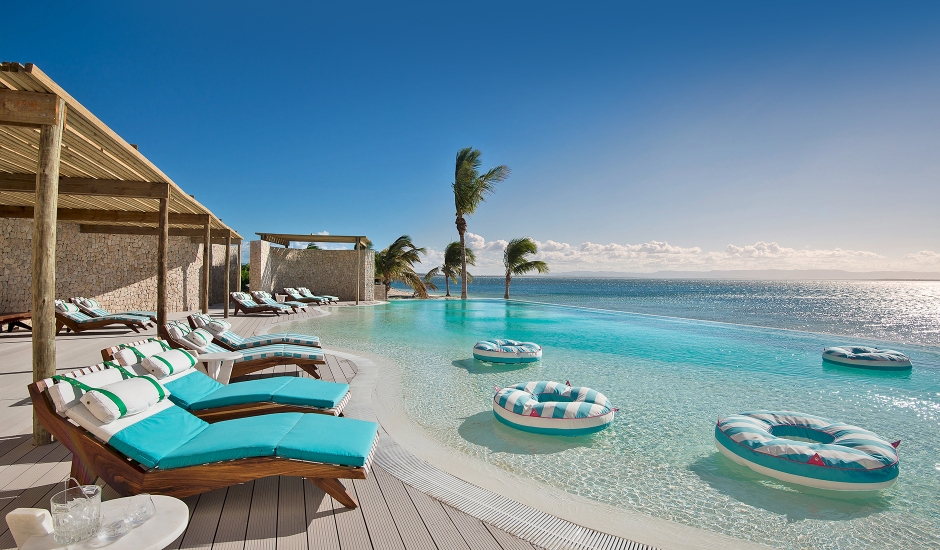 Miavana on Nosy Ankao opened just off the coast of Madagascar as the first ultra-luxury resort in the country. The stay here promises the experience of heavenly beachfront villas, designed by the acclaimed lodge architects Lesley Carstens and Silvio Rech, helicopter adventures, a world-class spa, and exotic adventures.
Website: Time + Tide Miavana. Opened April 2017. Photos © Time + Tide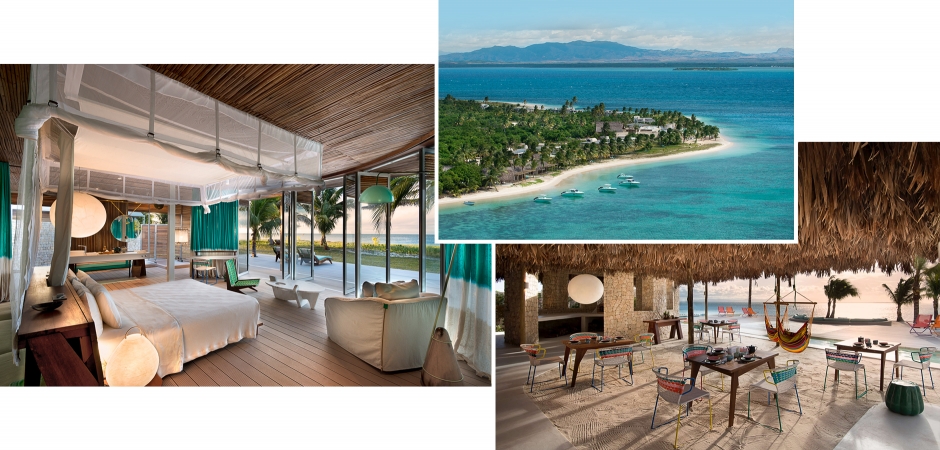 ---
2Alila Yangshuo, China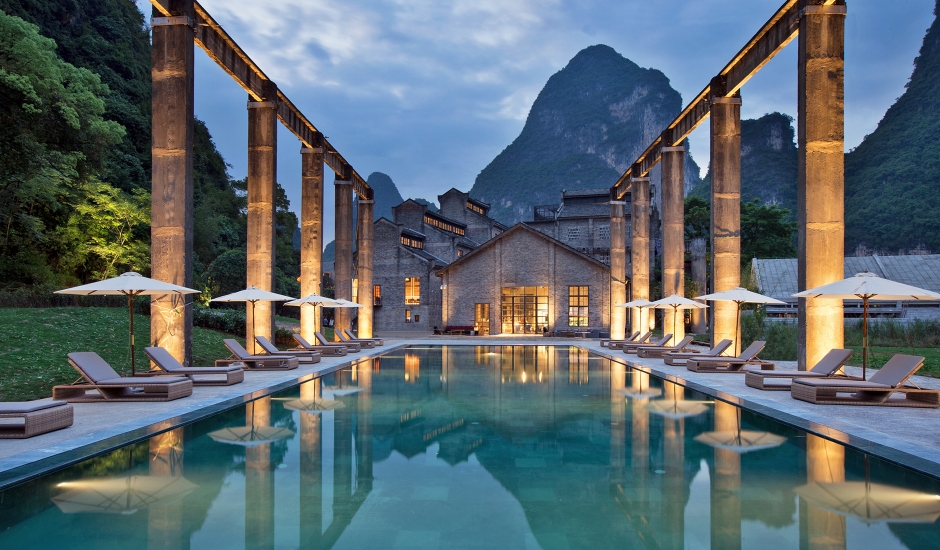 You may also like

---
Uncharted mountains
Bringing luxury and style to the pastoral setting the Guilin region, the 117-room Alila Yangshuo launched in the restored sugar mill setting, blending the 1960 architecture with chic interior design and contemporary amenities. The mill's heritage buildings were expertly adapted and transformed, the sugar pressing room into the airy Sugar House Restaurant, and the refining room into the exclusive 1969 Bar. Among the brand new facilities is the expansive outdoor pool, framed by dramatic steel columns that used to be part of the sugarcane dock, and Alila's subterranean spa, built from volcanic rock.
Website: Alila Yangshuo. Opened: July 2017.
Photo © Alila Hotels and Resorts
---
3Bawah Reserve, Indonesia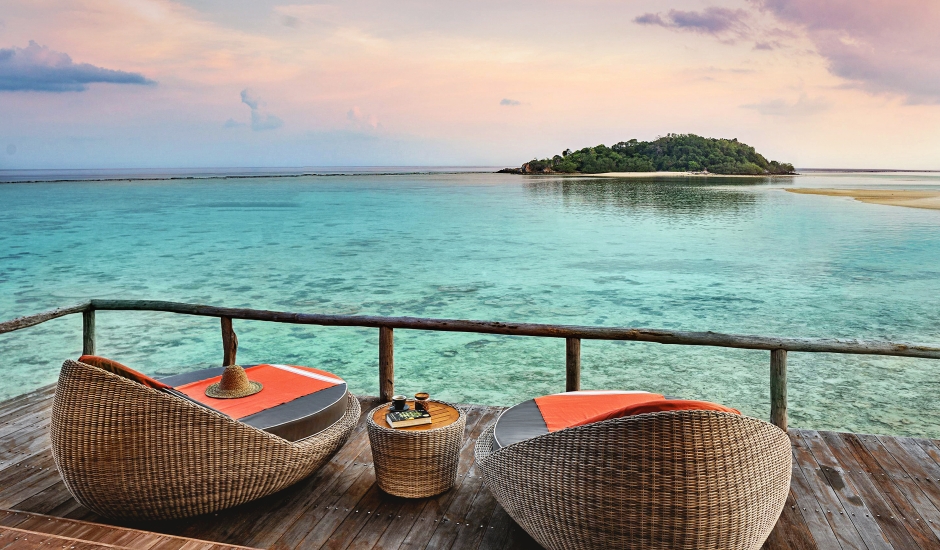 This island resort is located only 150 nautical miles off Singapore, but it could just as well be a world away. Getting there is an adventure in itself, and it feels like being gradually removed from civilization. And the destination is a picture-perfect, tiny archipelago of previously uninhabited islands surrounded by turquoise waters, and covered by lush tropical greenery. Combine it with a visit to Singapore as a perfect counterpart to a city break in the bustling metropolis.
Read our Bawah Reserve review.
Website: Bawah Reserve. Opened: end of 2017. Photos © Bawah Reserve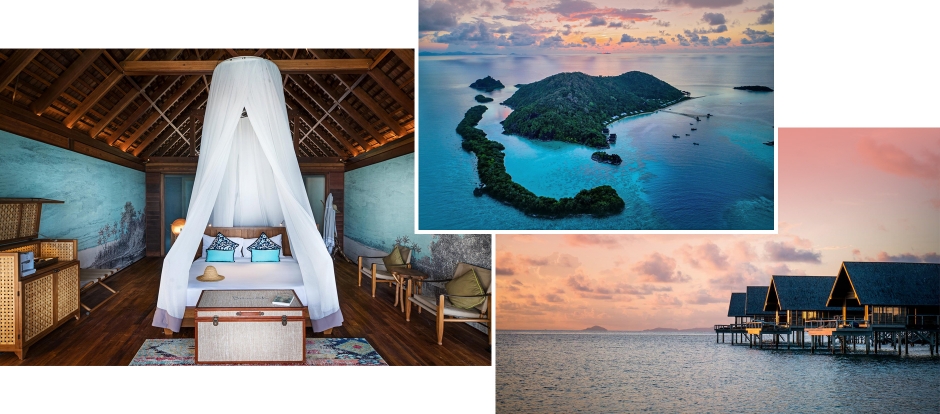 ---
4The Ritz-Carlton Langkawi, Malaysia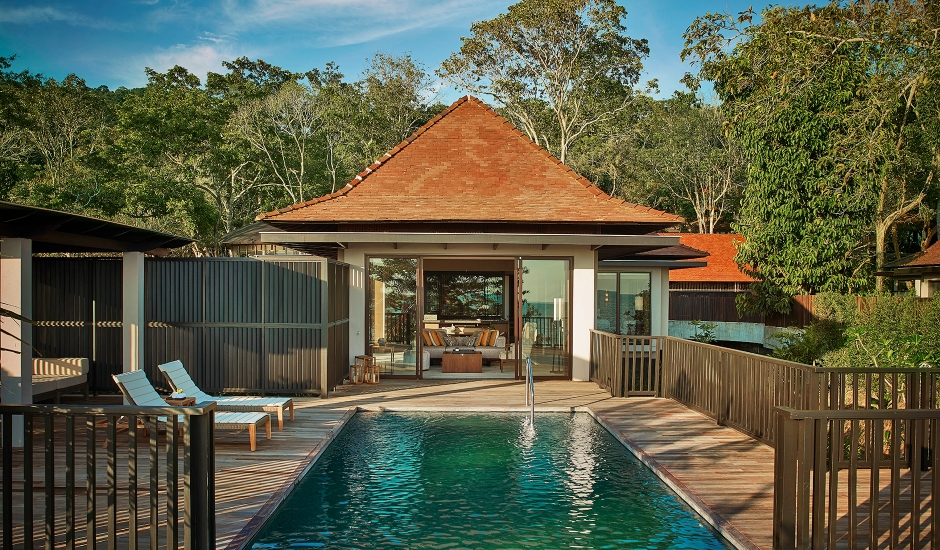 Ritz-Carlton came to Langkawi to become one of the very best resorts on the island, and its blend of contemporary luxury with the concept of a traditional kampong village is certainly a head-turner. The hotel features three swimming pools, a spa, and various restaurants, all surrounded by the verdant rainforest and the Andaman Sea.
Website: The Ritz-Carlton Langkawi. Opened: September 2017.
Photo © The Ritz-Carlton Hotel Company
---
5Jabali Ridge, Ruaha National Park, Tanzania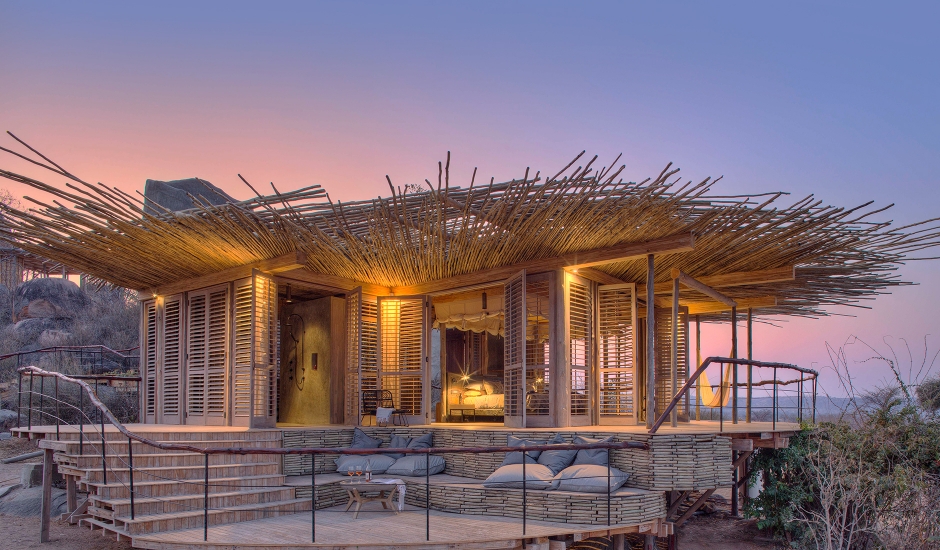 Only a handful of visitors in the huge Ruaha National Park disturb the peace of this patch of Tanzania, leaving the park mostly for the exclusive use for the guests of the Jabali Ridge. This alone promises an unforgettable safari experience. Set amongst rocky boulders and overlooking a landscape that inspired the lodge's design, the Jabali Ridge's 10 suites, an infinity pool, the spa ensure an ultimate relax after a day in the bush.
Website: Jabali Ridge. Opened September 2017. Photos © Asilia Africa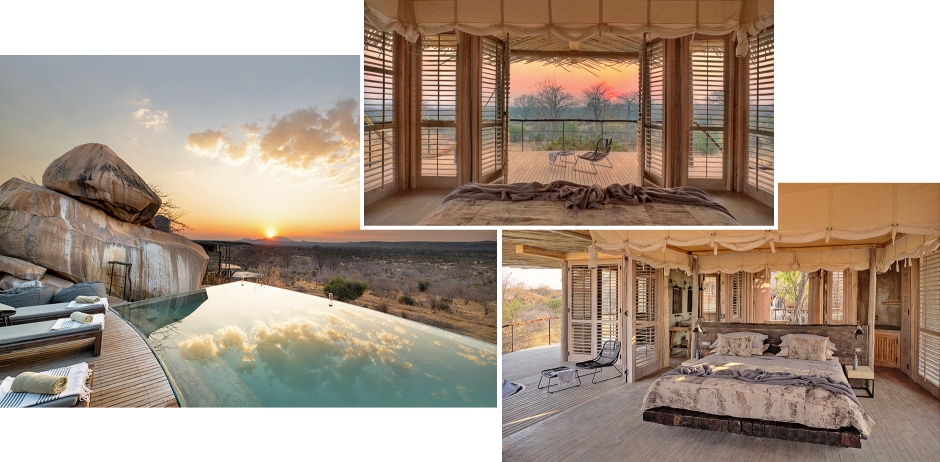 ---
6Four Seasons Private Island Maldives at Voavah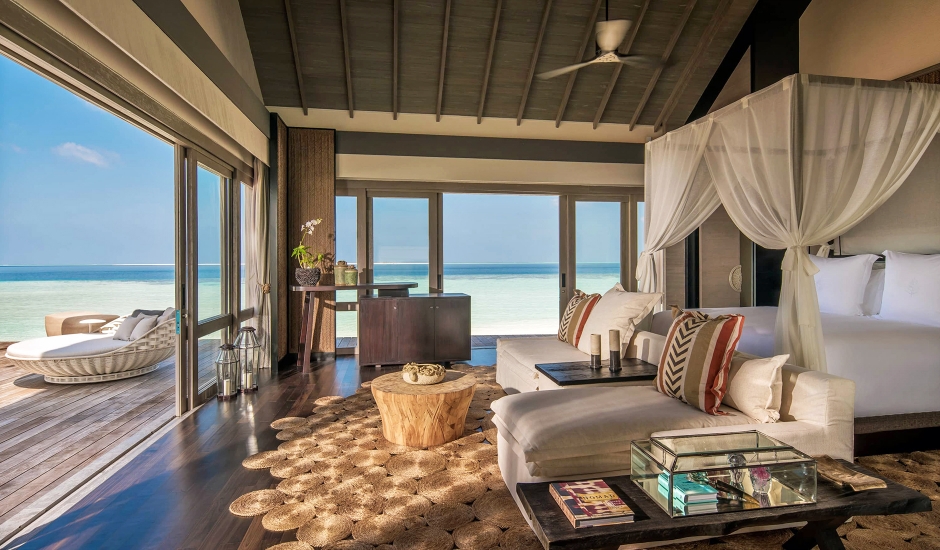 The Four Seasons Private Island Maldives at Voavah, Baa Atoll offers an "exclusive use" hideaway, an island that comes with seven bedrooms, a spa, a certified PADI dive center… and a 62-foot luxury yacht. But there is more: the guests also have free access to facilities of the nearby Four Seasons Resort Maldives at Landaa Giraavaru. In case you want to see other people.
Website: Four Seasons Private Island Maldives at Voavah.
Opened: January 2017. Photo ©  Four Seasons Hotels Limited
---
7Nobis Hotel Copenhagen, Denmark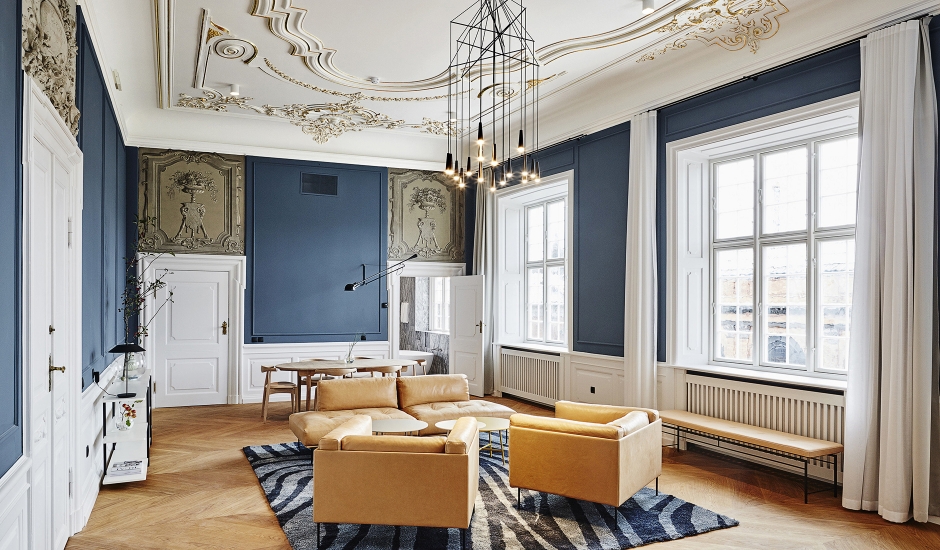 Changing gears considerably—welcome to the new opening from Nobis, created in the former Royal Danish Conservatory of Music. Thanks to this heritage and sophisticated elegance of its interiors, the hotel ensures a Scandinavian luxury wrapped in a sublime design that balances the contemporary and the classicistic. The location grants easy access to the neighboring City Hall Square, Copenhagen Central Station, and the Tivoli Gardens.
Website: Nobis Hotel Copenhagen. Opened: Summer 2017. Photos © Nobis Hotels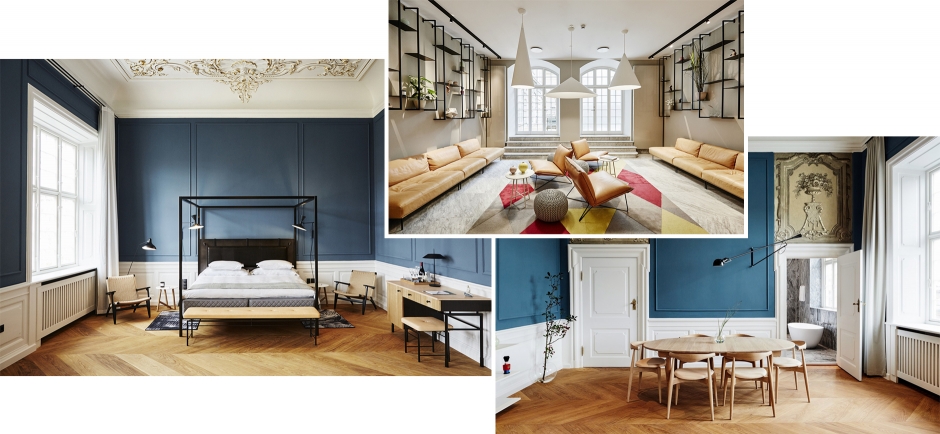 ---
8Rosewood Phuket, Thailand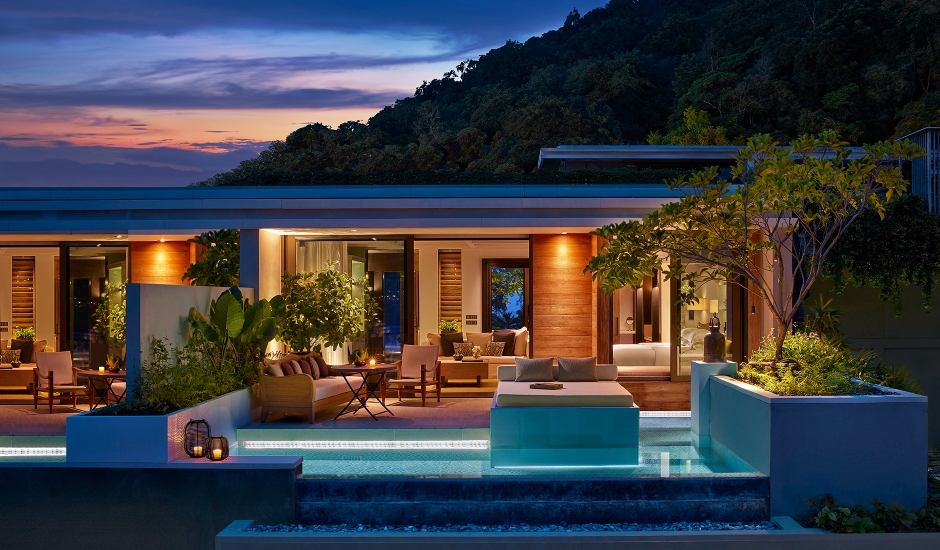 You may also like

---
In the heart of Beijing
Rosewood Hotels & Resorts conquers the competitive Phuket hospitality market with a beautiful resort blended into a hillside forest. The hotel sets a bar high to competitors, thanks to its sophisticated architecture, spacious villas, and the sublime, Thai-infused interiors. The health-and-fitness offering is extensive, and the hotel facilities also include four swimming pools and four restaurants, among which the seafood beach-side joint is built in a rustic style from recycled teak wood.
Website: Rosewood Phuket. Opened: November 2017.
Photo © Rosewood Hotels and Resorts
---
9Wild Coast Tented Lodge, Yala, Sri Lanka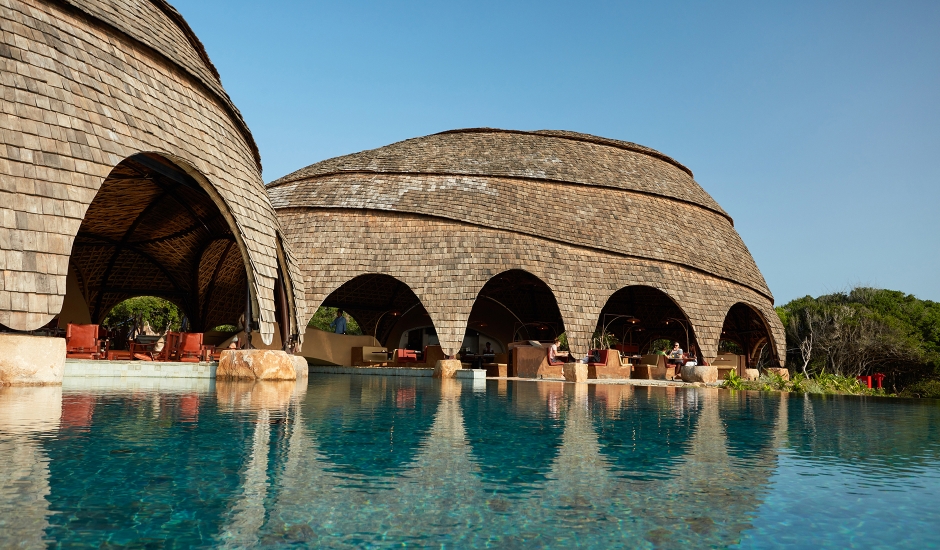 The twenty-eight air-conditioned tented structures, specially designed for the lodge, wow with a futuristic design. Set upon a secluded beach in the Yala National Park, frequented by the leopards, this tented lodge offers an experience of a jungle hideout with all the luxuries of a deluxe contemporary resort.
Read our Wild Coast Tented Lodge review.
Website: Wild Coast Tented Lodge. Opened: mid-2017.
Photos © Resplendent Ceylon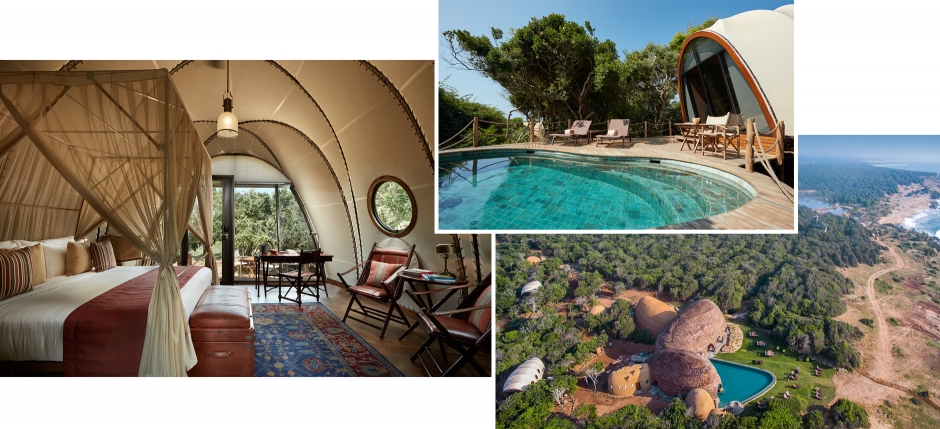 ---
10Hotel de Crillon, A Rosewood Hotel, Paris, France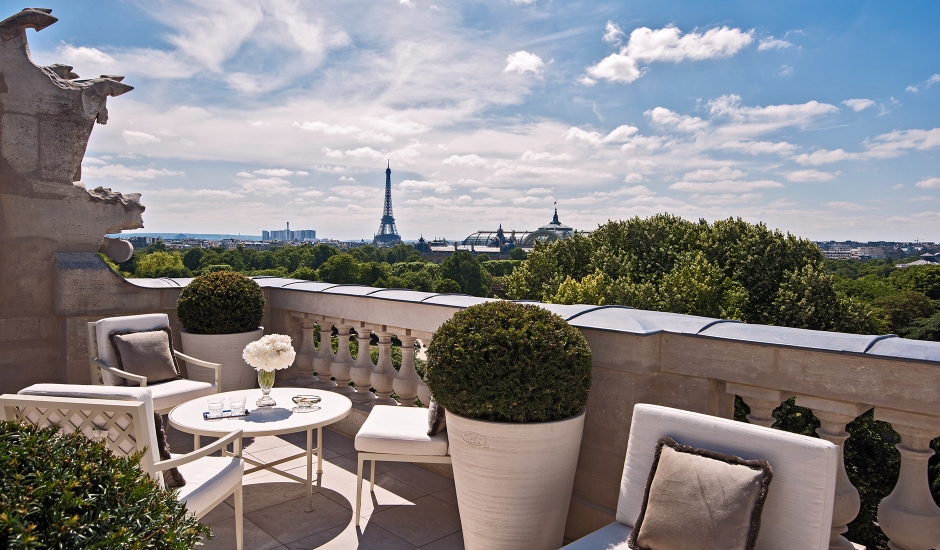 Hôtel de Crillon has finally re-opened following an extensive and thoughtful renovation that included new additions, such as two suites designed by Karl Lagerfeld. This landmark establishment in the Place de la Concorde is a true Paris icon, hosting the who's who of the world since 1758.
Website: Hotel de Crillon. Opened: 2017. Photo © Rosewood Hotels and Resorts
---
11Bisate Lodge, Rwanda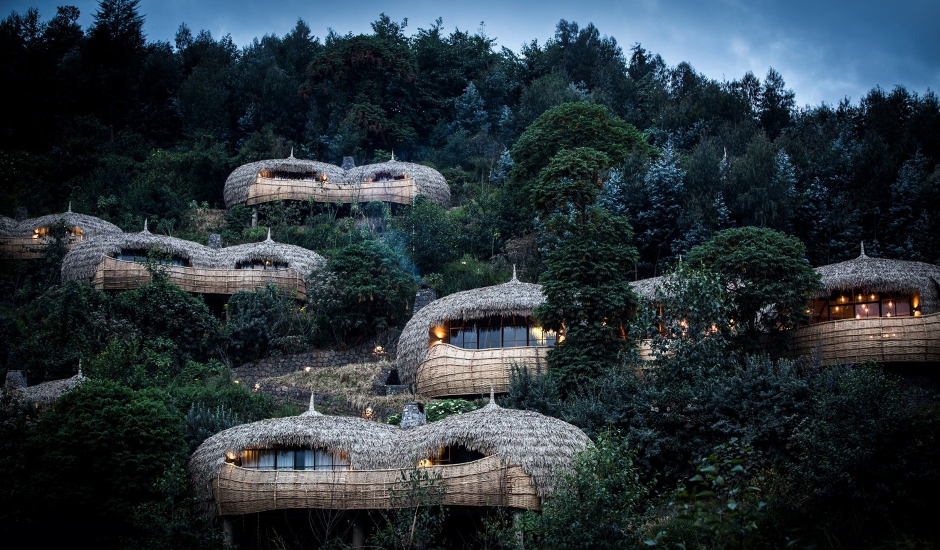 Wilderness Safaris focuses on ecotourism with this impressive Lodge in Rwanda, built on the Albertine Rift, an extinct volcano located in a wildlife corridor, crucial to the conservation efforts of critically endangered mountain gorillas. The exclusive lodge comprises only six villas, admitting a maximum of 12 guests. The Bisate takes advantage of beautiful views of the Bisoke, Mikeno, and Karisimbi volcanoes, and the design is a worthy match to the beautiful nature surrounding the lodge.
Website: Bisate Lodge. Opened in June 2017. Photos © Wilderness Safaris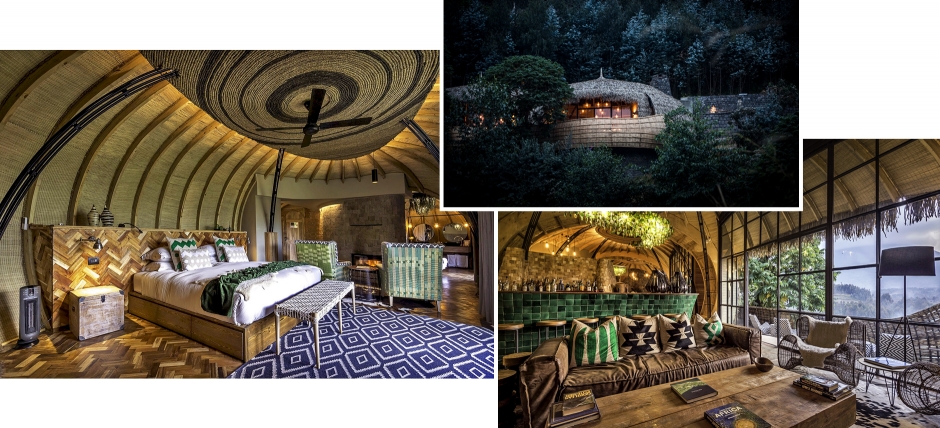 ---
12Alila Fort Bishangarh, Jaipur, India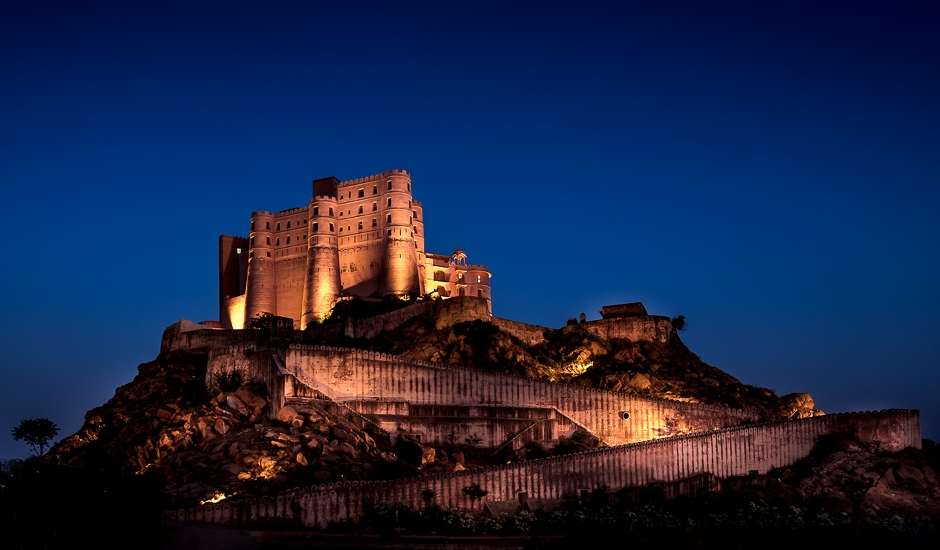 With a delay, but Alila launched in Jaipur, Rajasthan, as a heritage resort housed in a 230-year-old fort. The hotel beautifully preserves the Jaipur Gharana architecture, influenced by both the Mughals and the British. The Bishangarh features 59 suites, Spa Alila, swimming pool, and various dining venues.
Website: Alila Fort Bishangarh. Opened: February 2017.
Photo © Alila Hotels & Resorts 
---
13The Hoxton, Paris, France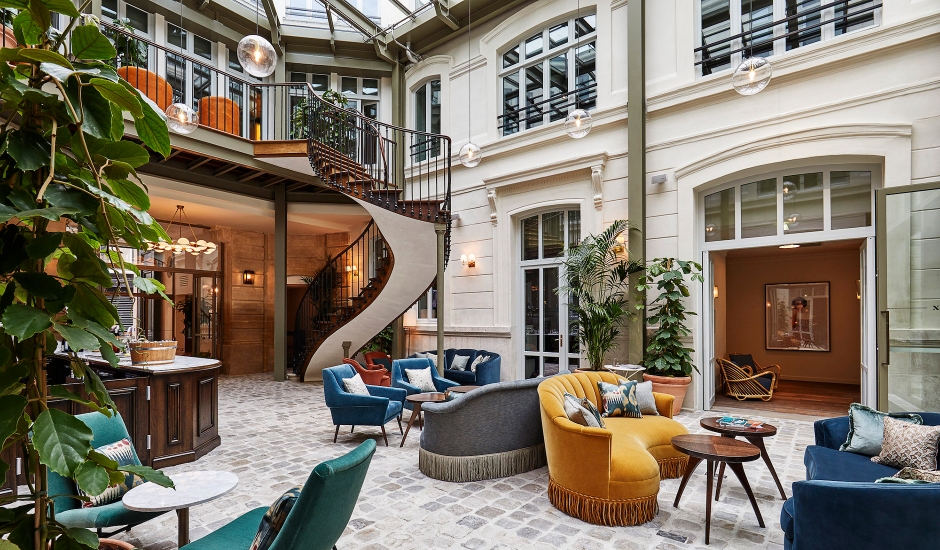 The 2nd Arrondissement in Paris is well worth exploring, if only for its hip bars and restaurants. It's also home to The Hoxton, a cool city hotel housed in a historically-important 16th-century property. The hotel is the company's fourth outpost and has already become a landmark opening for the "affordable luxury" brand from London.
Website: The Hoxton Paris. Opened: 2017. Photo © The Hoxton
---
141Hotel Brooklyn Bridge, New York City, US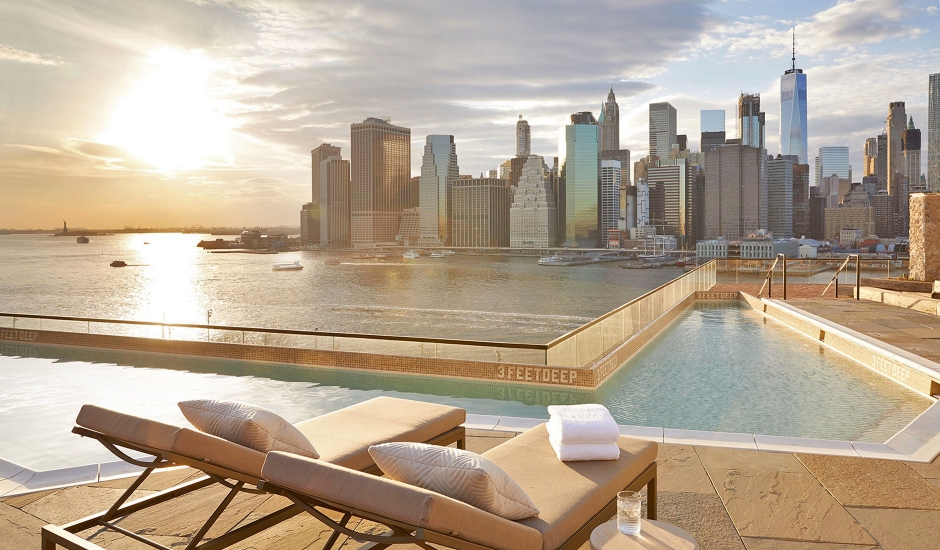 This uber-cool NYC hotel has excellent views of the Brooklyn Bridge and Manhattan cityscape, especially from the rooftop facilities, with its lovely swimming pool. Located on the Brooklyn side, the hotel has opened with 194 rooms, four dining venues, and a market stall selling fruit and granola bars in the lobby. Special perk: guests have access to a Tesla vehicle for complimentary rides (limited to a 4.8 km radius).
Website: 1Hotel Brooklyn Bridge. Opened: February 2017. Photo © 1Hotels
---
15Time + Tide King Lewanika, Zambia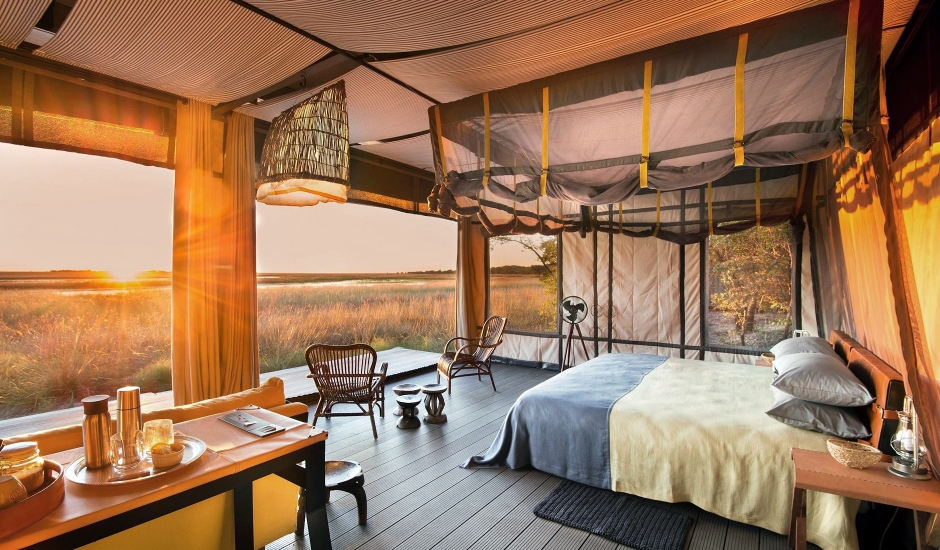 You may also like

---
An old camp's the new beginning
Moving across the globe, let's look at Africa, and Zambia in particular, which has been recently seeing some exciting developments from the world of luxury safaris, including the beautiful Chinzombo. The company behind it has now added another Zambia Lodge to its portfolio.
The King Lewanika, located in Liuwa Plain National Park, is just as well designed — which does not surprise, as the acclaimed designers behind Chinzombo Silvio Rech and Lesley Carstens are also responsible here. And it is just as exclusive, with six luxury villas and able to accommodate only up to fifteen guests.
Website: Time + Tide King Lewanika. Opened April 2017. Photos © Time + Tide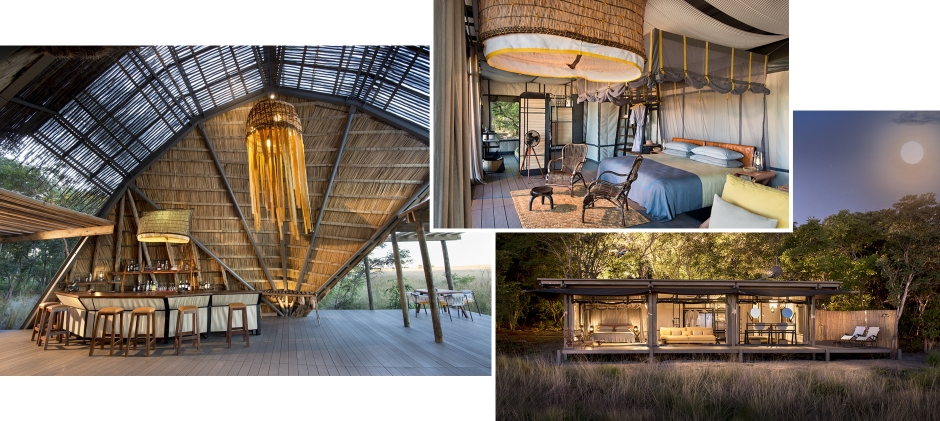 ---
16Verride Palácio Santa Catarina, Lisbon, Portugal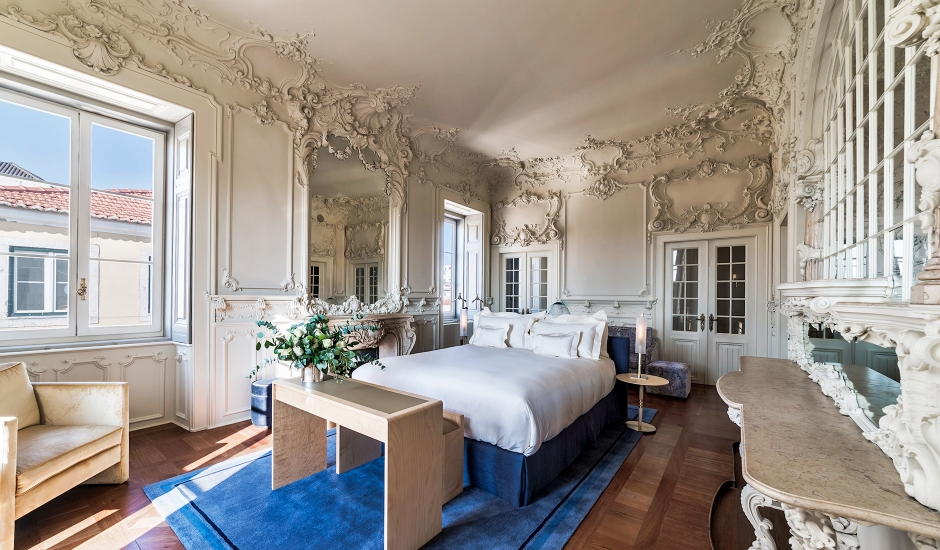 The Dutch owners of the Verride Palácio Santa Catarina turned an 18th-century townhouse into a 19-room boutique hotel, and one of Lisbon's most beautifully-restored historical properties. Blending classical Portuguese architecture with contemporary décor, the first-time hoteliers created a sophisticated, glamorous place. Rococo-style molding, hand-painted 18th-century Azulejo-tiled murals, and intricately carved wood paneling create the backdrop to velvet furniture, glass orbs, and rattan chairs. The hotel features contemporary cuisine at Suba, a chic gastro bar that offers sweeping views of the city, and the subterranean Criatura, with traditional Portuguese fare.
Website: Verride Palácio Santa Catarina. Opened: October 2017.
Photo © Verride Palácio Santa Catarina
---
17Six Senses Krabey Island, Cambodia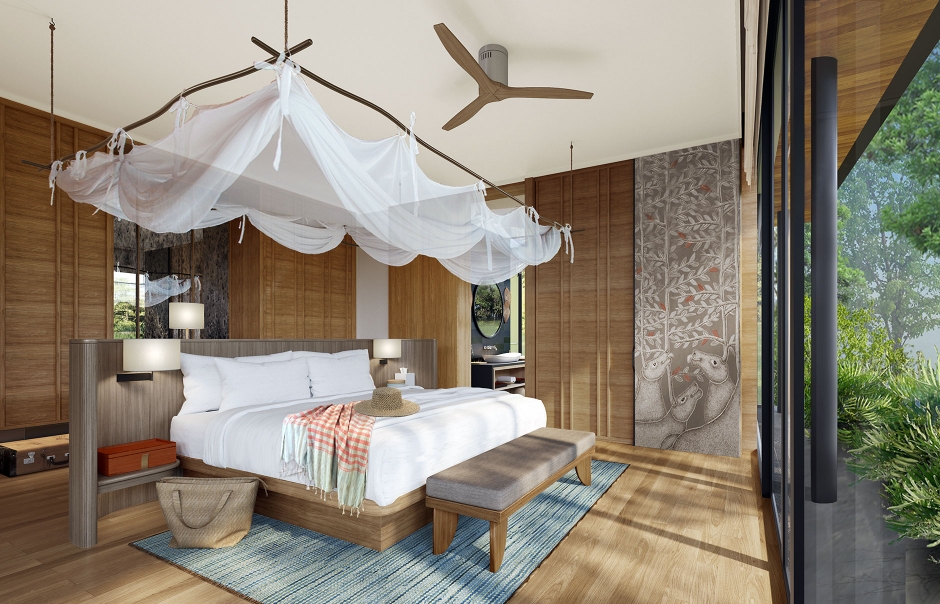 The 40 pool villas of the Six Senses Krabey are landscaped into a private island in the Sihanoukville area—a destination that has become a hot spot for the island resorts in Cambodia (and where we visited not long ago). The resort features the famous Six Senses Spa, two poolside restaurants, and, in the true Six Senses style, a deli complete with an ice cream parlor.
Website: Six Senses Krabey Island.
Opening: Q1 2017. Update: delayed to 2019.
Renderings (including the leading image at the top of the article) © Six Senses Resorts & Spas
---
18JW Marriott Phu Quoc Emerald Bay Resort, Vietnam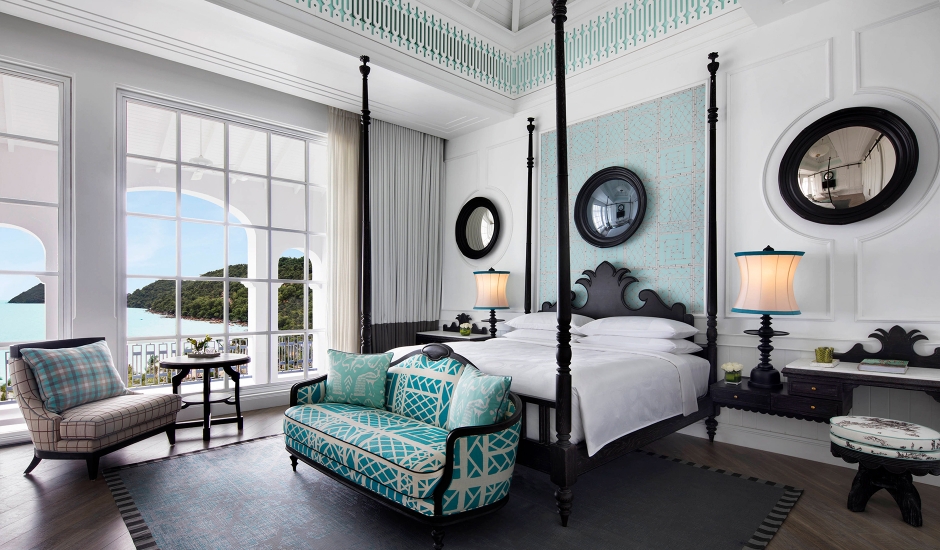 Designed by a renowned resort architect Bill Bensley, and nestled by the beautiful beach of Bai Khem, JW Marriott Phu Quoc Emerald Bay is a lavish beachfront hotel, located in a complex what was once a 19th-century French university. Reimagined as an eclectically themed playground, with a private beach, a seashell-shaped swimming pool, indulgent Spa by JW, and elegantly designed rooms and indulgent villas, the hotel also offers gourmet dining in five sophisticated restaurants and bars.
Website: JW Marriott Phu Quoc Emerald Bay Resort & Spa. Opened: 2017.
Photo © Marriott International
---
19Bulgari Resort, Dubai, UAE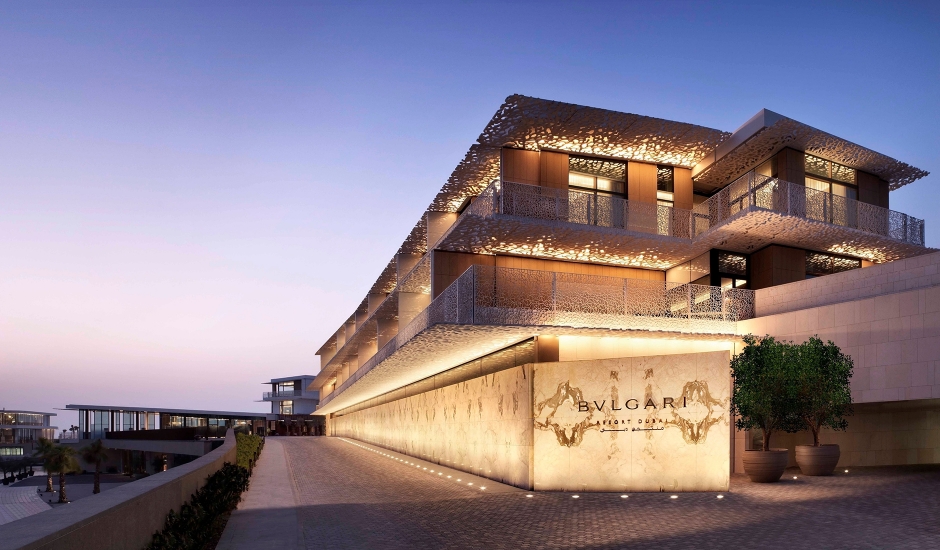 Dubai is an excellent destination for Bulgari, the luxury jewelry brand from Italy, to open one of its urban sanctuaries. Bulgari Hotels and Resorts has only a handful of properties in its portfolio, but each resort is a true jewel. Bulgari Resort Dubai is located off the coast of Jumeirah Beach, on the artificial Daria Island, formed in the shape of a gigantic seahorse. The hotel complex is spread over a vast area, with lush landscaped gardens, a marina, and a full range of luxury amenities — and all that to serve guests in only 100 rooms and suites, and 20 residential villas.
Website: Bulgari Resort Dubai. Opening: 2017. Photo © Bulgari Hotels & Resorts
---
20Hotel Sanders, Copenhagen, Denmark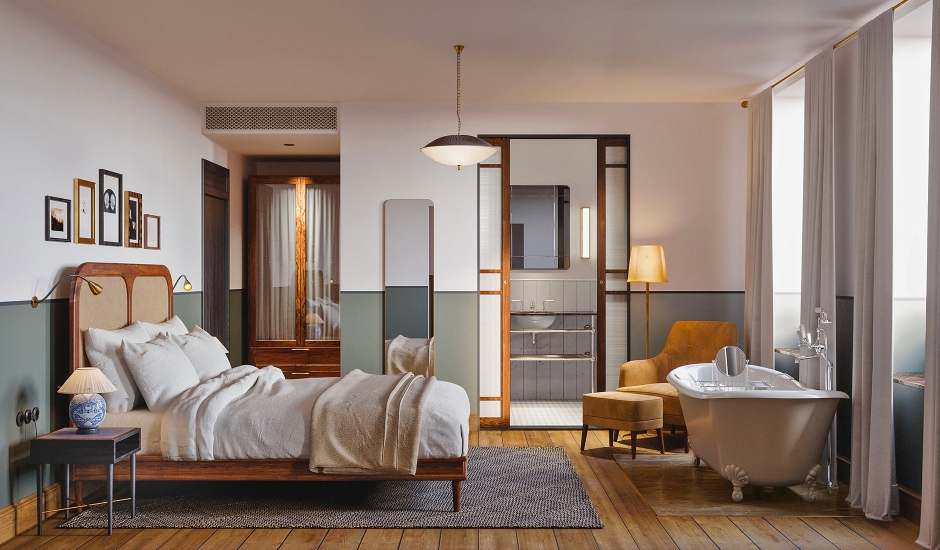 Located in an 1869 townhouse, the 53-room Hotel Sanders exudes coziness and nostalgia blended with contemporary style and lush comforts, with elegant rooms designed to high-end boutique standards. The public spaces of the hotel are chic and well equipped, from the Kitchen restaurant to the Tata cocktail bar and the rooftop Conservatory. The service concept at Sanders is centered around a "curated stay", in which guests are given ideas and itineraries to experience Copenhagen in the best way.
Website: Hotel Sanders. Opening: 2017. Photo © Hotel Sanders
---
21 Singita Sweni Lodge, Kruger Park, South Africa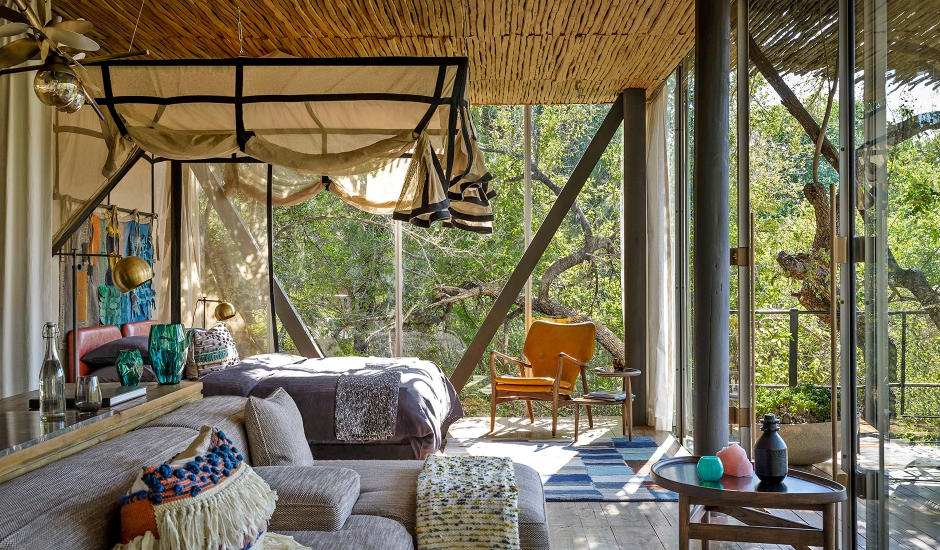 Singita is one of the most admired brands of luxury lodges in Africa. With the intimate Sweni Lodge, the company brings bold contemporary design, architecture, and cuisine to the remote corner of Kruger National Park. Perched on the banks of the Sweni River, the lodge exudes glamour and refined luxury, and its seven suites, hidden under a canopy of trees, are private and exclusive. Each features open-plan interiors, a generously stocked minibar, two bathrooms, and an outdoor shower overlooking the river.
Website: Singita Sweni Lodge. Re-opened in July 2017. Photos © Singita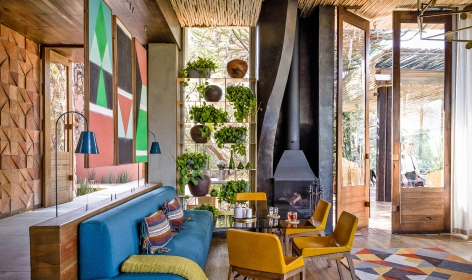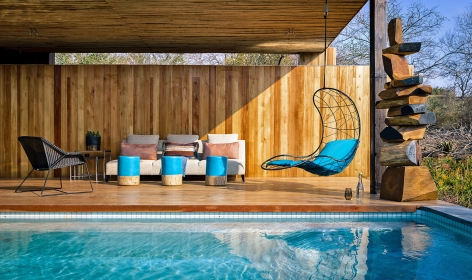 ---
22Bensley Collection – Shinta Mani Siem Reap, Cambodia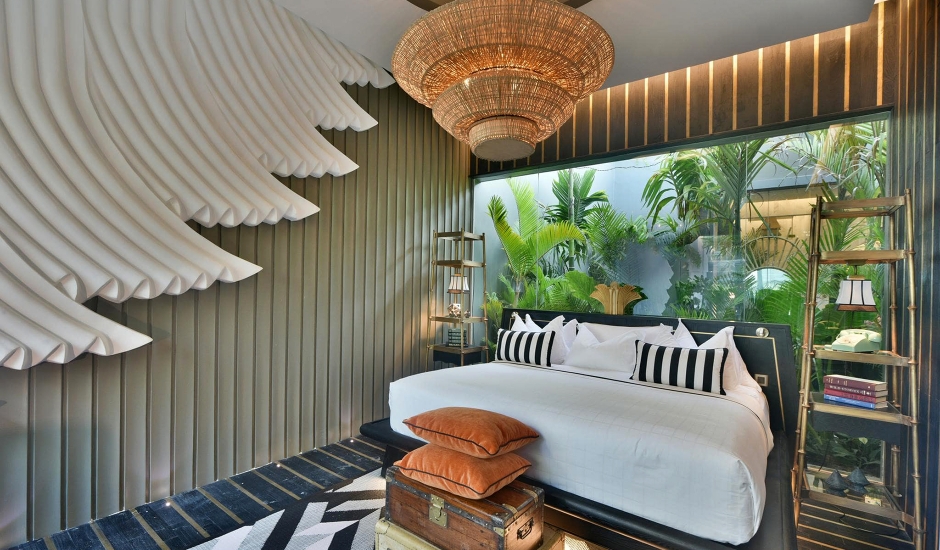 Located in the famed temple town of Cambodia, this is the debut flagship of the luxe brand of Bill Bensley, the renowned hotelier and architect. Shinta Mani Siem Reap delight, surprise and inspire their guests with beautifully sculpted façades and Khmer-inspired architecture as a backdrop to urban-chic interiors. There are only ten high-walled villas, featuring oversized lap pools, a rooftop living room, and stone bathtubs set in private gardens.
Website: Bensley Collection – Shinta Mani Siem Reap.
Opened: December 2017. Photo © Bensley Collection
---
23OKU Hotel Kos – Former Casa Cook Kos in Kos, Greece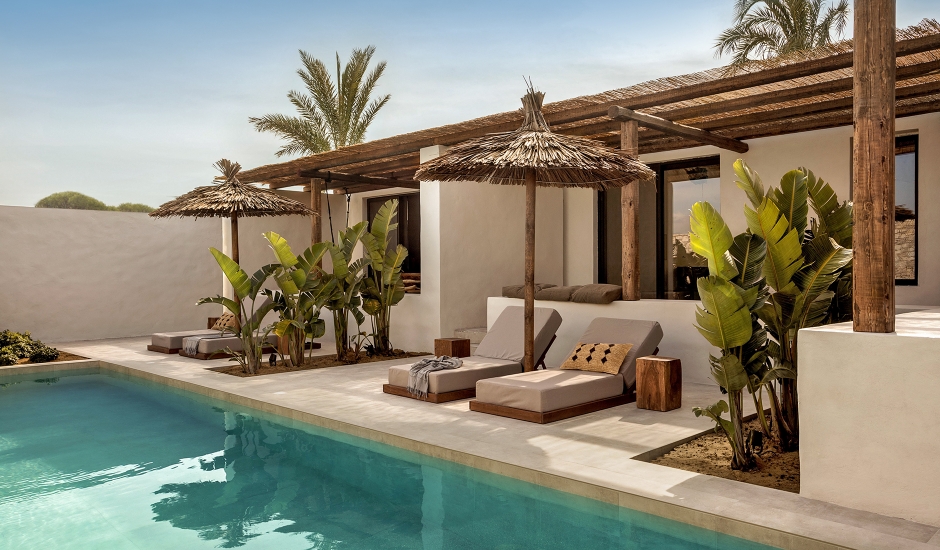 Formerly Casa Cook Kos, OKU Kos has been designed as a place of laidback luxury, aimed at couples and families without children. Among the accommodation options are villa suites, imagined as private sanctuaries. The design combines with rough, natural textures with mid-century furniture and handmade pieces. The hotel offers in and outdoor dining, open kitchens, and a bar with terraces on the poolside or overlooking the beach and sunset.
Website: OKU Hotel Kos. Opening: Summer 2017. Photos © OKU Hotels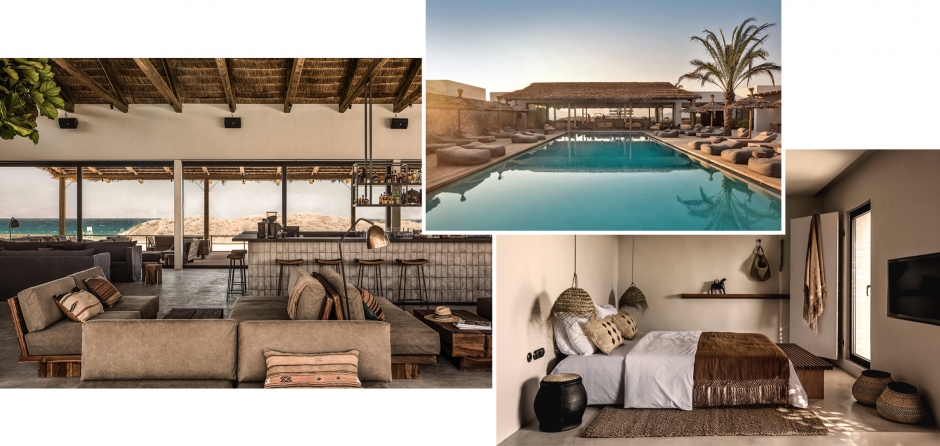 ---
24The Silo Hotel, Cape Town, South Africa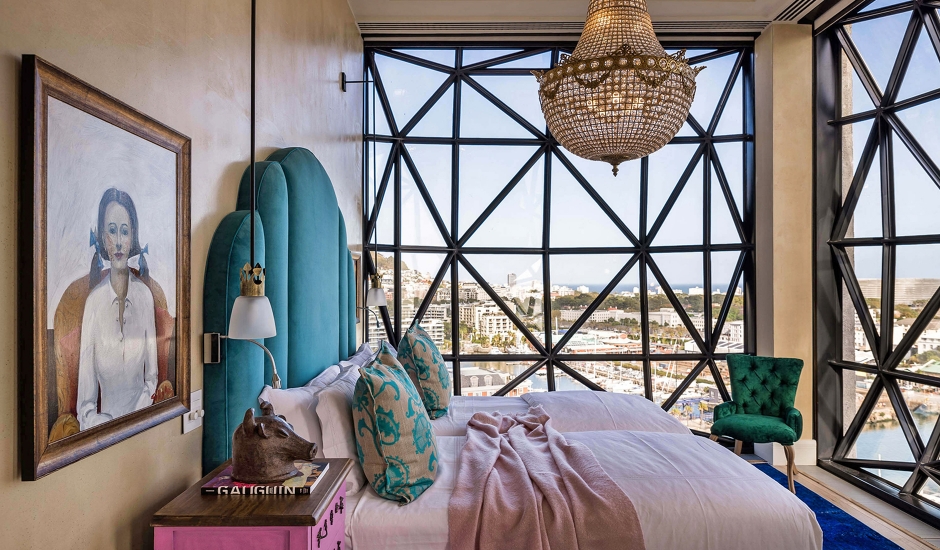 Located within six floors above the Zeitz Museum of Contemporary Art Africa (MOCAA) in a converted grain silos complex, this hotel is part of a landmark development. Created by the world-famous Thomas Heatherwick Studio, this new addition to Cape Town's skyline is defined by modern geometry and avant-garde spirit. The hotel has only 27 rooms of various categories, plus a spectacular penthouse. Eclectic furniture and accents of intense colors are juxtaposed against industrial architecture, creating a unique vibe.
Website: The Silo Hotel. Opened in March 2017. Photo © The Royal Portfolio
---
25Park Hyatt Bangkok, Thailand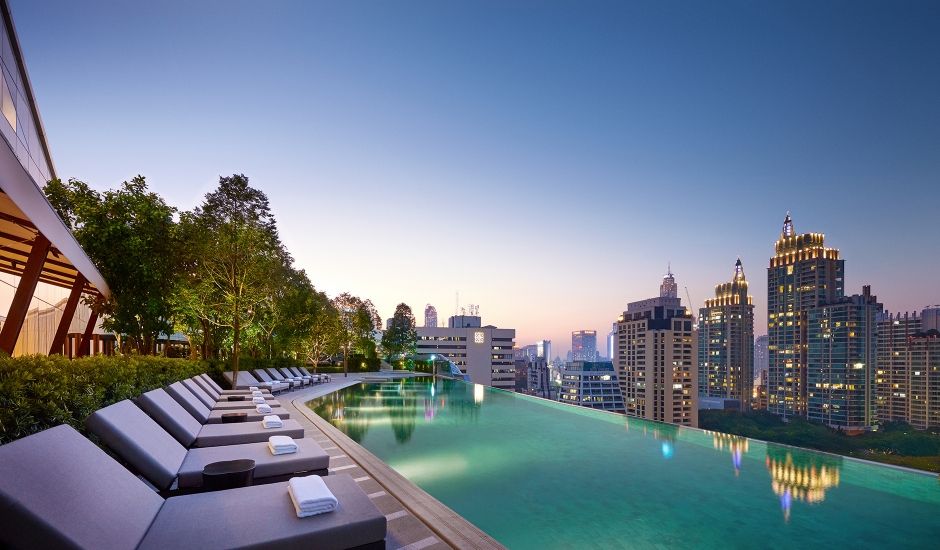 Park Hyatt Bangkok launched with 222 luxurious rooms and suites in a mixed-use complex in Bangkok's CBD. The hotel has its own dining complex, spread over three and a half floors, comprising different venues including a VIP area and a restaurant with an open show kitchen.
Website: Park Hyatt Bangkok. Opening: mid-2017. Photos © Hyatt Corporation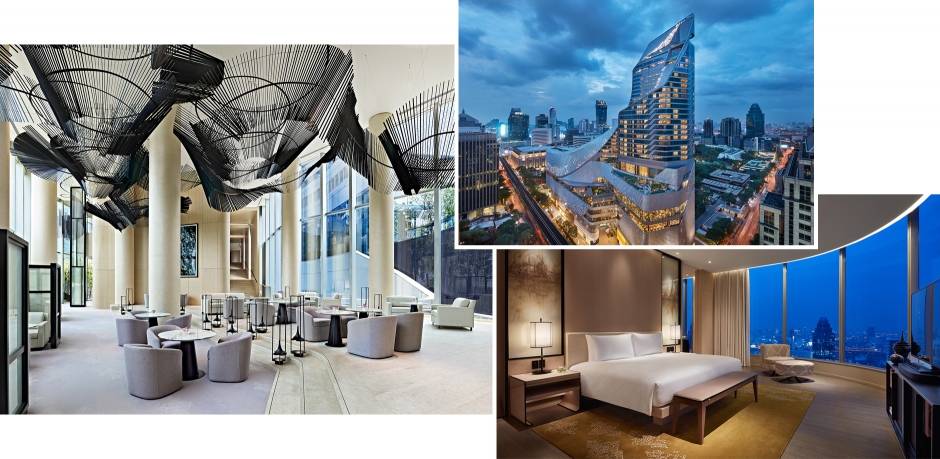 ---
261898 The Post, Ghent, Belgium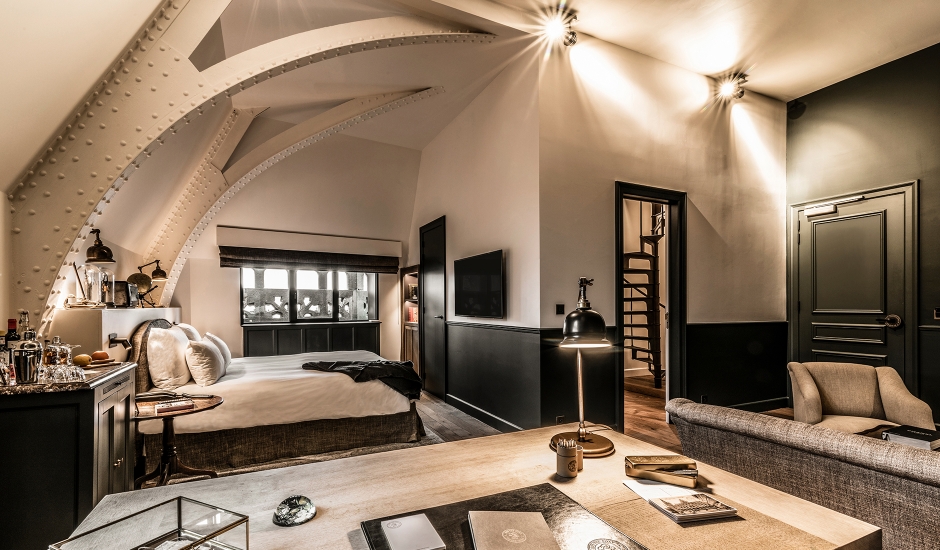 1898 The Post Ghent is the third property from the Zannier Hotels, following the openings of Phum Baitang in Siem Reap (Cambodia), and Le Chalet Zannier in Megeve (France). The upper floors of Ghent's post office building, originally designed for the 1913 World exhibition, now house a boutique hotel, made up of 38 guestrooms and suites. The eclectic architecture comes together in warm interiors, with high ceilings, dark green walls, and antique furniture. The hotel has two attractive venues, The Kitchen, the restaurant featuring an open fireplace (pop in for an American buffet-style breakfast), and the cocktail bar The Cobbler, with tapas-style dishes and innovative drinks menu.
Website: 1898 The Post. Opened: 2017. Photo © 1898 The Post
---
27Conrad Bora Bora Nui, French Polynesia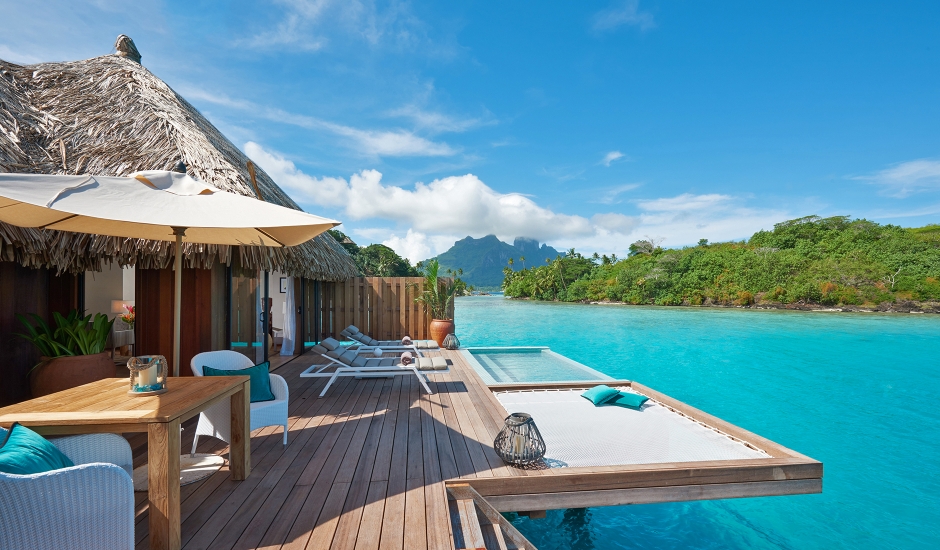 The Hilton Group has upgraded its former Hilton Bora Bora Nui Resort & Spa to the Conrad level with a multimillion-dollar, ground-up refurbishment. Rebranded as the Conrad Bora Bora Nui, the resort offers beautifully designed, bright, airy suites with floor-to-ceiling sliding glass opening up to the stunning ocean views.
Website: Conrad Bora Bora Nui. Opening: 1 April 2017. 
Photo © Conrad Hotels and Resorts
---
28The Ned, London, UK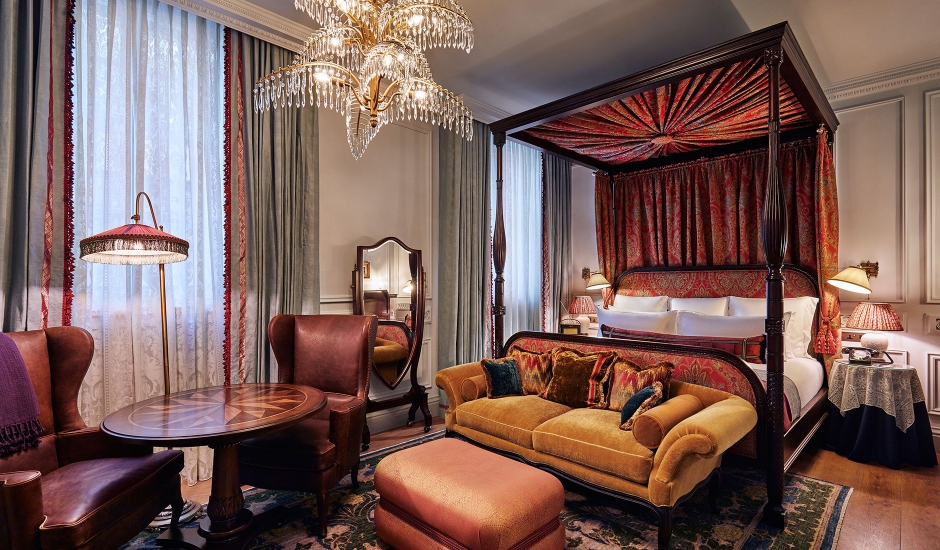 The joined efforts of the Sydell Group from USA and Soho House, which runs the British private member clubs, have resulted in the launch of the Ned London hotel. This exclusive property offers 252 opulent rooms in style resembling the roaring 1920s and 1930s, nine restaurants, as well as extensive health-and-gym facilities, which include a Cowshed spa with a 20m basement pool, and a full-size boxing ring.
Website: The Ned London. Opening: Spring 2017. Photo © The Ned London
---
29San Francisco Proper Hotel, California, US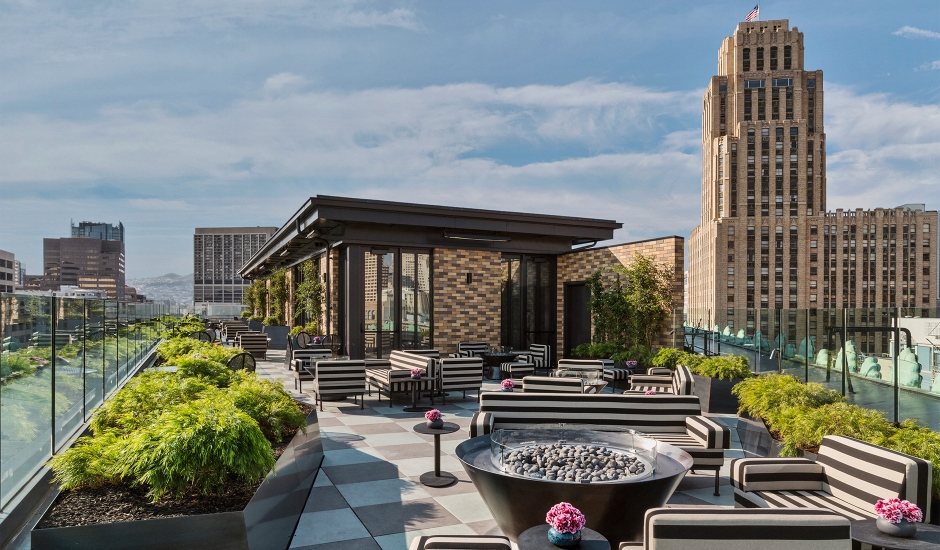 San Francisco's newest luxury lifestyle hotel brings fresh energy and elegance to the Mid-Market district fusing glamourous history of the building with a thoroughly modern design. The San Francisco Proper Hotel offers chic guest rooms and suites designed with a personal flair, in which spacious lounge areas and intimate niches are decorated with contrasting prints and rich splashes of color. A fabulous rooftop bar, a trendy lobby restaurant serving contemporary American cuisine, and an exclusive 14-seat private dining room round off the inspired attractions of the hotel.
Website: San Francisco Proper Hotel. Opened: September 2017.
Photos © Proper Hotel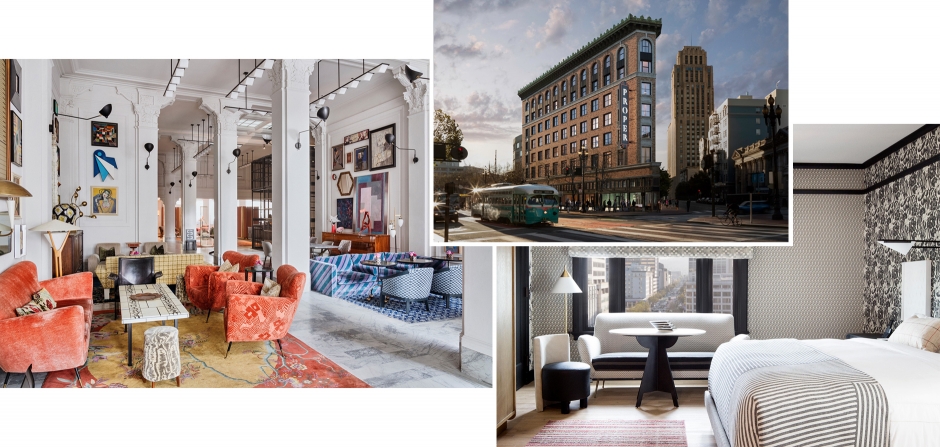 ---
30Bulgari Hotel, Beijing, China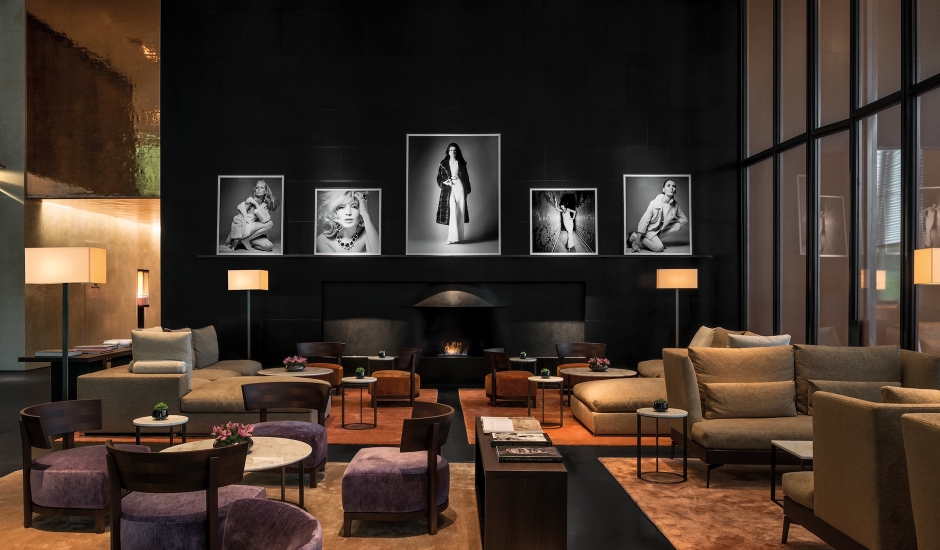 You may also like

---
Balinese serenity, Italian glitz
Synonymous with luxury jewelry, Bulgari also has a tiny portfolio of beautiful resorts (don't miss our review of Bulgari Bali), and now it introduced its brand of Italian dolce vita to the sprawling capital of China. Glamorous and self-assured, with minimal lines and dedication to fine craftsmanship, the hotel offers an exclusive urban oasis, much needed amongst the sensory overload of the city below. With Michelin-starred dining, indulgent spa treatments, and a team of personal consultants to advise guests on fine art, fashion, and jewelry purchases from the privacy of their guestrooms, the Bulgari Beijing promises an experience exceptional in every way.
Website: Bulgari Hotel Beijing. Opening: September 2017.
Photo © Bulgari Hotels & Resorts
---
31Four Seasons Hotel Kuwait at Burj Alshaya, Kuwait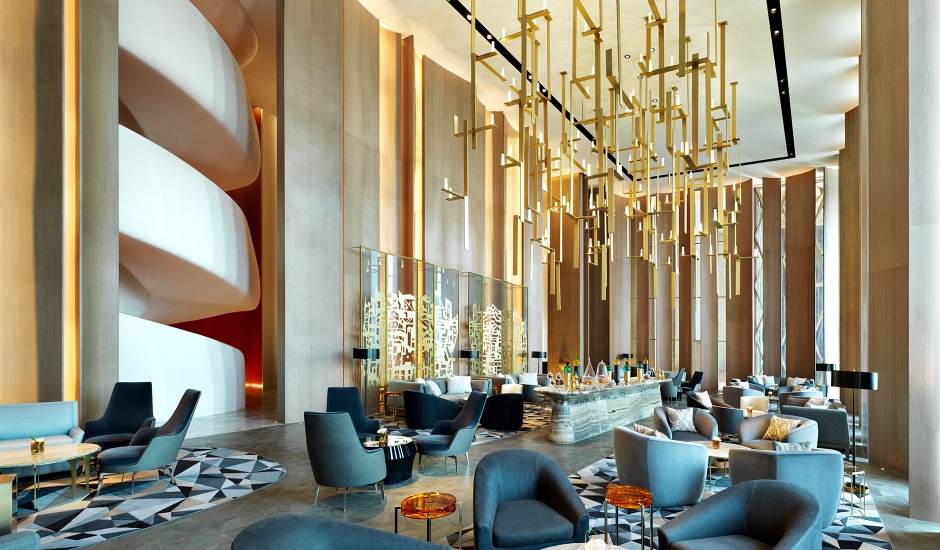 Four Seasons is introducing its brand of sophisticated luxury to Kuwait City, with this new property featuring 284 hotel rooms, including 67 suites hailed as the largest hotel suites in the city. The hotel features five restaurants, a two-level spa, fitness center, and indoor and outdoor pools, as well as two ballrooms and five function rooms.
Website: Four Seasons Hotel Kuwait. Opening: early 2017.
Photos © Four Seasons Hotels Limited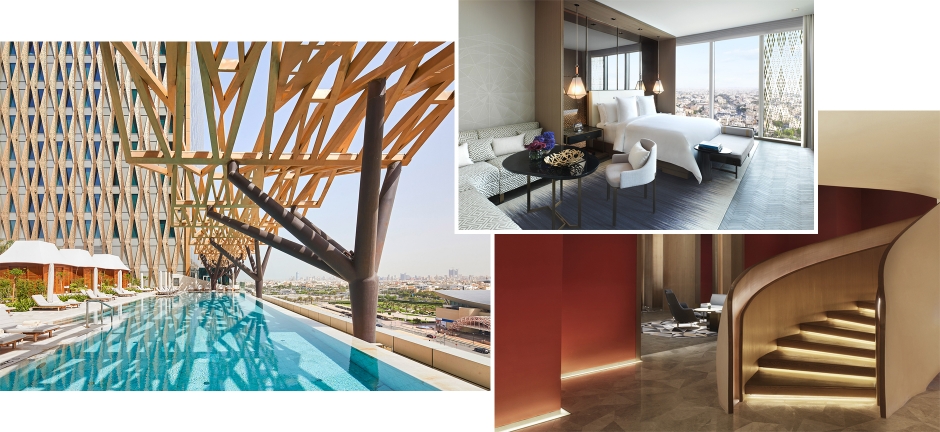 ---
32Waldorf Astoria Beverly Hills, California, US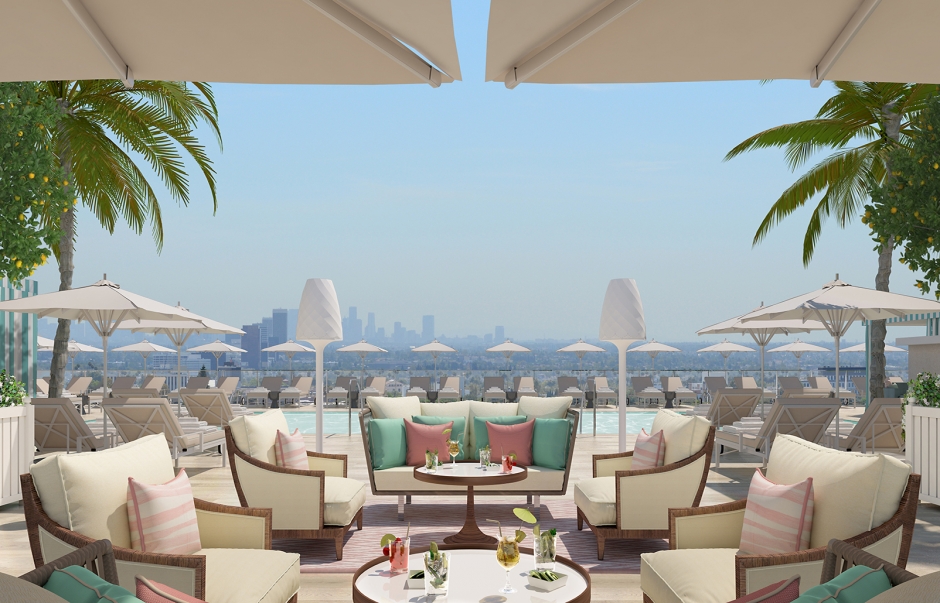 Let's switch to sunny California and this opening from Waldorf Astoria, promising "the very best of the California good life." The resort is located in the heart of Beverly Hills, and the Waldorf Astoria promises an extraordinary experience with the property of 170 rooms, all with unobstructed views of the city. A 5,000 square-foot spa and a rooftop pool (the largest of its kind in Beverly Hills) is an attractive addition to the hotel offering too.
Website: Waldorf Astoria Beverly Hills. Opening: June 2017.
Rendering © Waldorf Astoria Hotels and Resorts
---
33Four Seasons Hotel at Ten Trinity Square, London, UK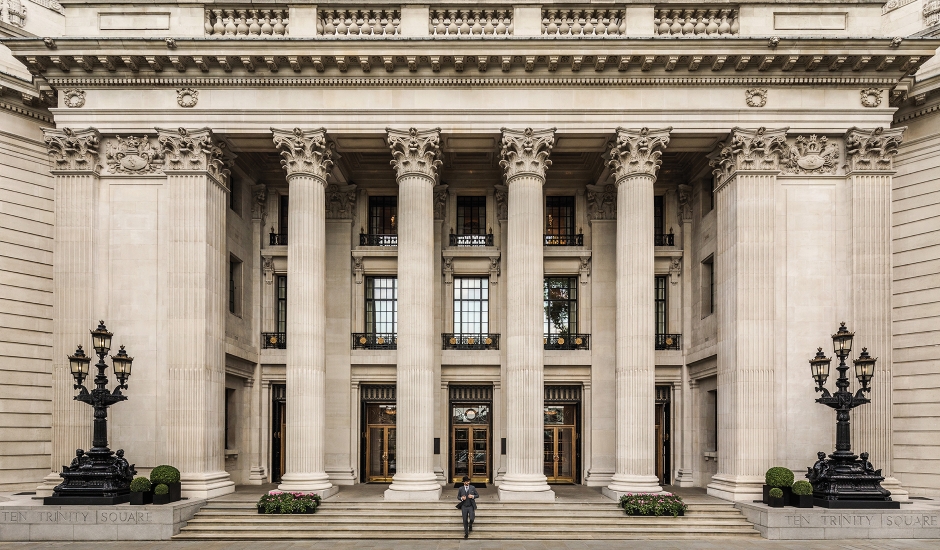 Located next to the Tower of London, the Four Seasons Hotel at Ten Trinity Square is housed in a 100-year-old building featuring a large tower and grand rotunda, all made of the classic Portland stone. The restoration was done with extra care to preserve its integrity of the listed building and to ensure that the 100-room city hotel is exemplary in every way.
Website: Four Seasons at Ten Trinity Square. Opening: January 2017.
Photos © Four Seasons Hotels Limited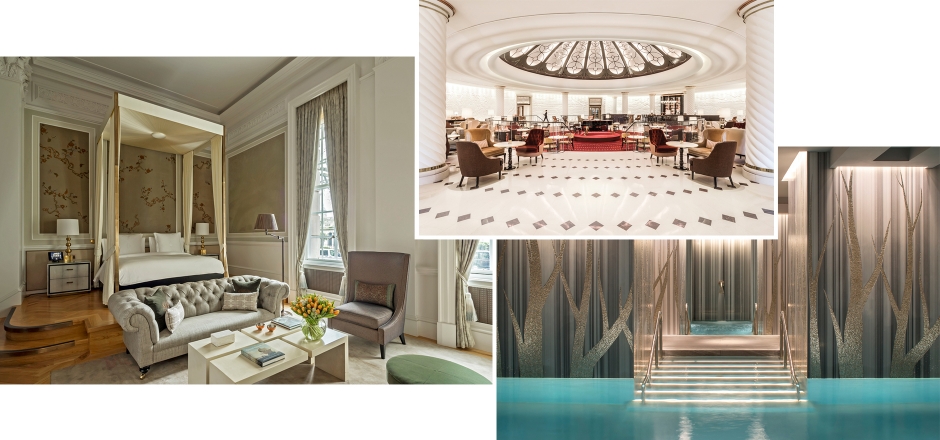 ---
34Barceló Torre de Madrid, Spain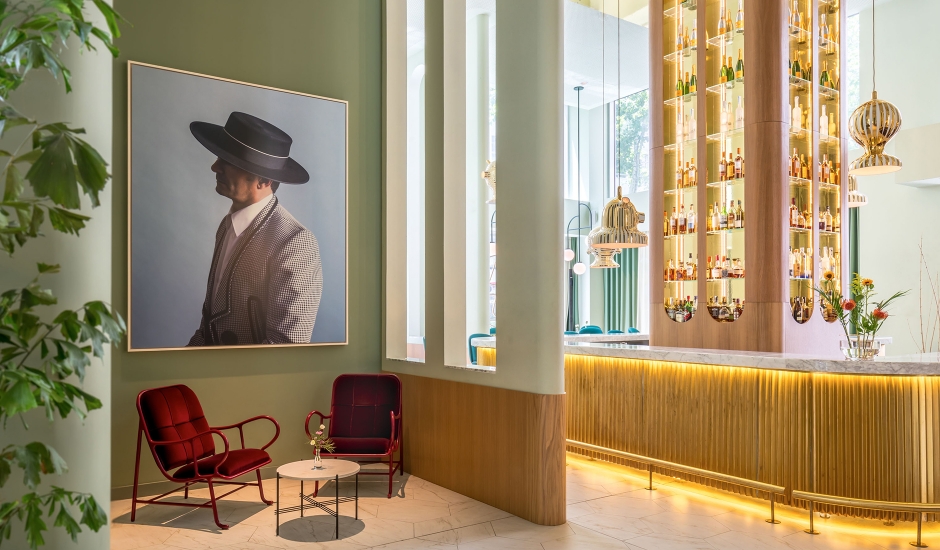 With an excellent location on the Plaza de España, only a 10-minute walk from the Royal Palace of Madrid, Hotel Barceló Torre de Madrid blends modernity with the heritage of one of the city's iconic buildings, and cultural richness of the Spanish capital. The bold design of this five-star city hotel is realized in a sensual palette of jewel and berry tones with splashes of gold, with interiors spruced up by creative ideas — such as a sculpture of a zebra-striped bear with a gold hat or cartoonish masks in the corridors. The hotel's facilities include a stylish bar, restaurants, and a Wellness Zone with a fitness studio.
Website: Barceló Torre de Madrid. Opened: 2017. Photo © Barceló Torre de Madrid
---
35W Shanghai – The Bund, Shanghai, China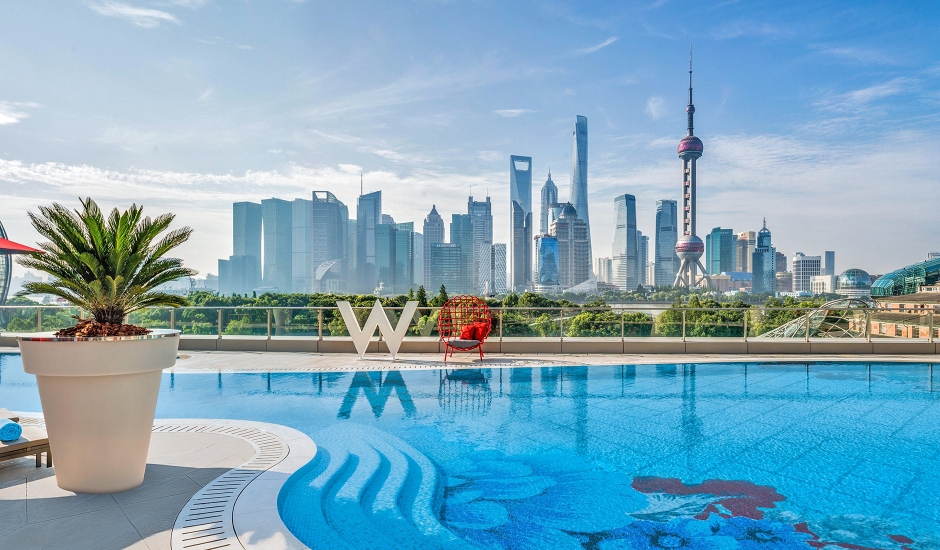 This is the third W Hotel from Marriott launching in mainland China. The W Shanghai – The Bund provides opportunities for enjoying sweeping views of the Huangpu River and Shanghai's cityscapes. The characteristically striking for W, contemporary interiors feature elements inspired by the old Shanghai. As always with the W, the accommodation has names such as Wonderful Room or Extreme WOW.
The Marriott group is also launching W Suzhou, near Shanghai.
Website: W Shanghai – The Bund. Opening: June 2017.
Photos © Marriott International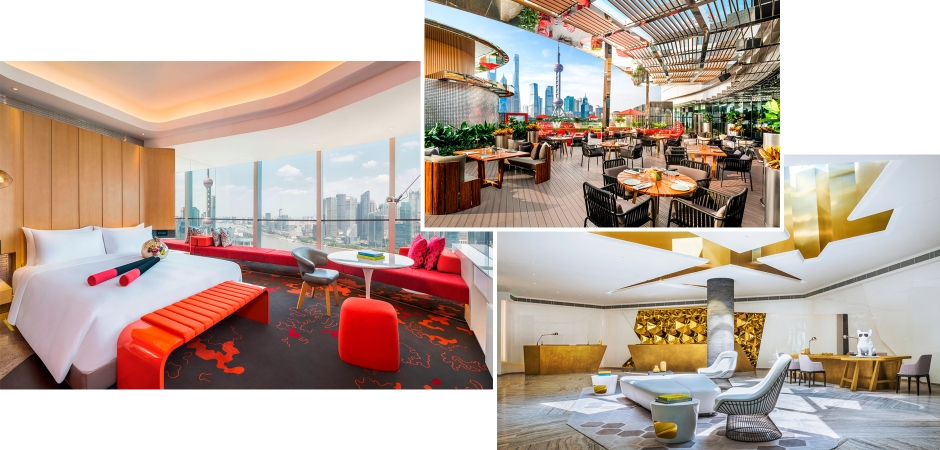 ---
36The Whitby Hotel, New York, US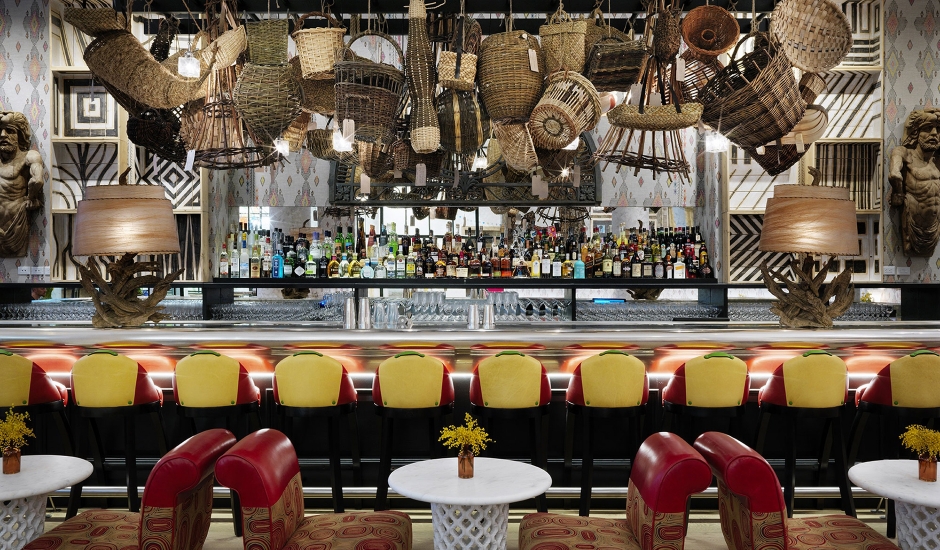 You may also like

---
Design wit and class
The UK-based Firmdale are experts when it comes to city hotels, and their Whitby Hotel is proof of that. Launched in the Midtown area of Manhattan, it's the second hotel of Firmdale in NYC. As in their other properties, the chief designer is Kit Kemp brings striking patterns and bold application of color as her hallmark style. Delightful sensory experiences are present throughout the hotel, also in the 86 individually-designed rooms. Each has excellent city views through the floor-to-ceiling windows, and many also come with private terraces.
Website: The Whitby Hotel. Opening: February 2017. Photo © Firmdale Hotels
---
37COMO Uma Canggu, Bali, Indonesia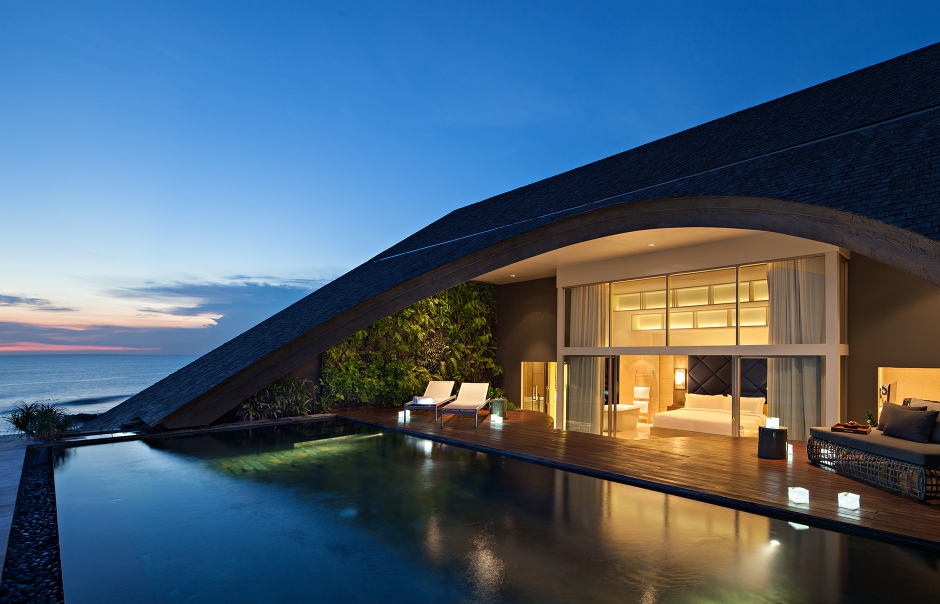 As you may know, we are fans of the COMO Hotels and Resorts, and in particular their spas. The company is already well established in Bali, but a beach resort is a welcome addition to its two-property portfolio on the island. COMO Uma Canggu has launched on one of the best surf beaches on Bali, attracting both beginners and experienced surfers. Non-surfers can still take up surf tuition, or opt for yoga or spa — or spend the time sunbathing at the COMO Beach Club, around which the resort is formed.
Website: COMO Uma Canggu. Opening: Summer 2017. Update: delayed to 2018.
Images © COMO Hotels and Resorts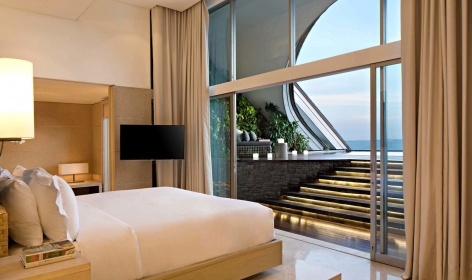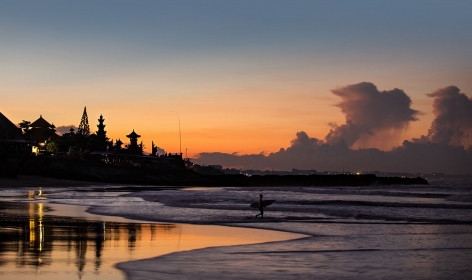 ---
38Capella Shanghai, Jian Ye Li, China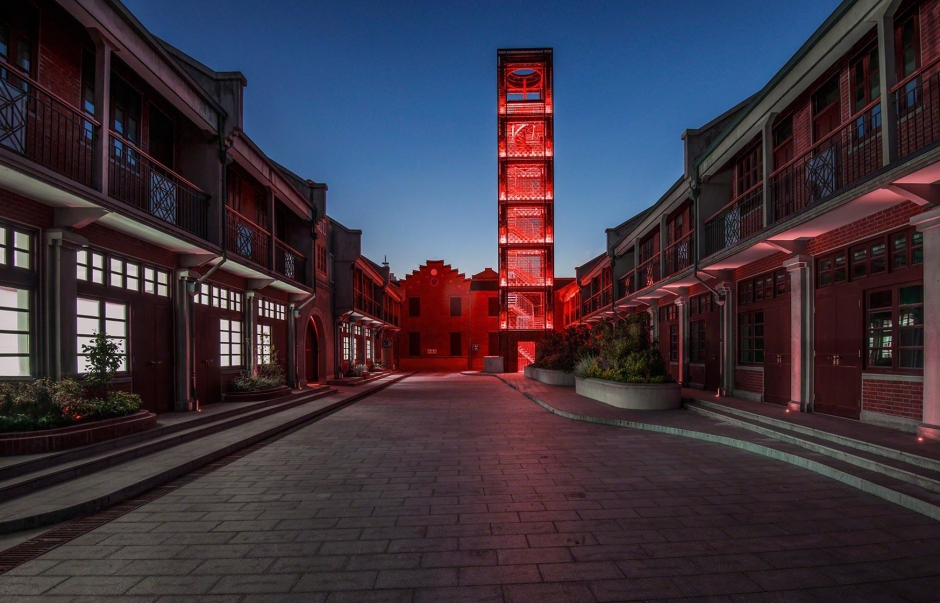 Capella has moved into the historic district of Shanghai with an all-villa property, created from Shikumen warehouses, heritage buildings dating from the 1860s. Renovated in style reminiscent of the 1930s, the buildings now house a swanky urban resort, featuring fifty-five shikumen villas, residences, retail space, the Auriga Spa, a library, and a French brasserie and event venues.
Website: Capella Shanghai. Opening: March 2017. 
Rendering © Capella Hotels and Resorts
---
39Kokomo Private Island Fiji, Fiji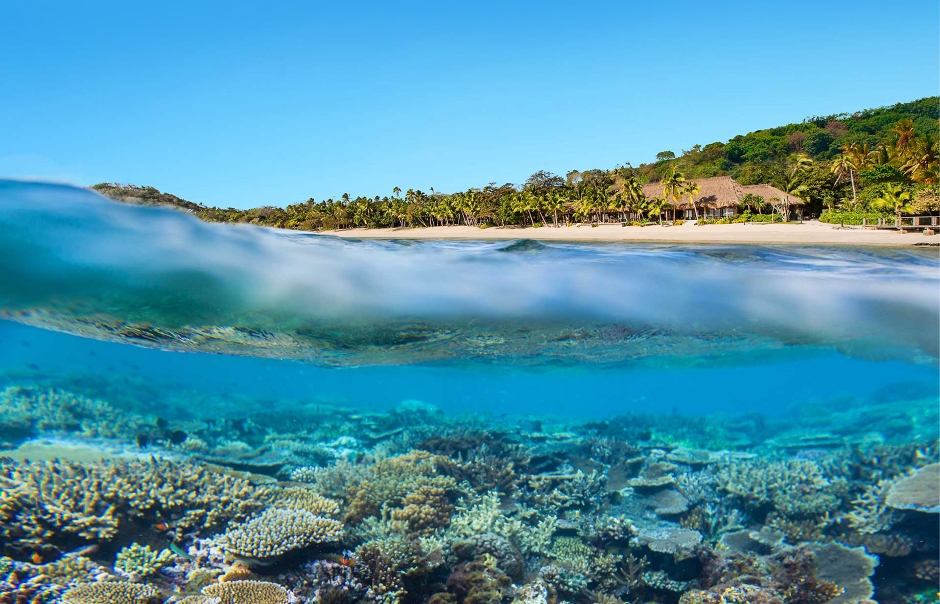 This ultra-luxury development on Yaukuve Island is Fiji's most exclusive hotel. Kokomo is a private island property accessible by a seaplane, with accommodation in luxurious beachfront villas built in the style of the local wood-and-straw huts (bures), with private swimming pools.
Website: Kokomo Private Island Fiji. Opening: March 2017. Photos © Kokomo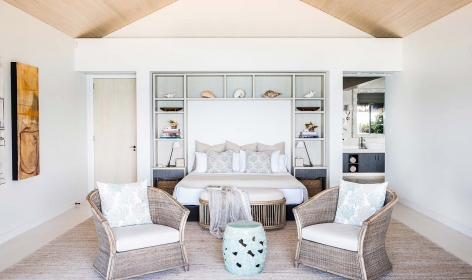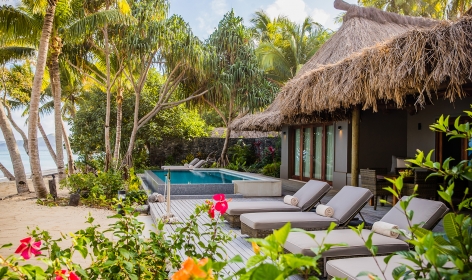 ---
40Adare Manor, Ireland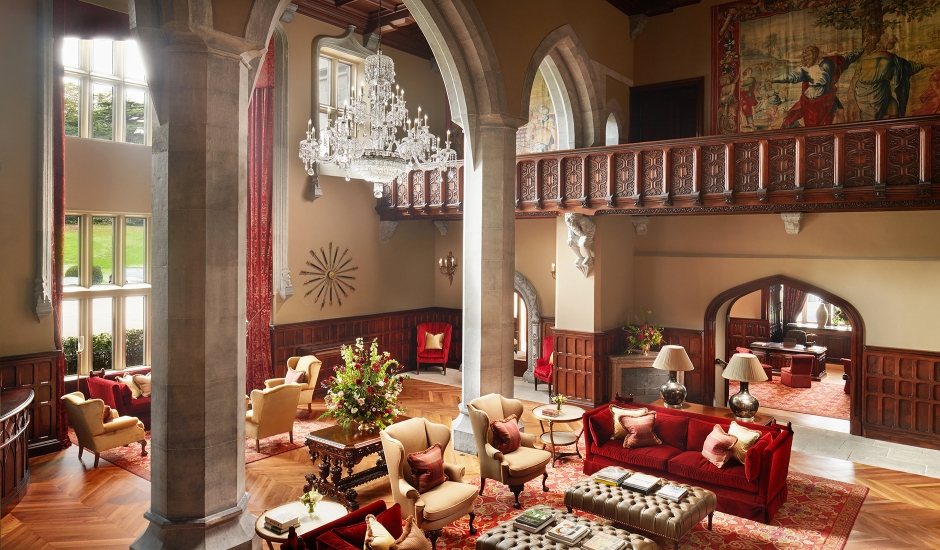 Adare Manor opened following a major renovation work during which a 19th-century neo-Gothic castle was transformed into a luxury property with a golf course, a new spa and swimming pool, a cinema, and a ballroom. It's pure Ireland — picture medieval ruins, walled French gardens and winding forest paths, beautiful river, and a stone castle, right in the middle of it all.
Website: Adare Manor. Opening: September 2017. Photo © Adare Manor
---
41Capella Ubud, Bali, Indonesia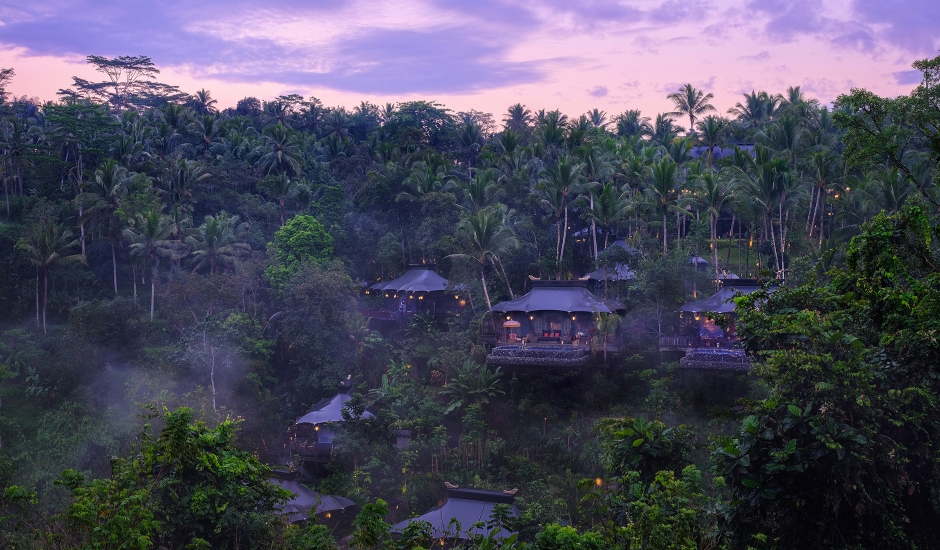 Although saturated already with luxury hotels, Ubud has not yet seen a property quite like this one. The ultra-luxury Capella Ubud invites you to consider a safari-like experience in the heart of Bali, with 22 tents designed by the world-famous architect Bill Bensley. Inspired by the spirit of adventure of the European explorers from the nineteenth century, the luxurious accommodation will nevertheless come with all mod cons, including private plunge pools.
Website: Capella Ubud. Opening: end of 2017. Update: delayed to 2018.
Photo © Capella Hotel Group
---
42Myconian Kyma, Mykonos, Greece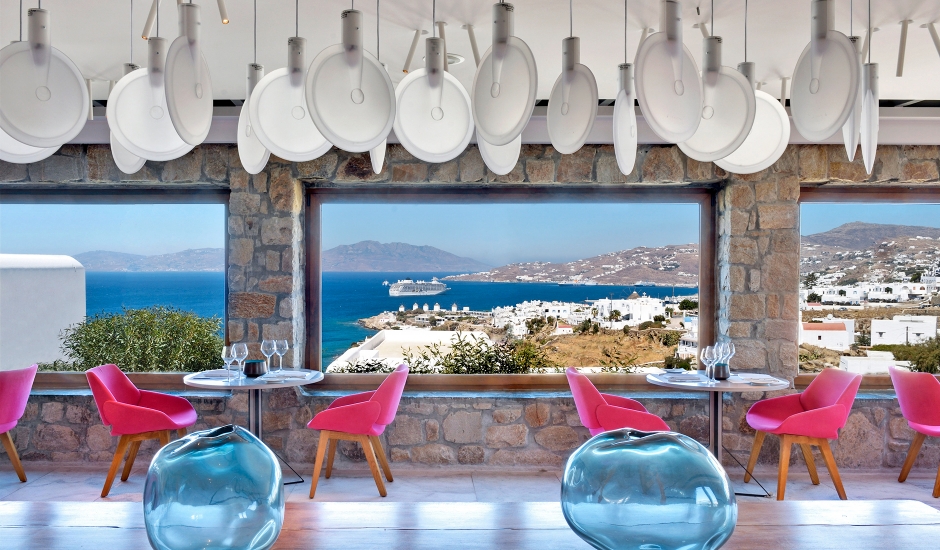 Myconian Kyma is a secluded retreat, only a stroll away from the heart of the island's thriving nightlife and shopping in Mykonos Town. Created as a collection of harmoniously-assembled white cubic houses, the hotel is perched atop a hill, offering magnificent views over the iconic windmills and fishing boats of the town's coastline. Kyma takes its name from the Greek word for 'wave', and this serves as an inspiration in the design, from the whitewashed buildings and curved lines of the infinity pool to the interiors and furniture. Lush gardens, private pools and terraces, a world-class steakhouse, and a full-service spa add to the hotel's appeal.
Website: Myconian Kyma. Opened: May 2017. Photo © Myconian Collection
---
43Four Seasons Resort at Jimbaran Bay, Bali, Indonesia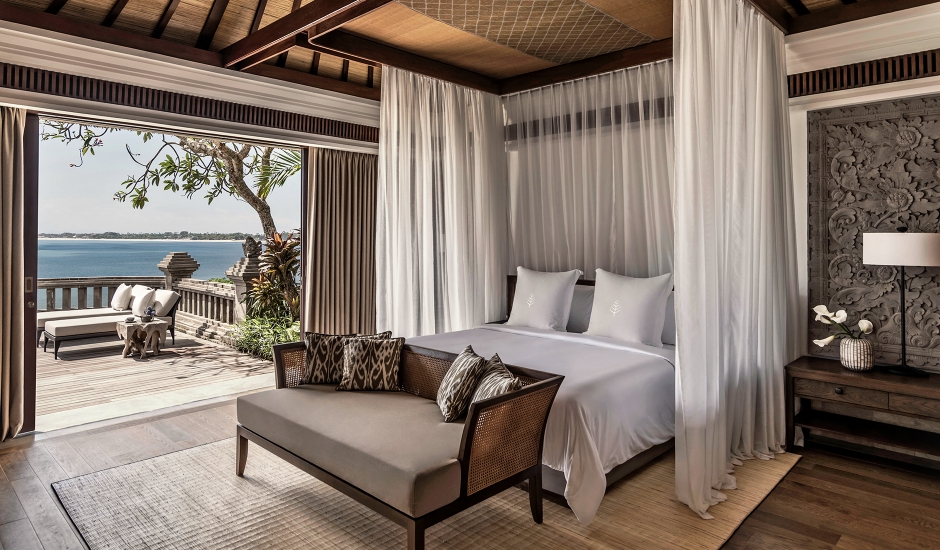 Following extensive renovations, Four Seasons Resort Bali at Jimbaran Bay reopened in 2017. The improvements have seen all facilities and services updated, and the villas' Balinese aesthetic modernized. The Imperial and Royal Villas preserved the sophisticated ambiance, through original Balinese village architecture, but with new landscaping, interiors, décor, furniture, electronics, thatch-roofing. The resort also added a new ocean-front venue for spa treatments and yoga, and some of the exciting activities now include surfing, sunset cruise, artists-in-residence program, and personalized dining.
Website: Four Seasons Resort at Jimbaran Bay. Re-opening: 2017.
Photo © Four Seasons Hotels Limited
---
44Shangri-La Hotel Colombo, Sri Lanka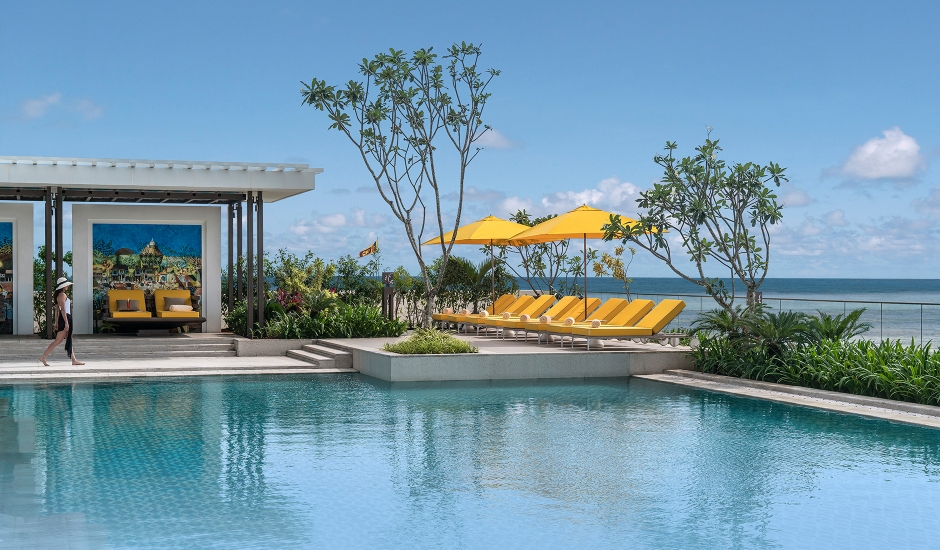 Shangri-La came to Colombo, introducing unprecedented comfort and a level of luxury, raising the bar for the hotel industry in the whole of Sri Lanka. The classy inner spaces are infused with lots of character where it matters, while the guest rooms are elegant, comfortable, and luxurious. The design, the level of service, the excellent cuisine, and high-end interiors make it one of the best luxury hotels in the city. We recommend booking one of the Horizon Club suites.
We have since stayed at this hotel. Read our review: Shangri-La Hotel Colombo
Website: Shangri-La Hotel Colombo. Opened: November 2017.
Photo ©  Shangri-La International Hotel Management
---
45andBeyond Phinda Rock Lodge, South Africa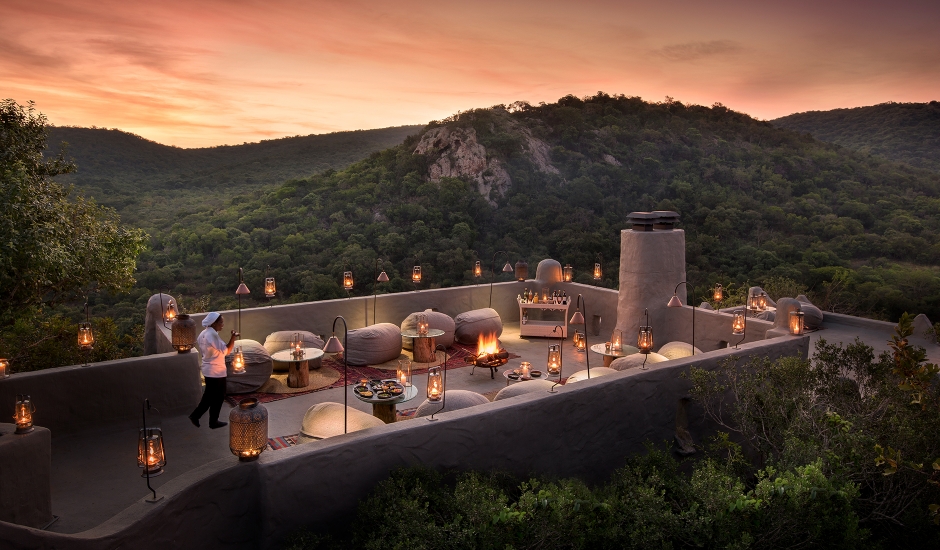 Celebrating 20 years since its original opening, andBEYOND Phinda Rock Lodge reopened its doors with a sophisticated new look. Guest rooms have been updated and redone in an earthy soft-grey palette. A combination of beautiful woven linen, hand-embroidered cotton, and exquisite Persian carpets create a feeling of quality. French doors open onto private decks with plunge pools, while the location ensures beautiful views of the surrounding valley. The lodge's central areas, meanwhile, were expanded with a new rooftop terrace, ideal for dining under the stars.
Website: andBeyond Phinda Rock Lodge. Opened June 2017. Photo © andBeyond
---
46Awasi Iguazú, Argentina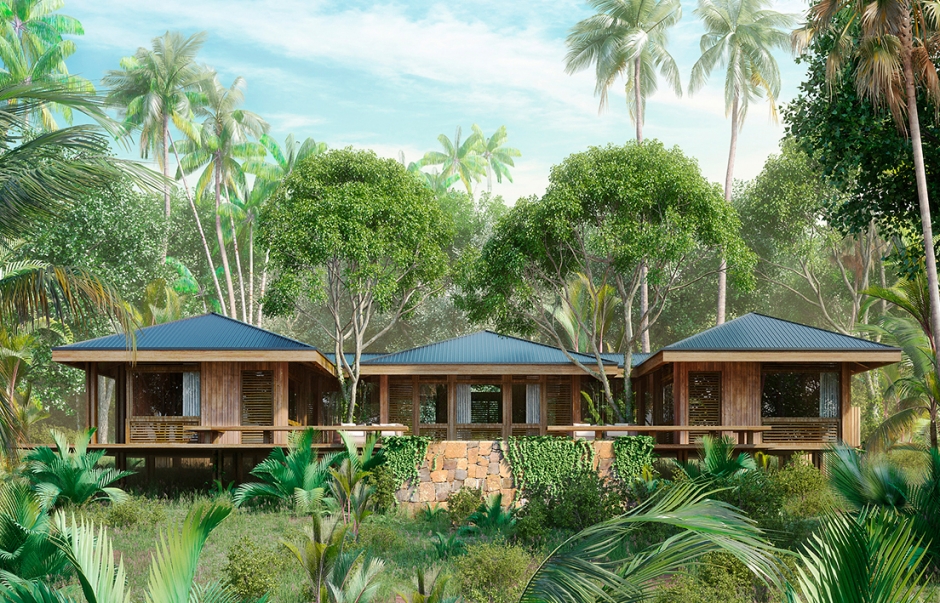 Located only 15 minutes from the world's largest waterfalls of Iguazú, Awasi is a small resort with fourteen private villas, built on stilts on the banks of the Iguazú River. Poking from under the jungle canopy, the design-led Awasi Iguazú entices with large living spaces in the villas that feature private plunge pools and outdoor showers. Guest activities include visits to archaeological sites, jungle journeys to the waterfalls, and sunset boat rides.
Website: Awasi Iguazú. Opening: December 2017. Renderings © Awasi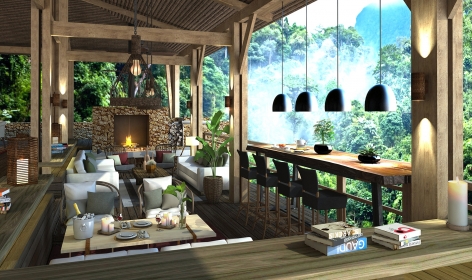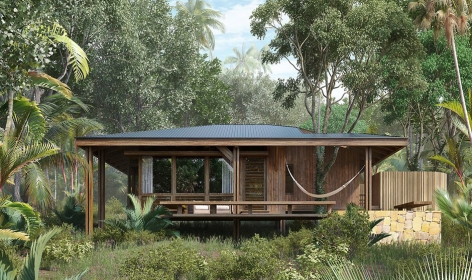 ---
47One&Only Le Saint Géran, Mauritius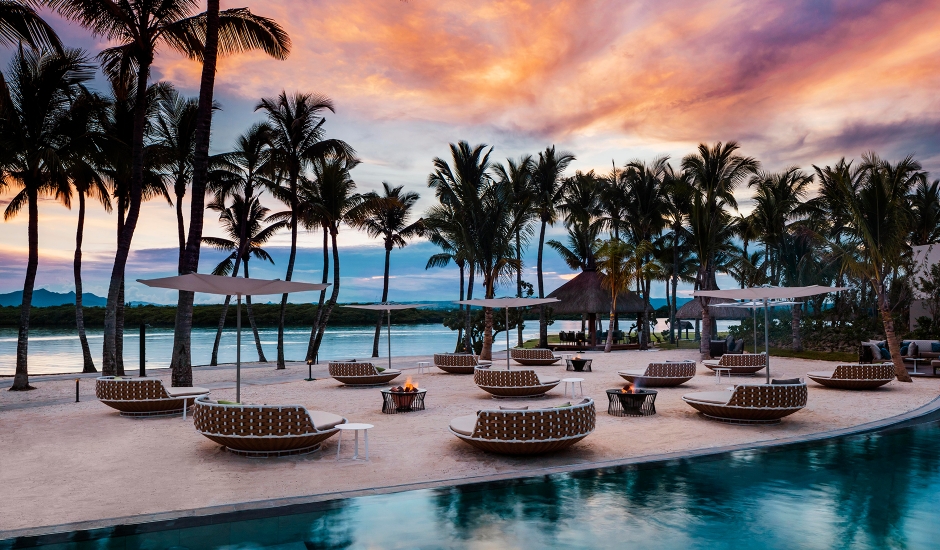 You may also like

---
A dream world unto its own
Following a major refurbishment, One&Only Le Saint Géran introduced new guest rooms and suites, fitness and spa facilities, two swimming pools, as well as new culinary experiences.
We know the One&Only brand from our stay at the Reethi Rah resort in the Maldives, and loved the feeling of exclusive privacy and the absolute luxury of that resort. Their Mauritian property shows a similar level of quality — a good enough reason for us to revisit Mauritius.
Website: One&Only Le Saint Géran. Opening: late 2017. Photo © One&Only Resorts
---
48Ahn Luh Lanting, Shaoxing, Zhejiang, China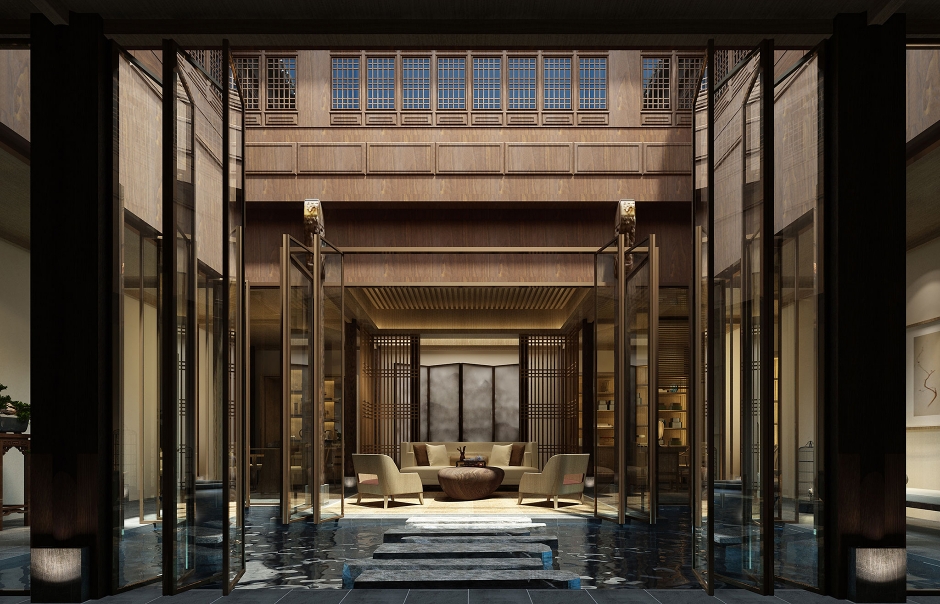 The co-founder of the Ahn Luh brand is Adrian Zecha, the visionary behind the Aman Resorts. The Ahn Luh Lanting Shaoxing wows with the sheer ambition of the project. Ahn Luh Lanting incorporates thirty-five meticulously restored heritage houses dating as far back as the 1600s. The authentic architectural elements are present throughout the hotel: in the restaurants, in the library, and the wellness center.
Other exciting openings from the rapidly expanding Ahn Luh group include Ahn Luh Qiandao Lake in Hangzhou (image below, left) and Ahn Luh Yanqi in Beijing (image below, right).
Website: Ahn Luh Lanting. Opening: 2017. Renderings © Ahn Luh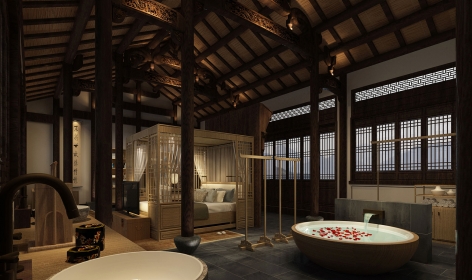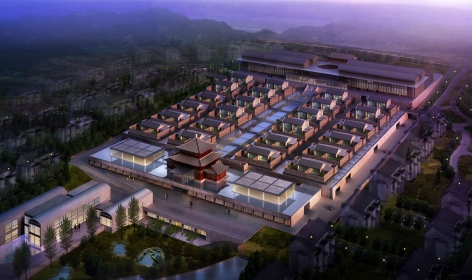 ---
49The Capitol Kempinski Hotel Singapore, Singapore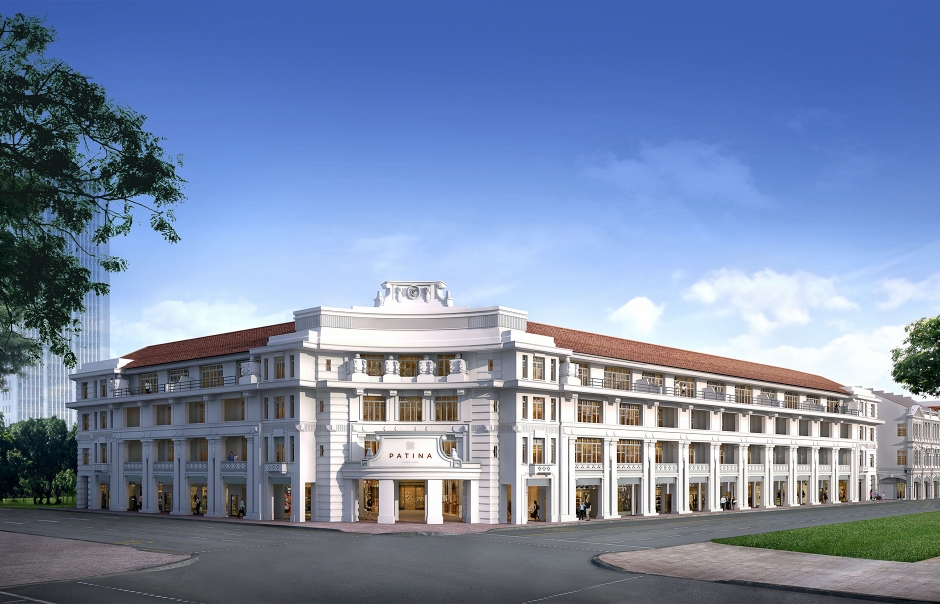 Two carefully restored historical buildings, the Stamford House and the Capitol Building, today are home to The Capitol Kempinski, a luxury hotel blending heritage with contemporary design and timeless elegance. The style of the hotel is that of a homely grandeur, equally luxurious and intimate, with a residential atmosphere. The property features beautifully appointed rooms and suites, and a three-room spa with Singapore's first saltwater relaxation pool.
Website: The Capitol Kempinski Hotel Singapore. Opened: 2017. 
Image © Kempinski Hotels
---
50Thorntree River Lodge, Zambia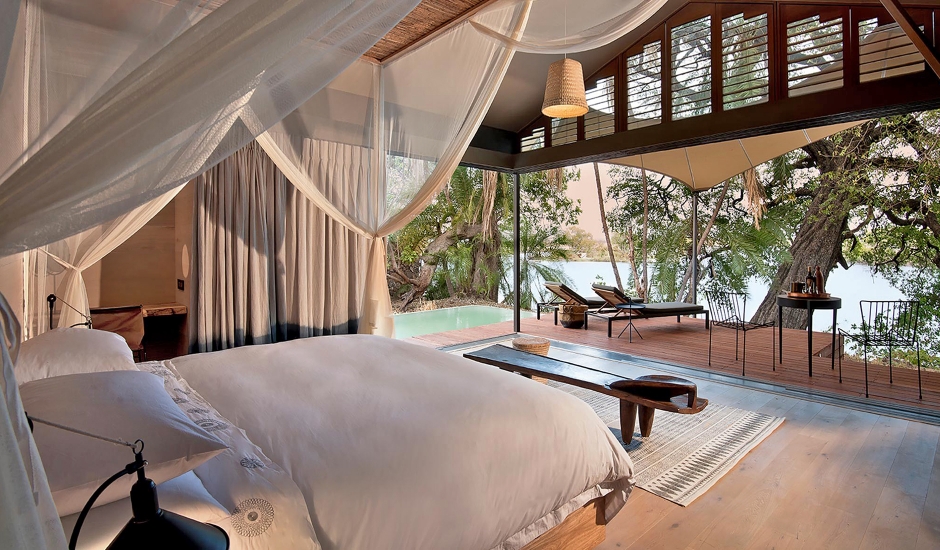 African Bush Camps relaunched the Thorntree River Lodge, a luxurious place set on the bank of the Zambezi River, a short distance from the famous Victoria Falls. Completely rebuild and designed in an environmentally-conscious style, inspired by the local traditions, the lodge mixes contemporary shapes with tented roof structures. The main lodge consists of a lounge with an open dining area, while the communal deck, on the river edge, will have a sunken boma and an infinity pool. Eight rooms and two family units feature private plunge pools.
Website: Thorntree River Lodge. Opened in May 2017. Photos © African Bush Camps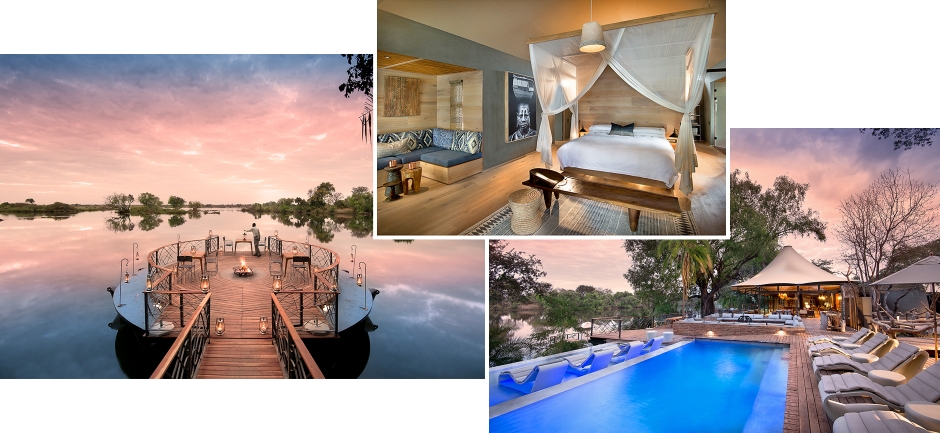 ---
51MACq 01, Tasmania, Australia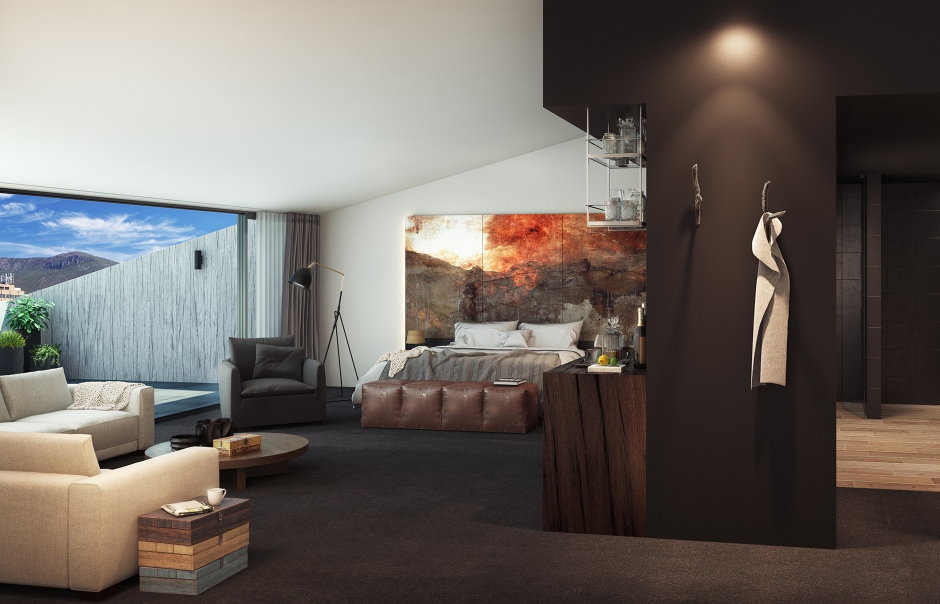 The Federal Group, the company behind the stunning Saffire Freycinet has opened a city hotel on the island of Tasmania. Located on the water edge of the MacQuarie Wharf in Hobart, the MACq 01 describes itself as a "storytelling hotel", with each room referencing a different character from the island's history. The design comes across as warm but eclectic, mixing elements in a range from the rustic to the luxurious.
Website: MACq 01. Opening: June 2017. Image © MACq 01
---
52W Amman, Jordan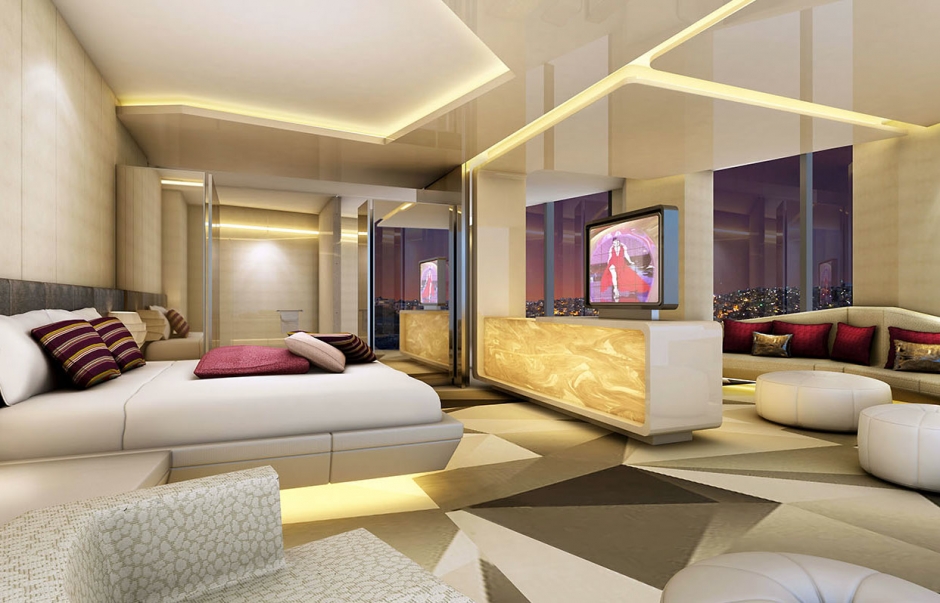 Jordan is wonderful. It is full of absolutely amazing sights, with Petra and Wadi Rum being the most famous. We toured the country some time ago and fell in love with the place. But, at the time, the capital did not have a truly modern luxury hotel. This has now changed, with W Hotel opened in the prestigious new downtown district, the Abdali. The property, designed as an urban retreat, has both the business and the leisure needs in mind. W Amman has 280 guest rooms and suites and multiple dining outlets.
Website: W Amman. Opening: October 2017. Renderings © Marriott International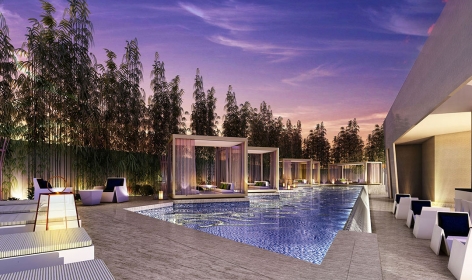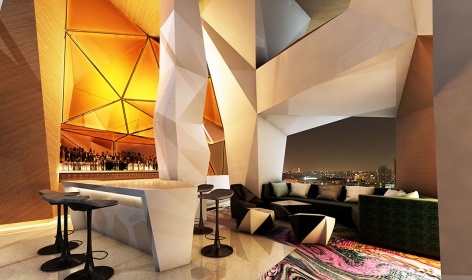 ---
53Cempedak Private Island, Indonesia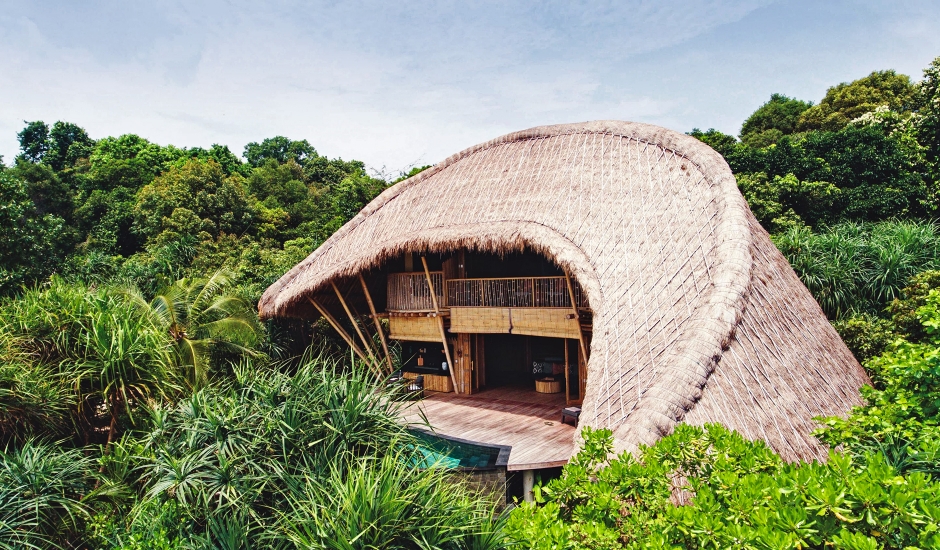 Cempedak is a tropical retreat in which eco-friendly design meets a dreamy island experience. The resort is composed of twenty bamboo villas, each featuring a spacious lounge deck and plunge pool. A spiral staircase leads to a bedroom with glass doors and a private balcony. The island is reachable from Singapore, either by a seaplane or by a ferry.
Website: Cempedak Private Island. Opening: March 2017. Photo © Cempedak
---
54Branco Mykonos, Mykonos, Greece
Branco Mykonos is an inspiring 5-star boutique hotel, located on one of the best beaches on the island, Platιs Gialos beach. Amid the string of beachfront bars and restaurants in the area, the hotel adds to the mix its own gourmet restaurant, as well as a beach club with live DJs, beachfront pool, luxury boutique shopping, and wellness spa option. The luxurious rooms and suites offer a modern twist on traditional Myconian style, with natural materials, pale-wood furnishings, grey floors, and whitewashed exteriors creating bohemian-influenced minimalism.
Website: Branco Mykonos. Opening: July 2017. Photos © Branco Mykonos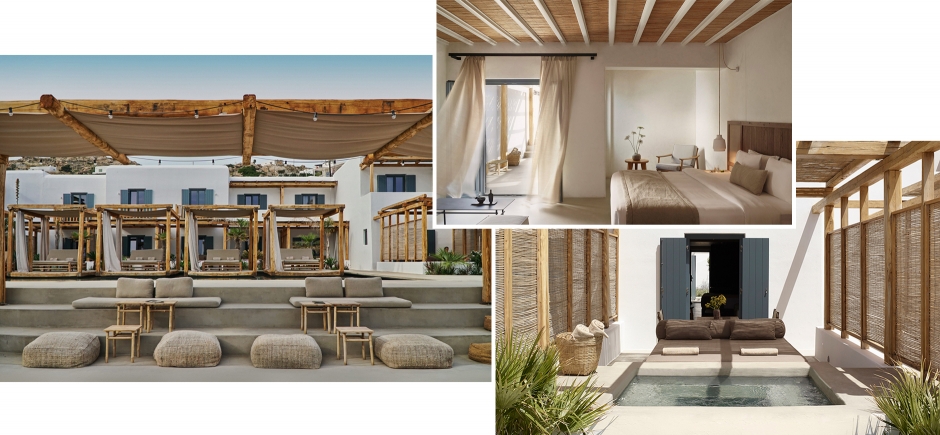 ---
55Villa Brown Jerusalem, Israel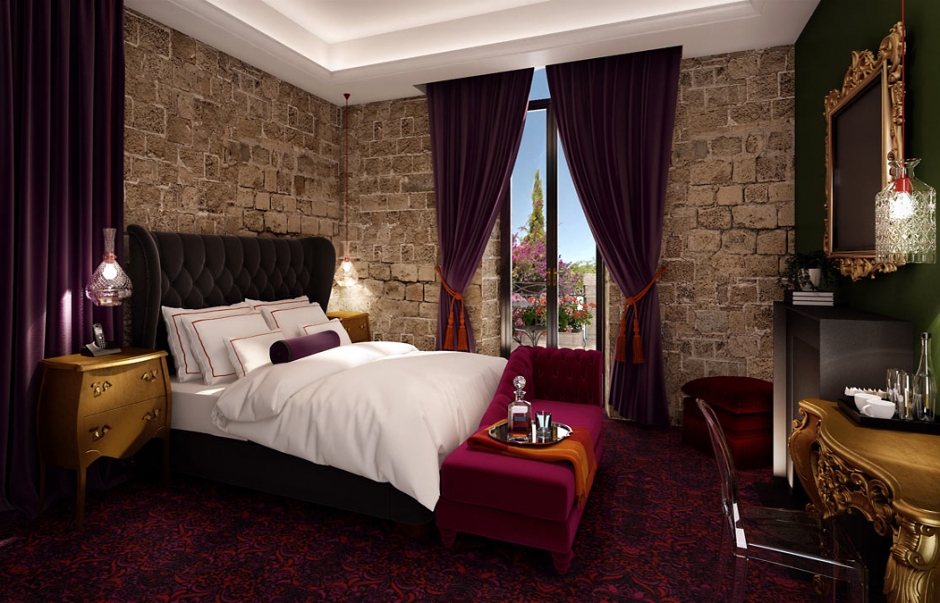 The Brown Jerusalem brings boutique hospitality to the holy city. This exclusive hotel occupies a 19th-century heritage villa, constructed from the local golden stone. The hotel features twenty-three rooms, as well as a rooftop terrace with spa and jacuzzi. It's an exclusive urban retreat positioned within walking distance from the Old City.
Website: Villa Brown Jerusalem. Opening: March 2017. Rendering © Brown Hotels
---
56LUX* Bodrum Resort & Residences, Turkey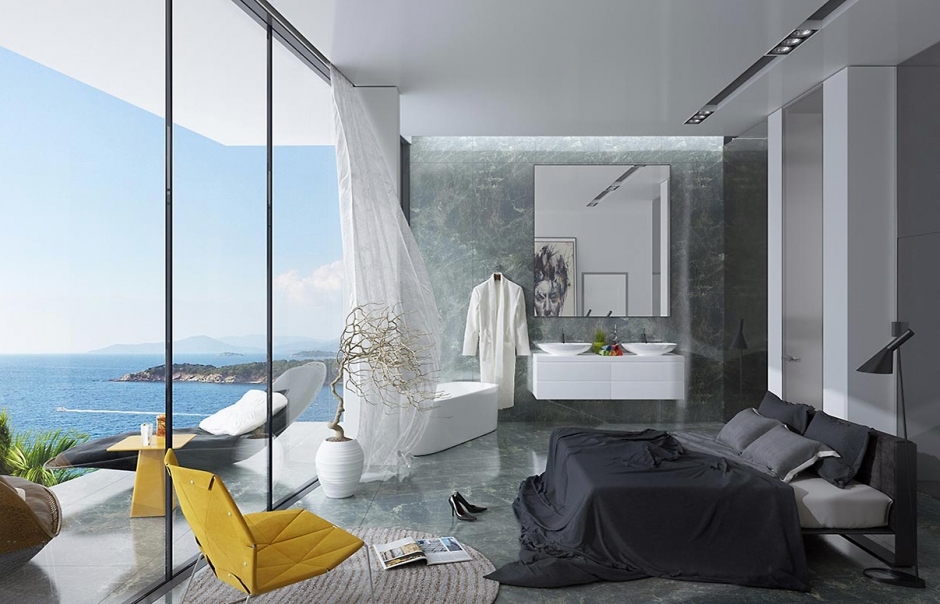 You may also like

---
Aman hospitality at its best
Turkey's most glamorous holiday destination, Bodrum, is where the Mauritius-based hospitality company LUX* decided to launch its first boutique resort in the Meditteranean. Set on a private peninsula and surrounded by hills and pine woodlands, the project is turning heads in the architecture world, thanks to the resort's contemporary design and rooms exposed to stunning views of the blue Aegean sea.
Rendering © LUX* Resorts & Hotels
---
57The Jaffa, a Luxury Collection Hotel, Tel Aviv, Israel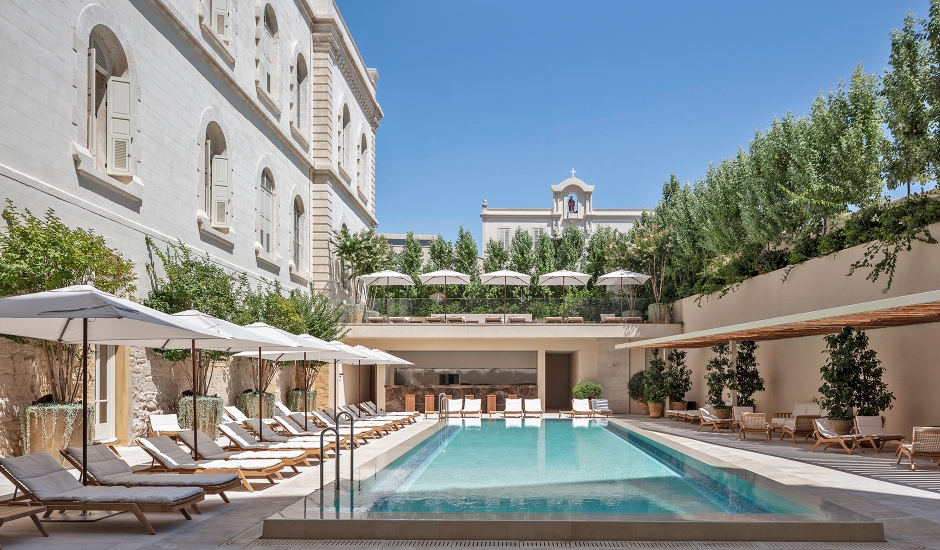 Another Marriott's resort will be launching in Jaffa, the oldest district of Tel Aviv. It's a delayed opening from last year and when it launches it will surely create a buzz in the country's capital. The hotel is set in a former hospital and convent complex, with lovely views of the Mediterranean coast. The renovation of the place preserved historical stained glass and stucco, and the lobby will feature 12th-century ruins.
Website: The Jaffa, a Luxury Collection Hotel. Opening: May 2017. Update: delayed to 2018.
Photo © Marriott International
---
58Hoshinoya Bali, Ubud, Bali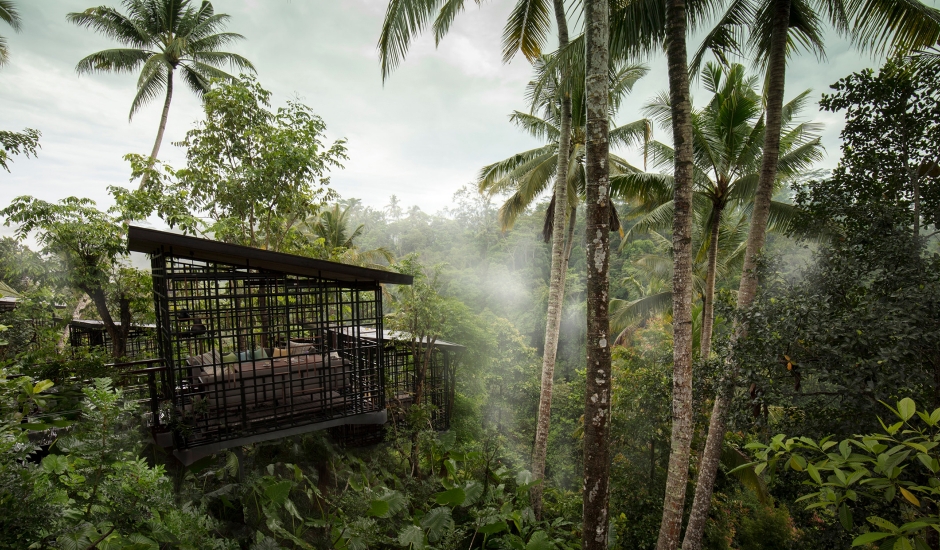 This unique property, set in the heart of Bali, was imagined by the Japanese luxury brand Hoshino. The resort offers three classes of private luxury villas, lined up by semi-private lap pools and surrounded by verdant greenery of Ubud. The interiors feature intricate carvings decorating furniture and walls, exquisitely crafted by local artists.
Website: Hoshinoya Bali. Opening: January 2017. Photo © Hoshino Resorts
---
59Almanac Barcelona, Spain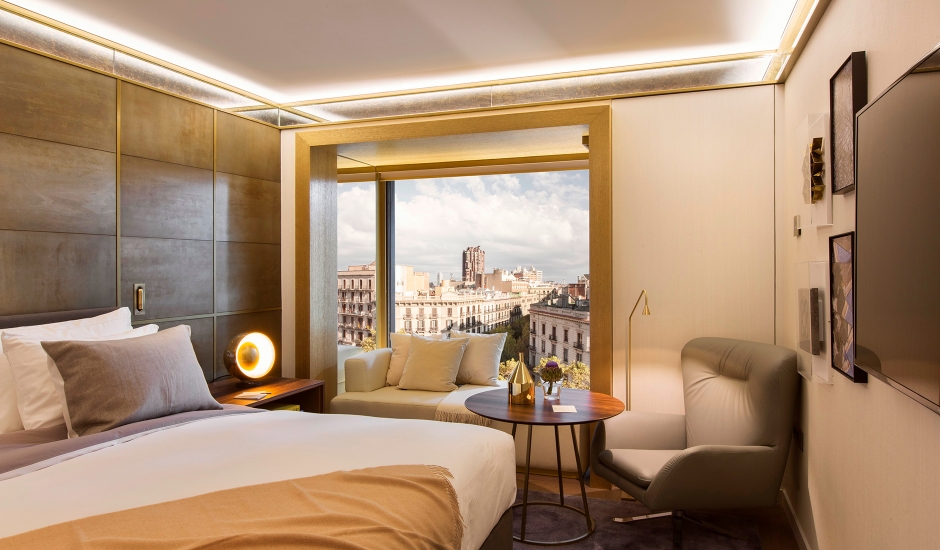 The first hotel from this design-oriented stylish luxury brand launched in Barcelona, followed shortly by openings in Vienna, Prague and Zagreb. The Almanac Barcelona hotel has 92 rooms and suites, and its facilities include a rooftop lounge with a swimming pool and a Mediterranean brasserie. The property is positioned on the Gran Via de Les Corts Catalans, just off the famous Paseo de Gracia.
Website: Almanac Hotels. Opening: 2017. Photo © Almanac Hotels Group
---
60The Residence Bintan, Indonesia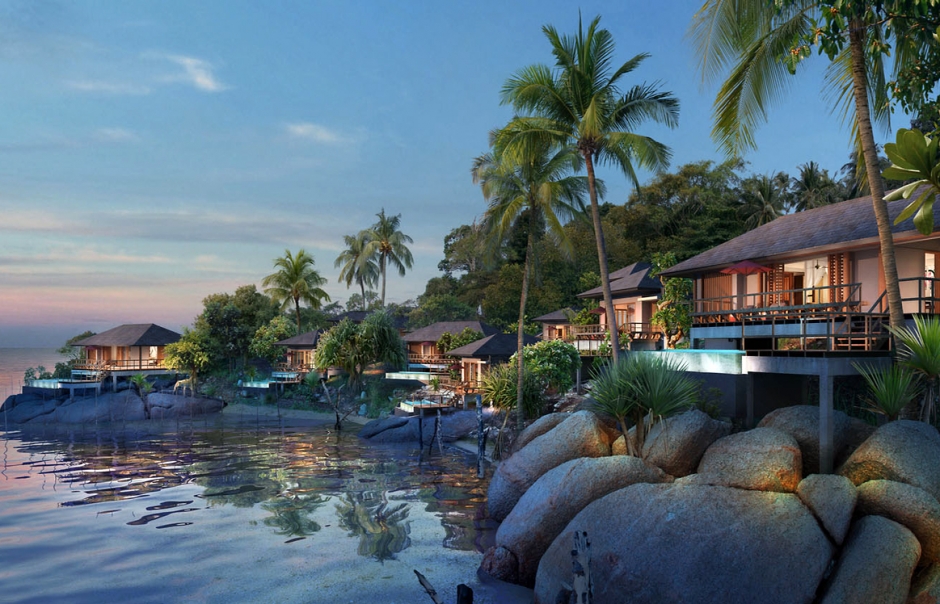 You may also like

---
Honeymoon elegance amid a coconut grove
Described as a "holistic retreat", The Residence Bintan is located on the largest island of the Riau Archipelago in Indonesia. This idyllic-destination property combines a heritage of a traditional Asian village with the vision of a contemporary tropical resort. Generous open spaces and decks that connect the indoors to the landscaped gardens promise comfort and relaxation. The interiors of the hundred and twenty-seven villas are all bathed in natural light and open to the sweeping ocean views. The Residence Bintan promises re-connection with nature and the inner life thanks to the pampering rituals by renowned British spa brand Ila.
Website: The Residence Bintan. Opening: first quarter of 2017.
Rendering © Cenizaro Hotel & Resorts
---
61The Warehouse Hotel, Singapore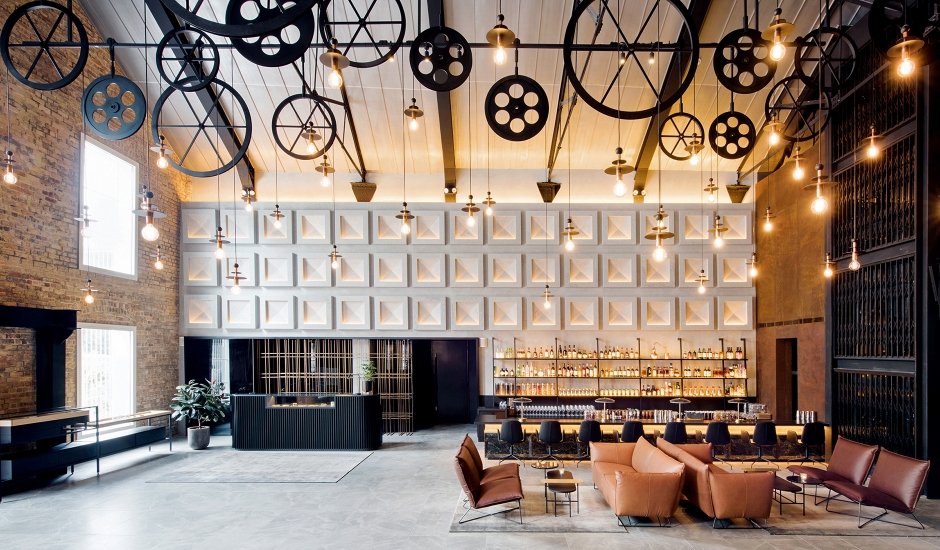 The history of this place reaches as far as 1895 when the Warehouse was part of the Straits of Malacca trade, and when this area of Singapore was known for liquor distilleries and underground activity. Drawing from the industrial heritage of the original building as much as the history of the neighborhood, the Warehouse Hotel Singapore grabs attention with its attractive look. The interiors have a distinctively industrial character. The 37 rooms feature original beams and high ceilings, and their minimalist design is an excellent match to the high-tech fixtures.
We have since visited and stayed at this hotel. Read our review of the Warehouse Hotel in Singapore.
Website: The Warehouse Hotel. Opening: January 2017.
Photos © The Warehouse Hotel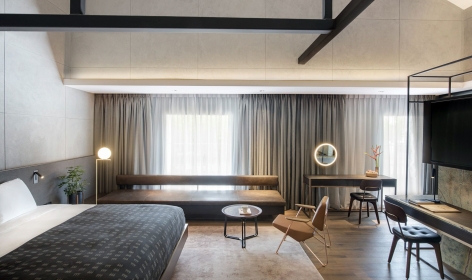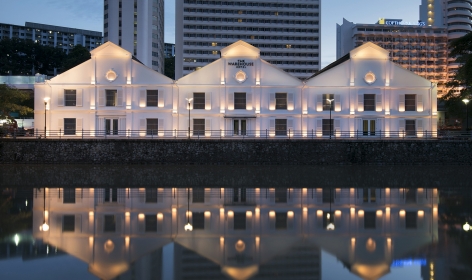 ---
62The Barcelona EDITION, Spain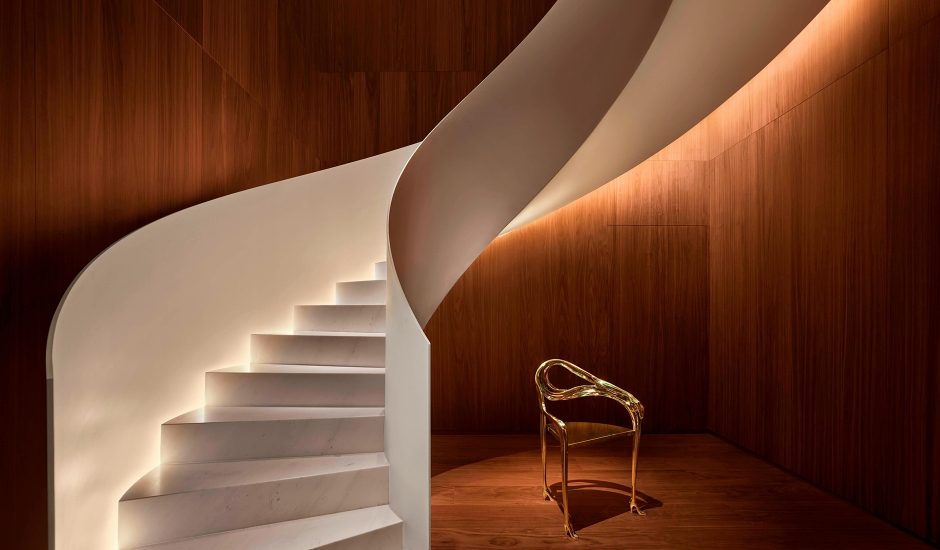 You may also like
---
Hip-and-Happening up Town
One hundred rooms of this luxury hotel will entice to check-in with a contemporary lifestyle concept and casual yet classic feel—a far cry from an office building, which was formerly at the same address. EDITION hotels can be relied upon for excellent interior design, and it is no different in their Barcelona property. Its cool spaces, including three restaurants, club and rooftop bar, will no doubt inspire to lounge. With a desirable location in the Ciutat Vella district, this new hot spot on the Barcelona map will be a worthy addition to the vibrant hotel scene in the city.
Website: The Barcelona EDITION. Opening: 2017. Update: delayed to 2018. Rendering © EDITION Hotels
---
63 Qorokwe Camp, Botswana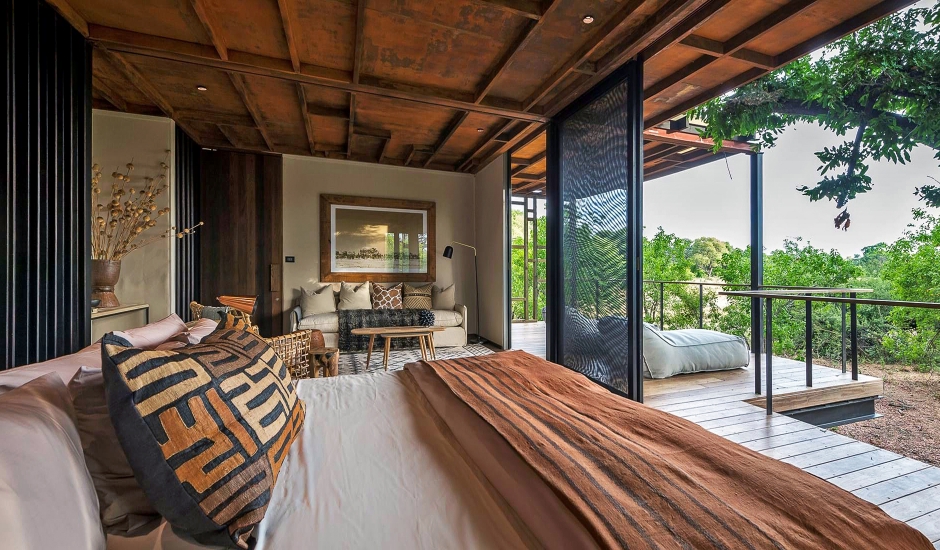 Based on our experiences with Wilderness Safaris, we are confident that this new camp delivers on the promise of refined luxury and fantastic safari experiences. The camp comprises nine spacious tents, one of them a large "family" accommodation that includes a private plunge pool. All are raised on stilts, maximizing views over a lagoon that teems with life. Elephants, buffalo and hippos frequent the area, and seasonal water surges offer guests the opportunity to take water safaris in the traditional mokoro boats.
Website: Qorokwe Camp. Opened December 2017. Photo © Wilderness Safaris
---
64The Oberoi Beach Resort, Al Zorah, UAE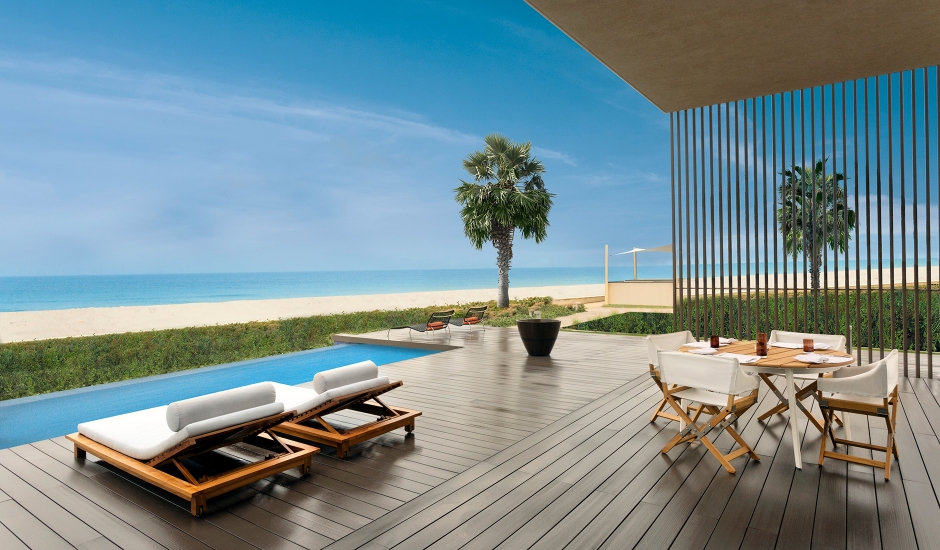 Located in a vast swath of a protected forest, and with access to vast white sand beaches, the Oberoi Beach Al Zorah is a great destination resort in an attractive part of UAE. Ultra-modern and sleek, the spacious rooms and suites are equipped with private terraces, while the villas come with temperature-controlled swimming pools. The 18-hole Championship Golf Course brings the resort particularly attractive.
Website: The Oberoi Beach Resort, Al Zorah. Opened: early 2017.
Photo © Oberoi Hotels
---
65Hotel Eden, Rome, Italy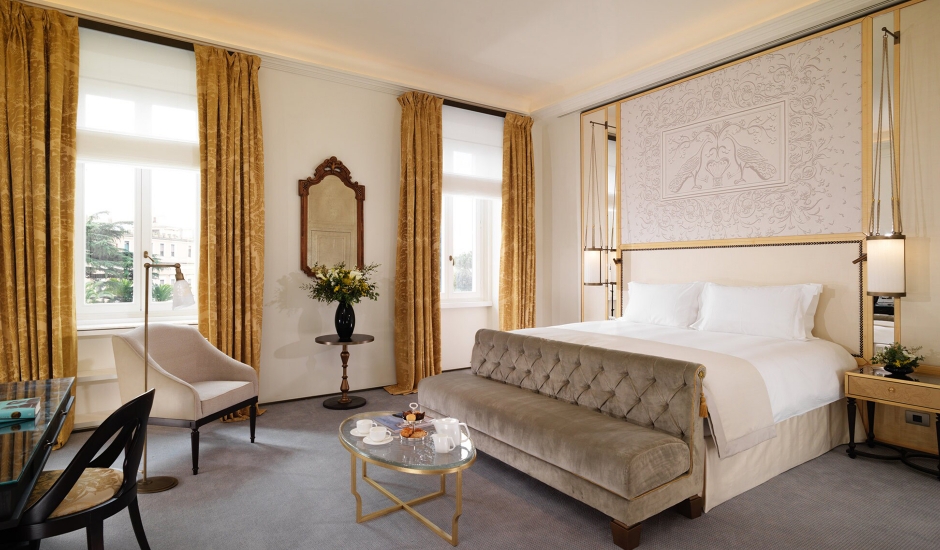 The Dorchester Collection's Hotel Eden in Rome relaunched following an extensive renovation of its rooms, lobby, bars, and restaurants, including the Michelin-starred La Terrazza dell'Eden. The hotel added a new spa and blow-dry bar, but what has not changed is the high level of service and the enchanting views of the Eternal City, which the guests can enjoy from their rooms and suites.
Website: Hotel Eden, Rome. Opening: April 2017. Photo © Dorchester Collection
---
66Public Hotel, New York, US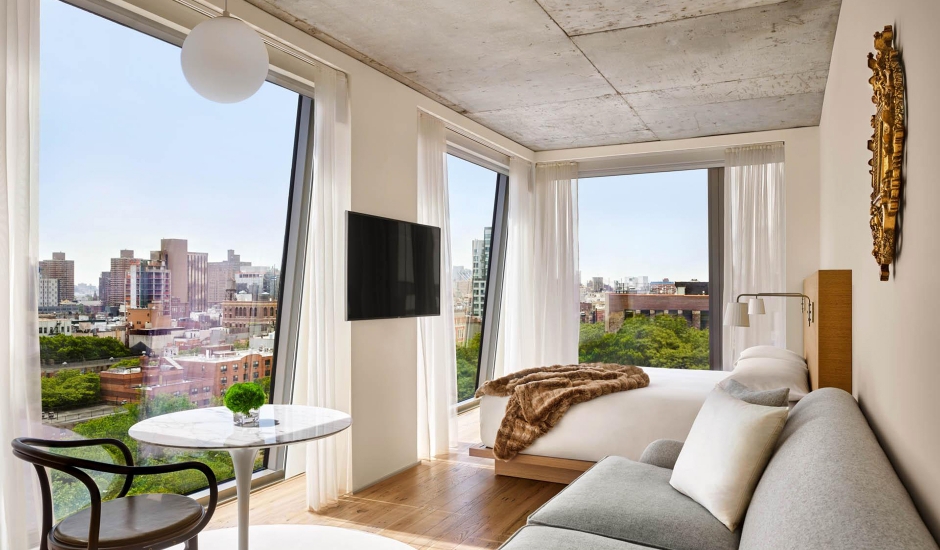 The home of the Public Hotel is a 28-story multi-use tower in the Lower East Side in NYC, designed by Pulitzer Prize-winning architects, Herzog & de Meuron (of the Olympic Birds Nest Stadium in Beijing fame). The architects used floor-to-ceiling windows, permitting unobstructed, stunning views of New York City. The hotel features multiple entertainment and dining venues, including two outdoor garden spaces, restaurants, a lobby bar, a banquet hall, as well as a food market, and even a theatre.
Website: Public. Opening: Spring 2017. Photos © Public Hotels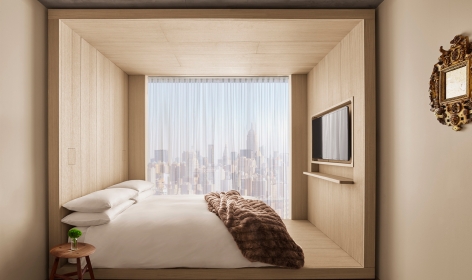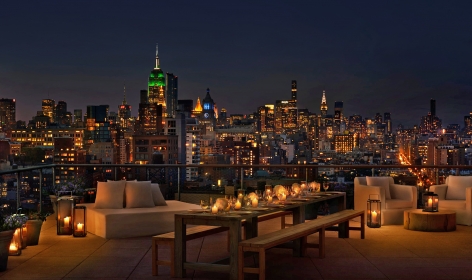 ---
67Habitas Tulum, Mexico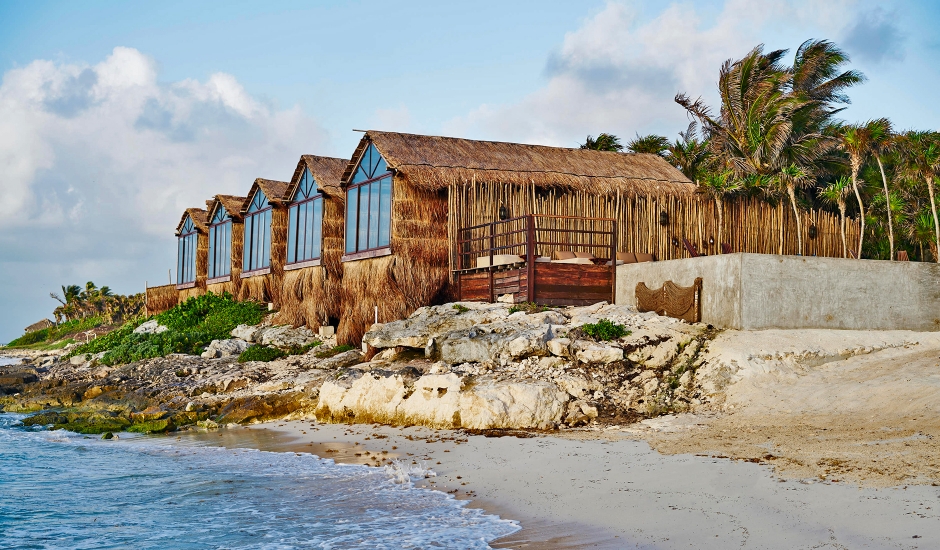 You may also like

---
Bedouin-style luxury
This is the flagship property of the lifestyle brand Habitas, and the first in the tiny portfolio of chic hotels, each designed to fit in an exceptional destination: Namibia, Bhutan — and, to start with, Tulum. The philosophy behind Habitas Tulum is centered around its commitment to creating communities. This is demonstrated in the range of activities on offer, from outdoor film screenings, yoga classes, live DJ sessions, and unplugged jams and concerts. The 32 air-conditioned guest tents of the hotel offer at least 500 square feet of private space and feature outdoor rain showers and private terraces. The tents are furnished with a bohemian-inspired mix of kilim rugs, animal hide stools, and raffia lamps. A tall glass-and-steel pavilion is a central hub for the community. It contains a Moorish-style restaurant, a mezzanine, and a rooftop deck.
Website: Habitas Tulum. Opening: 2017. Photo © Habitas
---
68Luxe Life Hotel New York, US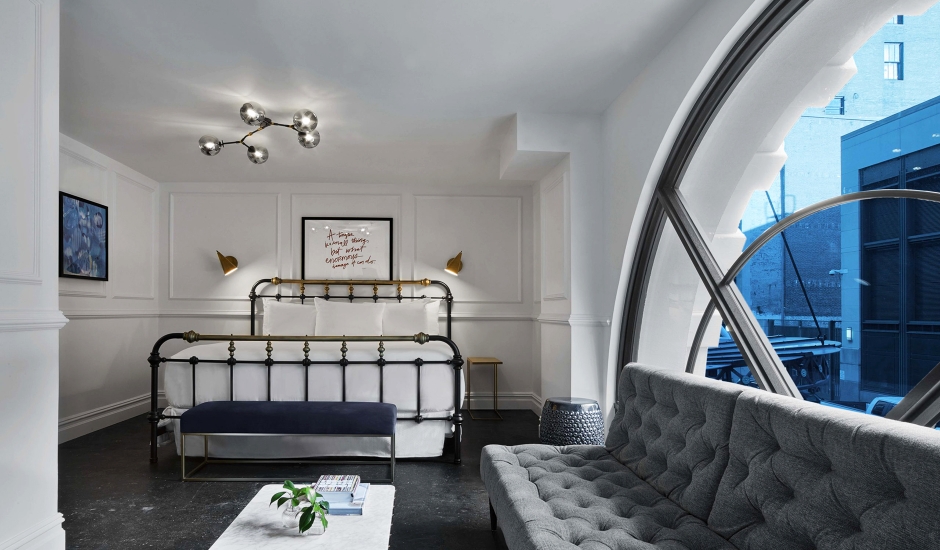 The Luxe Life Hotel New York is housed in the historic LIFE Magazine building, in the NoMad neighborhood. Inspired by the building's heritage, many details link the design to the history of the place. The rooms feature brass fixtures and wrought-iron beds, while up-to-date technologies (free Wi-Fi, 60-inch flat-screen TVs with access to social gaming, and more) ensure a relaxing and comfortable stay.
Website: Luxe Life Hotel New York. Opening: Spring 2017. Photo © Luxe Hotels
---
69Anantara Guiyang Resort, China
The well-known Anantara brand brought its sophisticated brand of luxury to south-west China, in the Guizhou Region. Situated twelve kilometers from the famous Guiyang Forest Park and set against a dramatic mountain scenery, the hotel features over 200 guest rooms with furnished balconies as well as a seasonal outdoor pool. The sublime Anantara Spa invites for treatments that explore China's relationship with tea.
Website: Anantara Guiyang Resort. Opening: Feb 2017. Rendering © Anantara Hotels
---
70Duba Plains Camp, Botswana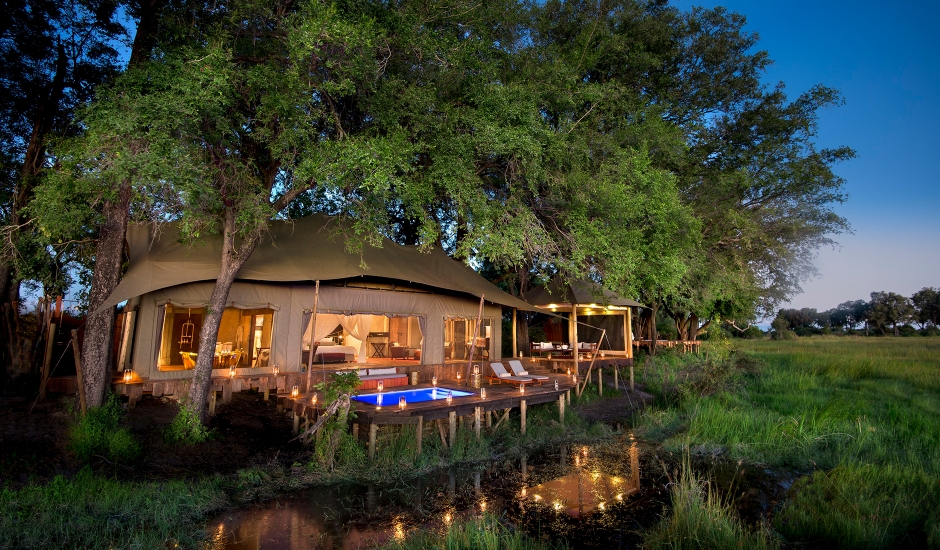 Relaunched following an overhaul and refurbishment, the Duba Plains from Great Plains Conservation sits in the heart of the Okavango Delta, surrounded by a landscape of palm-dotted islands, flood plains, and woodlands. The five guest tents are engineered to blend into this landscape, and designed to evoke the classic African safari era of the 1920s. Each tent comes with a lounge area and en-suite facilities. The camp benefits from a wine cellar and library as well.
Website: Duba Plains Camp. Opened in March 2017.
Photos © Great Plains Conservation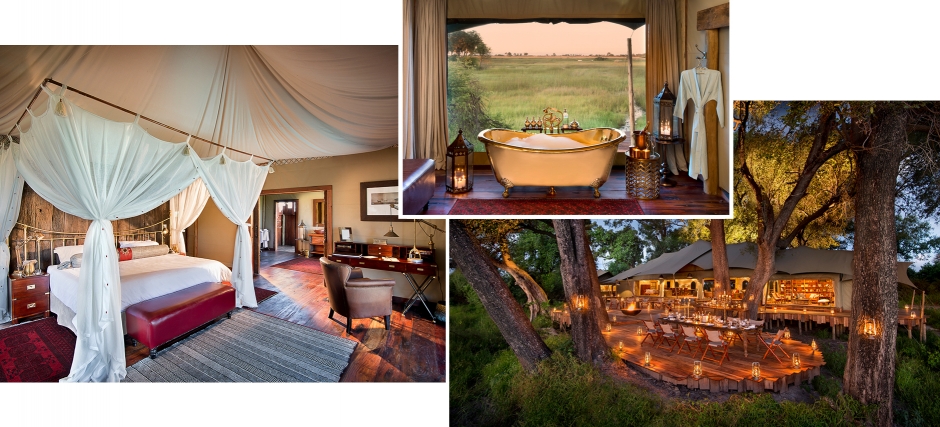 ---
//But Wait, There is Even More: Other Notable Openings 2017
Let's supplement the above 70 Top Openings with the quick list of additional hotels, lodges, and resorts due to launch this year and which are also worth keeping an eye on.
Africa & Middle East
Khwai Leadwood, Botswana (image below left). Mid 2017.
Shipwreck Lodge on the Skeleton Coast National Park in Namibia will be opening its doors sometime in 2017 (image below in the middle).
Al Manara, A Luxury Collection Hotel, Saraya Aqaba, in Jordan (image below right). Set to open July 22, 2017.
Fairmont Amman, Jordan. 2017.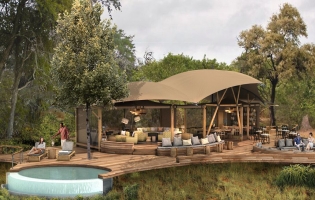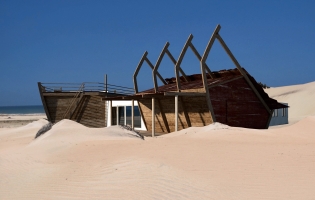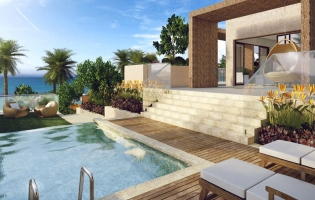 Asia & Pacific
Sofitel Singapore City Centre (image below, in the middle). May 2017.
Andaz Singapore – A Concept by Hyatt, Singapore. Mid-2017.
Rosewood Sanya on Hainan Island, China. Q2 2017.
X2 Chiang Mai Riverside Hotel, Thailand (image below, left).
Avani+ Luang Prabang, Laos (image below right). 2017.
Shangri-La Hotel Colombo, Sri Lanka. Third-quarter 2017.
Sofitel Sydney Darling Harbour, Australia. November 2017.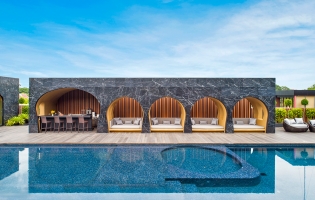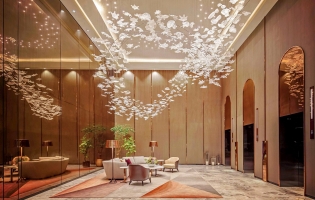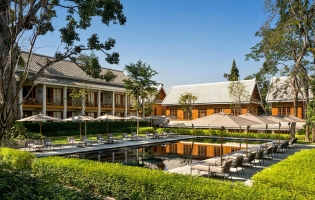 Americas
Palácio Tangará, São Paulo, Brazil (image below, middle).
UNICO 20°87° Hotel Riviera Maya, Mexico, March 2017.
Itz'ana Resort, Belize, Spring 2017.
Casa Republica, Lima, Peru (image below left). April 2017.
Ace Hotel Chicago, USA (image below right). Fall 2017.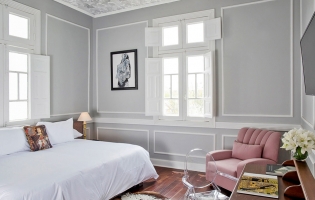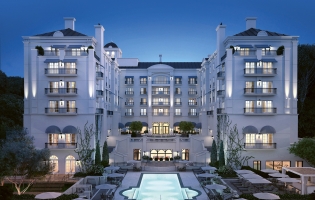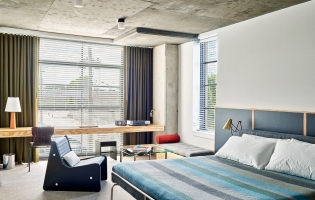 Europe
Hotel Lungarno, Florence, Italy. Re-opened on 1st June 2017 following a complete renovation.
Maison Albar Paris Hotel Céline, France. Early in 2017.
Italy Il Castelfalfi in Tuscany. March 2017.
Provocateur, Berlin, Germany. Also March.
Oddfellows on the Park in Manchester, England. March again.
Hôtel Les Roches Rouges in Provence-Alpes-Cote D'Azur, France. May 2017.
Hotel Hygge, Brussels, Belgium. Fall of 2017.
The Fontenay, Hamburg, Germany (image below right). Autumn 2017.
Also in Hamburg, Sir Nikolai hotel and in Spain Sir Joan, Ibiza. 2017.
Fairmont Quasar Istanbul, Turkey. Opened January 16th, 2017.
The Curtain Hotel and Members Club, London (image below left). Early in 2017.
See all our previous top hotel lists here and stay tuned for upcoming reviews!