If you follow our reviews and articles you know we train our eyes most keenly on hotels that offer something truly special. And Seychelles is one of the few spots on the planet that brings together, in one small place, many luxury resorts with that extra wow factor.
Whether it's a brilliant design, excellent service, delightful cuisine, or dazzling vistas, each entry on our list of the Best Luxury Resorts in the Seychelles wows one way or another — but never under-delivering on sights and sophisticated atmosphere.
Plus, all of them are surrounded by the dramatic beauty of the islands, where the granite boulders fringe the shorelines, juxtaposed with white sandy beaches and washed by the turquoise sea.
1 North Island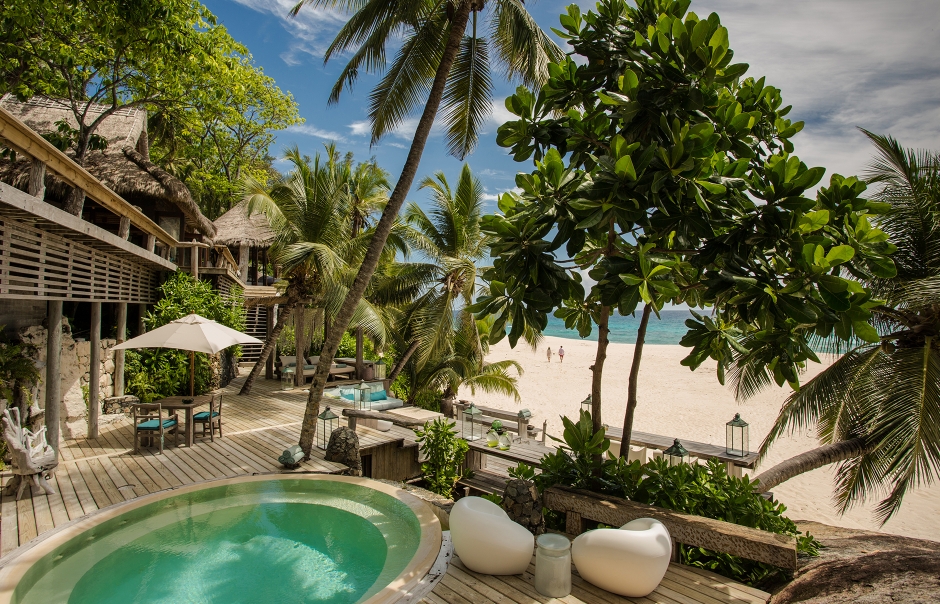 "There are only 11 exclusive villas on the entire island, each designed by Silvio Rech and his wife Lesley Carstens, the award-winning architects from South Africa."
— from our review of North Island
There are very few island resorts like North Island anywhere in the world: beautiful, private, and offering a fully customizable experience. Its signature style combines natural beauty with sheer indulgence—nothing found here is short of unique and exceptional. It's a place for those seeking an unspoiled, spectacular dream island all for themselves.
We love it for: The island's natural beauty, big villas, wonderful nature (turtles!), and utmost privacy as well as the carefree, bare-foot relaxed atmosphere with no dress code.
Read our review: North Island Seychelles
Photos © North Island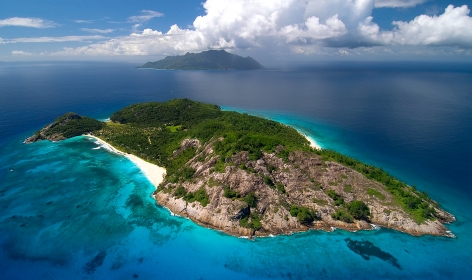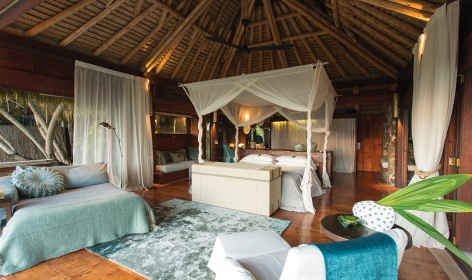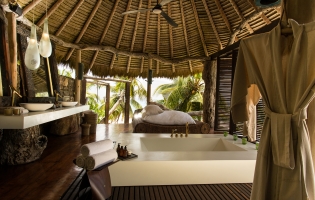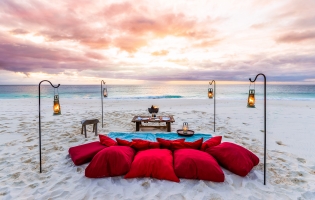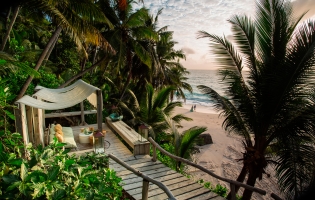 ---
2 Six Senses Zil Pasyon, Félicité Island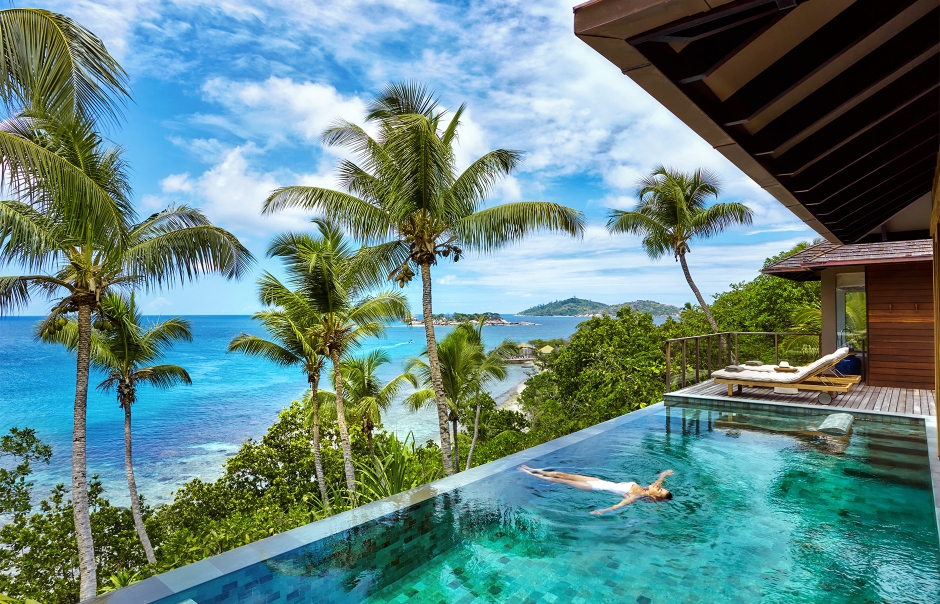 You may also like

---
The ultimate list of 100 hotels, plus another 100 runners-up!
We had a wonderful time at Six Senses Zil Pasyon and can confidently say this is our new favorite Six Senses resort. We were wowed by the sophisticated design and relaxed atmosphere, by the fantastic cuisine, and the natural splendor of Félicité Island. As private island resorts go, this one steals the crown for the sheer beauty of the experience.
We love it for: Two things. First, the villas! Six Senses are seriously upping their game with these new luxury retreats. Second, Félicité Island. It is full of dramatic landscapes, dazzling vistas of the ocean and wild nature.
Read our review: Six Senses Zil Pasyon Seychelles
Photos (including the leading shot at the top of the article) © Six Senses Hotels Resorts Spas
---
3 Four Seasons Resort Seychelles at Desroches Island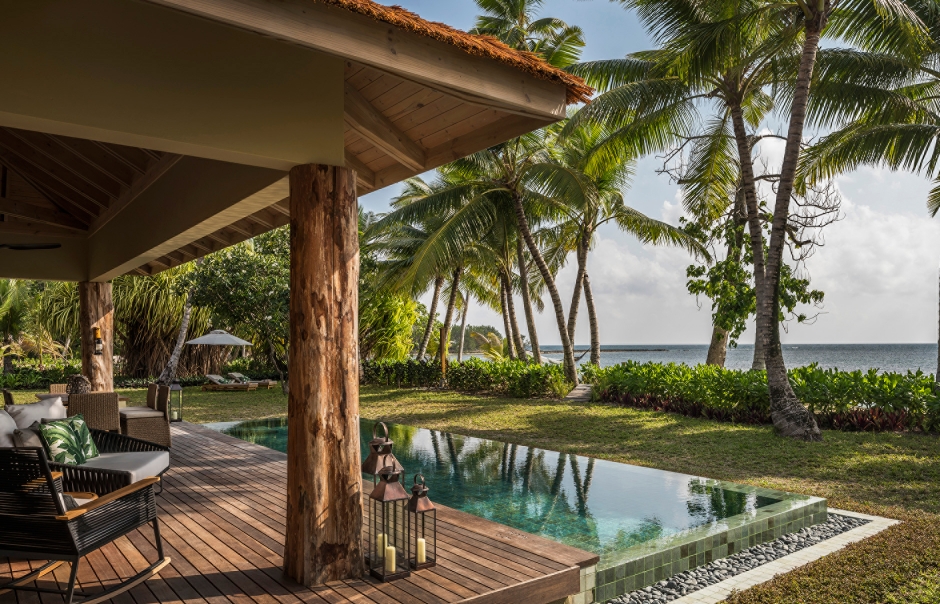 Remote and secluded, yet only 35-minute away (by a small plane) from Mahé, the Desroches Island is perfectly located to provide an experience of "luxury castaway"—courtesy of Four Seasons. The resort offers forty beach suites with private pools and eleven private residence villas. All are set up as an exclusive destination on a pristine tropical island. Edged by fourteen kilometers of white beach, with wild nature in the interior, it's the ultimate desert-island fantasy. Ah, and check this: a sunset-watching from a lighthouse is a thing here.
We love it for: The beauty of the villas. Four Seasons created perfect pads for couples seeking privacy and relaxation. All Villas include a living room combined with a bedroom, which opens onto spacious terraces that feature a 19-square-meter pool overlooking lush private gardens.
Photos © Four Seasons Hotels Inc.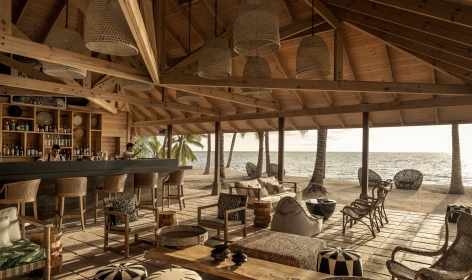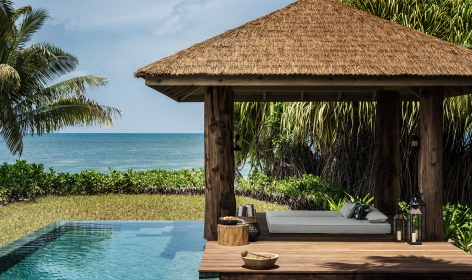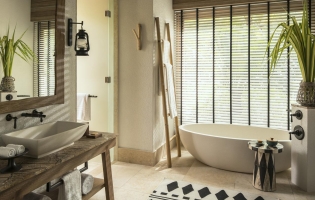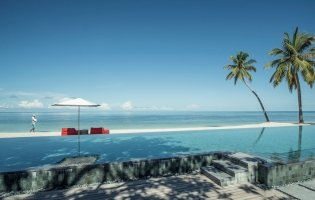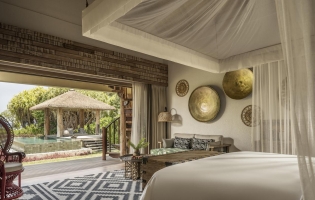 ---
> Shop in our TravelPlusStyle Amazon Store!
See must-have travel gear, vacation essentials, beach reads, and more
---
4 Four Seasons Resort Seychelles, Mahe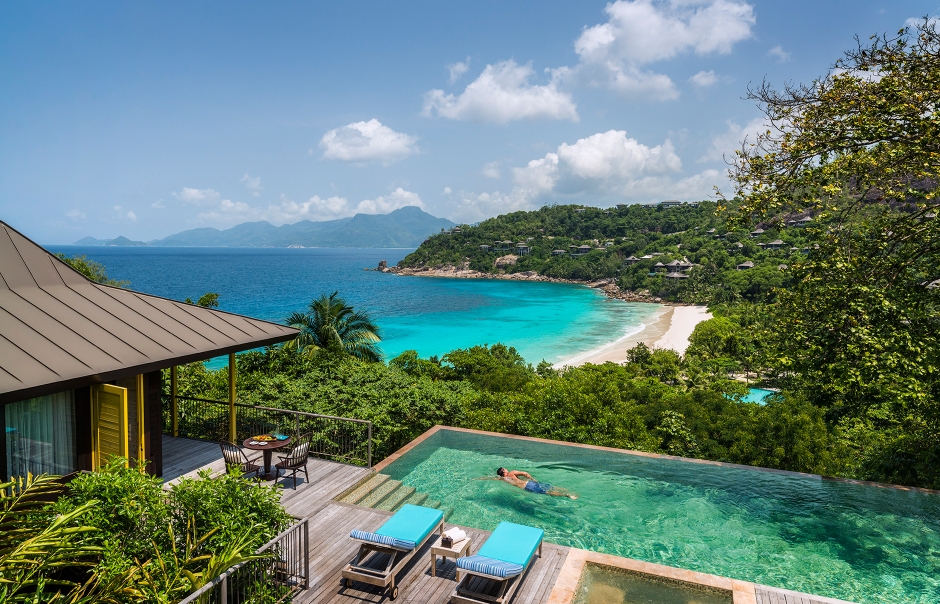 "Picture a perfect beach. Add beautiful villas perched in the tropical canopies. Add top-notch service. These are the ingredients of the ultimate resort experience, and it is exactly what the Four Seasons Resort Seychelles has on the menu" — From our review of the Four Seasons Resort Mahe
Perfectly appointed, beautifully designed, and distinguished by a great vacation atmosphere, the Four Seasons Resort Seychelles raises the bar for the tropical beach resort luxury. It's a great choice as much for couples as it is for families.
We love it for: The natural setting. This property is set among verdant tropical greenery and built on steep hills that roll down to the beach — incidentally, one of the most beautiful beaches we ever visited.
Pro tip: This place will have you wanting to take that envy-inducing Instagram photo. They even have a special beach swing, perfect for that (see how we captured it on Instagram. By the way, we shoot with Nikon cameras).
Read our review: Four Seasons Resort Seychelles
Photos © Four Seasons Hotels Inc.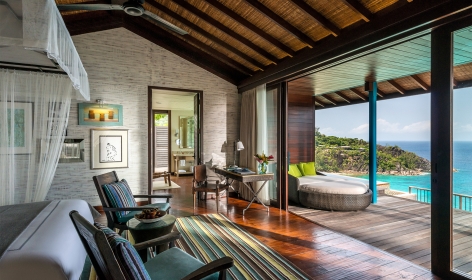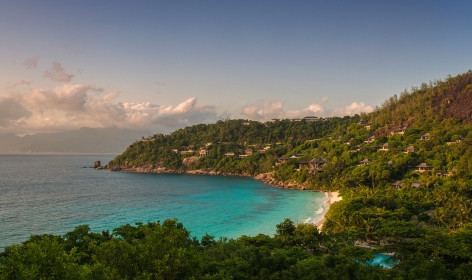 ---
5 Maia Luxury Resort & Spa, Mahe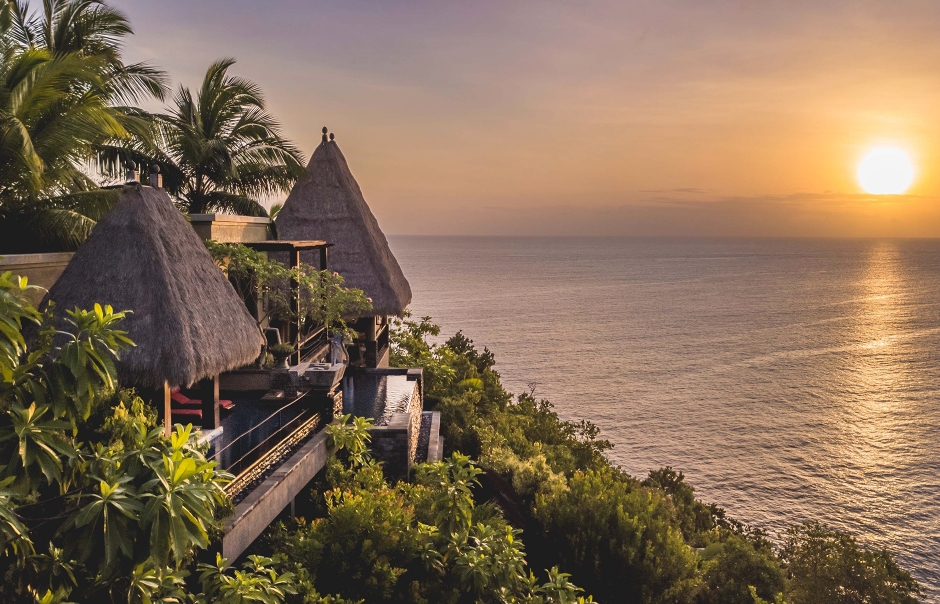 "Maia Luxury Resort & Spa is a place of wood, stone, and thatch, inspired by local traditions and the East African Swahili architecture" — from our review of Maia
High above a magnificent beach of opalescent sand lapped by aquamarine water, amongst swaying palms, lies an opulent hideaway that transcends tropical luxury. This specialty spa resort enjoys a truly idyllic setting—offering a perfect escape from modern life's frenetic pace.
We love it for: Outstanding villas, designed by Bill Bensley. The architect created a high spec, low impact structures, aimed at providing maximum privacy whilst respecting the beautiful natural surroundings. Each villa comes with a private pool and a secluded gazebo that includes an oversized daybed.
Read our review: Maia Luxury Resort and Spa Seychelles
Photos © Maia Luxury Resort and Spa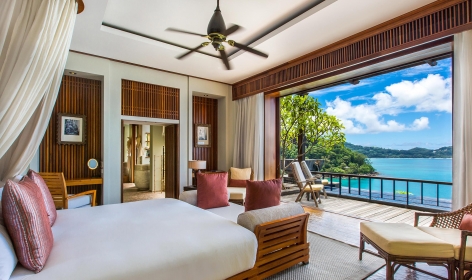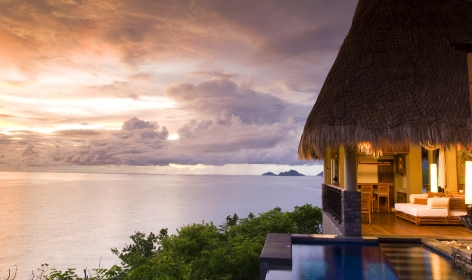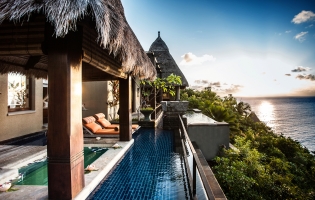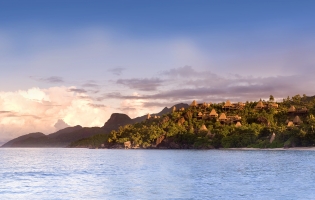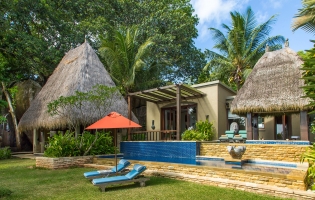 ---
6 Fregate Island Private, Fregate Island
You may also like

---
Enriching simplicity
This place is often listed among the most exclusive private islands in the world. Designed for carefree luxury, Fregate's pool villas blend with the spectacular scenery, surrounded by lush greenery and positioned for the best views from its infinity pools. There are seven gorgeous white-sand beaches on the island and if you fancy having one all to yourself, just flip the 'Beach Occupied' sign as you descend. And every beach is always ready for you, with a cooler box stuffed with iced drinks, towels and loungers, any time of the day.
We love it for: There are only 16 villas. Beautifully designed, with massive private pools, they are one of the elements of experience that make this resort the ultimate in exclusivity, privacy, and seclusion.
Photos © Fregate Island Private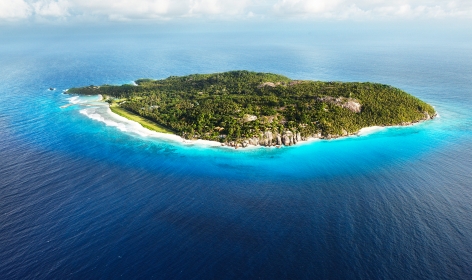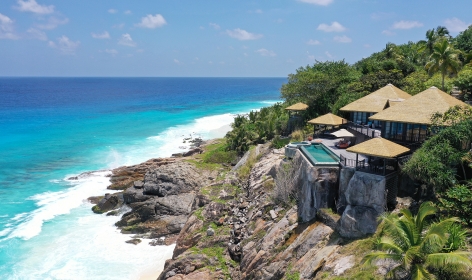 ---
7 Banyan Tree Seychelles, Mahe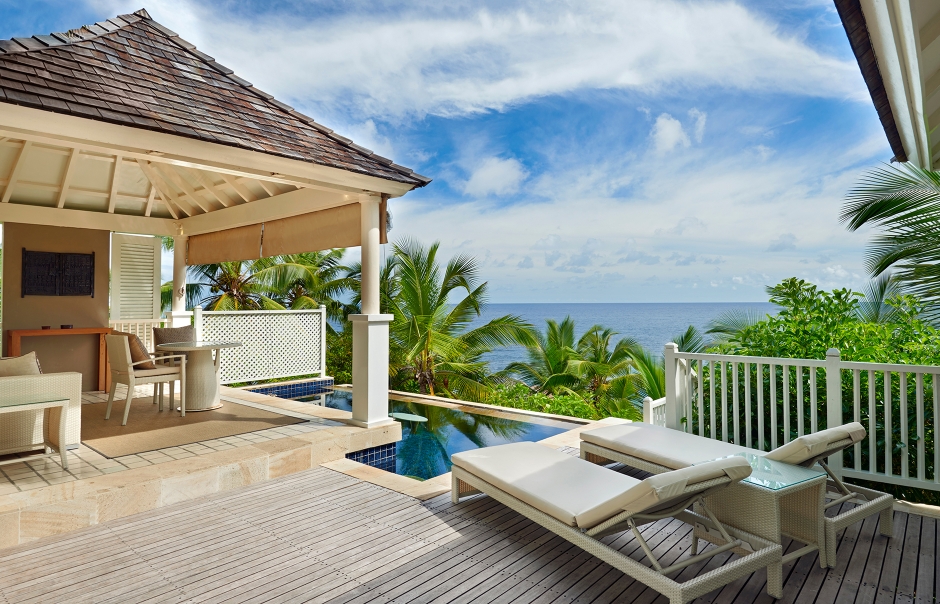 You may also like

---
Elegant in Samui
Commanding a majestic view of the Indian Ocean and overlooking one of the most beautiful beaches we've ever visited, the magnificent Banyan Tree Seychelles delivers a refined luxury and top service, surrounded by tropical greenery and set in a classic, quasi-colonial property.
With a top-class spa, secluded pool villas, and great location, the Banyan Tree Seychelles is a great choice for couples and honeymooners.
We love it for: The resort is located above one of Seychelles' finest beaches — certainly one of the best we've seen. It's vast, dramatic, and flanked by the characteristic granite boulders, with soft white sand and shade provided by overhanging palm trees.
Read our review: Banyan Tree Seychelles
Photos © Banyan Tree Hotels & Resorts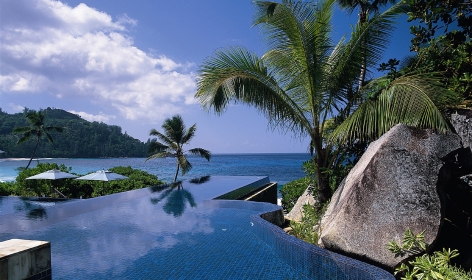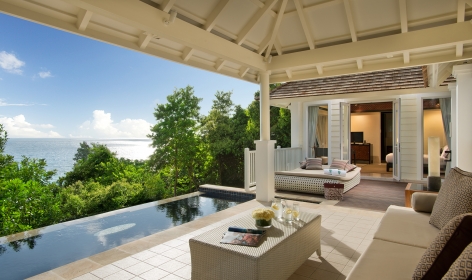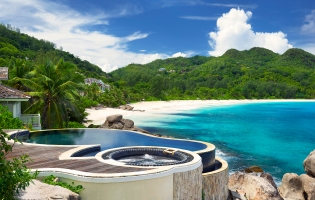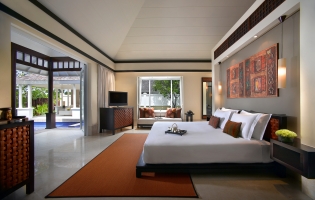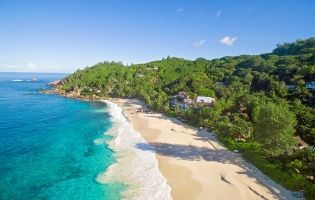 ---
8 Raffles Seychelles, Praslin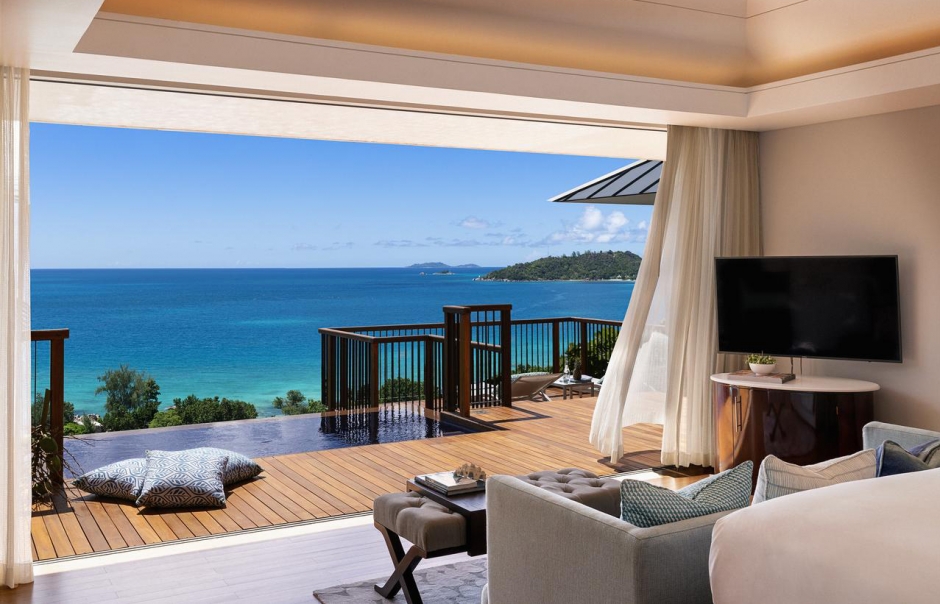 You may also like

---
Luxury chic and sunsets
Located on the beautiful north-eastern tip of Praslin, this luxury resort from one of the most respected hotel brands features eighty-six contemporary villas, each with private outdoor pavilion and plunge pool. The villas are among the most spacious in Seychelles and are positioned to take advantage of the resort's location — ensuring breathtaking views of the lush green hills, the beach below and the ocean.
We love it for: The dramatic rooftop lounge, Takamaka Terrace. It's a perfect place for sundowners at the end of a day filled with visits to the ancient forests on Praslin, water sports, and relaxation.
Photos © Raffles Hotels & Resorts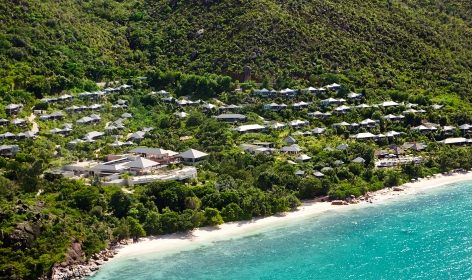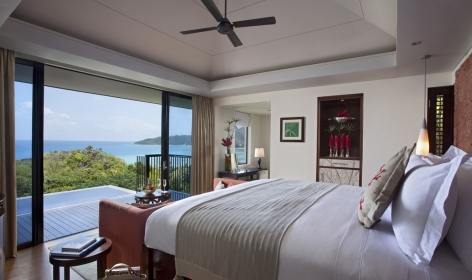 ---
9 Constance Lemuria, Praslin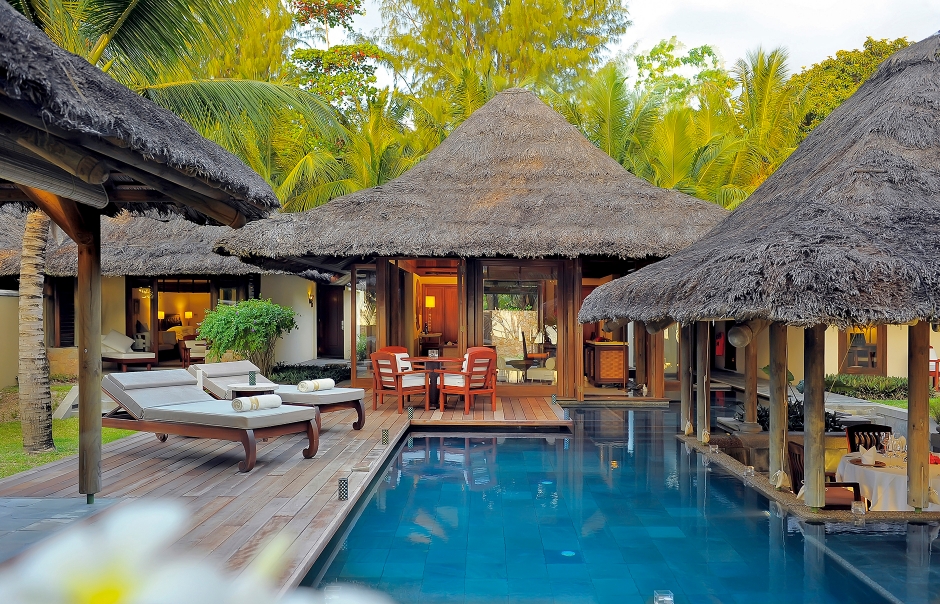 Also located on Praslin, Seychelle's second-largest island, where the Vallée de Mai Nature Reserve is located (with the endemic coco de mer palms), is the Constance Lemuria Resort. The guest suites of this exclusive property are scattered alongside two pristine beaches, each guest accommodation no farther than fifteen meters from the shore. Constance Lemuria has two three-level swimming pools, access to three beautiful sandy beaches, and its own eighteen-hole championship golf course.
We love it for: Presidential Suite, the most exclusive accommodation option. Set among granite boulders on the southern tip of one of the resort's beautiful beaches, it is designed to deliver a unique private experience.
Photos © Constance Hospitality Management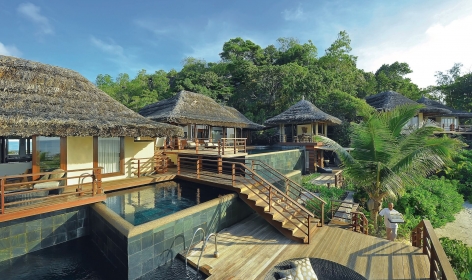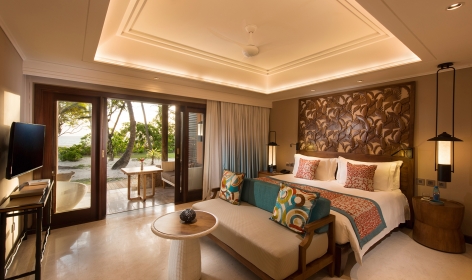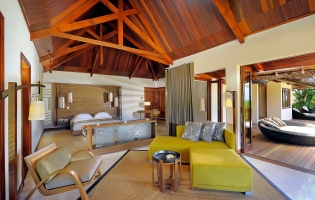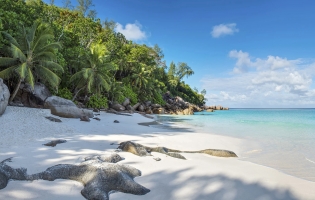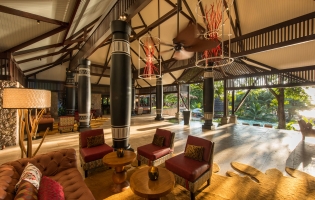 ---
10 Denis Private Island, Denis Island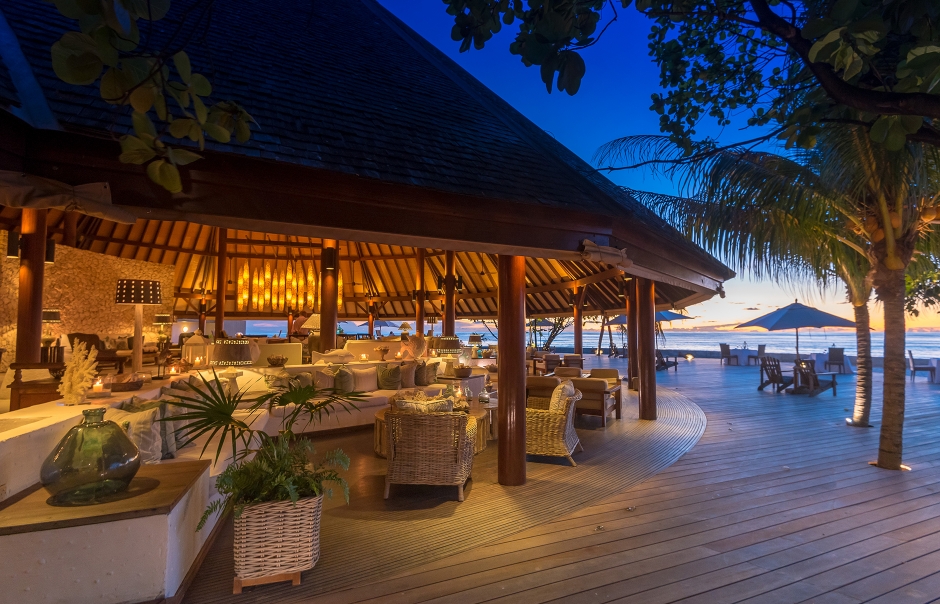 Denis Private Island is a self-sufficient, tropical hideaway that will fully connect its guests with nature. Geared towards families with children and proud of its conservationist efforts, this tiny private paradise is covered by a luscious jungle and home to many indigenous birds species, as well as giant tortoises.
"Denis Island is a living, breathing island community, for those who believe giving back to nature is the only way to receive its bounty in return"
The twenty-five cottages of the resort carry a distinctive character and are set up in isolation from each other. Their seclusion makes them feel like their own deserted islands. All have direct access to the beach, and interiors make them look like gorgeous beach houses.
We love it for: Barefoot luxury in its purest form. Expect no mobile network signal, no in-room internet, and no cable television. This island is for you to unplug from the modern world, and reconnect with things that truly matter.
Pro tip: Bring with you some good beach reads.
Photos © Denis Island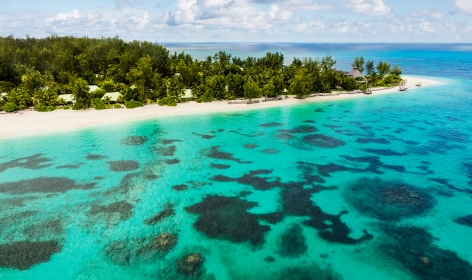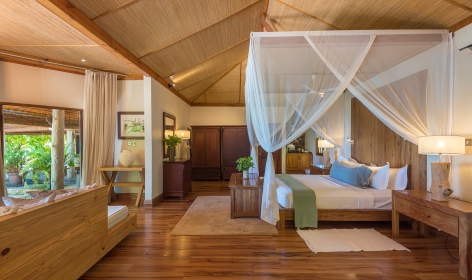 ---
11 Hilton Seychelles Labriz Resort & Spa, Silhouette Island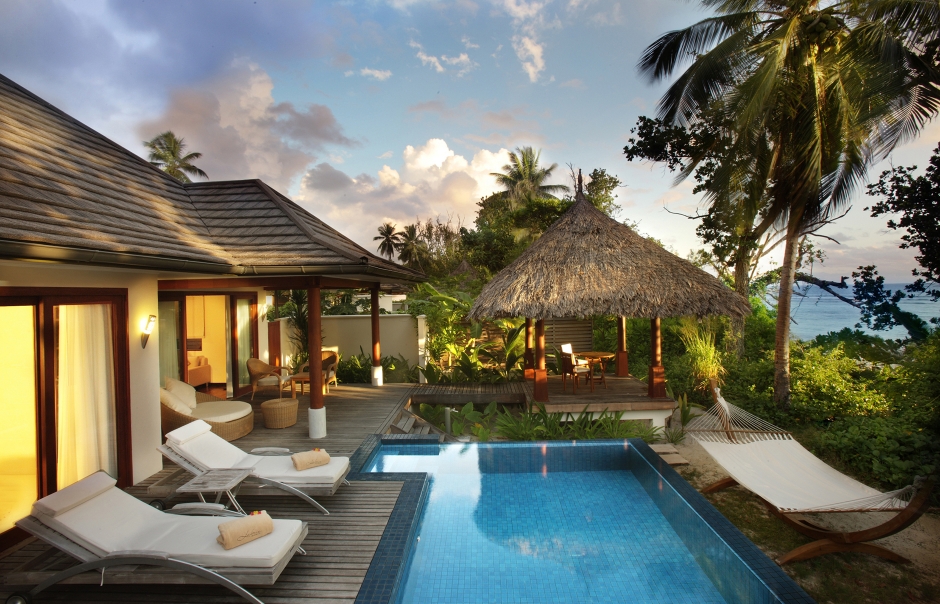 You may also like

---
Barefoot elegance
Silhouette island, with its rugged cliffs, jungles of primeval forest, valleys and meandering rivers, is spell-binding. Mostly wild and left to its own devices, only a sliver of Silhouette is inhabited. This populated spot is taken up by the Hilton Seychelles Labriz Resort & Spa, a beautiful resort designed in a simple island-chic style. The villas, located on the beachfront or up on hills are generously sized, and furnished with nods to the Creole vernacular. The hotel boasts a range of experiences and attractions taking advantage of the location.
We love it for: The island itself is the main draw here. The raw nature and vast landscape of Silhouette are simply incredible, with 98% of the island made into protected land.
Pro tip: Drones can be often an annoyance to the other guests and locals, but Silhouette Island is where they can make a lot of sense, as most of the land is uninhabited. Check out the latest range of drones on Amazon.
Photo © Hilton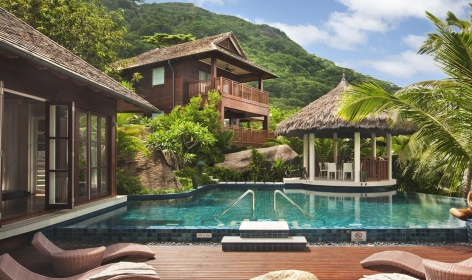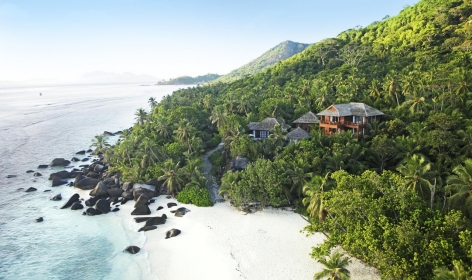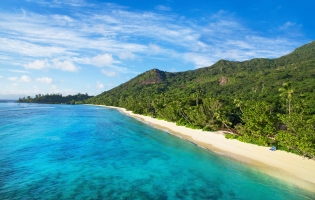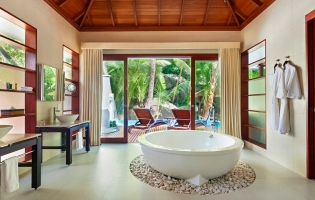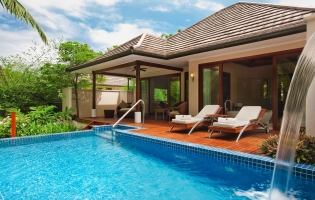 ---
12 Constance Ephelia, Mahe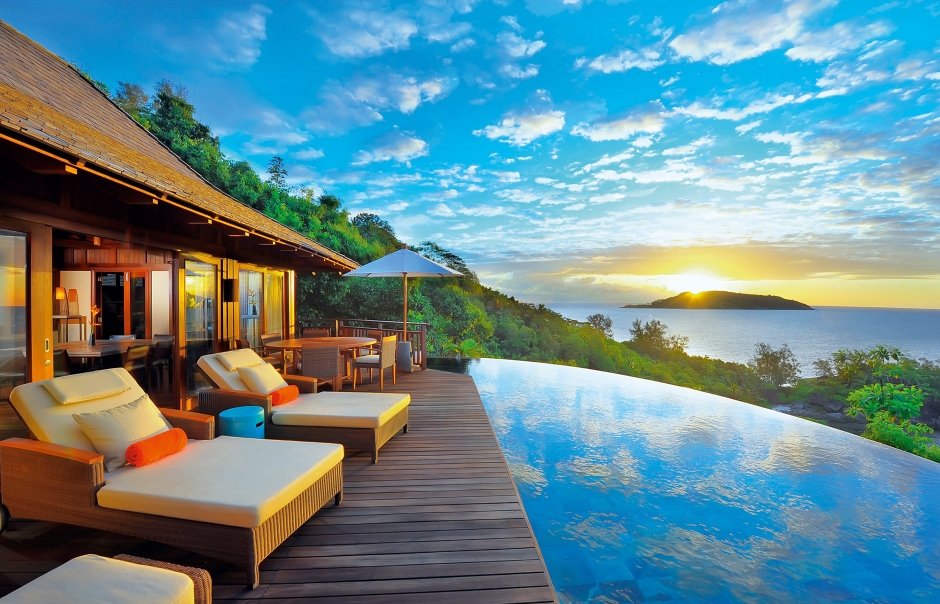 You may also like

---
Planning the perfect beach holiday? Pick the best island resort!
This is the largest resort in the Seychelles, with 313 rooms and villas, offering a ton of attractions on-site and plenty of activities outside. There are four tennis courts, a squash court, and as many as five shops, and the spa has eighteen treatment rooms. Watersports, yoga lessons, fishing and diving excursions, and even a zip wire are among the attractions. Dining options are varied and attractive, with five restaurants, as well as bars located in the resort or on the two beautiful beaches. There are also several swimming pools, located strategically between the rooms.
We love it for: The full resort experience. From chilling by the (many) swimming pools to lone hiking across the hills or staying put in the privacy of your villa, you can experience this place as little or as much as you wish.
Photos © Constance Hospitality Management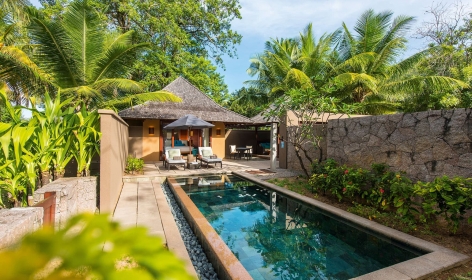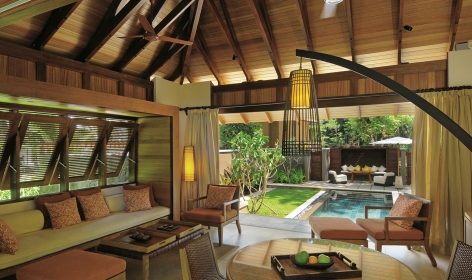 ---
// Best of the rest!
Seychelles has so much to offer when it comes to luxury hotels that we felt we have to include at least some that didn't quite make it to the list proper but are at least worth a mention.
Cousine Island – Exclusive Private Island Villas (image below, left).
Bird Island Lodge, Bird Island.
JA Enchanted Island Resort, Round Island.
Hilton Seychelles Northolme Resort & Spa, Mahé (image below, right).
Savoy Seychelles Resort & Spa, Mahé.
Le Méridien Fisherman's Cove, Mahé.
Eden Bleu Hotel, Eden Island, Mahé.
The H Resort Beau Vallon Beach, Beau Vallon, Mahé.
Kempinski Seychelles Resort, Mahé.
Le Château De Feuilles, Praslin.
Dhevatara Beach Hotel, Praslin.
Le Domaine de L'Orangeraie Resort & Spa, La Digue Island. We love this one for its location on the laid back La Digue, home to the most beautiful beach in Seychelles. The world-famous Anse Source d'Argent is only a short journey away (via bicycle, complimentary for each guest).
Alphonse Island Lodge, Alphonse Island.
---
Pro Tip: Before you go, make sure you pack in style. We tried a lot of different brands of luggage, but love the most the Bric's Bellaggio range, so are happy to recommend it.
---