When planning to visit the Maldives a holidaymaker is faced with an odd dilemma: just exactly which island resort, from over two hundred, to pick? There are few other destinations that spoil for choice quite like this one.
We can't claim to have the right answer for everybody, but the regular visitors to TravelPlusStyle.com should by now have the sense of what we dig. If your idea of the perfect resort involves great design, unostentatious luxury, and personalised service, if your best possible time off involves utmost exclusivity and authentic experiences—then look no further: this list is for you.
From simple island life to a sprawling luxury playground—we present you with fifteen properties that have one thing in common: they are the very best.


1 Six Senses Laamu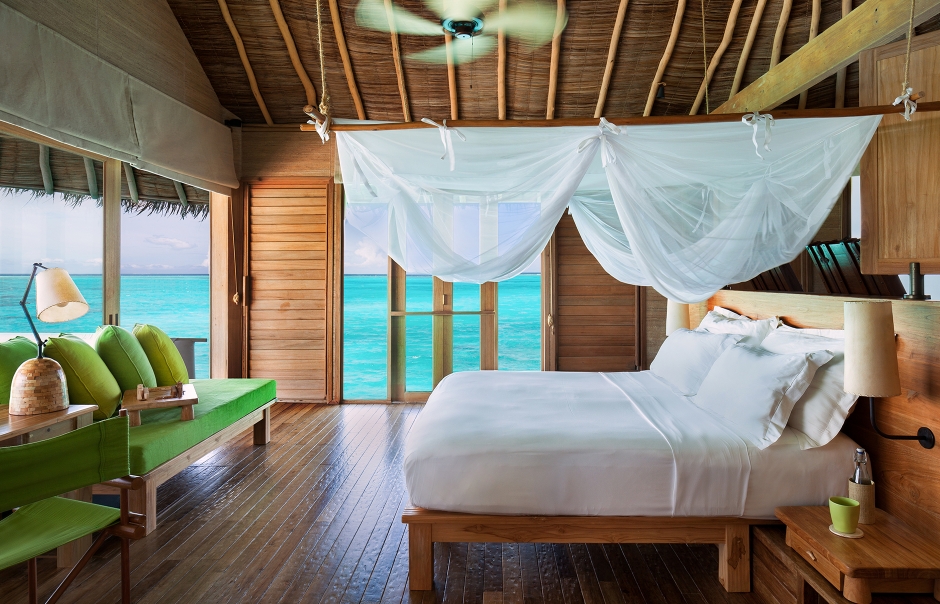 "Laamu has all the ingredients of the perfect holiday—not least of which is the resort's genuine barefoot luxury, presented in a pure atmosphere of carefree relaxation."—from our review of Six Senses Laamu
Our regular readers will remember that we are huge fans of the Six Senses' concept of rustic chic. After recently visiting Six Senses Laamu, we concluded that the chain's Maldivian outpost is perhaps the best example yet of the philosophy that masterfully combines beautiful remote locations, eco living and uncompromising luxury.
We love it for: Our absolutely favourite thing about this resort was the wonderful Ocean Water Villa—spacious, with innovative features, and designed in a style perfectly aligned with the experience of a paradise destination.
Read our review: Six Senses Laamu, Maldives
Photographs (including the leading shot at the top of the article) © Six Senses Hotels Resorts Spas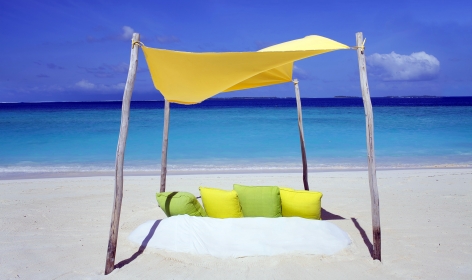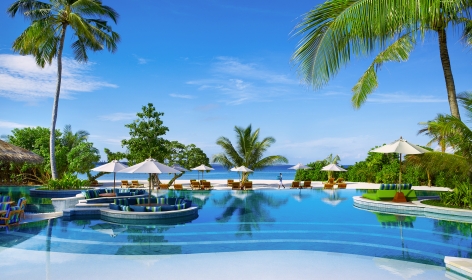 ---
2 One&Only Reethi Rah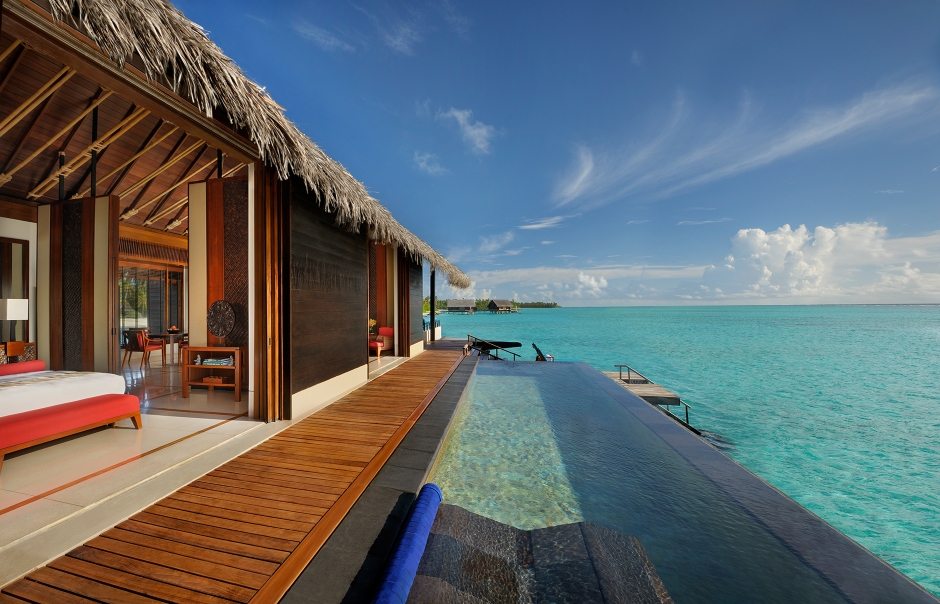 After few days at One&Only Reethi Rah we felt like we could stay here for a month and not get bored. With its fabulous style, glamorous atmosphere and a sheer wealth of attractions Reethi Rah is like a cross between a spa resort, an exclusive country club and a billionaire's playground. It's a beautiful world unto its own.
We love it for: Our Beach Villa with Pool. Luxurious, sleek, and offering copious amount of space in and out. We also spent few days in a Water Villa, which has a multi-level deck surrounded by lounging nets, spread over blue shallows. Occasionally, we'd dip into the calm waters, directly from the deck. Pure bliss!
Read our review: One&Only Reethi Rah, Maldives
See our photos: Photos by T+S: One&Only Reethi Rah
Photographs above and below © One&Only Resorts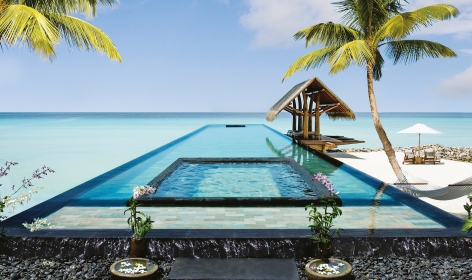 ---
3 Huvafen Fushi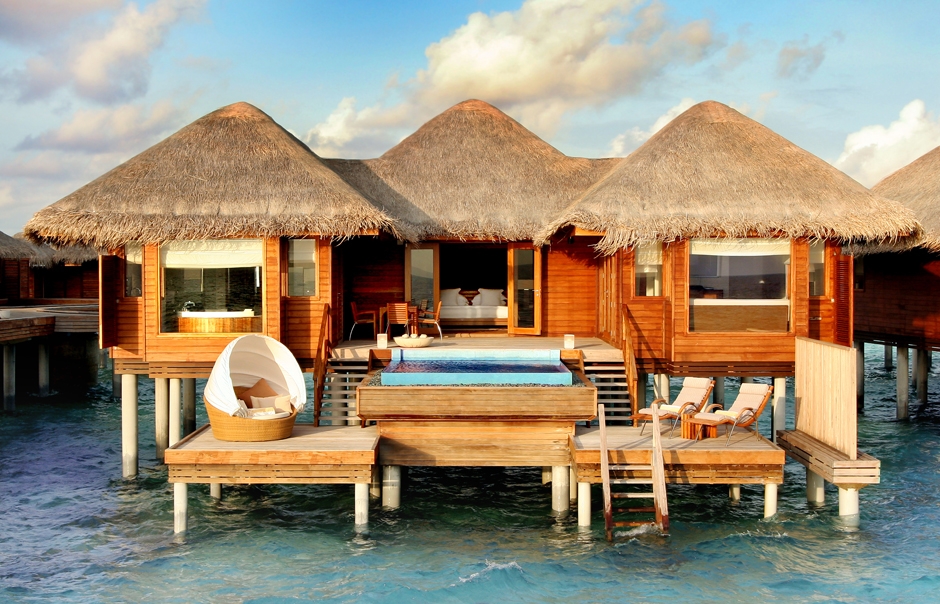 During our stay here we discovered just how much Huvafen Fushi is about pure escapism: it offers a refreshing return to some true Maldivian basics. But the resort does not lack in the department of cool ideas, with their famous underwater spa or the twinkling-stars infinity pool, which is still among the most iconic in the country.
We love it for: Superb over-water bar for gazing at sunsets and our Ocean Bungalow with Pool. Its thatched rooftop looks rustic, but the interior is anything but, with a touch of contemporary urban loft apartment style and high-tech features to match.
Read our review: Huvafen Fushi, Maldives
See our photos: Photos by T+S: Huvafen Fushi
Photographs above and below © Per AQUUM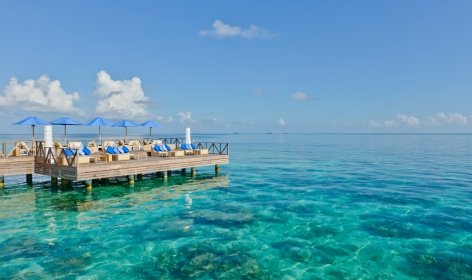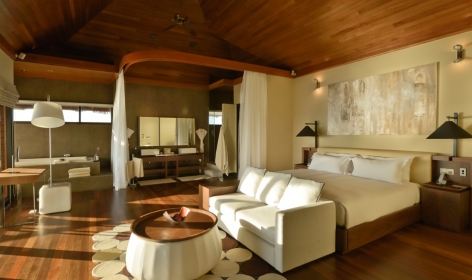 ---
4 Cheval Blanc Randheli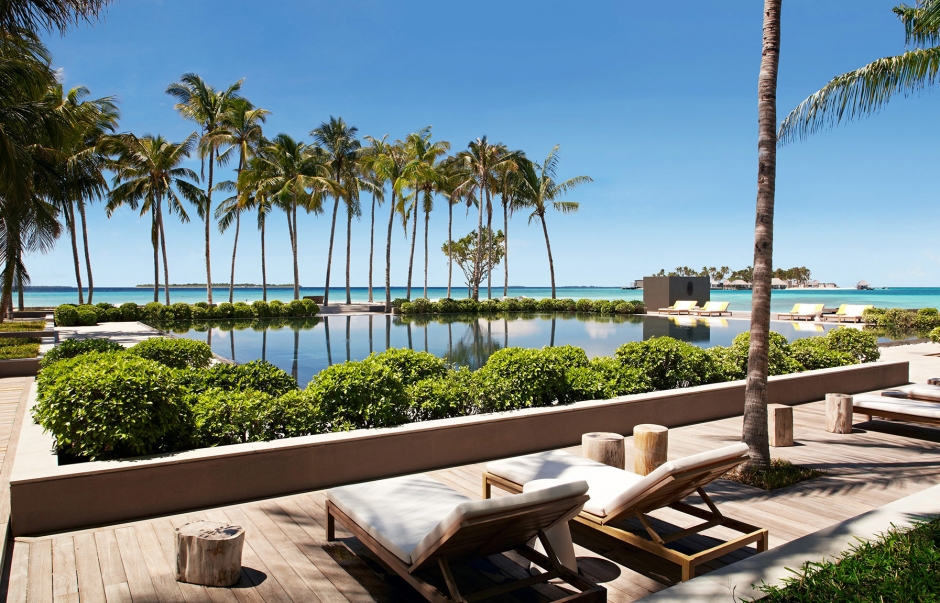 You may also like

---
Utterly serene
Designed by Jean-Michel Gathy, the creative mind behind some of the world's most stunning resorts (including the Chedi Muscat and many Aman resorts), Randheli brings to the Maldives the latest in contemporary luxury.
We love it for: The design is more sleek, stylish and glamorous than in any other resort on this list—and the Cheval Blanc Randheli villas are simply the best in the Maldives. They are huge and stunningly beautiful, and their décor stands out with superb craftsmanship and detailing. Every single one of these sophisticated sanctuaries comes with a massive infinity pool.
Read more: Cheval Blanc Randheli set to become Maldives' newest A-lister.
Photographs © LVMH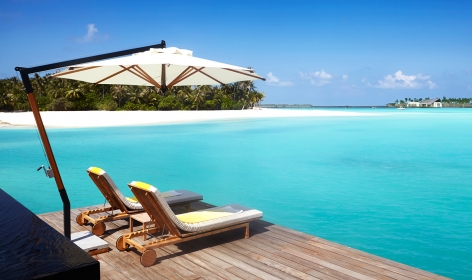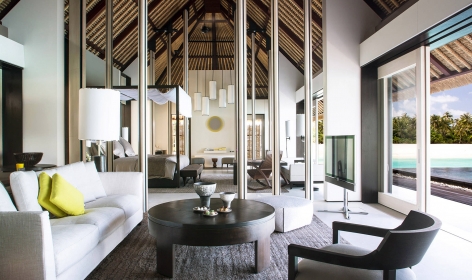 ---
5 COMO Maalifushi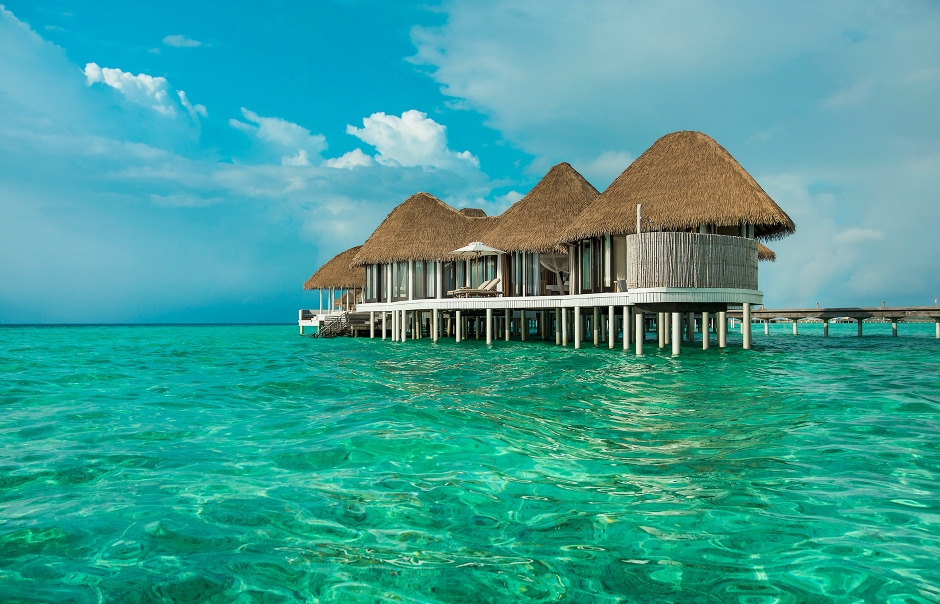 One of our recent trips to Maldives wouldn't be complete without a stay at the new COMO resort, which we were looking forward to checking out since it launched last year. Our takeaway? We'll pick the perfect combination of peaceful ambience and pared-down looks of Maalifushi any time.
"Maalifushi encapsulates the spirit of an idyllic tropical life, serving the experience of barefoot luxury… and the pure escape-from-it-all" —From our review
We love it for: This island smells good, thanks to Shambhala, COMO's own range of high quality cosmetics, distributed in bathrooms. Speaking of which, COMO Shambhala Spa was even better than we expected!
Read our review: COMO Maalifushi, Maldives
See our photos: Photos by T+S: COMO Maalifushi
Photographs above and below © COMO Hotels & Resorts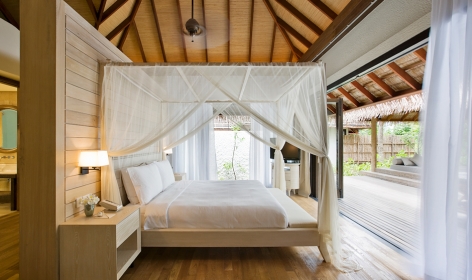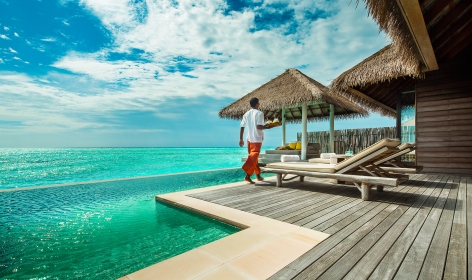 ---
6 Soneva Fushi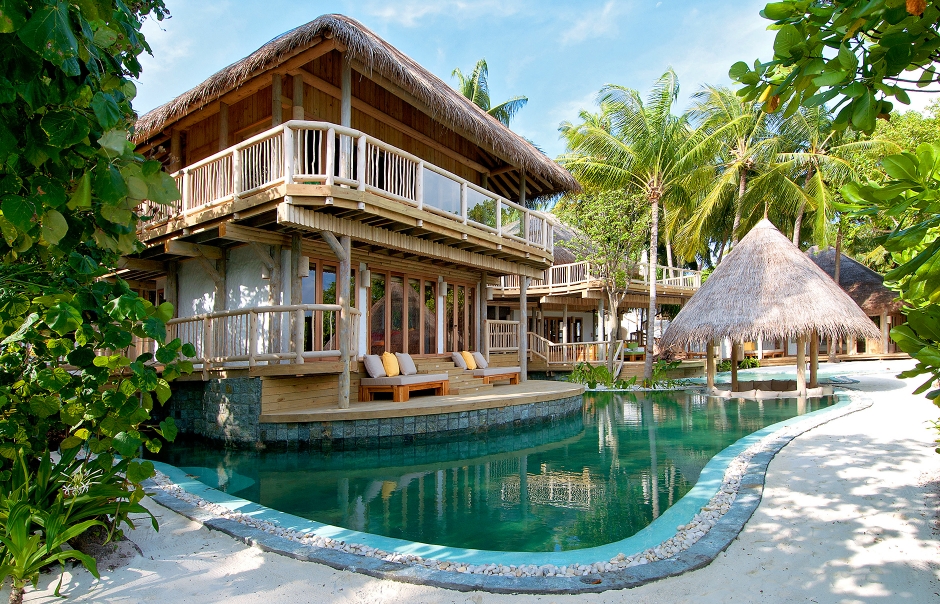 You may also like

---
Fantasy Structures
This is the first resort created by Sonu Shivdasani and his partner Eva, a hospitality industry power couple and the driving force behind the idea of back-to-nature, barefoot luxury holidays. Soneva Fushi is the original desert island hideaway in the Maldives—it practically invented the "castaway chic" fashion all on its own. Seriously eco-friendly, its low-key, intelligent luxury turns a hotel stay into magical experience.
We love it for: The villas, many designed in a "tree house" style. These beautiful hideaways and massive and well camouflaged by lush greenery. Plus, Soneva's "no-news, no-shoes" concept it's not just on paper: you are likely to go barefoot for the entire stay.
Pro tip: On the seaplane journey one thing came really handy: our noise-canceling headphones. From among all the headphones we tried, we can recommend the Sony WH1000XM3 as the best. Ad
Read our review: Soneva Fushi
Photographs © Soneva.com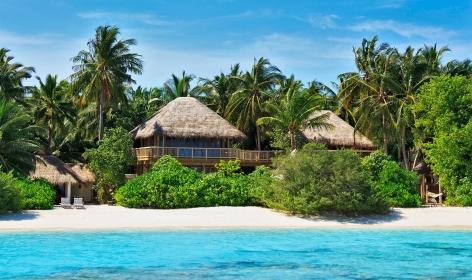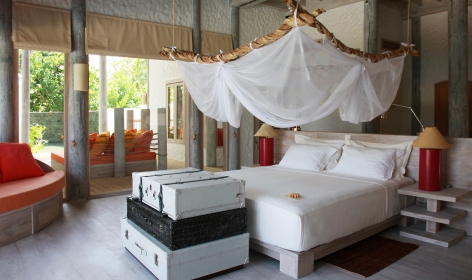 ---
7 Park Hyatt Maldives Hadahaa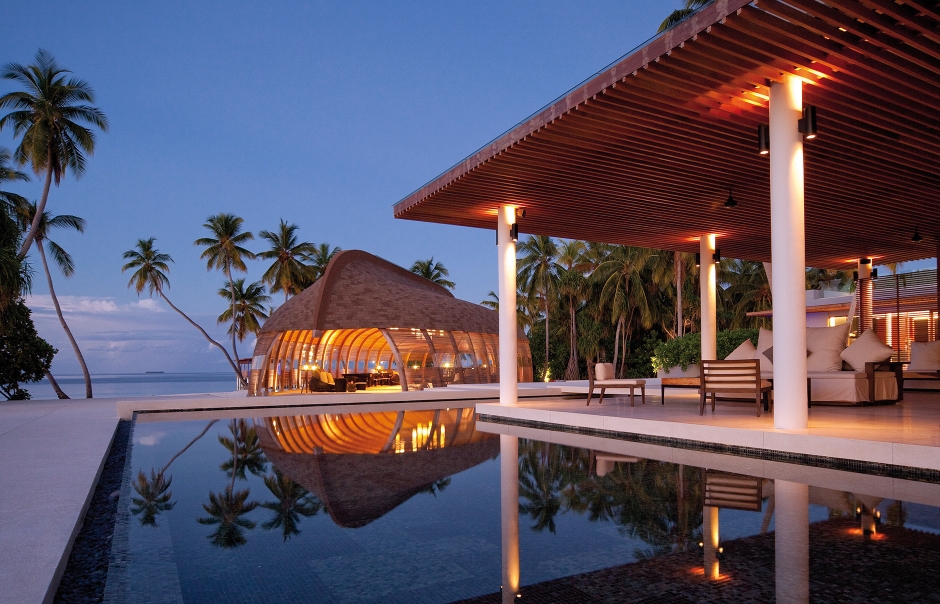 With more than 10 kilometres from the nearest inhabited island, Hadahaa is reminiscent of the untouched Maldives some fifty years ago. But there is nothing outdated about the resort. Park Hyatt wows with chic ambience and exceptional architecture. Its reception lobby, resembling a huge upturned wooden Dhoni, is nothing short of iconic.
"Located near the Equator, and far away from artificial light sources, the island is blessed with a truly amazing night sky, glittering with myriad stars".—From our review of Park Hyatt Maldives Hadahaa
We love it for: Situated in Huvadhoo, the largest and deepest atoll in the Maldives, Hadahaa offers the pure Maldivian experience of blue sea, fine powdery-sand beaches and healthy, abundant house reef—with some of the best snorkelling in the country.
Read our review: Park Hyatt Maldives Hadahaa.

Photographs © Hyatt Corporation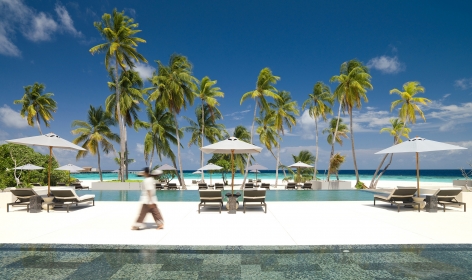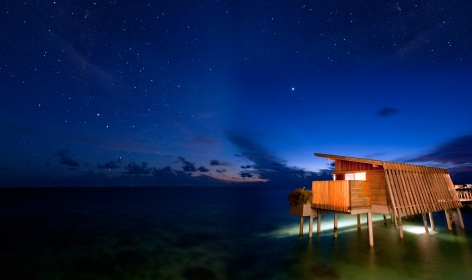 ---
8 W Retreat & Spa Maldives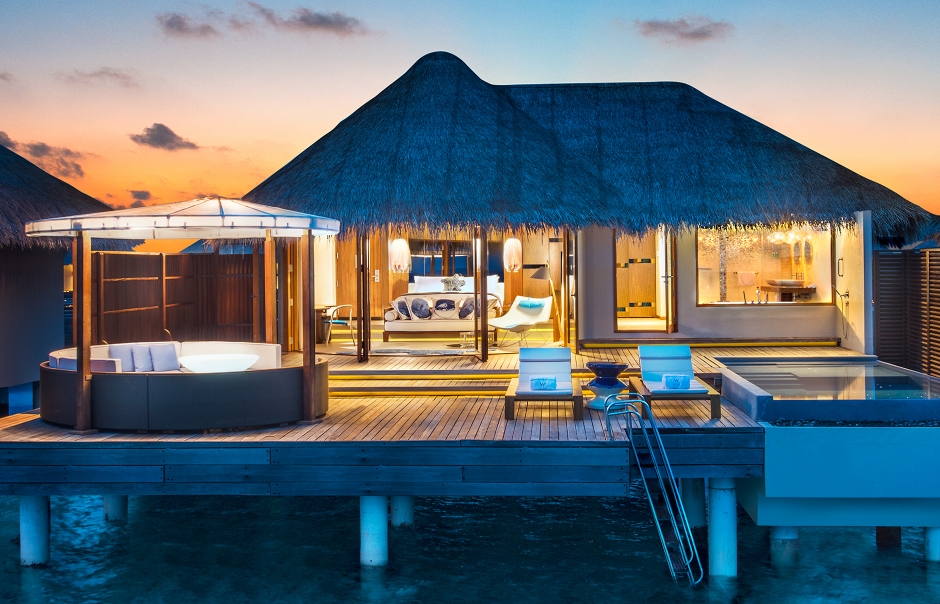 You may also like
---
Tropical futuristic
In the luxury hotels enigmatically called "W" the Starwood Group's emphasises a confident, youthful brand—focused on fun, recreation and music. But only after visiting W Retreat Maldives we realised that what truly defines the W experience is the excellent service and attention to the smallest of details.
We love it for: W Retreat Maldives is perfect for anybody who appreciates a young vibe, good design and fashionable music. It's sexy, seriously indulgent and eminently luxurious.
Read our review: W Retreat & Spa Maldives, Maldives
See our photos: Photos by T+S: W Retreat & Spa
Photographs above and below © Starwood Hotels & Resorts Worldwide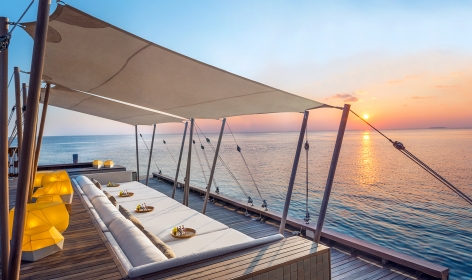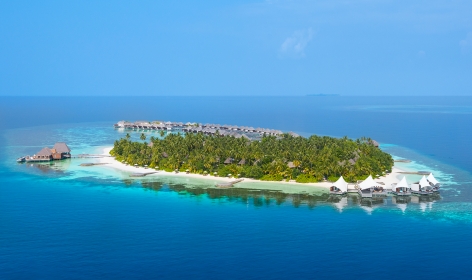 ---
9 Gili Lankanfushi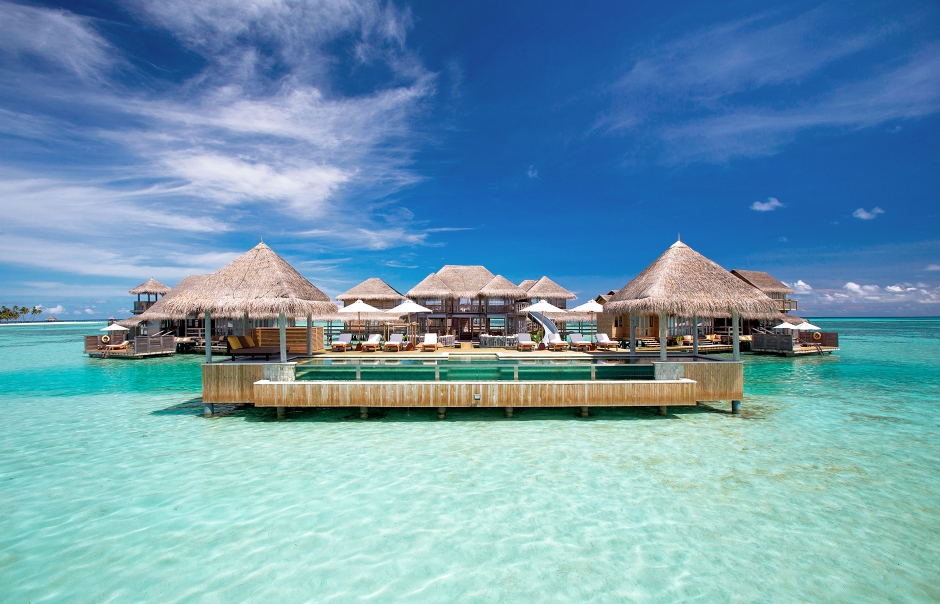 Known as one of the finest water villa resorts in the world and located on a beautiful coral island surrounded by shimmering blue ocean, Gili Lankafushi offers a truly serene experience that epitomises a relaxed island luxury.
We love it for: These celebrated villas-on-stilts have a real wow factor: it's the ultimate paradise living. Ah, and also… underground chocolate cave, anyone? Just take us there already!
Read our review: Gili Lankanfushi, Maldives.

Photographs © HPL Hotels & Resorts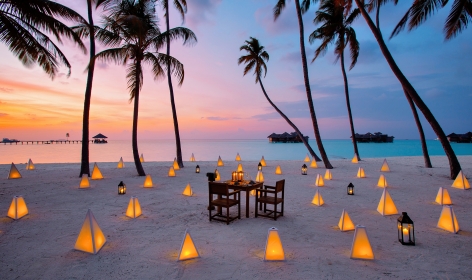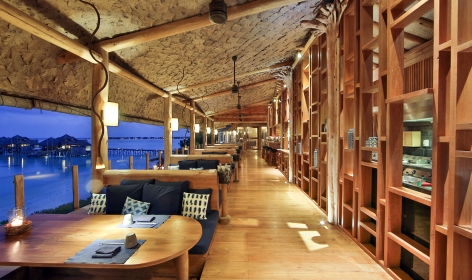 ---
10 Cocoa Island by COMO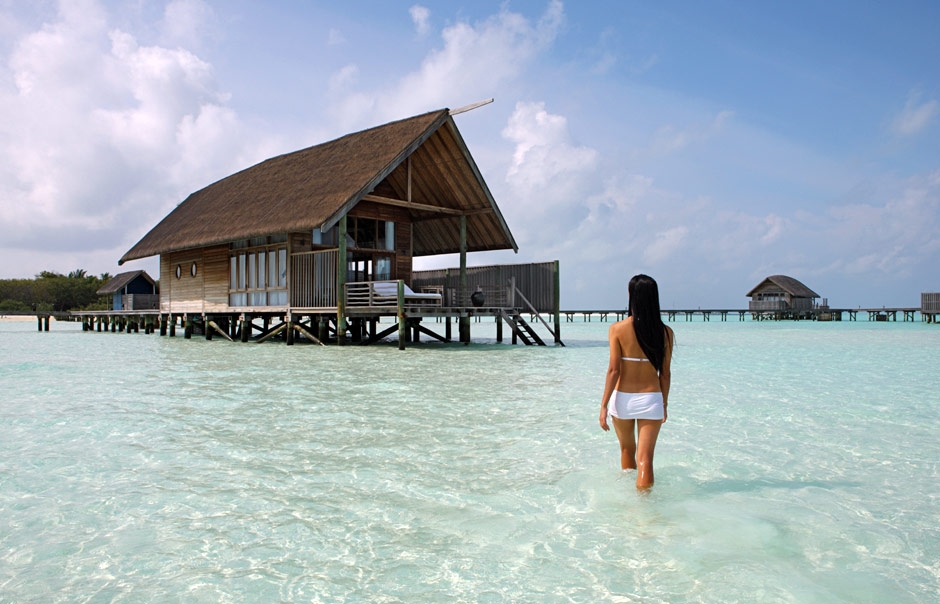 "Inspired by the traditional Maldivian fishing boats, the Cocoa Island villas are an iconic idiosyncrasy of the hotel."—From our review.
An older sister to the newly opened Maalifushi by COMO (see # 4), Cocoa Island offers pure island experience with its own brand of stylish, pared-down simplicity.
There may be no underwater restaurant or other fancy features, but COMO Shambhala spa is superb, diving and snorkeling is great, the beach just perfect—while the villas, styled as local dhoni fishing boats, seduce with a romantic design.
We love it for: Cocoa has an atmosphere of a tiny uninhabited island. All you need to remember is to pack the swimsuit… and maybe a couple of good beach reads.
Read our review: Cocoa Island, Maldives.

Photographs © COMO Hotels and Resorts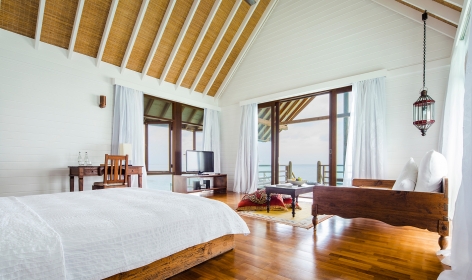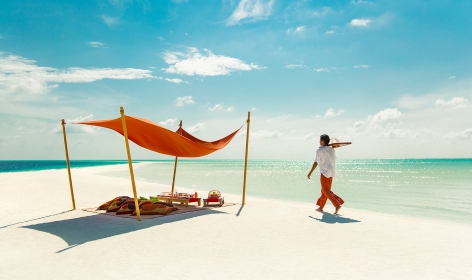 ---
11 Four Seasons Landaa Giravaaru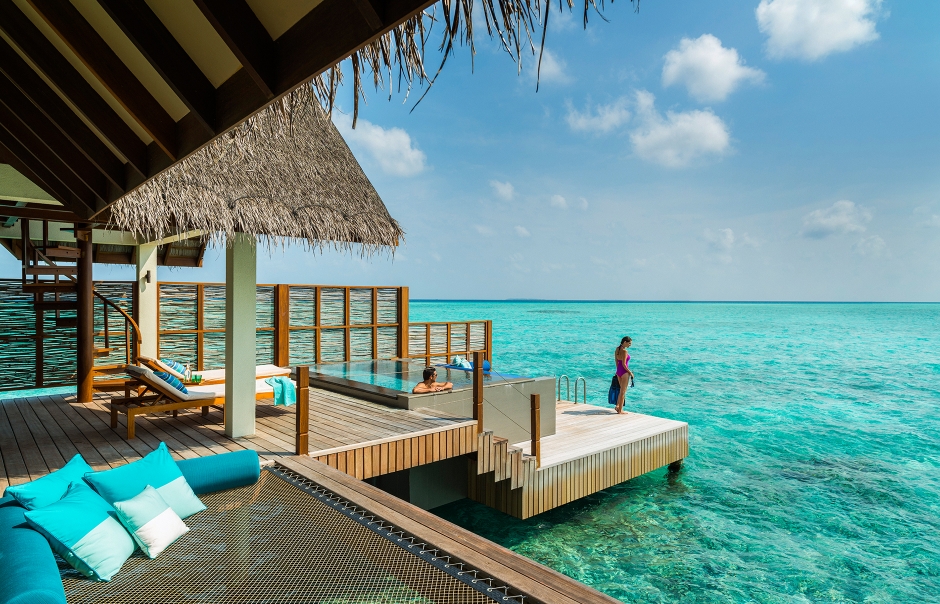 You may also like
---
Quintessentially Thai
Equally romantic and family-friendly, this remote resort offers spacious luxury villas spread across a tropical island wilderness. Visitors can expect five-star facilities, world-class cuisine, pristine beaches and above all, the famous, impeccable service.
We love it for: You get not one resorts but two! The five-star sister property of Four Seasons, Kuda Huraa, is a private island to the south, linked by the luxury catamaran Four Seasons Explorer, which cruises between the two places. Along the way it drops anchor at exceptional dive sites, tiny uninhabited beaches and remote island communities.
Photographs © Four Seasons Hotels Limited.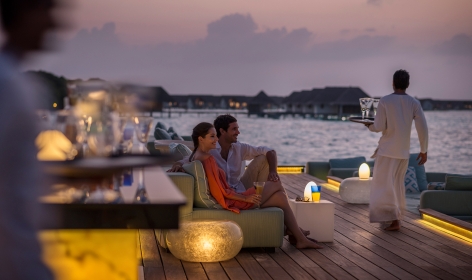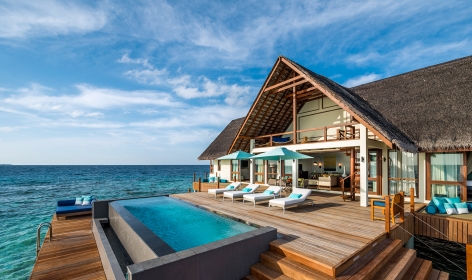 ---
12 Shangri-La Villingili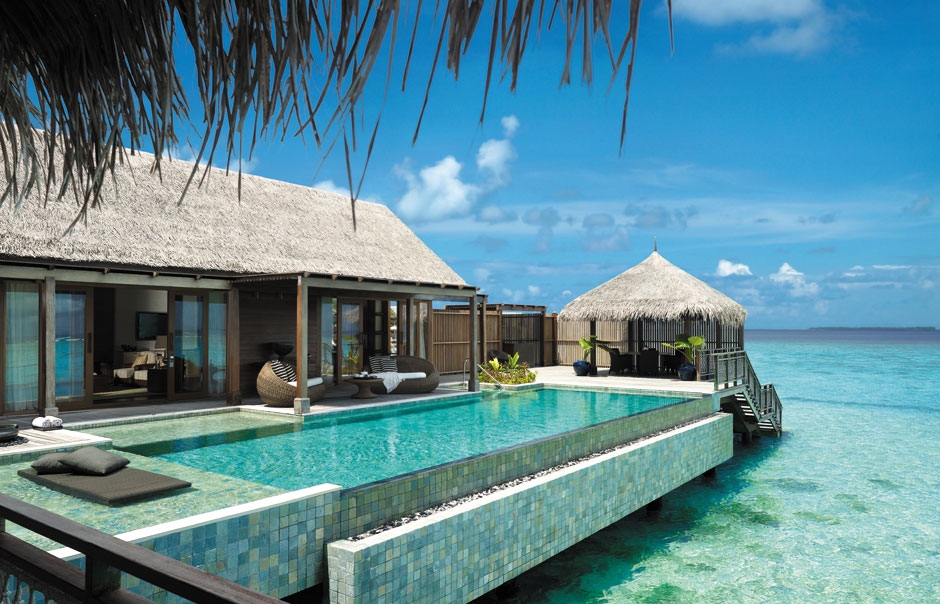 "The visitors to the Maldives can do as much or as little as they like—with a strong emphasis on 'little' "—Maldives, the Epitome of a Tropical Destination
This is not just another resort in the Maldives, but a whole destination waiting to be discovered.
The unique island of Villingili is covered by a dense tropical jungle and has more than six kilometres of picturesque beach. Shangri-La is the first five-star resort in the country located south of the equator.
We love it for: To avoid cutting trees down when constructing the resort many villas were built around the trunks. Some are actually built as "tree houses"—a first in the Maldives.
Read our review: Shangri-La's Villingili Resort and Spa, Maldives.

Photographs © Shangri-La Hotels and Resorts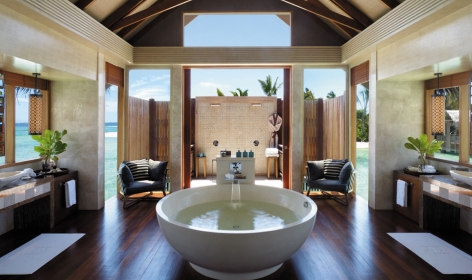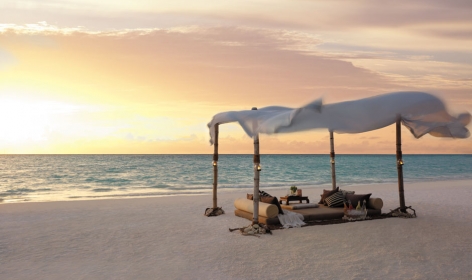 ---
13 Velaa Private Island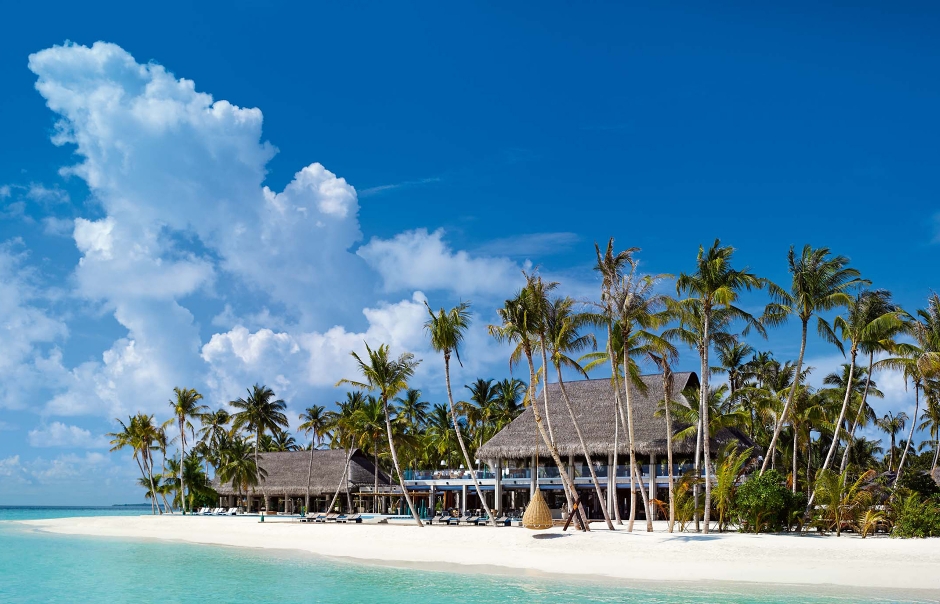 You may also like

---
Slowdown sanctuary
This 45-villa resort is the latest in ultra-luxury. Built for over $200 million, it is designed to attract the world's 1%, and by that we mean the kind of people for whom spending thousands per night is a matter of course. It's one of the most expensive resorts in the Maldives.
We love it for: This place is all about realising extravagant fantasies. Velaa offers a walk-in snow room (literally) in the spa, a three-person submarine, a stunning purpose-build yacht, the largest collection of wines in the Maldives, a roofed tennis court… we could go on.
Photographs © Velaa Private Island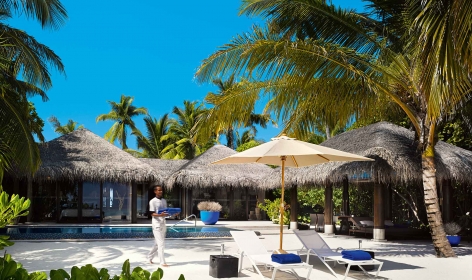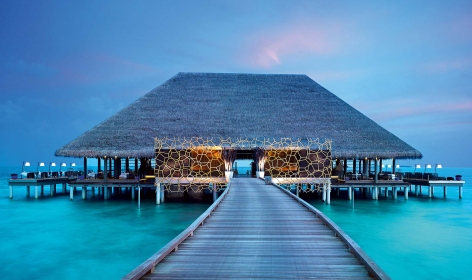 ---
14 Anantara Kihavah Villas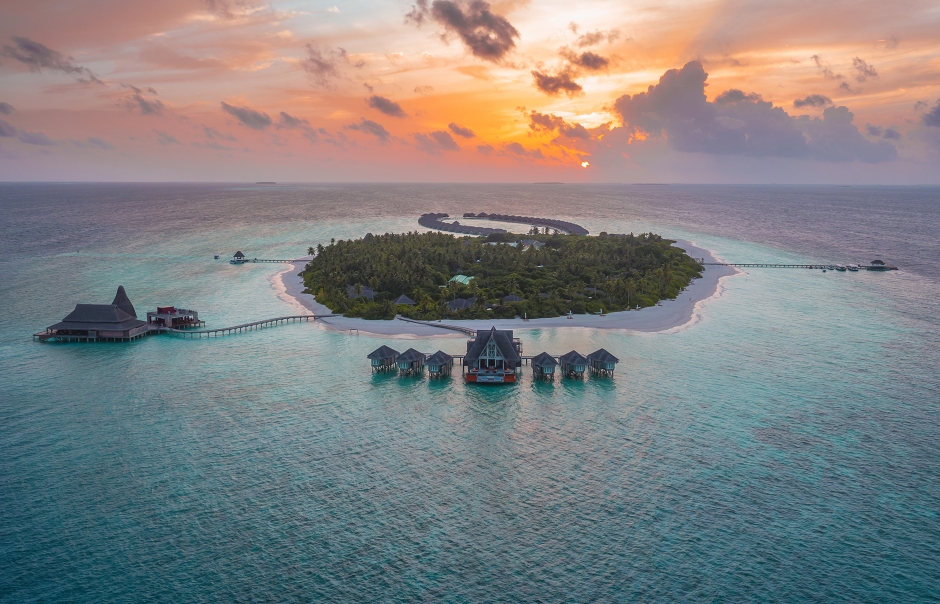 This resort seems to have it all: something on the water (spa), something underwater (the Sea restaurant and wine cellar), and something bigger and better from what its competitors in the Maldives could offer (the longest swimming pool).
We love it for: The huge Over-Water Residences, which come with massage pavilions and stunning views of the ocean.
Read our review: Anantara Kihavah Villas, Maldives.

Photographs © Anantara Hotels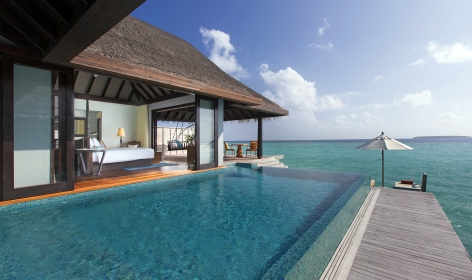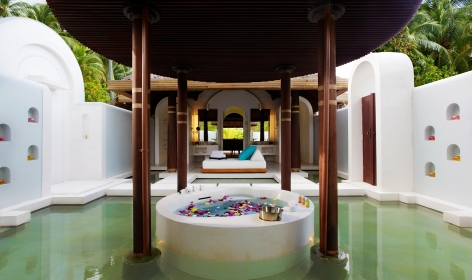 ---
15 Niyama Private Islands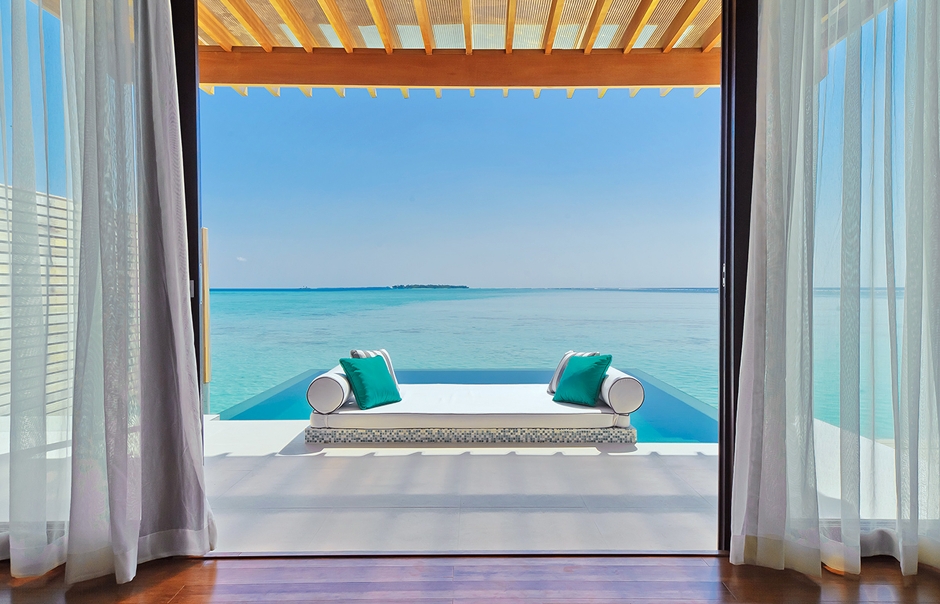 "For the ultimate treat, go for one of the two Ocean Pavilions with Private Pool, packed with the best the top luxury can offer."—From our review of Niyama
This is the second property on our list from the Per AQUUM Resorts, after Huvafen Fushi (see #3). Set up on two idyllic islands Embudhufushi and Olhuveli, NIYAMA embraces Maldivian elegance and tranquillity, balancing it with stimulation and fun.
We love it for: Quirky designs and cutting-edge ideas that include a great number of activities: 24/7 spa, the underwater nightclub, an interactive hub of remote control helicopters and buggies, weekly movie nights, and more.
Read our review: Niyama Private Islands

Photographs (including the closing shot at the bottom of the article) © Per AQUUM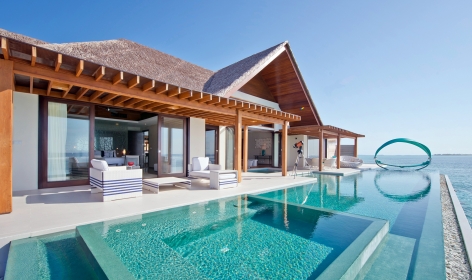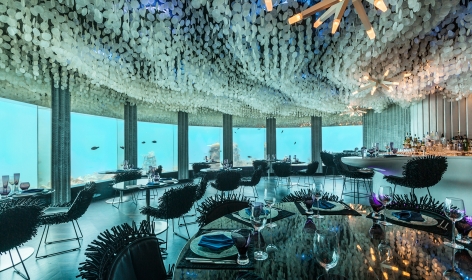 ---
& Looking to the future
Our ideas as to which resorts deserve to be included in a list like this will be evolving. After all, new properties are being launched constantly: we are already looking forward to the opening of Soneva Jani and St. Regis Maldives Vommuli Resort, as well as the Chedi Dhapparu. Watch this space—and in the meantime, make sure to follow us on Twitter and Instagram, and join us on Facebook too, for a daily dose of travel inspiration. See you there!