The Maldives are as popular as ever, and new resorts launch every year, as evidenced in our annual round-ups of the new Luxury Hotel Openings. But which from among them are the best luxury resorts in the Maldives?
Every year travelers flock to this remote country to admire the paradisiac surroundings and experience the barefoot luxury. No wonder. Vacationing in the Maldives can be a dramatically beautiful experience. It often begins with the newly-arrived guests boarding a seaplane, typically controlled by a barefoot pilot. After a short flight, the seaplane splashes down by one of the hundreds of islands, green jewels in the turquoise rings of encircling lagoons (see video).
But which of these jewels is going to be your destination? Take your pick below in our list of The Best Luxury Resorts in the Maldives of 2020s. Oh, and while you at it, hunt in the text for links to the photos and videos we took and posted on our Instagram page when visiting these resorts.
1Soneva Jani, Noonu Atoll, Maldives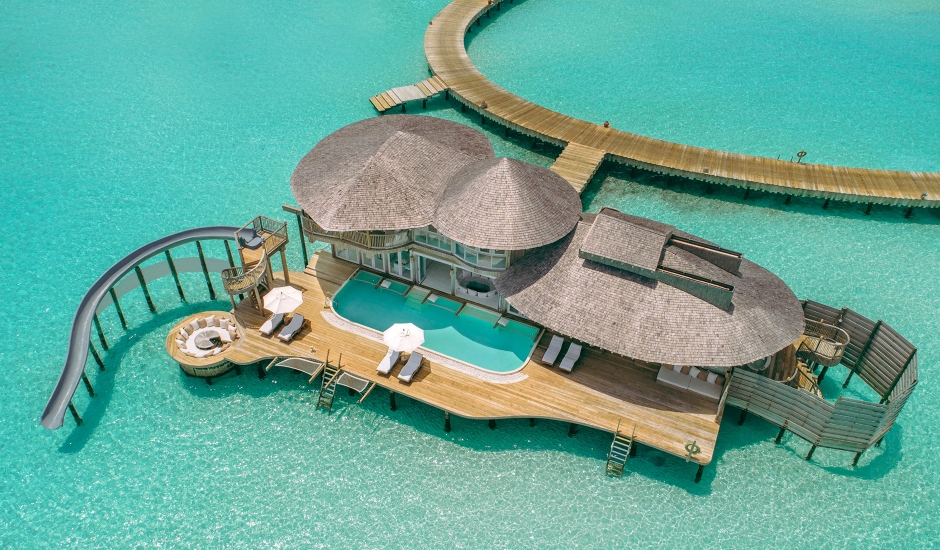 "It took over twenty years of setting the barefoot luxury trends for Soneva to re-focus on the Maldives. In their latest project, the philosophy and the aesthetics of the brand come together in shaping Jani to be a perfect escapist resort"
— from our review of Soneva Jani
We kick off with a real star. The design of Soneva Jani is perfectly tuned-in to the idea of the idyllic barefoot beach holiday, with architecture and interiors celebrating the Soneva's unique brand style. The seamless service contributes to making every day here very special, and the location is as pure as they get. The resort is situated off a large island and is surrounded by vast, blue shallows of one of the largest lagoons in the country.
We love it for: The massive over-water villas, each with private infinity pools and a movable roof above the bedroom (wonderful for stargazing as you fall asleep). Many villas have water slides, they are great fun! There is plenty of attractions for all, but Soneva Jani is ideal for couples. It's one of our favorite resorts in the Maldives.
See our review of Soneva Jani for Need-to-Know tips and more.
Photos © Soneva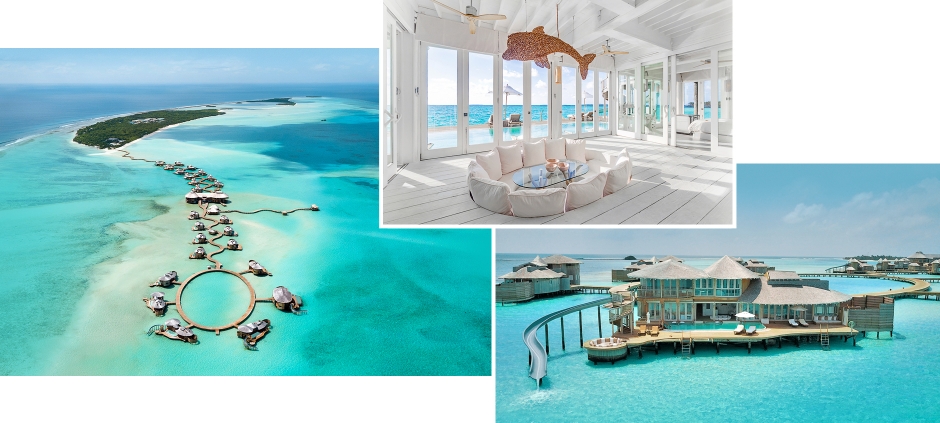 ---
2Soneva Fushi, Baa Atoll, Maldives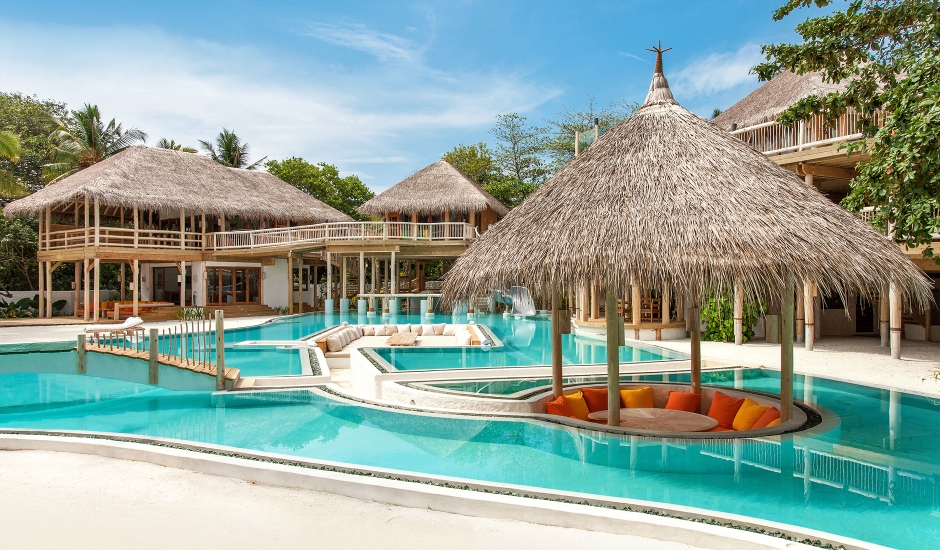 You may also like

---
Fantasy Structures
Soneva Fushi is the original desert island hideaway in the Maldives. It practically invented the "castaway chic" fashion all on its own, with the honed-to-perfection service and atmosphere of a fairytale stay, especially for families with children (the Den, Soneva Fushi's concept children's club is out of this world). The resort is located on one of the largest islands in the Maldives, with lots of mature greenery and many beaches. The villas, beautifully designed and comfortable, are well spread out and private. Each villa comes with bikes, and cycling around the island felt great. The food is excellent as well (and there is a free ice cream parlor, with a separate chocolate room!)
We love it for: The "no-news, no-shoes" concept (we basically went barefoot for the entire stay), and also, the Bar(a)bara, a great sunset hangout in the form of the overwater bar, with nets-with-pillows hung above the waves.
See our review of Soneva Fushi for Need-to-Know tips and more.
Photos (including the leading shot at the top of the article) © Soneva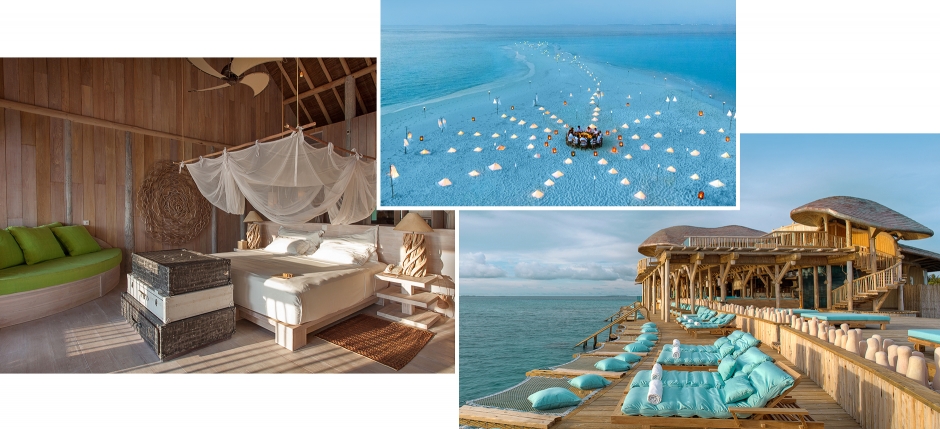 ---
3JOALI Maldives, Raa Atoll, Maldives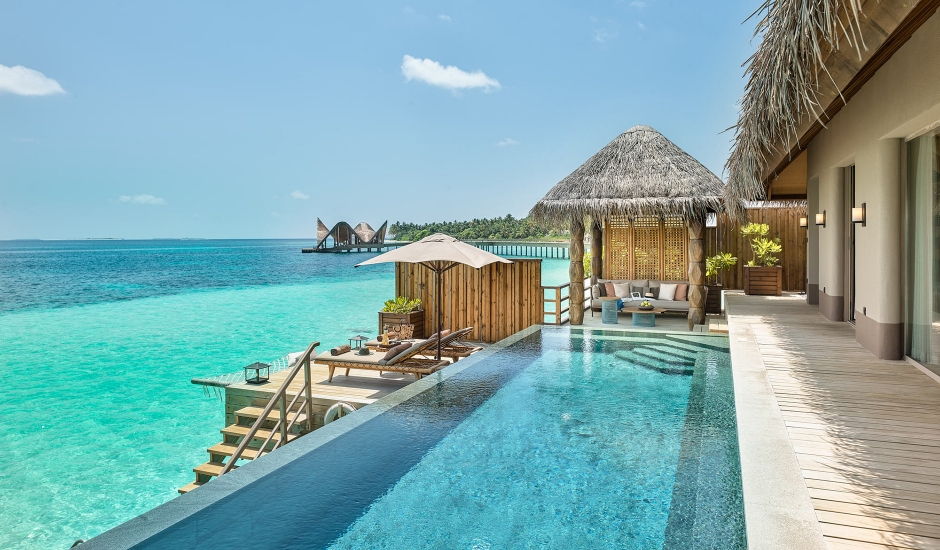 "Quietly fabulous and effortlessly sophisticated, Joali Maldives introduced its own unique brand of luxury to a destination that has seen it all"— from our review of Joali Maldives
It's not easy for a new resort to truly stand out, especially in a destination teeming with some of the most attractive hotels in the world. But Joali managed to do it, and made a huge impression on us, earning a place among the few properties in the country we consider as having the wow factor. The resort emphasizes the essentials of luxury experience, craftsmanship, and service, honed to perfection.
We love it for: Our beautifully designed water villa was enormous! The spaciousness felt like part of the physical design, contributing to the sense of beauty. We loved the sophisticated interior design and the overall carefree atmosphere of the island. Also, picnic in a house-sized manta ray, anyone?
See our review of Joali Maldives for Need-to-Know tips and more.
Photos © Joali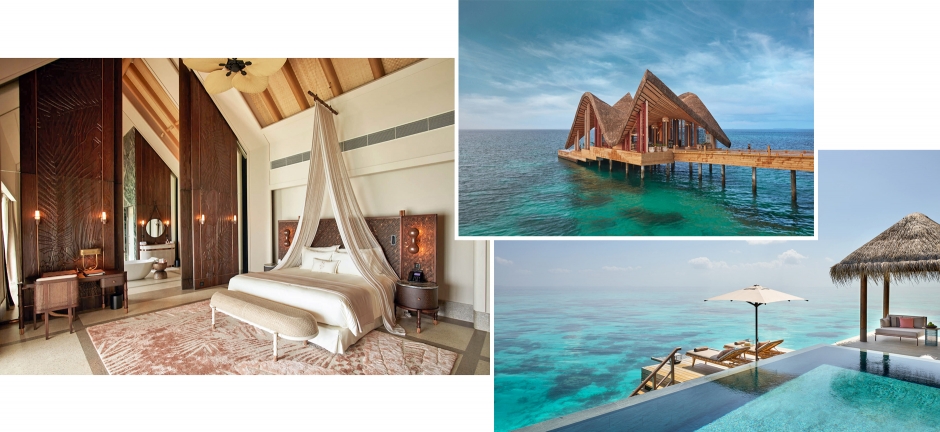 ---
4Six Senses Laamu, 
Laamu Atoll, Maldives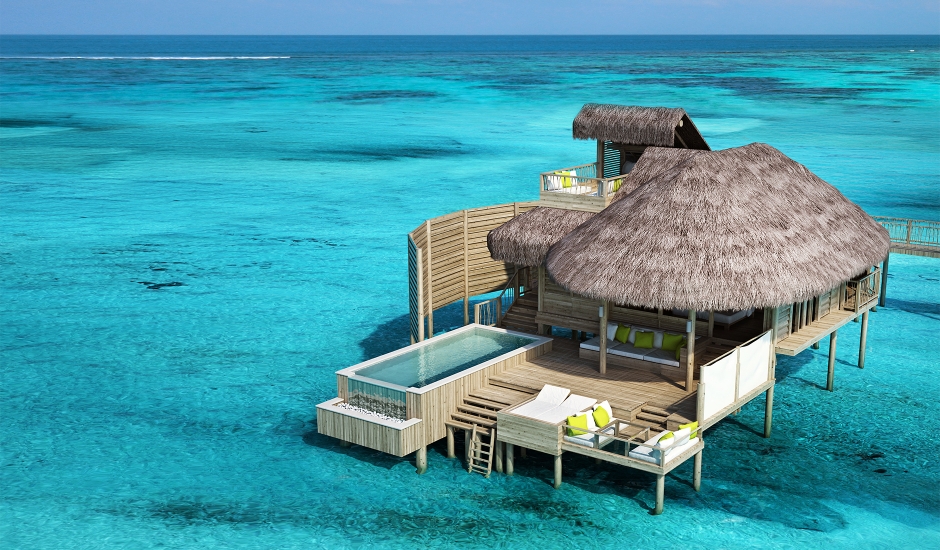 "Six Senses Laamu has all the ingredients of the perfect holiday—not least of which is the resort's genuine rustic luxury, presented in a pure atmosphere of carefree relaxation" — from our review of Six Senses Laamu
We are huge fans of the Six Senses' original concept of rustic chic, and the chain's Maldivian outpost is perhaps the best example yet of the philosophy that masterfully combines beautiful remote locations, eco-living, and uncompromising luxury. It's a great choice for romantic vacations and honeymoons. Make sure you try the spa!
We love it for: The Ocean Water Villa we stayed at! Featuring an outdoor platform with day beds, sun loungers, over-water netting and a sunken dining area with a glass floor, it was designed in a style perfectly aligned with the experience of an island paradise destination.

See our review of Six Senses Laamu for Need-to-Know tips and more.
Photos © Six Senses Hotels Resorts Spas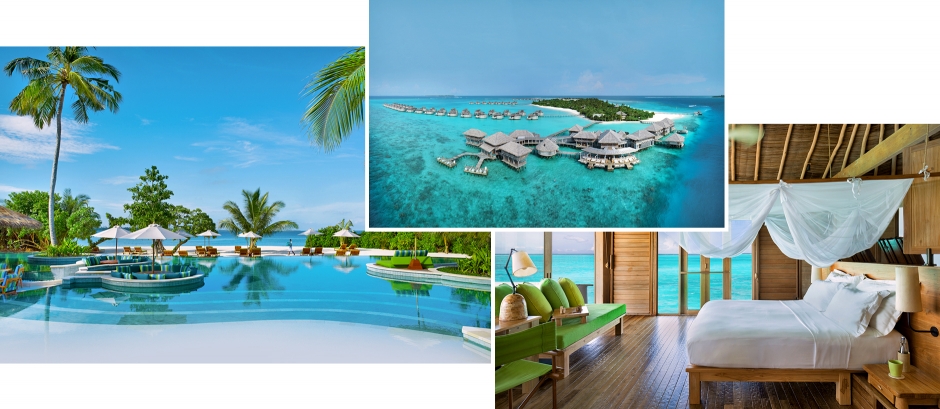 ---
5One&Only Reethi Rah, North Male Atoll, Maldives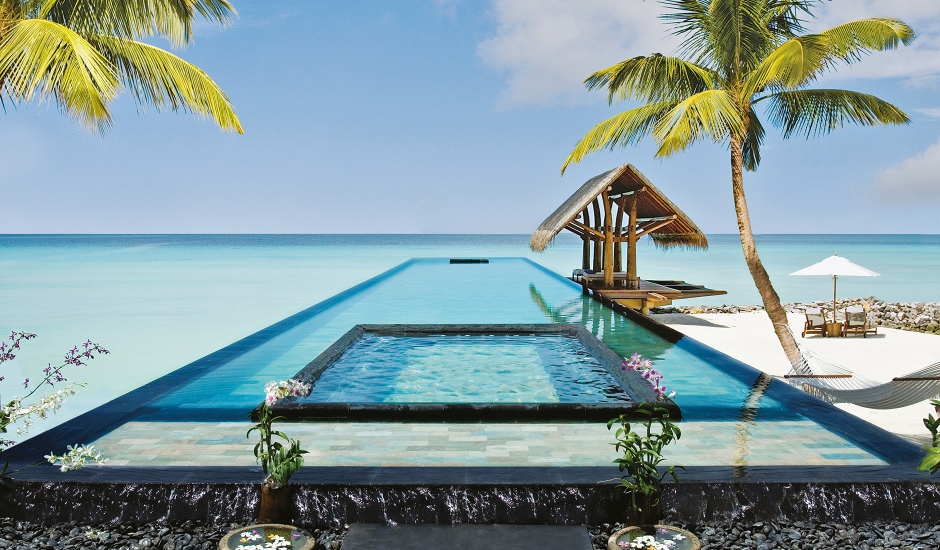 You may also like

---
Planning a five-star holiday in Seychelles? Start here!
After a few days at One&Only Reethi Rah, we felt like we could stay here for a month and not get bored. With its fabulous style, glamorous atmosphere and sheer wealth of attractions Reethi Rah is like a cross between a spa resort, an exclusive country club, and a billionaire's playground. Though it does not feel like it, the island is mostly man-made, and the beaches are vast and empty. The villas are well spread out and feel very private.
We love it for: Accommodation. Our Beach Villa with Pool had a large beach just in front, a great swimming pool, a beach hammock, and plenty of roaming space. We also stayed in a massive Water Villa, which had a multi-level deck surrounded by lounging nets, spread over blue shallows.
See our review of One&Only Reethi Rah for Need-to-Know tips and more.
Photos © One&Only Resorts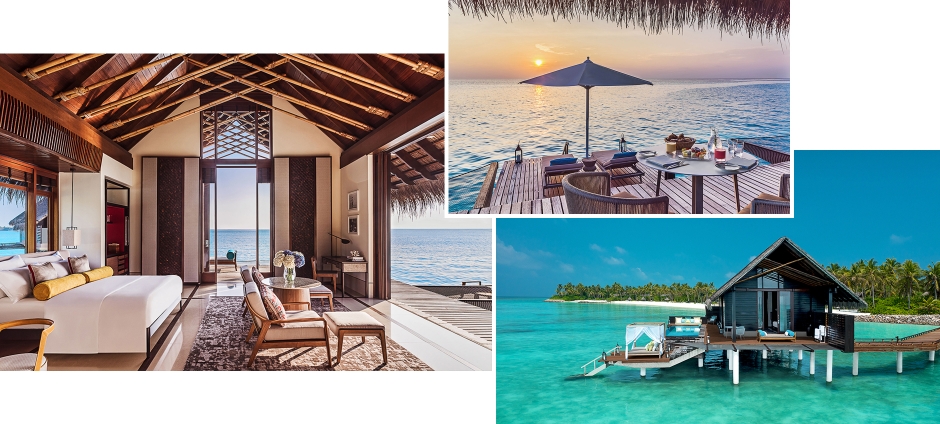 ---
6St. Regis Maldives Vommuli Resort, Maldives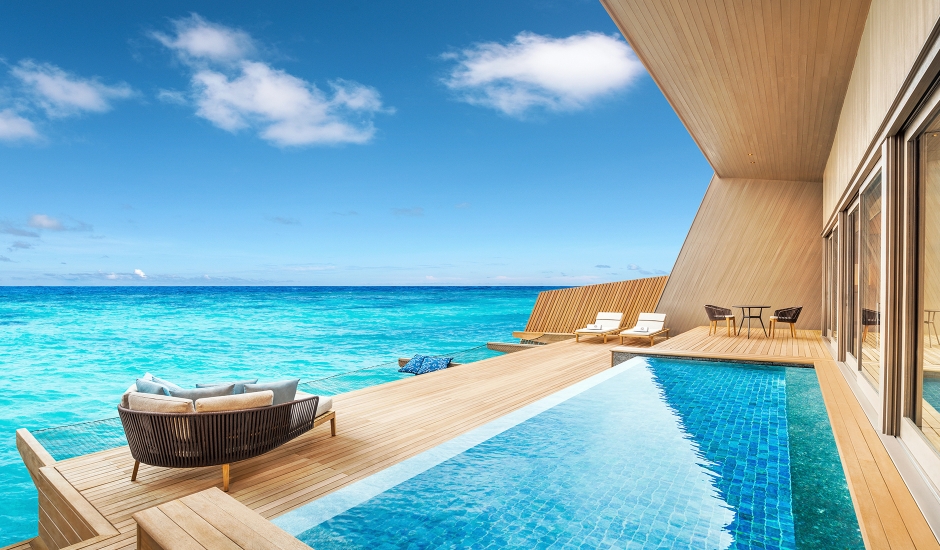 "This resort is a gem that wows with the astonishing contemporary design, set against the pristine beauty of its secluded lagoon location" —from our review of St Regis Vommuli
You should expect the unexpected from the Maldivian resorts, as they share one common trait: the desire to wow and enchant with something new or unique. That something at the St Regis Maldives Vommuli is its striking architecture, by the Singapore-based WOW Architects. While we saw plenty of photos before visiting, to see these sharp, sleek, bold and almost otherworldly structures with our own eyes was quite another thing. The most eye-catchy creations here are the beautiful spa, inspired by the shape of a lobster, and the bar evoking a whale shark.
We love it for: Other than the incredible architecture, we also have to mention our over-water villa. It was elegant and eminently comfortable, with a private deck and a swimming pool (see this video on our Instagram!). The food was amazing too, and in many ways a true highlight of the stay.
See our review of St. Regis Vommuli for Need-to-Know tips and more. 
Photos © Marriott International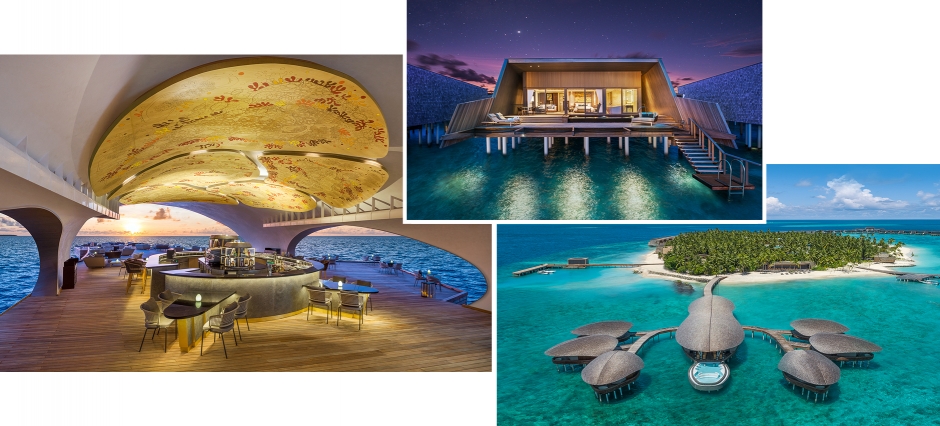 ---
7Gili Lankanfushi, North Male Atoll, Maldives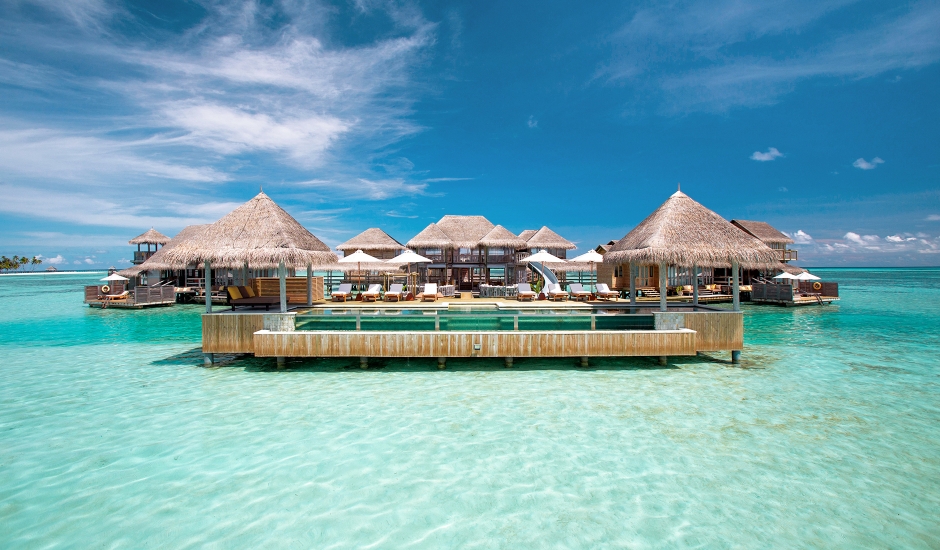 "Located on a dreamy coral island and surrounded by the shimmering ocean, Gili Lankanfushi turned out to be as beautiful and serene as we had anticipated"
—from our review of Gili Lankanfushi
Gili Lankanfushi is rightly recognized as one of the finest water villa resorts in the world, and we discovered this reputation is well deserved. With lush nature, intimate atmosphere, uncompromising standards of luxury and service, and subtly refined design Gili Lankafushi offers a truly serene experience that epitomizes a relaxed island luxury. Private, low-key, and tranquil, this resort is ideal for couples and honeymooners. We would return here in a heartbeat.
We love it for: The celebrated villas-on-stilts have a real wow factor (see this video from our villa). A string of them are standalone, and you can only get to them by boat. Also, bamboo bikes!
See our review of Gili Lankanfushi for Need-to-Know tips and more.
Photos © HPL Hotels & Resorts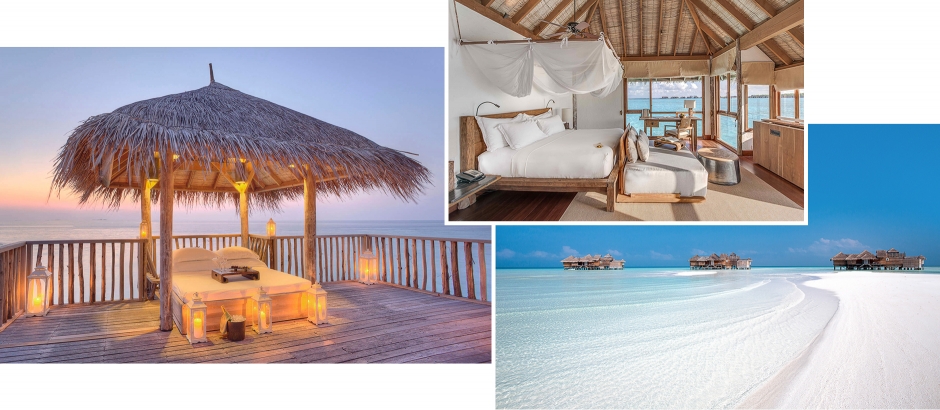 ---
8COMO Maalifushi, Maldives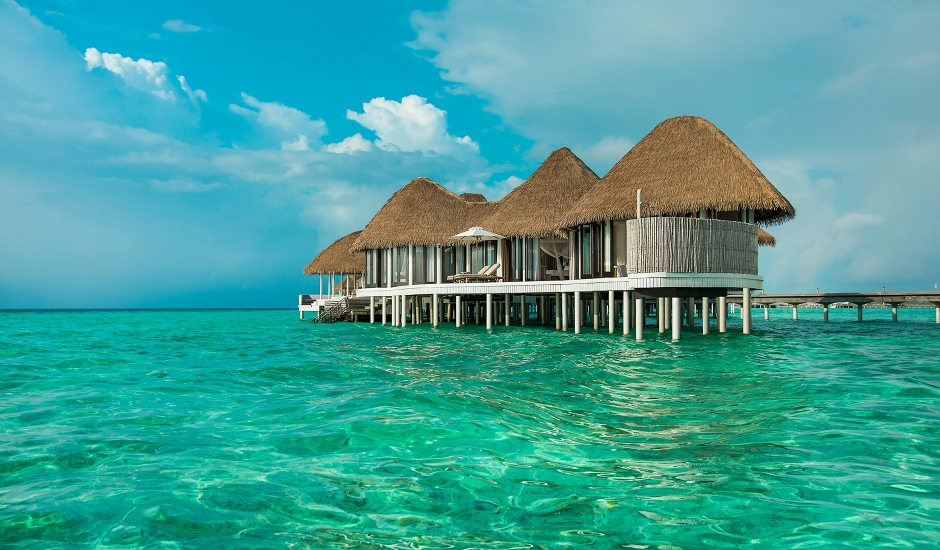 "Maalifushi encapsulates the spirit of an idyllic tropical life, serving the experience of barefoot luxury… and the pure escape-from-it-all" — from our review of COMO Maalifushi
COMO Maalifushi is about peace and tranquillity, and as such, it is as serene a destination as you can find. Restorative yoga, top-notch spa treatments, and excellent, healthy food are all parts of the body-and-mind restoration. Even scents add to the experience — and this island smells good, thanks to Shambhala, COMO's range of high-quality cosmetics, distributed in bathrooms.
We love it for: We enjoyed watching sunsets with a drink in hand, at the overwater bar, and the seclusion and a laid-back feel all over the island, but the true highlight was our villa-on-stilts with swimming pool.
See our review of COMO Maalifushi for Need-to-Know tips and more.
Photos © COMO Hotels & Resorts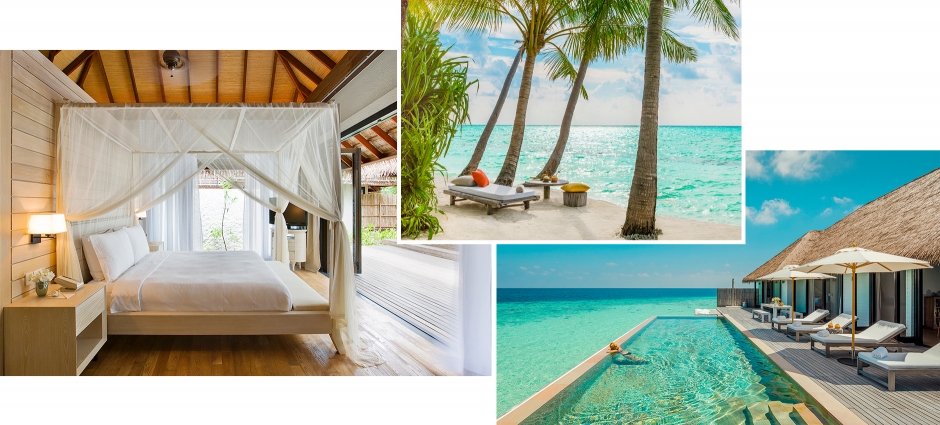 ---
9Cheval Blanc Randheli, Noonu Atoll, Maldives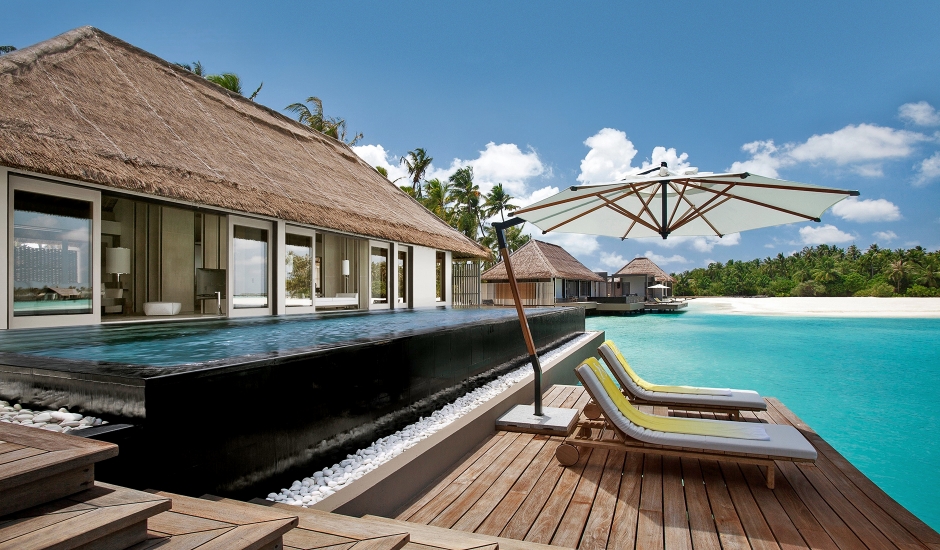 Designed by Jean-Michel Gathy, the creative mind behind some of the world's most stunning resorts (including the Chedi Muscat and many Aman Resorts), Randheli brings to the Maldives the latest in contemporary luxury. The design is sleek and glamorous, and the Cheval Blanc Randheli villas stand out thanks to superb craftsmanship and detailing.
We love it for: Every villa comes with a massive 12.5-meter-long infinity pool, which feels like natural extensions of the villas' open, airy interiors.
Photos © LVMH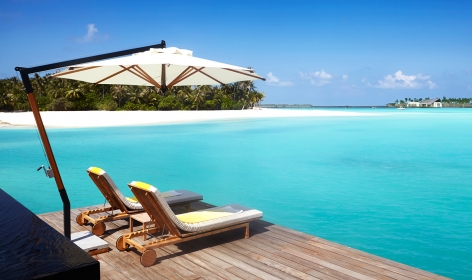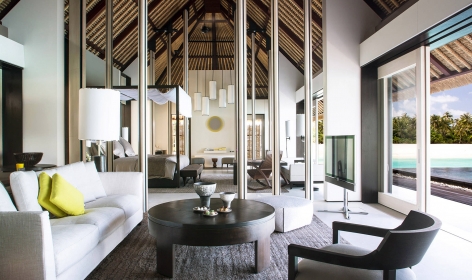 ---
10Fairmont Maldives Sirru Fen Fushi, Maldives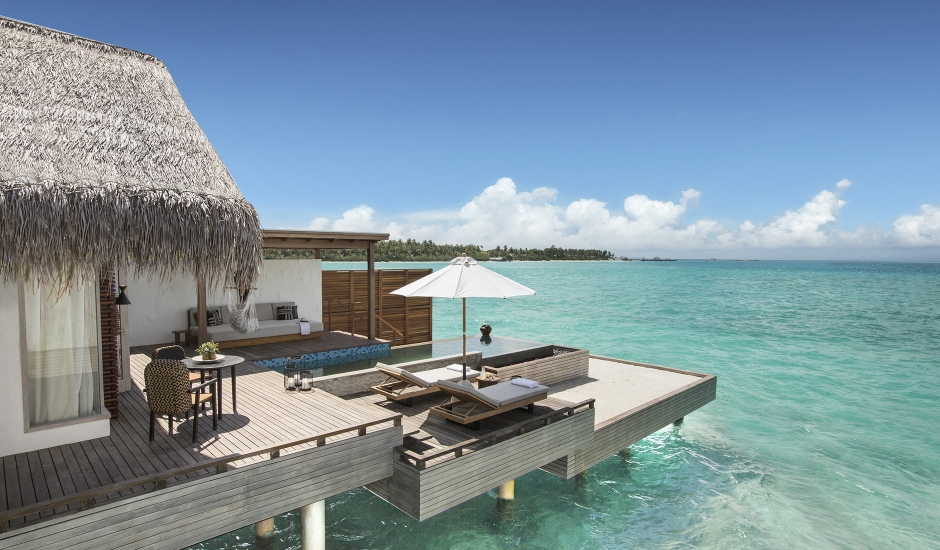 "Fairmont Sirru Fen Fushi has all the hallmarks of a perfect Maldivian paradise, with pearl-white beaches ringing a patch of tropical forest and a string of beautiful villas puncturing the island and the turquoise water shallows"
— from our review of Fairmont Sirru Fen Fushi
The Fairmont Maldives Sirru Fen Fushi has crafted everything to the last bolt, ensuring the guests leave with no other impression than that of a perfect tropical vacation — certainly, it's how we felt. An intelligent mix of chic luxury and boho style featuring pillows, rugs, and swings, combined with the well-crafted architecture, create a sense of wellbeing, but the excellent service, great food, and refined atmosphere are what takes things up a notch, making the stay here a very special one indeed.
We love it for: Our Grand Overwater villa, located on the sunset side, had an inspired idea of an actual mini "beach" with sand surrounding the private swimming pool. It's the first of its kind in the Maldives.
See our review of Fairmont Maldives for Need-to-Know tips and more.
Photos © Fairmont, ALL Accor Live Limitless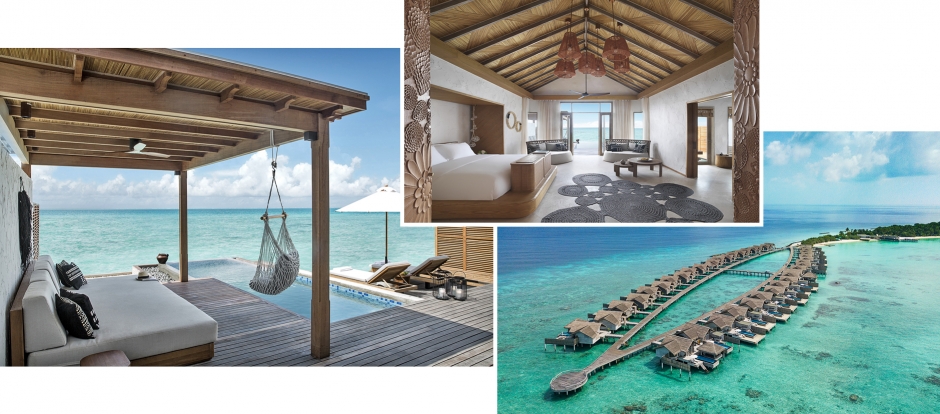 ---
11Four Seasons Resort Maldives at Landaa Giraavaru, Baa Atoll, Maldives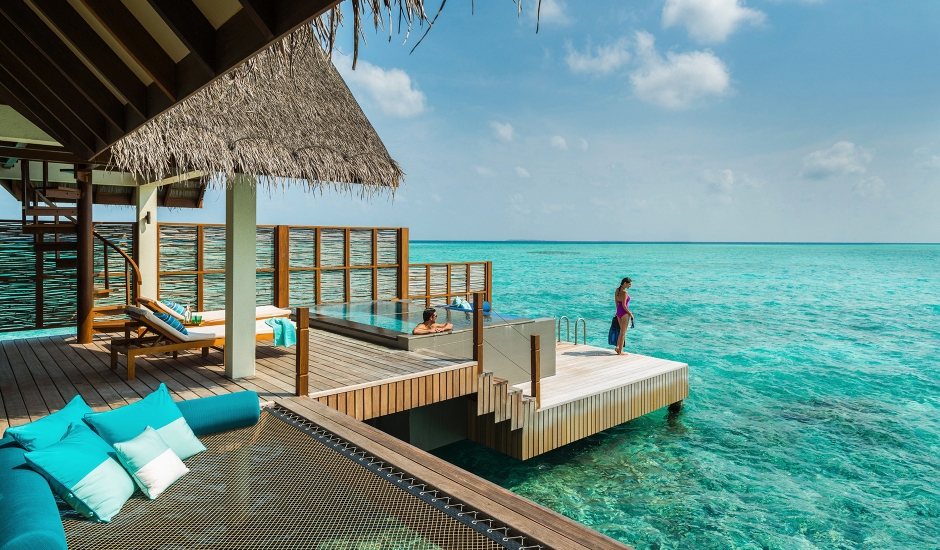 Equally romantic and family-friendly, Four Seasons Resort Maldives at Landaa Giraavaru offers spacious luxury villas spread widely across a tropical island wilderness. Visitors can expect five-star facilities, world-class cuisine, pristine beaches and above all, the famous, impeccable service, for which we always come back to Four Seasons resorts.
We love it for: The beach or water villas are private, comfortable, well designed, and with private infinity pools. They feature thatched roofs, coral walls, and interiors set in turquoise and sand colors.
Photos © Four Seasons Hotels Limited.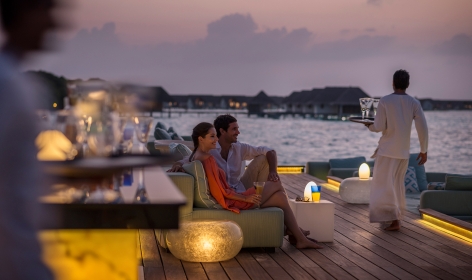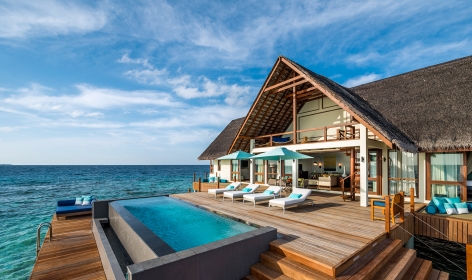 ---
12Waldorf Astoria Ithaafushi, Maldives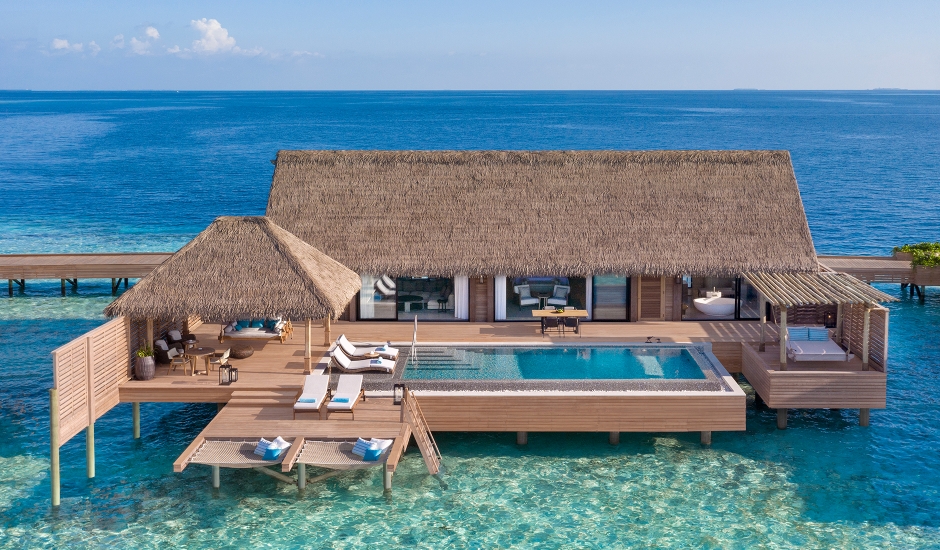 Located only a boat ride away from Male and the Velana International Airport, this new resort promises an experience of luxury from the well-respected Waldorf Astoria brand. The guest accommodation includes expansive pool villas that stand out thanks to ample indoor and outdoor space. The resort features as many as 11 specialty dining outlets.
We love it for: The Terra Restaurant dining. The seven exclusive "nests", built out of bamboo and elevated to the treetop level offer a unique experience.
Photos © Waldorf Astoria Hotels and Resorts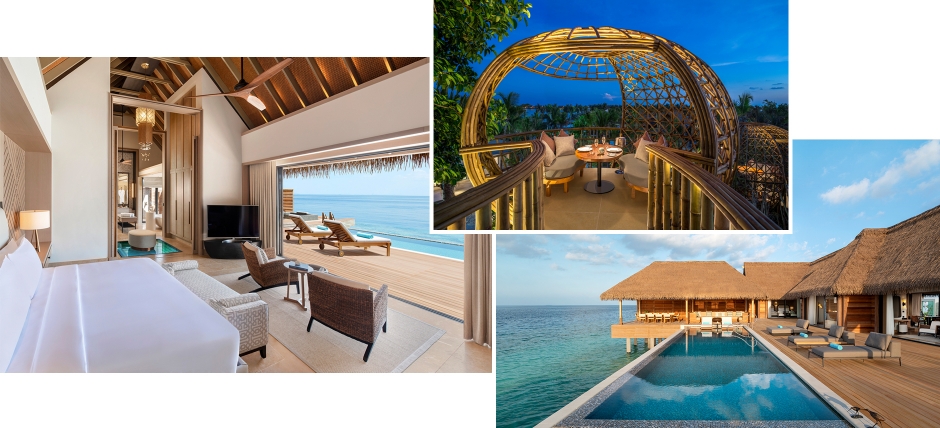 ---
13Velaa Private Island, Maldives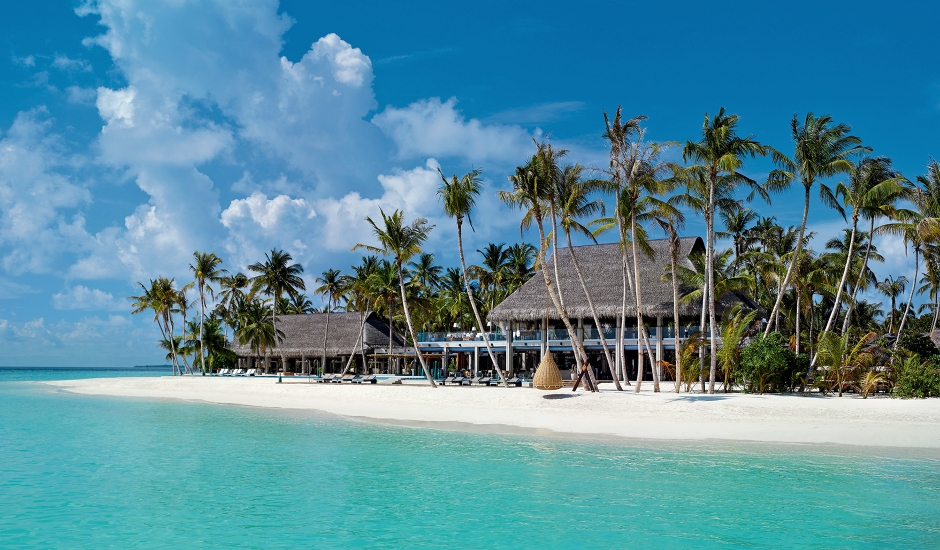 You may also like

---
The epitome of privacy and seclusion
Designed to attract the world's 1%, the ultra-luxury Velaa is one of the most expensive resorts in the Maldives, with extravagant attractions, experiences, and features. The guests will find here a stunning purpose-built yacht, the largest collection of wines in the Maldives, a roofed tennis court, and a multi-level teppanyaki restaurant set up in an innovative building, said to be the tallest outside Male.
We love it for: When comes to unique features and experiences, the spa at Velaa Private Island has two: a Cloud9 machine, designed to ensure the best naps ever, and a "snow room" with blocks of ice and snowdrifts, where guests can walk in after a sauna.
Photos © Velaa Private Island.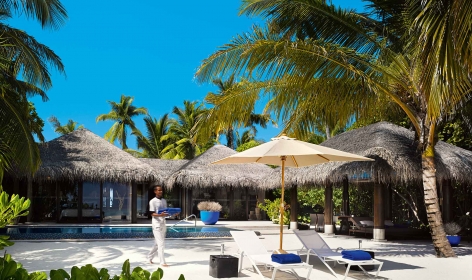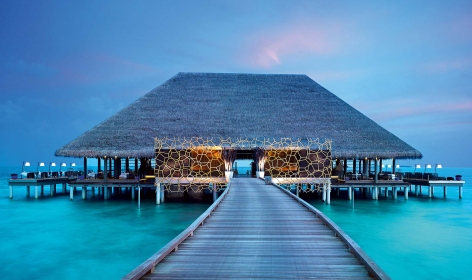 ---
14Raffles Maldives Meradhoo, Maldives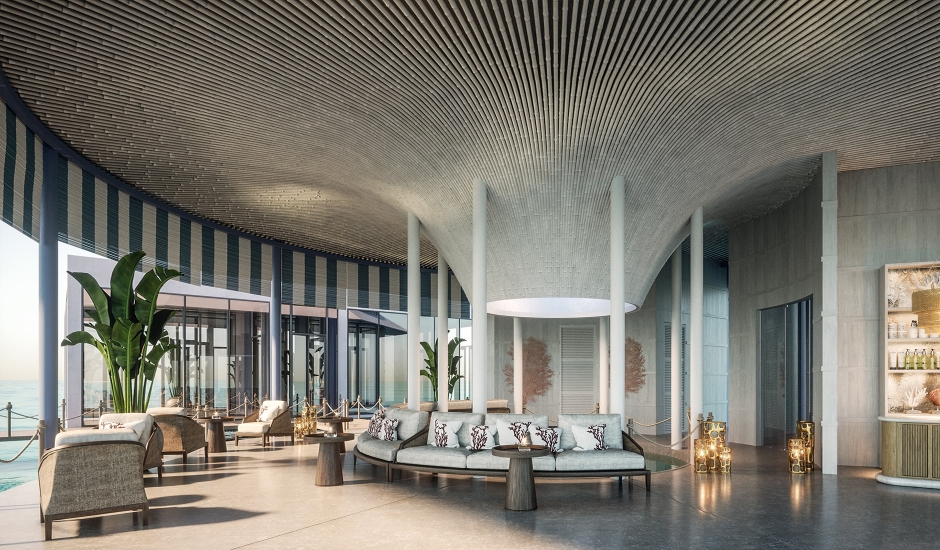 Located near the equator at the southern edge of Maldives, this is a debut in the Maldives for the world-famous Raffles hotel brand. The resort's thirty-eight guest villas are accompanied by four dining outlets, a Spa, and a fitness center. Raffles Maldives Meradhoo is accessible by an hour-long flight from Male to Kaadedhdhoo Airport in the Gaafu Alifu Atoll.
We love it for: The unique over-water villas. They are located away from the main island and are set up in shallows, and seemingly afloat in the ocean. The only connection to the main island is by boat.
Photos © Raffles Hotels & Resorts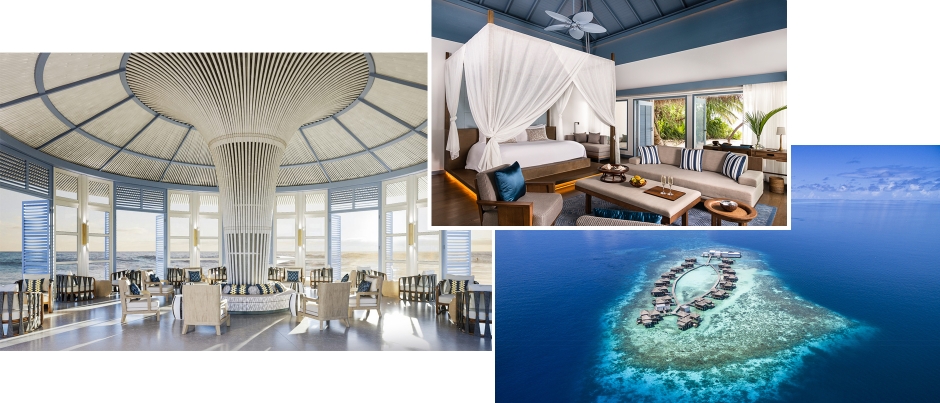 ---
15Park Hyatt Maldives Hadahaa, Maldives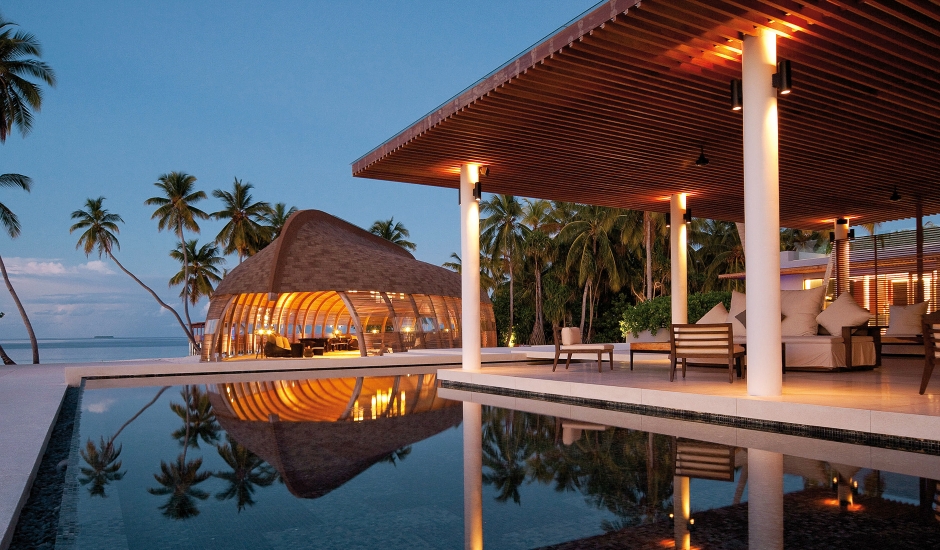 "Positioned near the Equator, and far away from artificial light sources, the island is blessed with a truly amazing night sky, glittering with myriad stars" — from our review  
Location 400 kilometers south of Malé means getting here is the hard part. But once you arrive, there is much to discover. This resort embodies luxury and relaxation, providing the Maldivian experience of turquoise waters, fine white beaches and one of the most abundant and healthiest house reefs. Snorkeling and diving aficionados should find it a great base for underwater adventures.
We love it for: Exceptional architecture, driven by local concepts, of which the reception lobby resembling a huge upturned wooden Dhoni is the centerpiece.
See our review of Park Hyatt Hadahaa for Need-to-Know tips and more.
Photos © Hyatt Corporation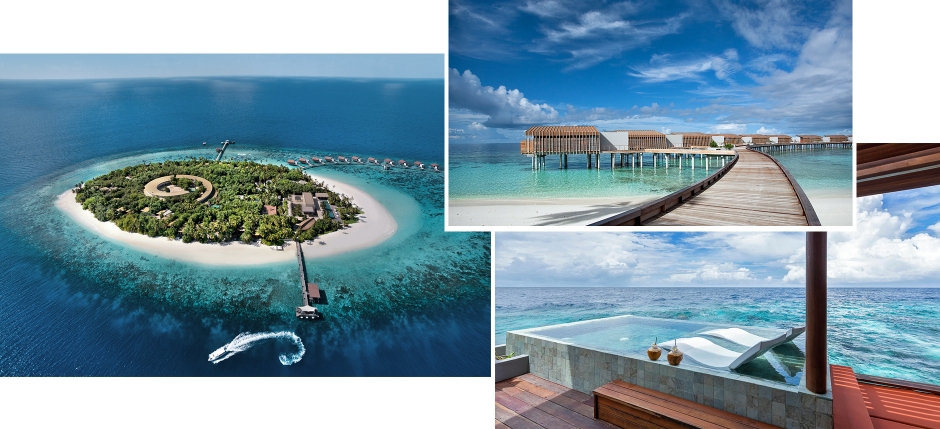 ---
16W Maldives, Fesdu Island, Maldives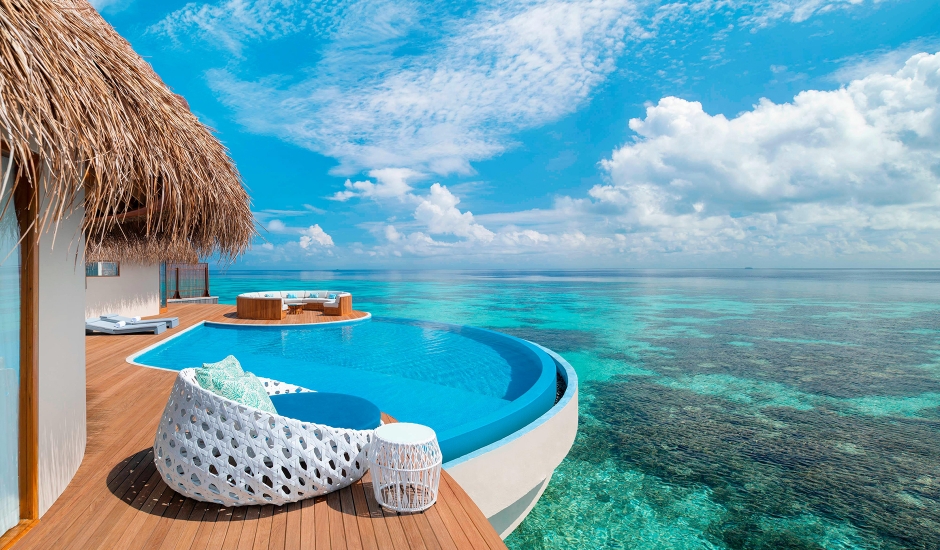 You may also like

---
Tropical futuristic
In the luxury hotels enigmatically called "W", the Marriott Group emphasizes a confident, youthful brand, focused on fun, recreation and music. Truly to its brand, the adults-only W Maldives is perfect for nightlife enthusiasts — it even has an underground night club. But then, only after visiting the resort we realized that what truly defines the W experience is the excellent service and attention to small things. Every detail here is thoughtfully designed and planned, including hip names and quirky ideas.
We love it for: Stylish design of our villa and delightful sunset drinks at the over-water SIP bar.
See our review of W Maldives for Need-to-Know tips and more.
Photos © Marriott International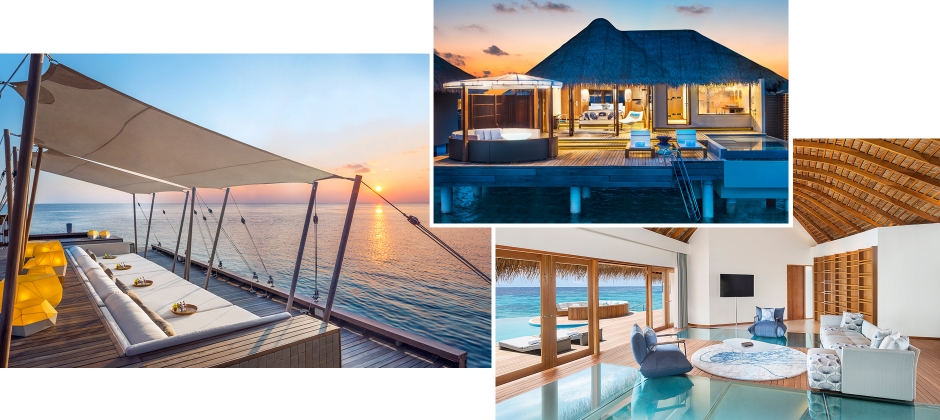 ---
17COMO Cocoa Island, Maafushi, Maldives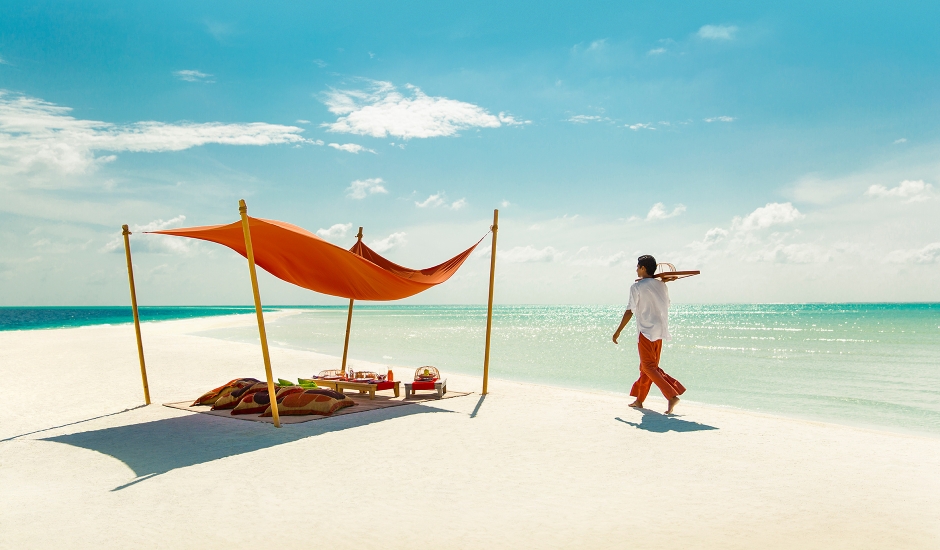 "Inspired by the traditional Maldivian fishing boats, the Cocoa Island villas are an iconic idiosyncrasy of the hotel"
— from our review of COMO Cocoa Island.
A world-class spa, excellent food, warm sand between your toes, sun and turquoise ocean… there isn't much more we would want from a small Maldivian resort. COMO Cocoa Island serves a pure tropical island experience, packaged into its own brand of stylish, pared-down simplicity. Cocoa Island is a sister resort to the COMO Maalifushi. Both are great for spa devotees.
We love it for: The atmosphere of a tiny uninhabited island. All you need to remember is to pack the swimsuit… and maybe a couple of books.
See our review of COMO Cocoa Island for Need-to-Know tips and more.
Photos © COMO Hotels and Resorts
---
18Kudadoo Maldives Private Island, Maldives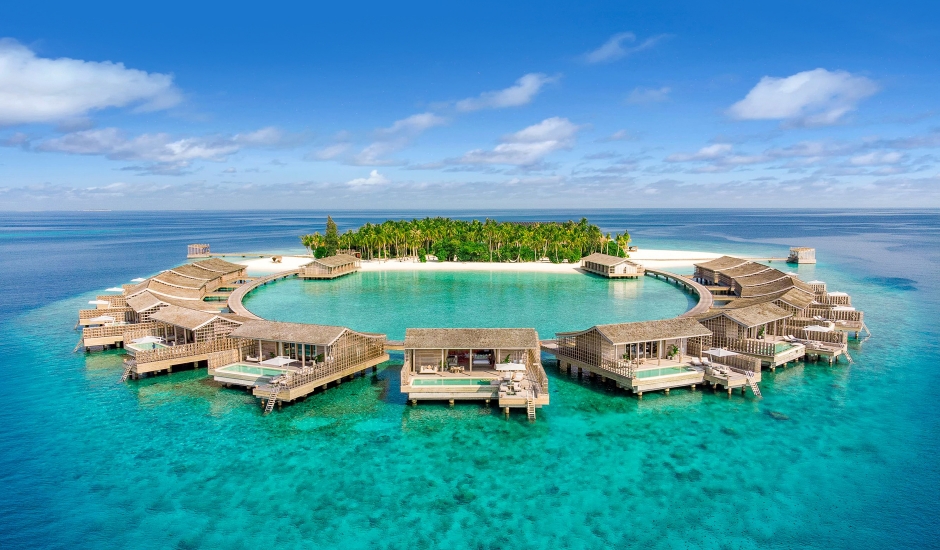 This intimate private island on the Lhaviyani Atoll is another exclusive slice of paradise, with only 15 overwater villas. Every villa comes with a private pool, and the surrounding sundecks are flanked by screens affording frontal ocean views while providing a partition between adjacent villas. Responsible for the design of the resort is the Japanese-American architect Yuji Yamazaki.
We love it for: You get two destination resorts for the price of one. Guests can also take advantage of the facilities at the sister resort Hurawalhi Maldives (a mere five minutes away by boat), where you can book a table at 5.8, the undersea restaurant.
Photos © Kudadoo Maldives Private Island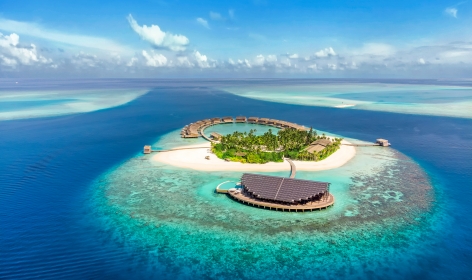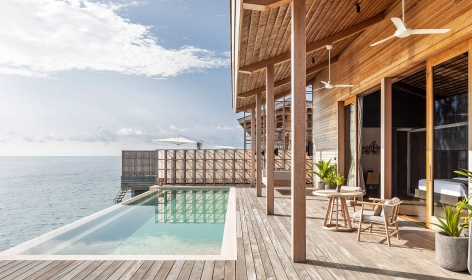 ---
19Shangri-La's Villingili Resort & Spa, Maldives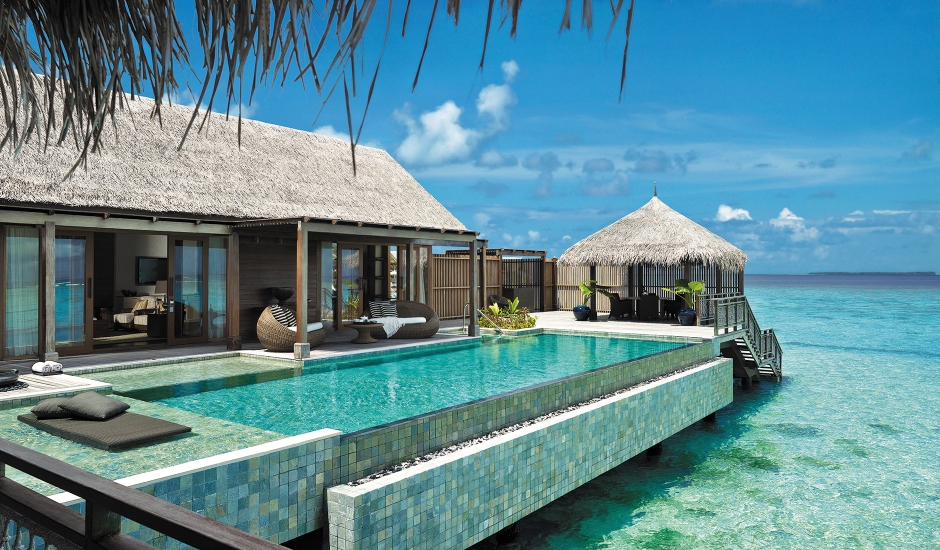 "Shangri-La's Villingili Resort and Spa is not just another island in the Maldives, but a whole destination waiting to be discovered" — from our review of Shangri-La's Villingili Resort.
This is the first Maldivian resort of its type located south of the equator. Villingili has more than six kilometers of picturesque beach and the island is covered by dense tropical jungle. Unusually for the typically small islands in the Maldives, this one is quite large — it even has a freshwater lake in the middle. It's a great destination resort for families with children in particular.
We love it for: Innovative villas built on the tree canopy level, the first of their kind in the Maldives. Another unique attraction is the luxury yacht cruise, where breakfast is served as the vessel crosses the equator.
See our review of Shangri-La's Villingili for Need-to-Know tips and more.
Photos © Shangri-La Hotels and Resorts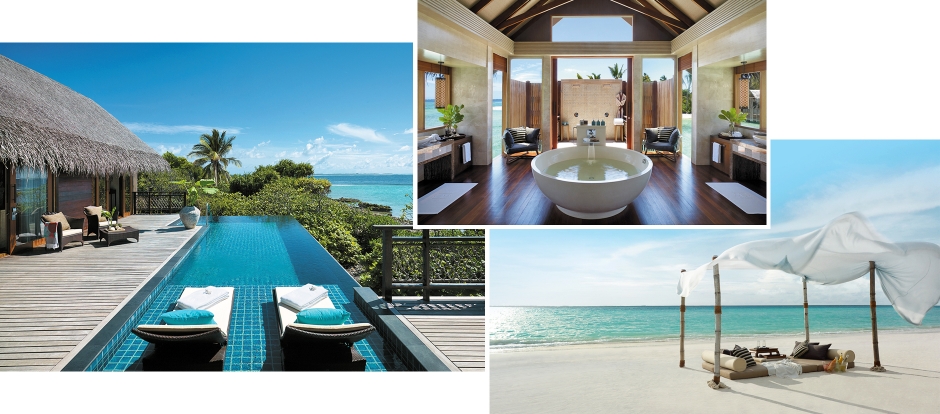 ---
20Huvafen Fushi, North Male Atoll, Maldives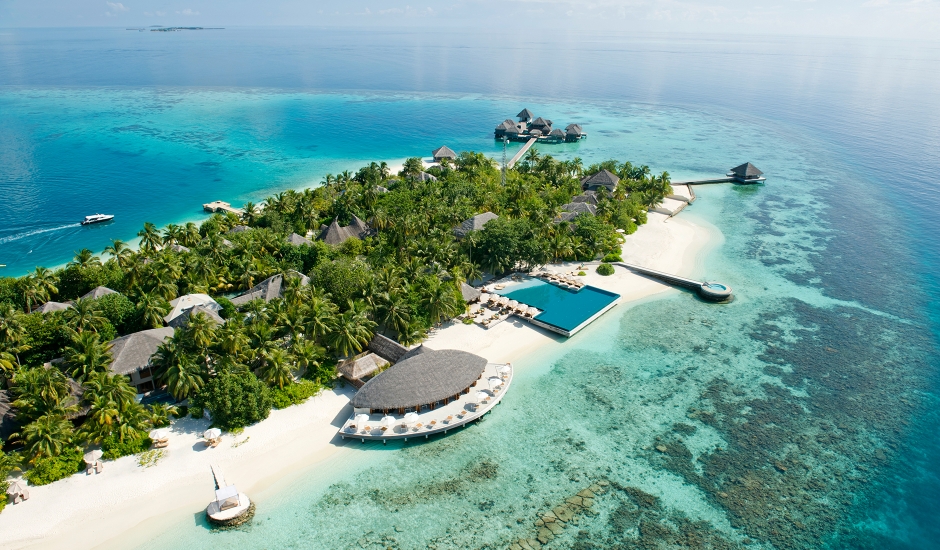 You may also like

---
Island chic
Huvafen Fushi provides a refreshing return to some true Maldivian basics. It's small, low-key, with an understated luxury and atmosphere. It promises a relaxed island living at its best — where you are free to enjoy doing virtually nothing. But the resort does not lack in the department of cool ideas, with the famous underwater spa or the twinkling-stars infinity pool, which ranks among the most iconic in the country. The hotel is very close to Male, which means that there is no need for another air journey after a long international flight.
We love it for: We stayed at the Ocean Bungalow with Pool — and loved its style. Its thatched rooftop looks rustic, but the interior is anything but, with a touch of an urban-loft style and high-tech features to match.
See our review of Huvafen Fushi for Need-to-Know tips and more.
Photos © Huvafen Fushi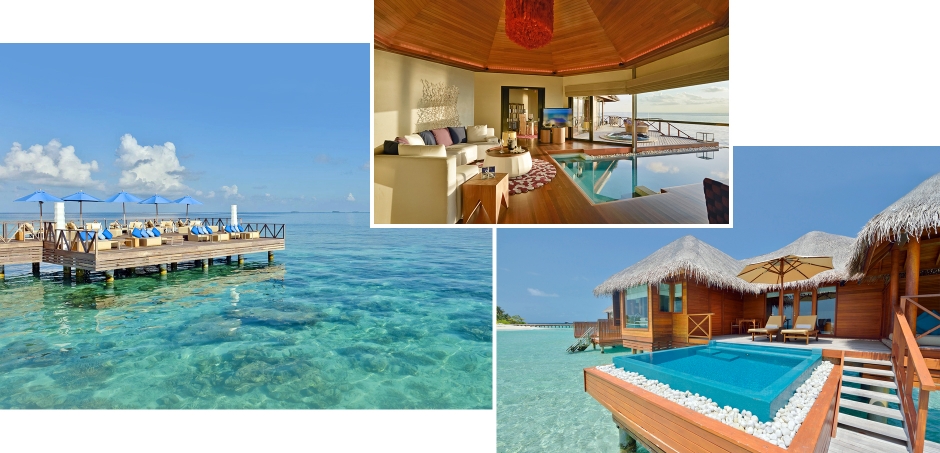 ---
21The Nautilus, Maldives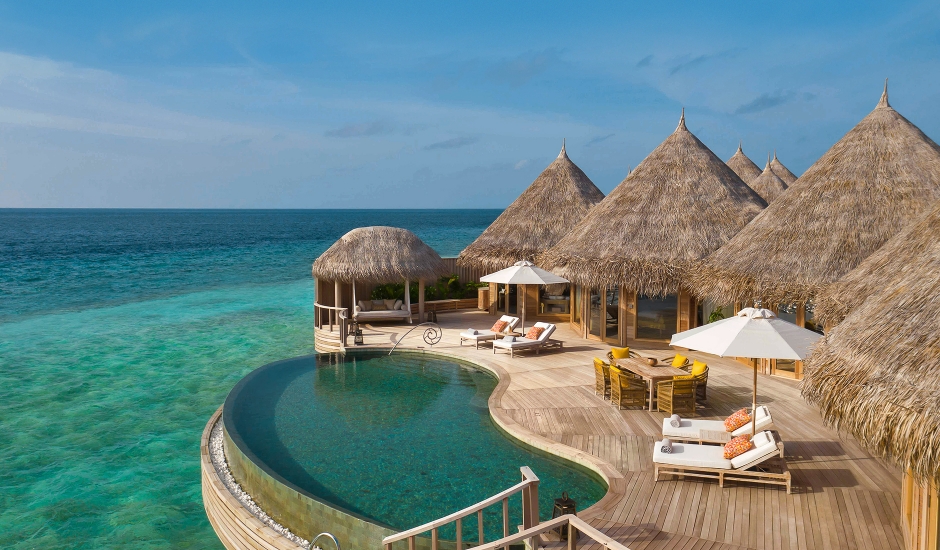 Conceived as a bohemian hideaway resembling an exclusive private home and offering a private island experience, this new resort in the Baa Atoll embraces philosophy of absolute freedom for its guests, offering a laid-back barefoot luxury where services are designed around the guest and do not follow standard operating procedures — e.g. spa treatments can happen without appointment. The resort occupies a tiny island with only 26 guest houses.
We love it for: The Nautilus designs the experience around you, e.g. there are no breakfast hours, no opening or closing times. Dine when you want, no matter the time of day or night.
Photos © The Nautilus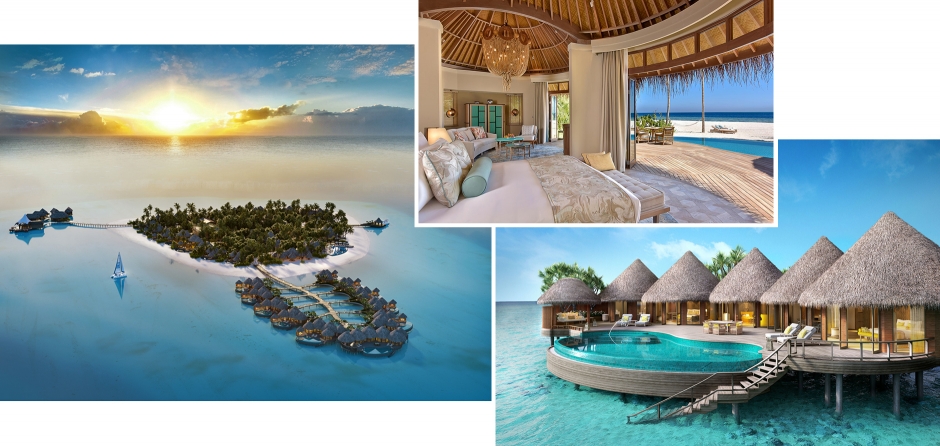 ---
22Vakkaru Maldives, Baa Atoll, Maldives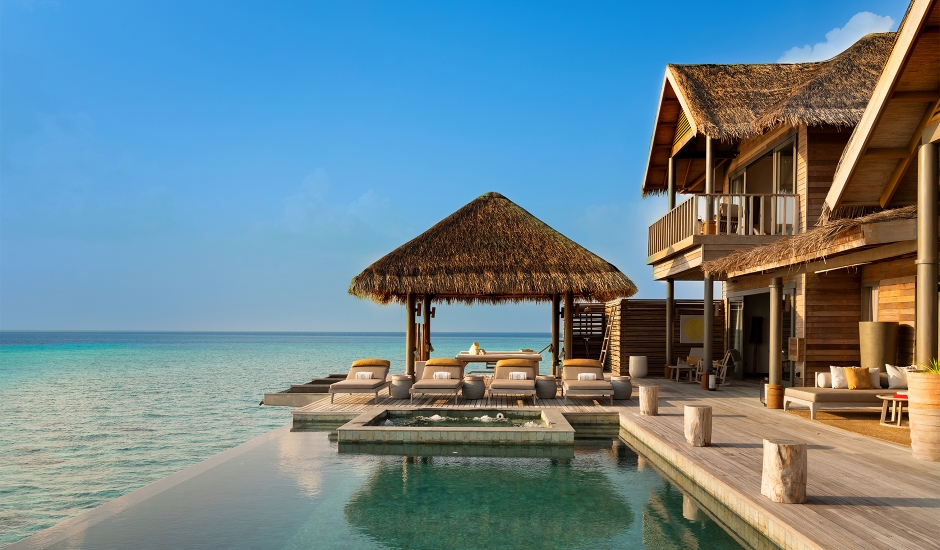 "Exploring the picture-perfect island (with its mature greenery and lovely beaches) on bikes provided by the resort was always fun" — from our review of Vakkaru Maldives.
We were perfectly happy to not do much at Vakkaru, other than relaxing by the pool, paying a visit to the overwater spa, or enjoying the beach and the intensely blue water of the lagoon. The creators of this resort artfully combined a simple Maldivian feel with contemporary style, and sophisticated luxury with a "down to earth" feel. With white sandy beaches and excellent food, Vakkaru Maldives is a lovely island getaway, set up well for romantic couples, but particularly popular with families with children.
We love it for: The villas are well-appointed and beautiful, with great attention paid to the smallest of detail. The bedroom was our favorite, with a romantic four-poster bed and an overall open feel.
See our review of Vakkaru Maldives for Need-to-Know tips and more.
Photos © Vakkaru Maldives

---
23Conrad Maldives Rangali Island, Maldives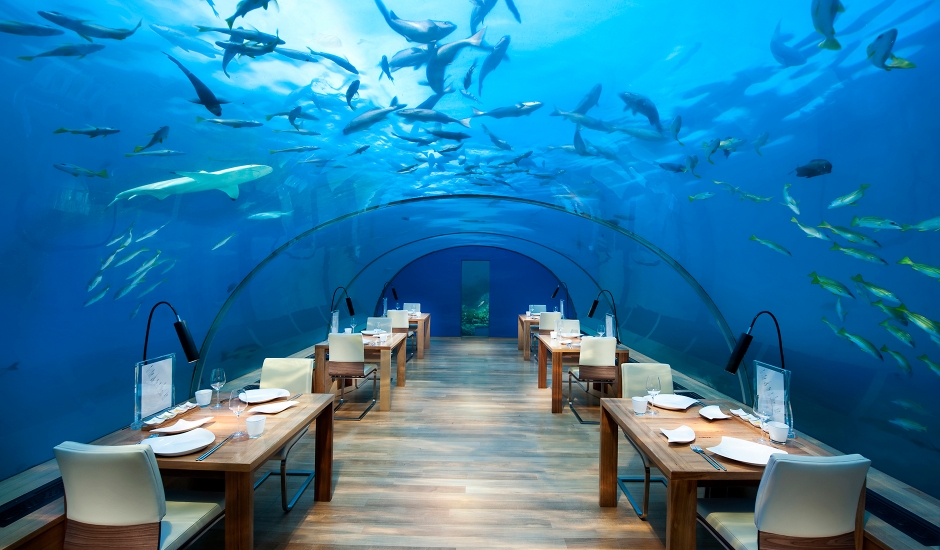 "For the ultimate treat, go for one of the two Ocean Pavilions with Private Pool, packed with the best the top luxury can offer" — from our review of Conrad Maldives Rangali Island
Conrad Maldives Rangali is set on two idyllic islands, with all the children activities confined to the larger one, and the romantic smaller island reserved for couples seeking some peace and quiet. This stylish resort offers glamorous luxury in chic surroundings, with some of the most exciting underwater attractions in the Maldives. This includes Ithaa, the restaurant located 5 meters below sea level, where we popped in for afternoon champagne. Thanks to the transparent acrylic roof and walls, Ithaa allowed us a full "immersion" for fantastic views of marine life on the reef.
We love it for: Underwater bedroom! The Muraka residence is a unique accommodation featuring fully integrated living space, with a private infinity pool, a chef and butler — and a stunning master suite, located fully underwater.
See our review of Conrad Maldives for Need-to-Know tips and more.
Photos © Conrad Hotels & Resorts
---
24Anantara Kihavah Villas, Baa Atoll, Maldives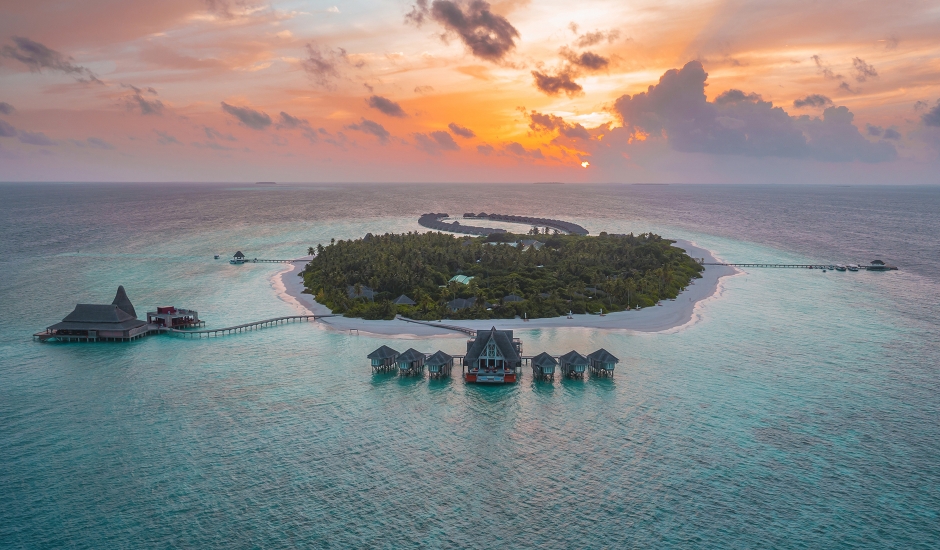 You may also like

---
Romantic vibe
Anantara Kihavah Villas seem to have it all: something on the water (spa), something underwater (a wine cellar and a restaurant), and something bigger and better from whatever other hotels Maldives might have (the longest swimming pool), but what distinguishes Anantara is its eco-philosophy. The hotel was built on a former coconut plantation, and not a single tree was cut down during construction. Some palms have become integral parts of the villas, as the architects chose to build around them.
We love it for: The concept restaurants Sea.Fire.Salt.Sky, among which the most interesting is the Sea, an underwater marvel with a remarkable location. Speaking of which, the resort has easy access to some of the best places in the Maldives for diving and snorkeling.
See our review of Anantara Kihavah Villas for Need-to-Know tips and more.
Photos © Anantara Hotels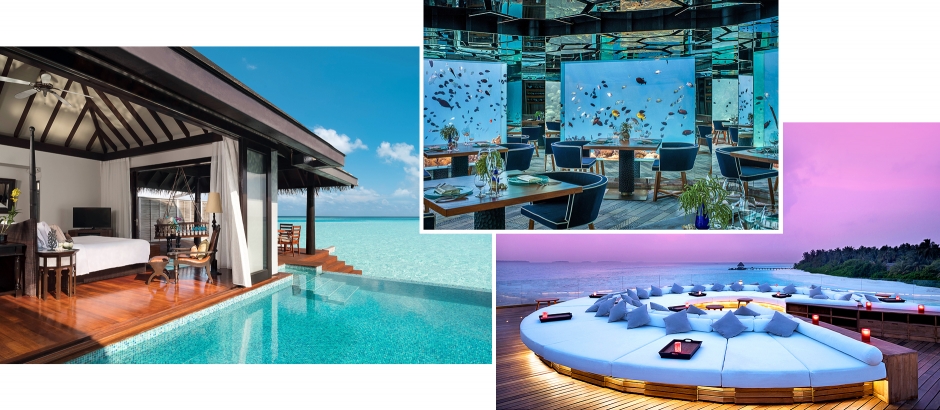 ---
25Four Seasons Resort Maldives at Kuda Huraa, Maldives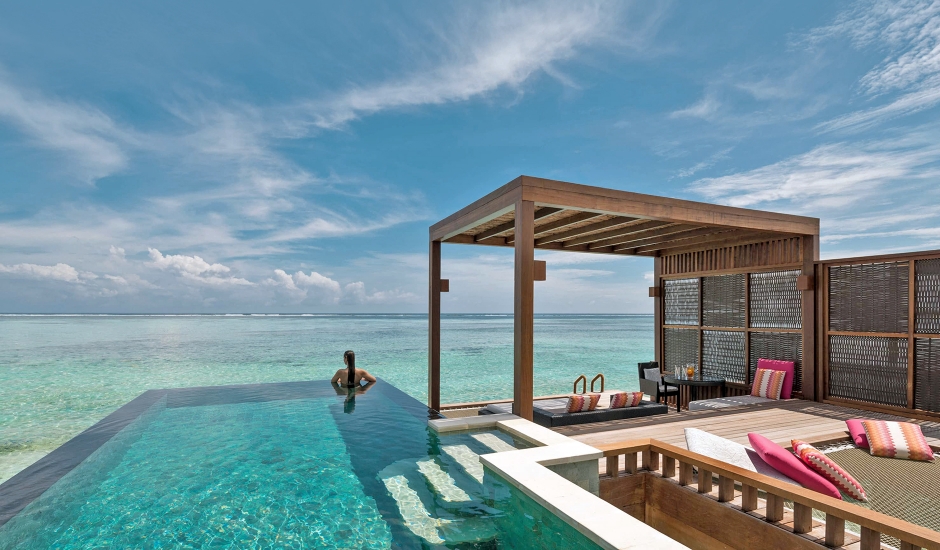 You may also like

---
Quintessentially Thai
The smaller of the two Four Seasons resorts in the Maldives, Kuda Huraa, focuses on families, with a ton of activities and attractions for younger and older children. Facilities include four restaurants, arranged around a spectacular infinity pool, and a spa, located on a separate island, and accessible by boat.
We love it for: Four Seasons Resort Maldives at Kuda Huraa is the home port of the luxury catamaran Four Seasons Explorer, which can be hired for exceptional sea journeys. During the cruise, the Explorer drops anchor at exceptional dive sites, visits tiny uninhabited beaches, and stops by remote island communities.
Photos © Four Seasons Hotels Limited.
---
26Niyama Private Island Maldives, Maldives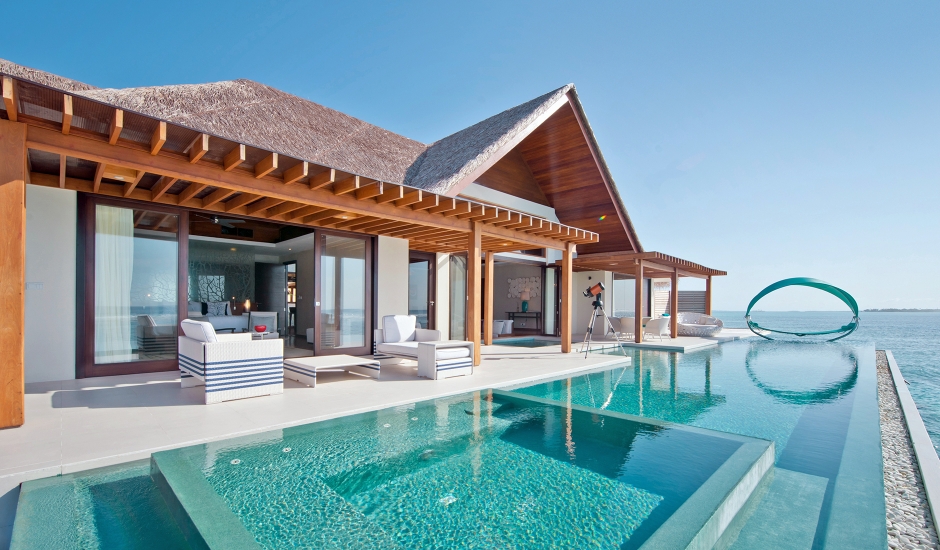 "Celebrated for its cutting edge style, Niyama Private Islands is a vibrant resort that balances tranquillity with a sense of discovery, stimulation, and fun" — from our review of NIYAMA
Not one, but two idyllic islands, Embudhufushi and Olhuveli are home to NIYAMA, a glorious barefoot-in-paradise resort. Embracing elegance and tranquillity, this place balances stimulation and fun, with cutting-edge design and plenty of quirky ideas. A range of fun activities includes a spa, an underwater nightclub, weekly movie nights.
We love it for: The Edge, Niyama's signature seafood restaurant and lounge located 500 meters offshore, with Subsix, an underwater restaurant and nightclub submerged eight meters below.
See our review of  Niyama Private Island for Need-to-Know tips and more.
Photos © Niyama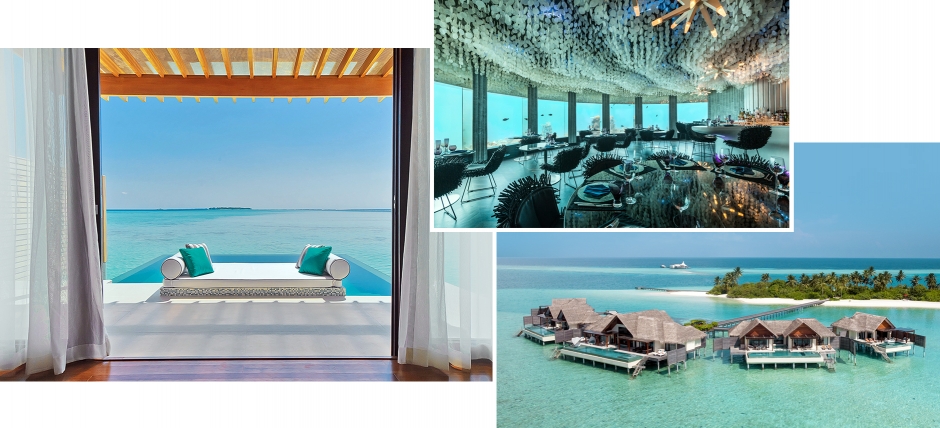 ---
//The best luxury resorts in the Maldives: runners-up
You may also like

---
The ultimate list of 100 hotels, plus another 100 runners-up!
The Maldives is a host to hundreds of resorts, but we think that only some belong to the above list. That said, there are a few runners-up which are worthy of at least a mention.