From Bhutan to Botswana and from Mexico to Montenegro, the hottest new luxury hotel openings 2020 span the globe—and the experiences we list are as different from one another as a stay at a can't-afford-it igloo in the Arctic is different from sleeping on a vintage train parked above a river in the African savannah.
A theme emerging this year is that reopenings are as big as new openings, another is the rise of city hotels. Africa features prominently, and Japan is an important destination as well, thanks to the buzz surrounding the 2020 Summer Olympics in Tokyo.
But all of the openings listed here are not-to-be-missed, absolutely the best new hotels to check into this year—which means the TravelPlusStyle's Top 100 New Luxury Hotel Openings 2020 is the perfect place to start planning your travels. Time to dust off your passports!
*Note: the hotel opening dates are subject to changes and delays.
1Aman New York, New York, USA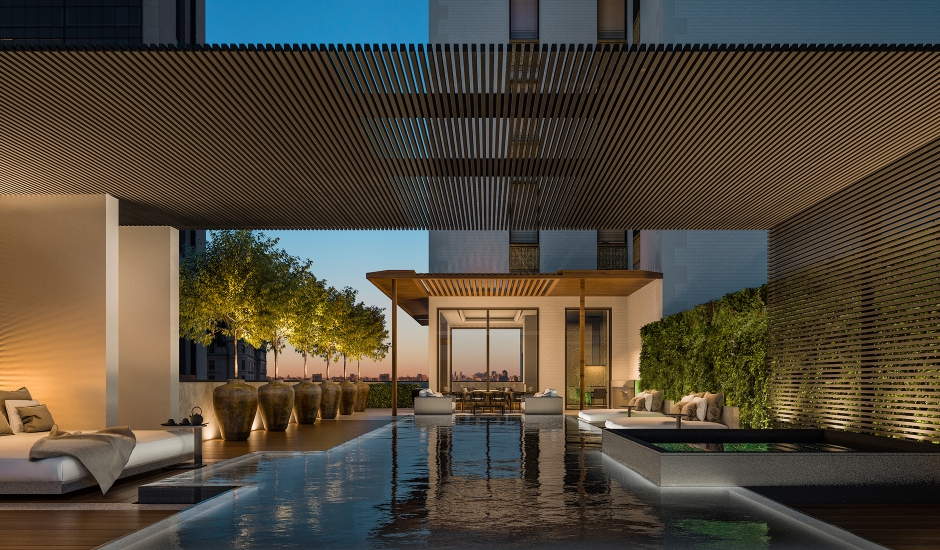 We kick off with a very exciting opening from one of our favorite luxury resort chains: Aman Resorts. This resort-cum-spa is set to make a splash with its unveiling, and not only in the world of the Aman aficionados.
Located on the corner of Fifth Avenue and 57th Street and overlooking Central Park, the 83-room hotel will come with the trademark Aman Spa (spread on three floors and featuring a 25-meter swimming pool), two restaurants, Wine Library, subterranean Jazz Bar, and a Garden Terrace overlooking Central Park. All rooms will have working fireplaces and many will enjoy views of Central Park. The hotel will also offer 22 private Aman Residences, as well a single five-floor penthouse on the very top of the building, literally its gilded 'crown'. The penthouse will have indoor and outdoor pools.
Website: Aman New York. Opening: Winter 2020.
Images (including the leading image at the top of the article) © Aman Group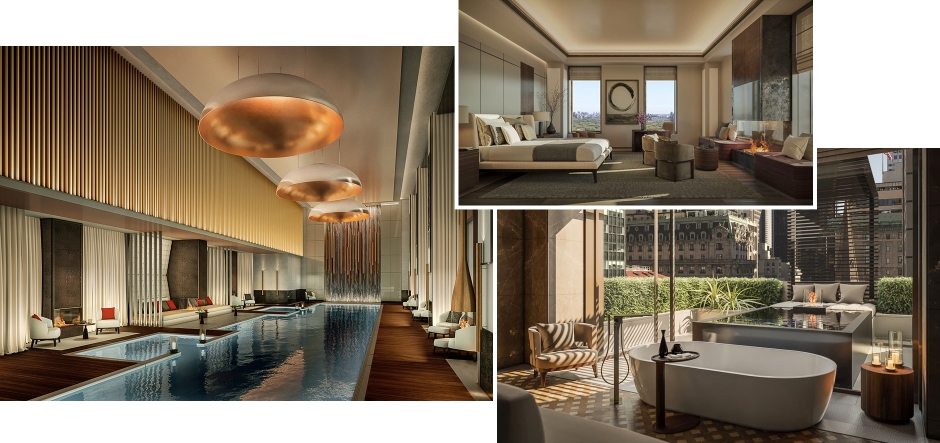 ---
2Soneva Fushi, Maldives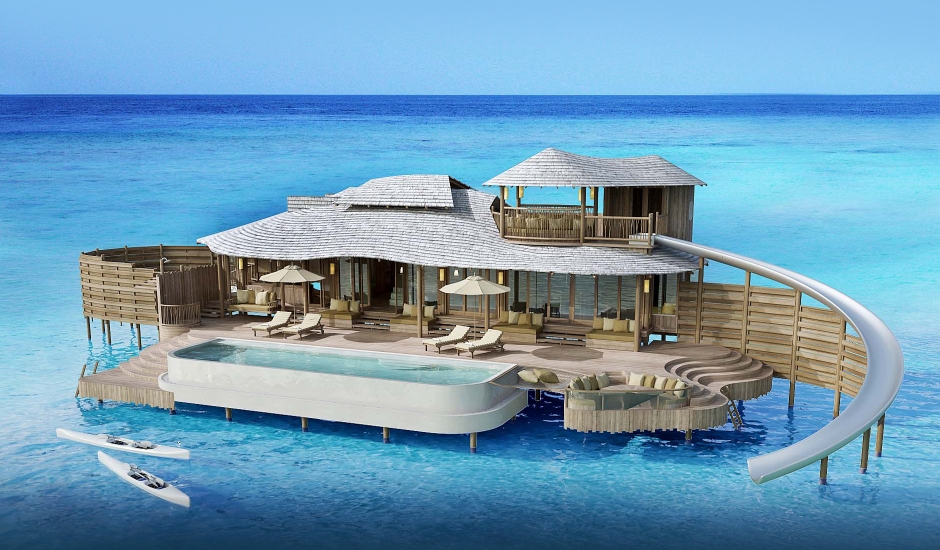 "While we will always remain true to the much-loved spirit and laidback ethos of Soneva Fushi, the new water retreats will elevate our offering, ensuring that our guests' experience is more memorable and special than ever before."
— Sonu Shivdasani, founder and CEO of Soneva
In the review from our stay, we claimed that no other resort serves as idyllic an island holiday experience as Soneva Fushi—and this is going to be even more true in 2020. This is not a new opening, strictly speaking, but the big news this year though is that Soneva Fushi is launching new overwater villas, in the style and level of luxury of its sister property Soneva Jani (which, in our review, we placed among our favorite resorts in the Maldives).
The one- and two-bedroom villas of the refreshed Fushi will wow first with their sizes—from 6300 sq feet (770 sq m) to 9200 square feet (855 sq m)—and second, with facilities. They will have private pools, sunken seating areas, catamaran nets strung over water, and retractable roofs, for guests to stargaze from the comfort of their beds (we loved this at Jani!). Finally, the very cool water slides will let the guests splash directly into the Indian Ocean, in style and with plenty of fun.
Read our review of Soneva Fushi here.
Website: Soneva Fushi. Opening: April 2020. Image © Soneva
---
3Waldorf Astoria Bali, Bali, Indonesia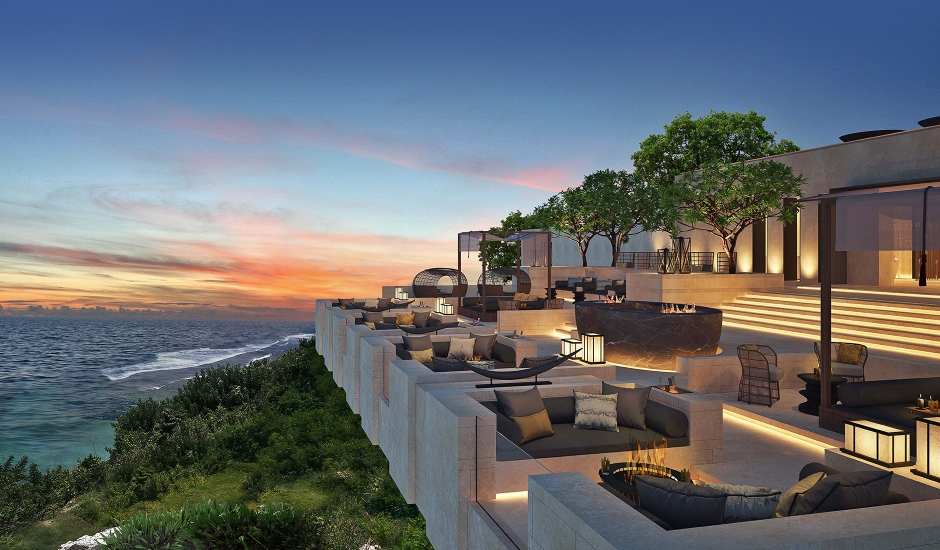 Perched atop a cliff 40 meters above the sea level, the Waldorf Astoria's debut on the island of Bali is set to turn heads in the competitive hospitality industry in Indonesia. And not only because of the stunning sea views. Spread over a 32-acre estate, the resort will offer 96 luxurious villas (ranging from one-bedroom to six-bedroom villas), as well as a destination spa and two fine-dining restaurants. There will be an outdoor sea-facing pool and a beach club too. Guests will also have access to a private beach.
Website: Waldorf Astoria Bali. Opening: 2020. Images © Waldorf Astoria 
---
> Shop in our TravelPlusStyle Amazon Store!
See must-have travel gear, vacation essentials, beach reads, and more!
---
4Six Senses Shaharut, Israel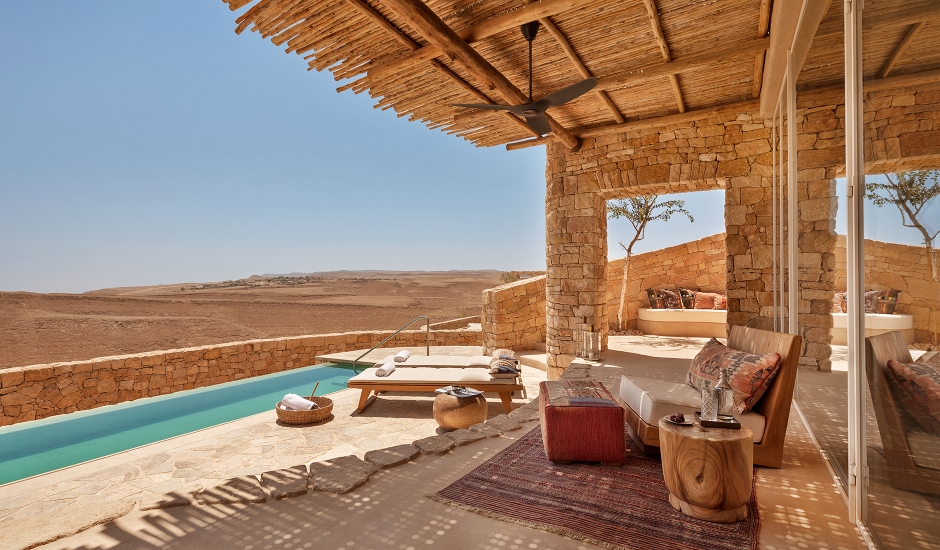 This highly-anticipated new resort from one of our favorite resort brands will be launching this year in a remote spot south of the Negev Desert, in Arava Valley. The Six Senses Shaharut will be inspired by the surrounding scenery. The design, using local stone and earthy color palettes, will integrate the property into the rock and sand of the site. Other than the 60 suites and pool villas, Shaharut will feature an expansive Six Senses Spa, a yoga studio and nail salon, as well as indoor and outdoor pools. Dining options will include an Israeli-Mediterranean restaurant, a poolside bar, and a tented Bedouin-style dining spot. Six Senses also promises unforgettable desert experiences, such as dune trekking or camping-under-the-stars with an overnight sleep.
Website: Six Senses Shaharut. Opening: Spring 2020. Photo © Six Senses
---
5Kisawa Sanctuary, Benguerra Island, Mozambique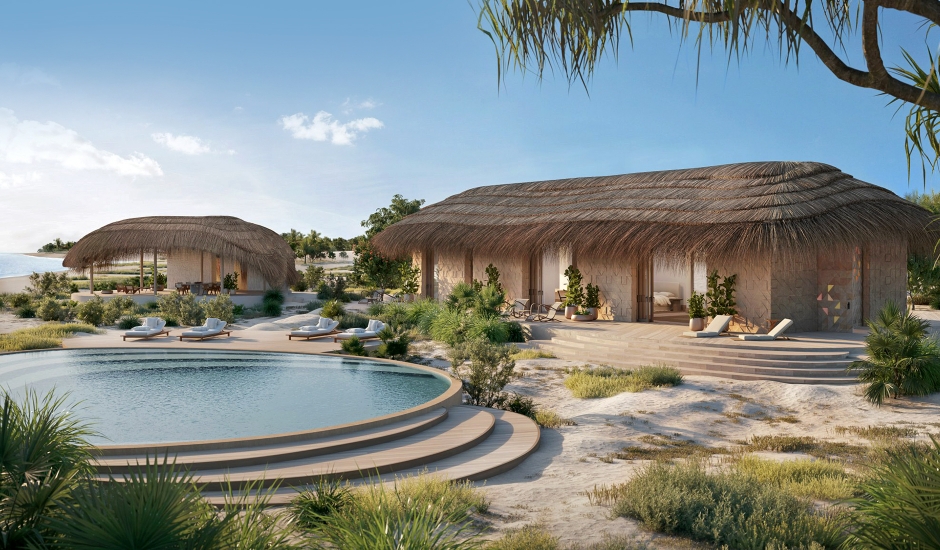 "My mission for Kisawa is to create […] a place that inspires feelings of freedom and luxury born from nature, space, and true privacy. […] We have used design as a tool, not as a style, to ensure Kisawa is integrated both culturally and environmentally into Mozambique."
— Nina Flohr, the founder of Kisawa.
Located on the tropical island of Benguerra, in Mozambique, on a large patch of wild forest, and facing beach and dunes at Kisawa Sanctuary, this unique luxury resort aims to set new standards in sustainable design and innovation. Commissioned specifically for this project, patented 3D sand-printing technology is used for the construction of the resort, with sand and seawater mortar as the main building materials. The design will blend innovation with tradition in using local weaving, thatching, carpentry, and textile methods.
Kisawa Sanctuary will feature twelve bungalows (from one to three bedrooms), and one sprawling "Kisawa Residence". Each beachfront with have a private swimming pool and a massage hut. The resort facilities will include dining venues, beach clubs, a large swimming pool, a library, and a spa.
Website: Kisawa Sanctuary. Opening: Summer 2020.
Renders by The Boundary. © Kisawa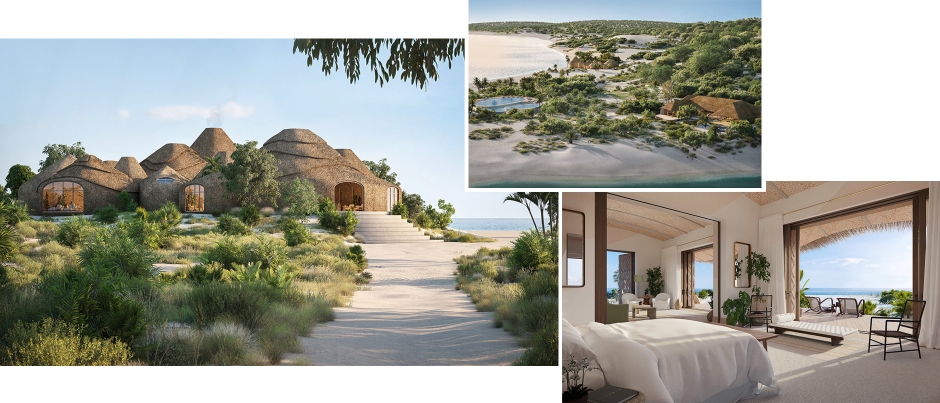 ---
6Elang, Anambas Island, Indonesia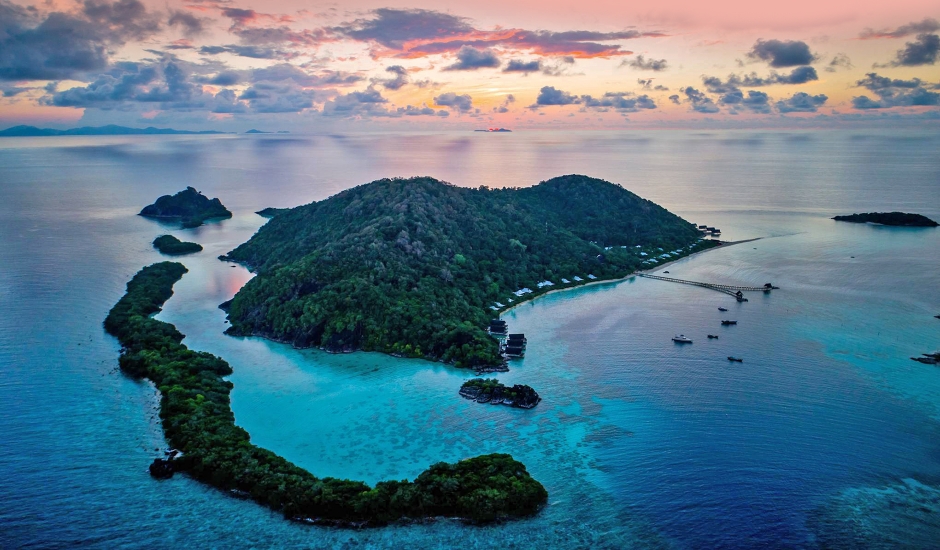 "Elang will be the second island with accommodations—a mini-Bawah. There will be six villas, […] plus a central area for dining, the island's own infinity pool, and also an activity center and boat house" — Paul Robinson, Bawah Reserve COO
We wrote about Bawah Reserve that it is "a picture-perfect, tiny archipelago of previously uninhabited islands surrounded by turquoise waters", but we didn't mention that during our stay Bawah was already working on its next idea: Elang, a new and more exclusive retreat, a short boat ride away from Bawah. The barefoot-style villas at Elang are built using driftwood, bamboo, and recycled materials. Each will have a bedroom and a living room with a balcony, and some will feature private pools and direct sea access. Guests will be able to use Bawah's facilities, but Elang will be a more premium offering, with higher rates to match.
Read our review of the Bawah Reserve.
Website: Bawah Reserve. Opening: Spring 2020. Photo © Bawah Reserve
---
7Alila Dalit Bay Sabah, Malaysian Borneo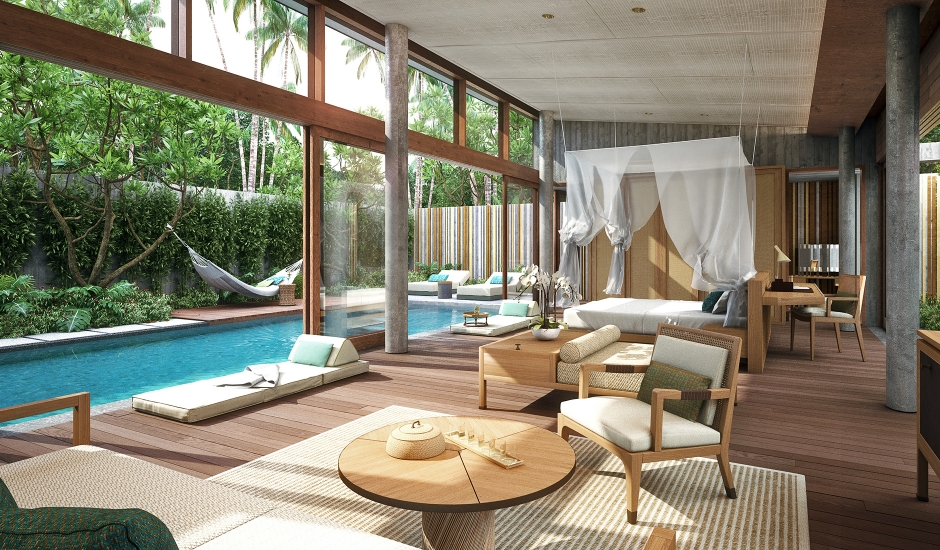 You may also like

---
A sensory feast of sophisticated style, atmosphere and design
Malaysian Borneo is one of the most fascinating tropical destinations in the world, and relatively untouched by tourism. But now the Alila Hotels and Resorts will certainly put it on the map for discerning travelers.
Located on the island's northern coast, Alila Dalit Bay Sabah will have a white-sand beach setting and eco-friendly approach, without sacrificing modern luxuries and comforts. The plans for 152 suites and bedrooms, multiple dining outlets, swimming pools as well as an outdoor wedding chapel reflect Alila's ambition to launch a fully-fledged beachfront resort. 74 villas will be set aside for private ownership.
Website: Alila Hotels. Opening: 2020. Image © Alila Hotels
---
8Camp Sarika by Amangiri, Utah, USA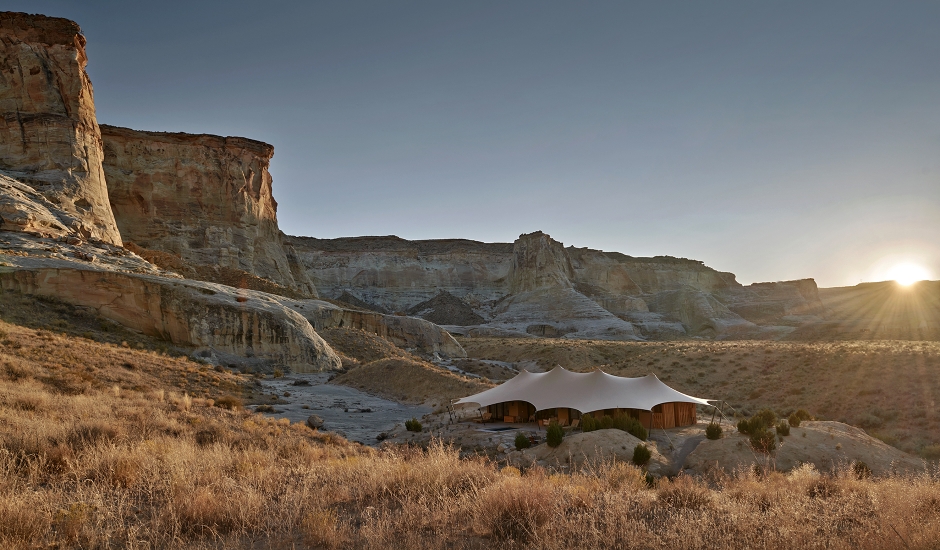 The second entry from Aman Resorts on our list this year is Camp Sarika, a luxury tented retreat designed as an exclusive, in-the-wild desert experience. The 10 canvas-topped pavilions of the camp will be located a short distance away from Amangiri. Each will come with a heated private plunge pool and a spacious terrace with a fire pit.
Settled in an otherworldly landscape of towering mesas, slot canyons, and rust-colored sands, the camp will follow the concept of spaciousness and clean lines of Amangiri, creating a meditative luxury in the heart of the desert.
Website: Camp Sarika by Amangiri. Opening: April 2020. Photos © Aman Group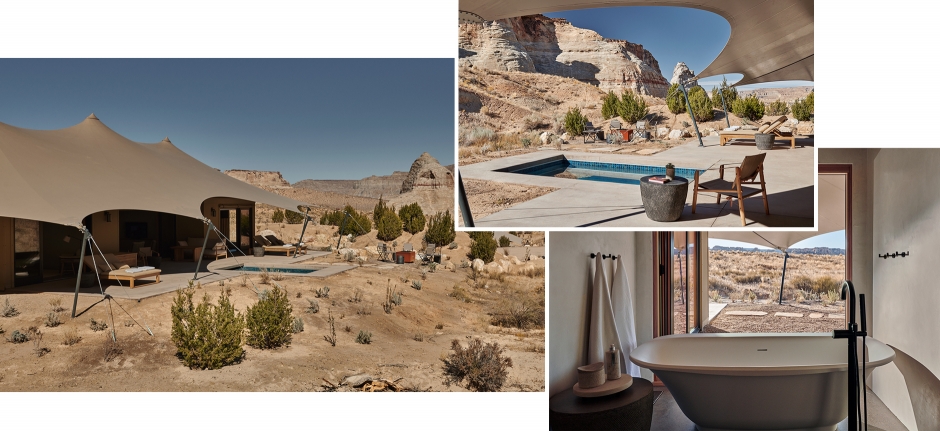 ---
9Mandarin Oriental Qianmen, Beijing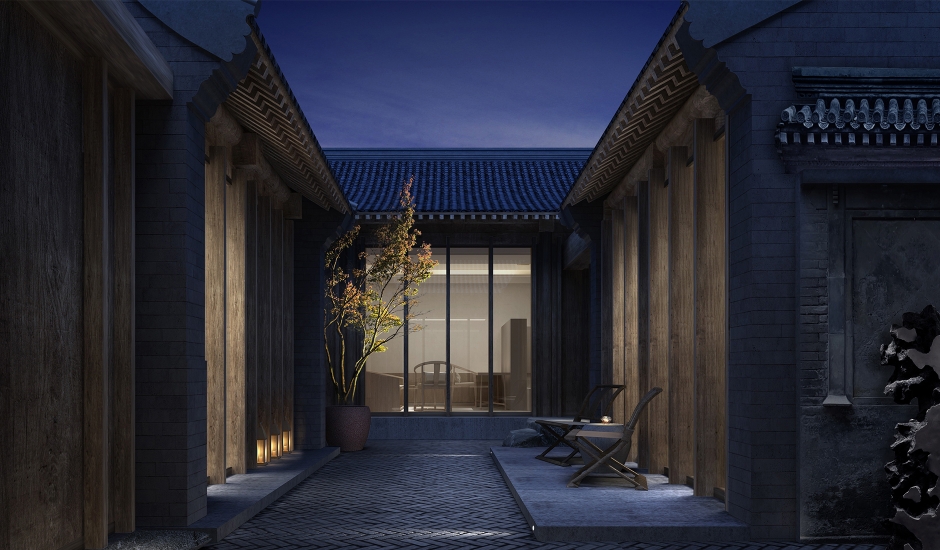 You may also like

---
Harmony in contrasts
Mandarin Oriental Qianmen launches with a serious delay (we wrote about this opening in 2018!), but their press office ensured us that it is definitely happening this year. This will be the second property launched in Beijing by Mandarin Oriental, following the Mandarin Oriental Wangfujing.
Positioned near Tiananmen Square, this new hotel will be located within the East Hutong Quarter and it will follow the architectural style and design patterns established by the traditions of the Hutongs. This medieval part of the city date back as far as the 13th century, and is made up of courtyard houses connected by narrow lanes and alleyways—and the Mandarin Oriental Qianmen design follows this template. Other than the luxurious courtyard suites, the hotel will have a range of facilities, including an indoor swimming pool, an all-day roof terrace eatery and other dining venues, and the Spa.
Website: Mandarin Oriental. Opening: Late 2020. Image © Mandarin Oriental
---
10The Chedi Kuda Villingili, Maldives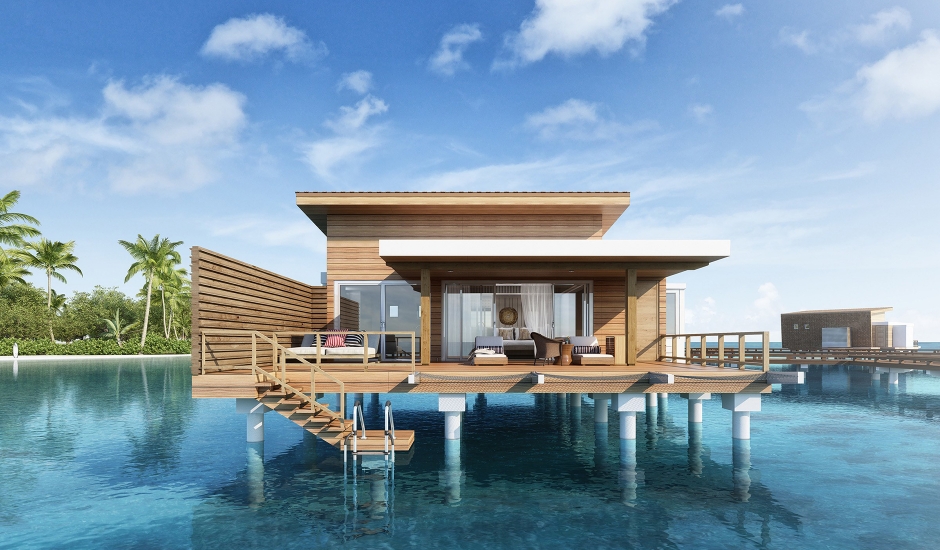 Only a thirty-minute speedboat ride separates The Chedi Kuda Villingili in the Maldives from Malé's Velana International Airport. The resort will feature beach villas, some with a plunge pool, over-water villas, and double-height villas with a second floor (all units will be offered as residences for sale). Add extensive food & beverage facilities and Chedi-branded level of service and Kuda Villingili is well set up to become an ultimate island destination.
Website: The Chedi Kuda Villingili. Opening: Late 2020. Images © GHM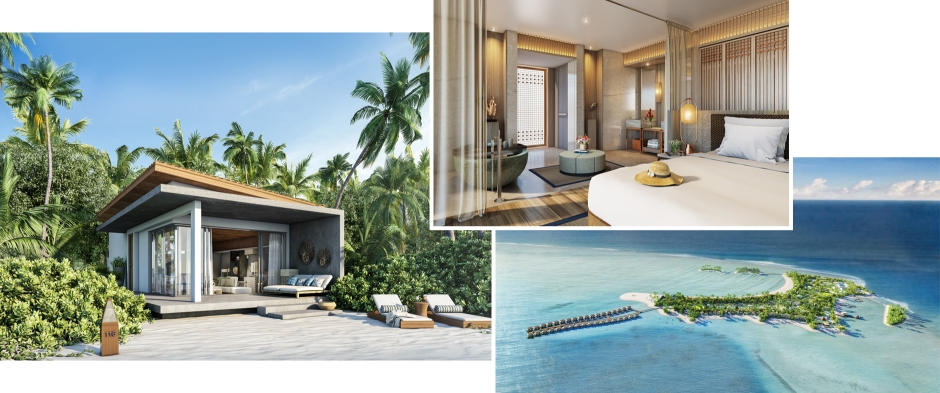 ---
11Rosewood São Paulo, Brazil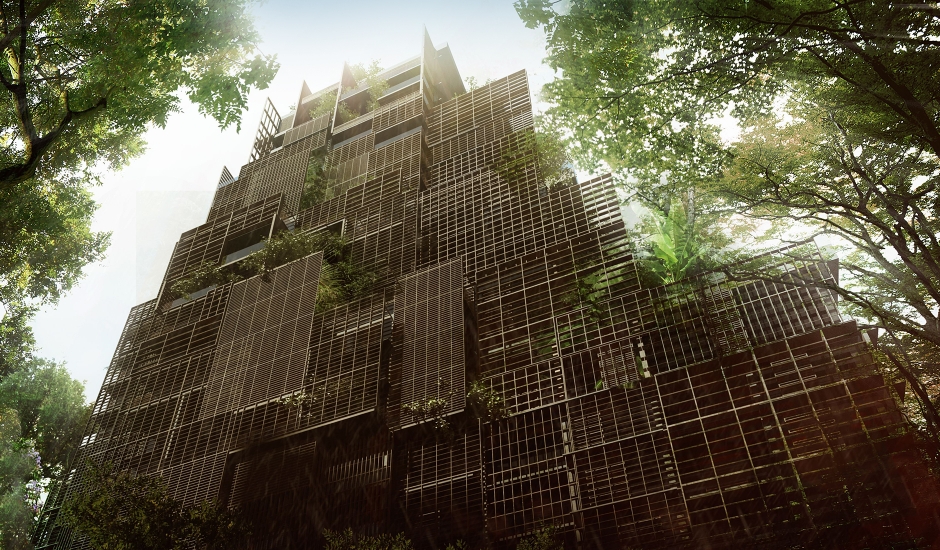 You may also like

---
In the heart of Beijing
This is the Rosewood Hotels & Resorts' debut in South America, and it looks like a very confident addition to our Openings list. The development is heralded by some big names in the world of architecture and design, with award-winning architect Jean Nouvel, designer Philippe Starck, and artist Vik Muniz commissioned to turn the 100-year-old building in the heart of the city's Cidade Matarazzo into a luxurious city resort.
Set on the premises of a historic hospital constructed in 1904, Rosewood São Paulo will comprise 151 rooms and 114 suites and will feature two restaurants, bar and caviar lounge, two swimming pools, a large spa, and fitness center, as well as extensive gardens.
Website: Rosewood São Paulo. Opening: Late 2020.
Photo ©  Rosewood Hotels and Resorts
---
12Zannier Bai San Hô, Vietnam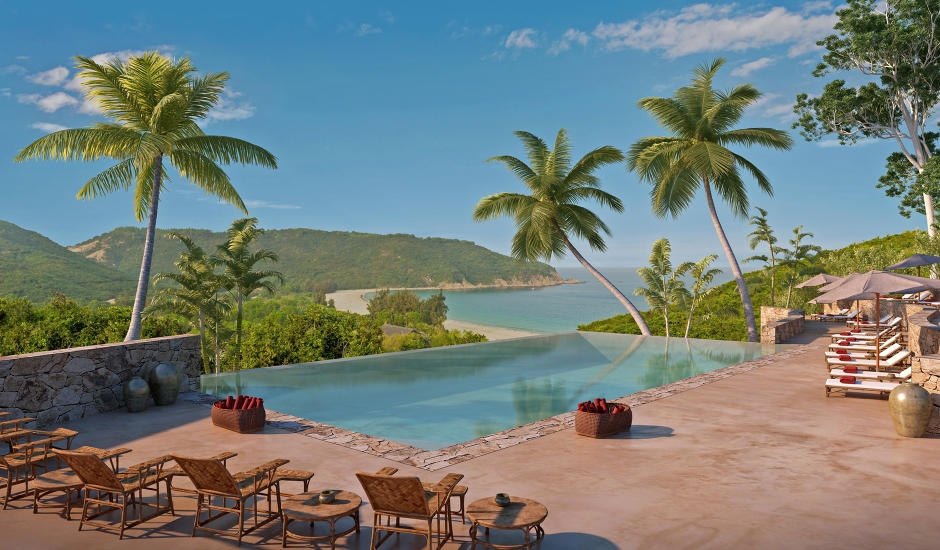 Zannier Hotels—known for the very cool Cambodian Phum Baitang, and the Namibian newbies Omaanda and the tented camp Sonop—have chosen Vietnam as the destination for their newest opening.
Zannier Bai San Hô is set away from the mainstream tourist destinations. Located on a discrete peninsula, with a stunning coastal location and direct access to a kilometer-long beach, this luxurious resort will offer 71 villas, inspired by different architectural traditions of the region. Surrounded by lush hills and paddy fields, Bai San Hô will also feature three restaurants and two bars designed to instill different moods. There will be a variety of beach and water activities on offer as well, including scuba diving.
Website: Bai San Hô. Opening: 2020. Images © Zannier Hotels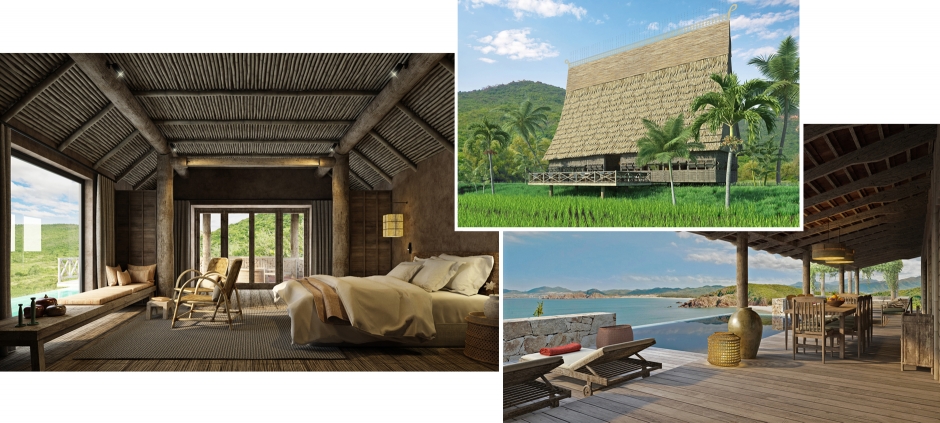 ---
13Xigera Safari Lodge, Okavango Delta, Botswana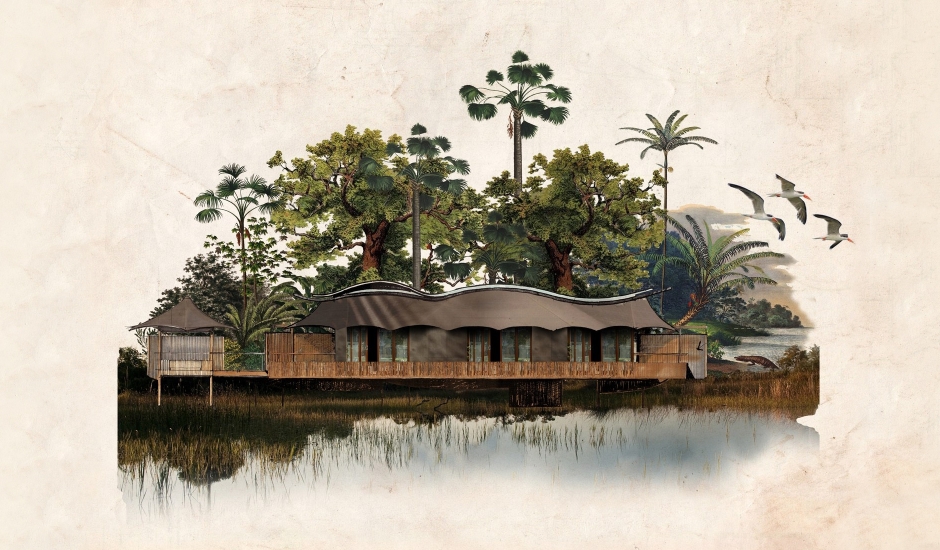 "We'll likely be the most exclusive safari lodge on the continent, designed and built with guest comfort at the fore. Every day at Xigera is a unique adventure. Guests are free to design their day as they wish, doing as much or as little as they feel like." — Mike Myers, General Manager of Xigera Safari Lodge
One of the most interesting openings in Africa is Xigera, set to be one of Botswana's most luxurious safari lodges. It is the newest from the family-run Red Carnation Hotels, which includes Ashford Castle in Ireland, and The Twelve Apostles and Bushmans Kloof in South Africa.
Xigera's concept blends safari experience with fine art and contemporary design, and the incredible staff-to-guest ratio (105 staff for 24 guests) will ensure a new level of service and luxury. The architecture is inspired by an owl in flight. Twelve luxurious guest suites are suspended above the ground, and their design will mix in installation art and Bushman cave paintings. Carefully designed to not disturb the area's rich flora and fauna, the lodge is planned to be 95 percent solar-powered.
Website: Xigera Safari Lodge. Opening: Summer 2020. Image © Xigera
---
14One&Only Portonovi, Montenegro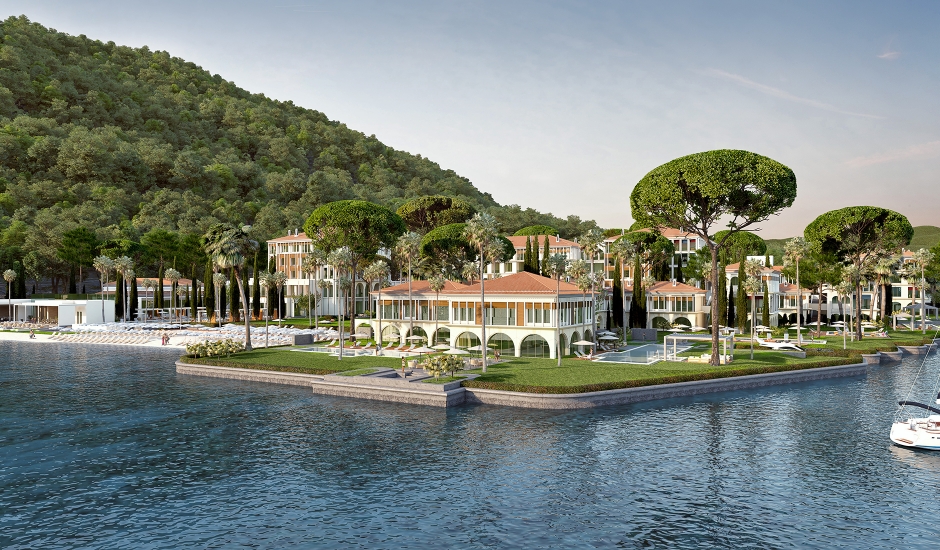 One&Only Resorts—the brand behind the One&Only Reethi Rah (Don't miss our review!), and the new wildlife lodge One&Only Gorilla's Nest, in Rwanda—this year is focusing on a very different location. The picturesque Boka Bay in Montenegro will be the group's first European resort, on the western coast of the Balkans. Set on the edge of the Adriatic Sea between the towering mountains and inky sea, Portonovi will be a wellness retreat and a spa resort, designed with around 140 rooms, villas, and residences, with a yacht marina as well. Other than the picturesque coastline, the nearby riviera escape of Tivat and the medieval town of Kotor will offer plenty to explore.
One&Only's foray into the old continent will not stop with the resort in Montenegro. We are looking forward also to the launch of One&Only Kéa Island in Greece, penciled in to open in 2021.
Website: One&Only Portonovi. Opening: due to launch in June 2020.
Images © One&Only Resorts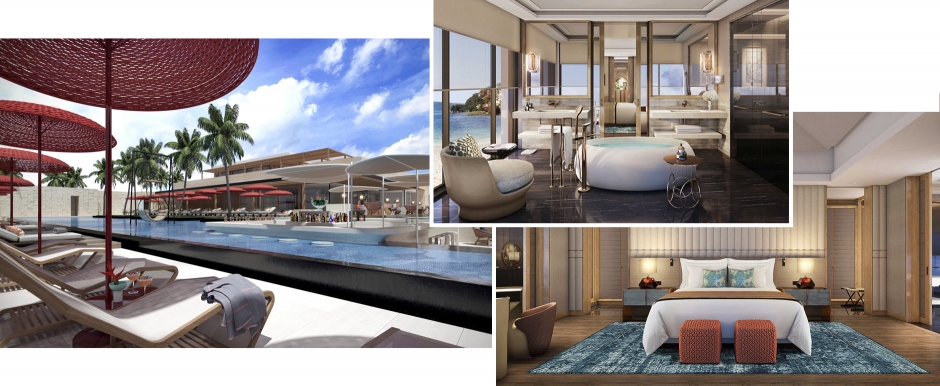 ---
15Villa Copenhagen, Copenhagen, Denmark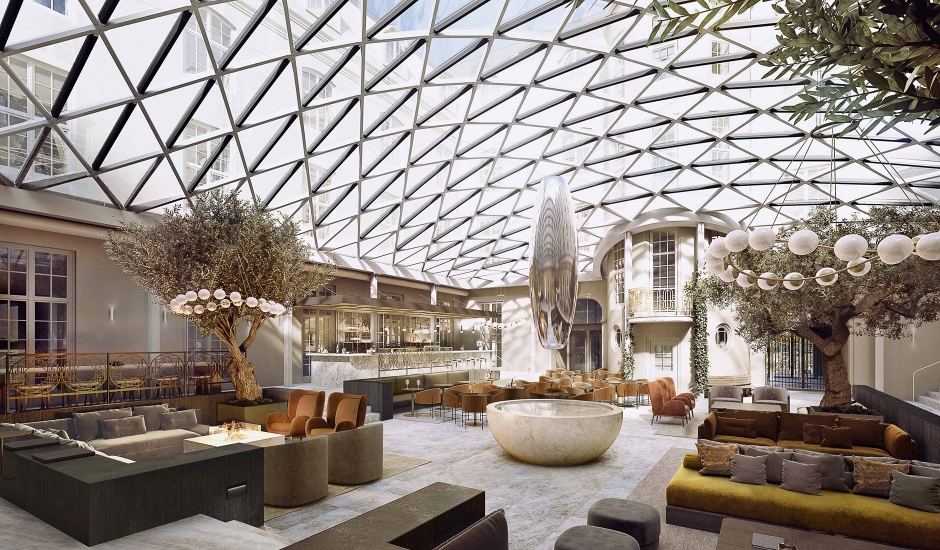 A conscious approach to luxury with an eco-friendly mindset is at the heart of Villa Copenhagen's concept. Located within a former Central Post and Telegraph Head Office, next to the Tivoli Gardens, the hotel will have 390 rooms and suites, including one made entirely from sustainable and recycled materials. Local and international dining venues will be available as well, and beautiful interior gardens will add to the sense of wellbeing and sociability.
Website: Villa Copenhagen. Opening: Spring 2020. Image © Villa Copenhagen
---
16Four Seasons Hotel Bangkok at Chao Phraya River, Thailand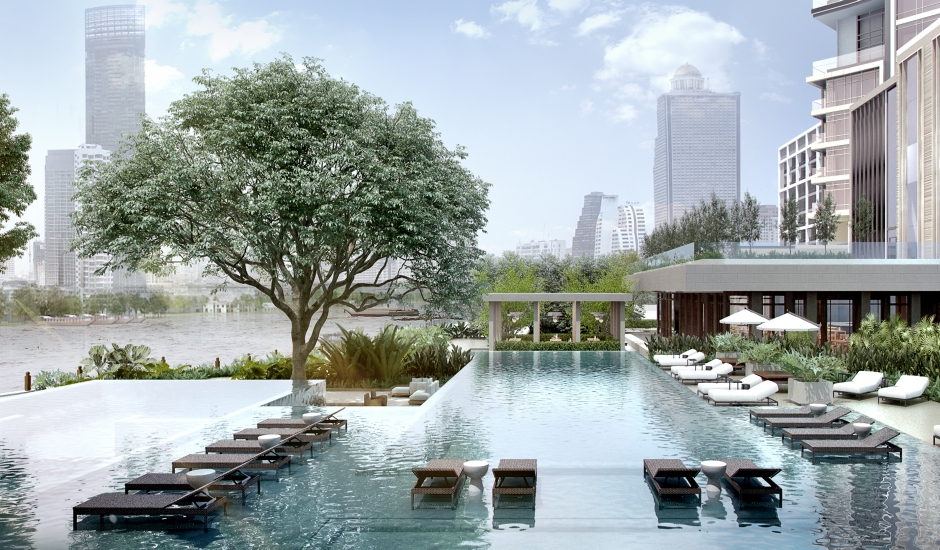 This new urban sanctuary from the esteemed luxury hotel brand Four Seasons is planned to occupy a prime spot along the riverfront of Chao Phraya River in the center of Thailand's capital. Four Seasons Hotel Bangkok wows with gardens, cascading waterfalls and mirror infinity pools, extending into the river below, in a series of integrated indoor and outdoor spaces. Designed by the architect Jean-Michel Gathy, the hotel will offer 299 rooms and suites, including many with garden terraces. The top accommodation will be an extraordinary, two-floor Presidential Suite. An extraordinary urban spa with two infinity pools overlooking the river will complete the suite of facilities, as will the BKK Social Club, a dramatic tropical entertainment space flanked by outdoor terraces.
Website: Four Seasons Hotel Bangkok at Chao Phraya River.
Opening: Early 2020. mages © Four Seasons Hotels Limited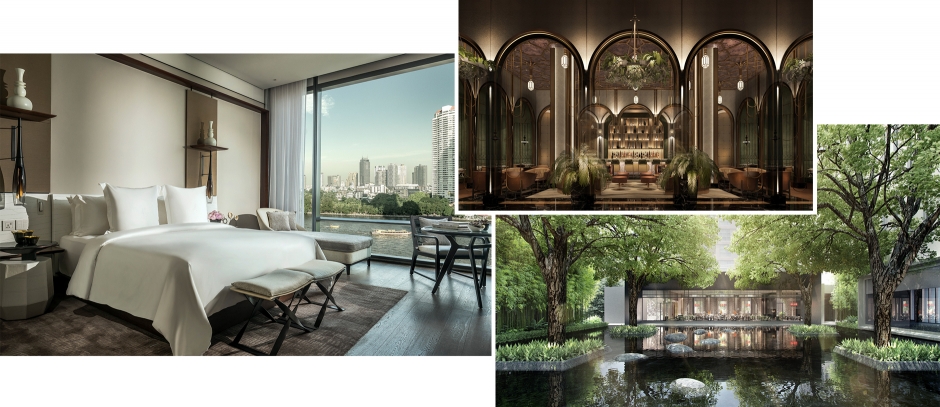 ---
17Cheval Blanc Paris, France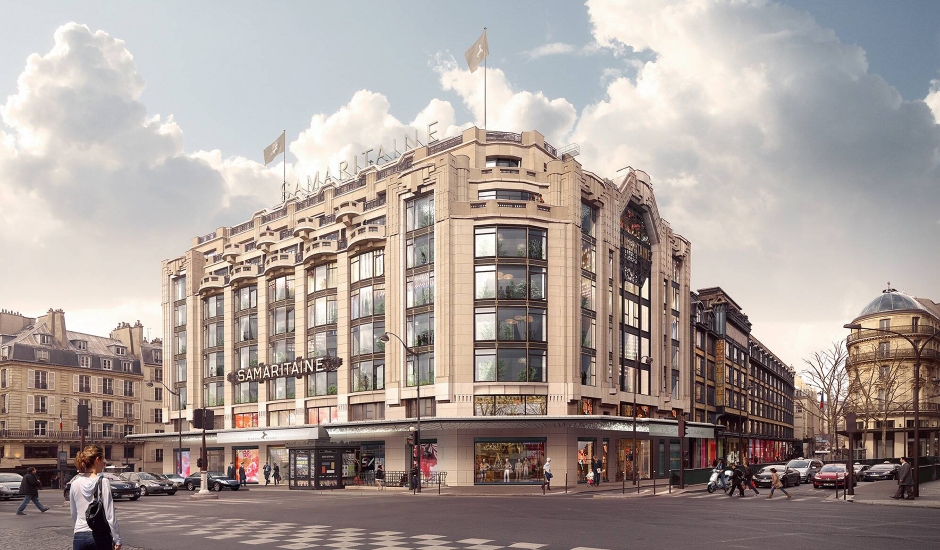 We are very much looking forward to the unveiling of the Cheval Blanc Paris, planned to open in a coveted location next to Louvre. The hotel will be housed in La Samaritaine, not long ago a large department store filled with designer goods and chic boutiques. Now redesigned, the famous Art Deco building will house 36 rooms and 36 suites of Cheval Blanc, as well as a spa, swimming pool and a restaurant by a three-Michelin-starred chef Arnaud Donckele. A garden rooftop terrace will undoubtedly be a popular spot.
Website: Cheval Blanc Paris. Opening: Spring 2020. Image © Cheval Blanc
---
> Shop in our TravelPlusStyle Amazon Store!
See must-have travel gear, vacation essentials, beach reads, and more!
---
18One&Only Mandarina, Mexico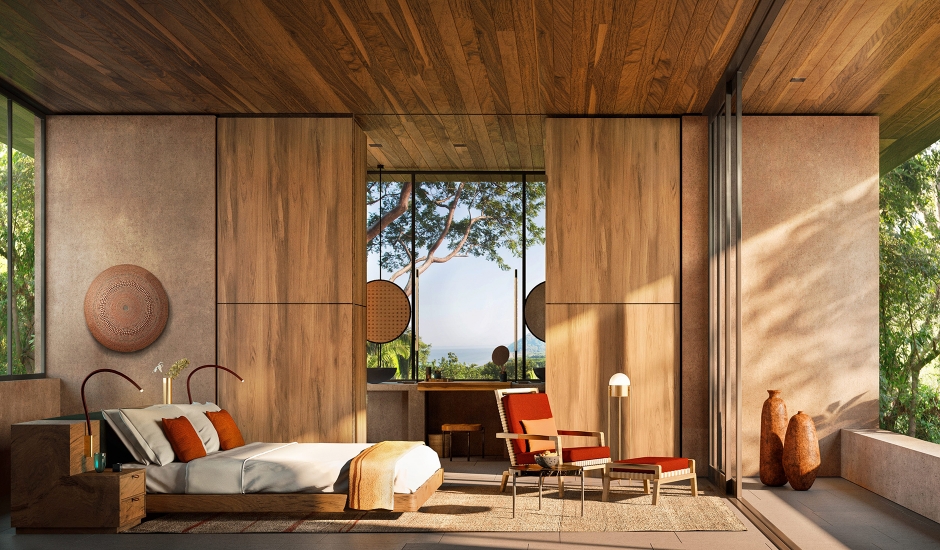 Another entry on our list from One&Only is the Mandarina, located in a beachfront jungle in Mexico. The resort will offer a full spectrum of facilities and accommodation options. Fifty-three guest rooms will be split into three broad categories: Private Homes, Clifftop Villas, and Ocean Treehouses, offering expansive living spaces, private pools, and views towards the Pacific Ocean or dramatic mountains. The best among them will be the Villa Pacifico, which is designed to feel like its own private resort, thanks to two bedrooms, two swimming pools, and expansive terraces. The resort facilities will include Majahua Beach Club, numerous infinity pools, massage cabanas, bars, and restaurants, including the clifftop-positioned The Point—a perfect place to enjoy the Mexican sunset.
Website: One&Only Mandarina. Opening: Summer 2020.
Images © One&Only Resorts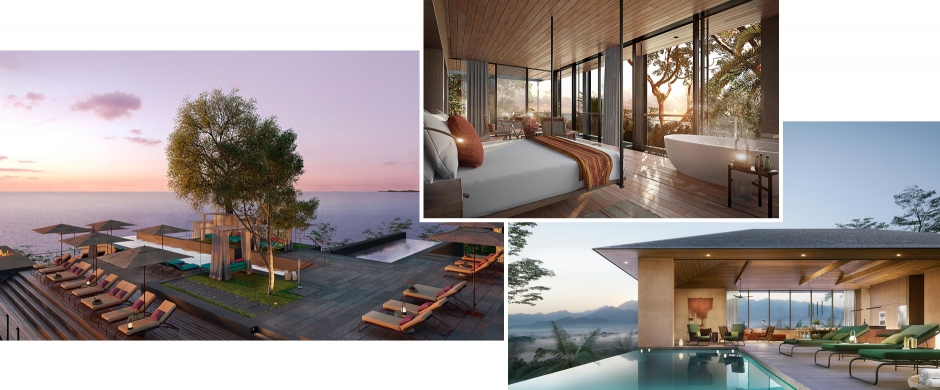 ---
19The Ritz-Carlton, Mexico City, Mexico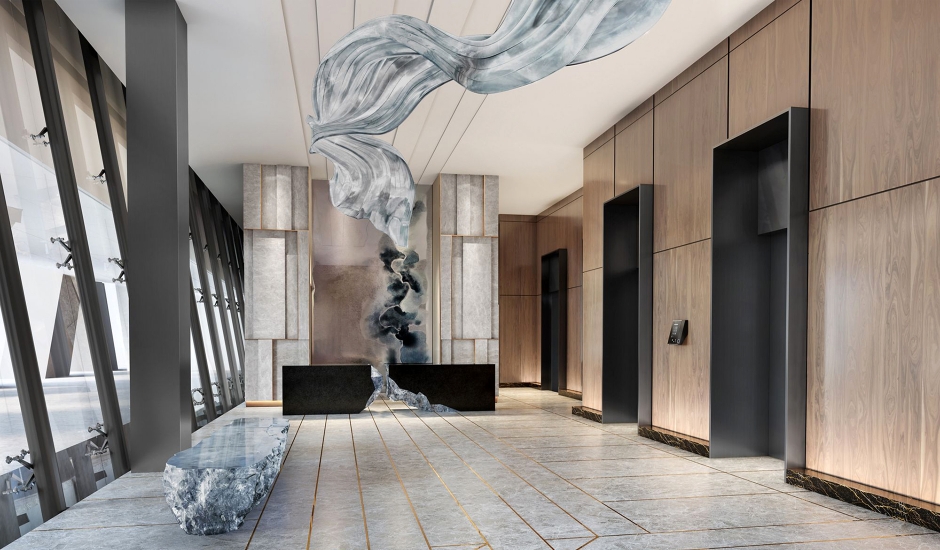 The Ritz-Carlton Mexico City is a significant milestone for Ritz-Carlton in the Caribbean and Latin America, representing its entrée into one of the region's most prominent cities. The resort offers beautiful views of Chapultepec Park and provides a full range of facilities, including a Club Lounge, a Mediterranean-inspired restaurant and bar, as well as a spa, fitness center, and swimming pool. The 153 rooms and private residences of Ritz-Carlton are spread across floors 36 to 47 of a striking, 58-floor high building, situated in the heart of the financial center of Mexico City.
Website: The Ritz-Carlton Mexico City. Opening: Summer 2020.
Image © The Ritz-Carlton
---
20Six Senses Kocatas Mansions, Istanbul, Turkey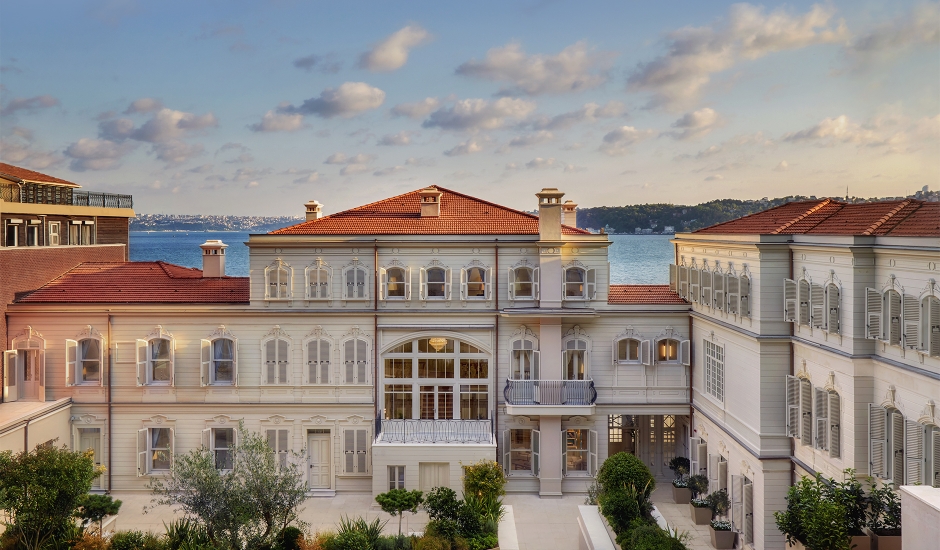 Six Senses Kocataş Mansions is the brand's second opening in Turkey, following Six Senses Kaplankaya. Kocataş is already operating after soft-launch in November 2019, and the hotel will be fully operational in Spring 2020.
Located in the Sariyer district, on Istanbul's European side, this 45-key hotel occupies two 19th-century mansions: Kocatas and Sait Pasa. Both were exquisitely restored, following two decades of neglect, itself a consequence of a devastating fire. Renovated and brought back to their former glory, the interiors fuse the imperial style of 19th Century Istanbul with the signature chic luxury of Six Senses. With uninterrupted views of the Bosporus River, the hotel will also offer three restaurants and an outing of Six Senses Spa.
Website: Six Senses Kocataş Mansions. Opening: Spring 2020
Photos © Six Senses Resorts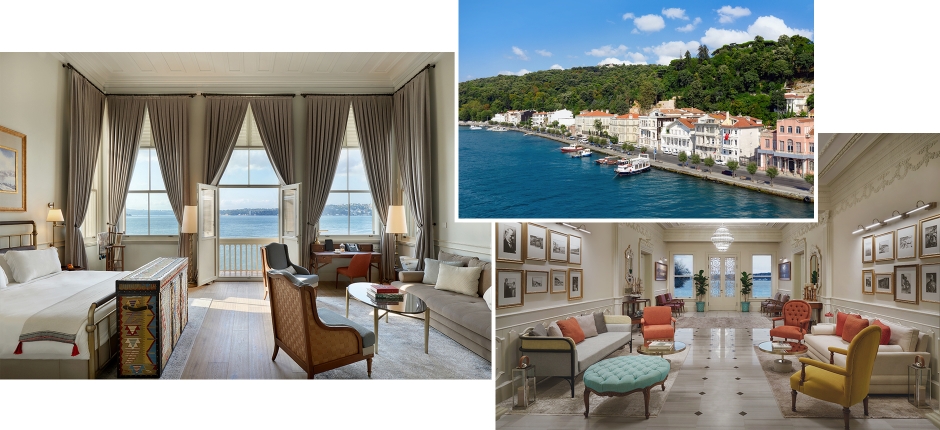 ---
21Airelles Château de Versailles, Le Grand Contrôle, France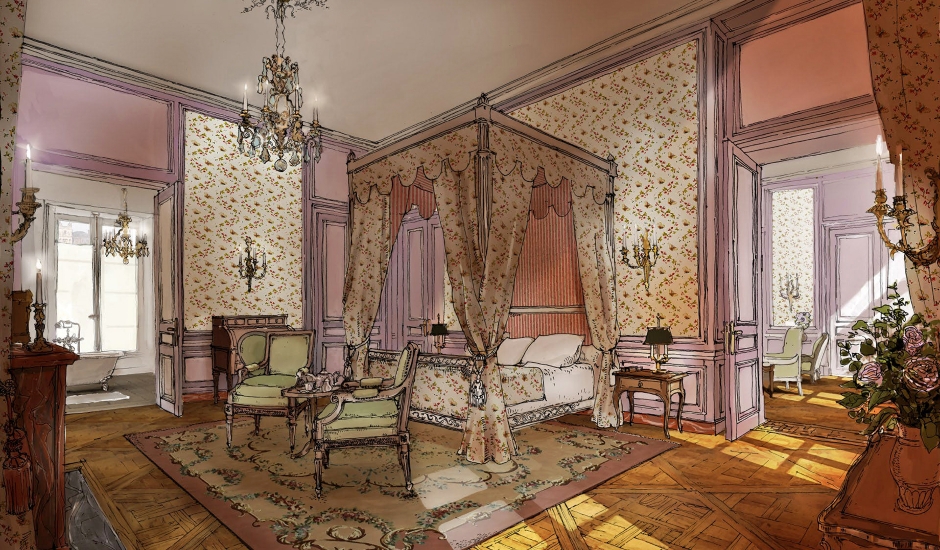 Airelles Collection, known for uber-luxe French properties such as La Bastide de Gordes, is opening a 14-room property in a coveted location on the grounds of the Château de Versailles. In fact, it's the only hotel residing withing the palace boundaries—and, according to Airelles, the guests will be offered exclusive access and experiences at the Château de Versailles, after hours.
Housed in Pièce d'Eau des Suisses, a grand building dating from the late seventeenth century and overlooking the Orangerie, this luxurious new property will be transformed into a swanky hotel with 18th-century-style decor, but very much 21st-century facilities. This exclusive hotel will also offer a wellness center with an indoor pool and an Alain Ducasse restaurant.
Website: Airelles Château de Versailles, Le Grand Contrôle.
Opening: Spring 2020. Image © Airelles Collection
---
22Kruger Shalati, Kruger National Park, South Africa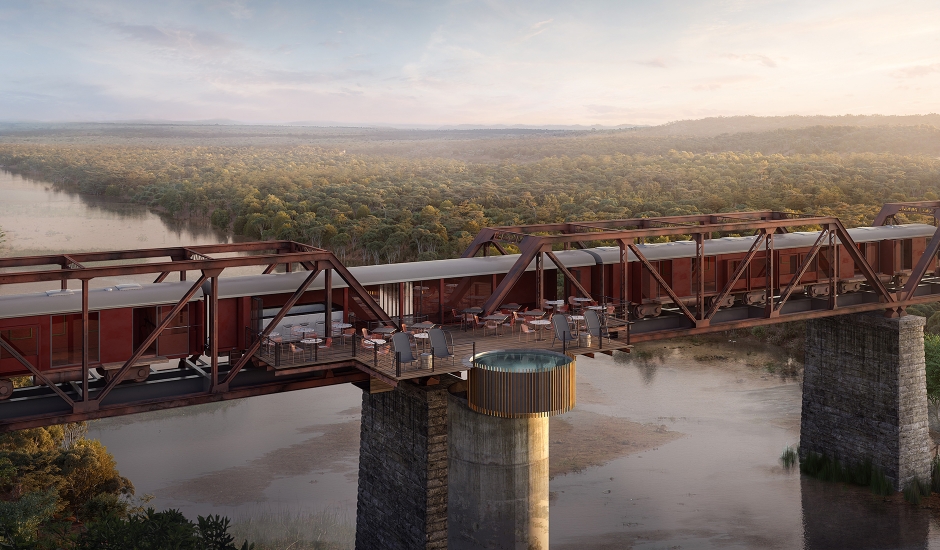 You may also like

---
Finest wilderness with heritage
This is as special a hotel as they get. Permanently stationed on a bridge above the Sabie River in South Africa's Kruger National Park, The Shalati is a vintage train, designed to recall the age of the classic luxury travel. It celebrates the long heritage of one of the oldest parks on the continent, and one of Africa's largest game reserves—and reviving the first train journeys on the continent. The early visitors to the park would park overnight in the exact spot where Kruger Shalati is set to be positioned—high above the riverbanks, with views stretching along the length of the majestic river.
The hotel will have 31 glass-walled rooms (24 of them in the carriages and 7 in the Bridge House), as well as a deck with swimming pool, perched on the bridge, offering a swimming experience above the river populated by crocodiles and hippos, and visited by buffalos and elephants.
Website: Kruger Shalati. Opening: first quarter of 2020. Images © Kruger Shalati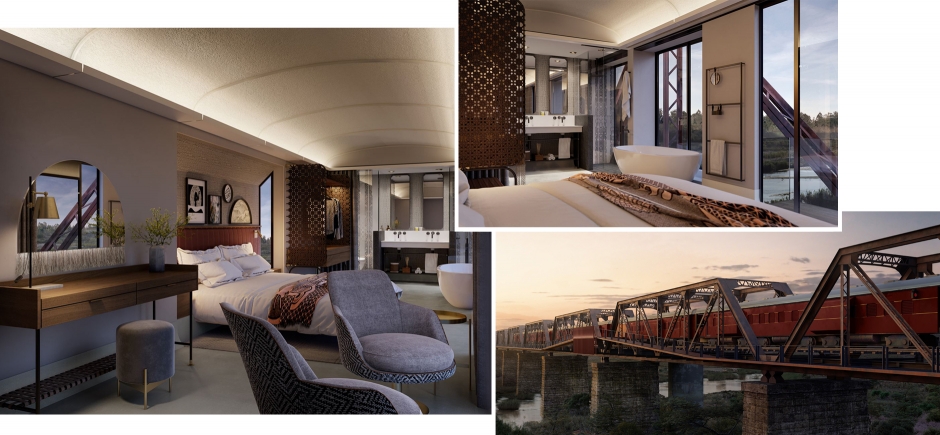 ---
23COMO Cocoa Island, Maldives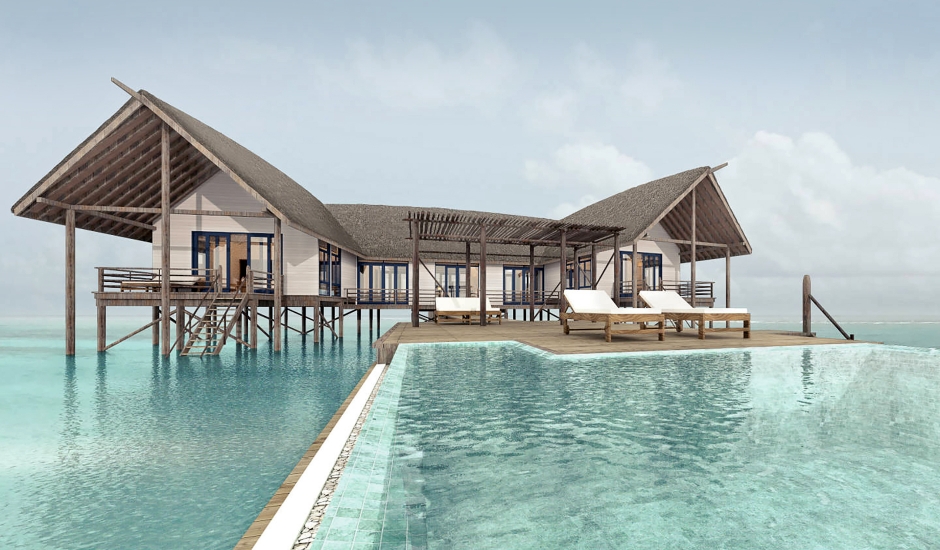 You may also like

---
Peaceful ambience, pared-down looks
The intimate Maldivian resort of COMO Cocoa Island will be reopening after a seven-month transformation, during which the resort significantly expanded its wellness center, and had all villas refurbished and many enhanced with brand new private swimming pools.
A new Pilates studio, state-of-the-art gym, and yoga studio with 360-degree views of the island were also added. But the resort has stayed true to the essentials of the Coco Island experience, with the away-from-it-all concept, in which barefoot walks on the beach are what you really come here for.
Read our review of COMO Cocoa Island here.
Website: COMO Cocoa Island. Reopen on January 9th 2020.
Image © COMO Hotels and Resorts
---
24Six Senses New York, USA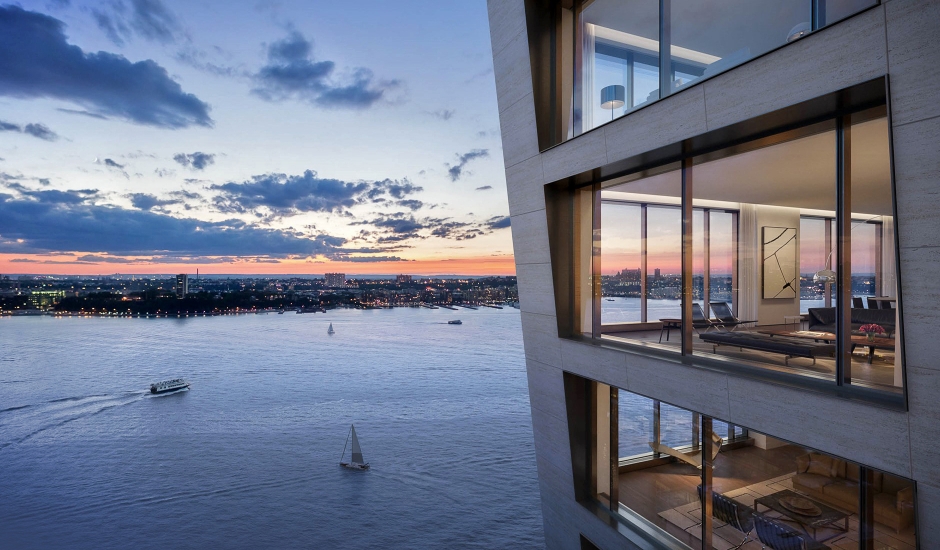 NYC is a hit with new hotel openings this year. Six Senses is jumping on the action, with the launch of what looks to be their most swanky urban resort yet. The new Six Senses New York will be housed in two unique, twisted-on-axes skyscrapers, located near the High Line, and looking out to Hudson River. The hotel will feature two restaurants, a private member's club, and—our favorite—Six Senses Spa, reflecting the brand's approach to wellness. Guestrooms and suites will be designed like contemporary penthouses, offering every modern convenience and luxury. Behind the design of the interiors is the celebrated Parisian firm Gilles & Boissier.
Website: Six Senses New York. Opening: Early 2020
Images © Six Senses Resorts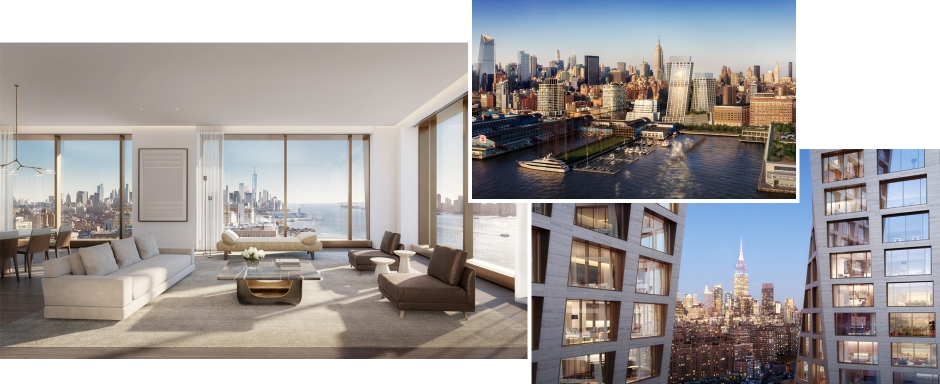 ---
25Raffles Bali, Indonesia
We don't have the photo yet, but we have the official confirmation directly from Raffles: the company's foray into Bali is on its way to be launched in Jimbaran Bay this year. What we also know is that the resort will be perched on a hill and enjoying uninterrupted sea views towards the famous Jimbaran sunsets. The Raffles Bali will comprise only 32 private villas, each with a private pool. Set up over 23 hectares of tropical land, the luxurious Raffles will also feature Writers Bar, the Wellbeing Spa "celebrating local rituals and healing treatments", and an exclusive restaurant.
Website: Raffles Bali. Opening: 2020
---
26Casa Cook Sa Torre, Mallorca, Spain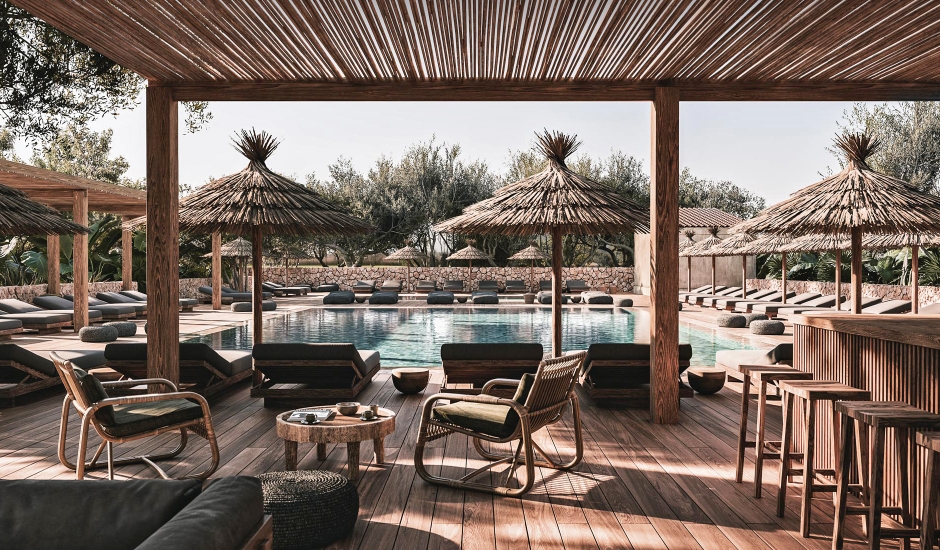 Following the success of the chic, down-to-earth resorts popping up in the Mediterranean basin (Casa Cook Rhodes and Casa Cook Kos in Greece, or recently opened Casa Cook El Gouna in Egypt), the latest addition to the small but growing portfolio of Casa Cook will be Sa Torre, a boutique hotel located in the middle of the Mallorcan countryside farmlands.
The company took over an older property with the aim of transforming it into a rural retreat flanked by a 15th-century windmill and a private neo-Gothic chapel. The buildings of Casa Cook Sa Torre trace their origin as far as the 14th century, as evidenced in old archways and vaulted ceilings, stone flooring, and cobblestoned alleys. For the launch of the hotel, the site has been seriously refurbished, with contemporary design bringing the signature Casa Cook style to this heritage location. Expect rattan cane furniture, worn leather, and recycled wood, with earthy tones contrasted against dark charcoal elements. Every room will be unique, some with cute balconettes, some with views over the lush Mediterranean gardens.
Website: not yet available. Opening: Spring 2020. Image © Casa Cook
---
27Alila Hinu Bay, Salalah, Oman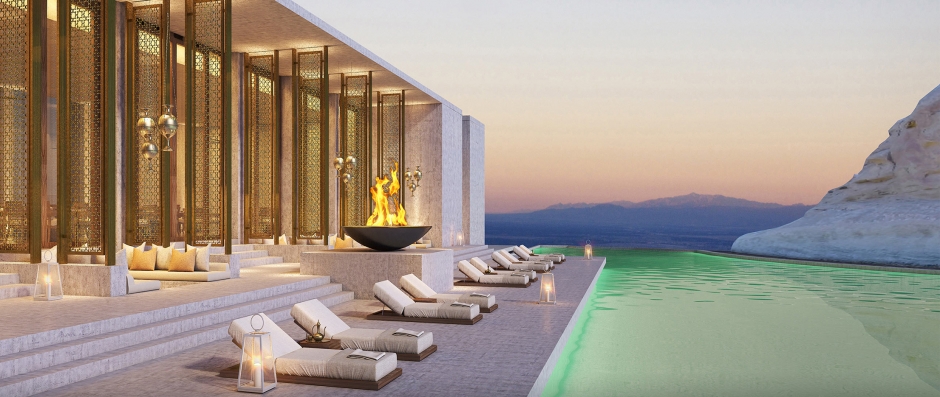 We have checked directly with the Alila press office, to confirm if Alila Hinu Bay resort will be ready for a launch in 2020 (the answer is: yes), as we are keen to discover how the minimalist design from Alila would fare in Salalah. Alila Hinu Bay will bring a contemporary fusion of local architectural traditions with modern aesthetic sensibility. The resort will offer 120 private suites and 25 villas, alongside several dining venues, a Spa Alila and a diving center.
Website: Alila Hinu Bay. Opening: 2020. Images © Alila Hotels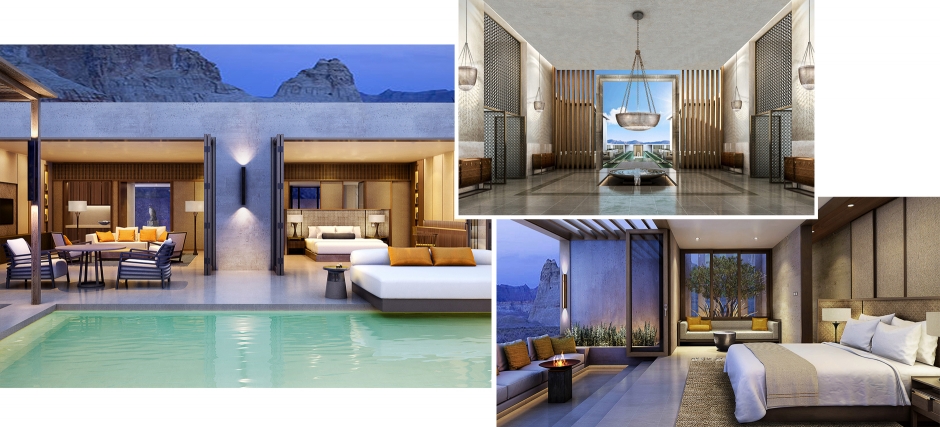 ---
28Mandarin Oriental Saigon, Vietnam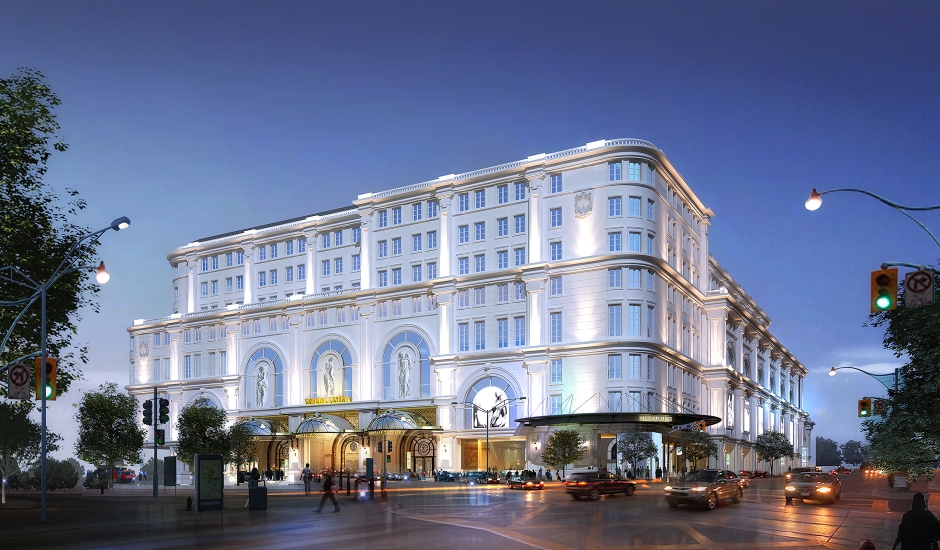 Mandarin Oriental Saigon will be housed in the Union Square Saigon building in the heart of the city, currently under renovation. This new city hotel will occupy the upper floors of this commercial property, with other parts taken over by luxury retail boutiques and other businesses. The hotel will have 227 rooms and suites, as many as six restaurants and bars, and conference and banquet spaces. A well-equipped fitness center, a spa, and an outdoor swimming pool will complete the offering.
Website: Mandarin Oriental Saigon. Opening: 2020. Image © Mandarin Oriental
---
29Hotel Castello di Reschio, Umbria, Italy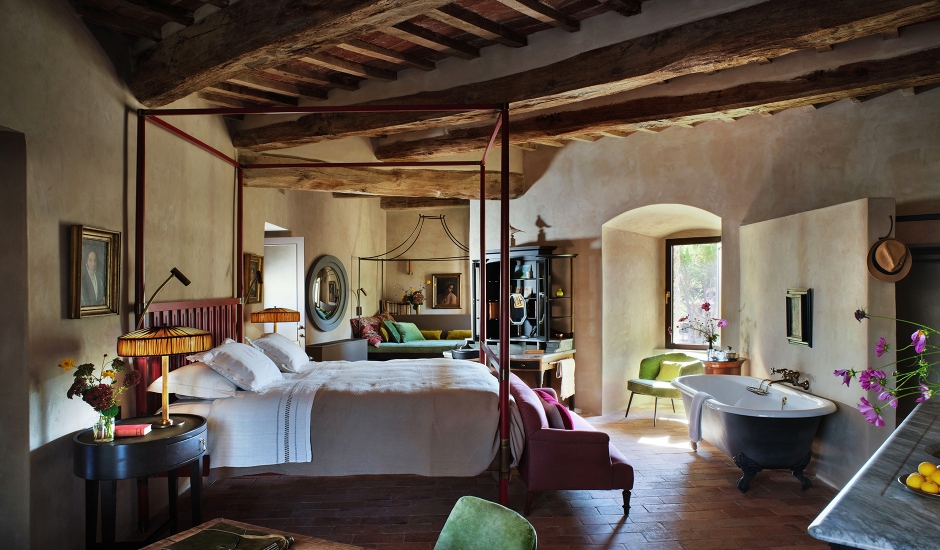 There are plenty of unique developments on our list this year, but a location in a 10th-century castle must be one of the most romantic ones. The renovated Castello di Reschio in Umbria is the setting of a beautiful, 36-bedroom hotel, surrounded by the classic landscape of rolling hills peppered by the tall Cypress trees. The enchanting, centuries-old stone farmhouses, house guest rooms exquisitely decorated with vintage furniture and period objects.
The hotel will also feature a homemade-style restaurant, a private swimming pool, and a tennis court. The surrounding countryside will offer a lot of opportunities to explore, also on horseback.
Website: Hotel Castello di Reschio. Opening: July 2020. Images © Castello di Reschio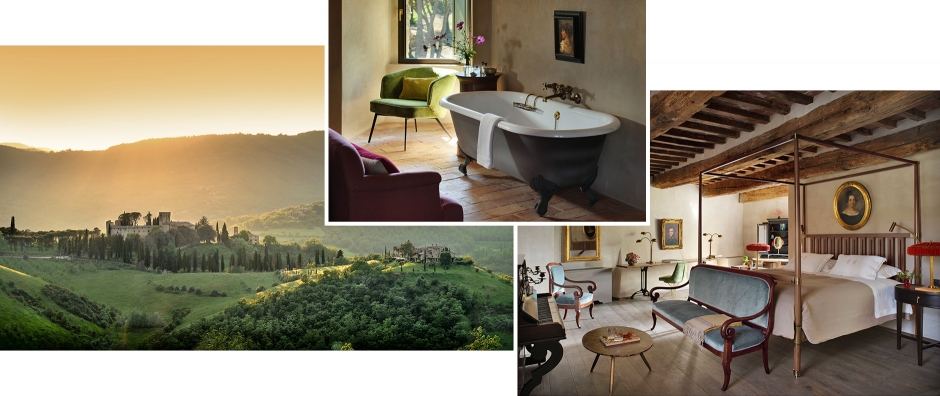 ---
30Azura Marlin Beach, Benguerra Island, Mozambique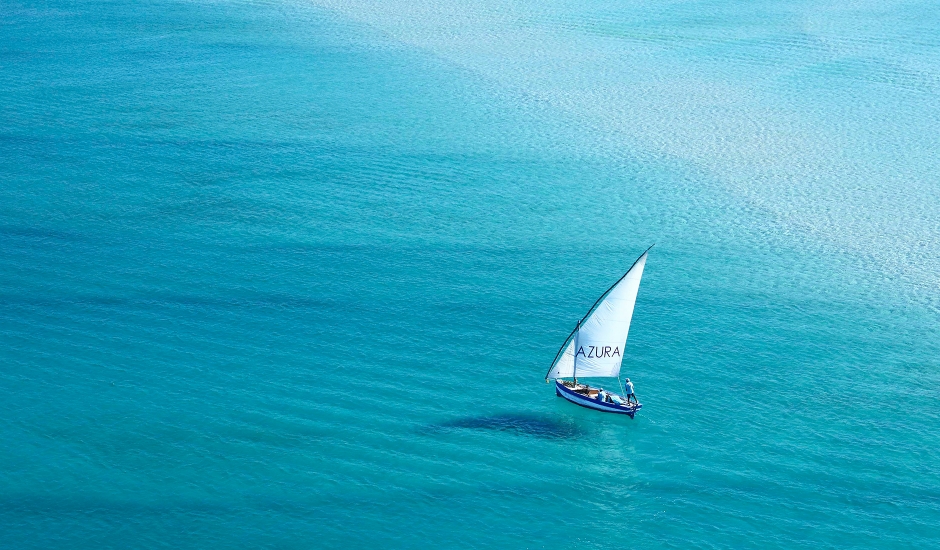 "We've been quietly working on this behind the scenes now for some years. It's on a magnificent stretch of beach and represents a fantastic opportunity to expand our presence on beautiful Benguerra Island." — Stella Bettany of Azura Retreats
Azura Marlin Beach is scheduled to open on a kilometer-long stretch of white beach in the Bazaruto Archipelago Marine National Park.
Following the acquisition of an older property (Marlin Lodge, ruined after a fire), Azura has taken on the project and after a complete refurbishment, it will re-establish the place as a new five-star boutique hotel. Eventually, the resort will have 20 villas and rooms, which will include a two-bedroom family villa with a swimming pool and nine individual beachfront villas. The stay here can be easily combined with the sister property Azura Benguerra Island.
Website: Azura Marlin Beach. Opening: Summer 2020. Images © Azura
---
31Jack's Camp, Botswana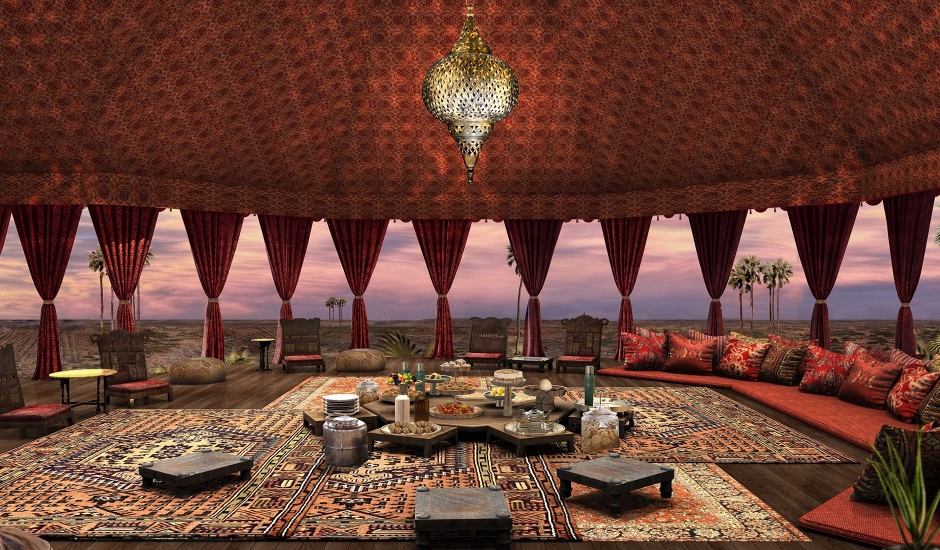 After decades of setting the standard for safari luxury in the Kalahari desert, Jack's Camp will reopen following a complete refurbishment. The guest tents will be rebuilt and made bigger (double what they used to be), but their beautiful interiors will still pay homage to the classic 1940s safari style. They will be enhanced by new features and comforts, such as new furniture, wood-burning stoves, and overhead cooling systems. The ensuite bathrooms will be equipped with indoor and outdoor showers, and each outdoor veranda will have a new private plunge pool as well.
Other camp facilities will be new or refreshed. The swimming pool pavilion will have a sun deck, and a brand new, dedicated spa tent will be a welcome addition. The camp will be greener as well, and it will run exclusively on Tesla solar power.
Website: Jack's Camp. Opening: May 2020. Images © Natural Selection Safari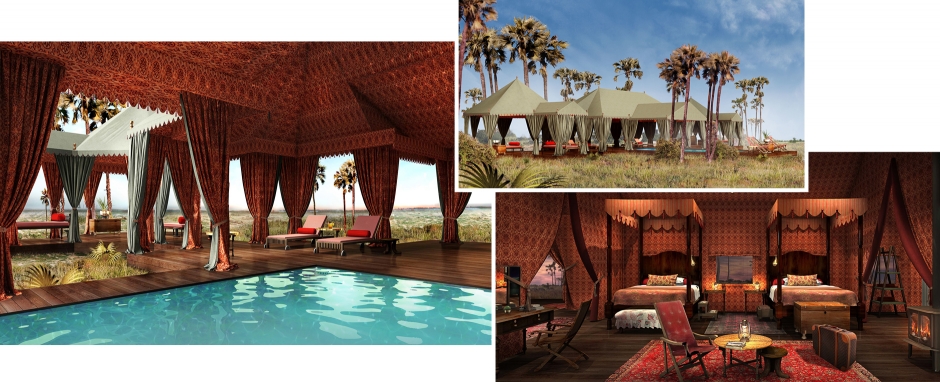 ---
32Can Ferrereta, Mallorca, Spain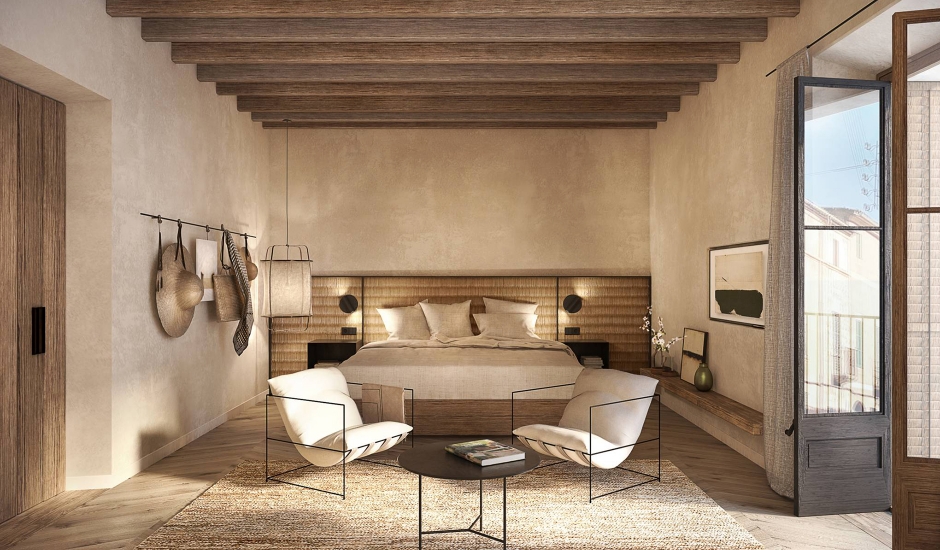 The creative team behind the art-filled, neoclassical Sant Francesc Hotel Singular in Palma headed to the rural town of Santanyí in the southeast of Mallorca for their second venture, Can Ferrereta. It is another beautiful heritage property restoration on this list, this time of a 17th-century building. The meticulously crafted rooms and suites (31 of them) will be filled with intriguing Spanish art from the owners' private collection, and many will feature private patios and terraces. The hotel's signature suite will have a private swimming pool. Adding to the allure of the place will be also verdant gardens, a beautifully designed spa with hammam and indoor pool, two bars, and a Mediterranean restaurant serving seasonal dishes.
Website: Can Ferrereta. Opening: Spring 2020. Image © Can Ferrereta
---
33One&Only Desaru Coast, Malaysia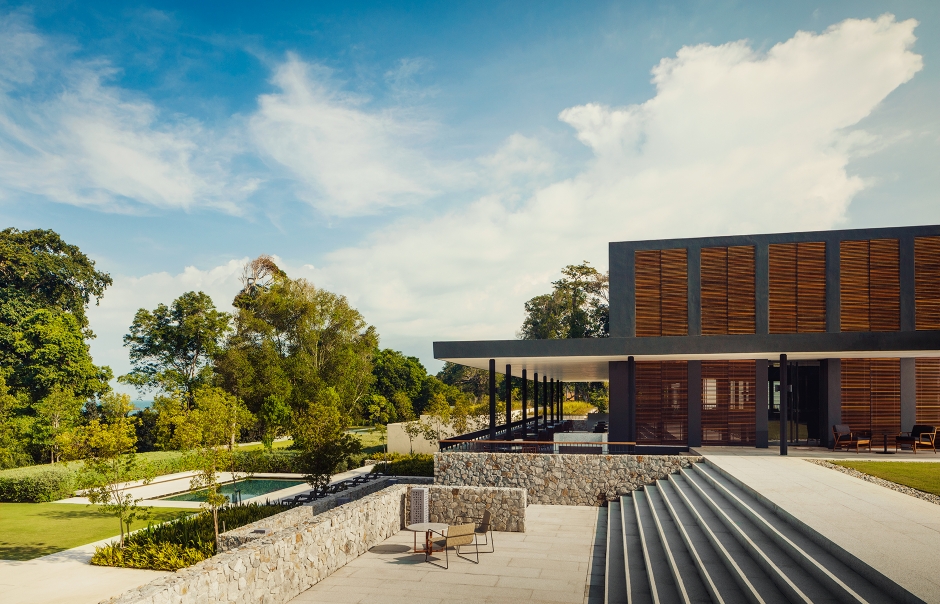 "[…] Malaysia's secluded breathtaking coastline and rich regional heritage makes it the perfect location for us to introduce our brand to the region. [One&Only Desaru Coast will be] offering modern Malaysian elegance, warm and authentic service and the ultimate in ultra-luxury."
— Chief Operating Officer, Philippe Zuber
Desaru Coast will be One&Only's first development in Malaysia. Positioned as a lavish destination resort, the property will be spread on a sizeable chunk of beachfront land, and will offer 42 suites and 50 private villa residences. The award-winning firm Kerry Hill Architects are realizing the vision of the resort as a modern reincarnation of a traditional Kampung (village), making it part of the stunning landscape.
Website: One&Only Desaru Coast. Opening: March 2020
Images © One&Only Resorts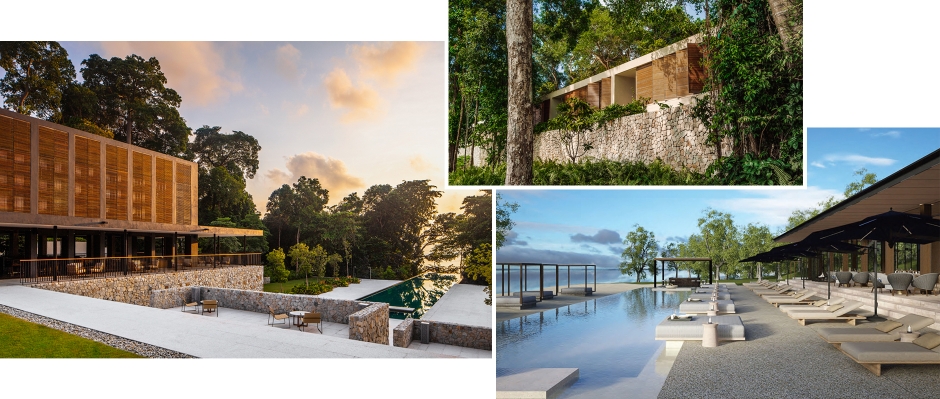 ---
34Bvlgari Hotel Paris, France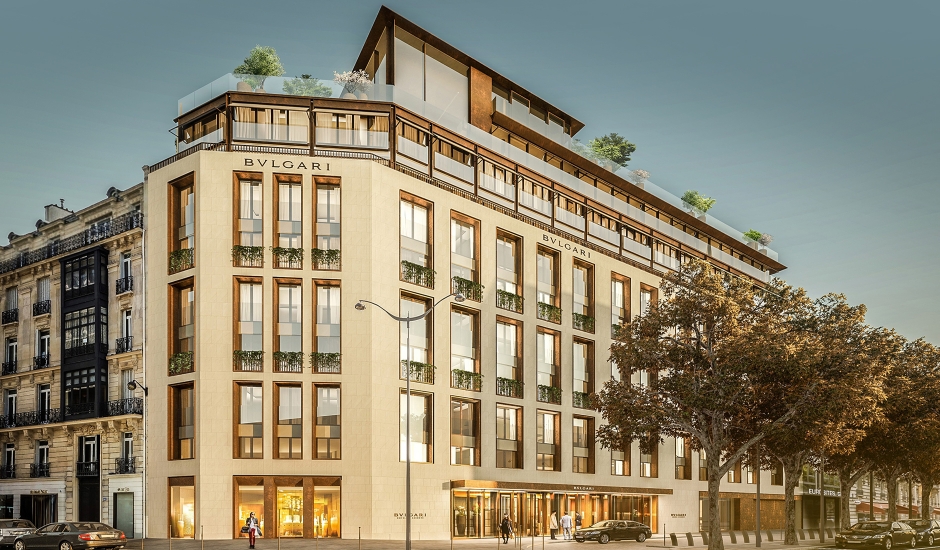 You may also like

---
Balinese serenity, Italian glitz
It's not easy to make a splash in a city known for the highest standards of luxury in its booming hospitality industry, but the Bvlgari Hotel Paris might just manage to do the trick. The Bvlgari Hotels & Resorts style has always had an undertone of lavish luxury, rich in marble and expensive fabrics (which we experienced at the Bvlgari Bali; don't miss our review!), and the eighth hotel in the group's portfolio will follow the template, with the Hausmann twist.
With the prestigious address of 30 Avenue George V (within the Triangle d'Or, the city's most exclusive area with luxury shopping and entertainment), the hotel will feature 76 rooms, a spa with a 25-meter pool, a bar, and a Bvlgari restaurant and courtyard garden. The design firms commissioned with turning the historic building into a five-star hotel are the Italian architectural studio Antonio Citterio Patricia Viel and Parisian firm Valode & Pistre.
Website: Bvlgari Hotel Paris. Opening: 2020. Image © Bvlgari Hotels
---
35Jumeirah Bali, Uluwatu, Bali, Indonesia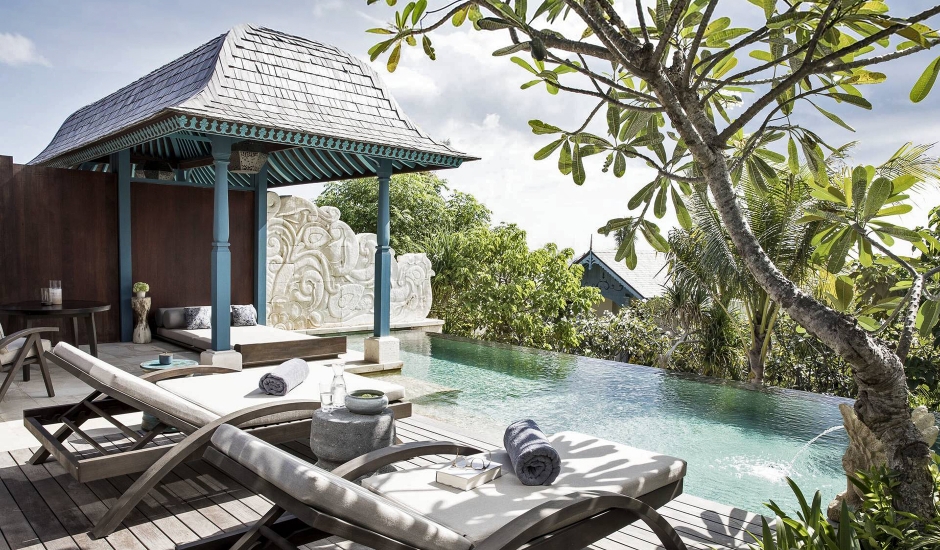 We are reminded of our trips to the amazing Bali—and are always on the lookout for a good excuse to visit again. One such excuse might be the new resort from Jumeirah, scheduled to open early this year on the southern tip of Jimbaran. The resort will be made up of around 80 hotel suites and 25 villas, with three dining outlets, a fitness center, and a clifftop wedding venue, ensuring a fully realized beach holiday stay. The resort's tropical villas are designed to utilize greenery and water, combining contemporary comfort with cultural heritage in the exclusive style of Jumeirah.
Website: Jumeirah Bali. Opening: Early 2020. Image © Jumeirah 
---
36The Westbund Hotel Shanghai, China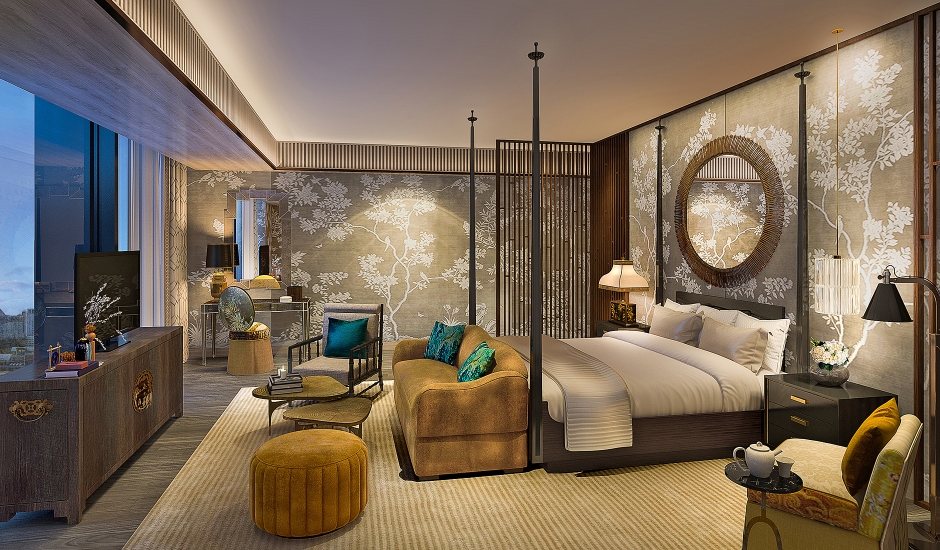 This new opening in Shanghai's Xuhui District aims to appeal to the sophisticated tastes of one of the most cosmopolitan urban centers in China. Housed within the top floors of a 52-floor skyscraper, and featuring 219 rooms, the Westbund Hotel Shanghai will also offer spa facilities with a 25-meter infinity pool, as well as restaurants, cocktail bars and a rooftop Sky Bar with an outdoor terrace. Among the dining venues will be also an English tea room, modeled on the group's Brown's Hotel in London. True to the international nature of the city, the interiors will draw on Chinese art and Eastern aesthetics, with Western-born, 21st-century luxury.
Website: The Westbund Hotel Shanghai. Opening: 2020.
Images © Rocco Forte Hotels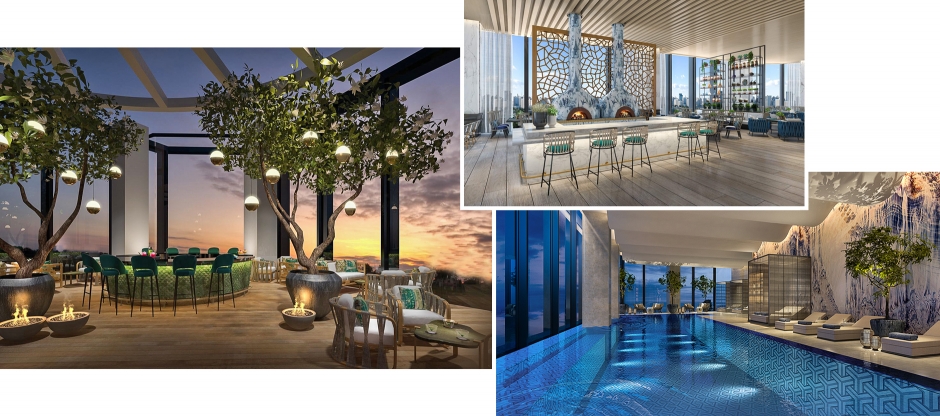 ---
37Villa Igiea, a Rocco Forte Hotel, Palermo, Italy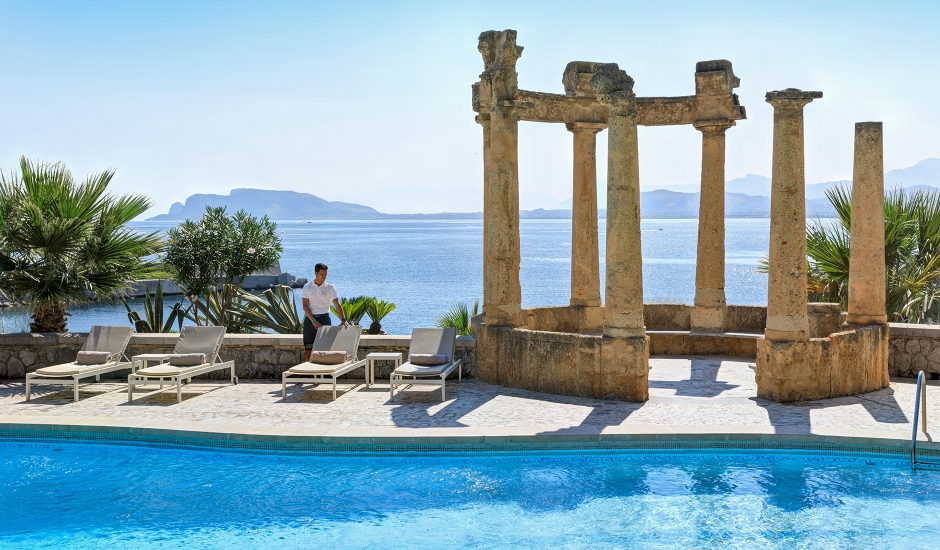 Villa Igiea is a former retreat of royalty and celebrities, located in a prime spot overlooking the Gulf of Palermo. This historic Art Nouveau palazzo is undergoing fundamental restoration work, and upon its completion, it will open as a five-star Rocco Forte Hotel. Expect timeless 1900s Belle Époque splendor, meticulously restored to its former glory, blended with modern luxury in the 104 rooms and suites. Villa Igiea will be Rocco Forte's second property in Sicily, complementing Verdura Resort, located on the coast.
Website: Villa Igiea, a Rocco Forte Hotel. Opening: June 2020.
Image © Rocco Forte Hotels
---
38Four Seasons Hotel Tokyo at Otemachi, Japan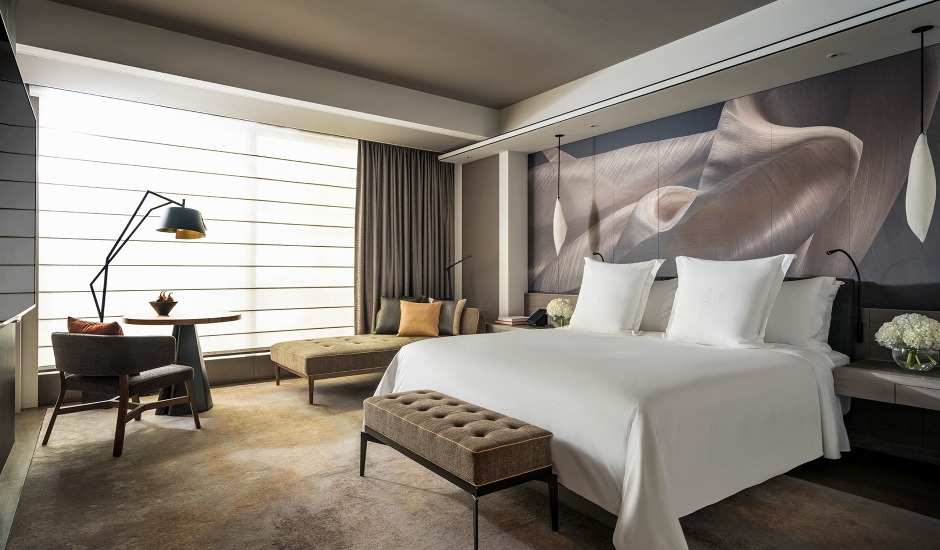 Tokyo is a hot destination this year, for a good reason, as the Summer Olympics will take place in the city in July and August 2020. And the hospitality industry is reinvigorated by the event.
Four Seasons Hotel Tokyo at Otemachi will be located in the financial heart of the city, and designed by one of the hottest architects, Jean-Michel Gathy. The hotel will occupy the top six floors of a 39-story building, and its floor-to-ceiling windows will permit stunning city views from every guest room. The 193-key hotel will wow with urban luxury and a top-floor spa (with a 25-meter pool) set to become a leading wellness destination. A very extensive events space with a ballroom, as well as dining options (including a Paris-inspired destination bar), will complete the full range of facilities. This is Four Seasons' second opening in Tokyo, after Four Seasons Hotel Tokyo at Marunouchi.
Website: Four Seasons Hotel Tokyo at Otemach. Opening: 2020.
Images © Four Seasons Hotels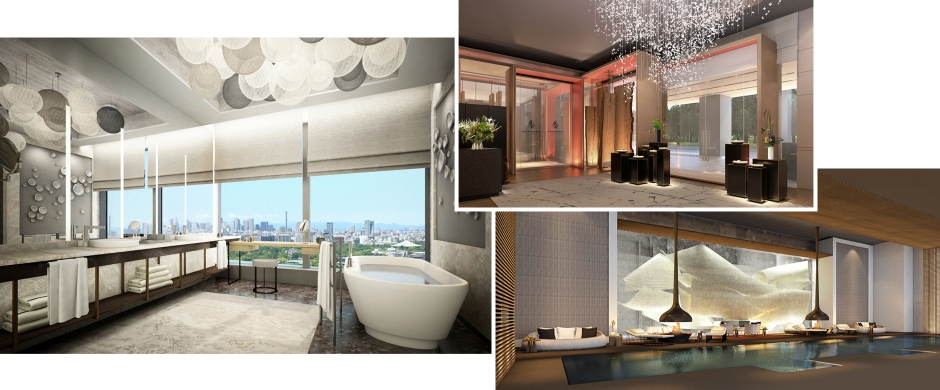 ---
39Six Senses Bumthang, Bhutan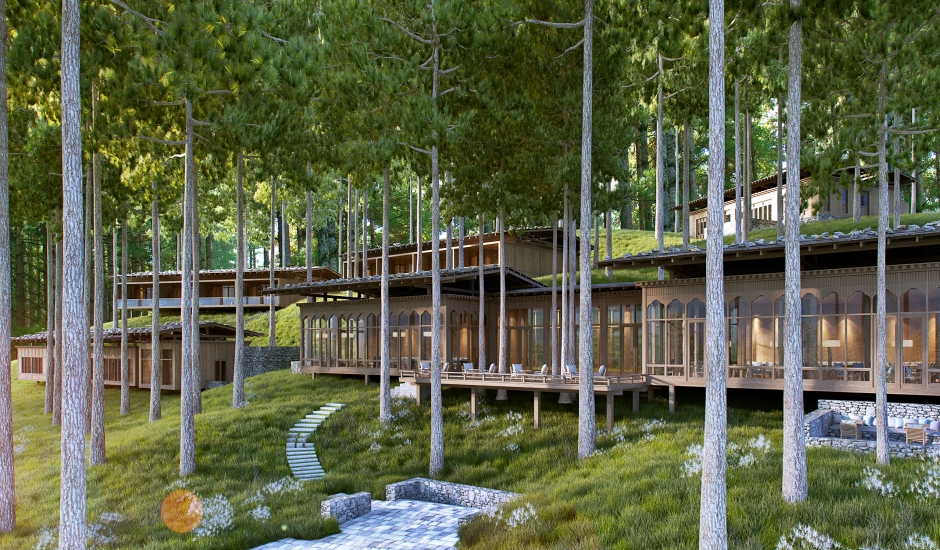 The idea behind the Six Senses offering in Bhutan is that rather than a single resort, it is a journey, designed to showcase the magical Kingdom of Bhutan on an expedition between five small lodges. Six Senses Thimphu, Six Senses Punakha, Six Senses Paro, and Six Senses Gangtey are already operational, and this year's launch of Six Senses Bumthang will complete the portfolio.
The final lodge is located in the region of Bumthang, famous for the 17th-century Jakar Dzong fortress and Tamzhing Lhundrup Lhakhang, regarded as the most beautiful ancient temple in Bhutan. The new Six Senses property will feature timber walls, upcycled furniture and huge windows framing heart-stopping views.
Website: Six Senses Bhutan. Opening: Spring 2020. Image © Six Senses
---
40Kalesma, Mykonos, Greece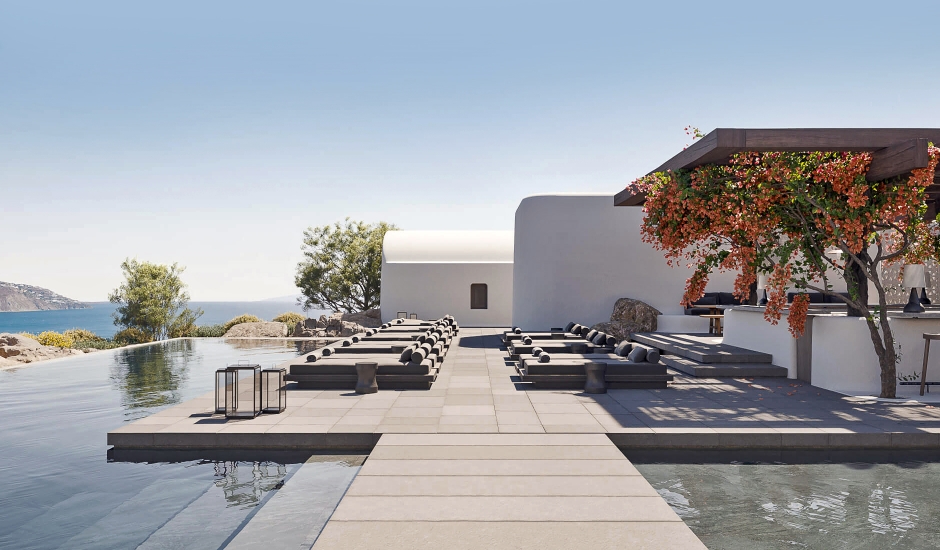 In 2020, the luxury boutique hotel scene in Mykonos will be enriched by the opening of Kalesma, in Ornos Bay. This charming, all-suite property, created to resemble a whitewashed village, will be located a short walk from the beach and will feature two luxury villas in addition to its suites, as well as a restaurant. It will be the first hotel on the island with every single room equipped with its own private swimming pool.
Website: Kalesma Mykonos. Opening: June 2020. Images © Kalesma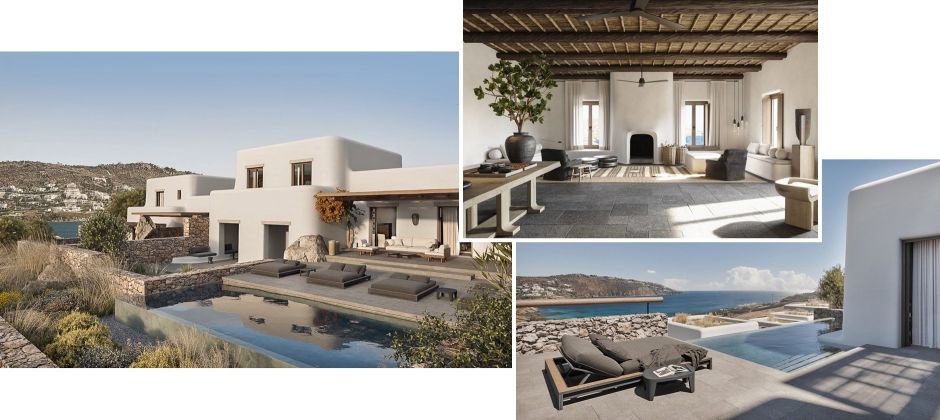 ---
41Alamayah, Sumba, Indonesia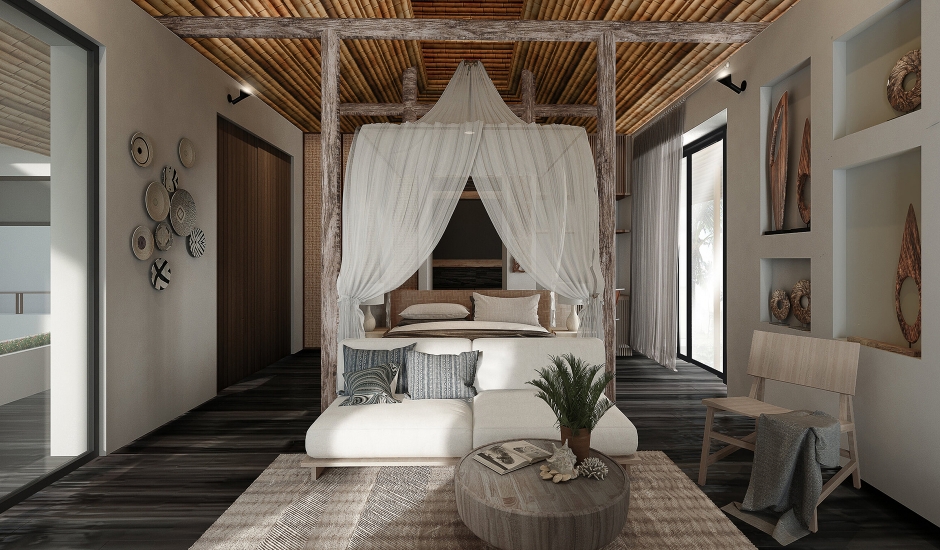 Alamayah will be a five-star boutique retreat, comprising only six private suites. Each will have king-size beds, outdoor terraces with beautiful views of the surrounding jungle and beaches, private dining areas, and en-suite bathrooms with walk-in showers.
The resort will be located in a beachside village in the region of Sumba, some two-hour drive from Sumba's Tamboloka Airport. Alamayah's concept of wellness is reflected in its name, first of all, a combination of alam ("nature") with mayah ("grandmother"). Second of all, in a range of spa, fitness and yoga experiences, and health-focused dining. The all-inclusive experience includes a "healer's body analysis" and daily spa treatments.
Website: Alamayah. Opening: April 2020. Image © Alamayah
---
42NoMad London, UK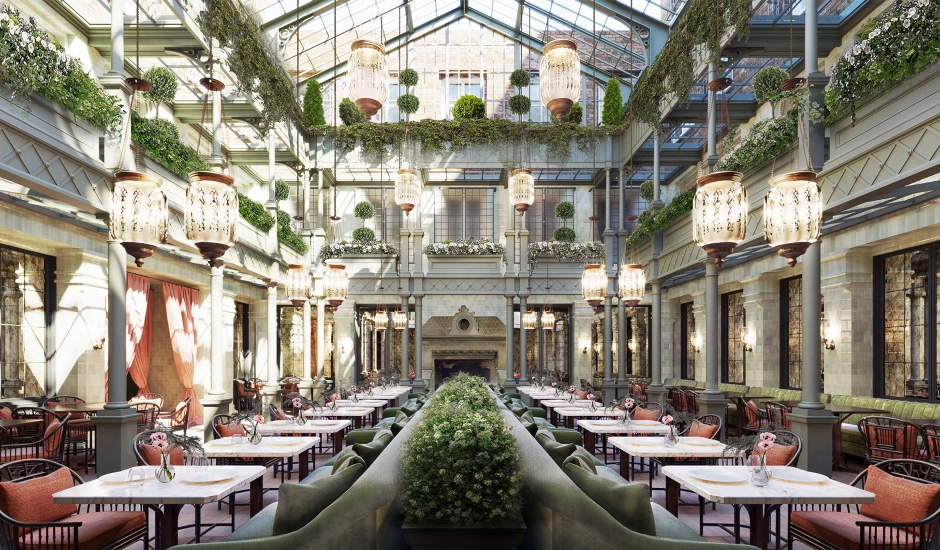 The fourth property from NoMad (after hotels in New York and Los Angeles) is also the company's first foray outside of the United States. It will introduce its special blend of comfort and understated elegance to London, in the heart of Covent Garden. The hotel is taking over a listed building, previously The Bow Street Magistrates' Court and Police Station—and its concept will weave in the history of the place as an integral part of its DNA. Reimagined as a hotel with space for private events, the building will also host a small museum with rotating exhibitions honoring the history of the Metropolitan Police Force. The 91 rooms and suites will also have much of the original architecture preserved and incorporated into the design, thanks to the New York-based interior design firm Roman and Williams.
Website: NoMad London. Opening: Summer 2020. Image © The Nomad Hotel
---
43Six Senses Fort Barwara, India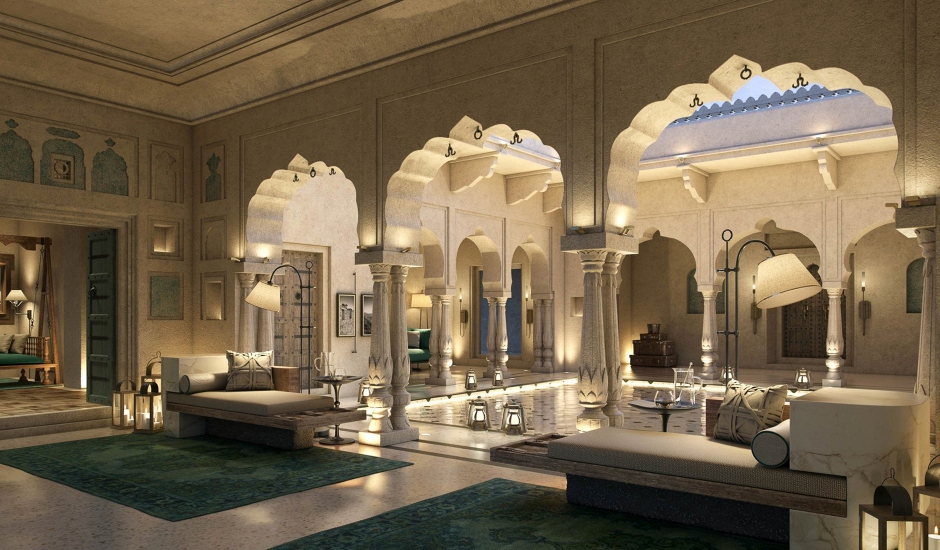 This very ambitious project from Six Senses is centered around a careful restoration of a 14-century fort. The fort's three palaces and two temples will be brought back to their former glory, providing a chance to experience the life of Rajasthan royalty. Located some three hours by car from Jaipur, the Barwara will house a gorgeous luxury hotel with the highest standards of service, and its features will include two swimming pools, two restaurants, and the outpost of the Six Senses Spa.
Website: Six Senses Fort Barwara. Opening: 2020. Images © Six Senses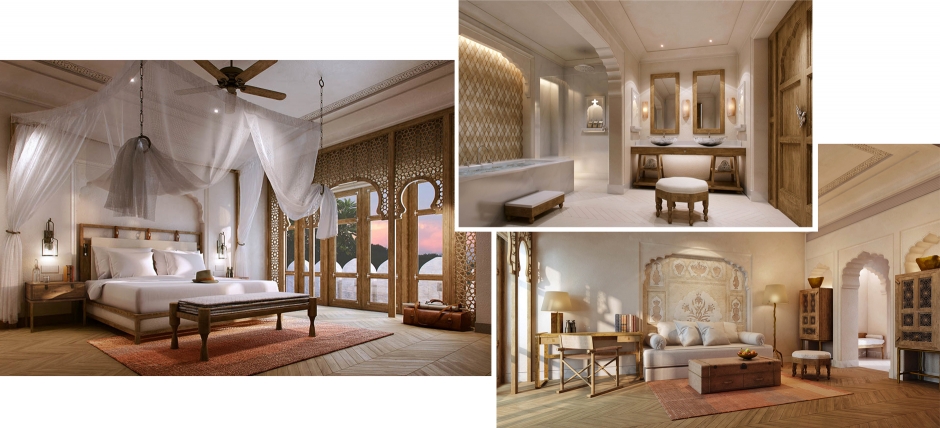 ---
44The Orient Express MahaNakhon, Bangkok, Thailand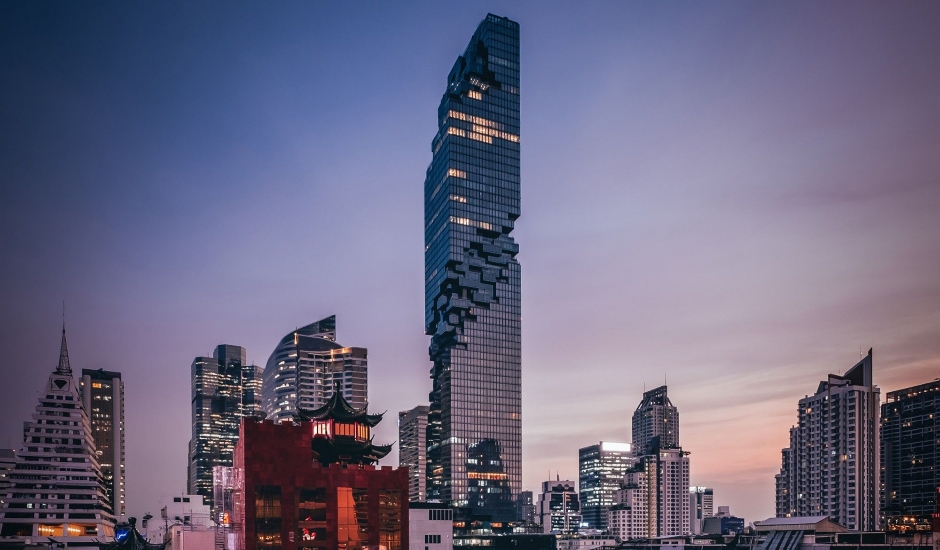 "Orient Express redefined rail travel in the 1900s, introducing the first sleeper cars linking West to East and delivering unprecedented levels of comfort and dining. We look forward to bringing this same luxury and refinement to the new incarnation of Orient Express hotels." — Michael Issenberg, chairman and CEO of Accorhotels Asia-Pacific
The history of this hotel is a little complicated already. It appeared on our previous lists, except then it was being planned as The Bangkok Edition hotel. But now the tallest building in Bangkok (also known as the "Pixel Tower", with Thailand's highest observation deck, the Mahanakhon Skywalk) will be the host to the Orient Express hotel. It will have 154 rooms and 9 suites, and an entire floor dedicated to wellness, with the Orient Express Spa by Guerlain, and an outdoor swimming pool. The property will also feature two signature restaurants, and a rooftop dining area with bar, on Level 76. The hotel's Art Deco interiors were developed by French interior designer Tristan Auer.
Website: The Orient Express MahaNakhon. Opening: Summer 2020.
Image © ALL – Accor Live Limitless
---
45Habitas Namibia, Namibia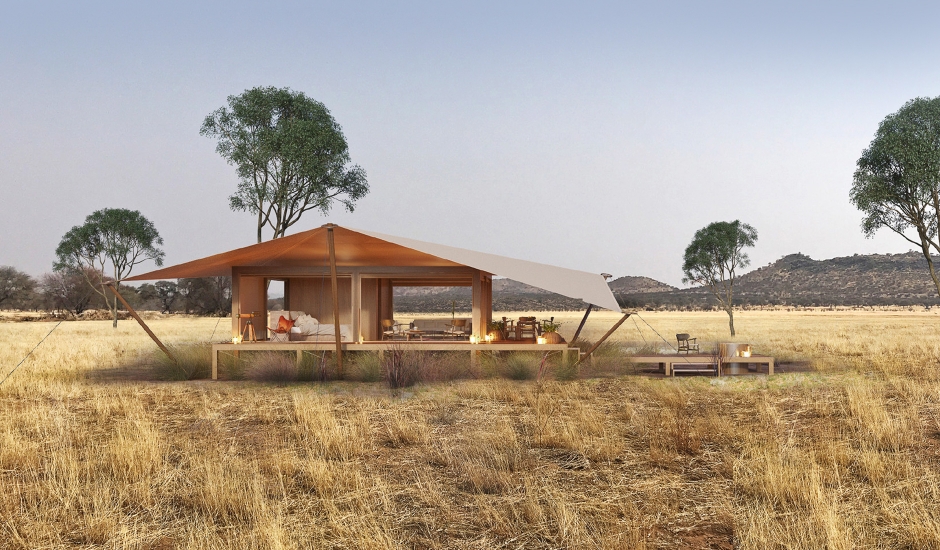 Namibia is perhaps the most beautiful country we ever visited, and we are not surprised the hotel scene here is booming, with exciting new openings popping up every year—such as Shipwreck Lodge on the Skeleton Coast, the remote Hoanib Valley Camp in the Kaokoveld Desert, or Omaanda and Sonop from Zannier Hotels.
"Namibia is one of the most incredible unknown destinations in the world and we wanted to challenge the traditional concept of what it meant to go on safari and to engage with the environment and culture." — Oliver Ripley, CEO of Habitas 
The lifestyle Habitas brand, which started with the chic Habitas Tulum hotel in Mexico, has some pretty aggressive expansion plans, which include properties in San Miguel de Allende, Todos Santos, Bhutan—but the most interesting among them is the opening in Namibia. Habitas Namibia will be situated on the outskirts of Windhoek, in a large private reserve, and is planned to have 15 private guest suites, spa, fire pits, pool, and communal gathering areas. Each accommodation unit is referred to as a "custom-built private lodge", and will come with outdoor and indoor showers, private viewing decks with their own telescopes for stargazing.
Website: Habitas Namibia. Opening: January 2020. Images © Habitas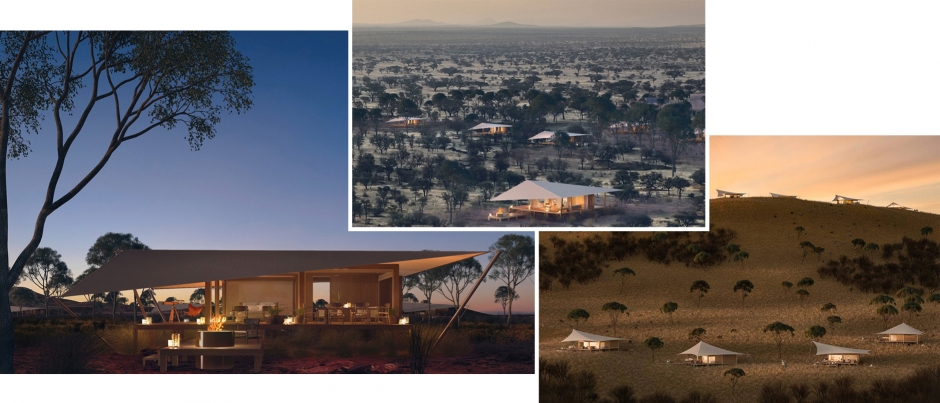 ---
46&Beyond Punakha River Lodge, Bhutan
You may also like

---
Tree houses and Tanzanian wilderness
There are no renderings or images available for this property yet, but we checked with the press office of &Beyond, and the lodge is definitely planned to launch this year. And knowing this brand we expect great things from the Punakha River Lodge.
This will be &Beyond's first lodge in the kingdom of Bhutan, and it will be located deep in the green Punakha Valley on the banks of the Mo Chhu River, surrounded by paddy fields and dense clusters of forested hills. The Lodge will be composed of six intimate luxury tents, one honeymoon villa, and a two-bedroom family villa with a private swimming pool—all created in the traditional Bhutanese architectural style. Experiences at the lodge and beyond will include Spa pampering, cycling, river rafting and kayaking, paddy field lunches, and even a "suspension bridge champagne" above the river.
Website: &Beyond Punakha River Lodge. Opening: October 2020.
---
47The Londoner, London, England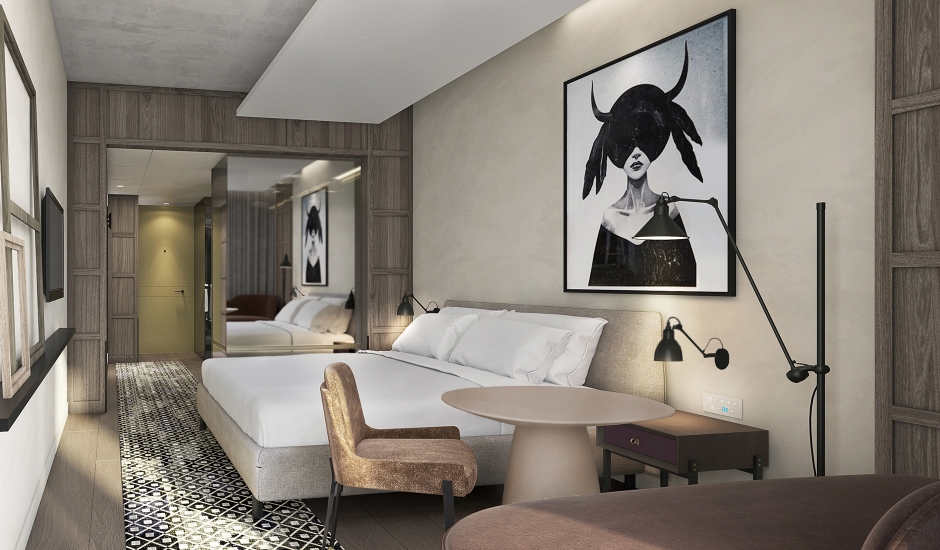 The Londoner is doing something interesting with the concept of the "boutique" hotel—it is trying to maintain the atmosphere, sensibility, and personalized look of a small and independent property, but in a much larger scale. They even gave the concept a name: Super Boutique Hotel.
The luxe aesthetic of the hotel, the work of Yabu Pushelberg studio (which was also behind the Four Seasons Hotel in Downtown Manhattan), will do some work at least towards making this idea work. The eight-story hotel will have as many as 350 guest rooms, including 15 suites and a tower penthouse. All will sport floor-to-ceiling windows for the maximum light, and views. A rooftop terrace will feature a contemporary Japanese lounge bar with a terrace and fire pit. But space is at a premium in London's Leicester Square, and the hotel will also have six stories below ground, making it one of the deepest public buildings in the world. A number of restaurants and concept eateries, bars, leisure facilities, as well as two onsite cinemas will be housed there.
Website: The Londoner. Opening: June 2020. Image © The Londoner
---
48Four Seasons Hotel Madrid, Madrid, Spain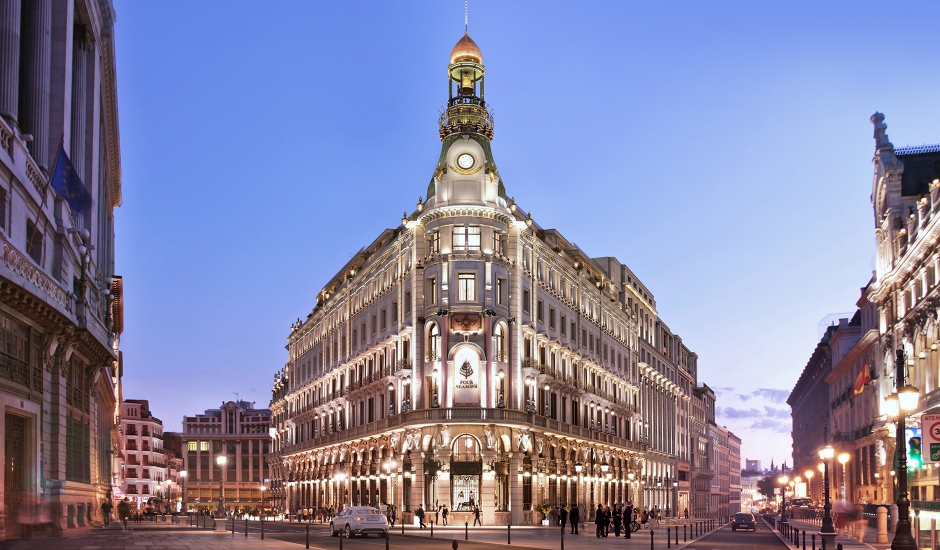 The Four Seasons Hotel Madrid is designed to put its guests at the heart of everything that makes Madrid cosmopolitan. The city is welcoming and full of energy, with a long history underscoring its vibrant moods. This new hotel, housed in a historic landmark building, aims to redefine elegance and urban luxury. The Four Seasons Hotel Madrid will consist of 200 rooms and suites, three sophisticated restaurants and bars (including an expansive roof terrace), a cutting-edge Spa, as well as events and luxury retail boutique spaces.
Website: Four Seasons Hotel Madrid. Opening: Early 2020
Images © Four Seasons Hotels Limited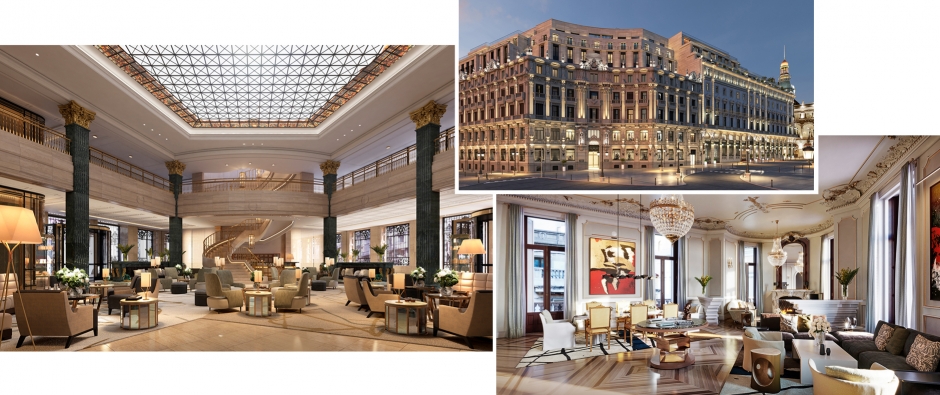 ---
49The St. Regis Dubai, The Palm, Dubai, UAE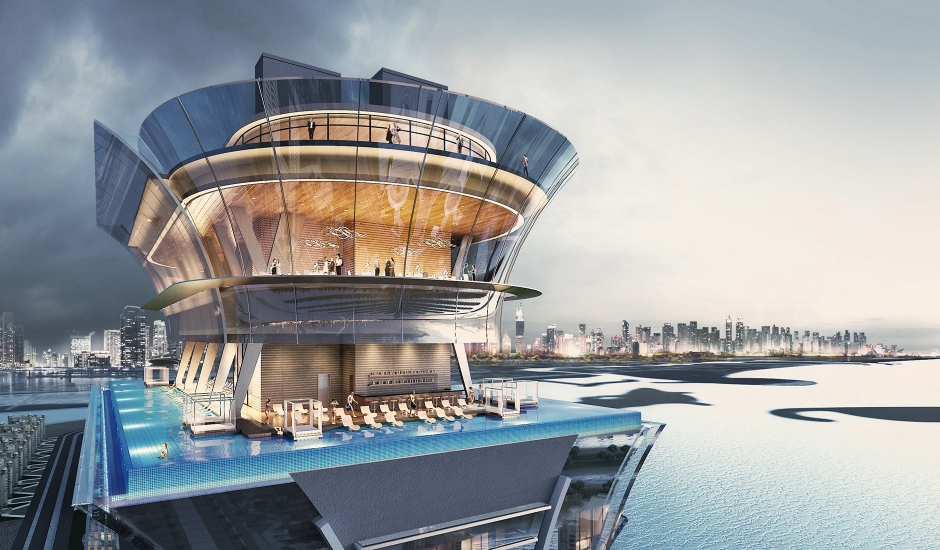 Located on the famous artificial Palm Island of Dubai, The St. Regis brings its signature style, service and brand of luxury to the UAE. The St. Regis Dubai, The Palm will be a property of 289 guestrooms and suites, located on the first 18 floors of Palm Tower, with the remaining upper floors comprising of 504 luxury apartments. The hotel will also have two swimming pools—one of them touted as one of the highest-positioned infinity pools in the world (on the 50th floor, and 210 meters above ground—with astonishing views to match).
Website: The St. Regis. Opening: 2020. Image © Marriott International
---
50La Mamounia, Marrakech, Morocco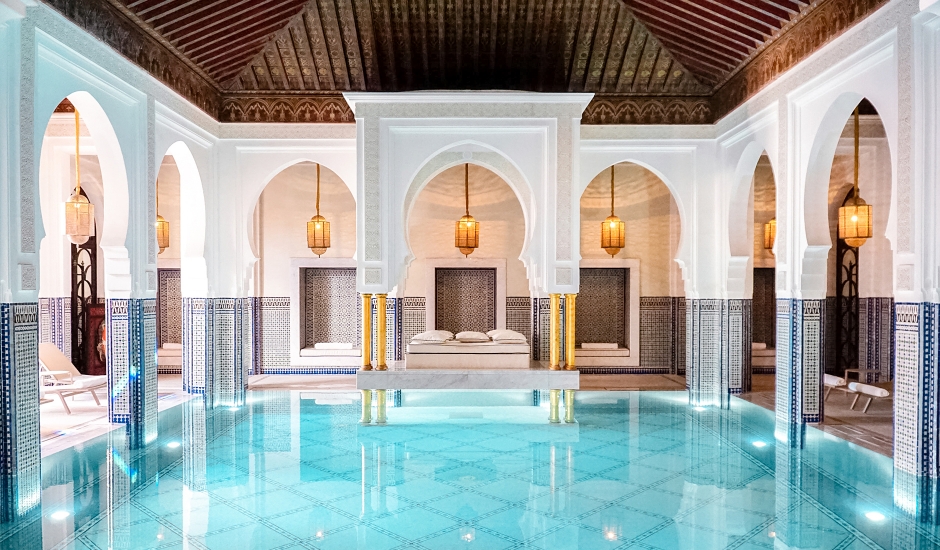 "We look forward to the challenge that will see La Mamounia refurbished, both as representative of the current day and as a 95-year-old property that has maintained its charm and heritage through the decades" — Pierre Jochem, GM of La Mamounia
La Mamounia is a legendary hotel dating back to 1923, but this year it is set for a major renovation. The refurbishment will include a full overhaul of the dining venues and structural improvements to the rooms and public areas.
The new look of the property promises to enhance La Mamounia with a contemporary design, and yet keeping true to the heritage and traditions for which this grand dame of Moroccan hotels is recognized. The refurbishment will be lead by the Parisian firm Jouin Manku.
Website: La Mamounia. Opening: September 1, 2020. Photo © La Mamounia
---
51Anantara Mina Al Arab Ras Al Khaimah Resort, UAE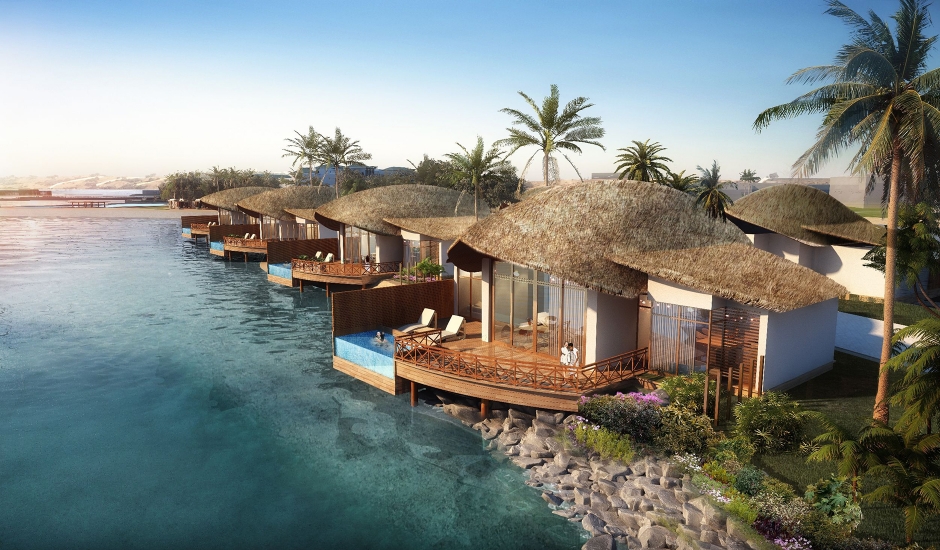 Ras Al Khaimah is the northernmost emirate of the UAE, known for stunning Arabian Gulf beaches, and located only some 45 minutes by car from Dubai. And it's the location selected by Anantara for its newest 300-room resort, with overwater luxury villas in a Maldivian island resort style. The Anantara resort will occupy parts of the brand new Mina Al Arab luxury development, with marina and waterfront cafes and boutiques. Anantara Mina Al Arab Ras Al Khaimah is the newest opening from this well-respected hotel brand, following the launch of the Anantara Tozeur Resort in Tunisia.
Website: Anantara Mina Al Arab Ras Al Khaimah Resort.
Opening: Late 2020. Images © Anantara Hotels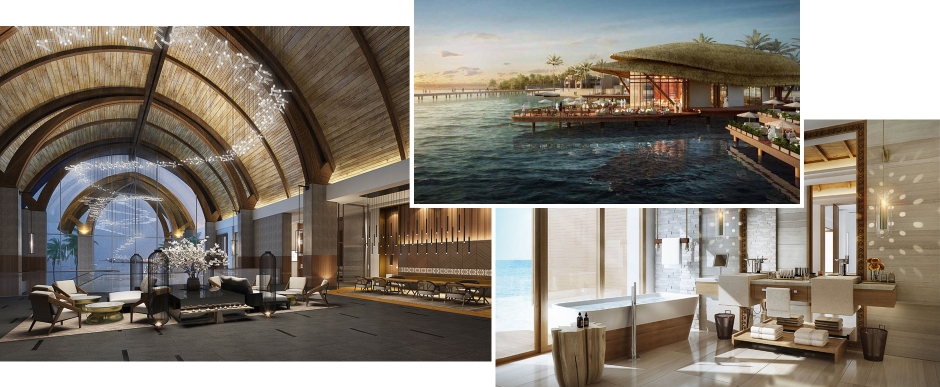 ---
52W Bali Ubud, Indonesia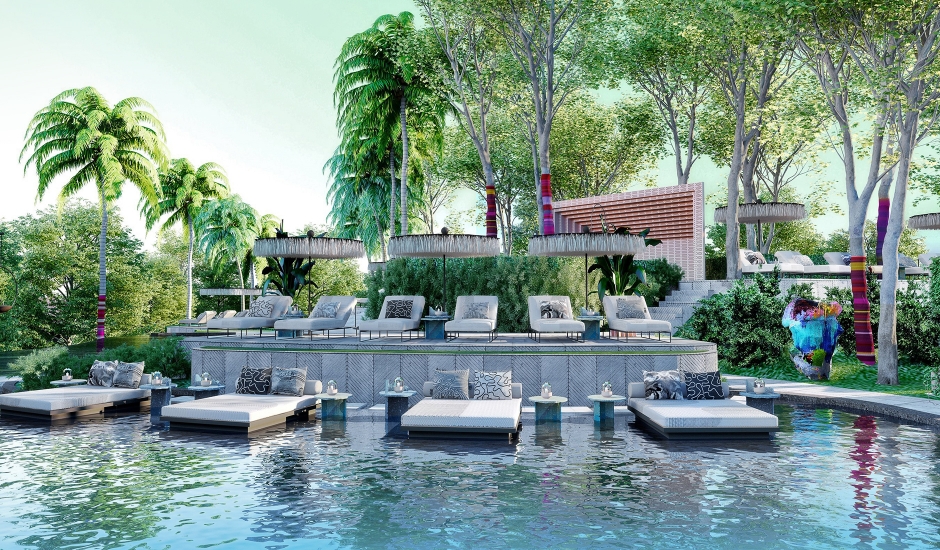 The first W Resort in Bali, in Seminyak, opened a decade ago, and now the Marriott's W brand is back with the new launch in Ubud. The resort will be located just over an hour's drive from the airport, in the lush Tanggayuda Valley. W Bali Ubud will offer 100 guest rooms and 10 villas with private swimming pools. The brand's youthful vibe and bold design will be an interesting addition to Ubud's hotel scene. Expect eclectic interiors, a laid back vibe, DJ nights, and a range of attractions that will include mountaintop sunrise yoga and fitness programs. The AWAY Spa will be there to add wellness to the mix.
The launch in Bali is followed by recent openings including W in Dubai, Abu Dhabi, Muscat, and Ibiza.
Website: W Hotels. Opening: 2020. Image © Marriott International
---
53Kozmo Hotel Budapest, Hungary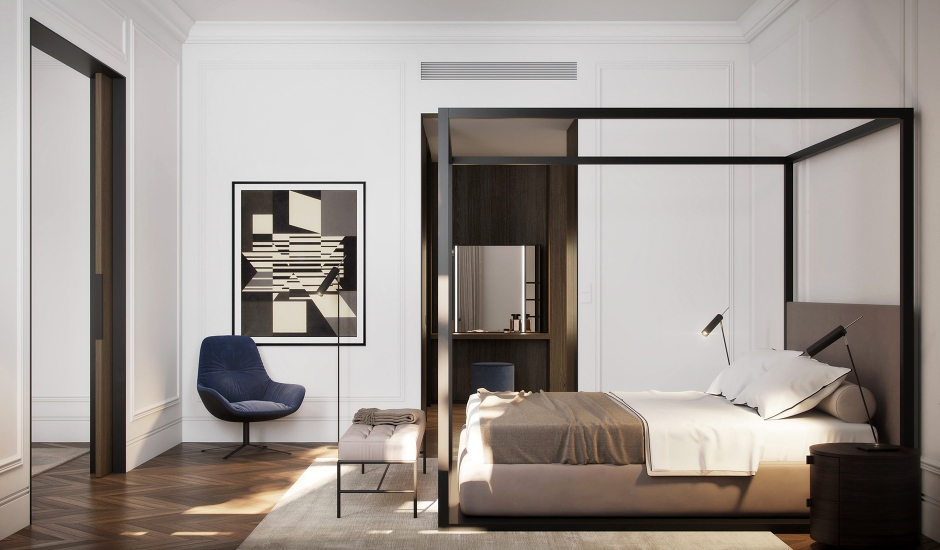 This new opening in a privileged location near Budapest's Grand Boulevard, and only steps from Dohány Street Synagogue and the Great Market, is set to become a chic gathering spot for visitors and locals alike. The Kozmo Hotel is located in a renovated historic building, and its style combines classic luxury with contemporary design, using the high-ceiling heritage interiors as a backdrop to sharp elegance and minimalist furniture. The hotel will offer 64 rooms and 20 suites, as well as a restaurant, and an expansive wellness space.
Website: Kozmo Hotel Budapest. Opening: May 2020. Images © Kozmo Hotel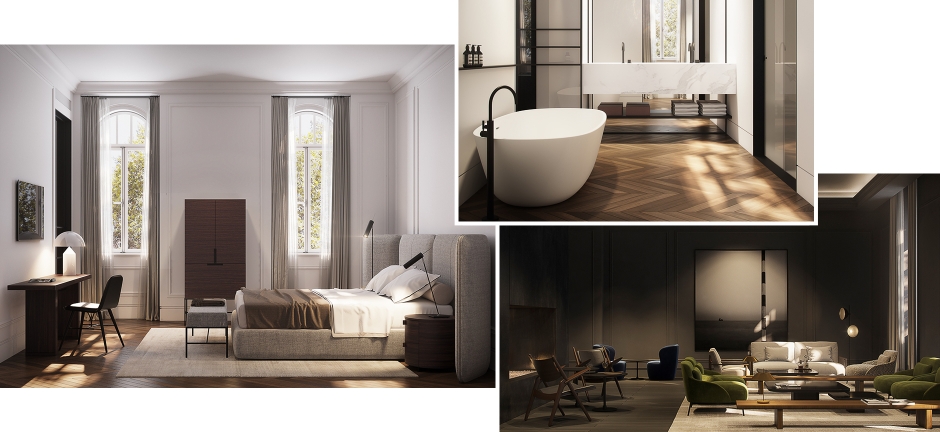 ---
54Little Kulala, Namibia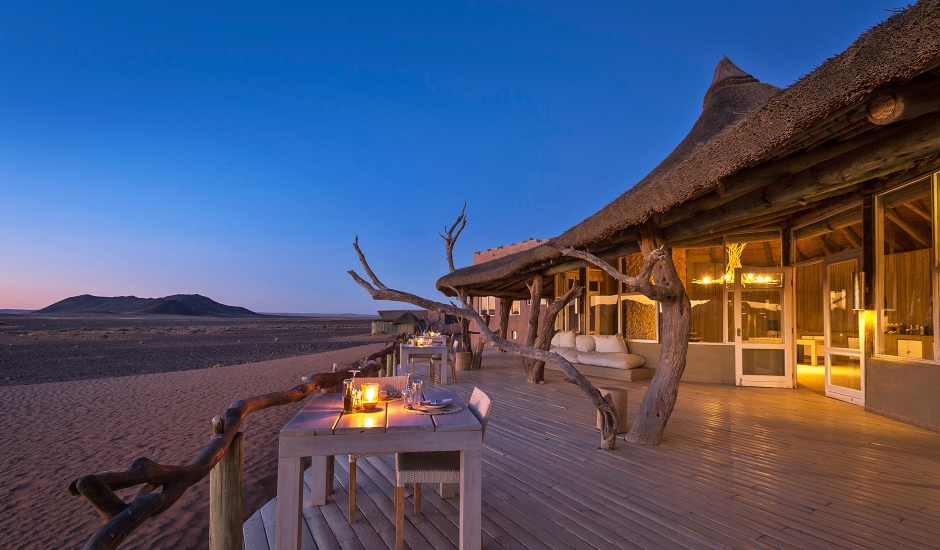 "[The Kulala Wilderness Reserve] is the only private reserve with direct access to Sossusvlei's magnificent red dunes. It is this location and luxury of space, combined with the camp's notable architecture and elegant accommodation, that our guests have come to love."
— Alexandra Margull, Wilderness Safaris Namibia MD 
"At Little Kulala we discovered luxurious cottages built in a style that fuses organic, earthly architecture with unassuming cool chic—in the middle of a Martian-like, arid landscape." This is how we described our experience at Little Kulala in Namibia—and we are very excited to see how this beautiful lodge will look when it reopens in 2020, following a refurbishment.
Little Kulala will not fundamentally change—rather, it will refresh elements of the lodge (e.g. new flooring, the main area deck, new elevated walkways, better airflow in the 11 guest kulalas), but otherwise, it will maintain its organic look and feel. What will be new are the attractions and adventures, such as sunrise breakfasts or brunches at beautiful remote locations. A particularly interesting new feature will be the signature sleep-out experience on the bottom deck of each kulala, allowing guests to easily access their rooms during the night.
Read our review of Little Kulala here
Website: Little Kulala. Opening: June 2020. Photo © Wilderness Safaris
---
55ME Dubai, Dubai, United Arab Emirates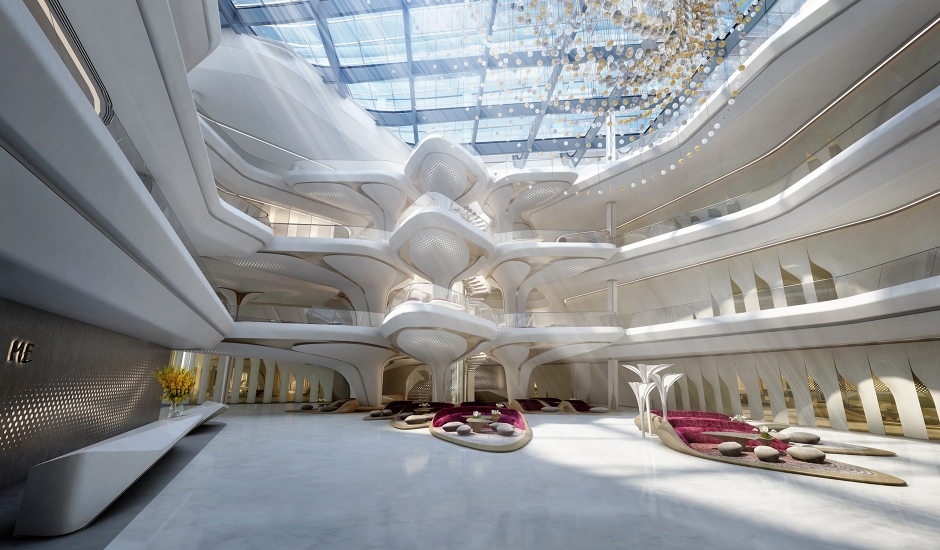 The opening of Opus, the cube-shaped building in Dubai, has been severely delayed, but it is finally slated to open this year, and the striking building will be home to one of the most anticipated new hotels, the ME by Meliá Dubai. It is the only hotel the late architect Zaha Hadid designed inside and out. The unique, cube-shaped building resembles an object from a sci-fi drama, and its futuristic space will be themed around the concept of 'interconnectedness'. The interiors are furnished by Hadid, and the selection of rooms will include a suite with a jacuzzi and a dining room table that transforms into a pool table. The 93-room hotel will share space with as many as 15 dining and drinking venues.
Website: ME Dubai. Opening: 2020. Images © Melia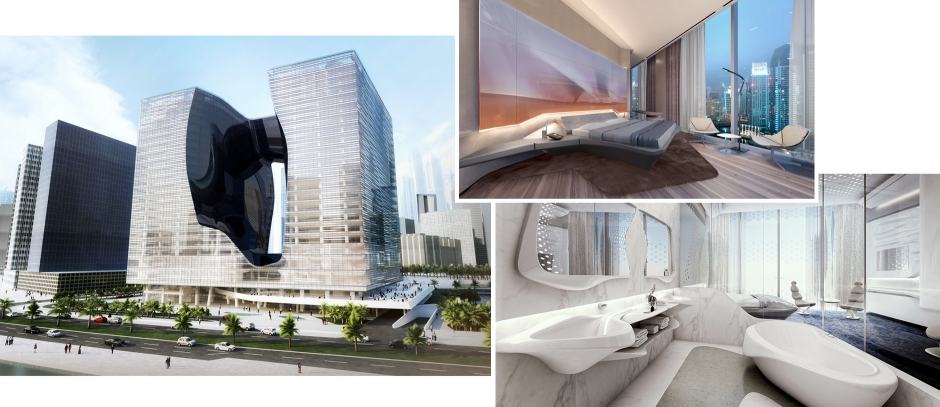 ---
56Mashatu Euphorbia, Botswana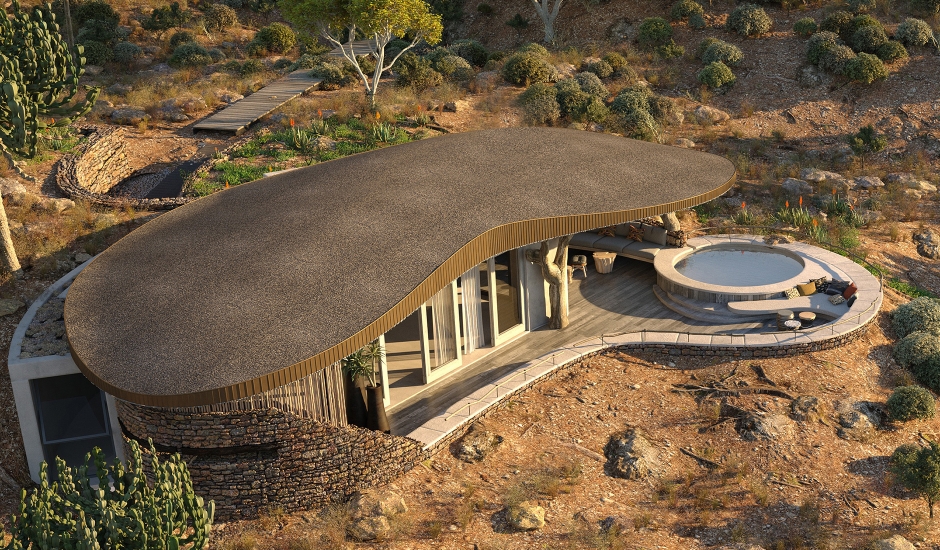 The privately-owned Mashatu Game Reserve is the location for Mashatu Euphorbia, the newest 5-star lodge in Botswana. Situated high up on a hill, with great views of the river and plains below, the lodge's concept combines luxury with conservation and sustainability. Solar energy and water processing system will ensure a minimal operational impact on the environment, and local stone is used in the lodge's construction, blending the buildings into the arid landscape.
The villas will feature heated plunge pools, in- and outdoor showers, and ample relaxation arrangements. Maximum 16 guests at any time will ensure a feeling of exclusivity and intimate ambiance, while the safari drives will allow only 4 guests per safari vehicle. The area is home to lion, leopard, cheetah, elephant, hyena and other plains game.
Website: Mashatu Euphorbia. Opening: June 2020. Image © Mashatu Euphorbia 
---
57Arctic Bath, Swedish Lapland, Sweden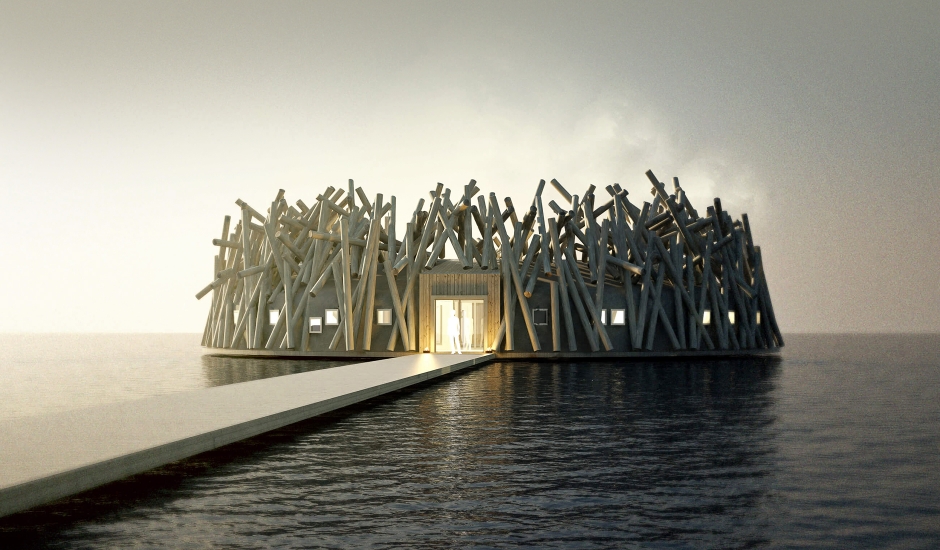 From the heat of Africa to the arctic circle, home of northern lights in winter, and midnight sun in summer. One of the most unique developments on our Openings list, Arctic Bath is the long-awaited (if not to say, long-delayed) project from the team behind the innovative Treehotel in Harads.
Located 902 kilometers north of Stockholm near the coastal city of Luleå, and positioned on the Lule River, Arctic Bath will launch with 12 wooden cabins (6 of them on the water), with a minimalist design, skylights, and large windows. The eye-catching "birds' nest" is the spa center. And it's basically a watercraft, floating on the surface in summer and freezing solid winter months, gripped by ice. The imaginative building has been designed by the architects Bertil Harström and Johan Kauppi, who were inspired by the region's history of logging when the river was used to float timber south.
Website: Arctic Bath. Opening: January 2020. Images © Arctic Bath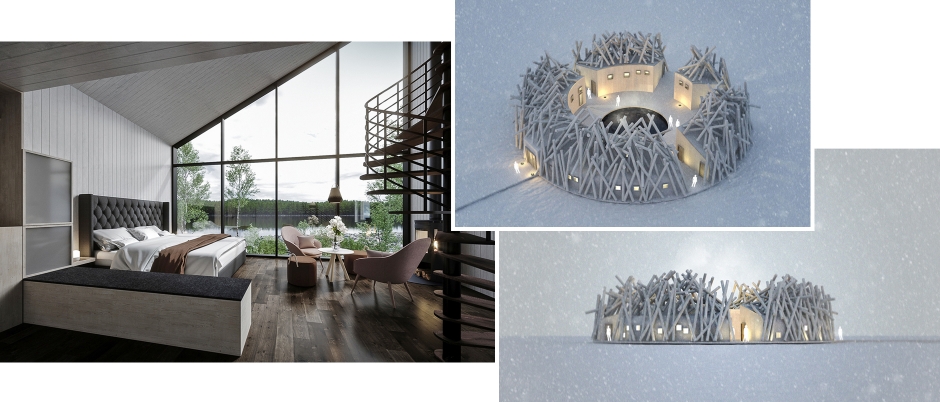 ---
58The Ritz-Carlton, Tamuda Bay, Morocco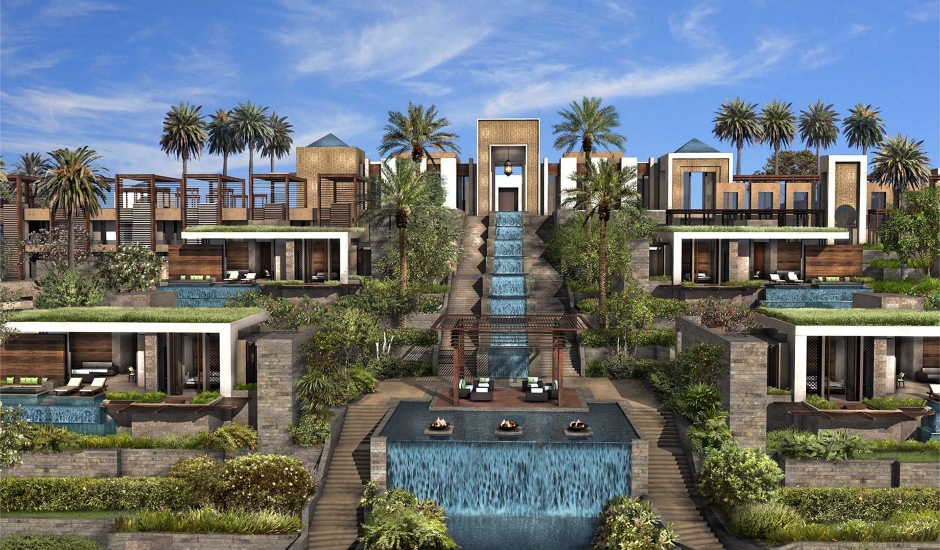 Tamuda Bay on the Mediterranean coast of Morocco has become a new hot spot for beach vacations in the country—thanks to its long stretches of golden sand, good infrastructure, and the proximity to Tangier. The Ritz Carlton spotted the opportunity, and this year they will add unveil a new property in the area. It will be a fully-serviced luxury beach resort, with spacious guest rooms, restaurants, a beach club, an 18-hole golf course, and a range of luxury amenities. The design will incorporate Moroccan design and natural beauty through a well-curated selection of furniture and sophisticated decor.
Website: The Ritz-Carlton Tamuda Bay. Opening: Late 2020.
Image © Marriott International
---
59Rosewood Little Dix Bay, British Virgin Islands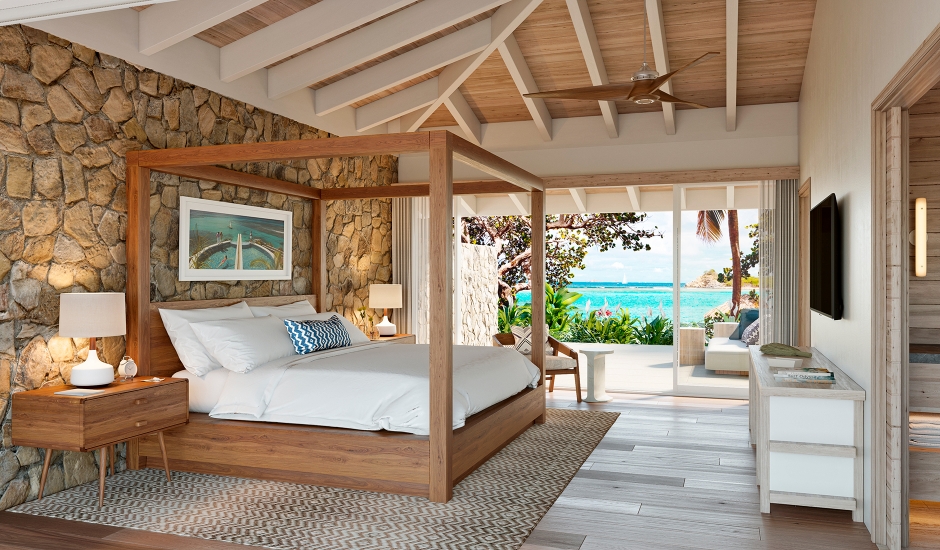 Rosewood Little Dix Bay in the British Virgin Islands is reopening after a four-year closure and full refurbishment (heavily delayed by the destruction brought by Hurricane Irma). With half a mile of sandy beach in front of the resort, four open-air dining outlets, two swimming pools, and more than 80 new rooms, cottages, "tree houses" and pool suites, the resort will cater to all sort of needs—and its clifftop spa should satisfy the most demanding sybarites. Leading the refurbishment was Meyer Davis, a New York City-based design studio specializing in hospitality projects.
Website: Rosewood Little Dix Bay, Virgin Gorda, BVIs. Opening: January 2020.
Photo © Rosewood Hotels
---
60Fusion Resort Quang Binh, Vietnam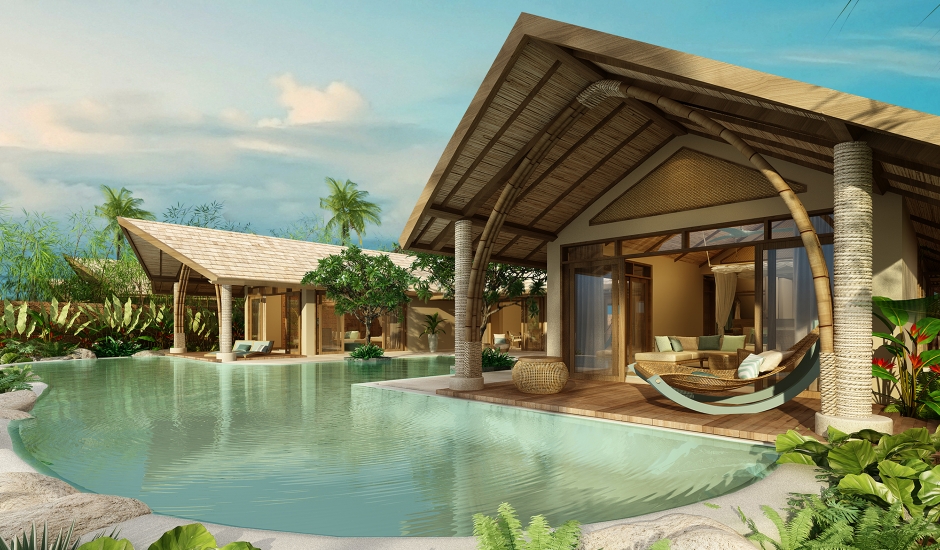 The oceanfront Fusion Resort Quang Binh is located at the gateway to the UNESCO World Heritage Site of Phong Nha – Ke Bang National Park, a site of the world's largest cave (Son Doong). Fusion's three-hectare property will feature 60 private villas, each with its own plunge pool, and the brand's focus on wellness means that the extensive spa will be the center of attention, with treatments included in the nightly rate.
Website: Fusion Resort Quang Binh. Opening: Late 2020. Images © Fusion Resorts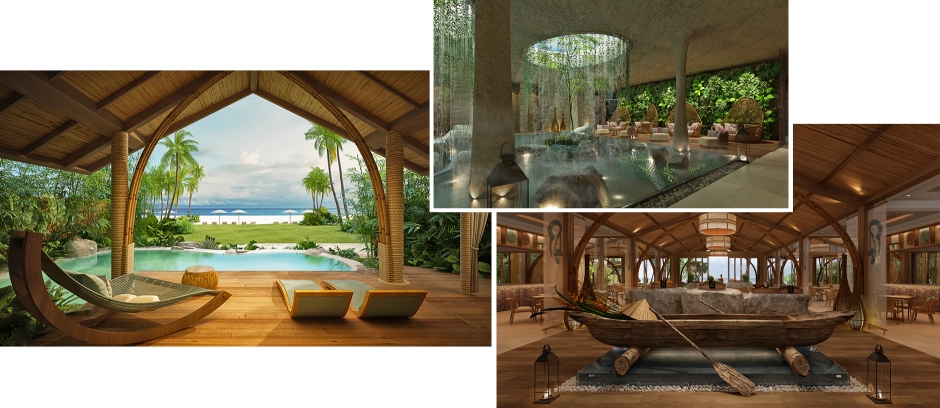 ---
61Villa Dagmar, Stockholm, Sweden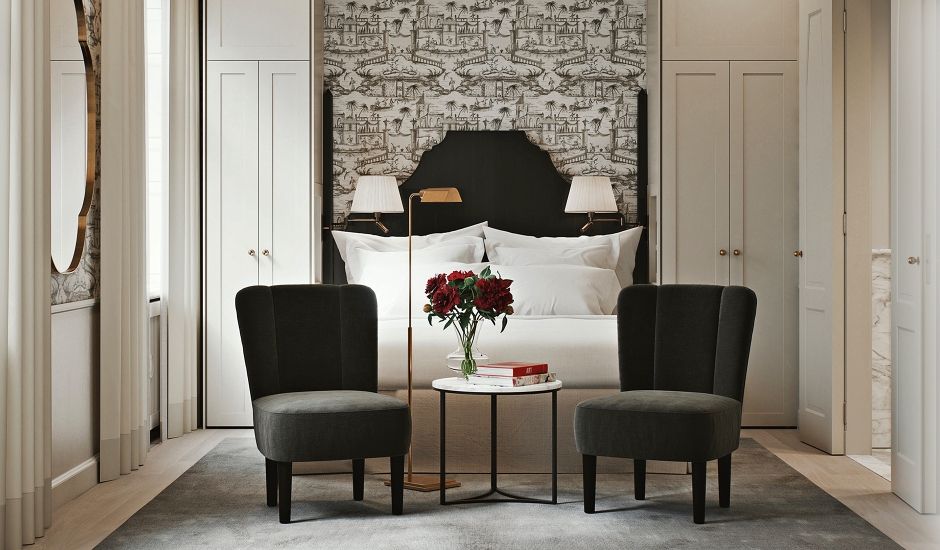 Sister to the Hotel Diplomat, Villa Dagmar will open in the high-end Stockholm neighborhood of Östermalmstorg, close to City Hall and The Swedish History Museum. Located in a 19th century Art Nouveau building, the hotel will have 70 striking rooms and suites, together with a spa, flower shop, and a signature Mediterranean-fusion cuisine restaurant, by Michelin-starred Daniel Höglander and Niclas Jönsson. This intimate luxury hotel will be linked under one roof with the Östermalmshallen food hall.
Website: Villa Dagmar. Opening: April 2020. Photo © Villa Dagmar
---
62The Tokyo EDITION, Toranomon, Japan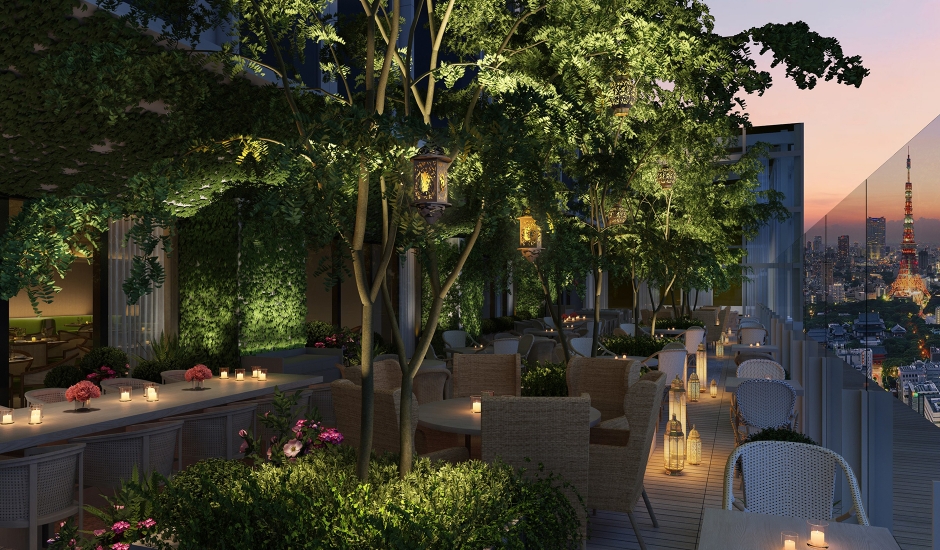 Another Tokyo opening on our list this year is the newest EDITION hotel, and the timing of its launch is not the only thing that connects it to the Olympic games. The hotel was created thanks to the expertise of the architect Kengo Kuma, who also designed the Tokyo 2020 National Olympic Stadium. This swanky new hotel will offer 206 rooms, including 21 suites and a penthouse, food, and beverage outlets, and spa. The Tokyo EDITION Toranomon will share space with offices, residences and a medical center in a mixed-use high-rise building, located in one of Tokyo's finest neighborhoods.
Website: The Tokyo EDITION Toranomon. Opening: Mid 2020.
Image © Marriott International
---
63Riggs Washington DC, USA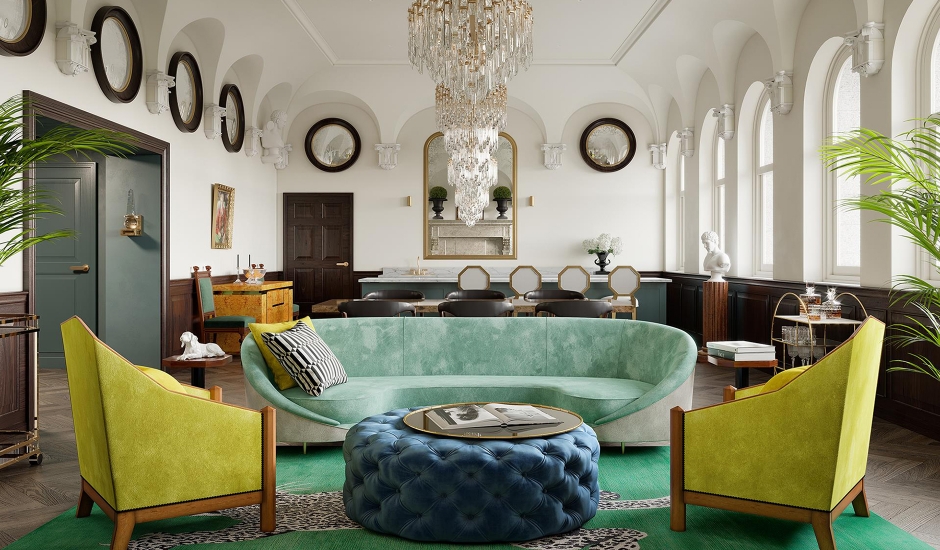 The group behind Riggs Washington DC, Lore Group, has successfully launched the Sea Containers London hotel and the Pulitzer Amsterdam, so you can be sure this opening is in good hands. It will be their first opening it the US, and the location selected for this debut is in the Penn Quarter section of Washington, in a landmark building that used to serve as a bank. The hotel's design carries hints of the original purpose of the building, while the guestrooms will focus on comfort, elegance, and luxury first of all. The hotel's food and beverage outlets will include the onsite restaurant Café Riggs, echoing the European brasseries, and the subterranean cocktail spot Silver Lyan.
Website: Riggs Washington DC. Opening: February 2020. Images © Lore Group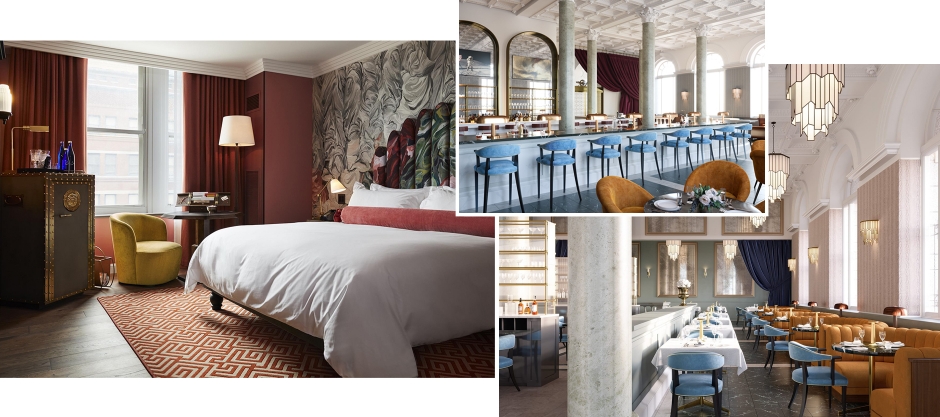 ---
64Dusit Princess Kathmandu, Nepal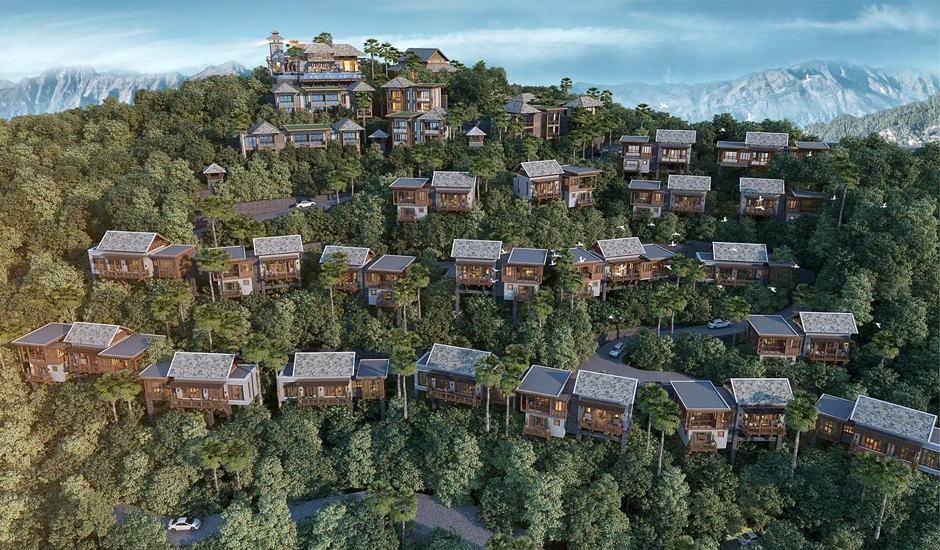 We wrote about Dusit Thani that its Thai inspirations align well with the spirit of a luxury destination (the Maldives, in Dusit Thani's case), so we are curious to see this unique brand expanding into countries as exciting as Nepal. Indeed the company is planning not one but two openings soon (with Dusit Thani Himalayan Resort & Spa slated for Q1 2021).
Meanwhile, Dusit Princess Kathmandu will open in the capital's Lazimpat neighborhood (an hour from the Tribhuvan International Airport), offering a boutique hotel experience, with a limited number of rooms and villas and contemporary design reflecting local style and culture. The facilities will also include an all-day restaurant, outdoor swimming pool (with a pool bar), a rooftop lounge, as well as a fully-equipped fitness center, and the group's signature Devarana Spa.
Website: Dusit International. Opening: Q3 2020. Image © Dusit International
---
65The Chedi Khorfakkan, Sharjah, United Arab Emirates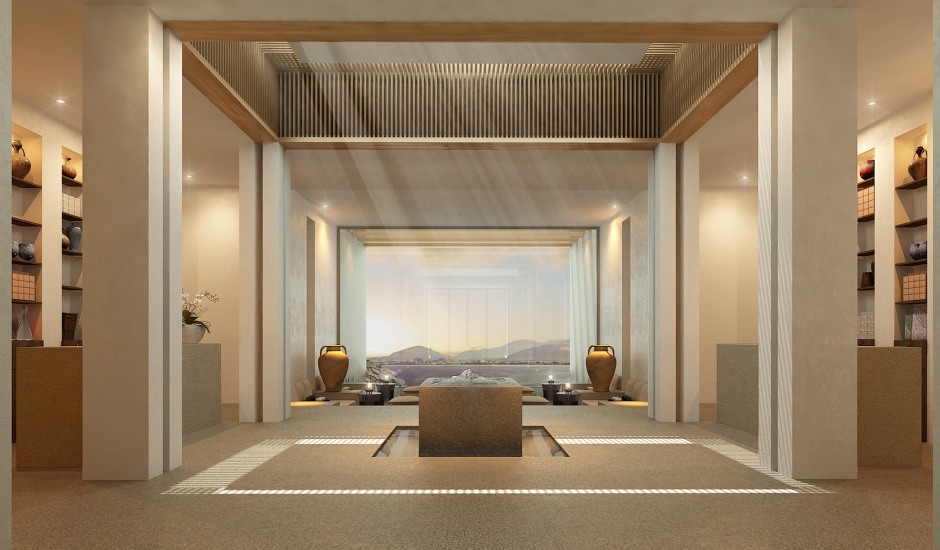 Our experience of the Chedi brand in Oman, United Arab Emirates' neighbor, was that of a hotel "ideal for travelers looking for an alternative to the sumptuous, over-the-top Arabian luxury"—and we expect something similar from the Chedi Khorfakkan.
This 100-suite resort, perched on a mountain, and facing a private bay on Sharjah's east coast, will offer an all-suite accommodation, 54 of which will come with a swimming pool, but all with unspoiled ocean views. The resort, split into three parts called The Fort, The Hilltown, and the Town Square will also feature restaurants, spa and a health club, and business/events space, as well as a number of cafes and beachfront facilities.
Website: The Chedi Khorfakkan. Opening: Late 2020. Images © GHM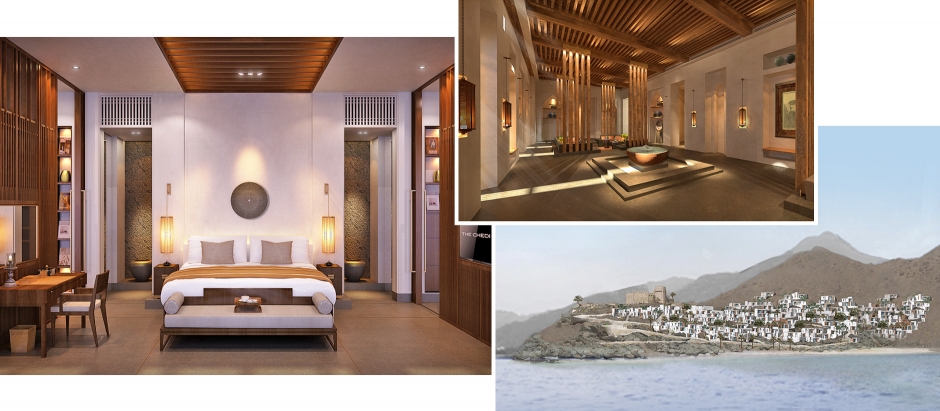 ---
66W Sydney, Australia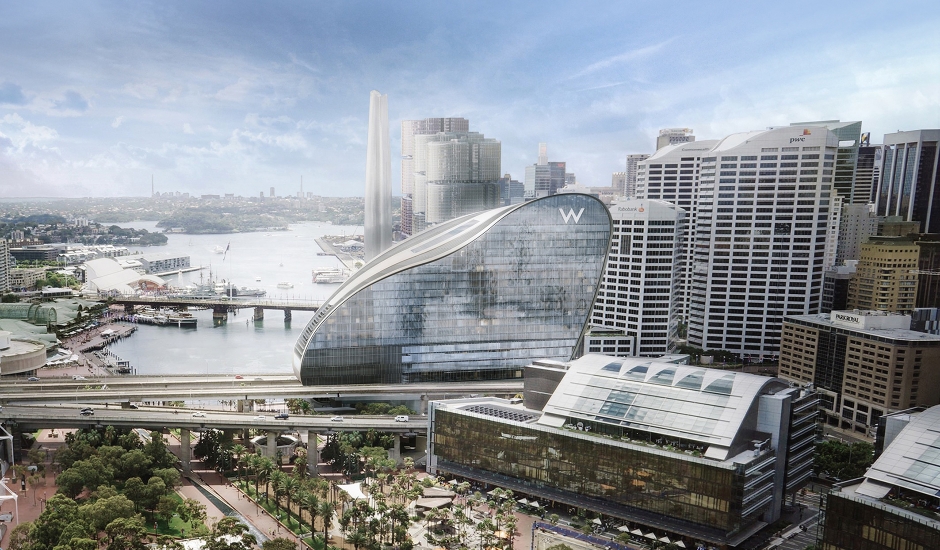 "The launch of the W Sydney symbolizes the changing landscape of hotels in Australia. We are moving […] to the tomorrow hotels that hit the millennial mindset of traveling." —Richard Crawford, senior director of development at Marriott International
Housed in The Ribbon, a spectacular $700M new development in Sydney's Darling Harbour, designed by international awarding-winning architects HASSELL—the Marriot's W hotel here will add a touch of youthful glamour to this glass architectural marvel. With 593 guestrooms, an infinity pool overlooking the harbor, an upgraded IMAX theatre, a casino, Sea Life Aquarium, and a spectrum of other entertainment facilities, the W hotel will join the W Brisbane, heralding the company's ambitions at conquering Australia.
Website: W Sydney. Opening: Late 2020. Image © Marriott International
---
67Paragon 700 Boutique Hotel & SPA, Ostuni, Italy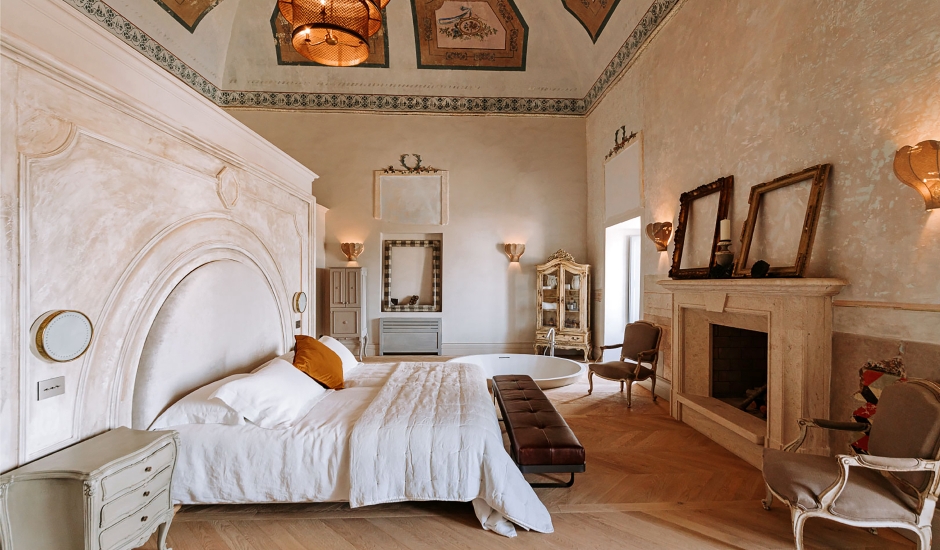 We love rehabilitations of beautiful heritage buildings, and this is another example of such a project: a former Puglian palace, being restored using traditional handcraft techniques. The property, while retaining high ceilings, period frescos, and original fireplaces, adds a touch of contemporary aesthetics to bring the property to the 21st Century. All this in a hill-top town of Ostuni, in Italy's charming southern region of Puglia. The winding cobbled walkways studded with whitewashed buildings are a lovely backdrop to a boutique luxury hotel of only 11 individually curated rooms.
Paragon 700's red brick façade stands in contrast to the white-themed Ostuni, and what's behind is also a surprise: a lush garden with a swimming pool, a spa and destination dining, thanks to the Michelin-starred chef. It's a tranquil and exclusive oasis, only minutes from Ostuni's main square.
Website: Paragon 700. Opening: February 2020. Photos © Paragon 700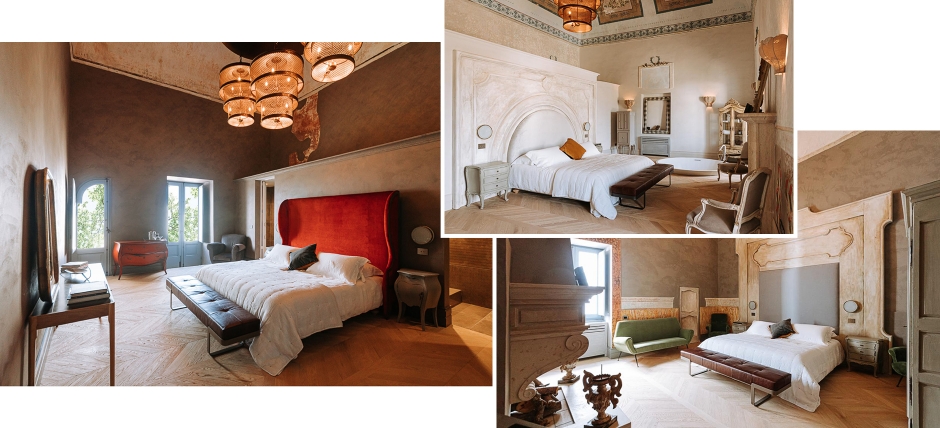 ---
68Mandarin Oriental Bosphorus, Istanbul, Turkey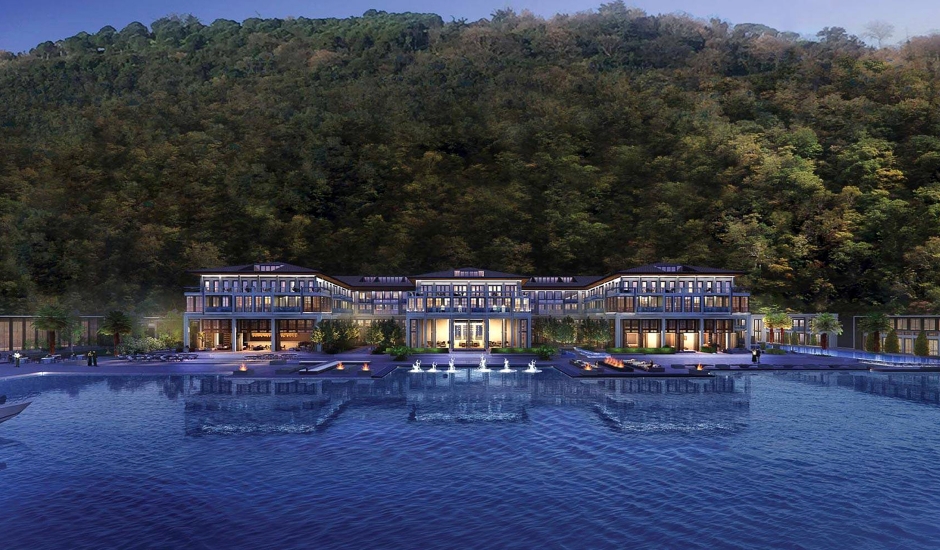 "We intend to make this new property, located in the prestigious Etiler district, one of the most impressive addresses in the city. The project is aimed at a demanding clientele, appreciating this legendary city so rich in history and culture, located at the crossroads of Europe and Asia"
— Astaș Holding A.Ş/Yapi & Yapi
Designed by a New York-based designer Adam Tihany, this new property from Mandarin Oriental will offer a spectrum of exclusive suites enjoying amazing sea views, a number of excellent restaurants, bars, a beauty center, state-of-the-art fitness and health center, as well as a world-famous spa brand. Located on the European-side of the city, in an upscale residential district of Kuruceşme, the Mandarin Oriental Bosphorus is set up to become Istanbul's next elite resort.
Website: Mandarin Oriental. Opening: 2020. Image © Mandarin Oriental
---
69Sayari Camp, Serengeti, Tanzania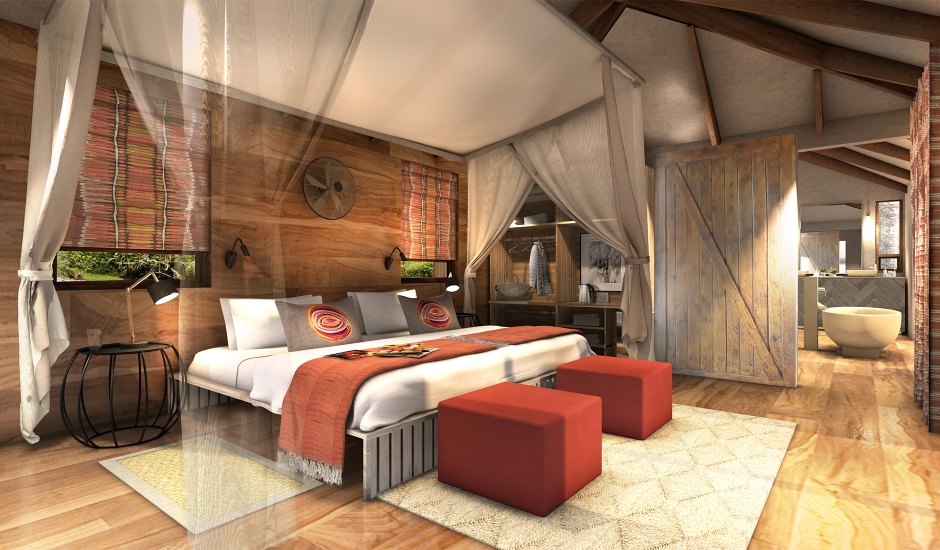 If our stay at Asilia Africa's award-winning Highlands in Ngorongoro is to tell us anything, it is that we should expect the new Sayari Camp to be an extraordinary place. Reopening after refurbishment, and in conjunction with the celebration of the 15 years of Sayari, Asilia is planning to unveil the camp as a reimagined eco-conscious luxury property. The design of the camp is the work of the designer Caline Williams-Wynn, who also created the Highlands.
In the revamped camp, spacious decks will wrap around all 15 tents, sliding glass doors will let in the uninterrupted views of the Serengeti plains, and Sayari's new features will include outdoor showers, raised wooden pathways, and a new spa. And in a unique development, the camp will also install the first solar-powered microbrewery in the bush.
Website: Sayari Camp. Reopening June 2020. Images © Asilia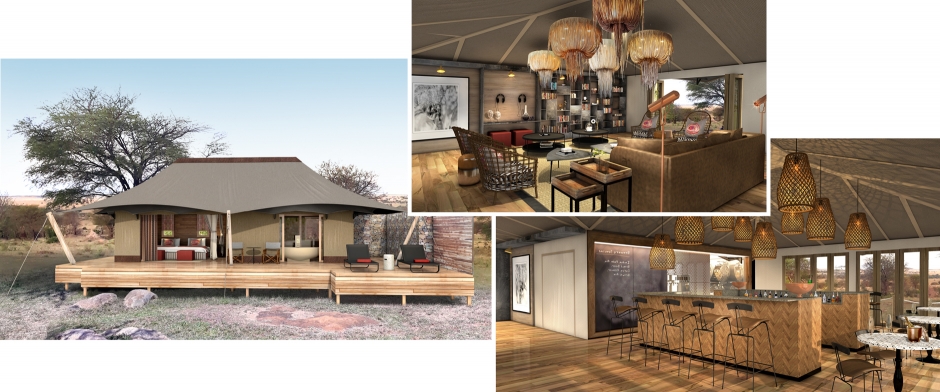 ---
70The Hoxton Rome, Italy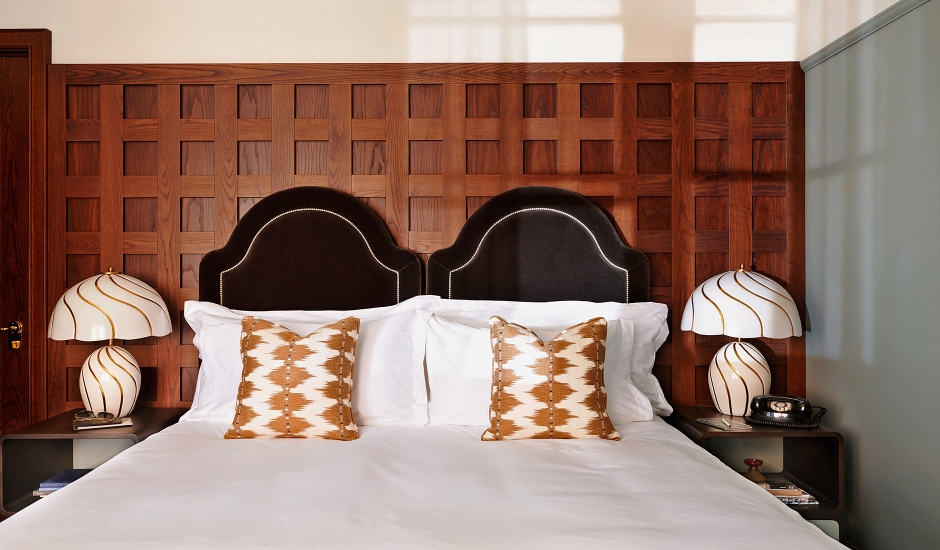 Set up in Salario, a green neighborhood away from the city's main tourist trails, the 192-room Hoxton Rome will riff off the classic mid-century Italian design, from the bright lobby space and the open kitchen to a coffee shop with a takeaway counter. This will be the 10th hotel from the Hoxton brand, and their sixth opening in Europe. True to its luxury credentials, the Hoxton Rome will carry a signature elegant design in all bedrooms, thanks to the collaboration of Ennismore Design Studio and Fettle Design.
Website: The Hoxton Rome. Opening: Autumn 2020. Image © Hoxton
---
71Greystone Miami Beach, Florida, USA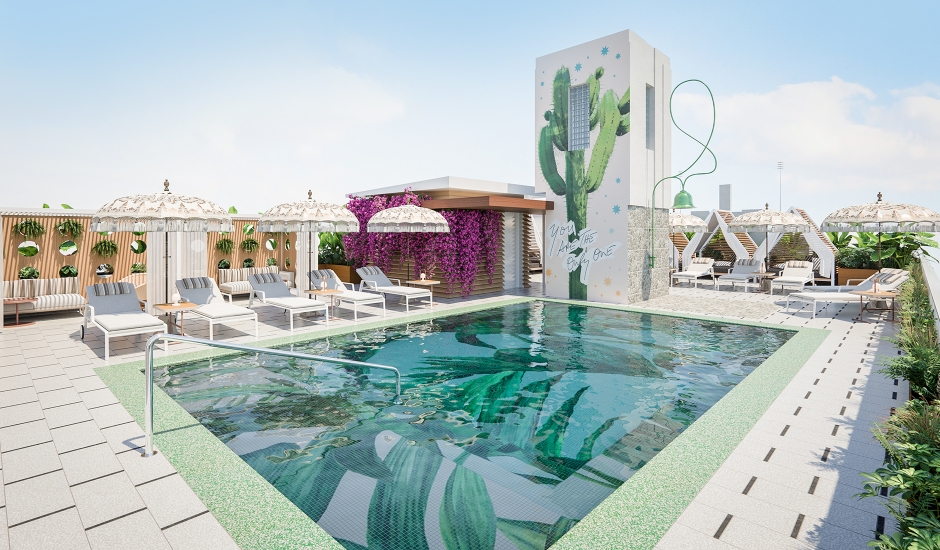 This is yet another re-opening on our list. Embracing Miami's Art Deco glamour and the destination's energy, the Greystone' Miami Beach will re-launch with 91 guestrooms, a fabulous rooftop swimming pool, and a whiskey lounge, following a complete renovation. Located only steps from the white-sand beach, the new look of this 1930's boutique hotel will blend boho-chic with city glamour, while paying homage to its Art Deco origins.
Website: Greystone Miami Beach. Opening: Relaunching February 2020.
Images © Greystone Miami Beach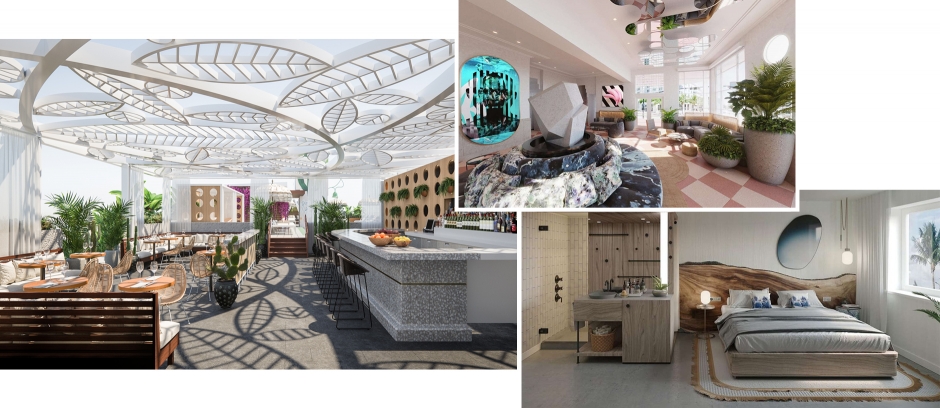 ---
72DumaTau And Little DumaTau, Botswana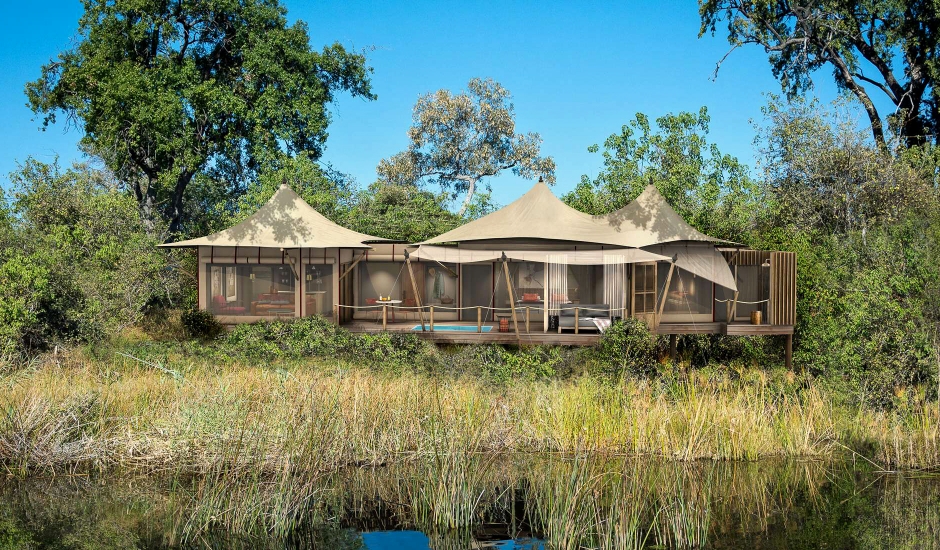 You may also like

---
The romance of a luxury star bed in the savannah
Re-openings are definitely one of the themes on our list, and the DumaTau is one more such event. This safari camp in Botswana will launch after a major refurbishment—alongside the brand new Little DumaTau, which will only have four tented suites.
The architecture and interiors will embrace the sense of an off-the-beaten-track safari expedition, with a new outdoor under-the-stars bed strengthening the concept. Design enhancements will include doubling the size of the rooms, adding outdoor decks and plunge pool, and adding indoor and outdoor showers to the bathrooms. The fire deck as the center of camp life, but both camps will also have a new wellness space and spa in between, looking out over the waters of the Linyanti River.
Website: DumaTau. Opening: August 2020. Image © Wilderness Safaris
---
73Matild Palace, a Luxury Collection Hotel, Budapest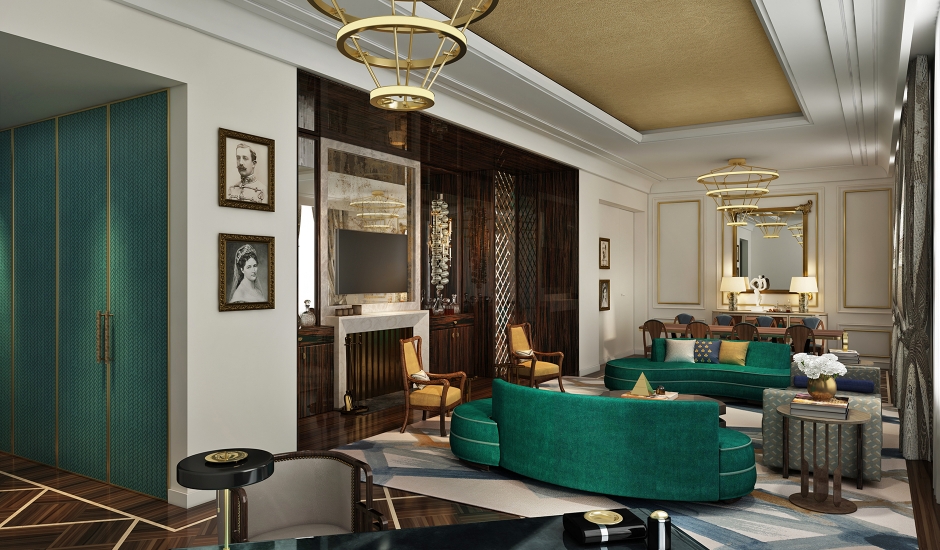 Following the takeover and re-launch of the North Island, Seychelles, (the Luxury Collection's first private island), the company will open its first hotel in Hungary. This debut in the former communist republic will be housed in Matild Palace, a palatial neo-Baroque building near the Elisabeth Bridge. The hotel will welcome guests with 130 rooms and suites, and a variety of options for dining, among which both the Sky Bar and the heritage Matild Café will no doubt draw chic crowds in the city.
Website: Matild Palace, a Luxury Collection Hotel, Budapest.
Opening: Q3 2020. Image © Marriott International
---
74Banyan Tree Krabi, Thailand

We know Banyan Tree as one of the most reliable luxury resort brands, with a portfolio of hotels offering a consistently high level of service and facilities, especially when comes to their Spas. Now coming to the shores of Phang Nga Bay near Krabi, their newest resort will bring the Banyan Tree experience to a serene location on Tubkaek Beach, about 35 kilometers from Krabi Airport. Facing a white-sand beach and, on the horizon, a dozen karst limestone islands shooting up from the calm waters of the Andaman Sea, the new resort will offer 72 pool suites and villas (with 2-bedroom options, and one three-bedroom villa available), and extensive facilities that will include dining venues, beach club, and a large spa, with the brands famed "rainforest walk".
Website: Banyan Tree Krabi. Opening: Q2 2020.
Images © Banyan Tree Hotels & Resorts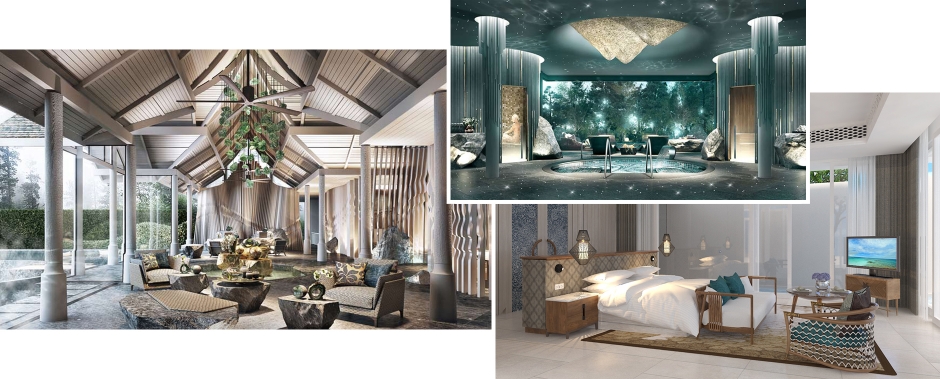 ---
75North Pole Igloos, Swedish Lapland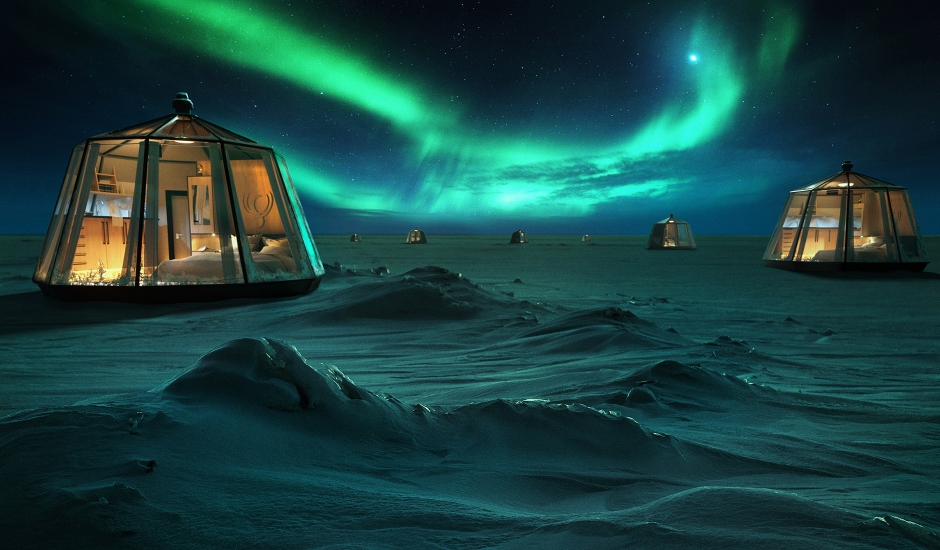 When comes to the exclusive experiences, we can think of hardly anything that could beat the North Pole Igloos. Touted as "the world's northernmost hotel", this small cluster of ten mobile domes with glass roofs (perfect for watching aurora borealis) will provide an unbelievable opportunity for the very few lucky guests. Why only a few? The first reason is that this unique luxury hotel will open for an extremely limited amount of time every year: only one month per season. The North Pole Igloos will be set up in the safest place on the glacier, but due to the dynamic and extreme environment of the ice, the camp has to be soon packed it up and returned to Svalbard in Norway. The second reason is that the guests will have to be prepared to part with a cool $100,000 for a three-night trip. It's the kind of nightly rate that puts North Pole Igloos well outside of the budget of pretty much everyone.
Website: North Pole Igloos. Opening: April 2020. Image © North Pole Igloos
---
76Park Hyatt Jakarta, Indonesia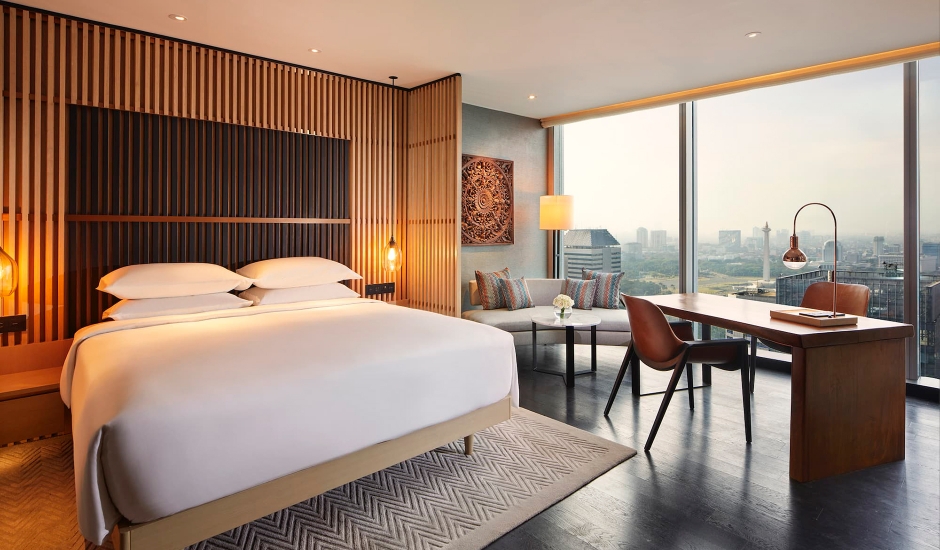 Set to be one of the finest in luxury hotels in Jakarta, Park Hyatt will launch with 220 rooms and 36 suites. The hotel's design aims to channel Indonesia's rich diversity and Jakarta's urban lifestyle, with sophisticated interiors from the award-winning studio Conran+Partners. Guests can look forward to as many as five food-and-beverage venues, an outdoor pool and a 24-hour fitness center—and uninterrupted views of Jakarta starting from the 25th floor.
Website: Park Hyatt Jakarta. Opening: Mid 2020. Images © Park Hyatt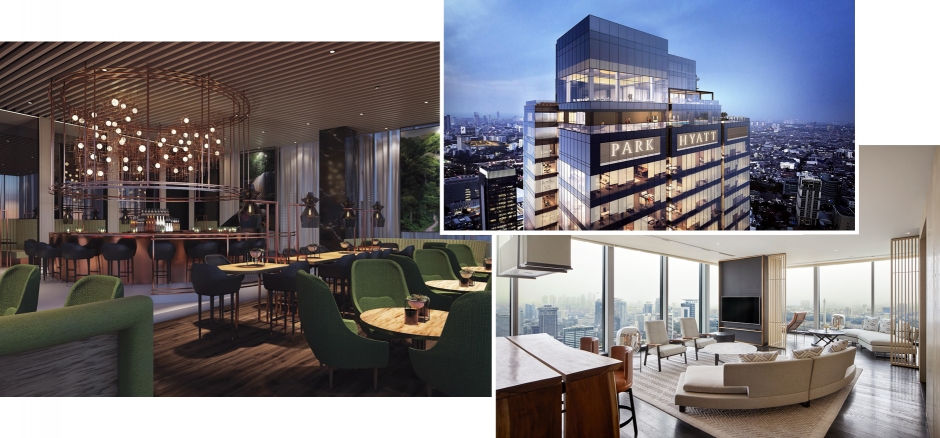 ---
77Ambiente – A Landscape Hotel, Arizona, USA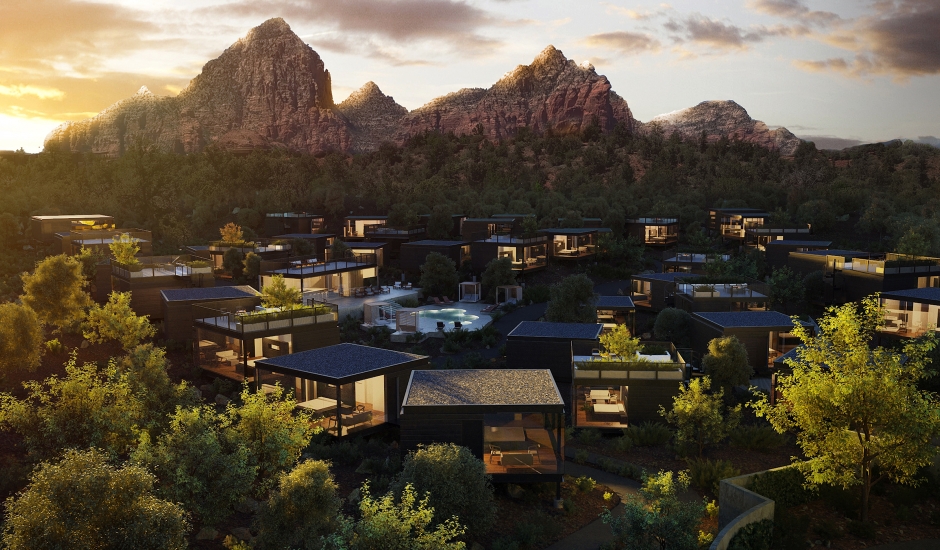 This new development in Arizona is designed to blend into the natural environment from outside and to bring the landscape vistas inside through the floor-to-ceiling windows. The 40 cube-shaped rooms, clad in mirroring dark glass, appear as if floating above the ground, each reflecting the craggy surroundings and providing a worthy companion to the scenery. Inside, the minimally decorated, moodily lit rooms will have double-sided fireplaces to ramp up the cozy factor, and many will come with rooftop decks, perfect for stargazing. The hotel will also offer a lagoon-inspired pool and spa.
Website: Ambiente Sedona. Opening: Summer 2020. Image © Ambiente
---
78La Réserve Eden au Lac Zurich, Switzerland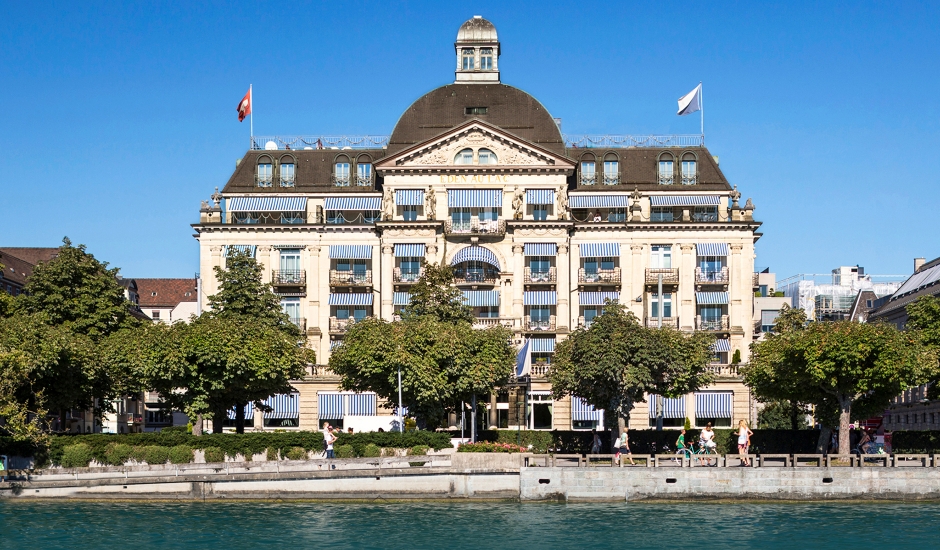 "La Réserve Eden au Lac Zurich is like dancing rock-and-roll with the Queen of England. Everything is traditional, yet resolutely unconventional. It's a timeless cocktail composed of classicism, modernity, intelligence, and creativity."
—Philippe Starck
This project was born from the creativity of the legendary French designer Philippe Starck and the vision of excellence from the hotel company La Réserve (who are also behind the La Réserve Paris Hotel & Spa and St. Tropez La Réserve Ramatuelle ). Having undergone a major refurbishment, the majestic 100 years old property, located on the shore of Lake Zurich will house a 40-bedroom hotel, designed with a typical for Starck rebellious streak, but with otherwise light and subtle tones, and materials evoking the woodwork of luxury boats. The hotel will offer a rooftop bar, a restaurant, a smoking lounge. Most rooms will have a view of the lake, both from the bed and from the bathtubs.
Website: La Réserve Eden au Lac Zurich. Opening: Early 2020. Photos © La Réserve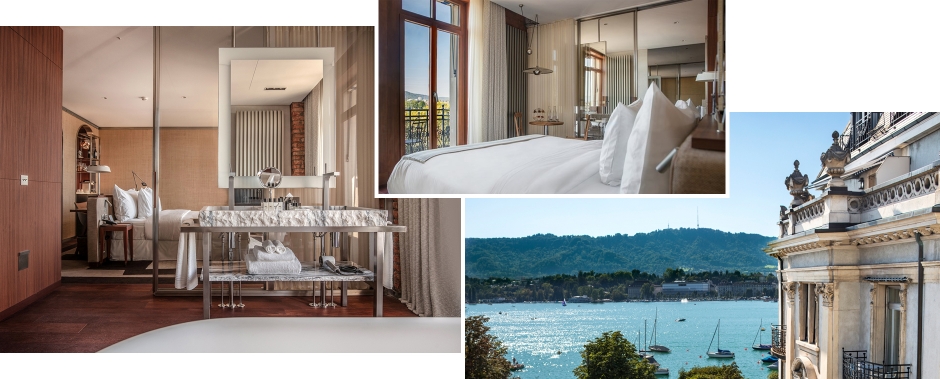 ---
79The Ritz-Carlton, South Beach, Miami, US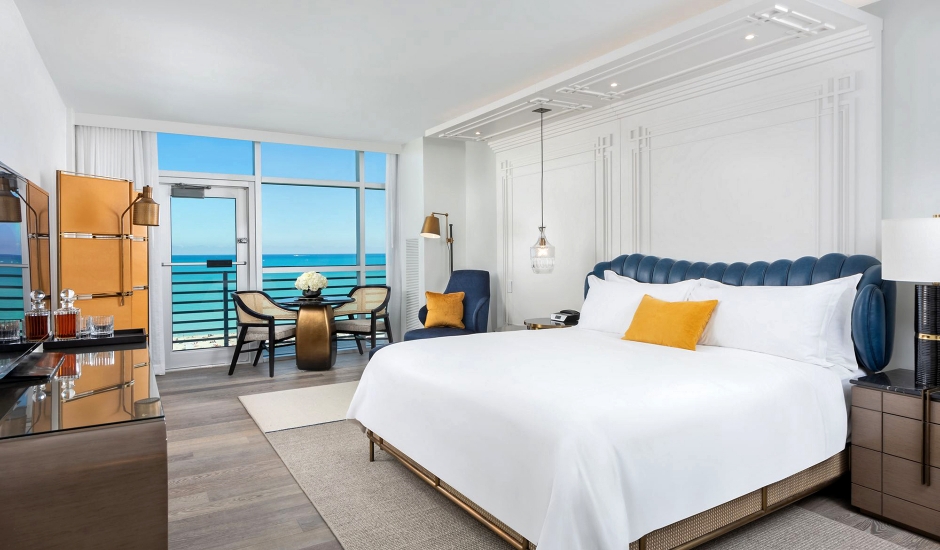 Another re-opening of the previously well-established hotel is The Ritz-Carlton South Beach—following a multiyear, property-wide renovation. This 1950s art deco resort on a Miami Beach oceanfront will offer 376 guest rooms and suites, remodeled to blend the original Art Deco form with the glamour and luxury of the contemporary Miami. The hotel's multiple restaurants and bars are also getting a makeover, with a promise to serve Latin flavors inspired by Mexican, Cuban, Venezuelan and Colombian cuisine.
Website: The Ritz-Carlton South Beach. Opening: January 2020.
Image © Marriott International
---
80The Legian Sire, Lombok, Indonesia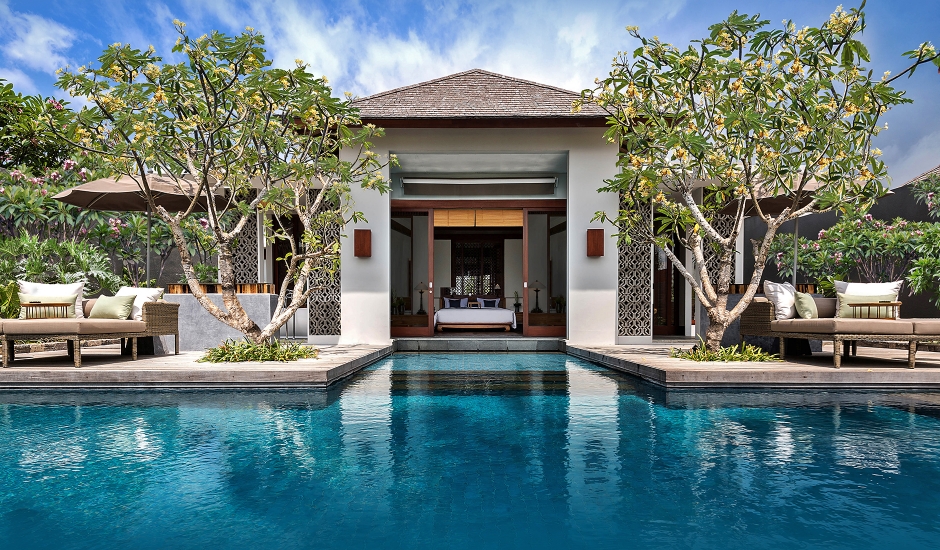 Situated by the palm-fringed Sire Beach, on Lombok's northwest shore, with stunning views of the Gili Islands, this small resort of 46 Suites, 6 Garden View Villas, 7 Beach View villas and 1 Beach House will lure guests who crave an experience of an exotic island, surrounded by luxury. Promising modern luxury and timeless style, The Legian Sire will offer a range of attractions, including Sire Beach Golf Club, wellness facilities, as well as easy access to shopping and dining around Tanjung, an authentic market village.
An uber-luxury offshoot of the Legian, the Club by The Legian Sire will offer a highly personalized butler service and exclusivity.
Website: The Legian Sire. Opening: March 2020. Photos © LHM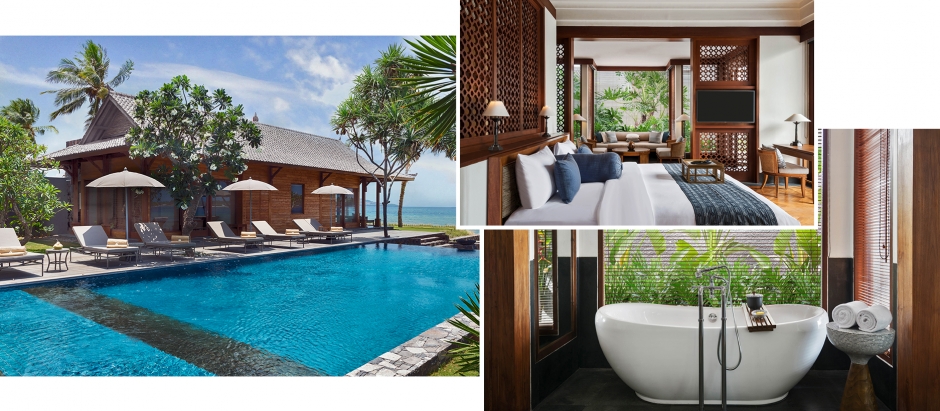 ---
81Raffles Udaipur, India
You may also like

---
A Modern Palace
We have great memories from the trip to Rajasthan, and Udaipur in particular. Its reputation as one of the most romantic cities in India is well deserved!
Embracing the allure of this historic city, The Raffles Udaipur is being planned to open on a private island in the middle of one of the five prominent lakes of Udaipur, Udai Sagar. With a palatial design reflecting the heritage of the Mughal Empire, the hotel will offer 101 lake-facing rooms with private pools and will feature a large Raffles Spa, a swimming pool, a rooftop restaurant, as well as the Raffles classics, such as the Long Bar, and Writers Bar.
The Raffles Udaipur will be the first Raffles in India, and it is likely to become one of the most prestigious hotels in the country.
Website: Raffles. Opening: Winter 2020. Image © Raffles Hotels & Resorts
---
82Ace Hotel, Kyoto, Japan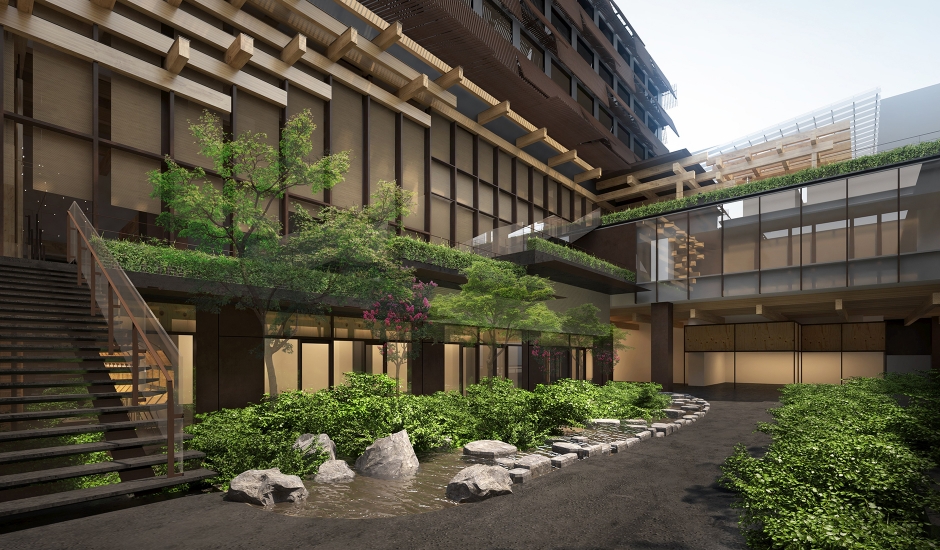 "Every detail and material was thought through to connect the building, land, and history together. Ace Hotel is changing the definition of the hotel by connecting the surrounding area with the hotel, and the community with the guests." — Kengo Kuma
This is the second time we mention on this list Kengo Kuma, the architect behind Tokyo's 2020 Olympic stadium (who also designed The Opposite House in Beijing).
This time his creative vision is reimagining the historic ShinPuhKan building in Central Kyoto, with the aim of creating a 213-room hotel for The Ace group. Partnering on the project is Los Angeles based interior firm Commune, and the project is shaping up to result in a great combination of American and Japanese design.
Website: Ace Hotel Kyoto. Opening: Spring 2020. Image © Ace Kyoto
---
83W Melbourne, Australia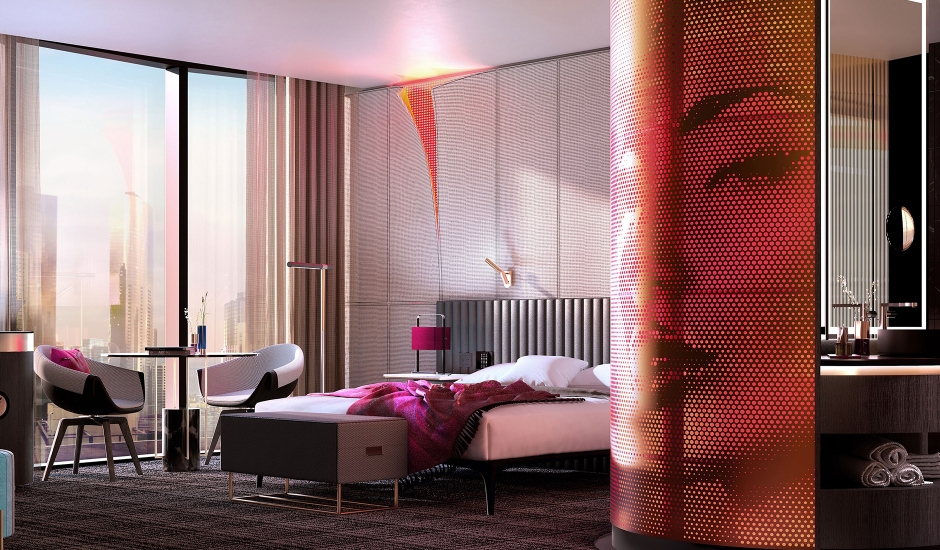 The W Hotels from Marriott is on a roll this year, with several new hotels being launched in various spots on the planed. The Melbourne hotel is the second W in Australia we list on this list (see also #66). Launching with 294 spacious guestrooms, in which 40 are suites, the hotel will also offer three restaurants, an underground bar, an indoor heated swimming pool, as well as a large conference and meeting space. The most luxurious guest accommodation will be the Extreme Wow Suite, named with the usual W panache.
Website: W Melbourne. Opening: June 2020. Image © Marriott International
---
84Azerai Ke Ga Bay, Vietnam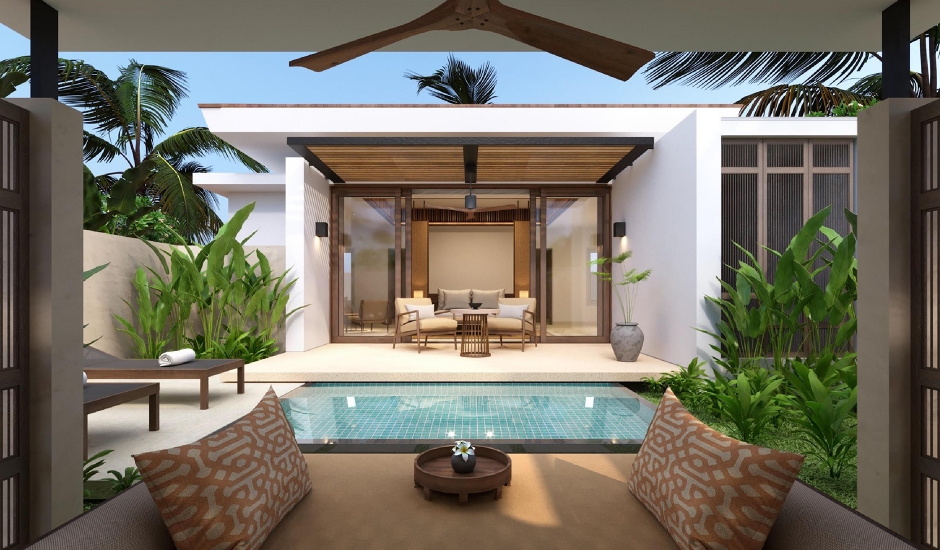 Created by the hotelier Adrian Zecha (of the Aman Resorts fame), this new brand is making the waves in the industry, and their newest opening (only third one for Azerai, in fact), the Ke Ga Bay, is likely to move the name up the ranks further still. This luxurious, secluded oceanfront retreat will face a vast stretch of white-sand beach in southeastern Vietnam. With only 55 guest rooms and 3 villas, the Azerai the Ke Ga Bay is going to be the first beach resort for this new hotel company. It is set to follow the luxury design—embracing contemporary aesthetic defined by elegant, almost minimalistic design—and service the brand is already getting recognition for.
Website: Azerai Ke Ga Bay. Opening: April 2020. Images © Azerai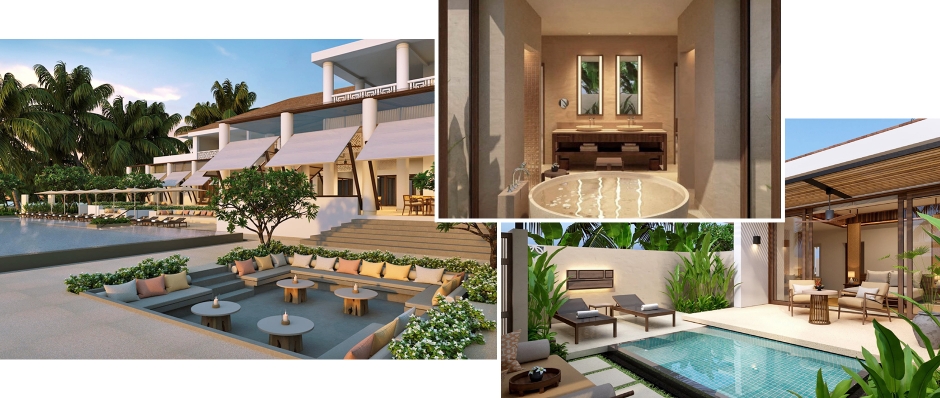 ---
85Kwessi Dunes, Namibia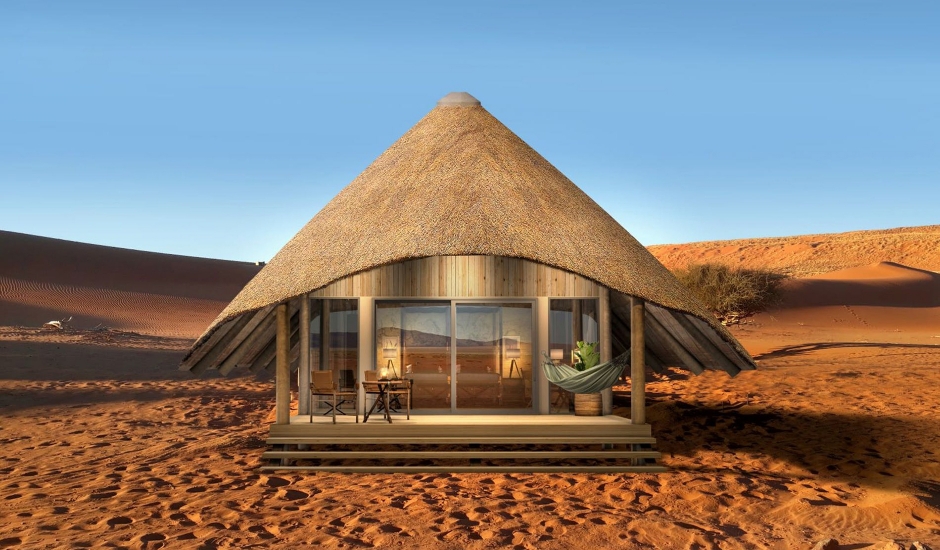 You may also like

---
Sossusvlei & Deadvlei, Namibia
We love the luxury lodges and camps of Namibia and have stayed at some also in the NamibRand Nature Reserve, a place as surreal as it is beautiful. The deserts of Namibia are some of the oldest on the planet, and NamibRand's rolling desert plains, the iconic red dunes and the backdrop of craggy mountains do look as if time stood still here.
Kwessi Dunes is located deep in the vast desert wilderness of the reserve. The air-conditioned chalets of the lodge—only 10 of them—will be made out of canvas stretched on wooden frames, with thatched roofs and a separate 'stargazer' room, completely open to the sky. Activities in the area include quad biking, scenic drives and walks, hot air ballooning, helicopter flights, and day trips to Sossusvlei.
Read: What are the best places in Africa to sleep under the stars?
Website: Kwessi Dunes. Opening: March 2020. Image © Natural Selection Safari
---
86Urban Cowboy Lodge, Catskills, United States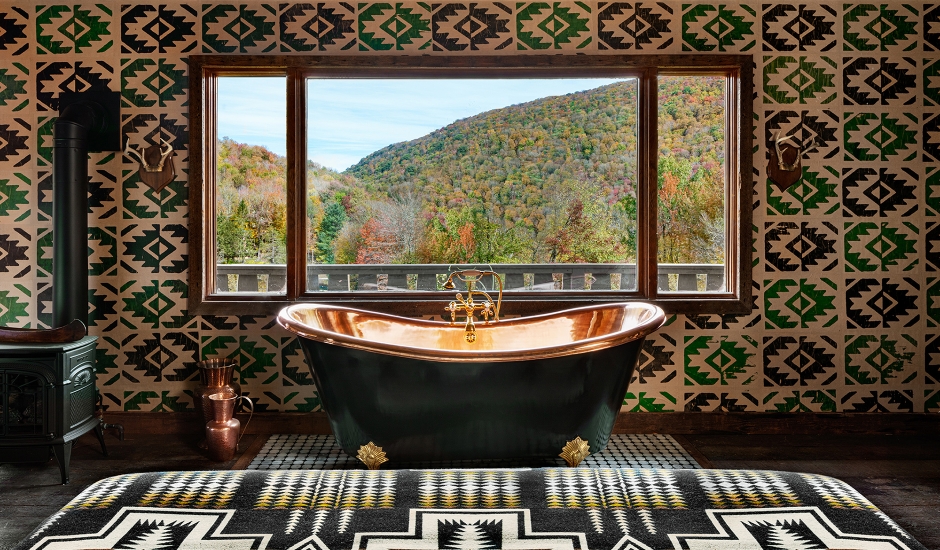 "Urban Cowboy has always been an oasis for creatives, dreamers and romantics who don't just want a place to sleep but an authentic experience. We hope to make an inspiring respite in the woods for all of those looking to […] reignite a love affair with nature itself." —Lyon Porter, Founder Of Urban Cowboy
Urban Cowboy started out in 2014 as a hip Brooklyn sleep and an alternative to the frenzied pace of Manhattan. It was soon followed by a second opening in Nashville, and now, a few years later, designer Lyon Porter and his partner Jersey Banks have partnered with Phil Hospod to come up with a new idea—of launching a 68-acre escape-from-the-city in the Catskill Mountains.
With a design calling to mind alpine inns and bold interiors referencing the Native American heritage of the area, the 28-room resort promises glamping chic worthy of the trendsetting NYC.
Website: Urban Cowboy Catskills. Opening: January 2020. Photo © Urban Cowboy
---
87The Dubai EDITION, Dubai, UAE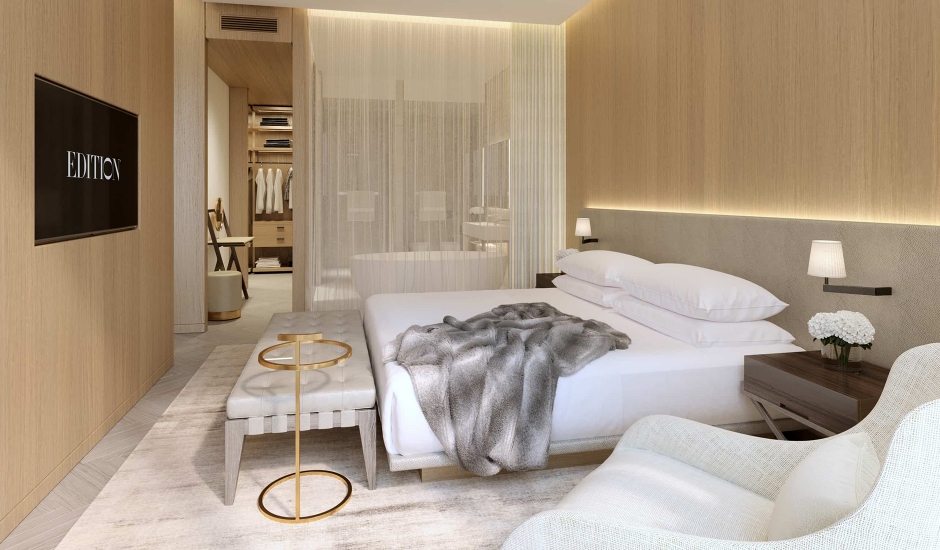 Not the first time we mention EDITION on our list, but their Dubai opening is one of the most important ones this year. It signifies the confidence of this relatively young hotel brand—after all, Dubai is one of the most competitive travel destinations in the Middle East. The hotel will launch in downtown Dubai, near the famous Dubai Mall, with 210 rooms and suites, as well as 7 restaurants, swimming pools, spa, and fitness center.
Website: The Dubai EDITION. Opening: Q3, 2020. Images © Marriott International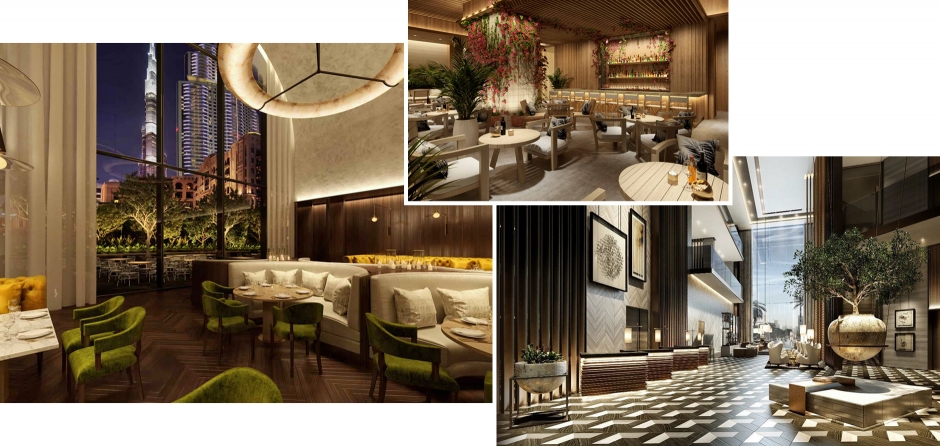 ---
88Royal Gorongosa, Mozambique
"Gorongosa has an incredible story and it has been a privilege to be involved in such a pioneering conservation project. I can't wait for our guests to experience it"
– Liz Biden, CEO, The Royal Portfolio
We have no images for the Gorongosa yet, but it will be the first property outside of South Africa for The Royal Portfolio, the company behind the Royal Malewane in Kruger National Park and The Silo in Cape Town (which landed in our Top 70 Luxury Hotel Openings of 2017 list)—so we feel pretty confident that this will be a pretty special opening.
With only eight tents, including a two-bedroom family tent, Royal Gorongosa will be designed as an exclusive, luxurious tented camp. Each guest accommodation will be uniquely decorated with expensive fabrics and Tali wood and will offer 86 square meters of roaming space, plus an outdoor deck with a private plunge pool and a gazebo.
Website: Royal Gorongosa. Opening: December 2020.
---
89The Residence Douz, Tunisia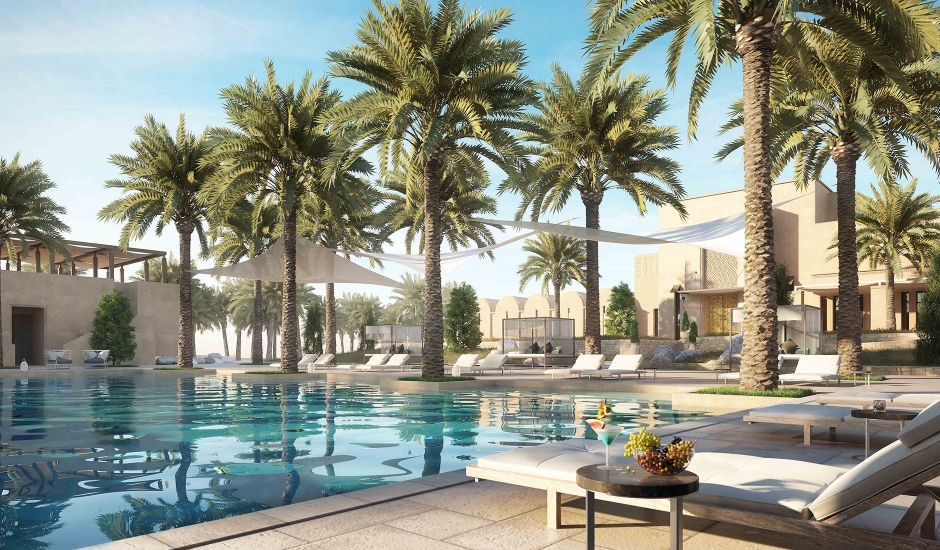 The Residence Douz is the second hotel by Cenizaro in Tunesia (the first one being The Residence Tunis), with two more hotels planned in the next three years. Set on 14 hectares of rolling sand dunes, and surrounded by palm trees, Residence Douz will be a desert resort of only 50 villas, designed to reference local architectural vernacular. Patterned Tozeur bricks, handwoven carpets under the four-poster beds, outdoor canvas canopies, and glowing lanterns will all work together to create the sense of desert romance, while the swimming pool will refresh from the heat of the African sun.
Website: The Residence Douz. Opening: Late 2020. Image © Cenizaro
---
90El Fenn, Marrakech, Morocco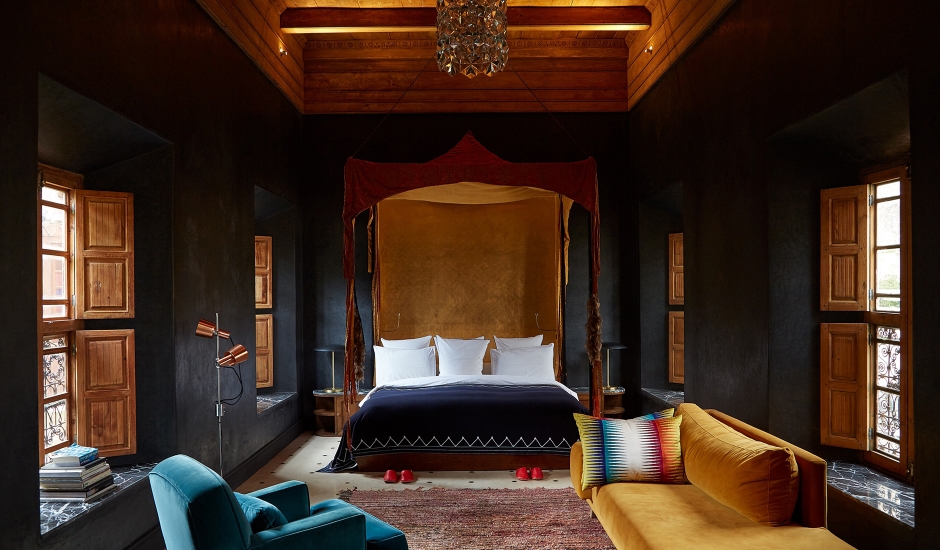 "We might be the masters of reinvention but even we're excited by what's planned next for El Fenn."
— El Fenn Magazine (Spring-Summer 2019)
We love this art-filled boutique luxury retreat for its combination of boho style with European creature comforts and opulent glamour. But our review of the El Fenn will soon have to be updated, as this Branson family-owned riad is entering a new era.
Following the acquisition of two neighboring properties, the riad is undergoing a significant expansion, adding 13 new rooms and suites and a new courtyard, with new colonnades, corridors, terraces, and walkways connecting all buildings. Other than the rooms, the new features will include a rooftop lap pool, a wine cellar, a yoga studio and a conservatory that will serve as a winter restaurant. Of course, the El Fenn aesthetic formula—of blending old buildings and traditional craft techniques with modern design—will be applied to the new parts as well.
Read our review of El Fenn here.
Website: El Fenn. Opening: Autumn 2020. Photo © El Fenn
---
91The Guardsman Buckingham Gate, Westminster, London, UK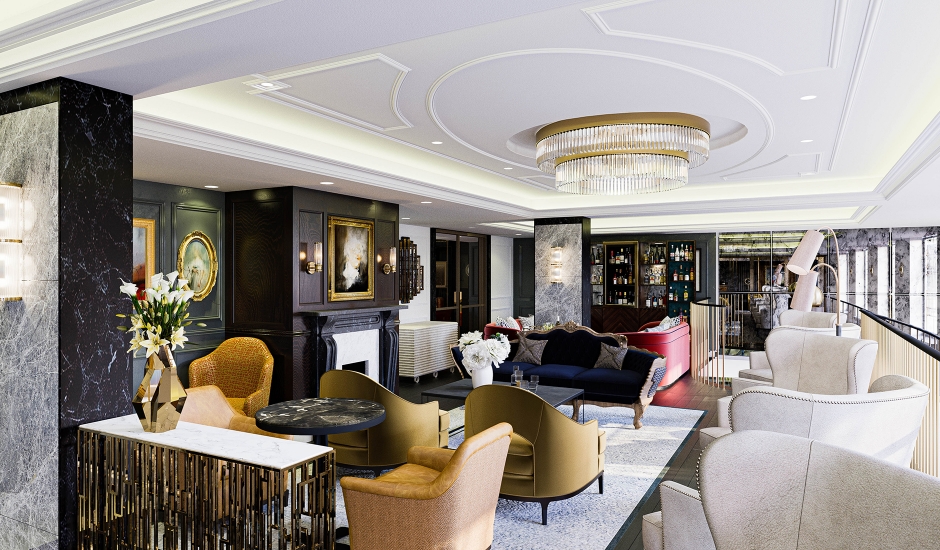 Opulent and luxurious and yet intimate and elegant, this new arrival to London's five-star hotel scene will be purpose-built in a prestigious address, only a short walk from Buckingham Palace. The Guardsman Buckingham Gate will have only 53 rooms, plus 5 residences and a penthouse with a wraparound terrace, available for longer stays. The Guardsman will come with an unmistakable British sense of style and high level of service, which will include personalized in advance menus and pantry.
Website: The Guardsman Buckingham Gate, Westminster. Opening: June 2020.
Photo © The Guardsman
---
92Nobu Hotel Chicago, Chicago, USA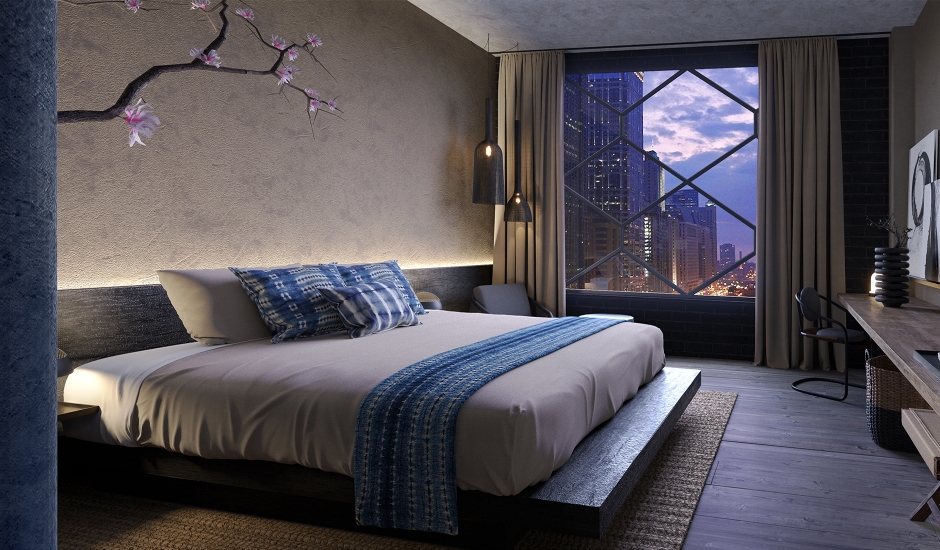 The Nobu Hotel Chicago will be located centrally in the vibrant West Loop neighborhood of Chicago and is sure to wow as much with the contemporary architecture of the building as it will with the interior design, blending old-world Japanese inspirations with western luxury. Other than the 115 rooms and suites, the hotel will feature a state-of-the-art fitness center, an indoor swimming pool, and The Rooftop at Nobu, a dining venue complete with an indoor lounge and outdoor terrace looking out onto Chicago's cityscape.
Website: Nobu Hotel Chicago. Opening: Spring 2020. Image © Nobu Hotels
---
93Hotel the Mitsui Kyoto, Kyoto, Japan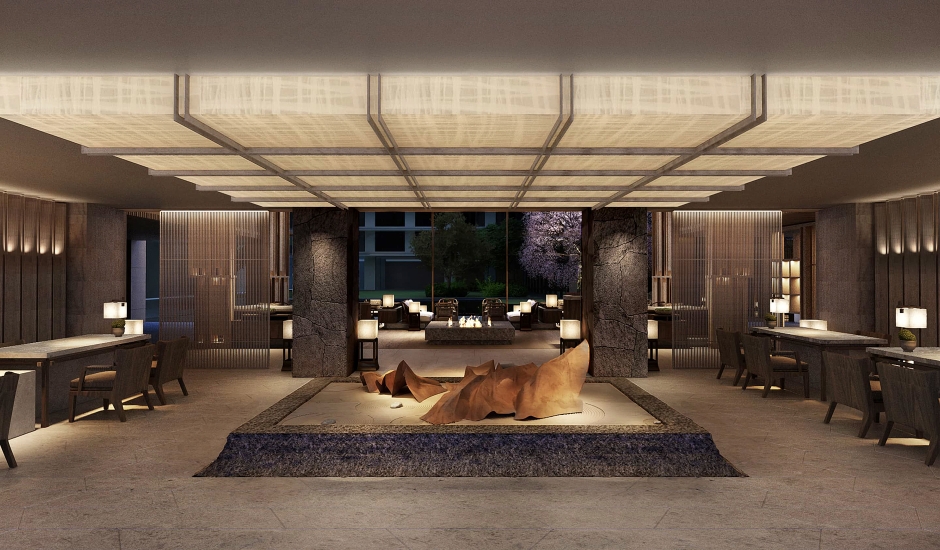 "Since ancient times, the Japanese people have shared an emotional connection with the unparalleled beauty of nature and the four seasons. The harmony between the natural environment, scenery, and history […] is expressed in our brand" —Manabu Kusu, General Manager
Staying with the vibes from Japan—the big destination of 2020, thanks to the Summer Olympics—we look at one of the most heritage-infused openings on this list. Established in Kyoto on a site where one of the most powerful merchant families in Japan (Mitsui family) lived for more than 250 years, Hotel the Mitsui will represent "the true essence of Japan" with a design both referencing the past of Japan's old capital and reflecting its sophisticated modernity.
The property will feature 161 guest rooms, modeled in a style that reimagines traditional Japanese interiors and incorporates historical elements, thanks to the interior designer Andre Fu (who also designed the Upper House Hong Kong), with museum-quality artwork on display as well. Guests will have access to an onsite thermal Onsen spa, restaurants, and 24hr room service.
Website: Hotel the Mitsui Kyoto. Opening: Summer 2020. Images © Mitsui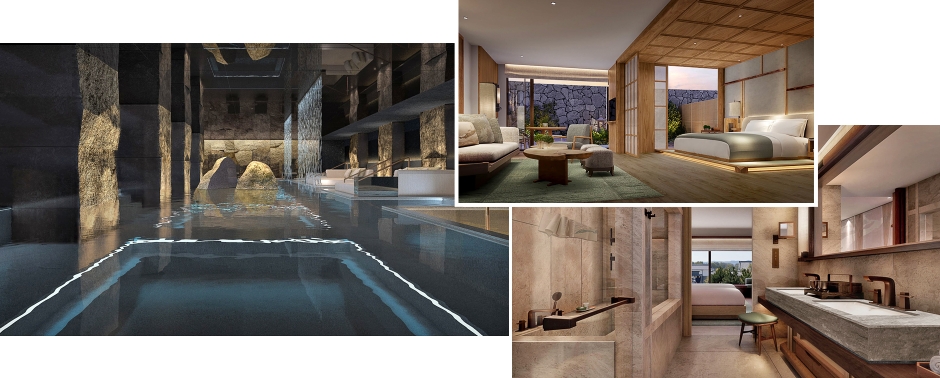 ---
94Caerula Mar, Bahamas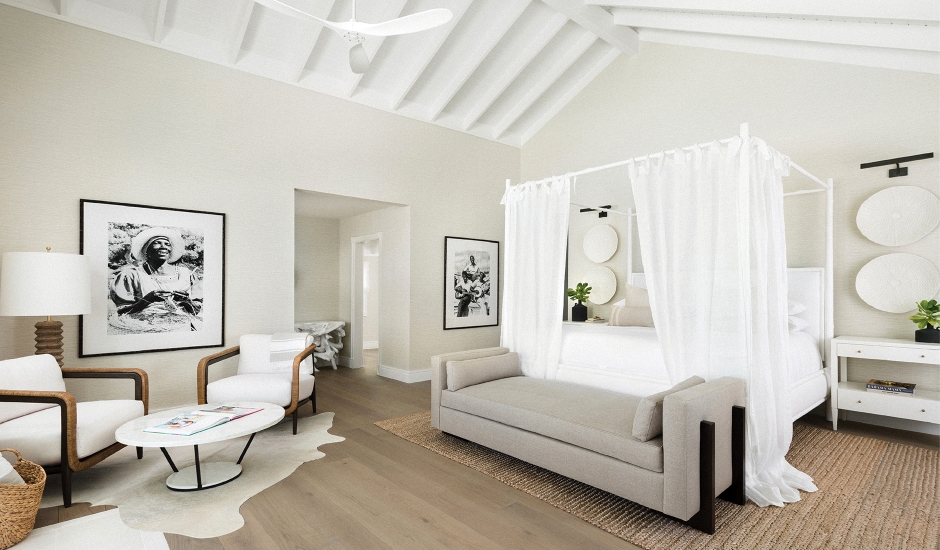 The surroundings of powdery sand and dense mangrove forests are the backdrop to Caerula Mar, with its breezy architecture, 18 suites and 6 private villas, and facilities that include three dining venues, and a spa. But this opening is quite different from all the other ones on this list, for its progress was watched by millions on Canadian TV—on a show called the Island of Bryan. The couple Bryan and Sarah Baeumler were the stars of the show (and they are the owners of the Caerula Mar). The show followed their journey of transforming an abandoned 1960s resort into a luxury property.
Website: Caerula Mar. Opening: February 2020. Image © Caerula Mar
---
95Capella Bangkok, Thailand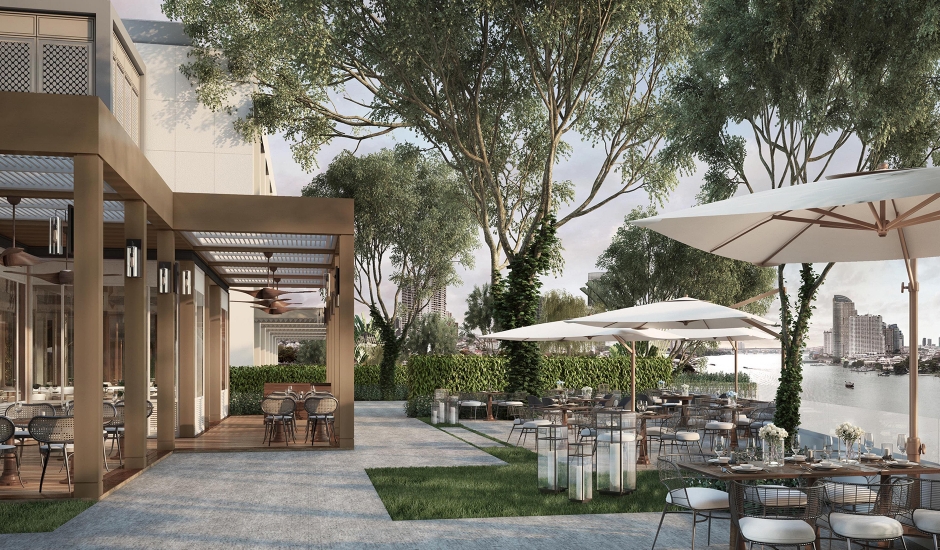 Surrounded by lush tropical greenery, Capella is set to be one of the most interesting developments in Bangkok, which is not an easy thing to achieve in the competitive hospitality scene of Thai capital. The amenities and facilities of this new hotel will make Capella an attractive destination hotel. They will offer waterfront river view villas, two gourmet restaurants (including one by Michelin-starred chef Mauro Colagreco), a massive Auriga Spa, and an outdoor pool.
Website: Capella Bangkok. Opening: March 2020. Images © Capella Hotel Group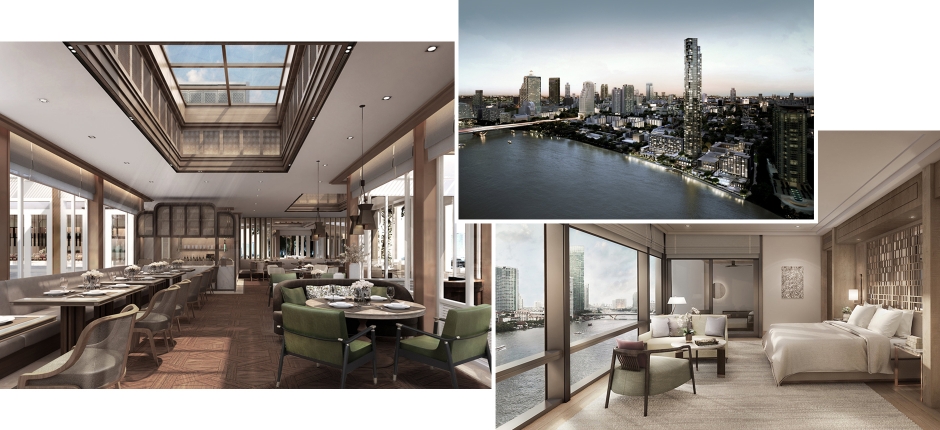 ---
96The Reykjavik EDITION, Iceland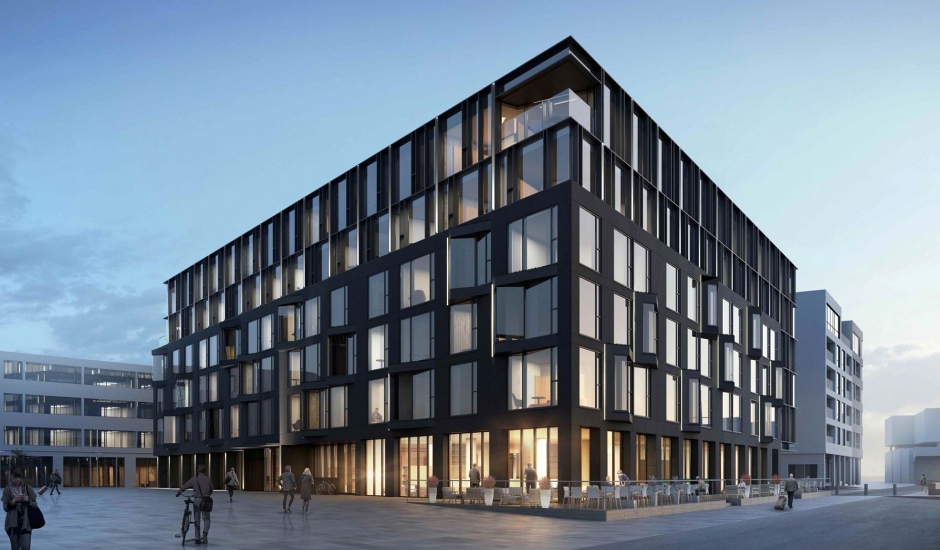 Tapping into the demand for a sophisticated mix of contemporary design, refined service, and lifestyle fashion, the EDITION has been on an aggressive global expansion ever since its debut a few short years ago. Only to mention the latest openings, in 2019 they launched The Times Square EDITION in New York and The West Hollywood EDITION in Los Angeles, and this year we list their openings in Tokyo and Dubai—and now also in Reykjavik.
Planned to open near the Harpa Concert Hall, the EDITION's Icelandic venture will be located in a vibrant part of the country's capital. The hotel will offer 250 rooms and suites as well as a nightlife space and ballroom. Its culinary offering will be served in three restaurants and a café. To create the hotel, the company has enlisted architects from T.arch and designers from Roman & Williams.
Website: The Reykjavik EDITION. Opening: Late 2020. Image © Marriott International
---
97Lux Phu Quoc Resort and Villas, Vietnam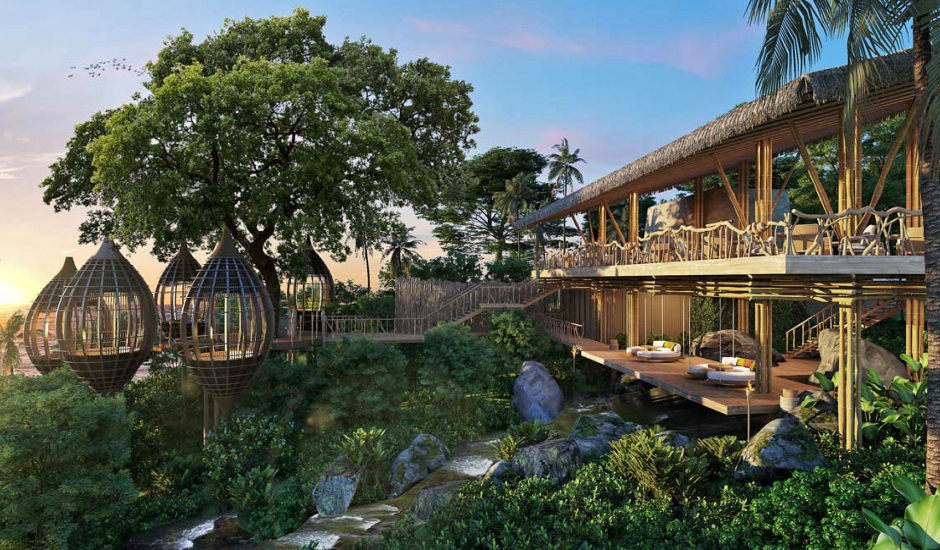 Only a few years after the launch of the Mauritius-based LUX* brand, with the vision of turning around a business with a focus on service dependent on creativity and passion, the company has gone from strength to strength and has been expanding into Asia. Their newest opening, in Vietnam, will enhance the portfolio of hotels and resorts that have gained a reputation for beautiful experiences and high-end luxury. The new hotel will open adjacent to a 3 km beach with 146 rooms, which include over-water villas and beach pavilions. Other facilities will include restaurants, cafés, spa, and water sports club.
Website: Lux Phu Quoc. Opening: December 2020. Images © LUX*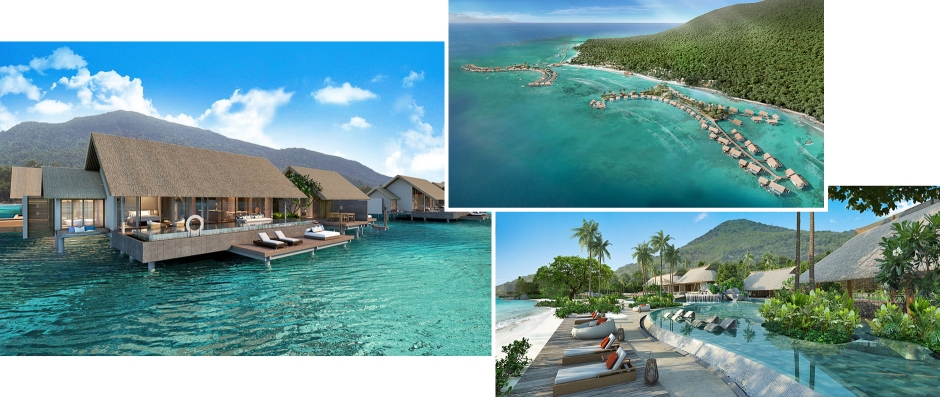 ---
98The TownHouse Mykonos, Mykonos, Greece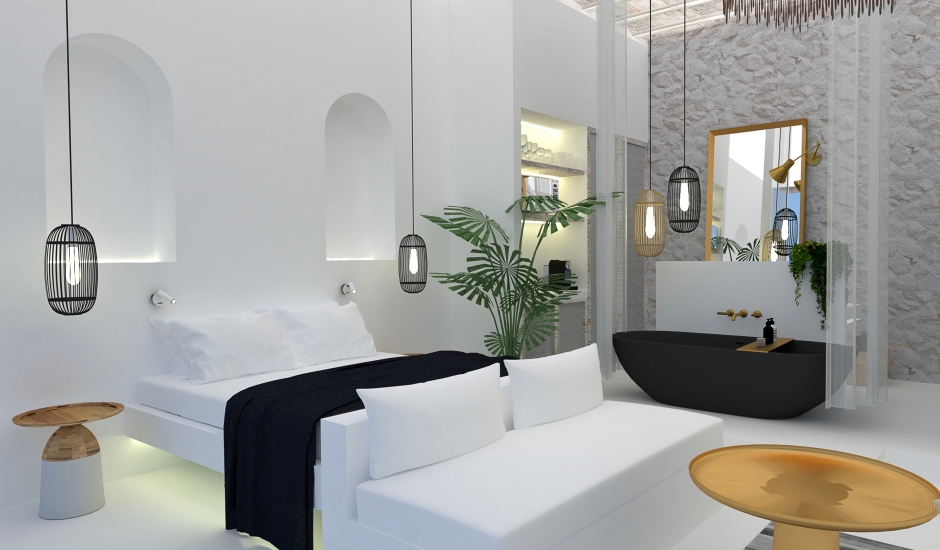 Mykonos continues to be irresistible, and while it is still most popular among crowds looking for a nonstop party atmosphere, the hotel scene has been growing increasingly more luxurious and sophisticated—and the TownHouse Mykonos taps into that trend. Located in an 18th-century manor house, this new hotel will open with 19 beautifully designed suites and bedrooms, a sunset terrace, and @54, the bar which just might become one of the most popular on the island. The hotel will offer a VIP concierge service, which will ensure an enhanced experience as it provides its guests with access to the best beach clubs, luxury yachts, and dining.
Website: The TownHouse Mykonos. Opening: Summer 2020.
Image © The TownHouse Mykonos
---
99Mandarin Oriental Ritz, Madrid, Spain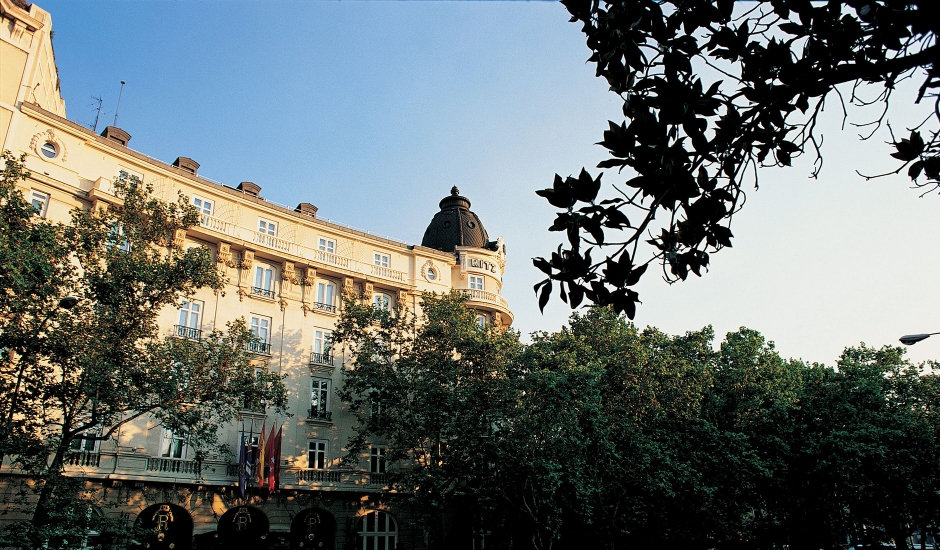 "For more than 100 years, The Ritz has been an icon in this vibrant city. This extensive restoration [will] ensure the property retains its legendary status as one of the world's great hotels. We intend to make the local community even more proud of this historic landmark."
— James Riley, Group CEO, Mandarin Oriental
A hundred years after its opening in 1910, the famous landmark hotel of Madrid, the Ritz, was more than a little antiquated—but the €99 million project to reinstate it to its former glory is set to do even more, surpassing its predecessor.
Reopening as the Mandarin Oriental Ritz, the luxurious makeover aims at upgrading the hotel's facilities and services while maintaining the unique Belle Époque-era character of the property. The massive renovation will retain, recreate, and enhance many architectural features of the building, such as bringing back the original glass roof above the main lounge or rising the roof to include new, luxurious attic rooms. New additions will also include the massive Royal Suite with views over the Prado museum, while the hotel's main restaurant is to be moved back to the terrace garden along with a new bar. There will also be a new fitness center, a subterranean pool and a new range of spa experiences.
Website: Hotel Ritz Madrid. Opening: 2020. Photo © Mandarin Oriental
---
100King's Mansion, Goa, India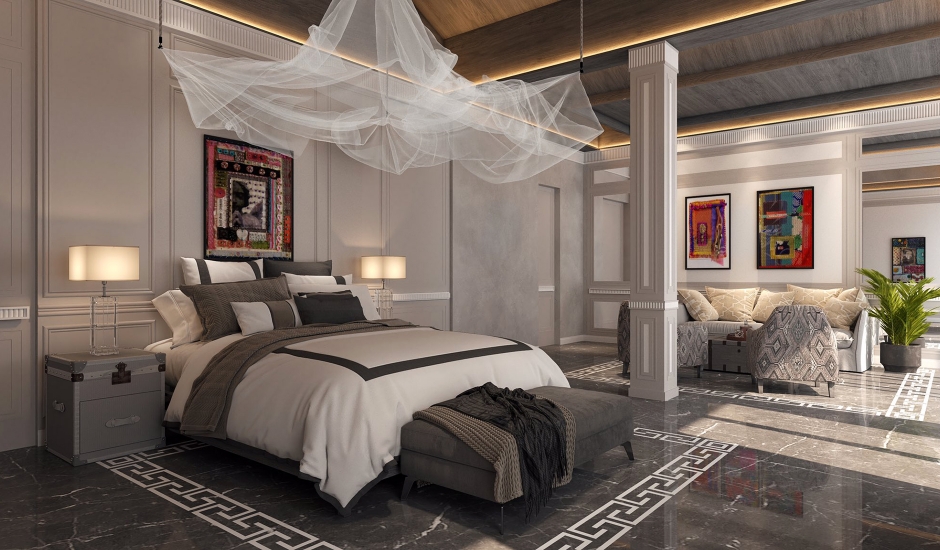 King's Mansion will be a new luxury spa destination resort, in Goa, India, promising "Ayurvedic integrative wellness". With only 17 suites, guests can expect an exclusive experience focused on mindfulness and authentic experiences. These will include a consultation by the Medical Ayurvedic Doctor, a personalized nutrition plan, and a range of spa and hydrotherapy treatments.
Nestled along the golden shores of the Arabian Sea, in northern Goa, rich in tropical forests, historic Portuguese architecture, avenues of Banyan Trees, and unpopulated sandy beaches, King's Mansion creates an escape with bright, spacious rooms with floor to ceiling windows, private lush gardens and ensuite bathrooms, clad in marble.
Website: Not yet available. Opening: December 2020. Images © King's Mansion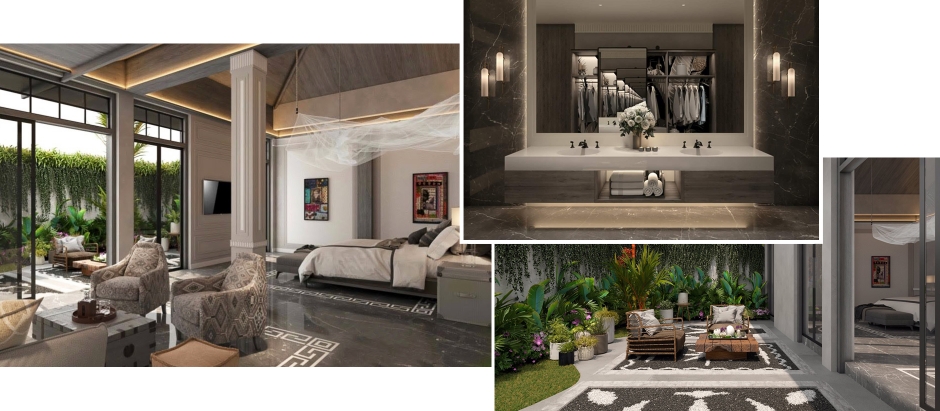 ---
> Shop in our TravelPlusStyle Amazon Store!
See must-have travel gear, vacation essentials, beach reads, and more!
---
//New Luxury Hotel Openings 2020: Runners-up
There is so much happening in the world of luxury hotels worldwide that we have a hard time to pick only a limited number for the Top New Luxury Hotel Openings 2020 list—so this year we capped it at 100. The below mentions are almost as numerous, and while these hotels didn't quite make it to the list proper, they are nevertheless well worth checking out. For example, have you heard about a hotel built above and around the world's largest single-floor mosaic dating back to the 4th century Roman Empire? The mosaic was only discovered thanks to the hotel's construction. Amazing!
New Luxury Hotel Openings 2020: Africa & Middle East
You may also like

---
Design in its DNA
SLS Dubai Hotel & Residences, Dubai, UAE. This will be one of the tallest hotels in the city when it opens in the third quarter of 2020 (image below right).
Waldorf Astoria Doha West Bay, Doha. Qatar.
Zulal Wellness Resort, Qatar. Late in the year.
Jumeirah Muscat Bay, Muscat, Oman. Early in 2020.
Nobu Hotel Tel Aviv, Israel. Late 2020 (image below, middle).
Arthaus Gemmayze, Beirut, Lebanon. February.
The St. Regis Cairo, Cairo, Egypt. June.
The Ritz-Carlton Rabat, Dar es Salam, Morocco.
Anantara Al Houara Tangier Resort, Morocco. Late 2020.
Fairmont Taghazout Bay Resort, Morocco.
Marasa Umubano, Kigali, Rwanda. Early in 2020 (image below left).
Pioneers Lodge, Victoria Falls, Zimbabwe. April.
Chisa Busanga Camp ("The Nest"), Zambia. Opening June.
Boschendal's Tented Camp, South Africa. Early in the year.
Singita Sabora Tented Camp, Tanzania. Relaunching in June, following refurbishment. The redesign will tone down the opulence, bringing interiors closer to the "Out of Africa" chic. Read our review of Singita Sabora.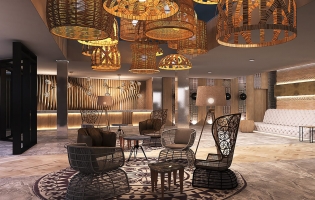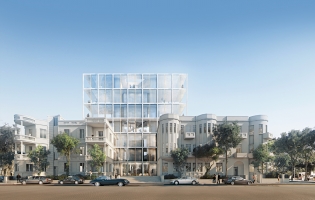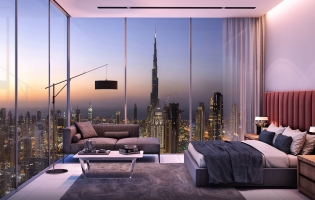 New Luxury Hotel Openings 2020: Asia & Pacific
Conrad Maldives Rangali Island, Maldives debuts redesigned villas.
Avani Fares Maldives Resort, Maldives. Opening late 2020.
Dusit Thani Laguna Singapore, Singapore. Soft opening Q2 2020.
Waldorf Astoria Jakarta, Jakarta, Indonesia.
Shangri-La's Bali Resort & Spa, The Maj Nusa Dua, Bali, Indonesia.
Intercontinental Yao Yai Resort, Thailand. (image below, middle).
Shangri-La Hotel Phnom Penh, Phnom Penh, Cambodia.
Angsana Siem Reap, Siem Riep, Cambodia. Opening Q1 2020.
The Chedi Mumbai, India.
Harding Boutique Hotel, Sri Lanka. Early in 2020 (image below, right).
Hoshinoya Okinawa, Japan. April.
Ritz-Carlton Nikko, Japan. Opening in May.
Park Hyatt Niseko Hanazono, Japan. Opening in January.
Fusion Suites Vung Tau, near Ho Chi Minh City, Vietnam (image below left).
Waldorf Astoria Sanya, Haitang Bay, China.
W Chengdu, China. March.
The Ritz-Carlton Nanjing, China. May.
Sequoia, Adelaide, Australia. Opening: September.
The Tasman, a Luxury Collection Hotel, Hobart, Australia. September.
Park Hyatt Auckland, New Zealand. Opening early 2020.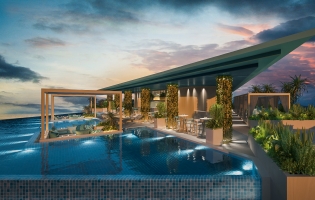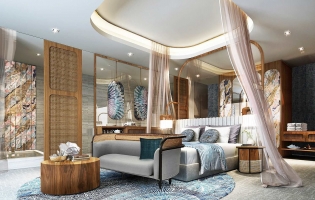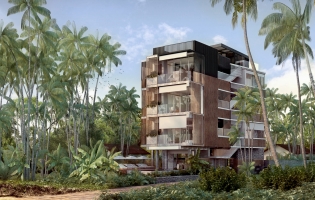 New Luxury Hotel Openings 2020: Americas
The Lake House on Canandaigua, New York, USA. Summer.
Four Seasons Hotel San Francisco at Embarcadero, San Francisco, USA.
Four Seasons Resort & Residences Napa Valley, California, USA.
Pendry West Hollywood, West Hollywood, California, USA. Summer.
White Elephant, Palm Beach, Florida, USA. Early in 2020.
Andaz Palm Springs, California, USA. Late 2020.
W Nashville, USA. Opening in November.
W Philadelphia, USA. Scheduled for June (image below, middle).
Thompson Washington D.C., USA.
The Newbury, Boston, USA. April.
Commodore Perry Estate, an Auberge Resort, Texas, USA.
The Joseph, a Luxury Collection Hotel, Nashville, USA. October.
Bishop's Lodge, Santa Fe, New Mexico. Reopening this year.
Park Hyatt Mexico City, Mexico.
Cayo Guillermo Resort Kempinski Cuba, Cuba. April (image below left).
SO/Sofitel Paseo del Prado La Habana, Cuba. Early 2020.
Ace Hotel Toronto, Canada. Early 2020.
1 Hotels Toronto, Canada. Summer.
W Toronto, Canada. Opening: Summer.
Rumors Alert! After years of speculation, Leonardo DiCaprio's much anticipated eco-friendly private island resort and wildlife reserve on the Blackadore Caye island in Belize may be opening its doors this year (image below, right).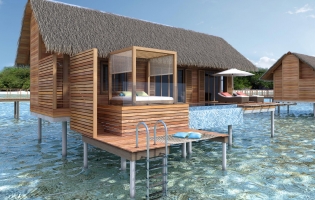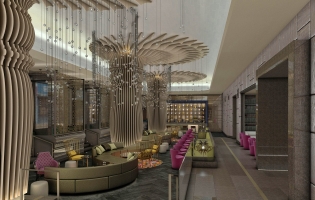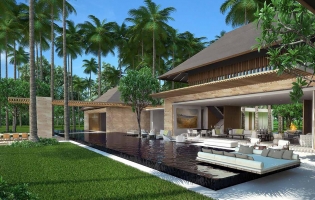 New Luxury Hotel Openings 2020: Europe
"Have you heard about a hotel built above and around the world's largest single-floor mosaic dating back to the 4th century Roman Empire? The mosaic was only discovered during the hotel's construction"
—The Top 100 Luxury Hotel Openings of 2020, Runners-up
Soho House Paris, France.
Hôtel du Palais Biarritz, France. Reopening after renovation, in June.
Nobu Hotel London Portman Square, London, UK. Opening in spring this year.
The Mayfair Townhouse, London, UK. Autumn.
The Pig at Harlyn Bay, Cornwall, UK. June.
Artist Residence Bristol, UK. February (image below left).
Hotel Brooklyn, Manchester, UK. February.
Anantara The Marker Dublin Hotel, Dublin, Ireland. Mid-2020.
The Pavilions Lisbon, Lisbon, Portugal.
Ikos Andalusia, Spain. May (image in the second row, right).
Panoptis-Escape, Elia, Mykonos, Greece. Set on top of the hill overlooking Elia Beach in Mykonos, Panoptis Escape offers comfort and luxury, reflected in imaginative architecture, a high level of service, and amenities that include private infinity pools and jacuzzis. Opening May 2020.
Soho Roc House, Mykonos, Greece. In May 2020 San Giorgio Mykonos will be joining the Soho House hotels (image in the second row, left).
Angsana Corfu, Corfu, Greece. Opening in Q2.
Ekies All Senses Resort, Greece. The latest redesign of this unique property introduced five renovated rooms and ten brand new suites, styled with a distinct ascetic vibe and focus on serenity, creating a pared-down approach to "barefoot luxury."
Iniala Malta, Malta. Opening: April (image in the second row, middle). The concept behind Iniala Harbour House is drawn from a design-centric hospitality experience, and the world-famous designers Autoban from Turkey and A-Cero from Spain were commissioned in helping to realize this vision. The 24 rooms and suites of the hotel are spread across four grand palazzos in the waterfront St. Barbara Bastion in Valletta. From the rooftop restaurant to the spa in the vaults, this boutique hotel is well set up to offer a chill oasis after a day's worth exploration of the beautiful capital of Malta.
The Rome EDITION, Rome, Italy.
Soho House Milan, Milan, Italy.
The Marriott brand is planning to open W Milan and W Rome in Italy.
Grand Universe Lucca, Autograph Collection, Italy. June. (image below, right).
Jumeirah Capri Palace, Capri, Italy. Reopens on 23 April after refurbishment.
Belmond Hotel Splendido, Portofino, Italy. Reopens after a redesign in June.
MGallery Pompei Habita 79, Italy. Spring 2020—the property has a rooftop bar-restaurant offering a unique view of the ancient ruins of Pompei.
Mandarin Oriental Palace, Luzern, Switzerland. End of the year.
Nobu Hotel Warsaw, Warsaw, Poland. Spring.
The House Hotel Tbilisi, Georgia. March.
The Museum Hotel Antakya, Turkey, in January. Built over an archaeological site spanning 23 centuries of history, including the world's largest single-floor mosaic dating back to the 4th century Roman Empire. (image below, middle).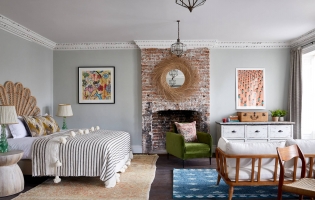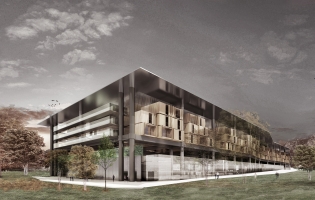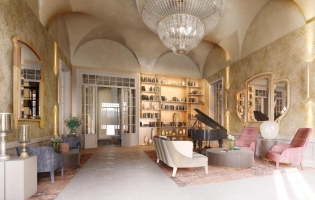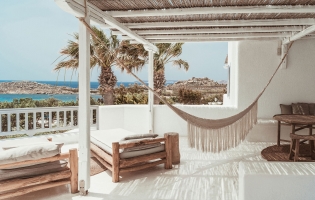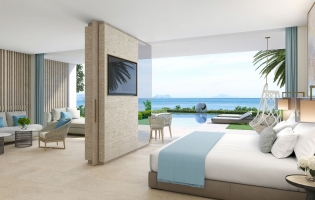 See our previous New Luxury Hotel Openings lists:
The Top 50 Luxury Hotel Openings of 2019
The Top 80 Luxury Hotel Openings of 2018
The Top 70 Luxury Hotel Openings of 2017
The Top 60 Luxury Hotel Openings of 2016
Africa's 20 hottest hotel openings of 2016
The 50 Hottest Luxury Hotel Openings of 2015