We had a great experience of a carefree holiday on the island, and while we were discovering the best chic hotels in Milos, we learned there is plenty of other sights to explore, too.
The first discovery was just how attractive this destination is when compared to the more popular Santorini or Mykonos. For starters, Milos is quieter (and cheaper) than its famous sisters. There are neither cruise ship crowds here nor partying stags and hens, and the atmosphere is more relaxed. But all the quintessentially Cycladic features are still here: good tavernas, great food, beautiful landscapes and locations — the famous white moonscape of Sarakiniko being the main draw — and charming coves with fishing boats.
And things are beginning to happen on the upscale hotel scene. The big resort chains may not have spotted the opportunity just yet, but when it comes to small boutique hotels, chic apartments, and luxury villas, it is no longer hard to find somewhere cool to stay. Read on and scroll to check our take on the best chic hotels in Milos.
1 Milos Breeze Boutique Hotel, Pollonia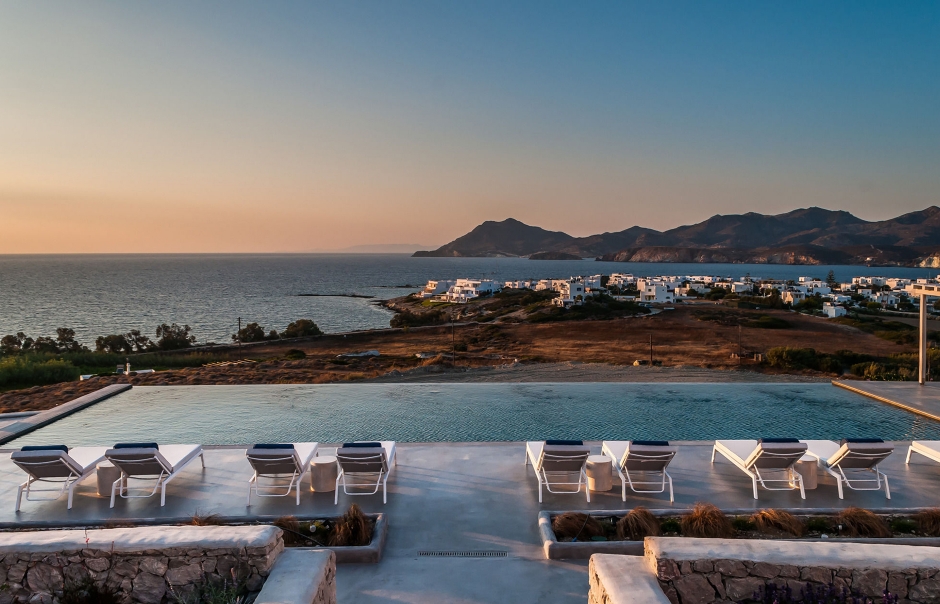 This small hotel of only 23 rooms drew our attention thanks to its lovely style of whitewashed walls and simple lines, complemented by blue-grey tones and natural wood furniture. This modern, chic approach reflects the laid-back atmosphere of Milos.
We love it for: The infinity pool offering beautiful views towards the sea.
What you need to know: The property is located on a hill overlooking Pollonia and the sea in the distance. The town center is a ten-minute walk with a public beach and a lot of dining options.
Photos  (including the leading shot at the top of the article) © Milos Breeze Boutique Hotel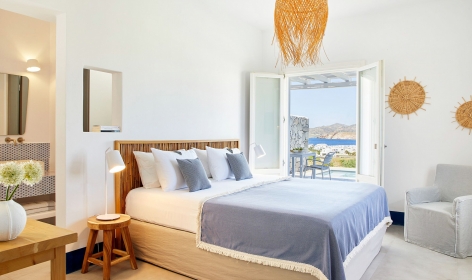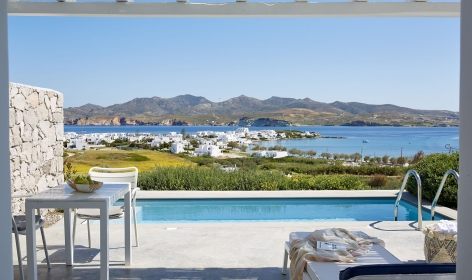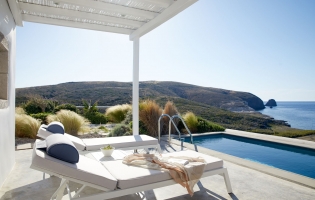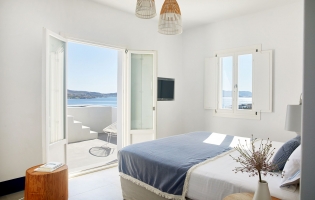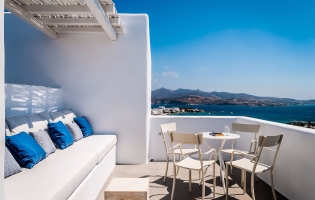 ---
2 Villa Del Mar, Pollonia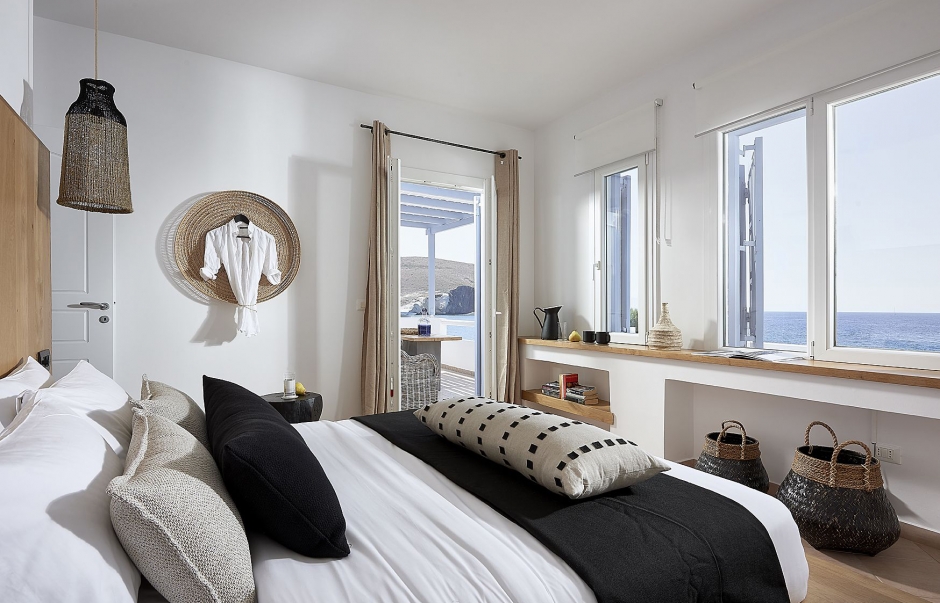 Villa Del Mar is a fabulous apartment designed in the very chic boho style that bears strong Cycladic themes. With two bedrooms, it is a great choice for couples or small families, accommodation up to 7 guests, and its one hundred and thirty square meters offer plenty of space to relax and rest. This is another house rather than a hotel, but it does come with housekeeping.
We love it for: The property is located in a tranquil part of Pollonia, with fabulous sea and sunset views.
Photos © Delmar Apartments & Suites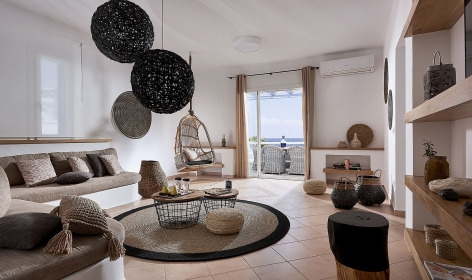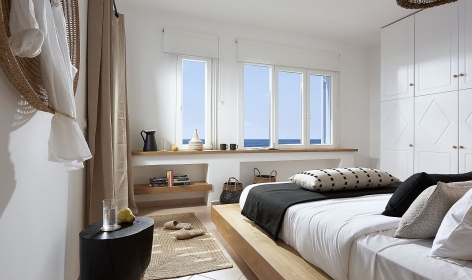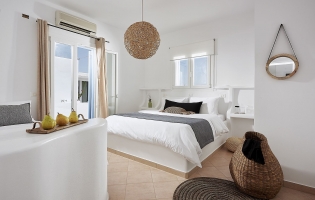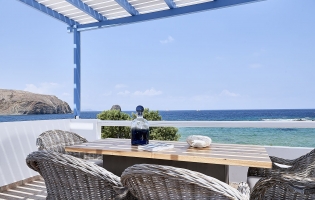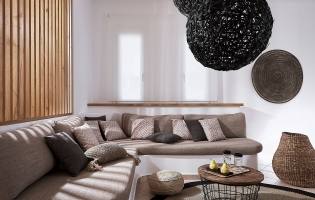 ---
>>> CLICK HERE TO SHOP OUR AMAZON STORE
---
3 Casa Litore (Suite), Pollonia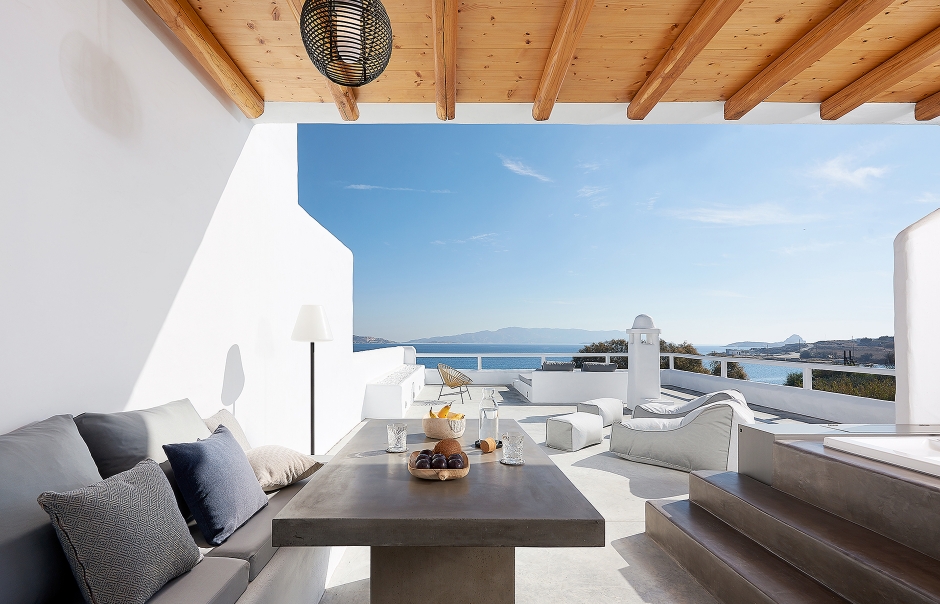 Located on the shore with its private beach, Casa Litore is composed of Suite and Villa (see Casa Litore Villa, #18 on our list), two distinct accommodation options under one roof. The Suite, on the upper floor, includes a large balcony with a private jacuzzi and sea view and we are particularly fond of its interiors, in which we detect Scandinavian minimalism influences.
We love it for: Private outdoor jacuzzi with the sunset view!
Photos © Casa Litore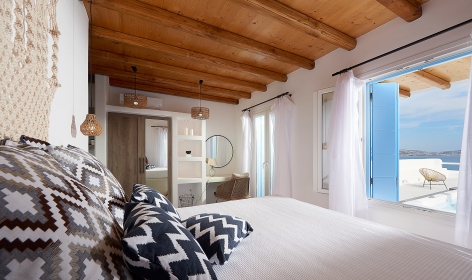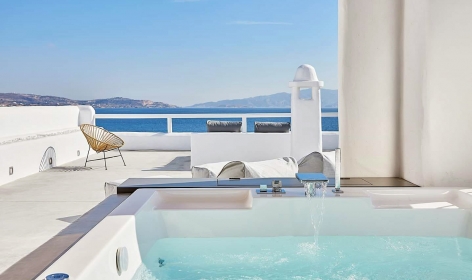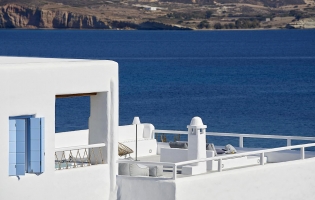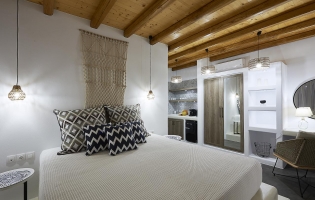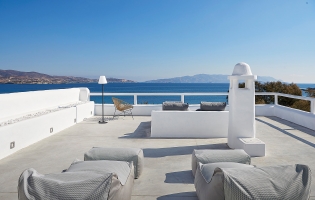 ---
4 Salt Suites & Executive Rooms, Pollonia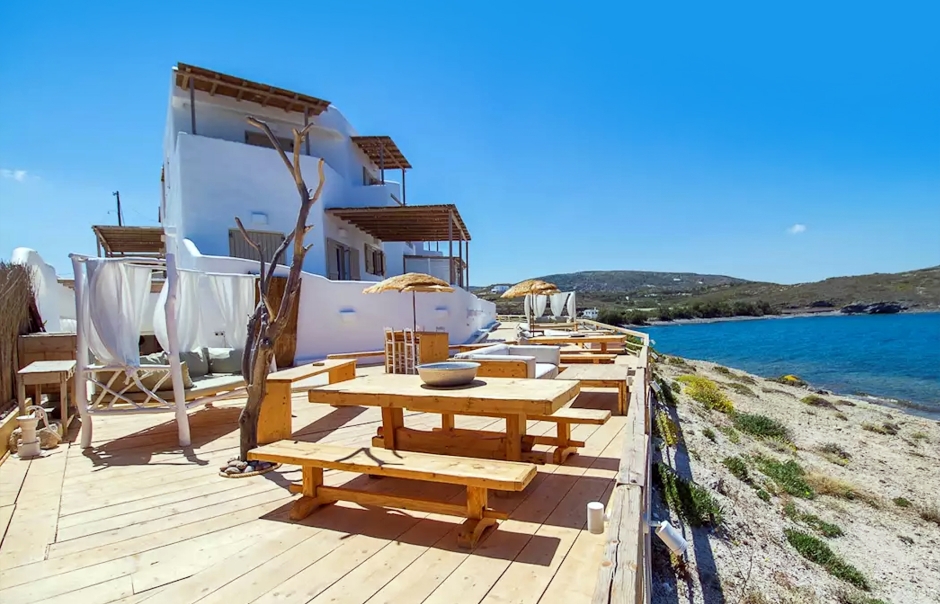 We loved our stay at the Salt Suites, which combines many benefits of a rented apartment with a chic boutique hotel. The interiors have a modern style that pays homage to the classic Cycladic style, in which soft corners, untreated wood, and a white-on-blue palette creates a feeling of serene relaxation. Located on the edge of Pollonia, right on the water, this lovely property of only ten rooms is a great choice for everyone seeking a tranquil stay.
We love it for: Sunsets! The hotel is perfectly placed for watching the sun dipping into the Mediterranean.
What you need to know: Salt Suites does not have its own restaurant, but they serve breakfast (either on the seafront terrace or on the private balcony), and there are a lot of dining options in Pollonia, within the walking distance.
Photos © Salt Suites & Executive Rooms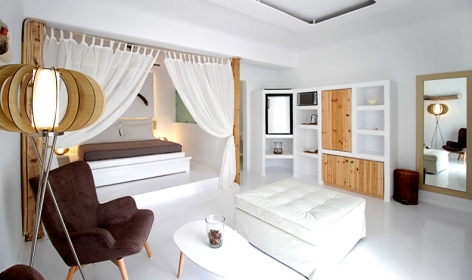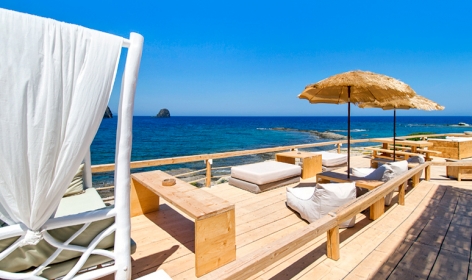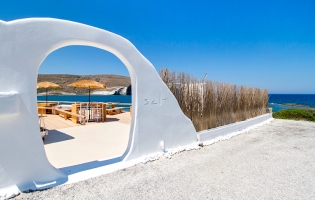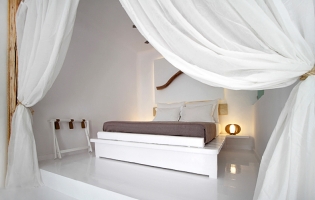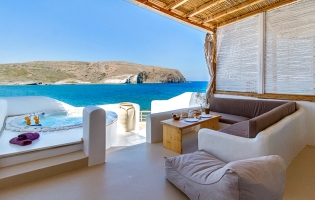 ---
5 Artemis Deluxe Rooms, Paliochori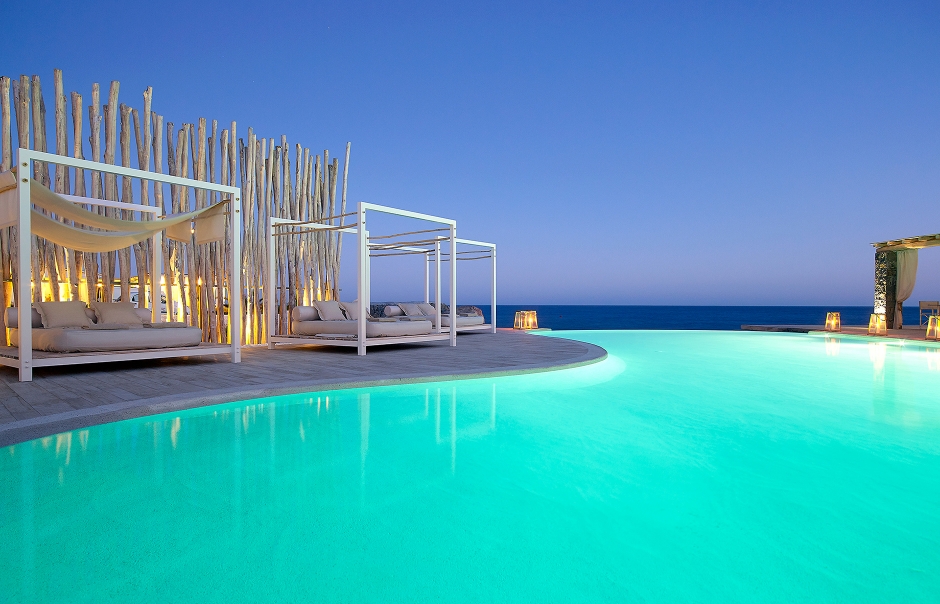 From gorgeous terraces with white fabrics flowing in the wind to bright interiors defined by Cycladic style influences, and from sumptuous breakfasts to refreshing summer cocktails by the pool, Artemis offers a great experience away from hustle and bustle of the island's busiest spots.
We love it for: The swimming pool with loungers and the restaurant area is very stylish — and you can descend from here directly to the beach.
What you need to know: The hotels is located at least a good 20-minute drive from some of the main things to see and do on the island. We hired a quad for the duration of the stay. It was inexpensive and allowed us to roam free and explore the island. Also, it was a lot of fun!
Photos © Artemis Deluxe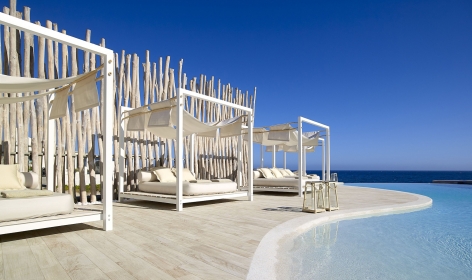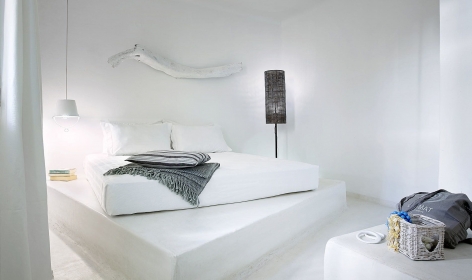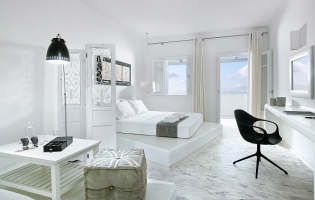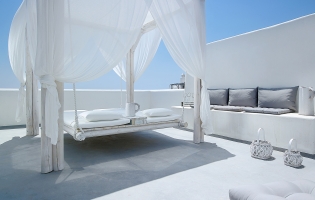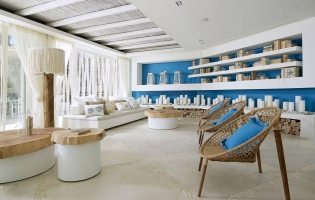 ---
6 Milos Cove, Komia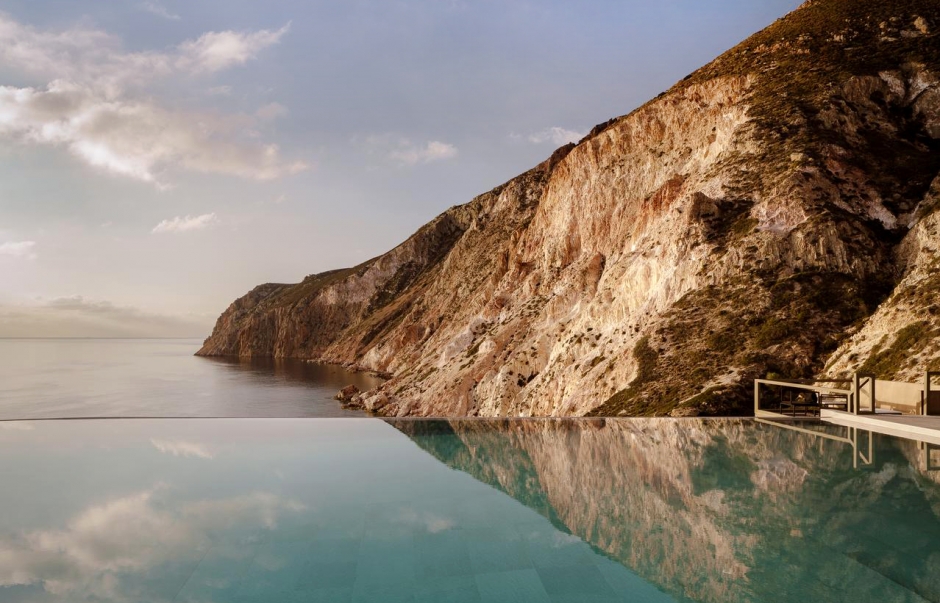 We love the sharp, modernist feel of Milos Cove, especially as it contrasts with the rugged rock of Milos and earthy colors of the sun-baked soil. The architectural abstraction renders itself into bright spaces and neutral decor and creates spaces for privacy and serenity.
With forty-two suites and villas (with private pools), this property is bigger than the other best chic hotels in Milos, and it features a large infinity pool, a Mediterranean restaurant, a beach bar, a fitness center, and the Obsidian Spa.
We love it for: Inspired architecture and sleek, minimalist interiors defined by elegant simplicity. Some rooms feature private plunge pools.
What you need to know: The hotel is located a short distance from Paliochori Beach, Tria Pigadia Beach and Agia Kiriaki Beach. The archaeological site of Phylakopi is also nearby.
Photos © Milos Cove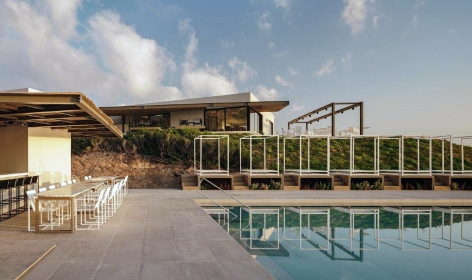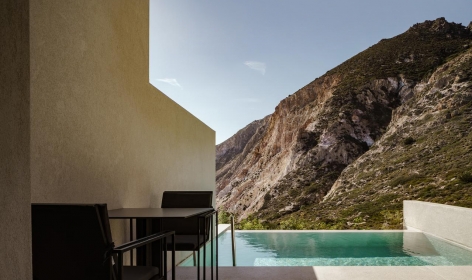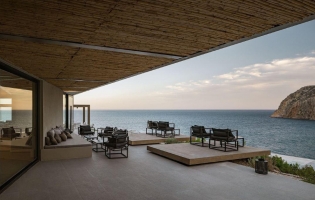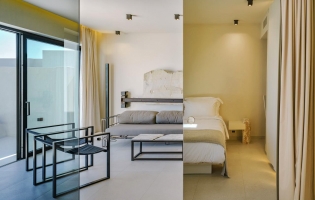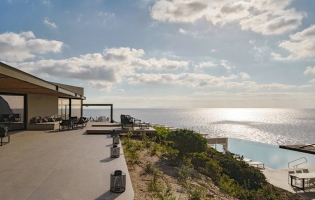 ---
7 Delmar Apartments & Suites, Pollonia
You may also like

---
A sense of space
Located in the heart of Pollonia, this elegant, family-friendly hotel offers a wide range of room options. There are studios, 1 and 2-bedroom apartments, as well as a 2-bedroom villa sleeping up to 7 (see above, Villa del Mar!)
All are well-appointed, with fully equipped kitchenettes, and include private terraces with garden or village views. They all have fresh, modern decor, inspired by Cycladic traditions. The white theme is broken only by beige bed runners and cushioned seating areas.
We love it for: Excellent location by the Pollonia Beach, with easy access to all the restaurants and shops of the village.
What you need to know: Street-facing rooms get the morning sun, but they are noisier than the ones overlook the sea.
Photos © Delmar Apartments & Suites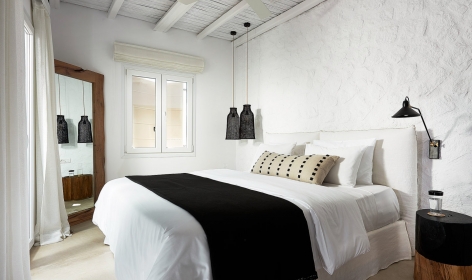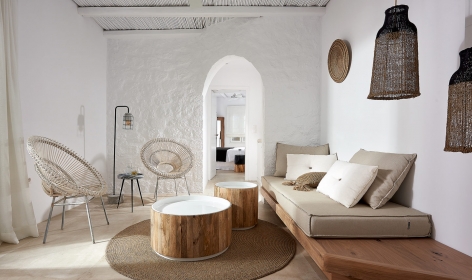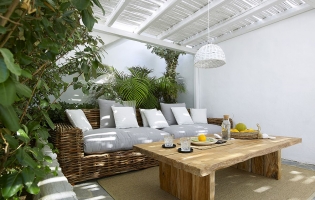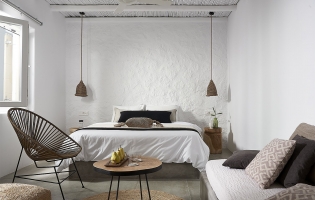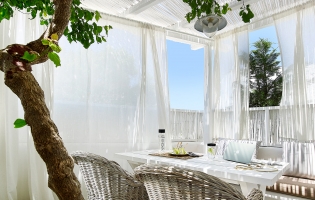 ---
8 Arco Solium Suites, Adamas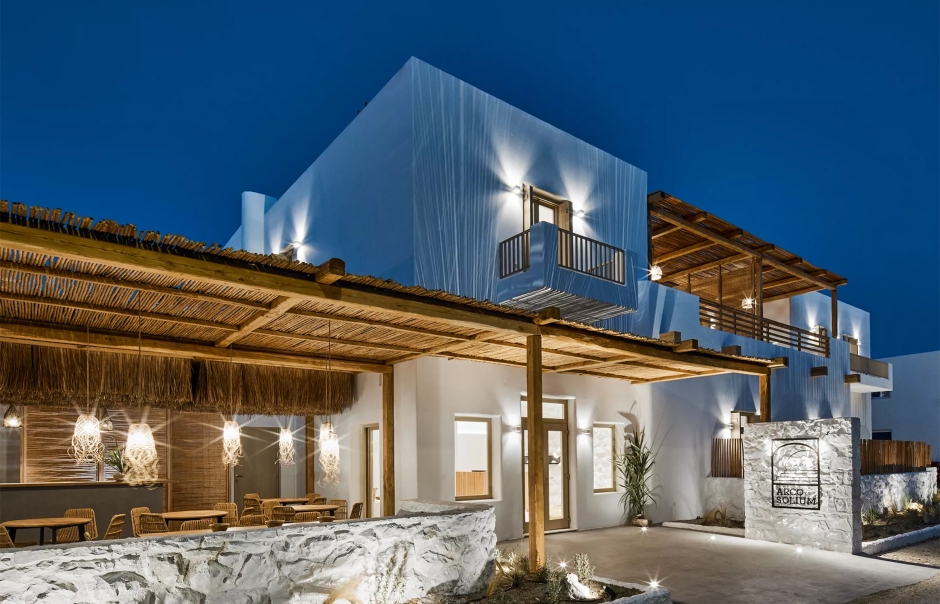 Located in Adamantas, near the main port of Milos this is one of the smartest-looking hotels on the island. Thanks to the balance of clean architectural lines with the warmth of the wooden furniture and bamboo ceilings the Arco Solium has a sophisticated but cozy vibe. Complementing the minimalist aesthetics, the spacious interiors are bathed in natural light, while the amenities include comfortable furnishings, lounge areas and modern, en-suite bathrooms with bathtubs.
We love it for: The perfect combination of earthy details and smart design
Photos © Arco Solium Suites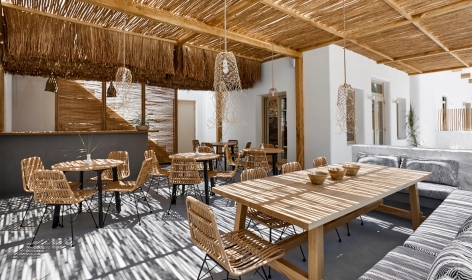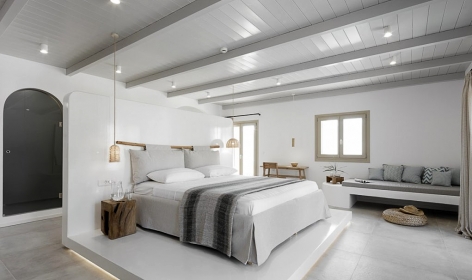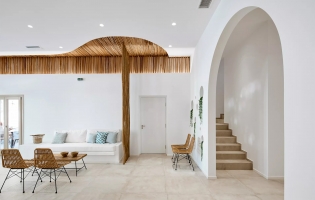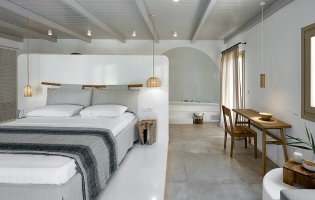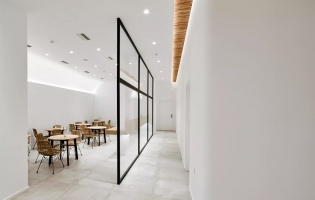 ---
9 Skinopi Lodge, near Adamas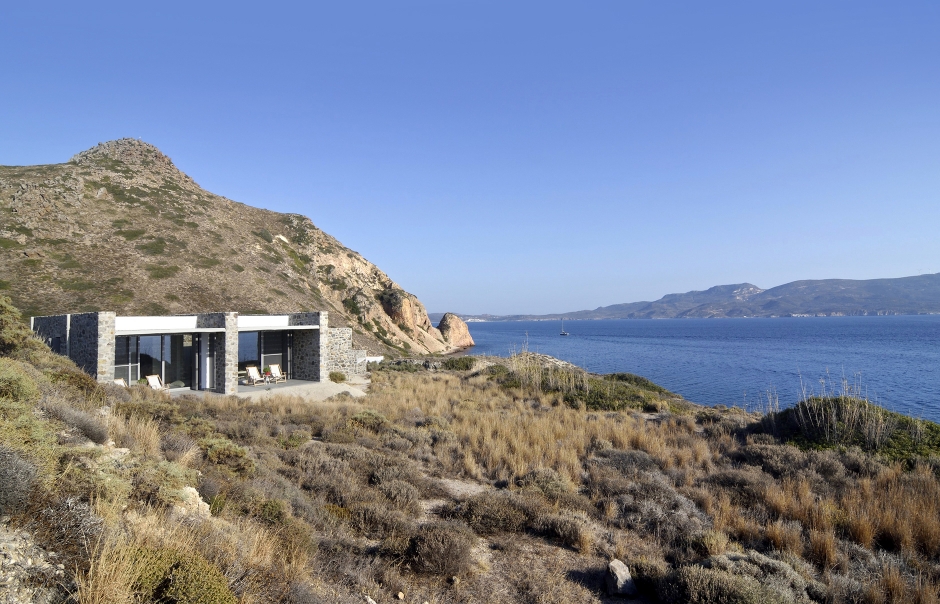 You may also like

---
Glamour and Luxury
Se on nine acres of sea-fronting private land and designed to both reflect Cycladic culture and to blend into the landscape, the simple and beautiful villas of Skinopi make for a secluded and tranquil stay.
The villas are made mostly of stone, bearing resemblance to the traditional fishermen cottages, but are thoroughly modern inside. Their whitewashed walls and cement floors create an airy mood and offer the front-row seat for the beautiful Mediterranean sunsets.
We love it for: Floor-to-ceiling glass windows inviting to gaze at the surrounding landscape.
Photos © Skinopi Lodge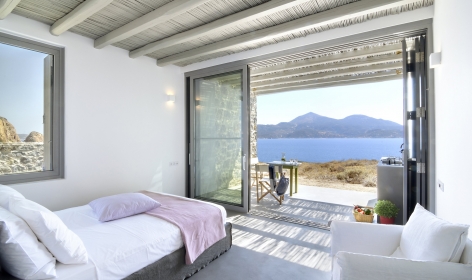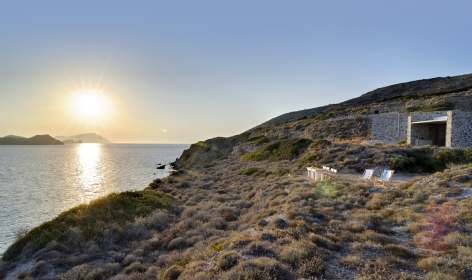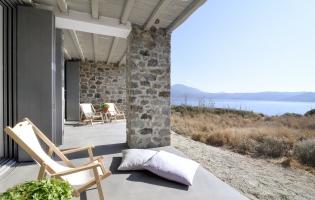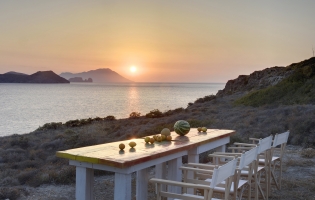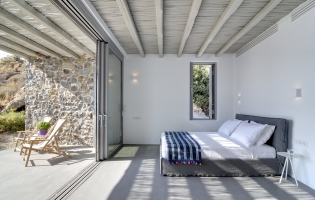 ---
10 Villa Vipera, Triovasálos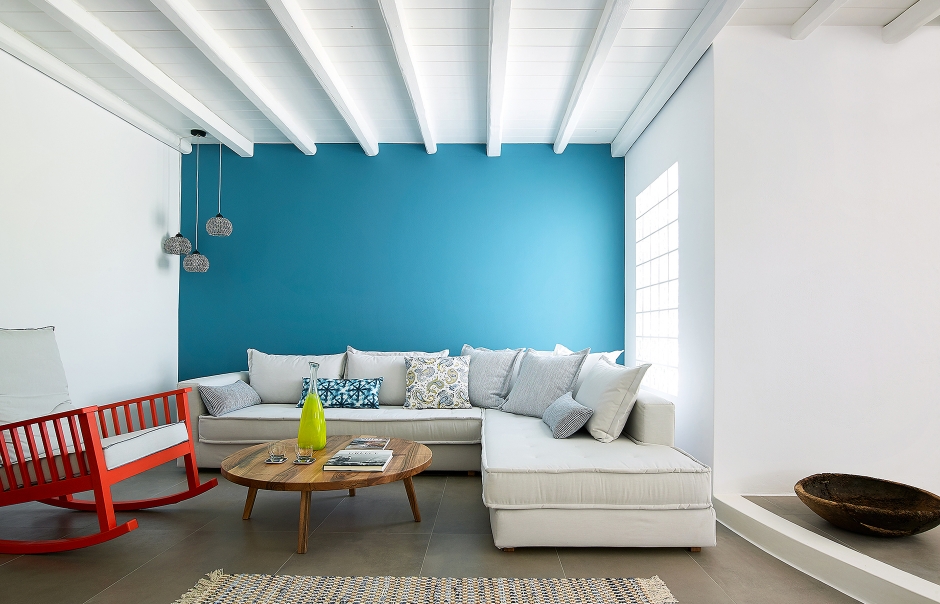 Villa Vipera has a great location to visit and re-visit the magnificent Sarakiniko, as the beach is only some two kilometers away. The villa is also close to the catacombs of Milos. Set on 190 square meters with king-sized beds, this three-bedroom villa offers plenty of space and all the comforts expected at a property of its class.
We love it for: Great location to combine relaxation and sightseeing.
Photos © Villa Vipera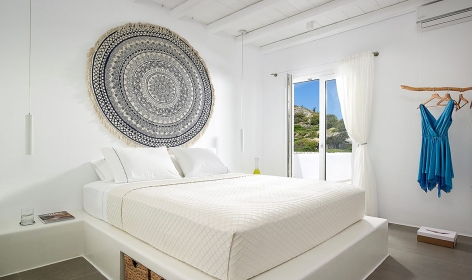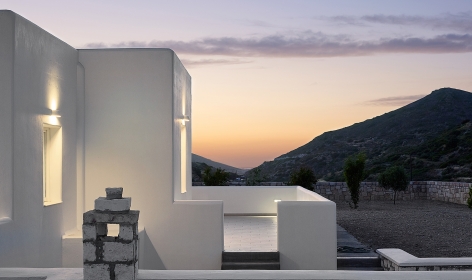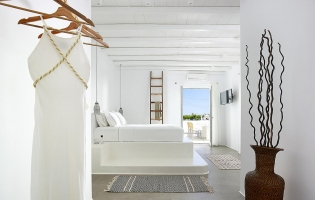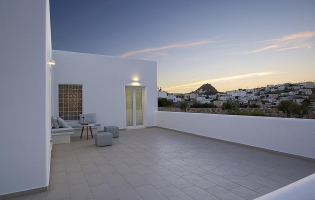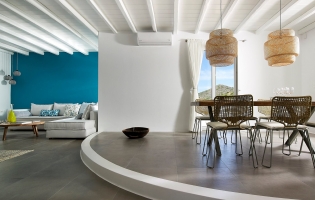 ---
11 Terra Mare Cavehouse, Agia Irini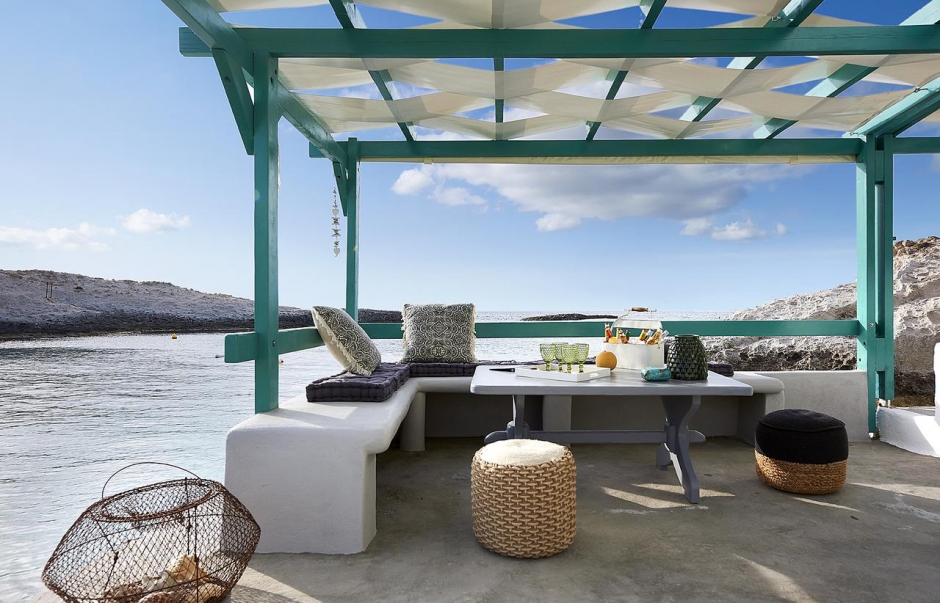 Who wouldn't want to live inside a luxurious cave house? Terra Mare used to be a boathouse of local fishermen, but after a careful conversion, it is now a holiday home designed for families and couples to spend a few days in a beautiful apartment only meters from the sea.
We love it for: Simple breakfast served on the water edge is a great idea to start a day!
Photos © Terra Mare Cavehouse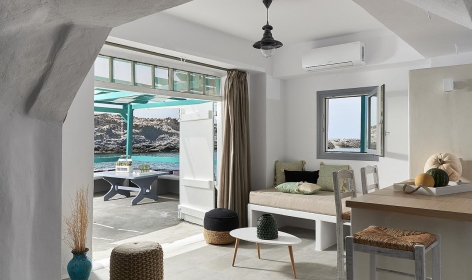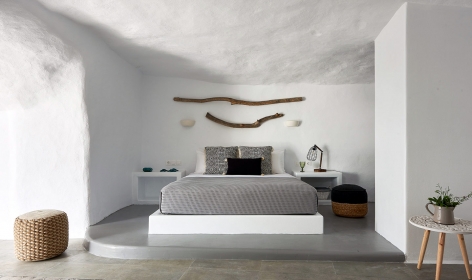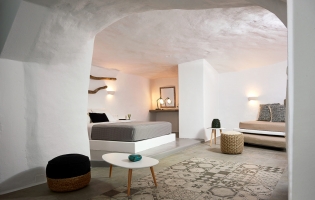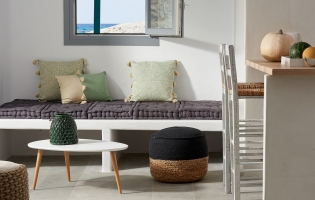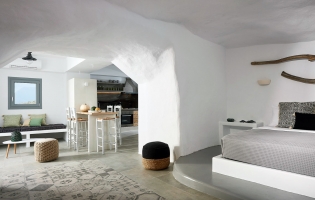 ---
12 Melian Boutique Hotel & Spa, Pollonia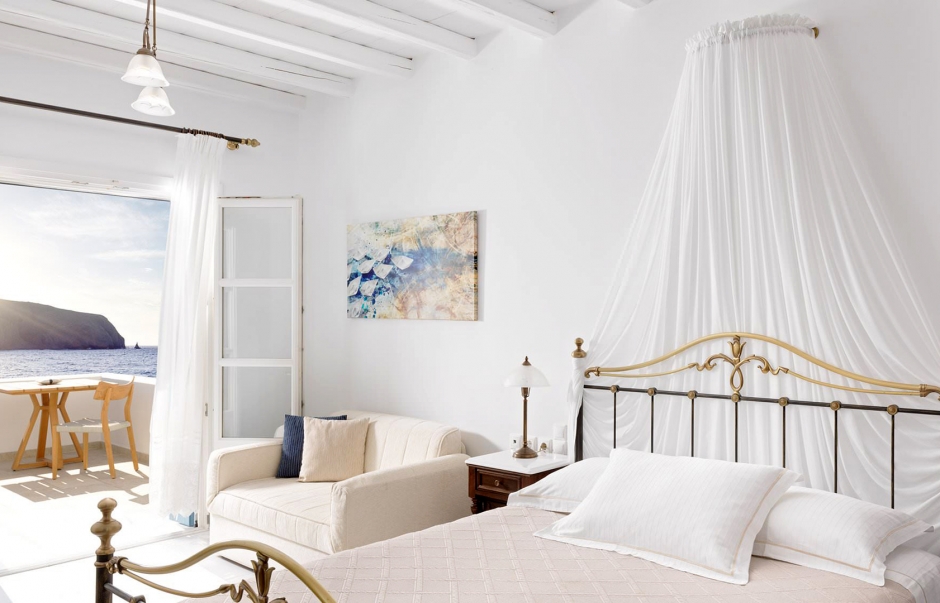 Melian, a chic boutique hotel only a few steps from the beach in Pollonia. The fifteen rooms and suites all come with whitewashed walls, cast iron beds, handmade furniture, floating white drapes — and epic sea views.
We love it for: The rooms' private terraces (many of which feature jacuzzis). They are perfect to relax with a book — or a glass of wine at the sunset hour.
Photos © Melian Boutique Hotel & Spa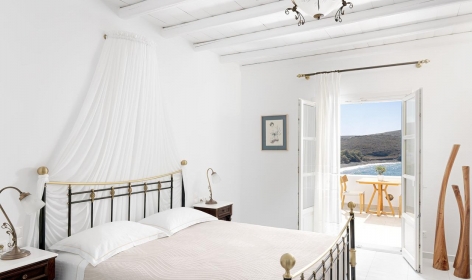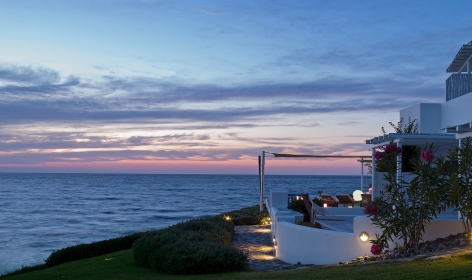 ---
13 Volcano Luxury Suites Milos, Paliochori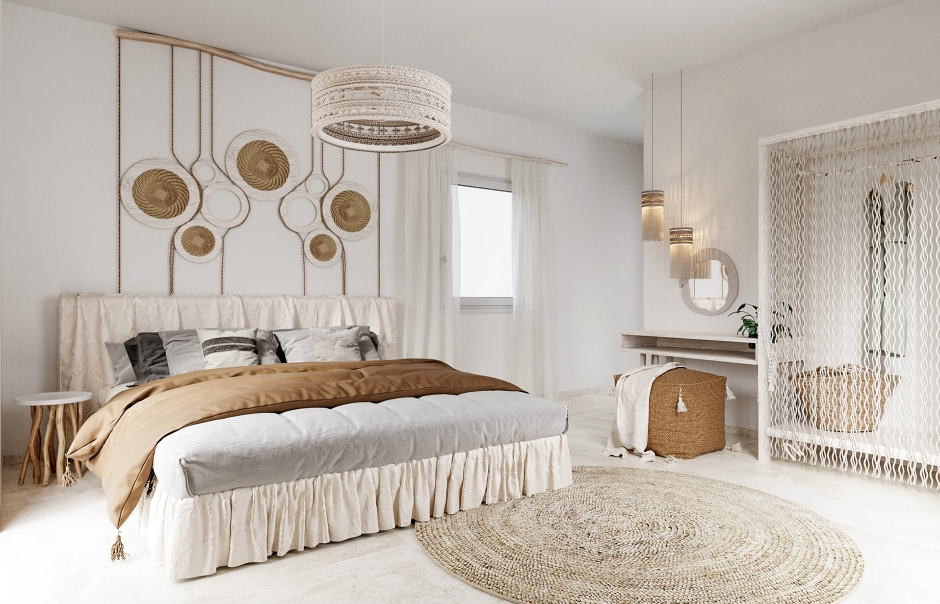 Located in the quiet village of Paliohori, on the south side of the island, and facing a sandy beach, Volcano Luxury Suites entices with beautiful interiors and a lovely combination of straw color and white. Its eminently livable rooms offer a good amount of space and excellent bed linens help to build the feeling of luxury. The hotel benefits from a restaurant and a beach bar as well as a gym and sauna.
We love it for: Two suites come with a jacuzzi plunge pool, set on an outdoor private area
Photos © Volcano Luxury Suites Milos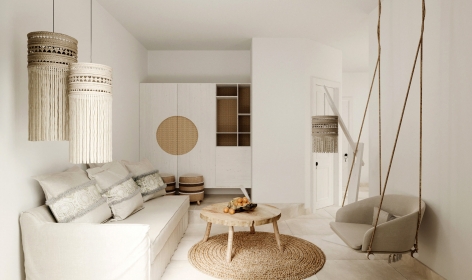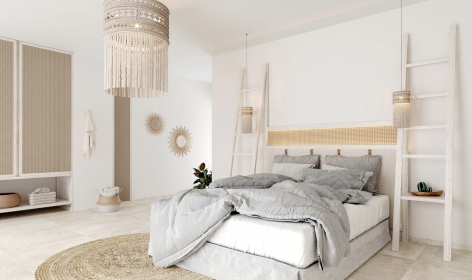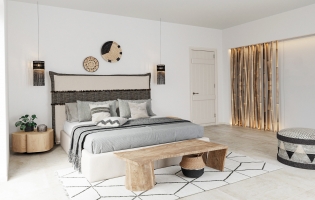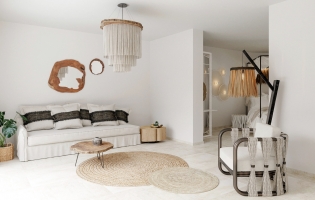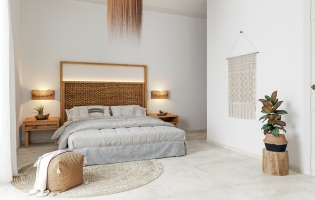 ---
14 Perla Rooms, Pollonia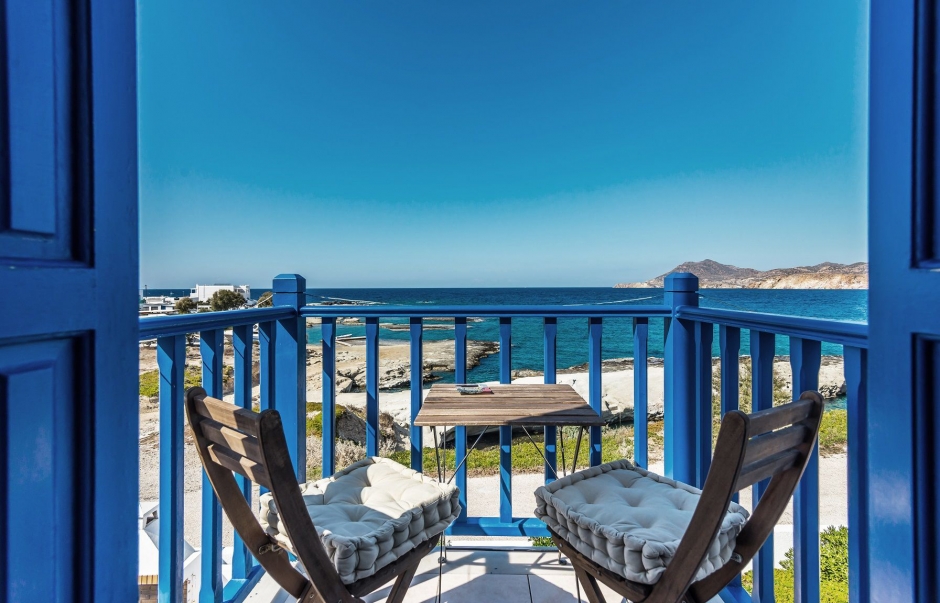 Perla Rooms is a small, charming seaside apartment complex. The self-catering accommodation units are cozy but spacious, and offer lovely views of Pollonia bay, with the Kimolos island in the distance.
We love it for: The village center is a five-minute walk away, and the staff will provide tips on the best restaurants or excursions and will arrange car, quad or scooter rental.
Photos © Perla Rooms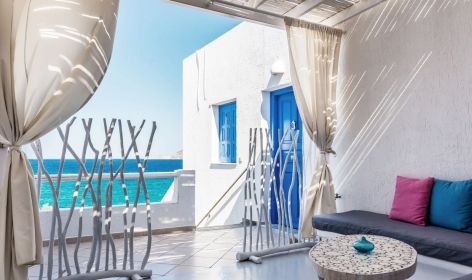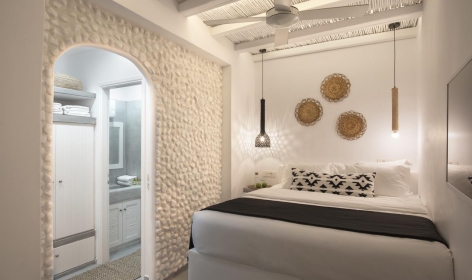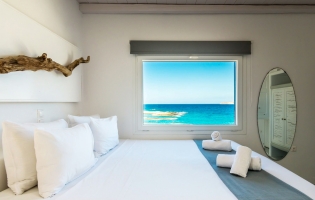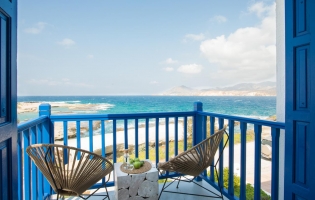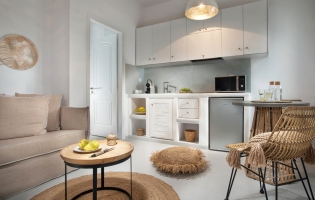 ---
15 Captain Zeppos, Pollonia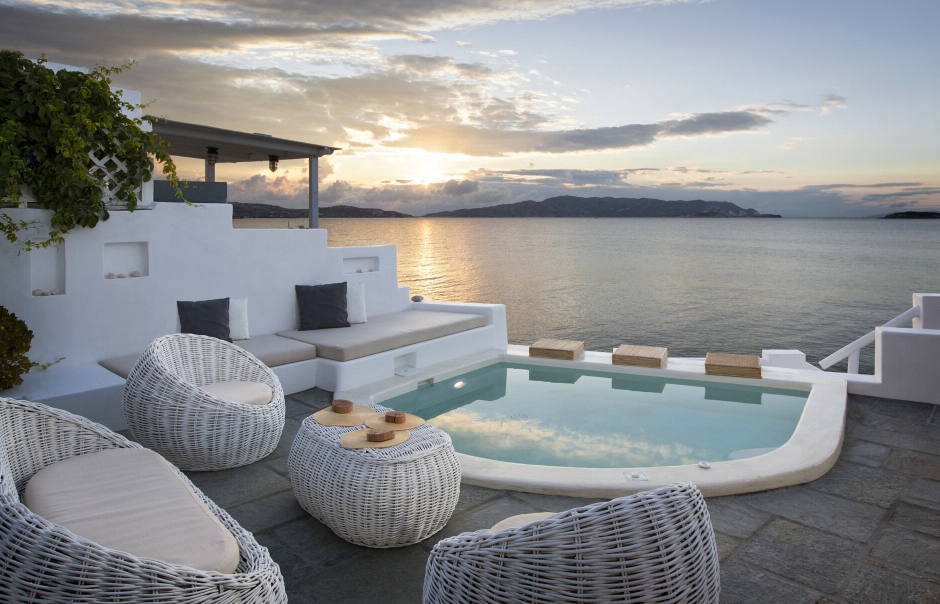 This charming, tiny property is set right on the seafront, and only a two-minute walk from the sandy Pollonia beach and the restaurants in the village. The hotel offers four good-size suites hosting up to six and a massive villa which can accommodate eleven guests. All accommodation options are well placed for great sunrise sea views, and they come with private balconies, while the villa also features a private, outdoor jacuzzi. Additional benefits of Captain Zeppos include in-room massage, babysitting, as well as free bikes and kayaks.
We love it for: Great location right in front of a swimmable sea, with a private deck allowing easy descent to the water (the shore is rocky here)
Photos © Captain Zeppos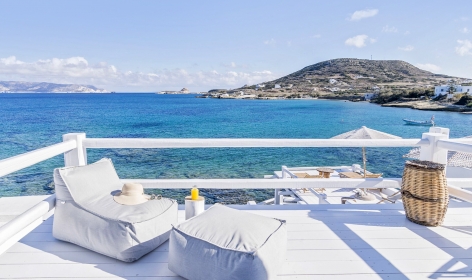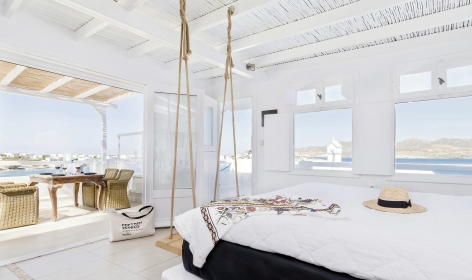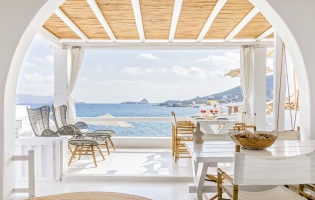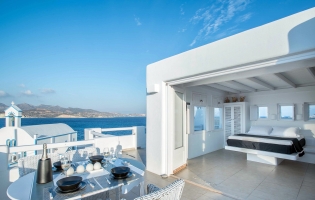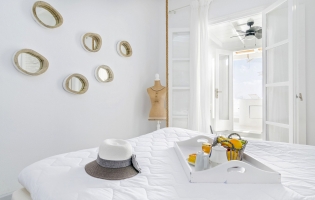 ---
16 Aqua House, Pachaina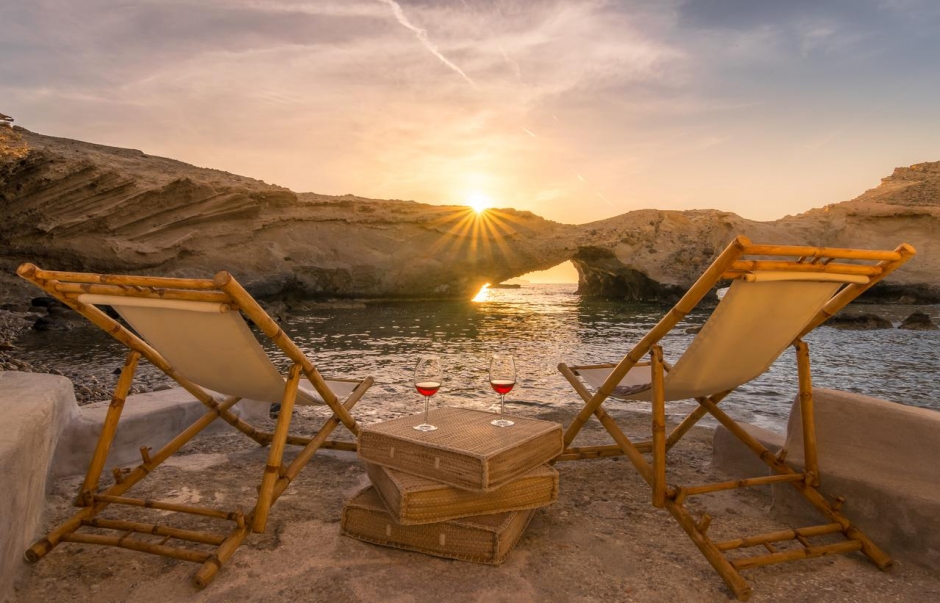 This small property is an air-conditioned holiday home rather than a hotel. It only has one bedroom, with a fully equipped kitchen, and it is located on the seafront, with a private beach area and a terrace with sea views. Aqua House is located in Pachaina, some two kilometers from the Papafragas Beach.
We love it for: Great views of the rocky shore and cliffs from the outside veranda.
Photos © Aqua House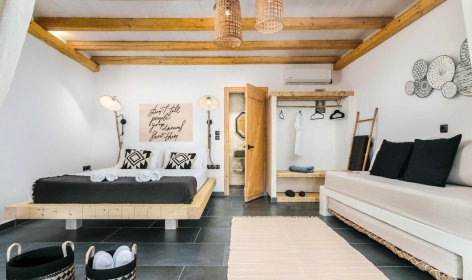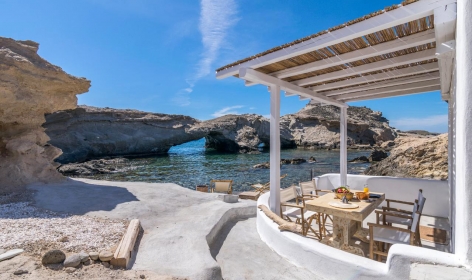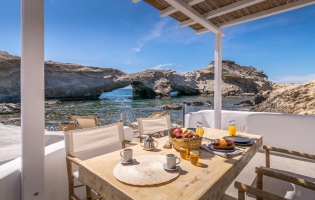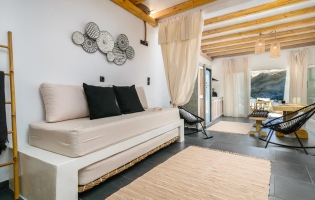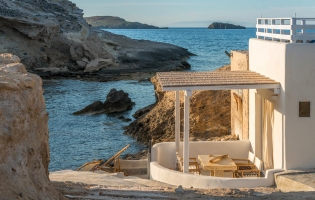 ---
17 Santa Maria Luxury Suites, Adamas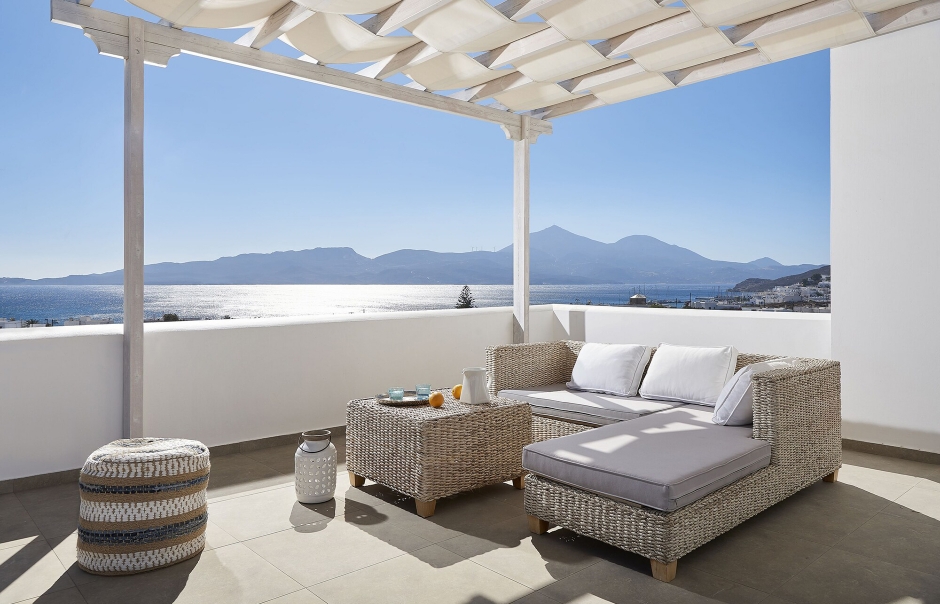 Santa Maria Luxury Suites is another example of a successful marriage of traditional elements and modern minimalist design. It results in interior spaces that induce a sense of purity and simple luxury. The hotel also benefits from a lovely location, only one kilometer from the center of Adamas.
We love it for: The property is set on a hill overlooking its picturesque port and ensures great sunset sea views from private terraces.
Photos © Santa Maria Luxury Suites & Spa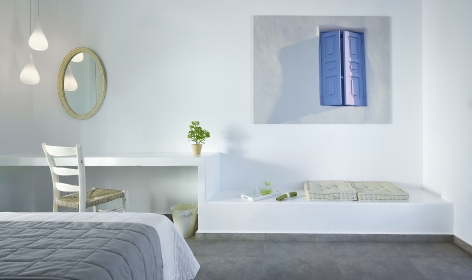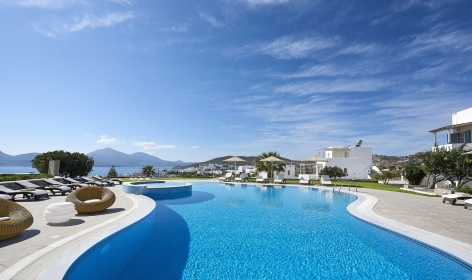 ---
18 Casa Litore (Villa), Pollonia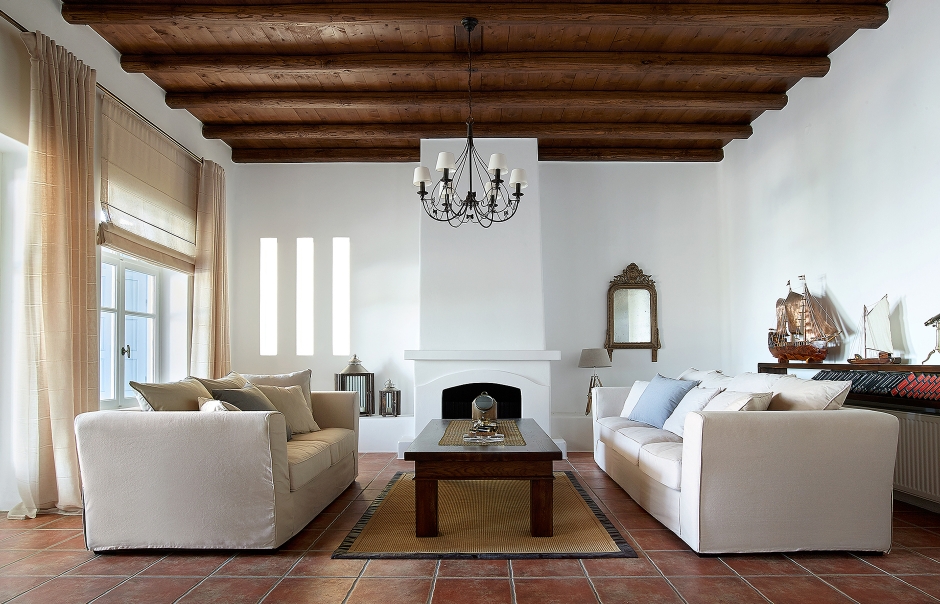 Casa Litore offers the Suite (see #3, above) and Villa — two accommodation options under one roof. The Villa is located on the ground floor of the property, and it offers a spacious open-plan lounge with a dining area and a kitchen and is prepared to host 5 people. Its design features elegant furniture, wooden beamed ceilings, and earthy colors.
We love it for: Scenic location, directly on the seashore, with access to its own private section of the beach.
Photos © Casa Litore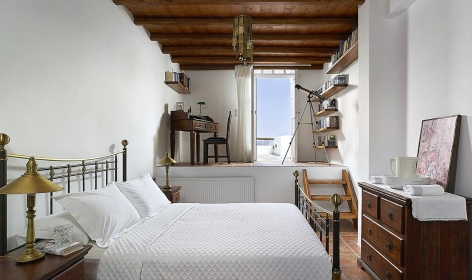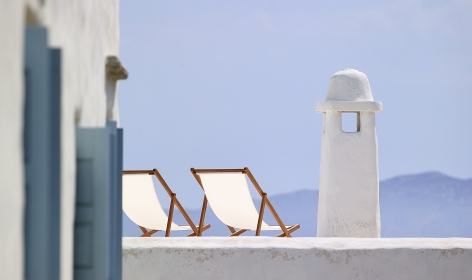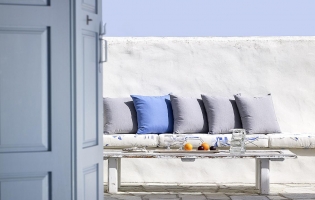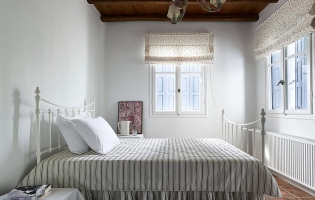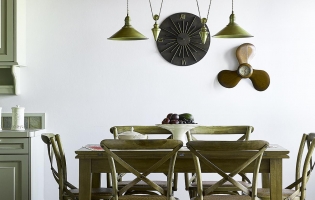 ---
19 Unique Milos Suites, Pollonia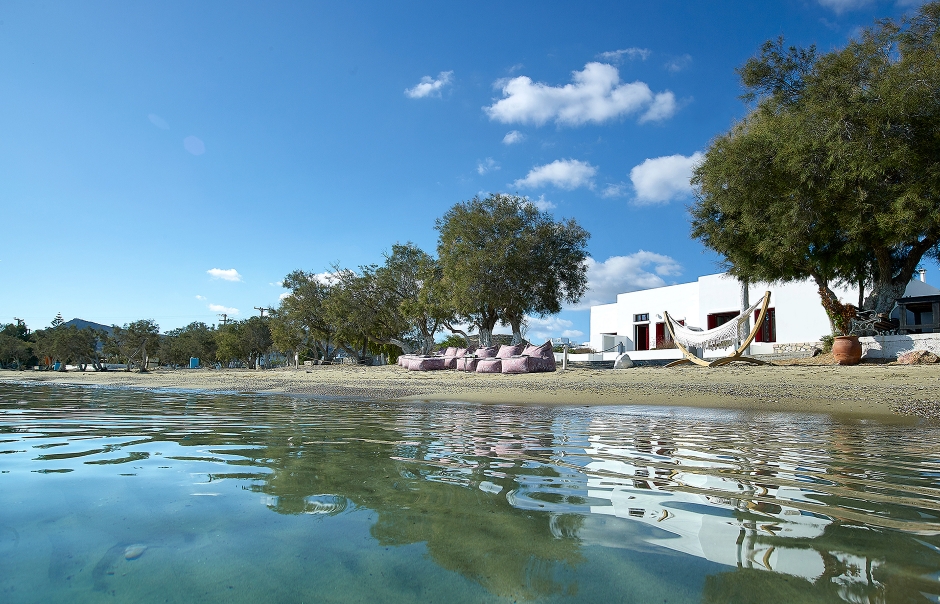 Also in Pollonia, Unique is a small complex of three suites, designed in an elegant style that has the "Cyclades" written all over it. The suites are open plan and range from forty-five to sixty-five square meters. Each has a king-size bed, living room with sofa beds, as well as a fully equipped kitchen. Modern bathrooms are equipped with a hydro-massage column shower.
We love it for: The hotel is located on the public Pollonia Beach, but it has a designated private area, with sunbeds.
Photos © Unique Milos Suites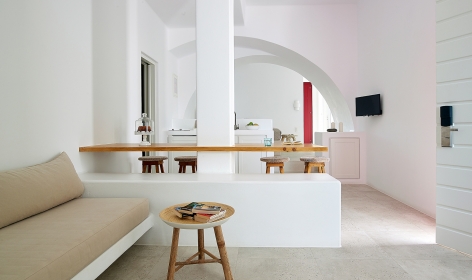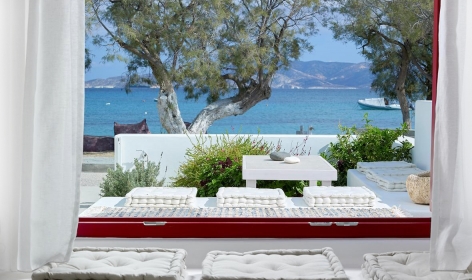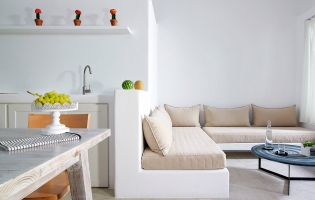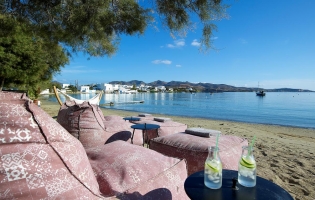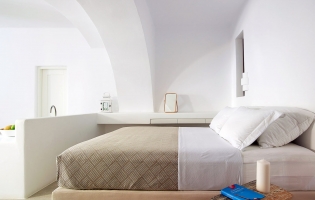 ---
20 Hotel Milos Resort, Adamas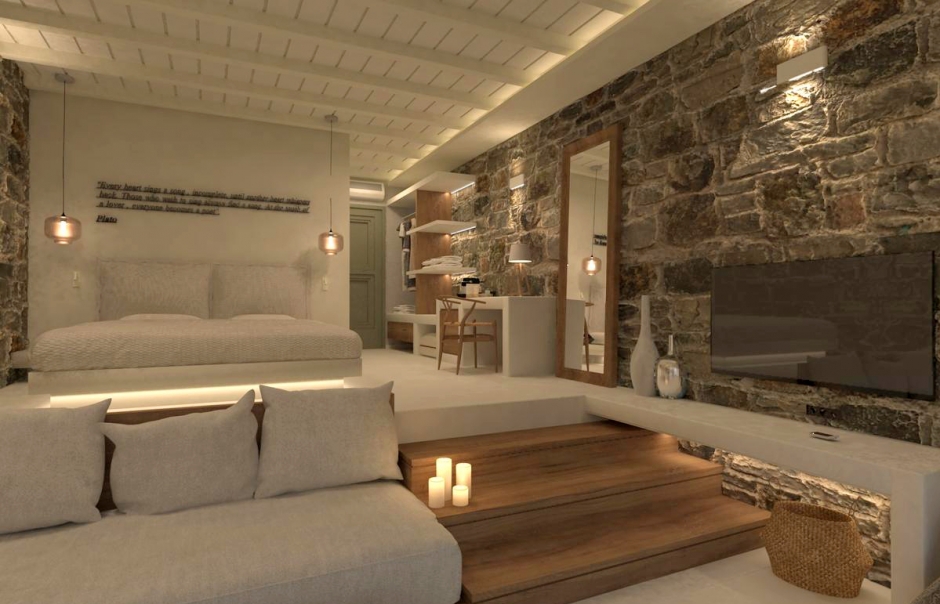 The minimalist design is all the rage on Milos, and this hotel is another good example of the trend. The minimal decor is the main theme in all rooms, with a simple stone architecture used as an essential decoration. The property is situated some 150m from the beach and ensures panoramic views of the sea and bay.
We love it for: The hotel offers a nice choice between rooms with private verandas and suites with private pools.
Photos © Hotel Milos Resort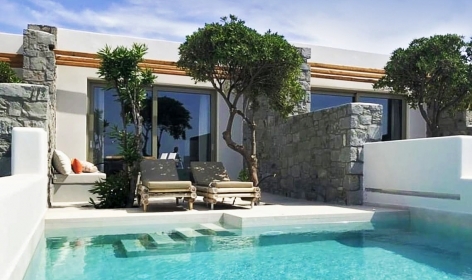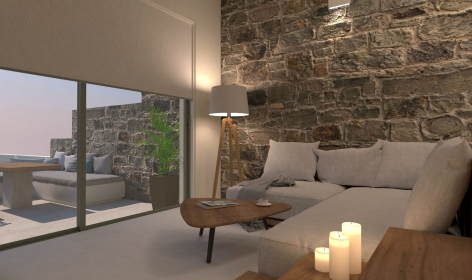 ---
>>> CLICK HERE TO SHOP OUR AMAZON STORE
---
// Even more best chic hotels in Milos
Even though Milos is not a big island, it has many other various accommodation options which although is featured on the best chic hotels in Milos list above, you may want to check out. In our opinion, these include even more the best apartments, the best holiday homes, the best villas.
You may also like

---
Luxury chic and sunsets
Lithos Luxury Rooms, Adamas (image below, middle).
Santa Maria Village, Adamas (image below, right). This is a family-owned resort overlooking the sea with a free-form pool, spa, and spacious rooms and suites with private terraces. Great location within a walking distance to Adamas' main square.
Miland Suites, Adamas. Set on a hill overlooking the bay, this nine-room hotel offers spacious suites with private terraces with sea views. Features include an outdoor pool with attached jacuzzi.
Olea Bay Hotel, Adamas. An adult-only hotel benefitting from a great location in a quiet area on the edge of Adamas. There are eleven rooms and one suite with sea views to choose from.
Aelia Suites, Adamas.
LUXMIL, Adamas.
Milos Zen Suites, Adamas.
Aerides Mandrakia Milos, Mandrakia (image below, left).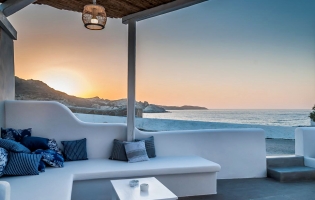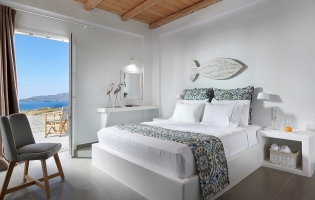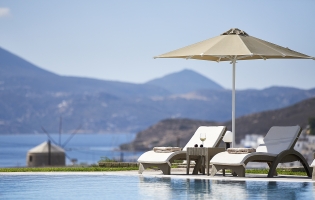 Eiriana Luxury Suites, Plaka Milou (image below, left). Comprising only four luxurious guest rooms, each featuring a private balcony overlooking Milos Bay, this small boutique hotel catches the eye with a bold combination of vibrant citrus and berry colors, set against the Cycladic white.
Milos Bliss, Plaka (image below, middle). Well-situated in Plaka, and overlooking the old castle and its churches.
Villa Imperial Milos, Mandrakia (image below, right)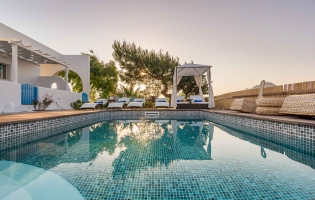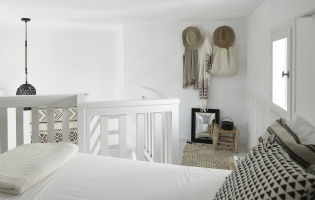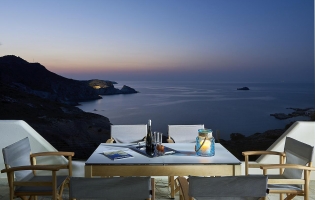 Golden Milos Beach, Provatas
Miramare Luxury Suite, Pachaina
Fani Dream Suites, Pachaina
Milinon Suites, Firopótamos
Babounis Suite, Péran Triovasálos
Studio Vipera, Triovasálos (image below, left)
Aqua Marre Sea View Boat House, Pachaina (image below, right)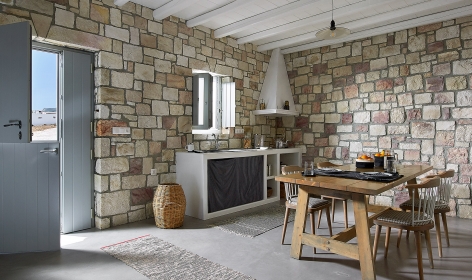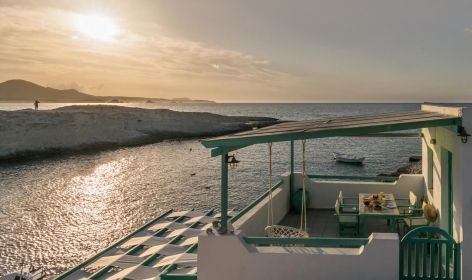 You may also like

---
Chillaxing in Greece
Villa Lord, Pollonia (image below, left)
Nefeli Sunset Studios, Pollonia. Facing a pebbly beach, this chic hotel offers studios and suites, all featuring sea view terraces.
Tania Milos, Pollonia. There are eleven rooms and one suite with views either towards sunrise or sunset.
Mirabeli Apartments & Suites, Pollonia (image below, right)
Milia Gi Suites, Pollonia
Villa Marisol, Pollonia
Villa Gallis, Pollonia.
We hope you enjoyed our take on the best chic hotels in Milos! Let us know if we missed any hotels by messaging us on Twitter, Instagram, or Facebook. See you there, and meanwhile, happy Milos planning!