There may be no other place in Mexico that provokes quite as many opinions as Tulum. While we could agree its allure made it almost too popular, we still think it's as attractive and thrilling as it was a decade ago — now also because of the best boutique hotels.
Today vacationers can experience sybarite excess and thumping basslines of beach clubs just as easily as the sophisticated beauty, gourmet food, and tranquility of boutique hotels. But when they choose Tulum as their next destination, they are probably seeking boho-chic style, nods to new age spirituality, and an atmosphere of a carefree, barefoot vacation.
There are plenty of hotels on our list that embrace all these trends, but we kick off with one that ensures the highest level of classic luxury — and located the furthest away from the Tulum proper.
1Hotel Esencia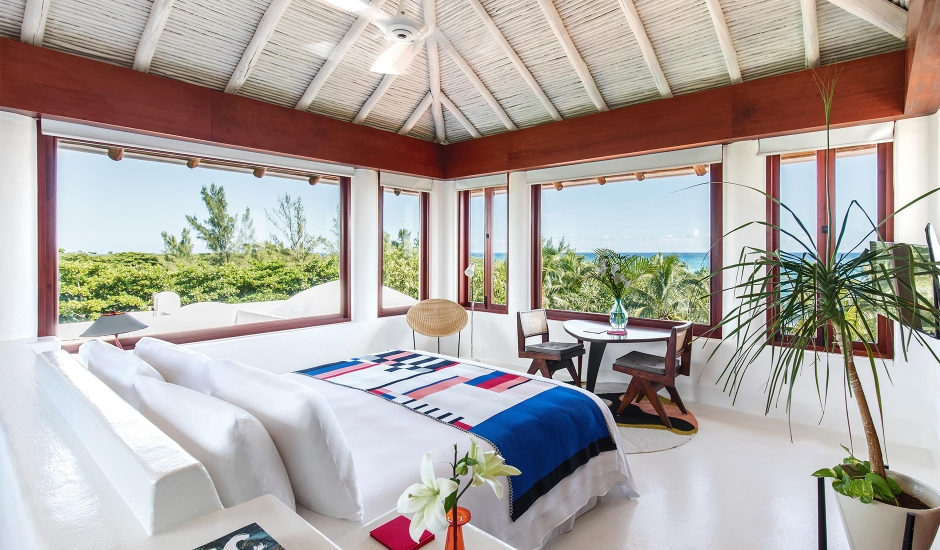 Set on a 50-acre beachfront land, and amid lush, tropical greenery, Hotel Esencia feels intimate and exclusive. Indeed, it is located away from the clamor of crowds of Tulum. Swimming pools with ocean views, a romantic beach, and easygoing bars create a sense of detachment from everyday life. Hotel Esencia was probably our favorite hotel on the entire Riviera Maya. Did you follow our stay on Instagram?
We loved our experience of this Caribbean estate, not least because of its unique design. Esencia fuses minimalist luxury and sleek modernity with hints of a rustic Mayan style through a squeaky-clean white-on-white interior design theme, broken up with splotches of color in locally-sourced fabrics. This beautiful beachfront resort is a favorite spot for honeymooners and families alike (and an occasional celebrity), and it offers excellent levels of privacy and serves terrific food — perhaps the best we had in Yucatan.
We stayed at Hotel Esencia — make sure to read our review!
Website: Hotel Esencia, Tulum, Mexico. Photos © Hotel Esencia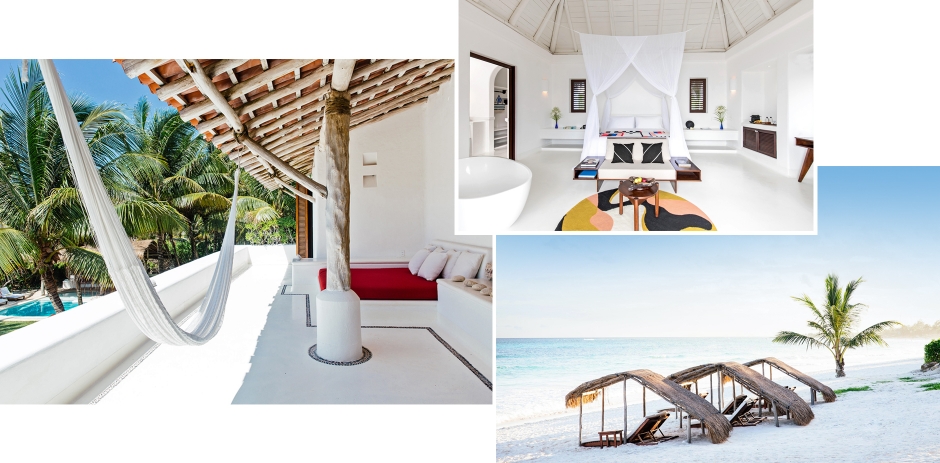 ---
2Nomade Tulum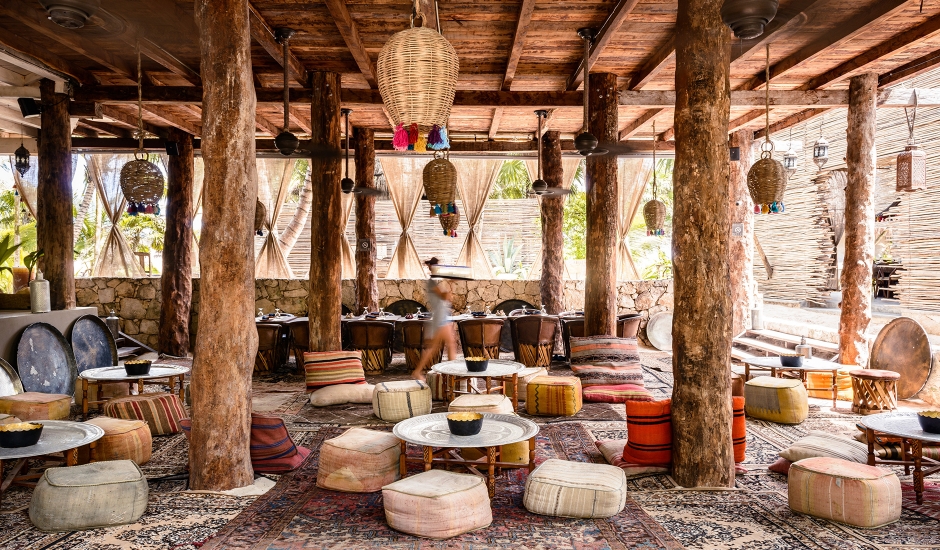 Nomade Tulum is the luxe boho vibe of Tulum incarnate. "Conceived as a habitat to awake the soul," this beachfront hotel offers an inspired world traveler its beachfront huts, luxury tents, and jungle villas as a bohemian experience in a spiritually-awakened atmosphere — especially at The Yäan Wellness Energy Spa. The spa is shared with the sister hotel Be Tulum (also on our list!). Nomade's main restaurant Maconda is a real eye-candy, with its communal space styled as a quasi-Moroccan "tent," furnished with layers of patterned rugs, vintage pillows, tasseled light fixtures, and low tables. (As evidenced in this Instagram pic we took!)
Website: Nomade Tulum, Tulum, Mexico. Photo © Nomade Tulum
---
3Be Tulum Beach & Spa Resort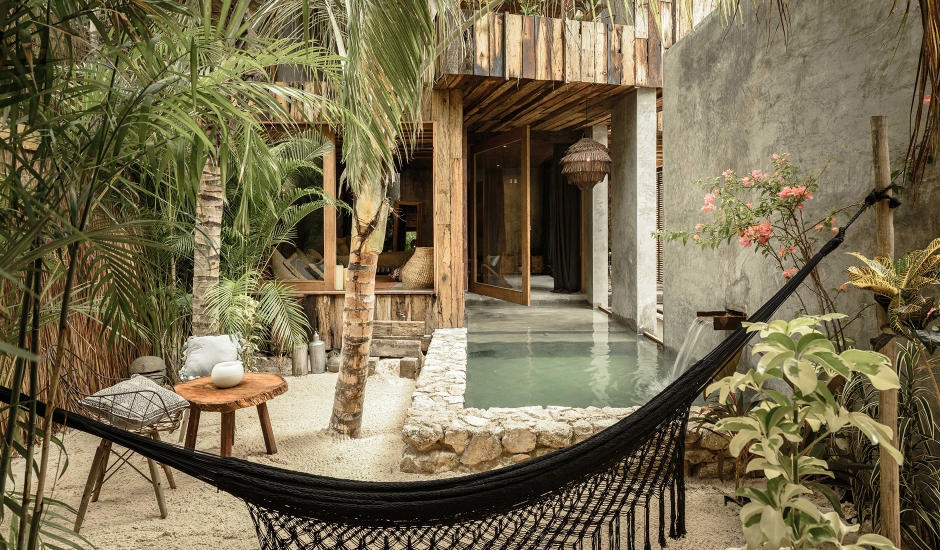 Located in the most attractive part of the "hotel zone," and right next to its sister hotel Nomade, the uber-chic Be Tulum has been created for the design-conscious travelers. Here, the décor panders to the contemporary international sensibilities, with a simple BoHo chic aesthetic that creates a refined, subtle luxury and a distinctive adults-only atmosphere.
The guest rooms are outfitted with hammocks, plunge pools or jacuzzis, indoor and outdoor showers, and modern comforts. The hotel faces a quiet stretch of the beach, and among its standout facilities is an attractive infinity pool with a glass side. There is also a grill restaurant, two bars with mezcal selection, and the Yäan Wellness Energy Spa is just across the street.
Website: Be Tulum, Tulum, Mexico.
Photos © Be Tulum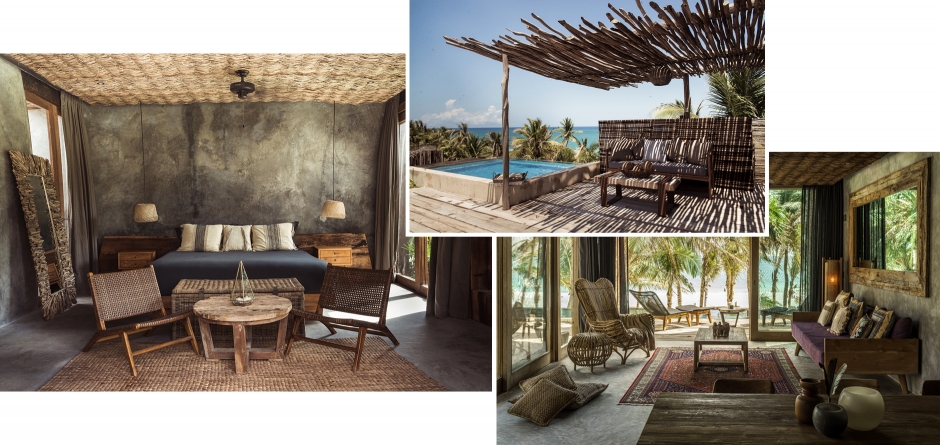 ---
4Nest Tulum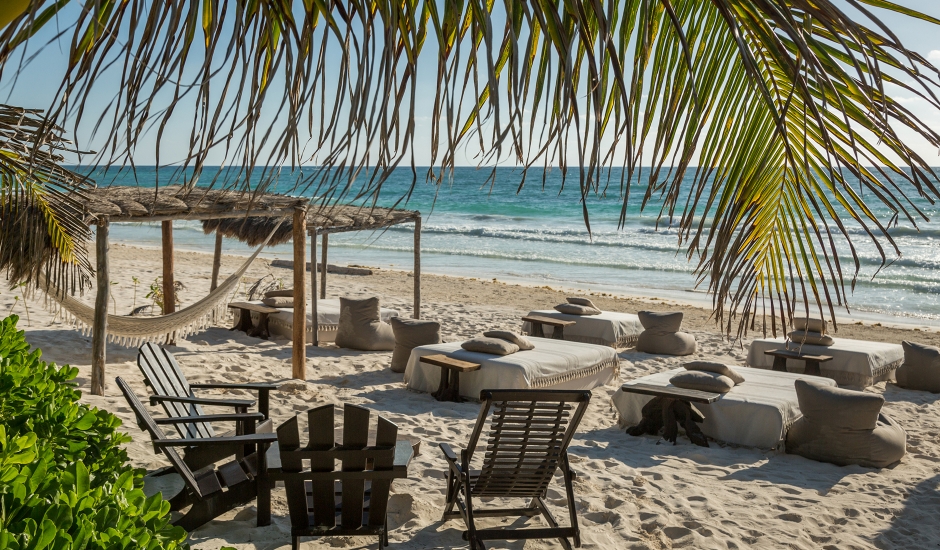 NEST Tulum hotel was one of the first places we picked to stay in Tulum. Opening onto the Tulum beach, and filled with tropical greenery, NEST created a place of "natural simplicity" — thanks to its sophisticated rustic style and original architecture. This boutique hotel is composed of only nine guest houses, as well as a four-bedroom private villa. Designed to be cozy and romantic, the interiors feel authentic and intimate, creating a unique atmosphere of laid-back tranquility. The staff's exceptional service is rooted in the Mayan culture's traditions — and contributing to the feeling of a perfect harmony of coziness and luxury. (Check out our pics on Instagram: this one from our room or this one a chic breakfast!)
Website: Nest Tulum, Tulum, Mexico.
Photo © Nest Tulum
---
5La Valise Tulum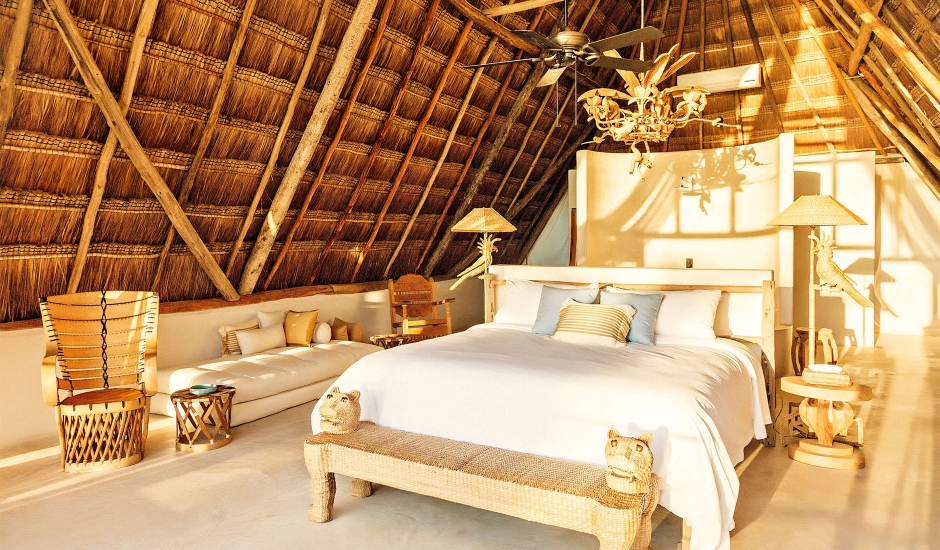 La Valise combines the best things about Tulum and makes it feel like combining them was easy: the hotel offers a unique blend of luxury and grounded simplicity, and its sophisticated design mixes local authenticity with a touch of spirituality and memory of wilderness. The thatched-roof private beachfront bungalows feel rustic and open to their surroundings. Interiors are filled with cozy furniture and light fabrics. Hammocks are swinging in the sea breeze, while simple daybeds await on the beach. The resort's design is a tasteful take on the Robinson Crusoe fantasy. There are two restaurants here, with breakfast and lunch served in one (Mayan-influenced local cuisine is the theme), while another, NÜ Tulum, opens for dinner. Its team consists of a team of seven Mexico City chefs.
Website: La Valise Tulum, Tulum, Mexico.
Photos © La Valise Tulum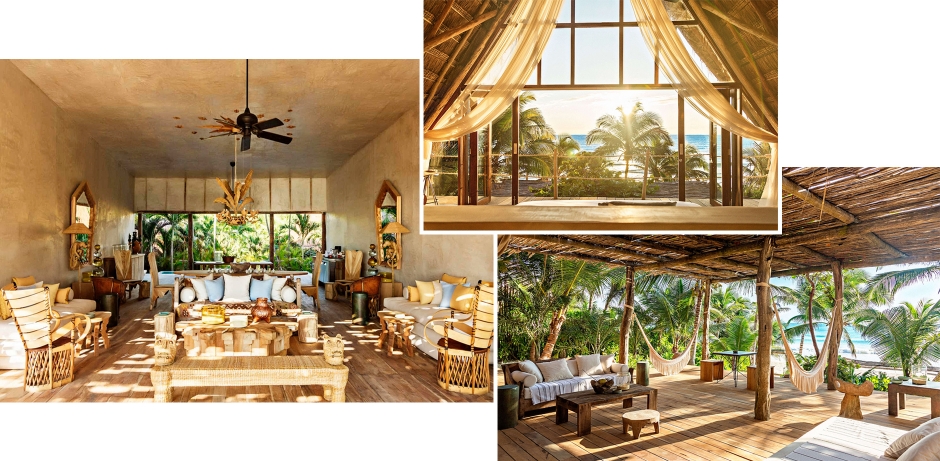 ---
6Habitas Tulum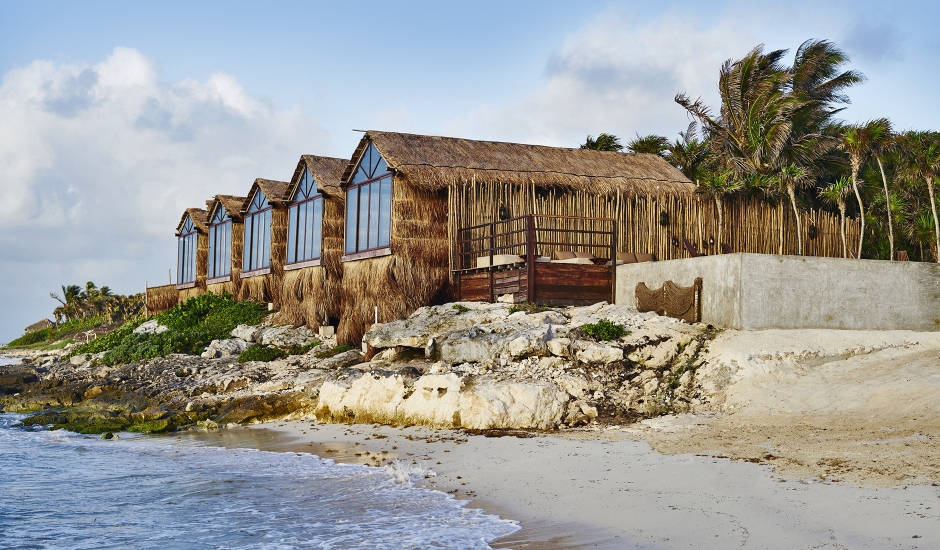 HABITAS Tulum is the first property in the small portfolio of chic hotels designed to fit an exceptional destination (such as Tulum, but also Namibia and Bhutan). The Habitas philosophy focuses on the concept of "creating communities." Thus the hotel excels in shared activities, such as outdoor film screenings, yoga classes, live DJ sessions, and "unplugged" concerts. A glass-and-steel pavilion at the heart of Habitas is designed as a central hub for guests, with a Moorish-style restaurant, a mezzanine, and a rooftop deck. The trendy, air-conditioned guest tents ensure at least 500 square feet of private space and feature private terraces and outdoor rain showers. The interior design favors a bohemian-inspired blend of kilim rugs, raffia lamps, and animal hide stools.
Website: Habitas Tulum, Tulum, Mexico.
Photo © Habitas Tulum
---
7Papaya Playa Project Tulum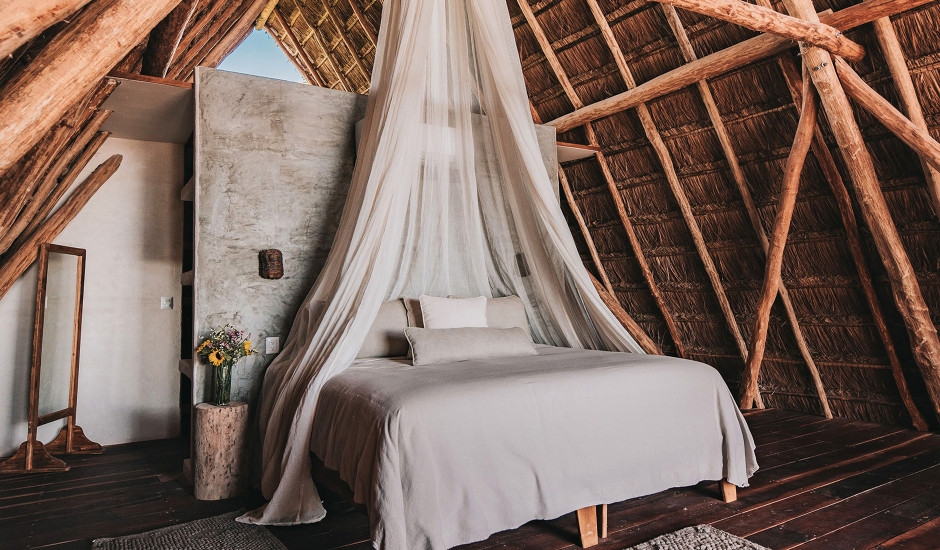 Tulum is somewhat cut out from the rest of Mexico, not least because of the national power grid's absence. It is easy to disconnect from civilization, and the Papaya Playa Project turns it into an advantage — as we discovered during our stay here (click on links for our photos on Instagram). The hotel embodies a backpacker boho style and is like a cross of a beachfront commune and an "authentic luxury" boutique. While it does not pamper as much as more upmarket hotels, it is well set up to purify the spirit. The Papaya invites its guests to decompress, disconnect, and get as close to the real Tulum as possible. The facilities are well designed, there is a distinctive spirit of community in the air, and different room categories cater to a range of expectations.
We stayed at Papaya Playa Project — make sure to read our review!
Website: Papaya Playa Project Tulum, Mexico.
Photos (including the leading shot at the top of the article) © Papaya Playa Project Tulum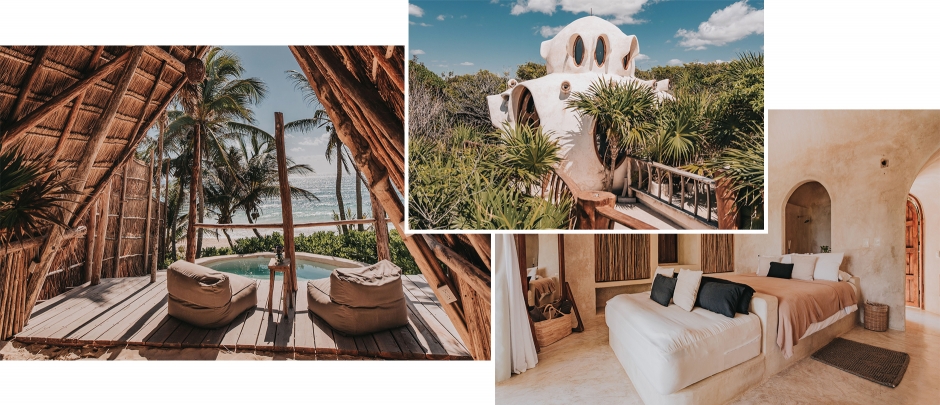 ---
8Casa Malca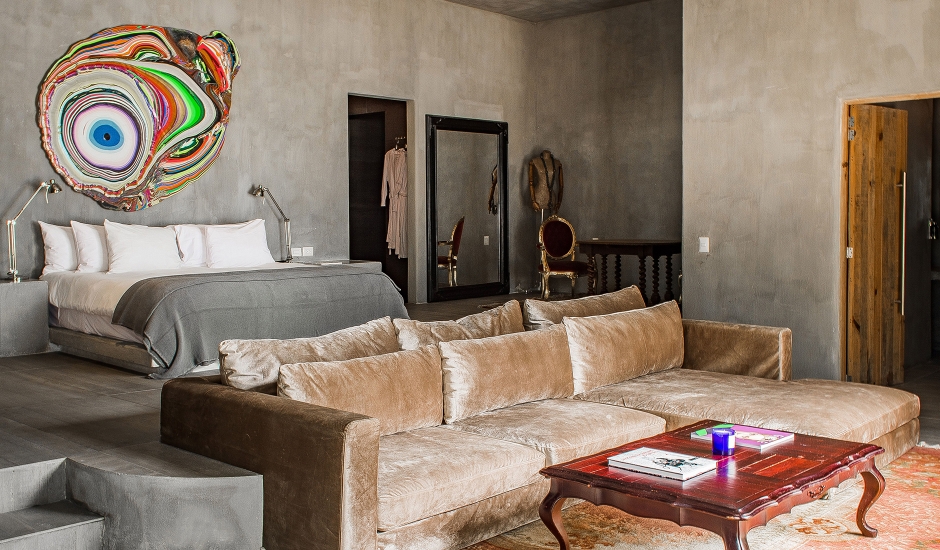 You may also like

---
Our 2020 guide to the best hotels, villas, and apartments on Milos
A sprawling beachfront estate that was once home of the infamous drug kingpin Pablo Escobar, Casa Malca is an art-filled hotel, expertly designed and curated by the NY-based art collector Lio Malco, who owns the property today. Malco created a surreal, eclectic space in which art becomes a lifestyle. Flashy and one-of-a-kind, Casa Malca fuses contemporary aesthetics, ancient Mayan culture, and Tulum's bohemian vibe create one of the coolest beachfront escapes we ever saw. While the common hotel areas, with their spectacular installations (such as this one we photographed or this one), are magical, the guest rooms are simply elegant and luxe, befitting a trendy boutique hotel. As picturesque as it is relaxing, Casa Malca embraces Tulum's laid-back culture while creating a carefree beach resort experience.
Website: Casa Malca, Tulum, Mexico.
Photo © Casa Malca
---
9Azulik Resort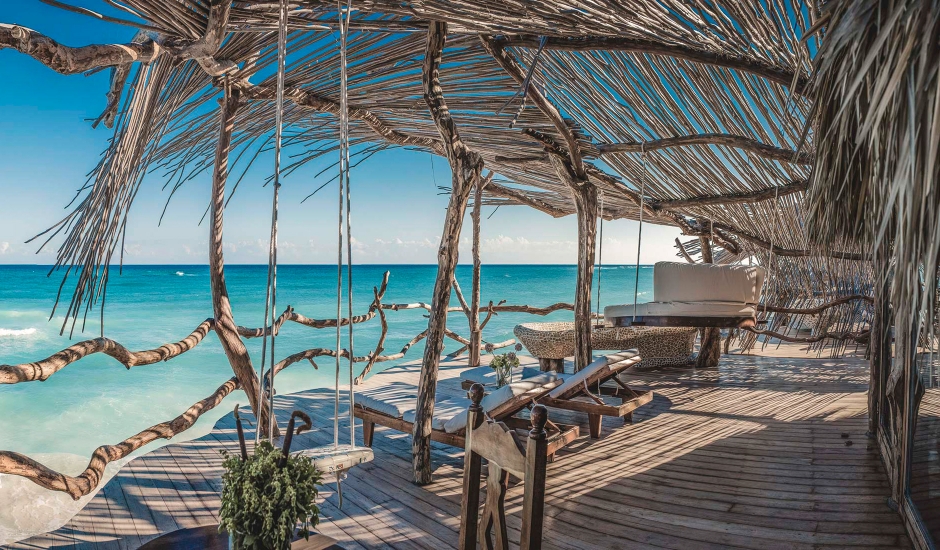 If any Tulum hotel can be called iconic, it has to be Azulik. Its villas look like works of native art — or sculptures woven through a natural growth process. They are designed to create an atmosphere of relaxation and connect the guests with the local Maya architecture and heritage.
Azulik does not have much of a beach. The seafront villas are perched on a low cliff, and what's below is narrow and rocky, but the elevated location ensures beautiful sea views. The candlelit nest-like treehouses of Azulik come with open-air baths, hammocks, and plunge pools and ensure it is one of Tulum's most extraordinary places. The rustic off-grid experience is paired with an adult-only, clothing-optional concept, and Azulik attracts mostly couples and solo travelers.
Website: Azulik Resort, Tulum, Mexico. Photos © Azulik Resort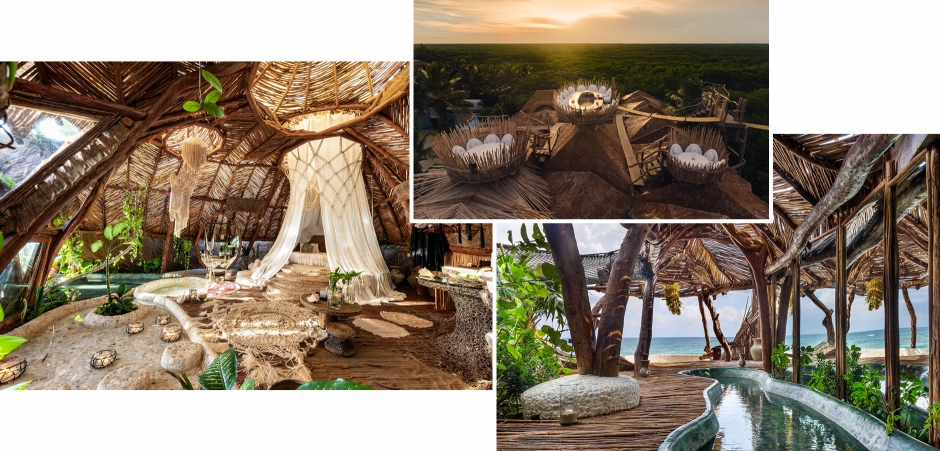 ---
10Sanara Tulum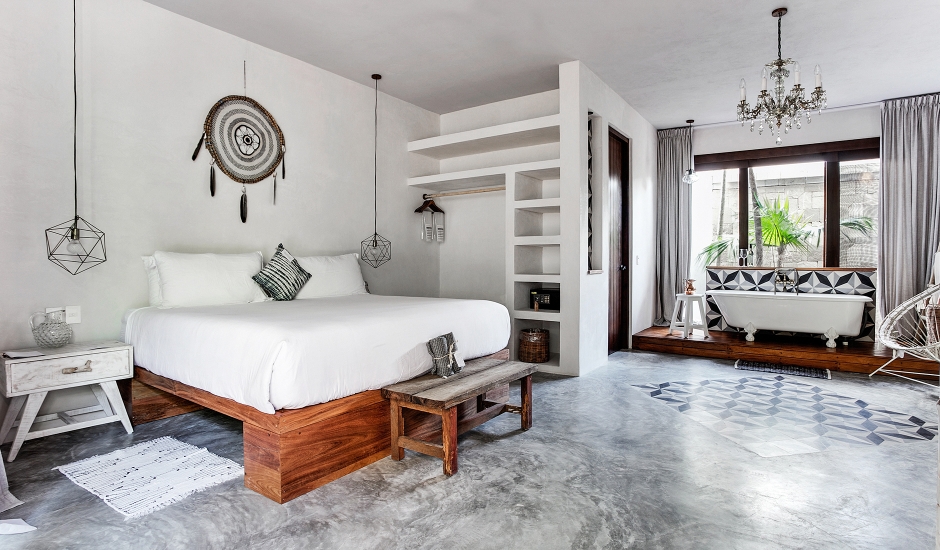 This barefoot-luxury hotel is designed with a minimalist aesthetic and a wellness concept that includes things like "crystal healing" and "craniosacral therapy," if you are in that sort of thing. Even the meaning behind the name of the hotel (Sanará means "you will heal") is a reflection of the hotel's philosophy.
The guests are accommodated in sleek, white-on-white beach garden "sanctuaries," all with private garden or deck, and an emphasis on outdoor living. The yoga studio is an airy, glass-walled space with ocean views, and the restaurant, Real Coconut, prides itself on a health-centered conscious cuisine.
Website: Sanará Tulum, Tulum, Mexico.
Photo © Sanará Tulum
---
11Tulum Treehouse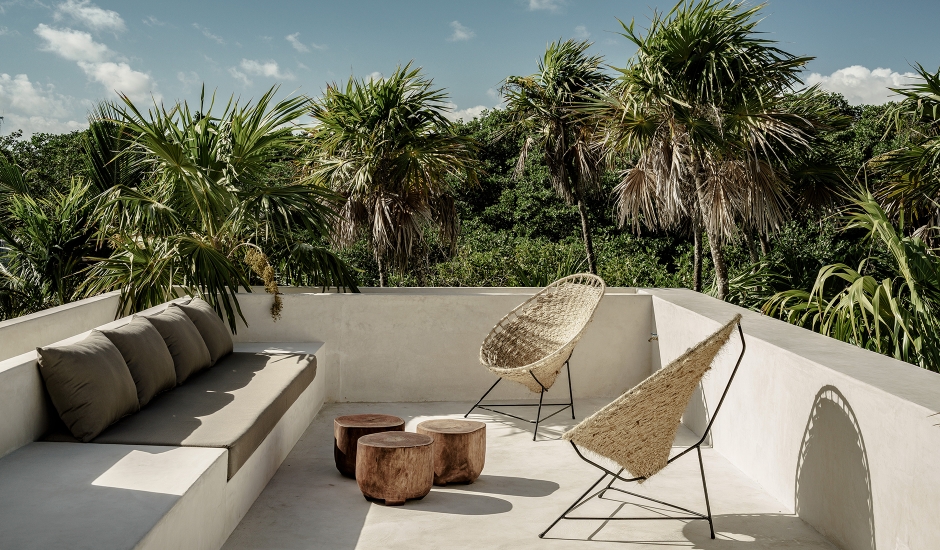 Behind the concept of this unique property lies a desire to embrace the lifestyle of "international nomads," travelers who seek a deep connection to the local destination as they pursue authentic experiences. In creating Tulum Treehouse, the natural beauty of the Yucatán inspired the stylist Annabell Kutucu and the Tulum-based architecture studio Co-Lab Design Office to create a place that is sophisticated, elegant, and deeply connected to the ethos and aesthetics of the local community. The interiors inspire a change in life's pace and invite to reset, create space, nurture silence, and reconnect.
Tulum Treehouse is a multi-room private house rather than a traditional hotel, and it can host up to 10 guests. They will enjoy large common areas, several spacious wrap-around terraces, multiple spaces for indoor-outdoor living, and five bedrooms that come with en-suite bathrooms.
Read more: Be a Jungle Nomad at the Tulum Treehouse
Website: Tulum Treehouse, Tulum, Mexico.
Photos © Tulum Treehouse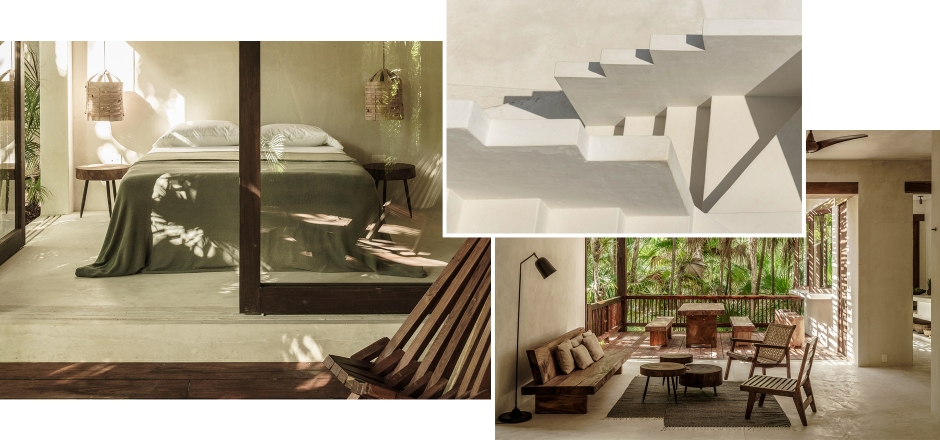 ---
12The Beach Tulum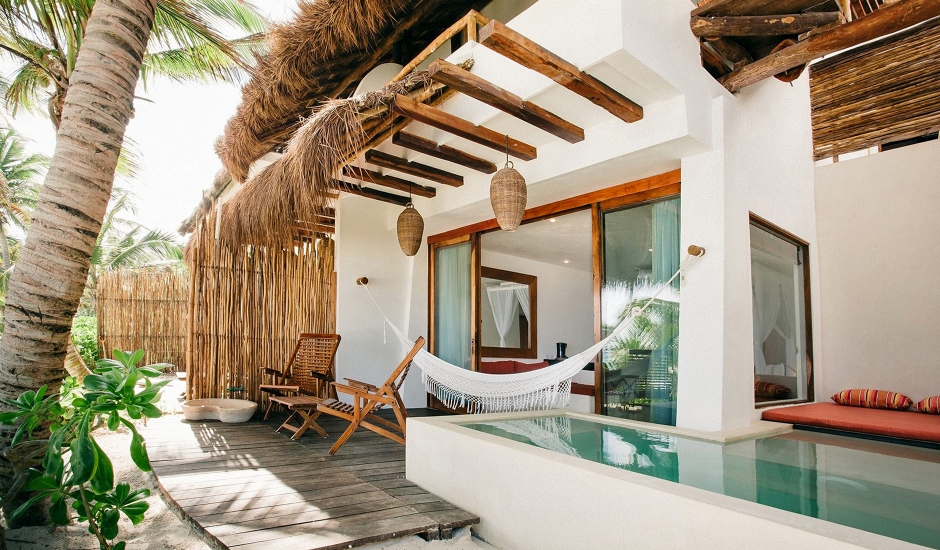 Another adult-only proposition on our list is The Beach Tulum, a well-designed boutique hotel that appeals to a more mainstream audience — or just about anybody that seeks just the right dose of romance, comfort, design, and luxury. The hotel's name is not just a marketing gimmick — every single guest bungalow is positioned directly on the beach. There are options, though, with ground floor rooms, Junior Suites, and Rooftop rooms, of whose guests can enjoy spectacular views of the ocean. Deluxe rooms offer a private plunge pool while Rooftop rooms boast a private hot tub on the terrace.
Website: The Beach Tulum, Mexico.
Photo © The Beach Tulum, Mexico
---
13Jungle Keva Tulum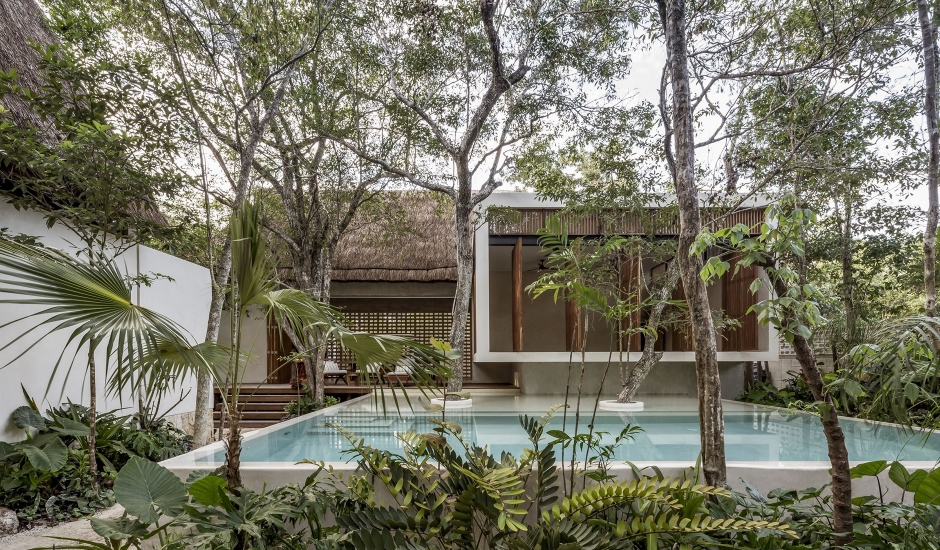 Keva is composed of five utterly gorgeous lodges, designed as private retreats for individual travelers, small groups, and families, and arranged to resemble a small village — albeit a luxury one. In keeping with Tulum's themes, this hotel also focuses on restorative wellness, catering to "the health-conscious traveler." The hotel's design captures a relaxed vibe of this beach destination while the spa offers Ayurveda treatments.
Website: Jungle Keva Tulum, Tulum, Mexico. Photos © Jungle Keva Tulum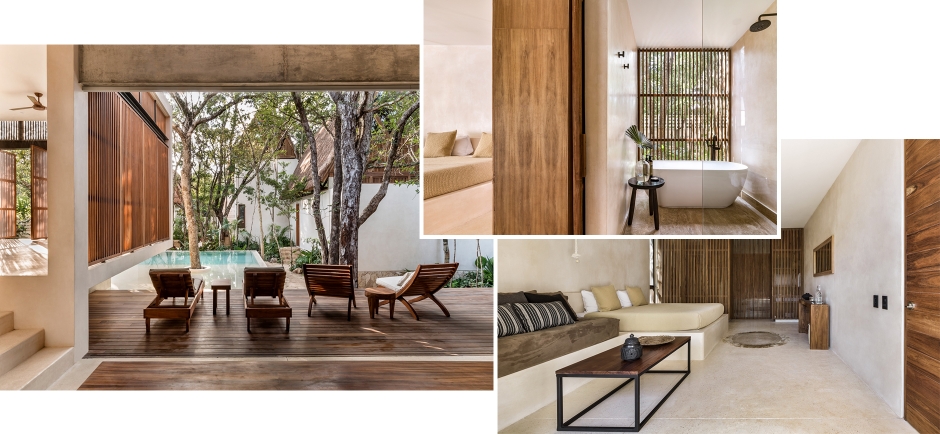 ---
14Orchid House Tulum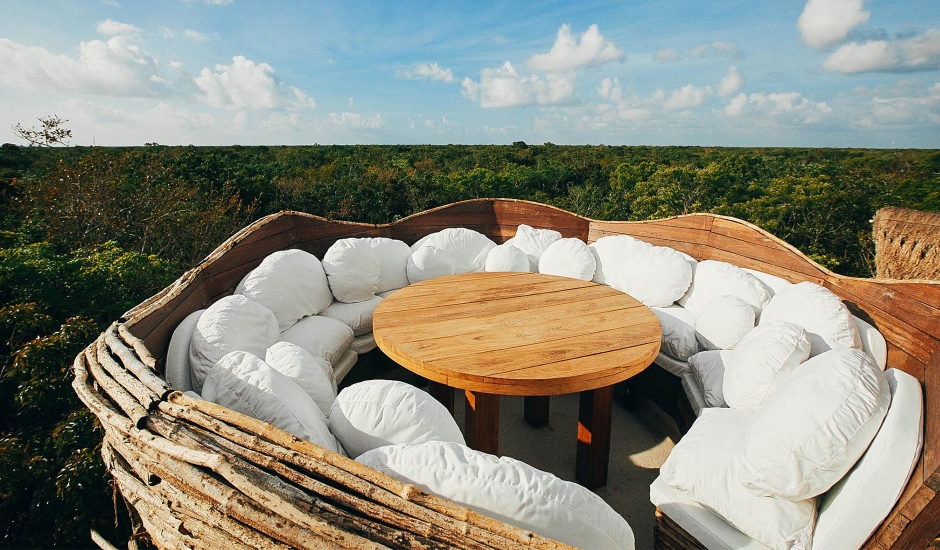 Orchid House aims to balance the comforts of home with the luxuries of a hotel. Consequently, the idea is to make the hotel guests at ease and "feeling like a local" but still enjoy the thrill of traveling far away. As the hotel's name suggests, orchids are a theme throughout, speaking to Mexico's biodiversity and cultural heritage. Orchid House Tulum has ten guest rooms and a restaurant, with the menu enriched by season-dependent produce. There is also a swimming pool, and the pool bar offers a good variety of cocktails with organic ingredients.
Website: Orchid House Tulum, Tulum, Mexico.
Photo © Orchid House Tulum
---
15Villa La Semilla, Tulum, Mexico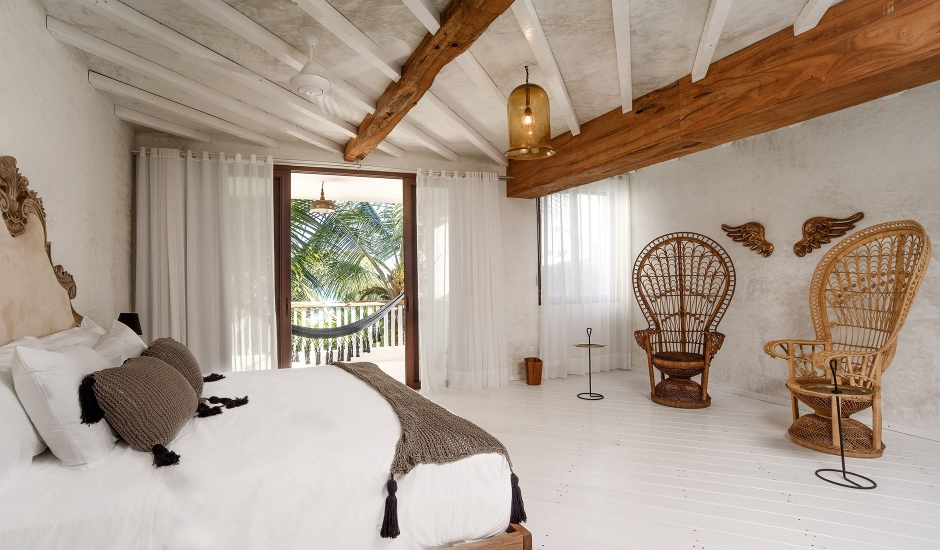 Located just north of Tulum, there is an area surrounding Soliman Bay, where commercial development is absent, but where a string of secluded villas and vacation homes invites guests to slow down and appreciate the tranquility of this remote stretch of the coast. One of these private villas is La Semilla, a simple luxury property surrounded by lush jungle and situated on an exclusive beachfront. From two rooftop terraces (one with a swimming pool) and individual terraces adjacent to each bedroom, the villa offers spectacular views of the bay. Inside, the rooms feature neutral colors and pared-back decor, creating a minimalistic visual identity — a great backdrop to the roughhewn wooden ceiling beams. The first floor is based on an open-concept style with a spacious kitchen, dining, and living space that opens to a garden veranda with an infinity pool. The villa can be rented to a family or a group, partially or in its entirety, utilizing all five rooms.
Website: Villa La Semilla, Tulum, Mexico.
Photos © Villa La Semilla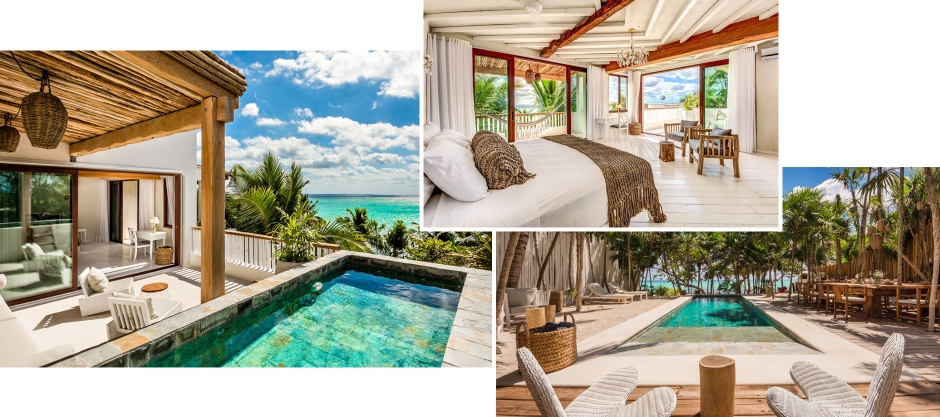 ---
16Hotel Tiki Tiki Tulum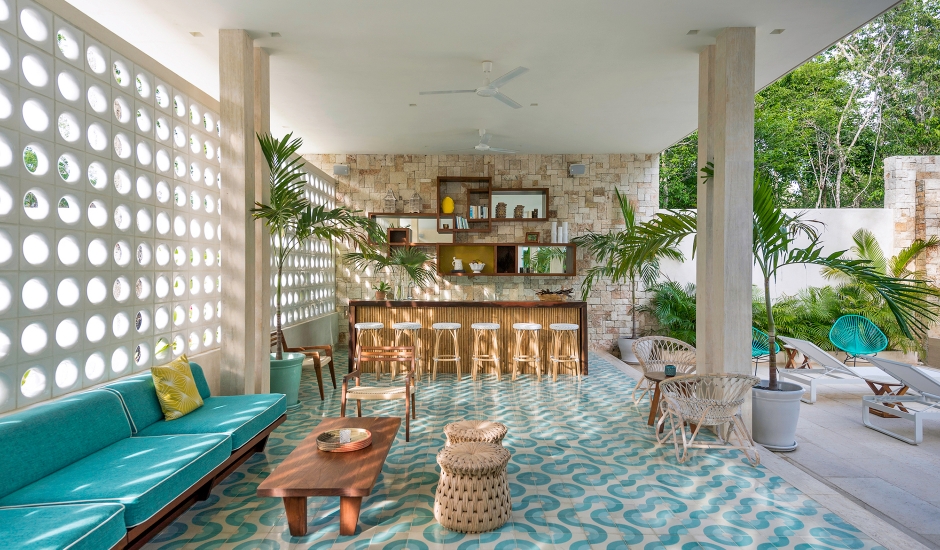 Tiki Tiki is an odd one out in this list. While the beachfront zone is where most of the Tulum hotels are situated, here is an exception — located on the western edge of the town center, and two miles inland from the beach. Plus, Hotel Tiki Tiki is low-key and affordable and making no excuses for it. Surrounded by vibrant tropical greenery and composed of only fifteen rooms, this hotel charms with a mid-century modernist design and good-sized rooms that bring to mind a chic Miami apartment building. But this is a boutique hotel alright, and one that comes with a courtyard pool, attentive, dedicated service, and a tropical bar, ideal for poolside lounging. An on-site restaurant is notably absent, but there is plenty of those in Tulum.
Website: Hotel Tiki Tiki Tulum, Mexico. Photos © Hotel Tiki Tiki Tulum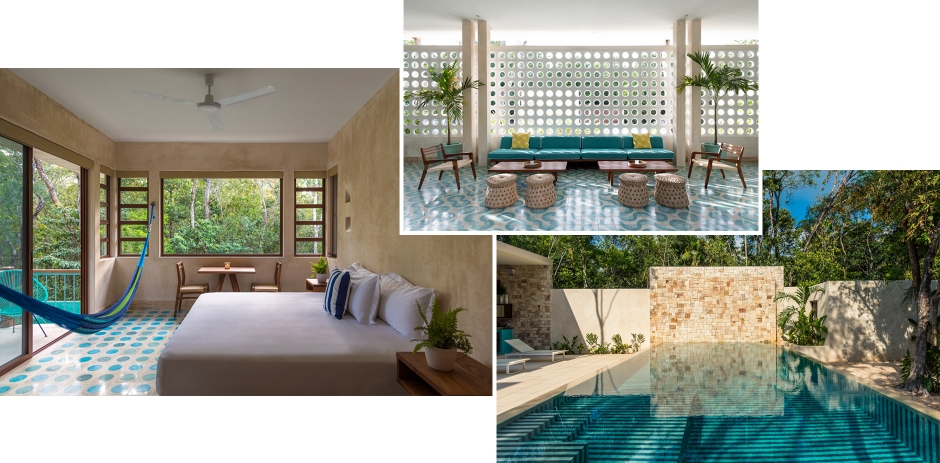 ---
17Jashita Hotel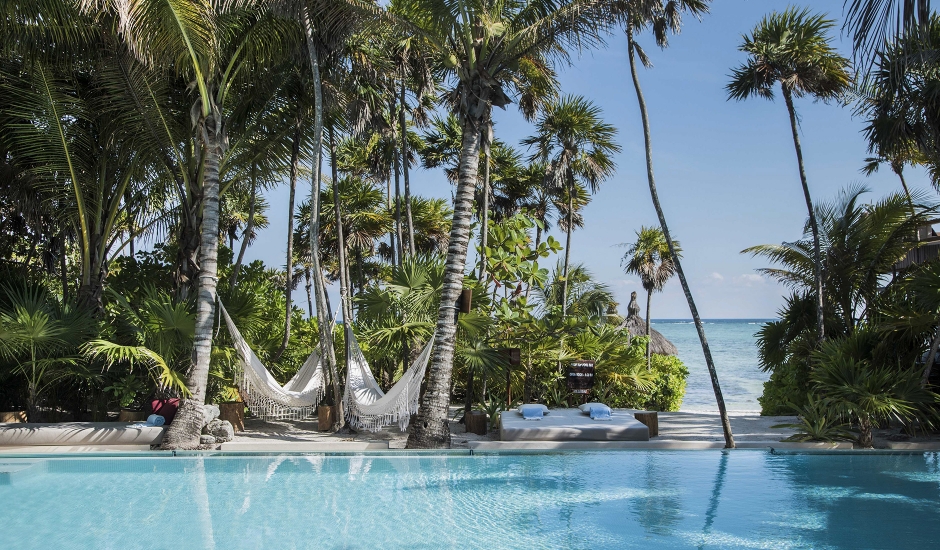 Take pared-down, sophisticated decor that echoes the calm of the sky and sea, combine it with excellent location and well-designed facilities, and you get a place you'd never want to leave. Indeed, some guests never venture outside of the hotel premises (which includes a beach) during their stay, opting for a small hotel's tranquility over the crowded clubs and bars of nearby Playa del Carmen. The relaxed looks of Jashita feature beach-inspired straw loveseats, airy bathrooms, pillow-topped sofas in shades of pale sand and bright seashell white, and fluttering white canopies over king-sized beds (in the oceanfront suites). The hotel has a small cafe and restaurant, and a swimming pool with an ocean view.
Website: Jashita Hotel, Tulum, Mexico.
Photo © Jashita Hotel
---
18Hotel Panamera Tulum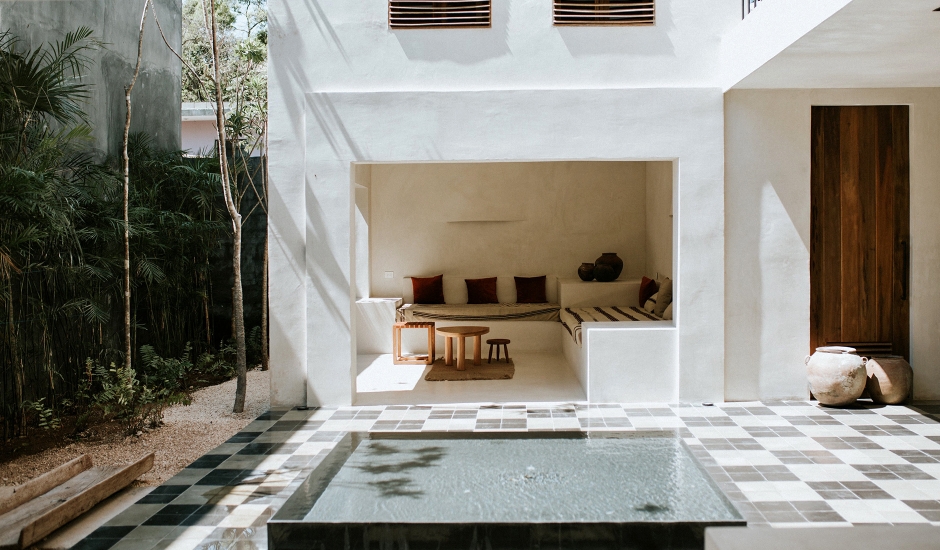 Located on the southern end of Tulum (twenty minutes by car from the center), this hacienda-inspired boutique hotel comprises 16 serene, bright suites, defined by clean, contemporary aesthetics. The style combines tropical vibrancy, urban design, and exotic influences (which include Moorish arches) — but its sophisticated looks are almost deceiving, as Hotel Panamera is one of the more affordable hotels on this list. The hotel's central feature is the swimming pool, laid with handmade tiles, while the on-site restaurant has a whiff of colonial vibe, with French doors opening to the beach. Thatched roofs, striped sun loungers, and whitewashed walls create spaces of warmth and comfort. There is no on-site spa, but in-room treatments are available.
Website: Hotel Panamera Tulum.
Photos © Hotel Panamera Tulum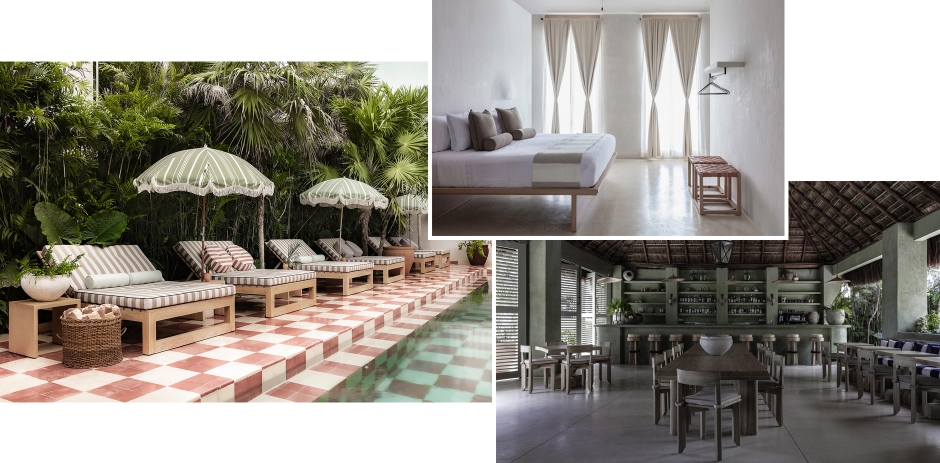 ---
19Aldea Canzul Tulum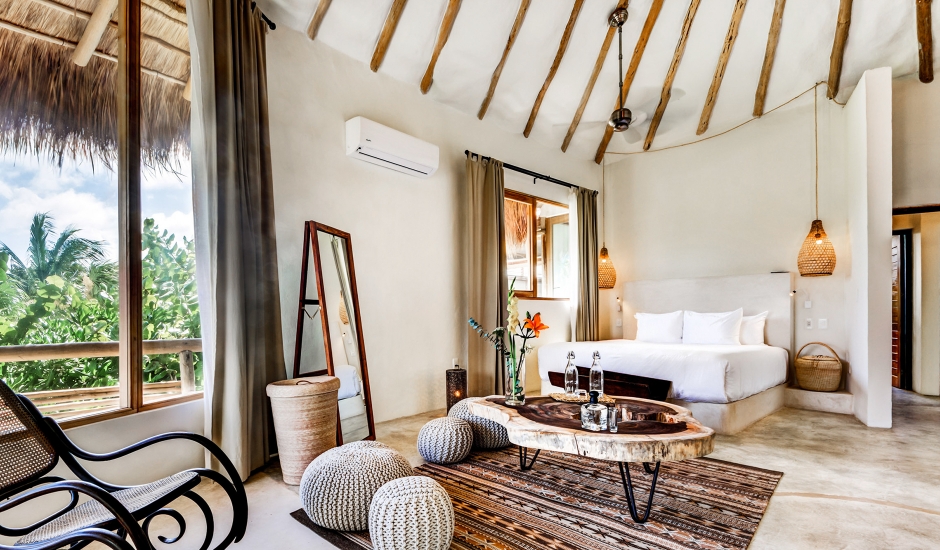 This luxury beachfront retreat consists of three private residences — but rather than a hotel, it is a vacation rental, with a luxury hotel level of service, thanks to an on-site concierge team. Peaceful and private, these residences offer a tasteful take on Mexican architecture and rustic sophistication, with eclectic interiors mixing natural textures with hand-carved furniture and woven lamps, and artisanal craft. The Aldea Canzul villas face a private beach and are fully equipped for a beautiful stay for families or groups. The living areas are spacious and feature full-sized kitchens and sun decks.
Website: Aldea Canzul Tulum, Mexico.
Photo © Aldea Canzul
---
20Hotel Bardo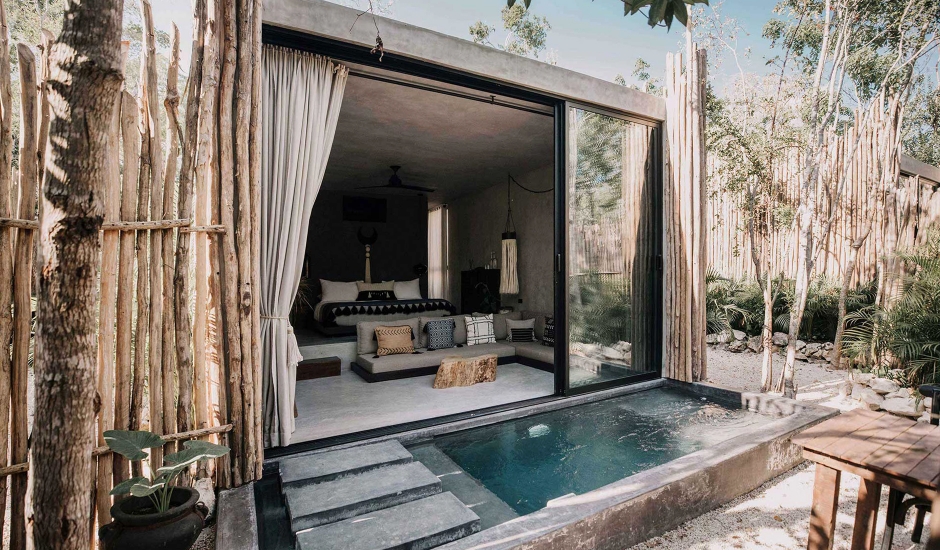 Hotel Bardo promises a unique experience of contemporary lifestyle luxury, focused on transformation to awaken the mind. An invitation to introspection and mindfulness underscores the Bardo's concept and its distinctive design, based on the idea of a "loft-style villa" (but one with a private pool). It follows that the hotel offers various ceremonies and practices of "healing" (e.g., using sound or heat), designed to put you in a self-reflective mood. Surrounded by a tropical jungle, the hotel is decorated with local handmade arts and features a restaurant, an outdoor swimming pool, and a bar. A concierge service is available.
Website: Hotel Bardo, Tulum, Mexico.
Photos © Hotel Bardo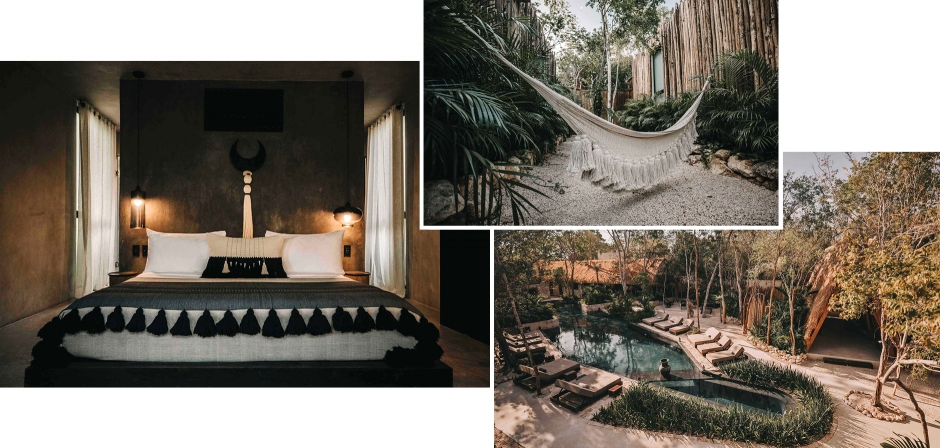 ---
//Best boutique hotels in Tulum: Runners-up!
You may also like

---
Chillaxing in Greece
The below shortlist makes a worthy companion to the main list.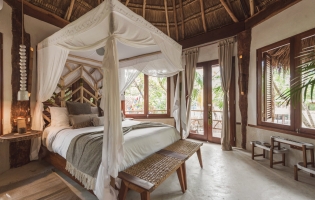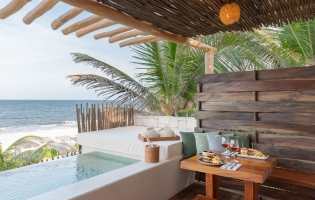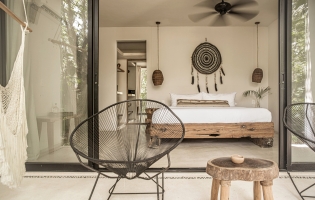 Disclosure: We earn commissions for purchases made through links in this post.
---