How do you find the most promising and exciting new hotels and resorts? Our annual list of the best openings is a great place to start your search.
We are extremely picky with hotels we select to curate here at TravelPlusStyle.com, so you can be sure that the hotels we select are the absolute top-of-the-league trendsetters in contemporary luxury travel. Coupled with the hottest locations, they are sure to satisfy even the most demanding sybarites. From the Maldives to Oman and from Paris to Botswana, the hotels we picked this year are the trendsetters in contemporary luxury as much as they reflect the hottest destinations.
Update: See our lists of the Hottest Hotel Openings from the subsequent years: Top 100 Luxury Hotel Openings of 2020; the Top 50 Luxury Hotel Openings of 2019, 2018, 2017, as well as Africa's hottest hotel openings of 2016 & 2017 and the lists from 2016 and 2015.
1COMO Maalifushi, Thaa Atoll, Maldives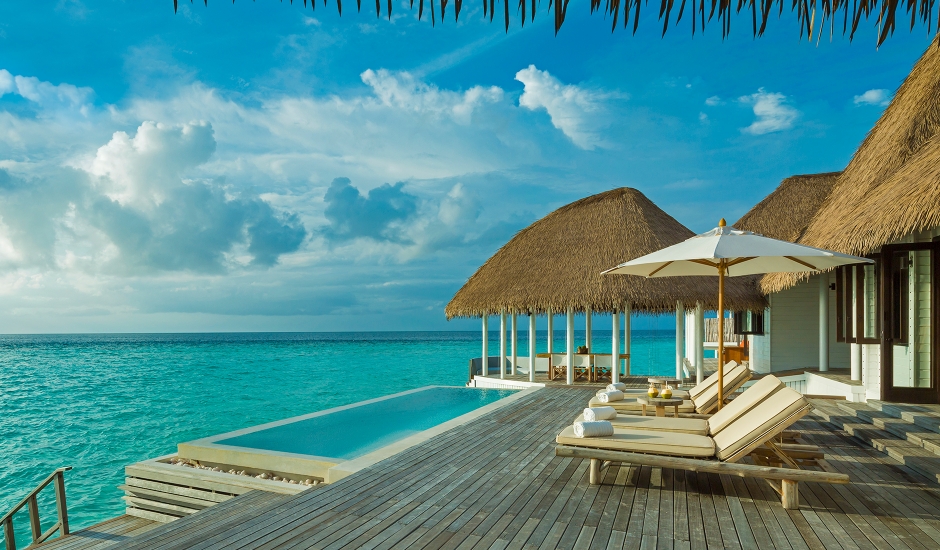 This is the first luxury resort given the license to open in the pristine Thaa Atoll, in the southwest of Maldives. Combining a wild island setting with luxury villas, COMO Maalifushi entices with peaceful ambiance and pared-down looks. It's a lovely remote destination island, especially for couples who are after some peace and quiet, looking to escape it all.
UPDATE: We have since visited and stayed at COMO Maalifushi.
Read our review of COMO Maalifushi here.
Website: COMO Maalifushi, Maldives. Photos (including the leading image) © COMO Hotels
---
2Aman Tokyo, Tokyo, Japan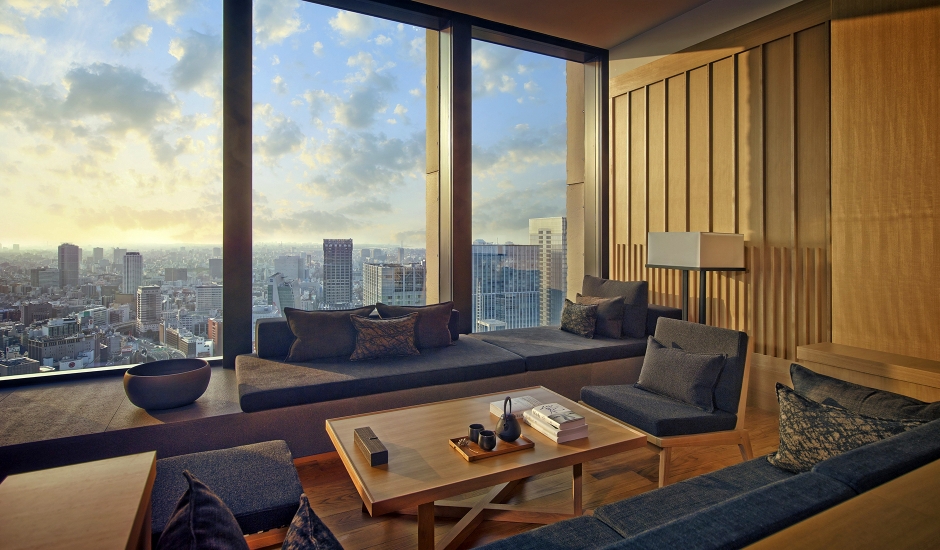 You may also like

---
Hellenistic dream
Aman Resorts are known for sophisticated destination hotels, situated in remote and tranquil locations, and focused on privacy, exclusivity, serenity, and impeccable personal service. Almost all these qualities are present at Aman Tokyo, but this is a city hotel and a departure for what was traditionally a beach resort brand. Occupying the top six floors of Otemachi Tower, and facing the Imperial Palace Gardens, Aman Tokyo has eighty-four rooms and suites, each with panoramic city views. The hotel's centerpiece is its reception hall, rising six floors through the center of the building and distinguished by a majestic architectural feature resembling the interior of a Japanese paper lantern.
See more: Aman Launches a City Resort in Tokyo
Website: Aman Tokyo, Japan. Photo © Aman Resorts
---
3The Peninsula Paris, France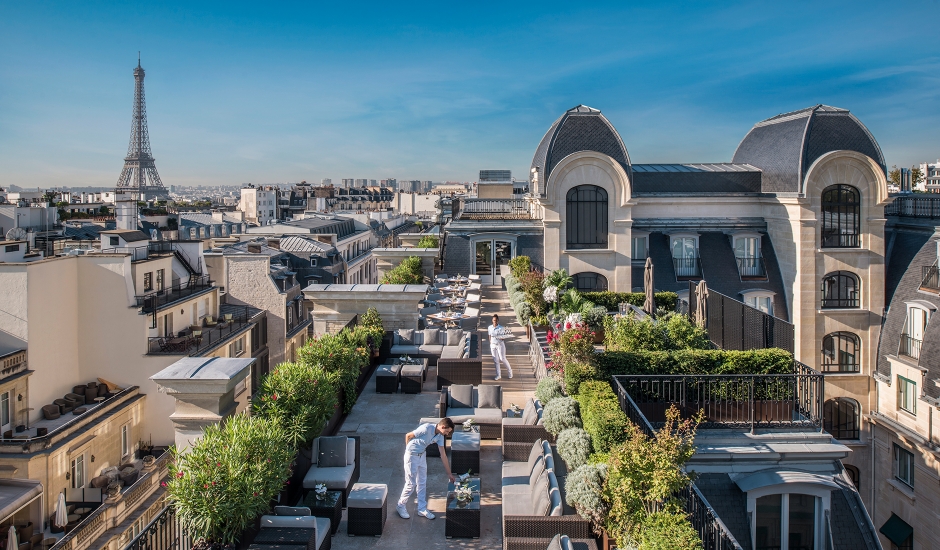 Hong Kong luxury came to the French capital with the opening of Peninsula on Avenue Kléber, just off the Champs-Elysées. Highly anticipated after much delay, this was the brand's début not only in France but in Europe. The hotel wows its guests with the in-room high-tech, underground spa, and indoor swimming pool. The hotel features 200 rooms and five dining outlets.
Website: The Peninsula Paris, France. Photo © The Peninsula Hotels
---
4&Beyond Sandibe Okavango Safari Lodge, Botswana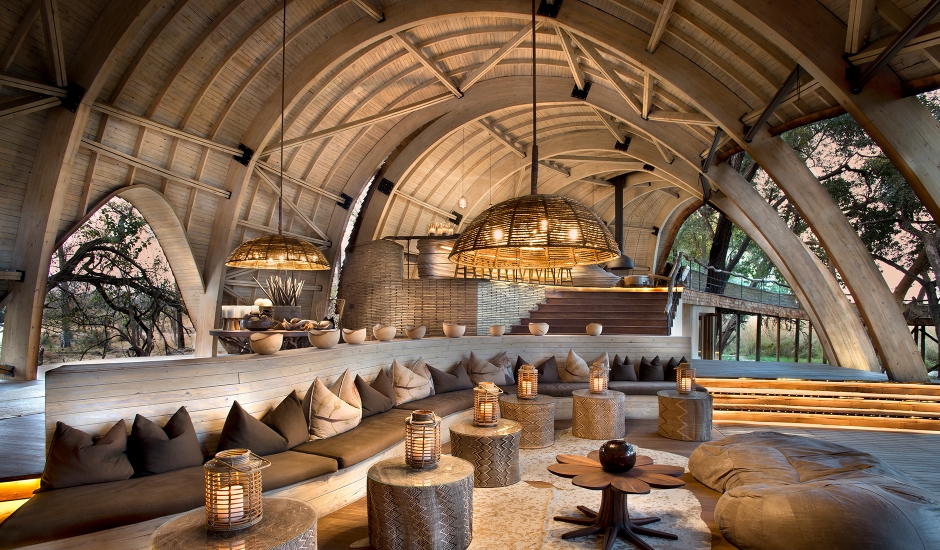 Sandibe Okavango lodge has relaunched after a thorough reimagination and overhaul, as part of the multi-million investment into &Beyond's luxury safari camps and lodges across Africa. Uncluttered and elegant, the design of the lodge celebrates Botswana craft and refined elegance. The lodge is raised above their surroundings, and their suites overlook the rich in animal life landscape of Okavango delta.
Website: &Beyond Sandibe Okavango Safari Lodge, Botswana. Photo © &Beyond 
---
5Mandarin Oriental, Bodrum, Turkey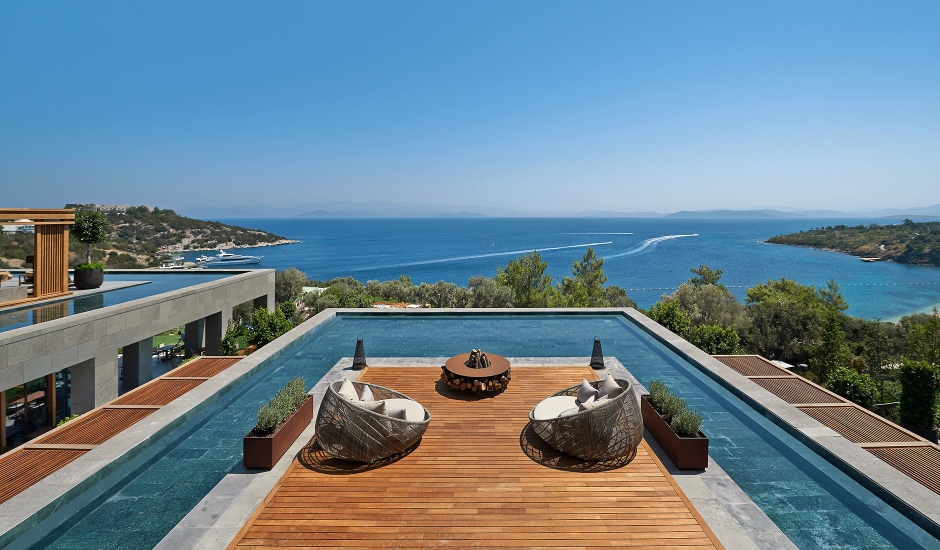 With the ratio of staff to guests almost 1:1, Mandarin Oriental offers refined luxury on the glittering coastline of Bodrum's tranquil Paradise Bay. The resort is spread over nearly 150 acres on a wooded hillside, descending to two private beaches. The range of facilities includes restaurants, a fabulous spa, and a choice of stylish rooms, suites, and villas. The interiors are luxurious and sleek, laid with teak and marble, and are elegantly furnished.
6Plaza Athénée, Paris, France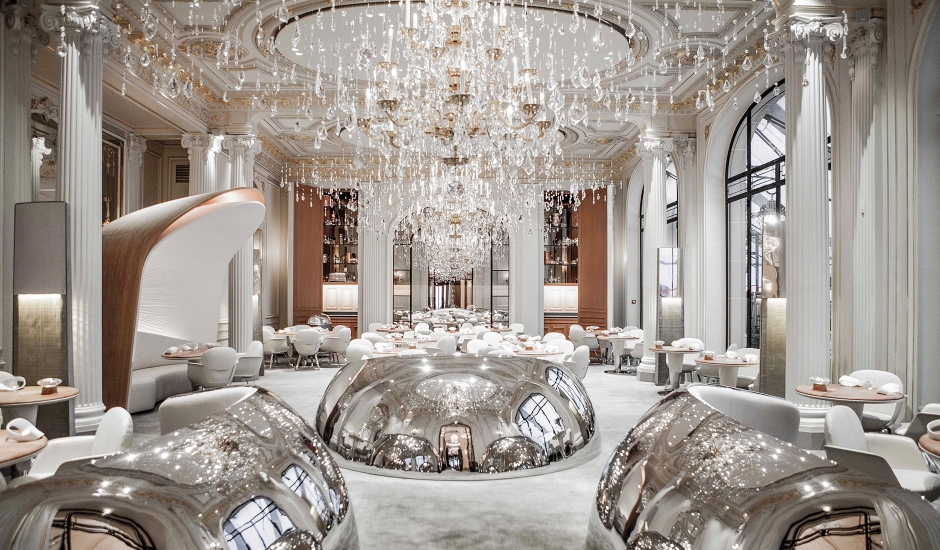 The most recent unveiling of this glamorous Parisian hotel followed a 200 million euro expansion and renovation. Opened with 208 rooms, a Christian Dior-appointed spa, five restaurants run by a Michelin-starred chef, and an air of exclusivity, the Hôtel Plaza Athénée embraces opulence, playfulness and ostentatious luxury. This fabulous hotel enjoys one of the most iconic views of Paris and earned fame as a location in fashion-themed films such as Sex and the City and The Devil Wears Prada.
Website: Plaza Athénée, Paris, France. Photo © Dorchester Collection
---
7Alila Jabal Akhdar, Nizwa, Oman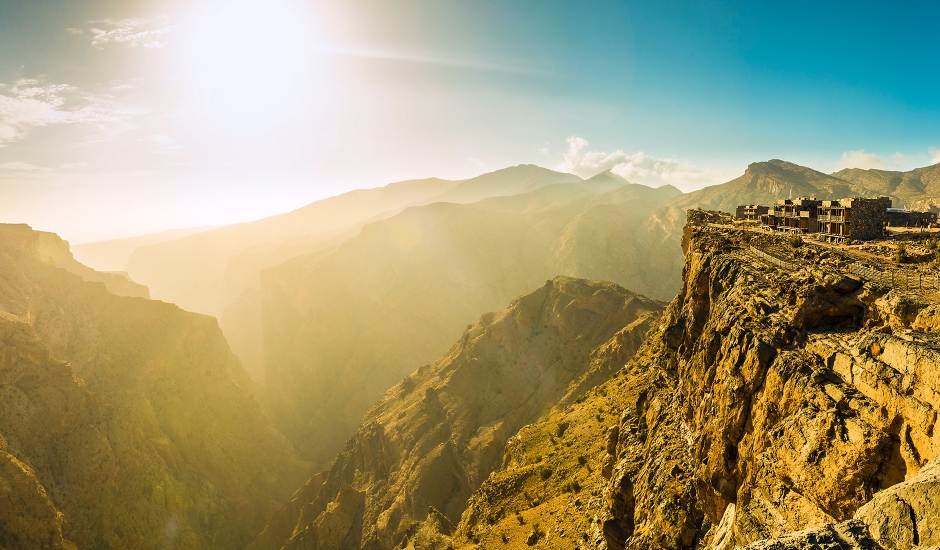 You may also like

---
A sensory feast of sophisticated style, atmosphere and design
We've been to Oman's Hajar Mountains and can attest: these landscapes are breathtaking. Positioned atop a cliff that drops hundreds of meters into a dramatic gorge, with stunning views of the mountains, Alila Jabal Akhdar uses the spectacular beauty of this region to the greatest advantage. Only some two-hour drive from Muscat, the resort is ideally placed for exploring the region.
UPDATE: Read our review of Alila Jabal Akhdar here.
Website: Alila Jabal Akhdar, Nizwa, Oman. Photo © Alila Hotels & Resorts
---
8Artist Residence London, United Kingdom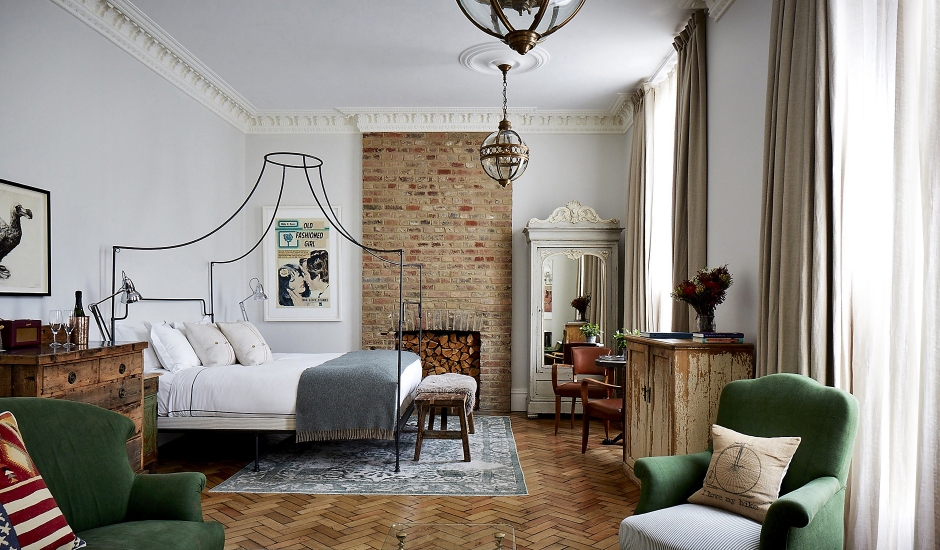 Fizzing with original art, quirky furniture, and playful ideas, the Artist Residence London is a small boutique hotel with only ten guest rooms, located on a peaceful side street of Pimlico. Vibrant and fun, the hotel offers retro-inspired rooms for a comfortable stay. Its original atmosphere and style is defined by a tasteful mix of velvet armchairs, milking-stools, antler chandeliers, Smeg fridges, and smile-inducing prints.
Website: Artist Residence London, United Kingdom. Photo © Artist Residence Ltd
---
9Cape Weligama, Sri Lanka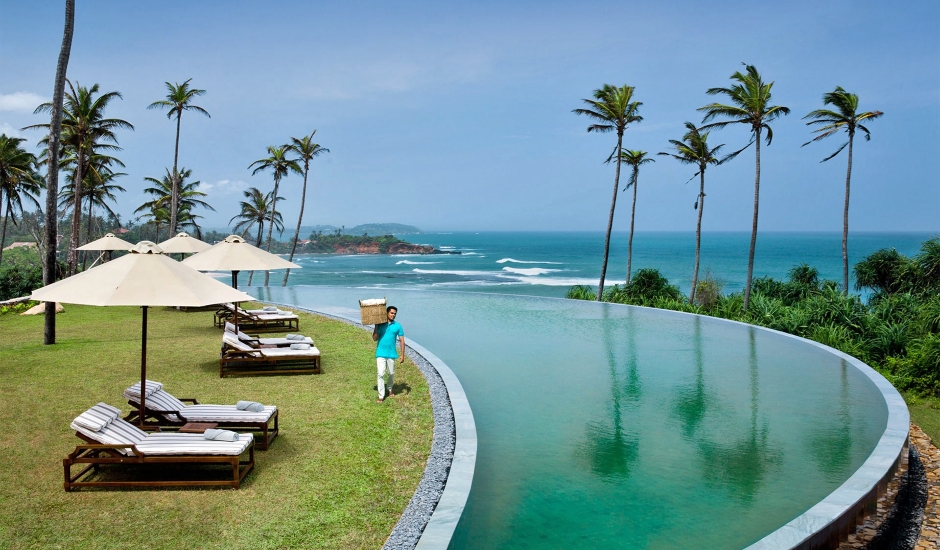 In recent years Sri Lanka blossomed into one of the hottest destinations for luxury travel, and new luxury resorts and hotels began to appear all over the island. Among the best ones is Cape Weligama. Perched on a stunning oceanfront cliff just 30 minutes outside of Galle, this gorgeous, boutique-style retreat is an all-in-one destination resort, with excellent facilities and superb spots for relaxing. The fabulous crescent-shaped swimming pool positioned on top of the cliff and just above the gym and bar is the hotel's most iconic feature.
UPDATE: Read our review of Cape Weligama here.
Website: Cape Weligama, Sri Lanka. Photo © Resplendent Ceylon Ltd.
---
10Portrait Firenze, Florence, Italy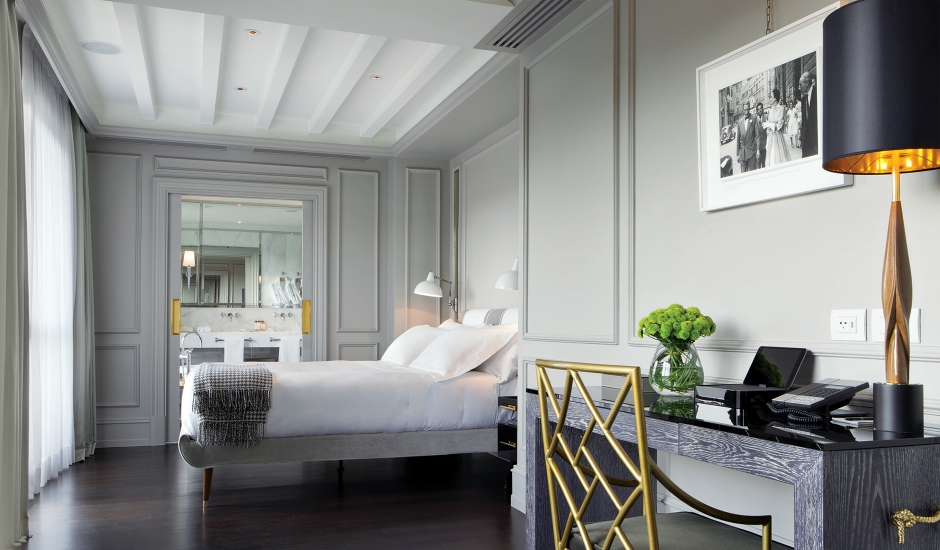 The Ferragamo family, who launched the Portrait Firenze, are reputed for luxury-redefining hotels. No wonder then that this 34-suite hotel has created quite a buzz. The accommodation ranges from 40m² studios to a 130m² Signature Suite, and the interior design recalls the high-life of the '50s.
Website: Portrait Firenze, Florence, Italy. Photo © Lungarno Alberghi S.r.l.
---
//Hottest Hotel Openings 2014: Runners-up
You may also like

---
The best hotels launched in 2015
Let's supplement the above 10 Hottest Hotel Openings of 2014 with the list of the hotels and resorts that are worth at least a mention, even if they didn't quite make it to the list proper.
The Norman Tel Aviv, Israel.
Fontevraud L'Hôtel, Fontevraud-l'Abbaye, France.
Park Hyatt Vienna, Austria.
Miss Clara by Nobis, Stockholm, Sweden.
Casa Ellul, Valletta, Malta (image below, right).
Riad Mena & Beyond, Marrakech, Morocco.
Riad Be Marrakech, Marrakesh, Morocco.
Karawan Riad, Fez, Morocco. With seven expansive suites and a rooftop garden, this elegant property occupies a seventeeth-century palace in the Andalous Quarter of the medina.
Sala Ayutthaya, Thailand.
Iniala Beach House, Phang Nga, Thailand.
Rosewood Beijing, China.
SO/ Sofitel Singapore, Singapore.
Banyan Tree Yangshuo, China (image below, left), promising exceptional mountain views and idyllic riverscapes in the landscape of dramatic limestone mountains towering over emerald-green rice fields—for which Yangshuo is world-famous.
InterContinental Hayman Island Resort, Australia (image below, middle).
Casa Malca, Tulum, Mexico.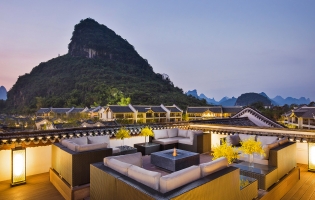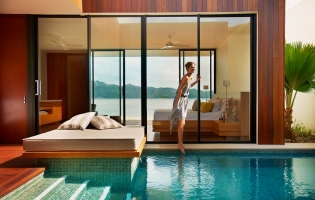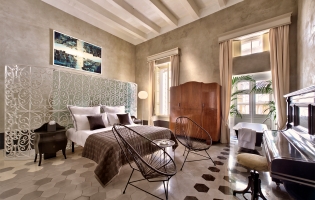 ---