In our annual Top Hotel Openings feature, we listed Aman Tokyo as one of the most promising openings of 2014. But we were eager to know more about this new development from one of our favorite hotel brands — especially as a city hotel was something new for Aman.
Aman Resorts is renowned for offering exclusive experience and privacy. Their legendary service has been represented best in what we call "ninja housekeeping," where a team would always swoop in as soon as they knew we were out of the villa. It's almost uncanny.
We expect the latter to be as essential to their Tokyo hotel as it is to other resorts such as Amankila in Bali, Amanbagh in India, Amanoi in Vietnam, and others we visited and stayed at. But a city hotel is a new beginning for a brand traditionally most comfortable with isolated beaches, faraway mountains, or remote jungle locations.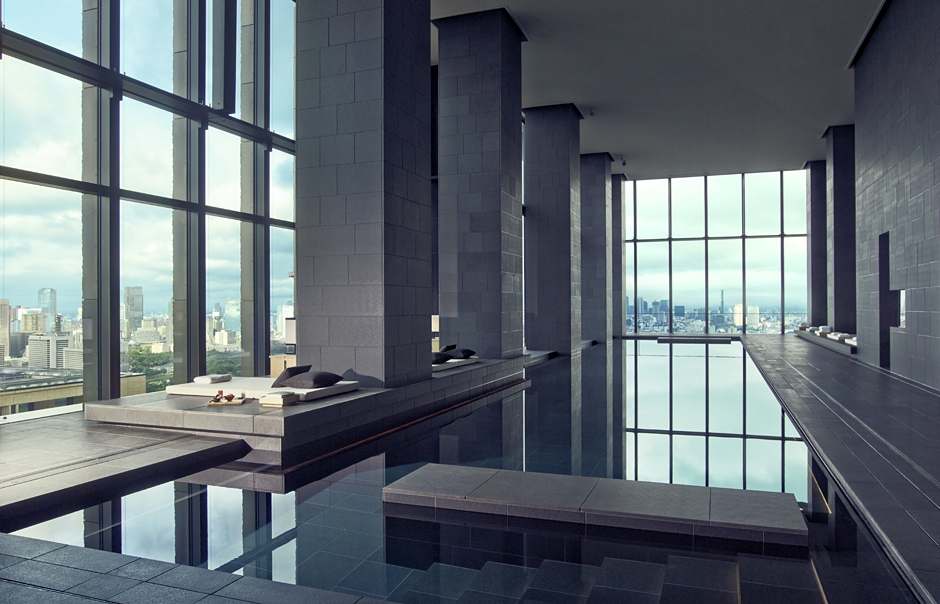 City Retreat
"Our new concept, commencing with Tokyo, perfectly captures the legacy and heritage of Aman and presents it for the first time in an urban setting."—Olivier Jolivet
Occupying the top six floors of Otemachi Tower in a prestigious financial district and facing the Imperial Palace Gardens and surrounding landmarks, Aman Tokyo has 84 rooms and suites, each with panoramic city views.
As with all other resorts in the Aman portfolio, a hallmark of its design is the harmony of architecture and interiors, with elements of the local context underscoring the Aman's classic understated luxury style.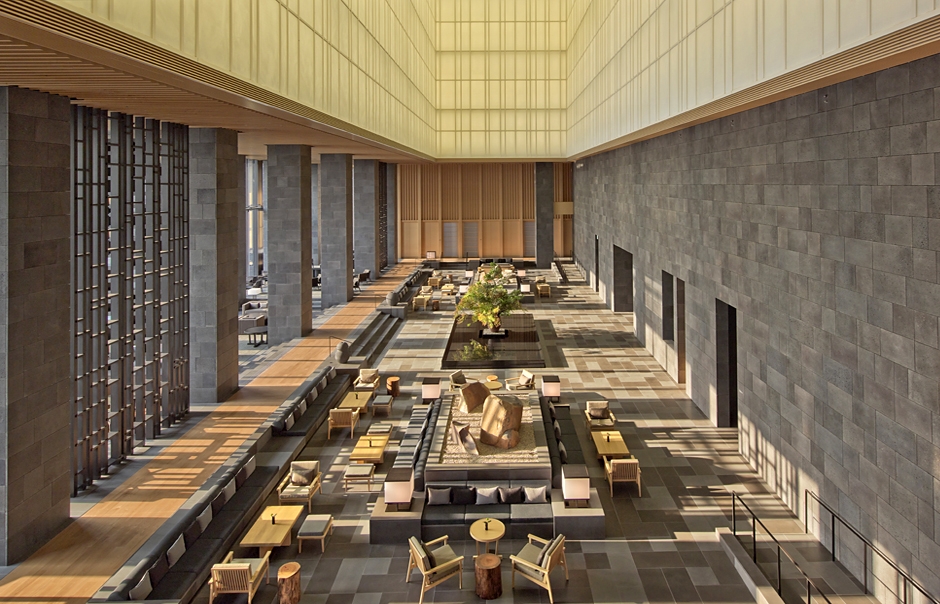 Sophisticated relationship of shadow and light, technology and textures, grandeur and intimacy, is fundamental to the hotel's design and ambiance. In a mix of traditional Japanese influences and contemporary design, the interiors play with an abundance of daylight, classic Japanese materials such as Camphor wood, Washi paper and stone, and a variety of fabrics and textures—infused with modern technology to reveal the hotel as a pinnacle of relaxed luxury.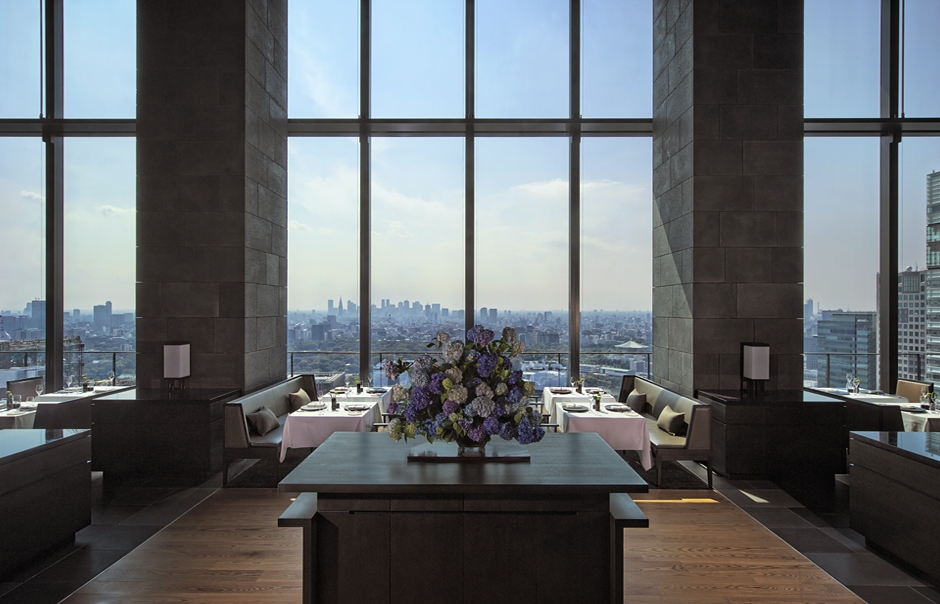 The hotel's centerpiece is its reception, with a majestic architectural feature resembling the interior of a Japanese paper lantern. At nearly 30 meters high, rising six floors through the center of the building, the vast expanse is anchored in the hotel's peaceful inner garden.
Created with layers of textured Washi paper and stretched with the Shoji frame, the Lantern allows diffused sunlight to illuminate the reception during the day to transform the ambiance in the evenings with series of orchestrated lighting scenes.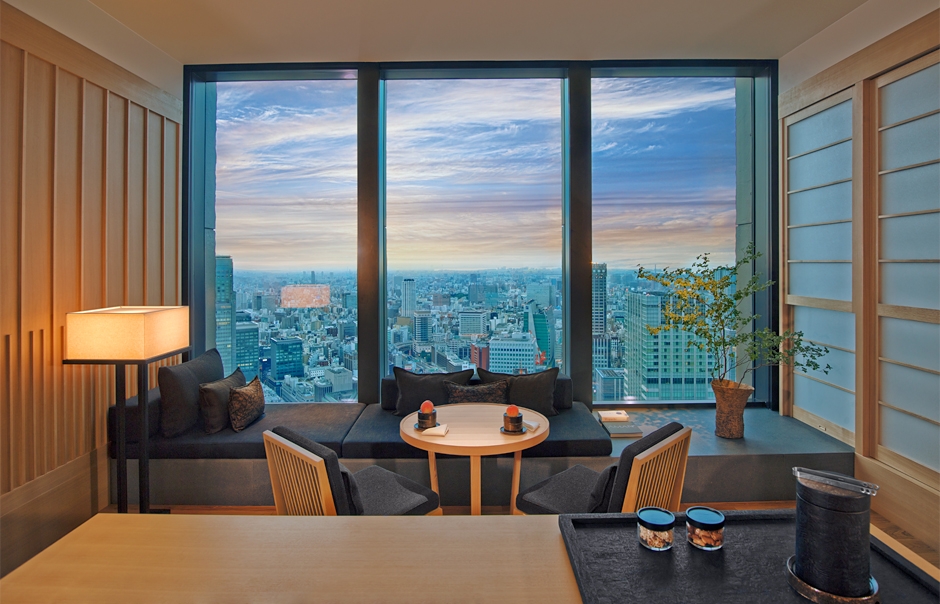 Aman Resorts future
"Aman city retreats will become an integral part of the Aman strategy and having been an Amanjunkie for many years, I am deeply passionate about, and protective of, the Aman brand."— Vladislav Doronin, majority shareholder.
With the takeover of Aman Resorts by a Russian billionaire Vladislav Doronin and the departure of Adrian Zecha, the legendary founder of Aman, the brand sailed into the unchartered waters. The entry into the city resorts market is an indication of the things to come, as Aman is looking into opening similar properties in New York, London, Paris, and Singapore.
As exciting as this sounds, only time will show if the new leaders of Aman succeed in maintaining the brand's ethos, with the legendary service, attention to detail, and focus on guest's privacy—so loved by the Aman aficionados, the "Amanjunkies."
All Photos © Aman Resorts