It was here that, in the early 1940s, a grave was excavated, inscribed simply with the words "Petros Eni"—or "Peter lies here" in Greek, which was the language of early Christian community from the Eastern Roman Empire. Inside, remains of a tall man were discovered, claimed today by the Vatican as the bones of St. Peter, one of the original Apostles.
Hottest tickets in Rome
With only two hundred and fifty guests allowed each day, a visit to this ancient cemetery is a privilege and naturally the Scavi Tour is one of Rome's hottest tickets. The tour, lasting about an hour and a half must be booked months in advance.
The entrance is reached on foot through the Arco delle Campane ("Arch of the Bells"), to the left of the façade of St. Peter's Basilica. The guide met us right there, outside of the excavation office. We joined a small group of visitors and were led down to the Necropolis.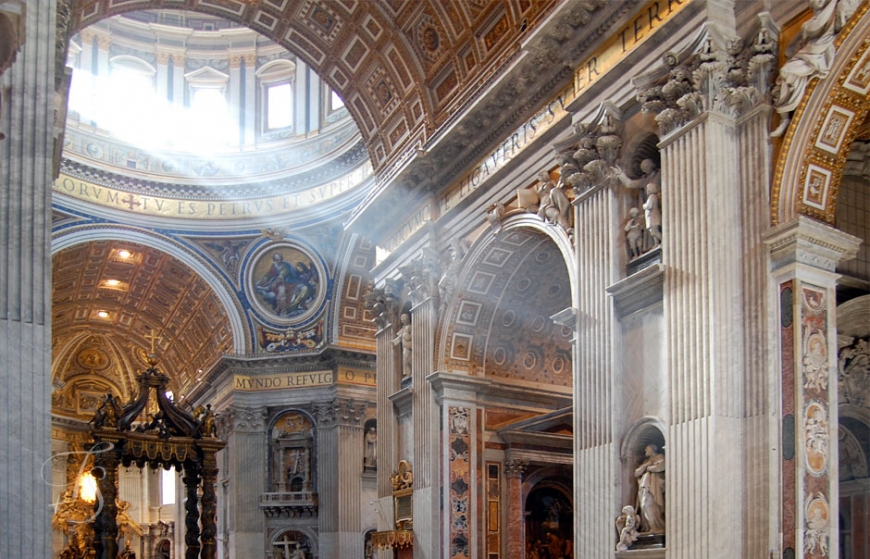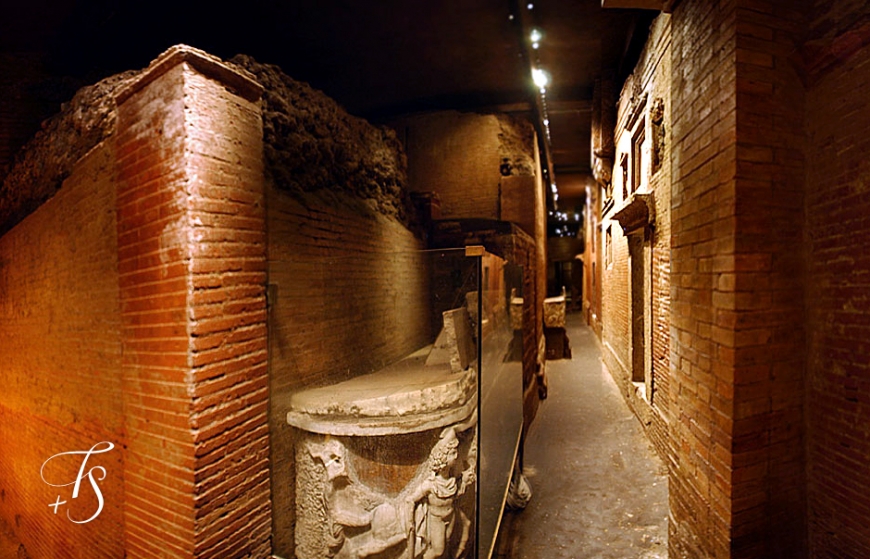 Our tour
Our guide, a humourless, stern Polish lady ("ABSOLUTELY no photography", we were told off for the few sneaky shots) walked us through the Necropolis, explaining along the way why we can be sure the Necropolis holds the real St Peter tomb and not anybody else's.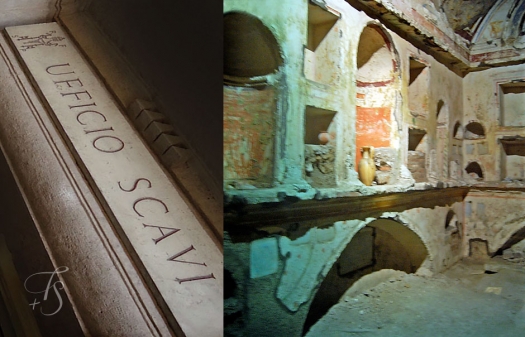 It was interesting; the simple fact that the emperor Constantin went to great lengths to build the church right in this spot is enough to make you think: he spent a fortune compensating rich Romans for leveling the cementery.
Nevermind though—the tour was one of the highlight of Rome for us, thanks to the unique atmosphere underground and the sheer weight of centuries upon centuries of history and myth.
The weight is literal too: although the cemetery was actually build on top of the Vatican Hill, its narrow pathways running on the original ground level, today the necropolis is buried deep beneath the floor of the basilica.
Good to know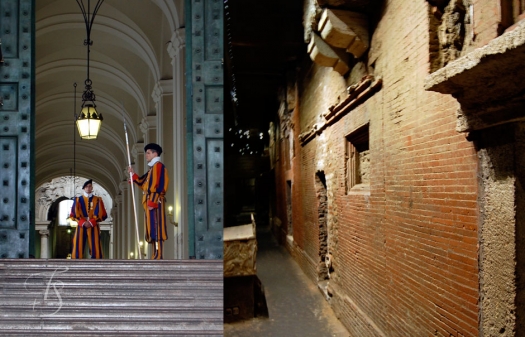 The Vatican is very serious about its Necropolis treasure. Fair enough—just follow the simple rules.
Make sure you turn up dressed appropriately ("long trousers/slacks/jeans for men; dresses that reach below the knees or long trousers/slacks/jeans for women; shoulders must be covered for all.");
"Absolutely prohibited" during the visit are: large bags or luggage, backpacks and cameras—they have to be deposited;
Requests to be accepted for the visit can be submitted via email (scavi@fsp.va), by fax +390669873017, or by visiting the Excavations Office in person;
If you suffer from claustrophobia, have dislike for cramped conditions, or have any breathing difficulties then the Scavi Tour may not be for you. Children visiting the necropolis must be older than 16;
The cost of the individual ticket is 13,00 Euros (approximately $ 16.50 USD).
More detailed information on the vatican.va Visits to the Tomb of Saint Peter and the Necropolis under the Vatican Basilica page.