Encompassing a sandy sunset beach, restaurant, and live event space, Scorpios Mykonos in Greece is an all-round, balance-restoring cultural hub, designed as an antidote to the beat-driven nightclub Mykonos scene.
This new opening is an offshoot of the San Giorgio Mykonos Hotel, which we compared to a "summer home of your coolest friend". Thanks to a lovely mix of luxury and rustic charm, and a Mediterranean style touched by Moroccan flavor, we called it "one of the most beautifully decorated places in Mykonos".
The Scorpios Mykonos in Greece builds upon the bohemian-luxe visual identity of its older sibling, carrying on the relaxed design themes and a style perfectly suited for passing languid days and evenings.
And as with the San Giorgio, it's a feast for the senses—a design that harmoniously unites contrasting textures and shapes.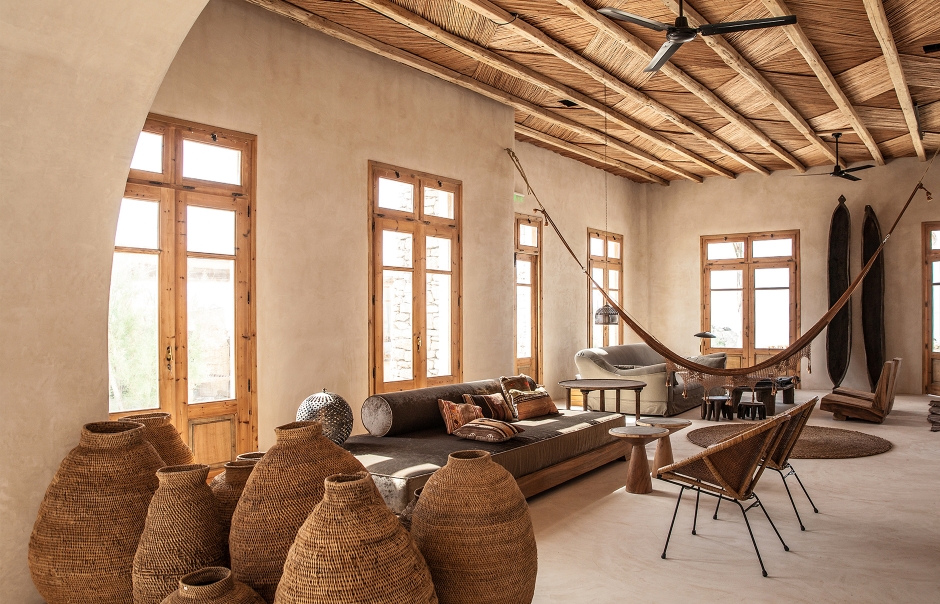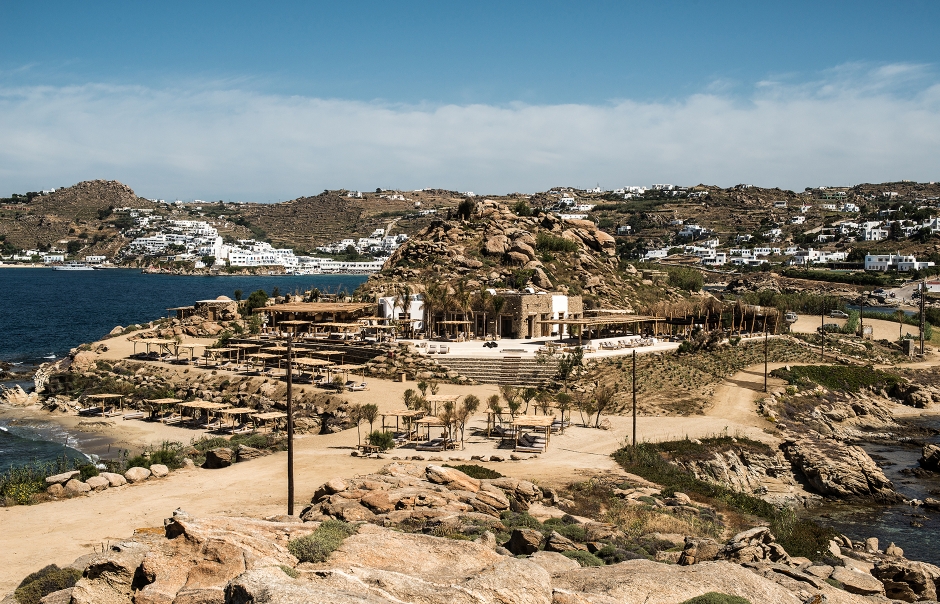 ---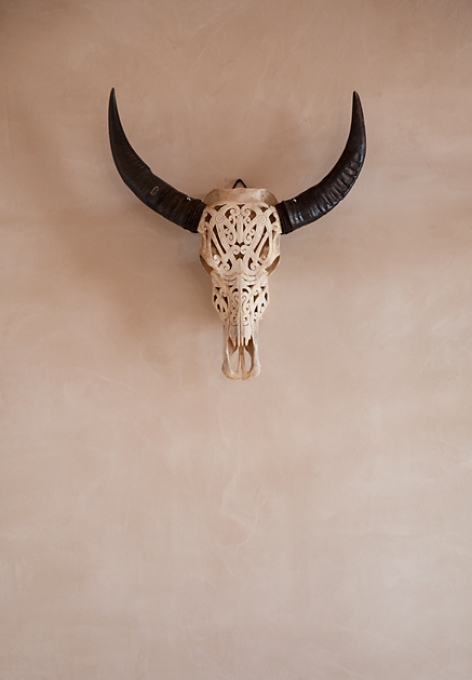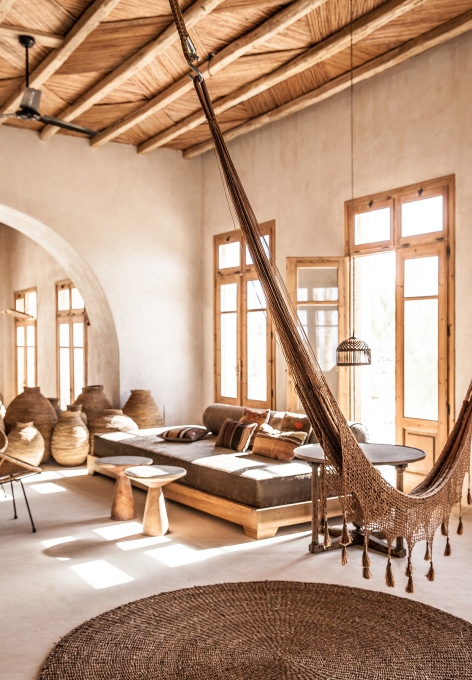 You may also like

---
A boutique getaway
Under a thatched ceiling
Located only a short, scenic stroll from San Giorgio Mykonos, guests of the hotel and visitors alike can enjoy open-air terraces spilling into the Cycladic coastline, and lounge on low-slung sofas and rope hammocks—which together with abundant wickerwork demonstrate an emphasis on the local craftsmanship and Greek culture.
Mixing minimalism with rich textures and handcrafted details, Scorpios never overdoes—its style very gently reminding of stylistic influences of 1960s glamour and contemporary modernism.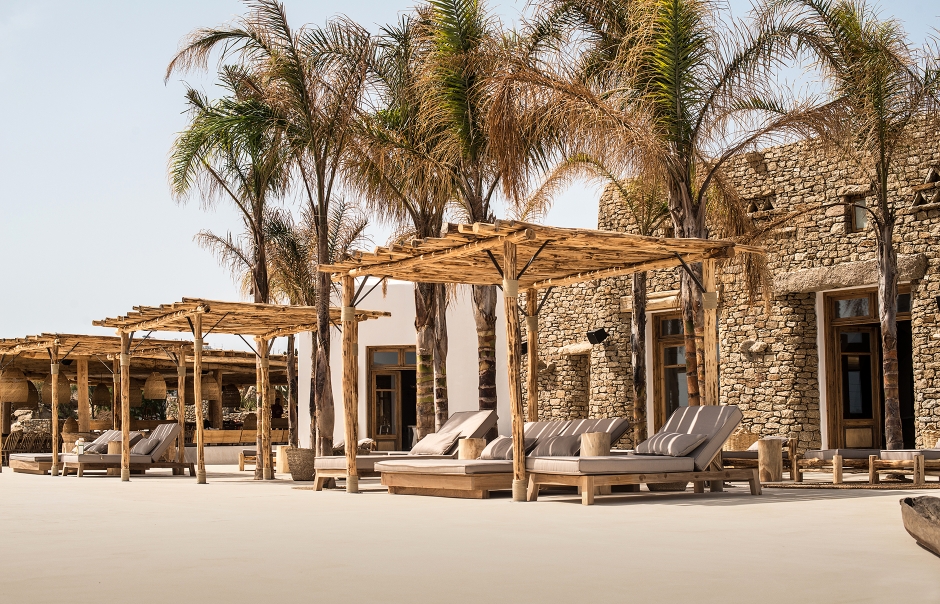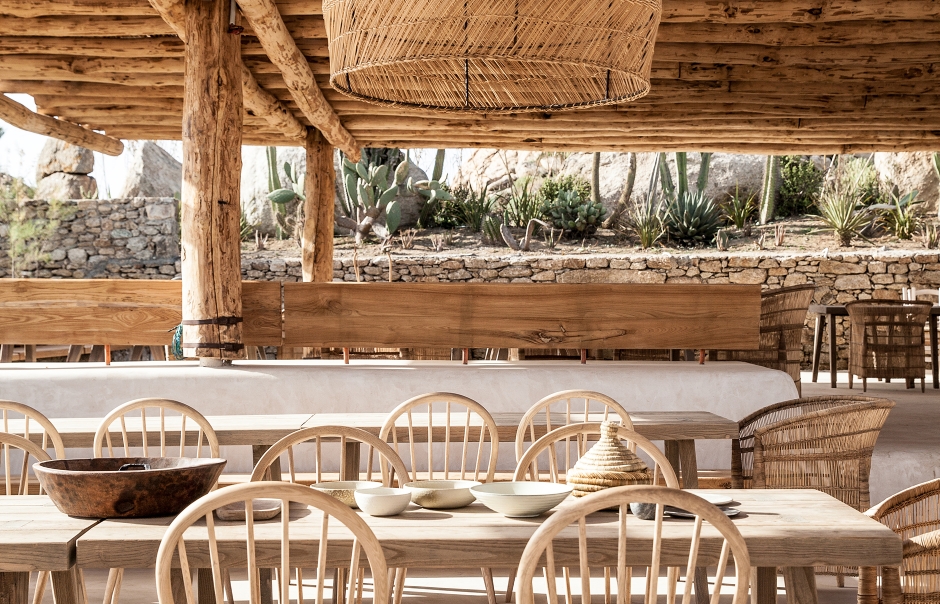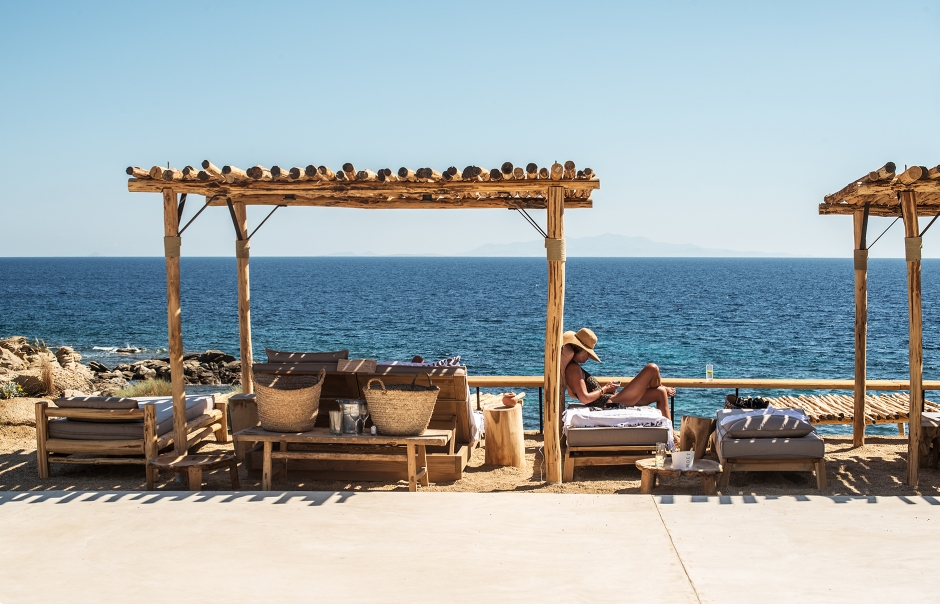 ---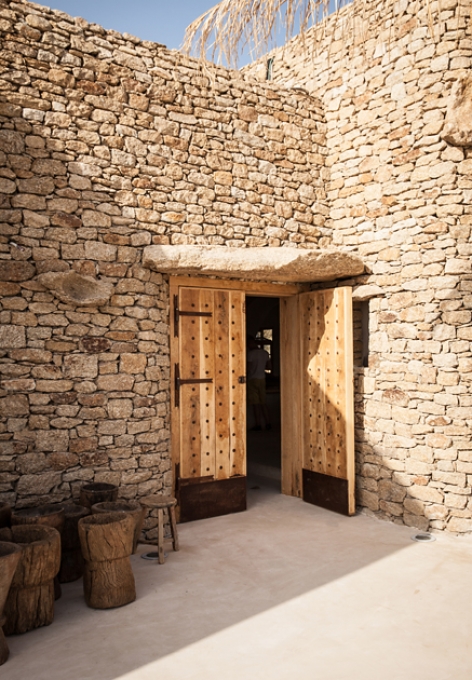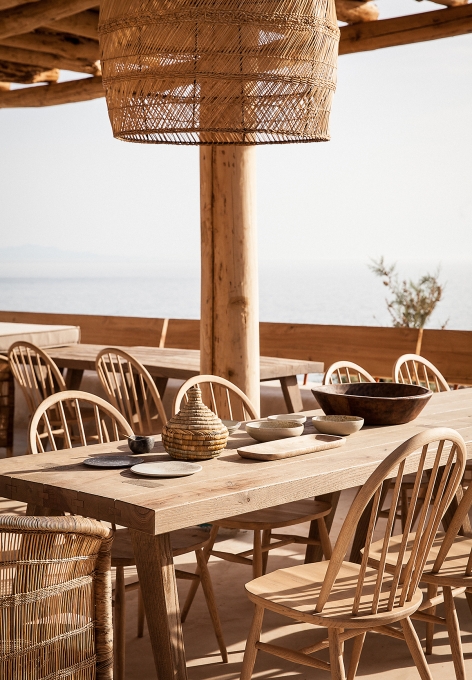 "I loved this idea of re-imagining the Greek agora—a place where thought is cultivated and the soul nourished by sublime surroundings, fresh food and inspired cultural programming."—Claus Sendlinger, Founder and CEO of Design Hotels™
Invitation to unwind
A day at Scorpios is thought of like a ritual. It begins with meals: the "healthy offerings" of fresh, organic, local, inspired dishes, designed to make guests feel "energized and whole".
Approaching evening, Scorpios Mykonos turns "shared sunset" into an intoxicating musical event, where renowned international DJs enrich their house/downtempo medleys with ambient tunes, as well as deep ethnic sounds and world folklore.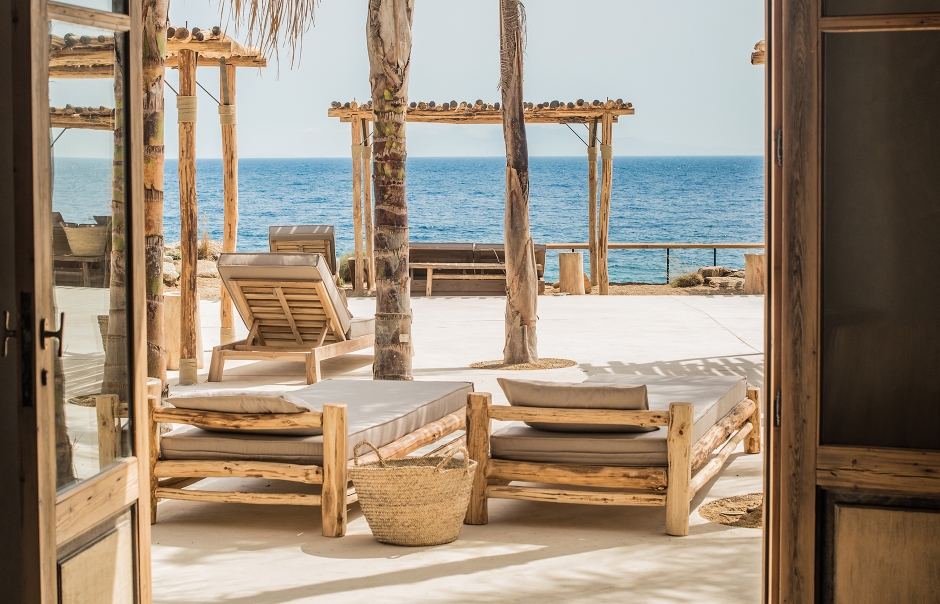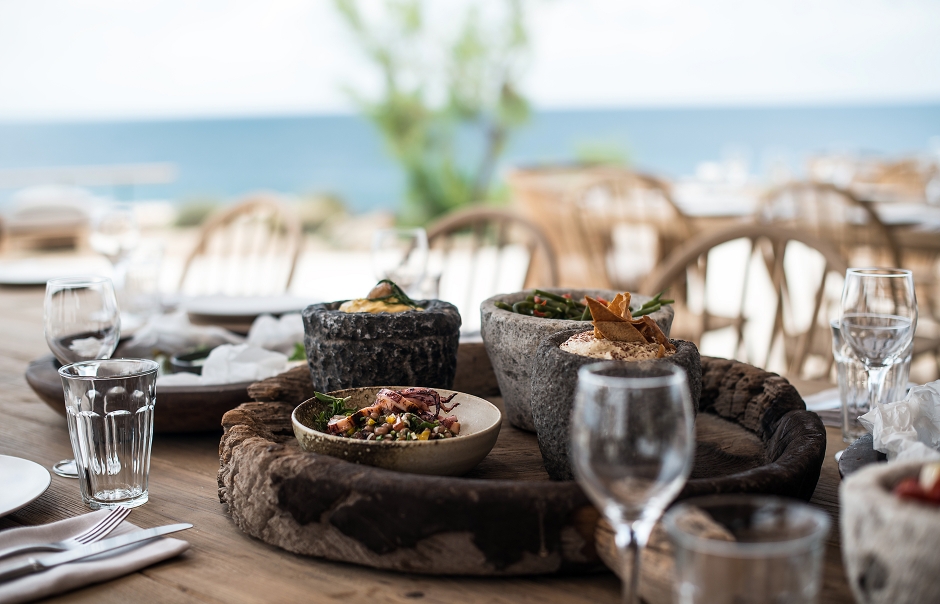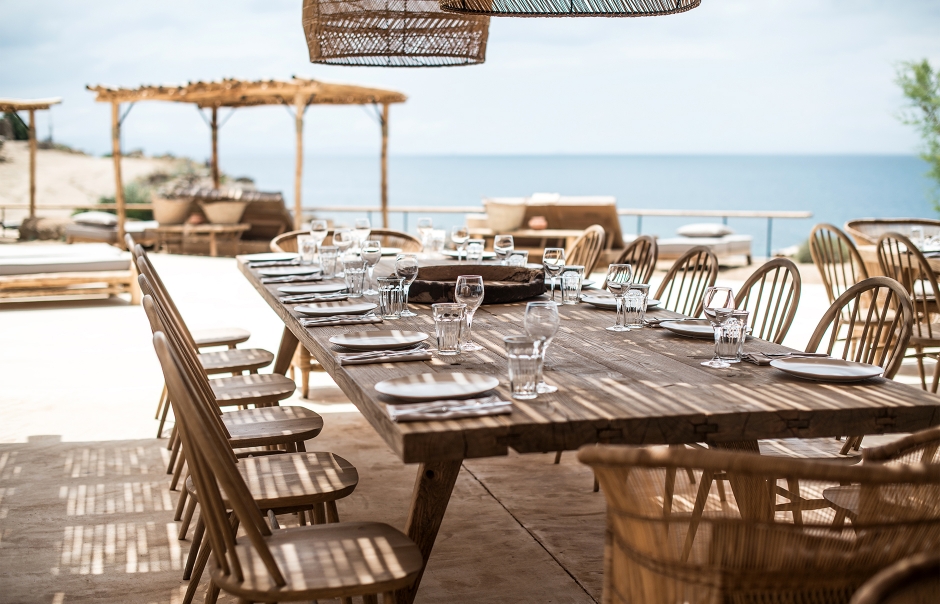 You may also like

---
Cave dwelling with the views
Scenic location
Scorpios is located on a southern tip of Mykonos island, on a peninsula flanked by Kavos and Paraga Beach, 5 km from the center of Mykonos Town and 3.5 km from the airport. Public transport from Mykonos Town to Paraga runs every 30 minutes.
Find out more on the Scorpios Mykonos website.
Photos © Scorpios Mykonos