Only the pitched roof of the Barn is visible from afar, certainly not promising anything much out of the ordinary. Bordering a quiet nature reserve, few miles inland from the Suffolk coast and located near the historic towns of Walberswick and Aldeburgh, this property could be just another local house.
But the Barn alters the expectations with its sensational take on landscaping. The building protrudes from a ridge, seemingly afloat in mid-air—a balancing act made possible by the rigid structure of the barn. As much as half of the 30-metre-long building hangs in space.
The house's principal position enables a wide view over the Suffolk landscape, adjacent lake and the surrounding garden. Landscape around the house seem to be a part of the design—reflected in the steel tiles, the changing weather and seasons affect the house's exterior.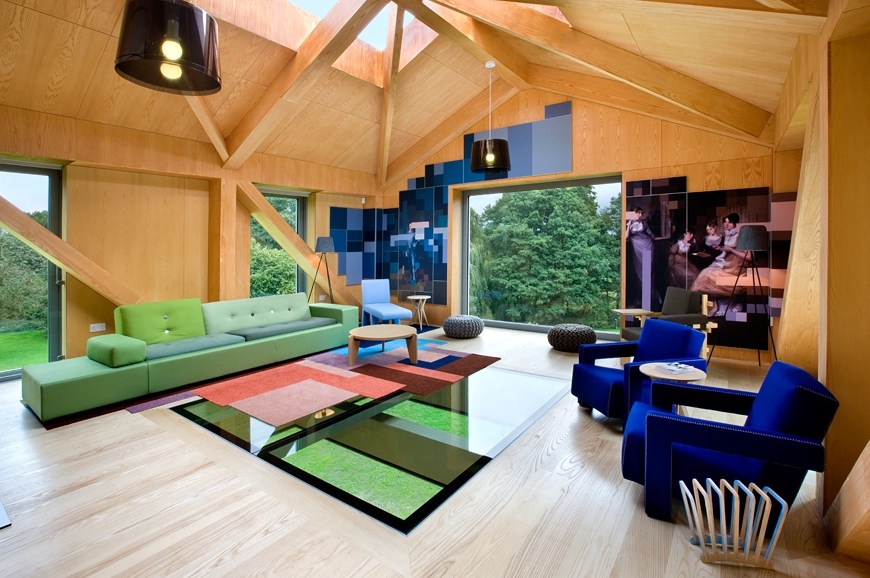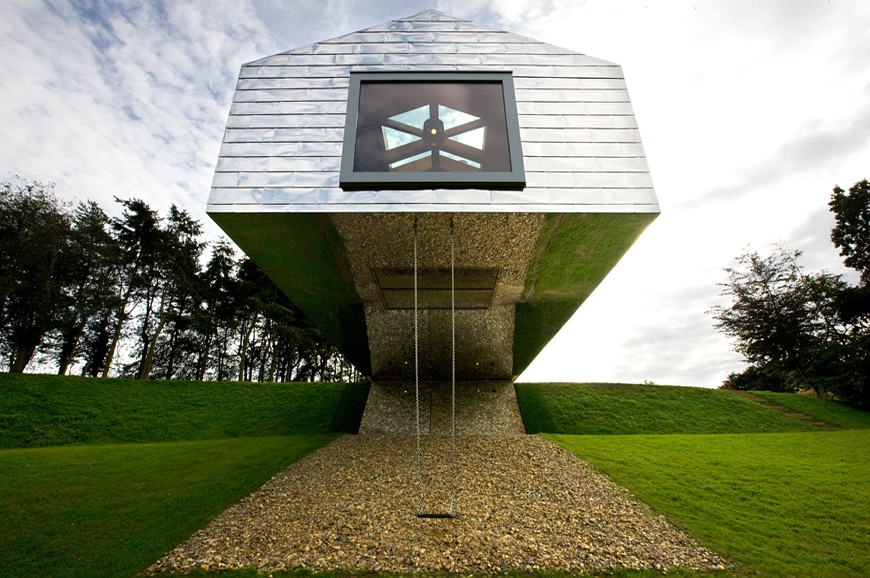 "I want to help people get over the dichotomy that modernism equals awful and antiquated equals great. There is still, in many people's minds, a fear around the words 'modern architecture'." —Alain de Botton
The ingenuity of this design confirms the world-wide reputation for creative playfulness from the Dutch firm MVRDV, the studio responsible for creating the Suffolk property. They were commissioned by the not-for-profit Living Architecture, an organization set up by philosopher Alain de Botton, who came up with the idea whilst writing The Architecture of Happiness.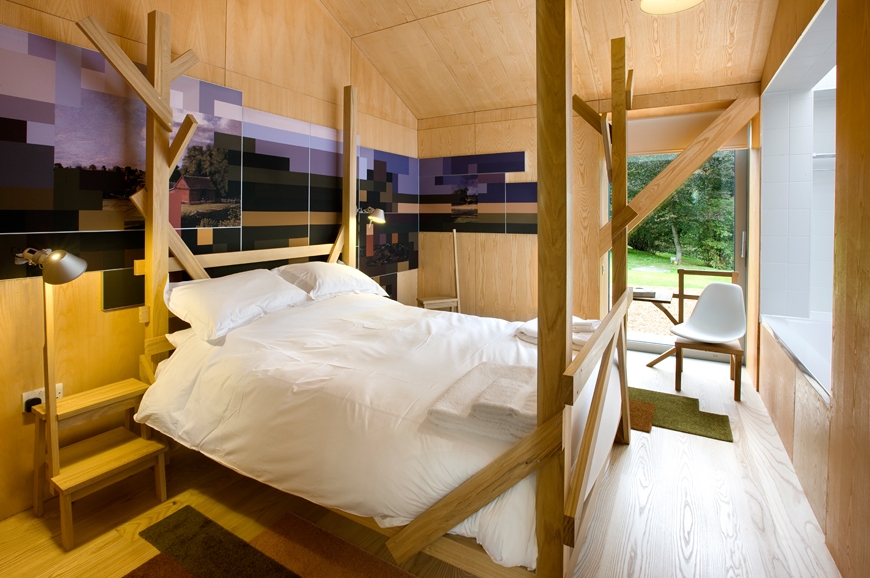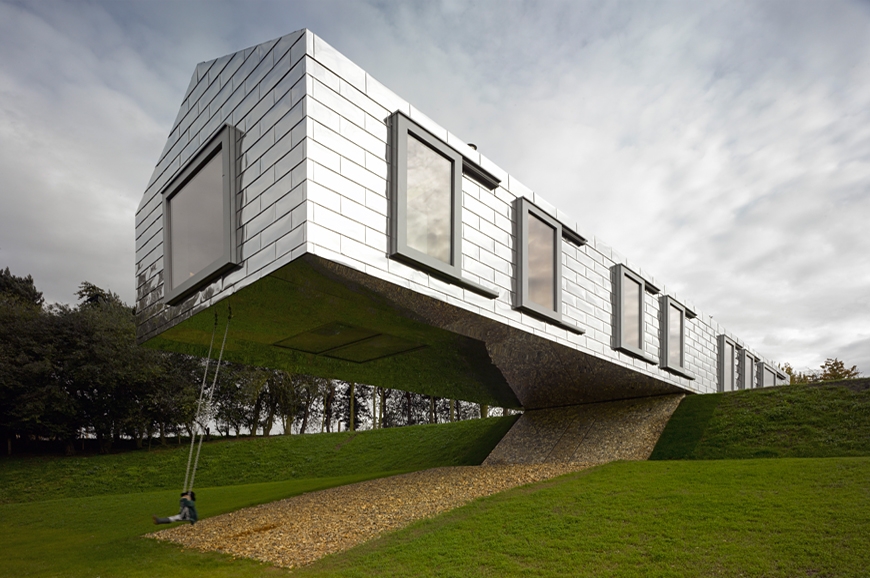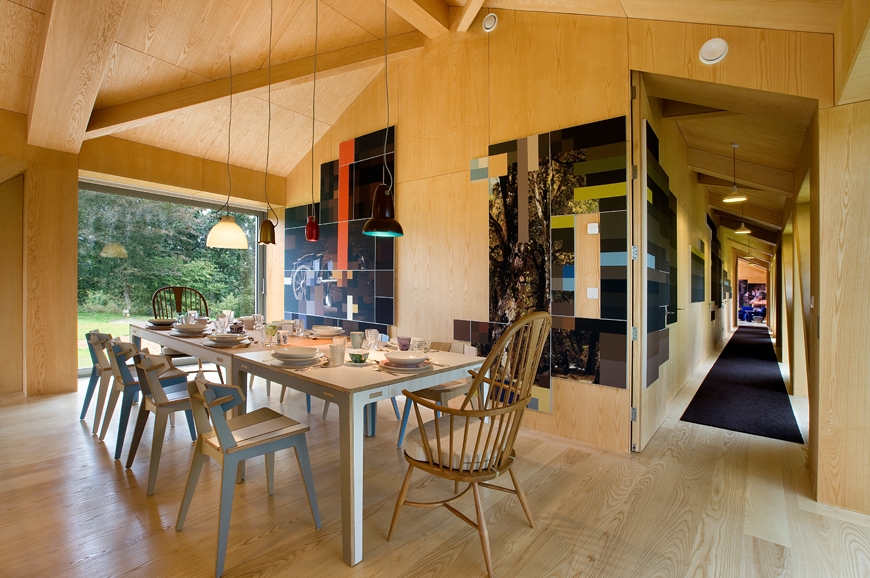 Home comforts
"[The house is] for people interested in a good holiday, but also an educational experience while they are in the property. You are more than just sleeping here—you are […] learning about modern architecture."— Alain de Botton
The bold architecture makes the first impression, but the property doesn't compromise on interiors. Designed by the Dutch design office Studio Makkink & Bey, the Barn's four double bedrooms, kitchen, dining room and the large living room—located in the cantilevered end of the barn—is furnished with bespoke objects that form a beautiful collection of chairs, tables, sofas and lamps from leading contemporary Dutch designers.
Walls and floor feature sampled and manipulated paintings by Constable and Gainsborough—bespoke artworks of geometry and striking colour.
The barn sleeps up to eight people. The bedrooms (all with ensuite facilities) have full height sliding windows, roof lights and a glass floor, providing wonderful views and connecting to the rhythms of nature.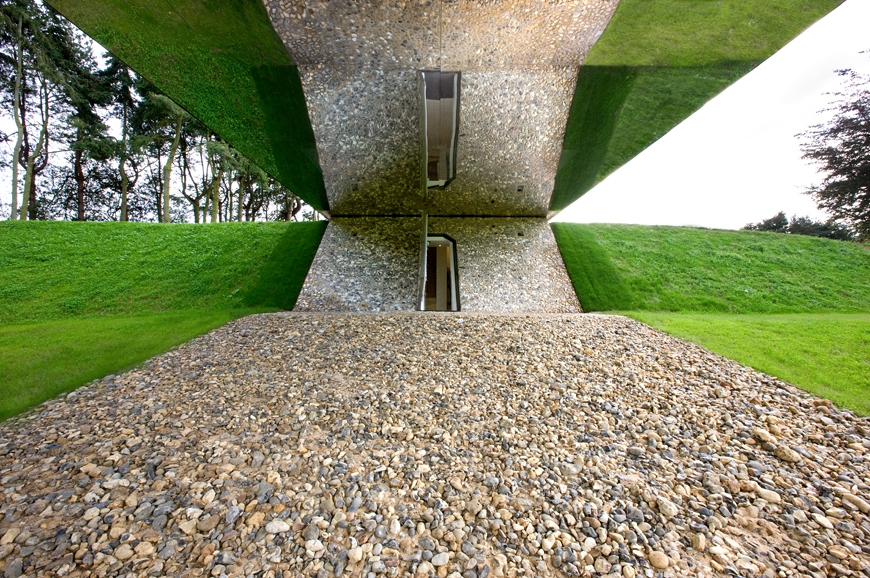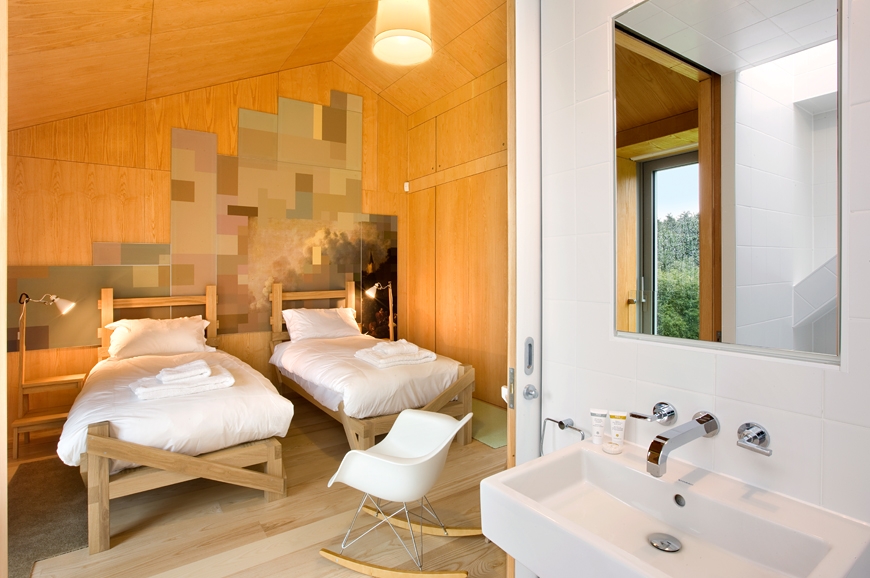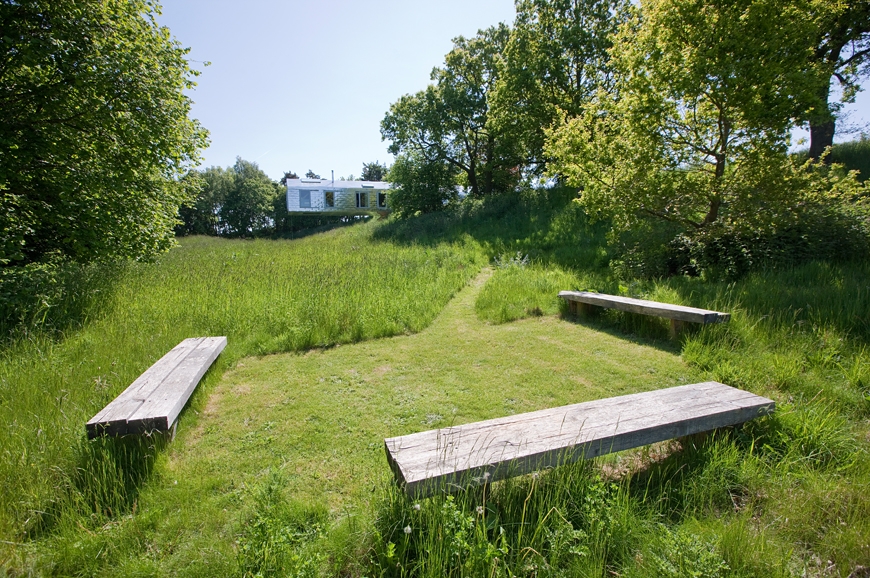 Good to know
There is no landline telephone and due to the design of the bedrooms, only one infant can be accommodated, (in twin bedroom #4). As the barn is located near a nature reserve, dogs are not permitted.
The area offers opportunities for walking, birdwatching, cycling, swimming and sailing and exploration of castles, restaurants, pubs and teashops. The medieval village of Walberswick on the Suffolk Heritage Coast is just three miles away.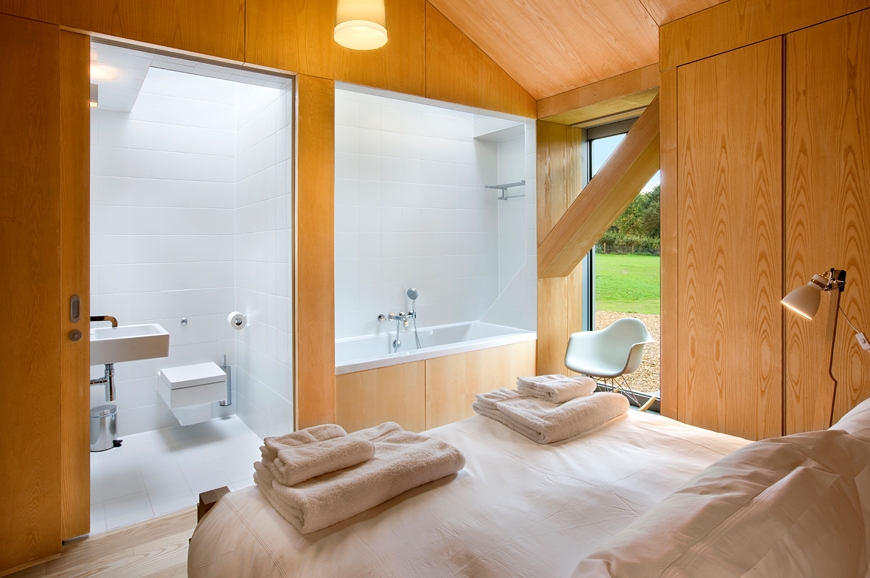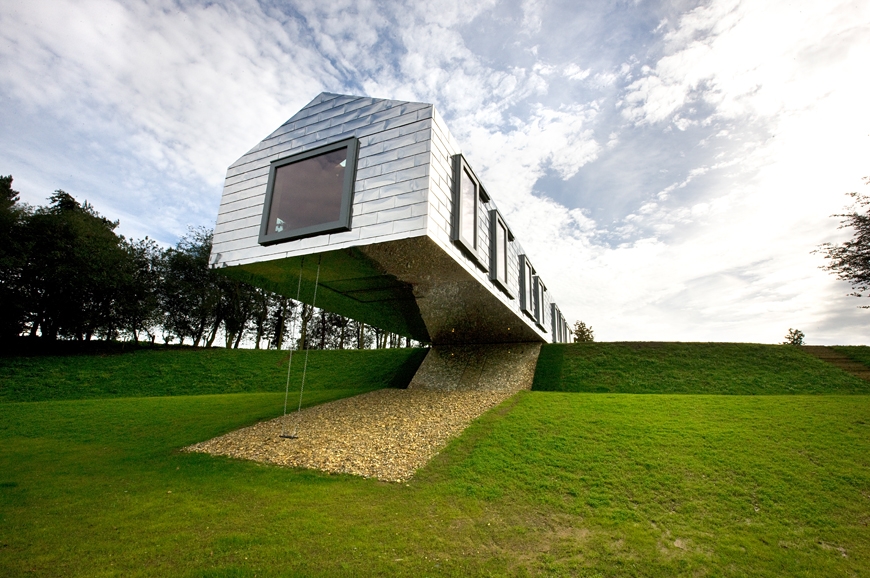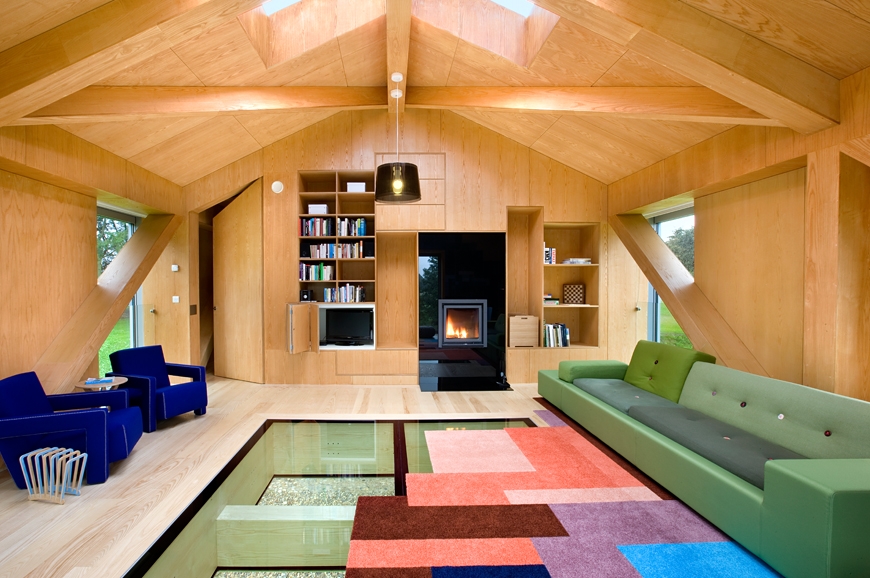 All photos © Living Architecture