We wrote about the larger Architect's House and couldn't resist returning to the subject and taking a look at its smaller sister property, the Small House, which may not have the caldera view, but is just as charming and colourful—and more intimate.
Unlike most of the hotels and villas we feature from Santorini, which typically occupy some sought-after spot on the caldera, the Small Architect's House is situated in the middle of the island—in the heart of the quiet village of Pyrgos.
*This post contains affiliate links and we may earn a commission, at no extra cost to you.
As most residences in this charming, picturesque village, it follows the unique Cycladic architecture; organic and authentic in its nature but so well suited to marrying with contemporary style. The small Architect's House is a good example of such marriage.
Here the blend of the traditional and the contemporary interior design creates elegance and luxury, but what underlies it is a hint of playfulness—in the selection of colour, in the choice of objects and textures.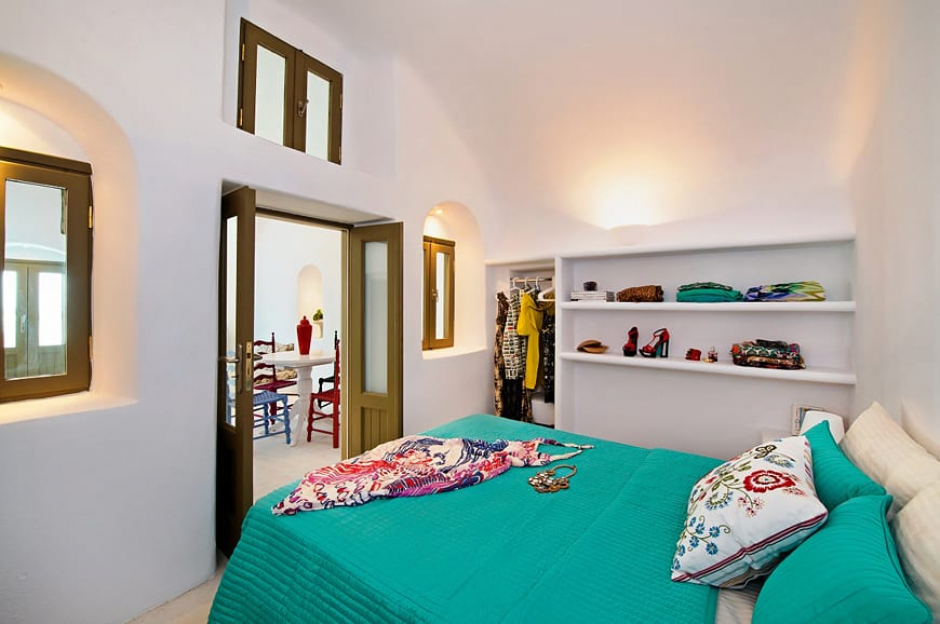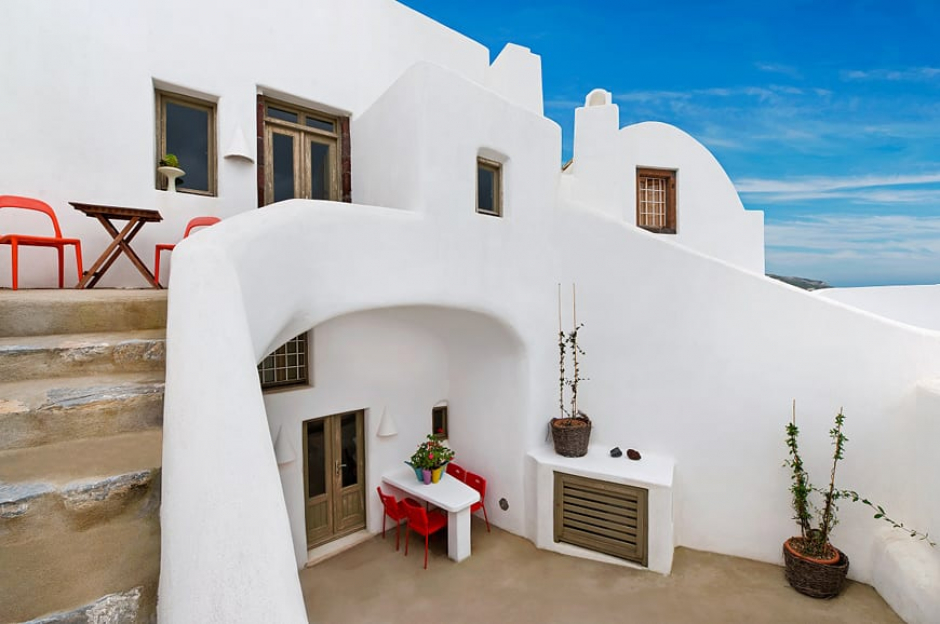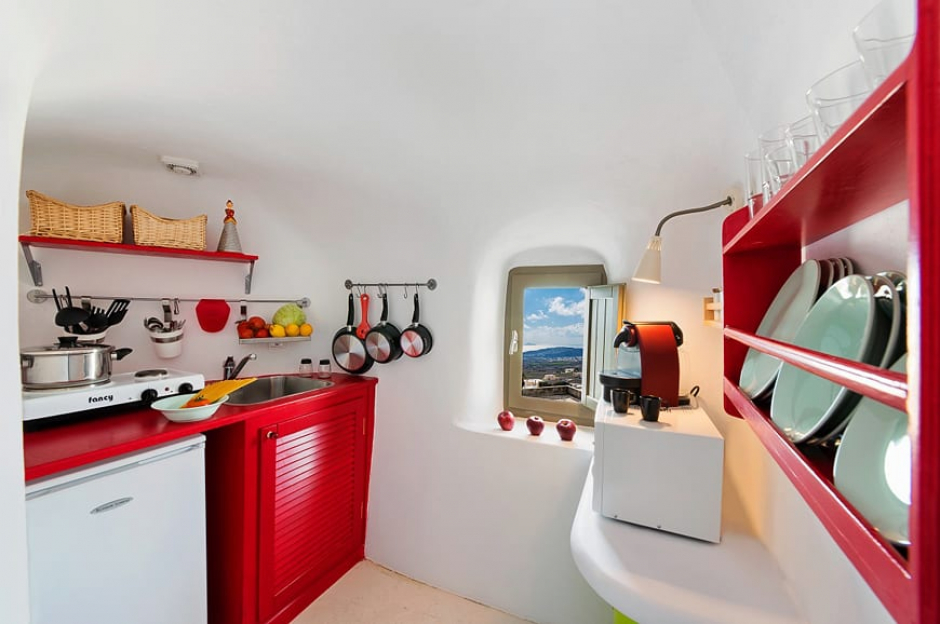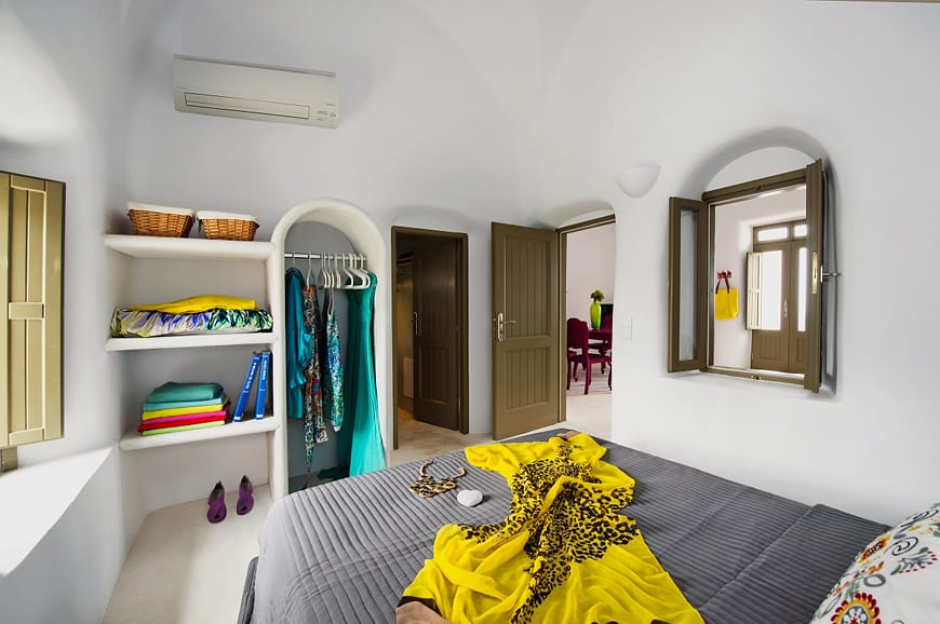 Stylish two-storey villa
Typically for a Santorini villa, there aren't many square meters to this place, but it still manages to provide a double-bed bedroom with and an en suite bathroom on each level, a spacious living room with dining table, beautiful kitchen and either a terrace or a balcony.
The ground floor is carved out of the the volcanic rock, like other cave houses on the island. The brightly coloured furniture decorates both levels, setting the mood for the brilliant summer days.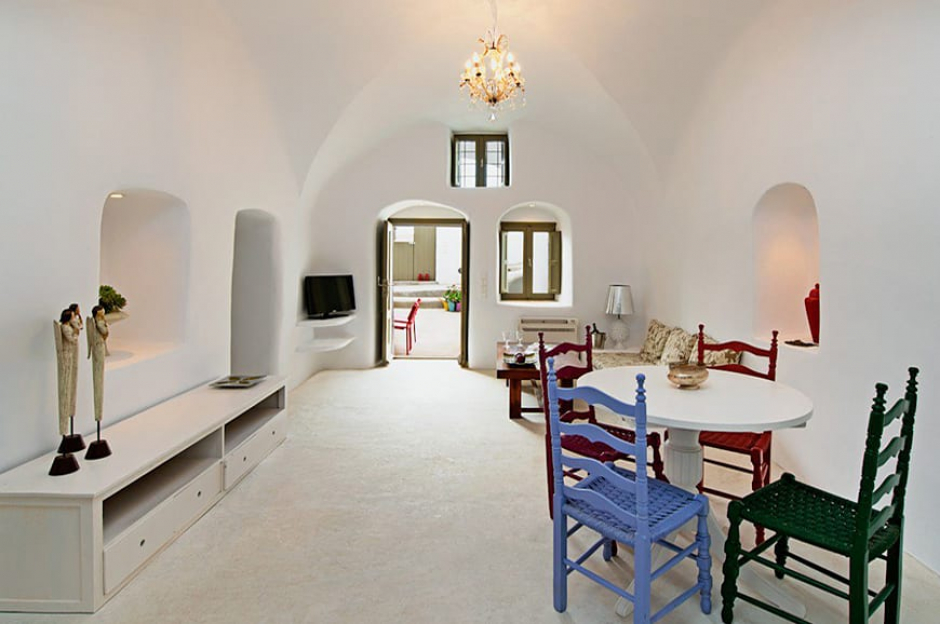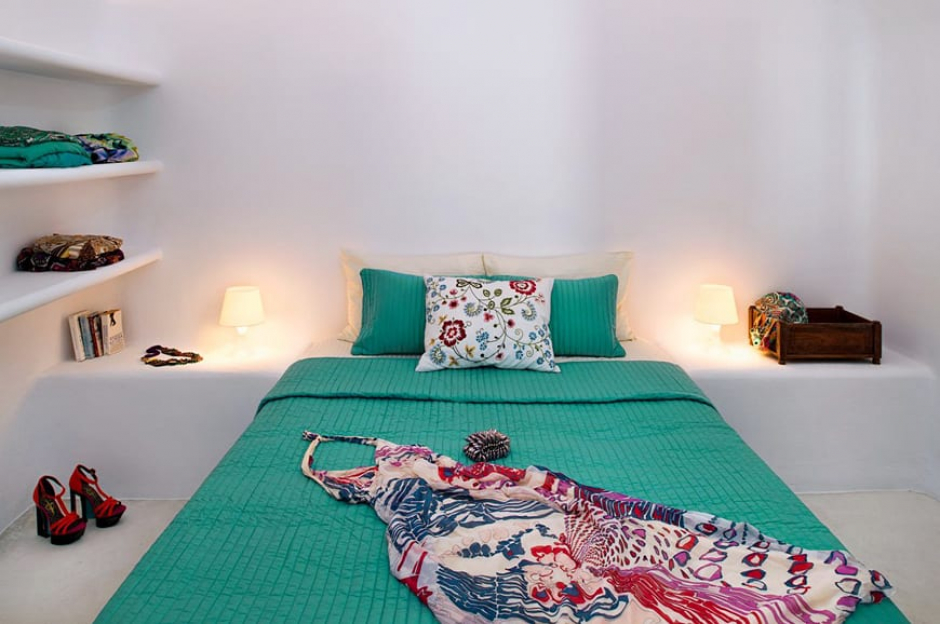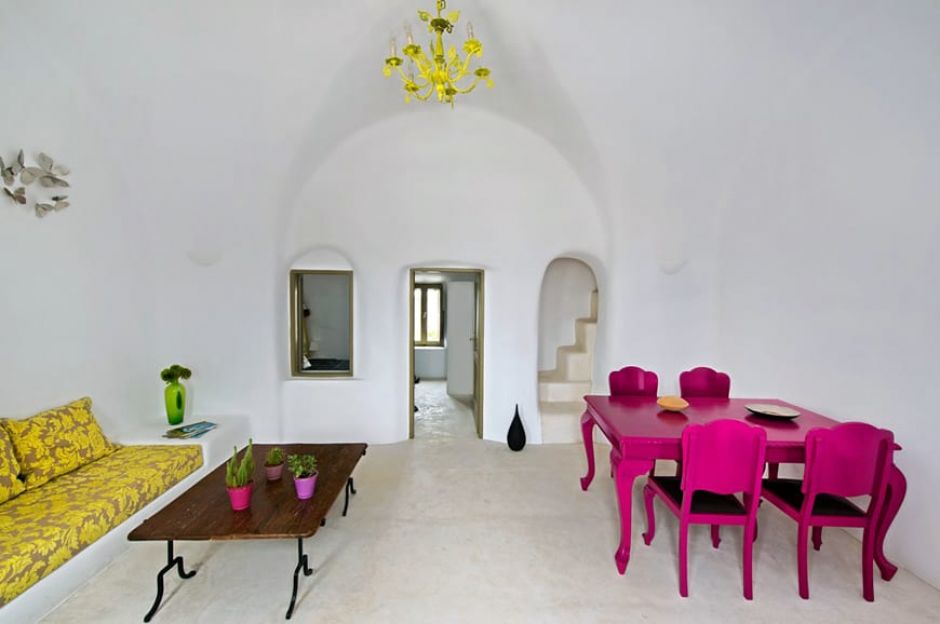 Pyrgos
"Pyrgos is […] known for the splendid Easter celebrations. On the day before Palm Sunday, the whole place is fragrant with the scent of rosemary which is used to decorate the 17 meter cross. Then, on Good Friday […] the village is decked with tin lanterns and glows like a jewel in the night"—Architect's Villas
The house offers great views of Santorini from its hillside position. From here it's just a short walk to the ruins of a Kasteli, a Venetian castle on top of the hill.
The traditional houses of Pyrgos are built around it, following the shape of the hill as they descend, along with the narrow alleyways, weaving their threads in the fabric of the settlement. With thirty-three churches, small cafes and taverns, and a sleepy atmosphere of the yesteryear it's one of the most authentic villages of Santorini.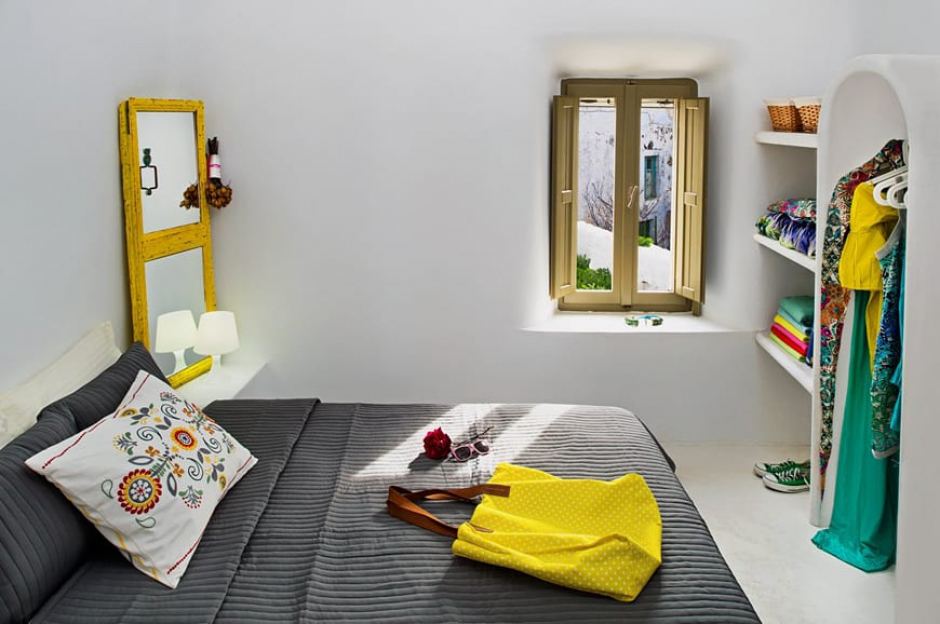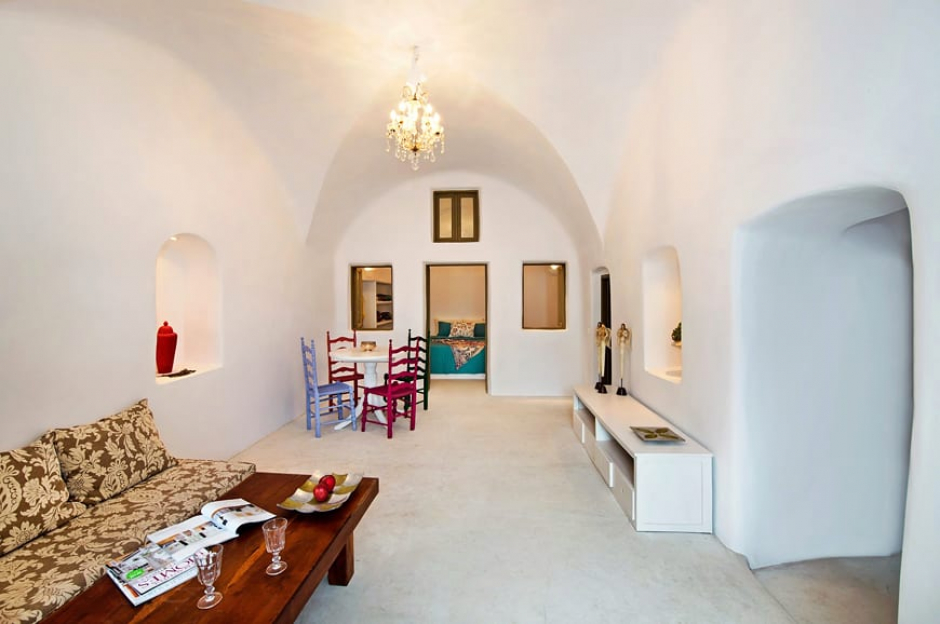 Photos © The Architect's Villas
---
You may also like

---
Our 2023 guide to the top hotels on the island
More Greece recommendations:
Getting there: The flight-comparison sites such as Skyscanner (www.skyscanner.com) or Kayak (www.kayak.com) will help you find the best flights and deals.
Disclosure: We may earn commissions for purchases made through links in this post.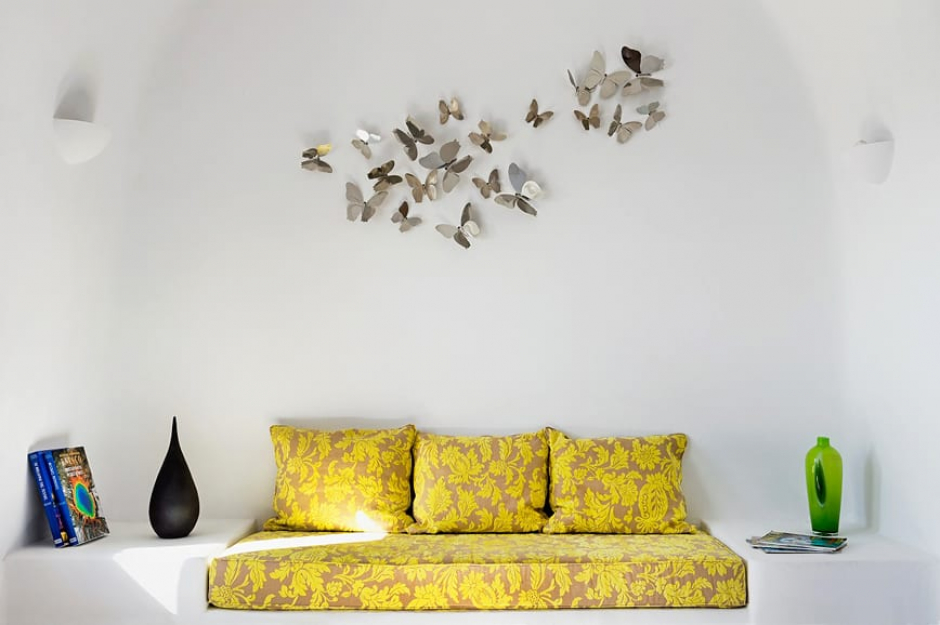 ---