The mystical Halong Bay is a unique archipelago comprising thousands of majestic limestone karsts—the overnight cruise in the bay remains one of the highlights of our Vietnam trip.
Cruising around this beautiful bay—which is a Unesco World Heritage site—has turned out to be a truly special experience, enhanced by the choice of the vessel. We booked a cabin in the Halong Violet, a five-star vessel fitted out in the 1930's Indochine style, with golden sails, polished woodwork and refined Asian décor.
Cruise in style
Launched in 2009, the Violet has a perfect mix of traditional elegance and modern comfort. The boat has just six cabins, making it also the most private of the more up-scale vessels sailing these waters.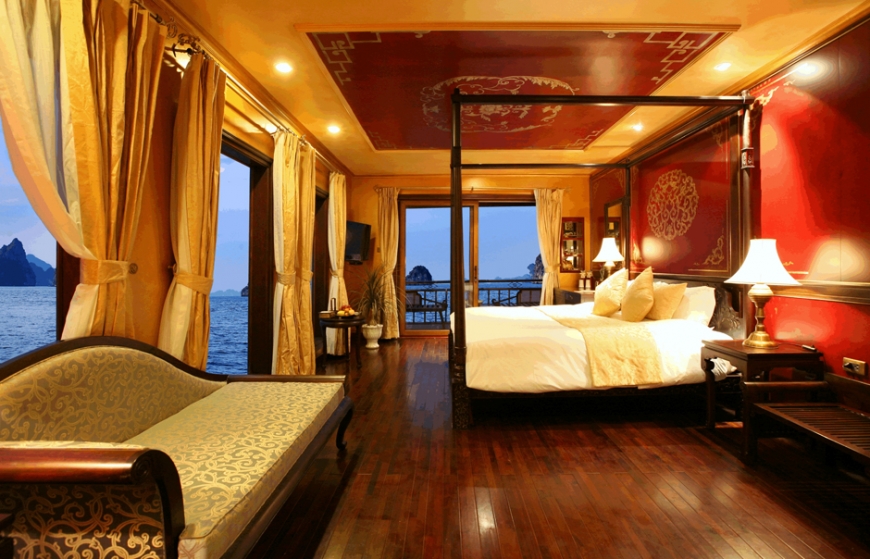 The 43 sqm Dragon, Phoenix, Moon and Cloud cabins, and the slightly smaller Water and Mountain are all lavishly designed and crafted, with the use of warm, exotic woods, fabrics and hand painted walls & ceiling.
Suites are done to a five-star hotel room specs, with a TV & DVD player, Jacuzzi tub and glass standing shower, soft white bathrobes, king size bed, as well as a private balcony with lounge chairs, ensuring great views of the bay.
The boat also has a restaurant, library and even a small gym. Violet is one of the more luxurious junk-styled boat in Halong, and also the fastest—ensuring that Halong Violet reaches a floating fishing village of Van Gia half-an-hour before any other boat.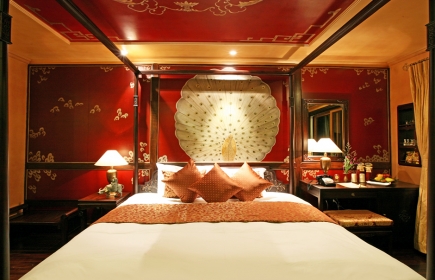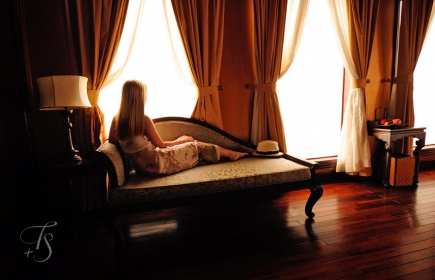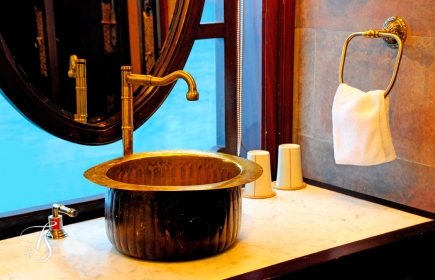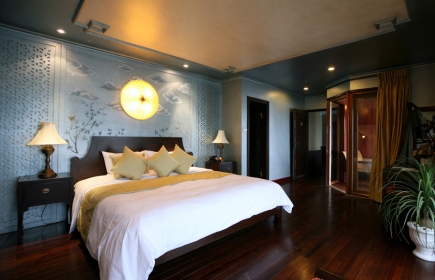 Cave dining
Other than visit to the floating village, the cruise also offers an opportunity to dine in a natural cave.
An impromptu buffet-and-grill restaurant set up in the cave serves more than one boat, but the passengers of the Violet cruise are served dinner à la carte, in a designated part of the cave.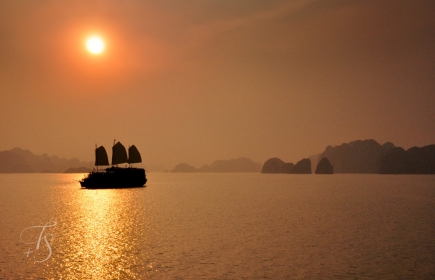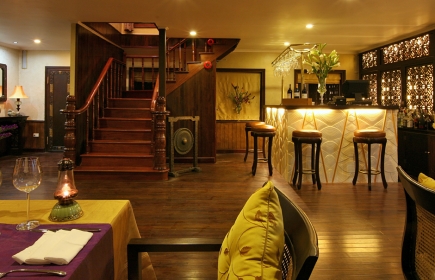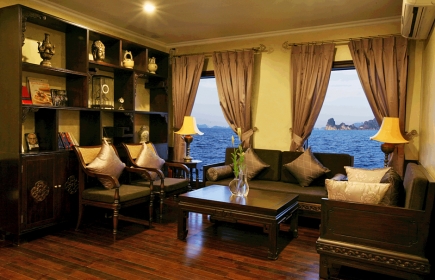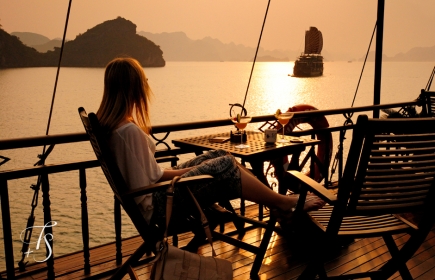 Our notes and tips
Book Dragon or Phoenix suite: these have the nicest décor and are located in the bow. This means the best views and quiet cabins. We don't recommend the Mountain & Water cabins: they are located at the stern, near the engine room. Can be a bit noisy.
Launched in 2009, the Violet has a perfect mix of traditional elegance and modern comfort.
Of the many cruise operators, the Vietnamese company running Violet (Cruise Halong) is probably the most reputable, and their boats offer the most comfortable and private experience.
We especially liked that the boat plots its own route away from the crowds, picking the more untouched areas of the bay.
The photographs without the T+S watermark: © Cruise Halong