The bar is perched on a cliff, at the base of a steep hill and simply reaching it is an adventure. A special cable car that traverses the cliff takes guests from top of the hill, down to the platform suspended 14 feet above the waters of Jimbaran Bay.
The construction is placed at just the right height to smell the seawater mist rising from waves crashing against the rock, and watch it settle on wooden decks.
The location is not the only thing 'on the rocks'. Signature cocktails are served in chic glasses suspended in a natural stone, within an ingenious fish-bowl base. Tapas are served on natural stone plates.
The architect responsible for this unique place is Yasuhiro Koichi from Japanese studio SPIN. The artist combined traditional materials, motifs and colors with contemporary, clean lines and modern lighting, and the result is a zen-like harmony, where minimalist architecture compliments the natural beauty of the rock of the Kisik beach.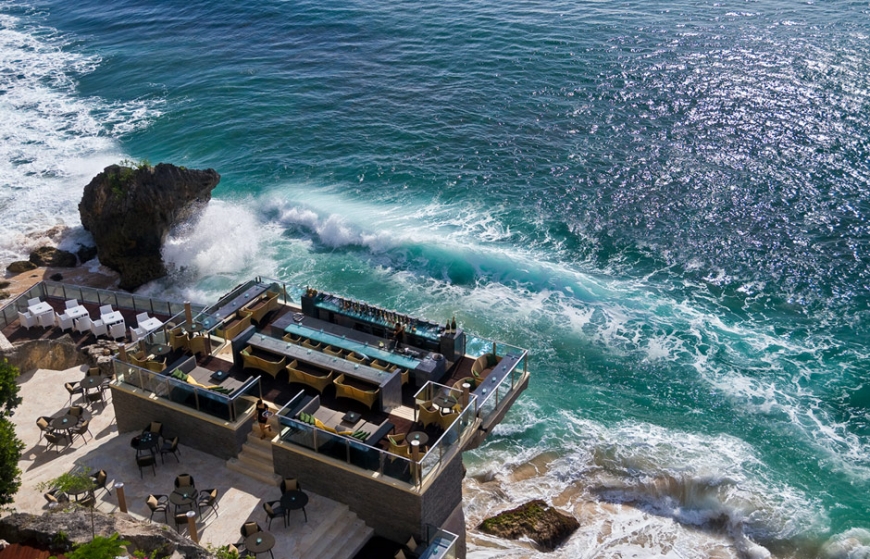 The bar is open to the elements with nothing to block the fresh sea air and the changing colors of the sky above
As the owners of Rock boast, the bar "has been heralded as one of the world's best bars by authoritative sources including CNN and The New York Times, and in 2011 was voted Bali's Best Sunset Venue in The Yak magazine readers' awards."
What you should know
The Rock Bar is an elegant place, and smart casual attire is the style to go for. Shorts and t-shirts are not welcome, but interestingly alcohol-branded t-shirts are also prohibited. At sunset time the bar can be crowded, but this place is as magical at night, with sparkling stars and cooler breezes. Bar opening hours: daily from 4PM to 1AM and to 2am on the weekends. The bar is located at the Ayana Resort & Spa (formerly Ritz Carlton).