This is not quite "the best of" list; rather, it's a selection of images and stories that give a glimpse of a journey we take every time we travel to far-off places, both physically or when just writing about them, back in Europe.
Falling in love with Paris, chillaxing in Maldives, spending a night under the stars in Namibia or simply discovering hotels that redefine luxury: the most inspiring places and adventures can be as much inner destinations as they are places on a map.
In some way this selection reflects our thinking about "luxury" as an antithesis of an ostentatious and materialistic high-speed lifestyle. As travellers we look beyond materialist frills, instead prioritising quality of life, long-lasting values, honest craft, ethics, and stewardship of the planet as a way of finding meaning and happiness.
1Facing the rare beauty of Namibia
Namibia is a land of ancient tribes, breathtaking landscapes and amazing nature, governed by precious balance of life and death in the country's arid and vast deserts.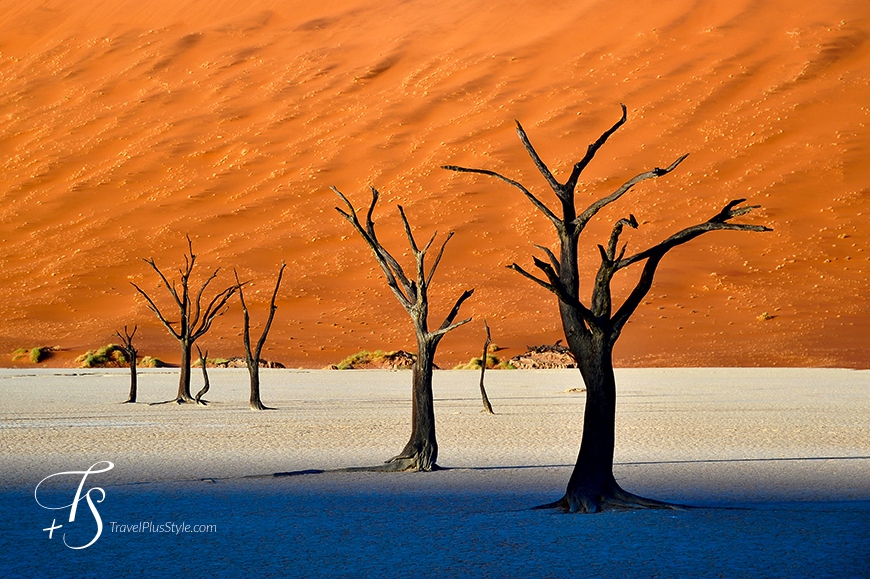 In central Namibia we found the description-defying natural wonder of Deadvlei (photo above), and spent a night under the stars at the Little Kulala lodge in Sossusvlei: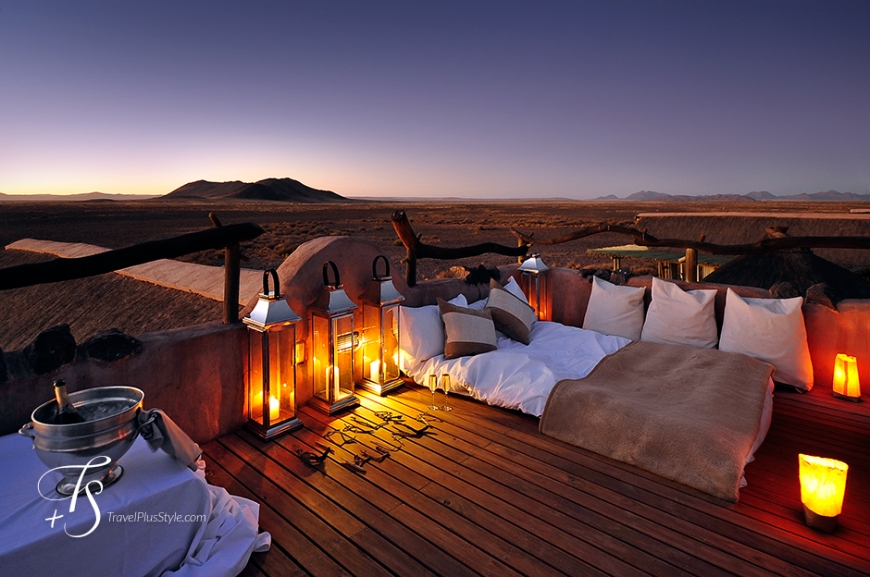 Not far from Sossusvlei is the incredible Namib Rand reserve, which we explored while staying at the Wolwedans Boulders camp (below). This beautiful, four-tent outpost reminded us just how important the choice of a hotel is to the travel experience.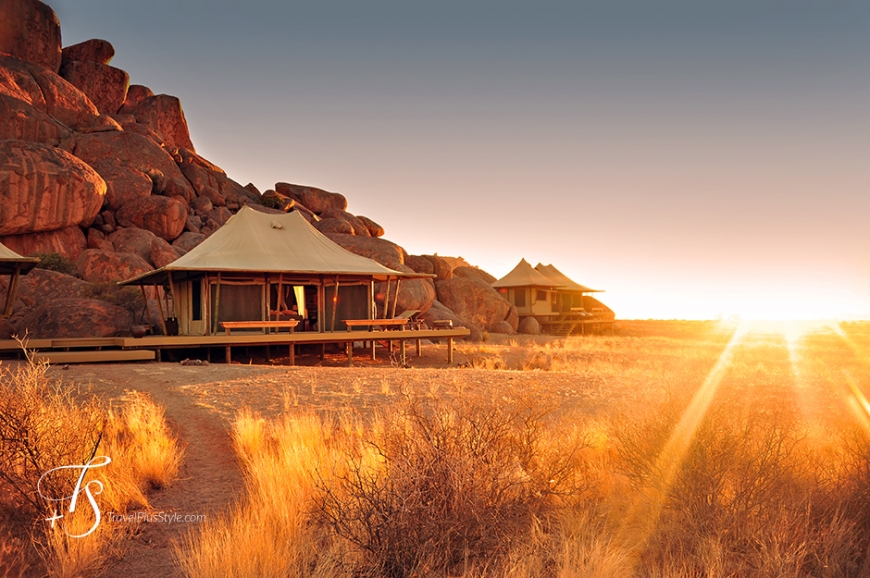 Finally, we flew over the vast and empty Namib Desert, along the coast to the remote Kaokoland, with its amazing Serra Cafema camp. The camp is set on the banks of the Kunene river (barely visible from this mountain pass):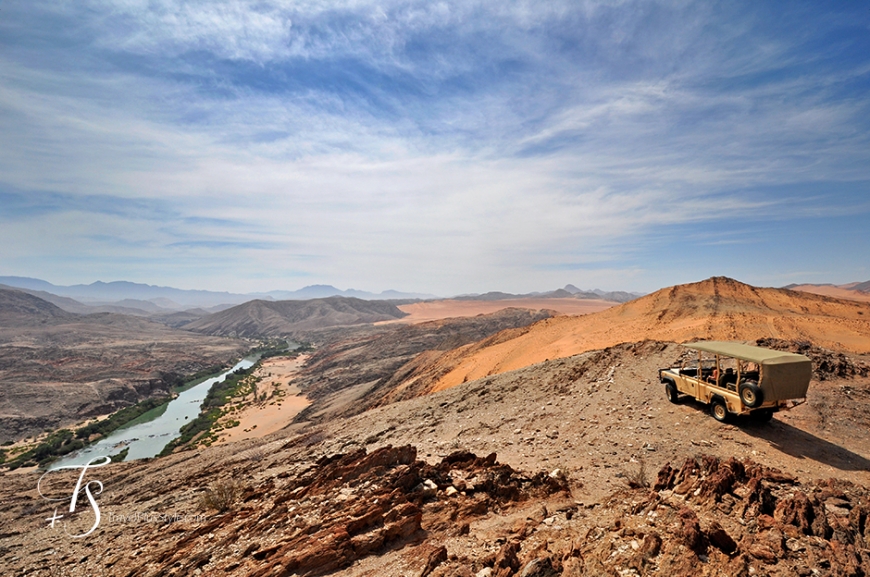 Driving from this spot in another direction we found a small temporary hamlet—where we met the last truly authentic Himba people.  In Namibia, every adventure was a beautiful journey: the experience of this African country is nothing if not transcendental.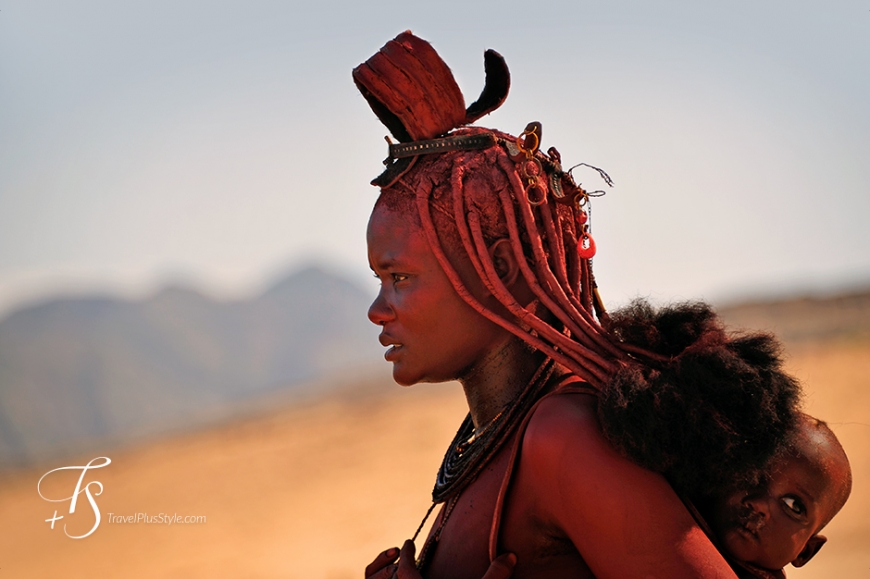 All photos from Namibia © TravelPlusStyle.com.
---
2Loving Santorini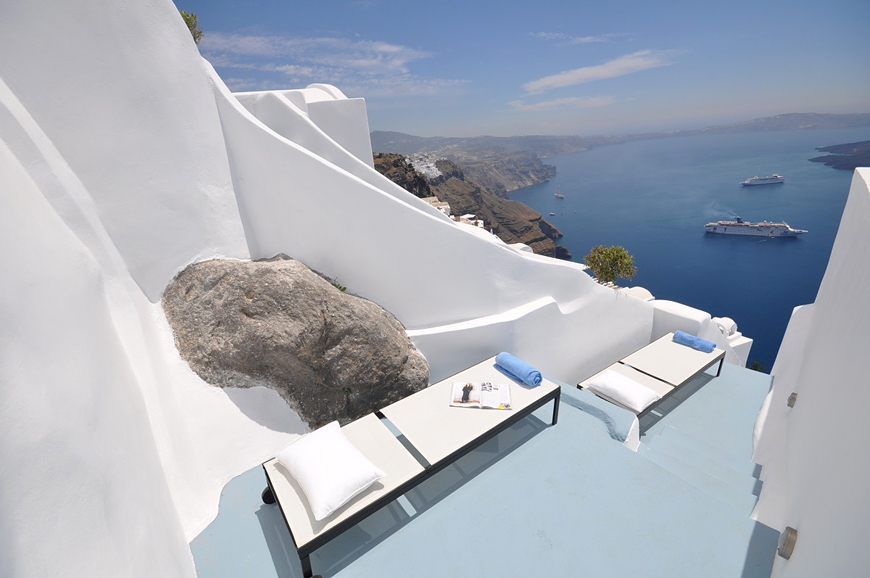 This is the most beautiful island in all of Cyclades, and our favourite destination, in many ways. We often come back to write about Santorini, featuring many beautiful rental villas, like the pictured above Villa Gaia, and boutique hotels, of which the prime example is Katikies (photo below).
[SinglePic not found]
Photos © Villa Gaia & © Katikies.

---
3Discovering Paris hotels
Paris Mon Amour. It may be metropolitan, busy and impatient, but it is also so romantic… and perfect for a pensive stroll or contemplative museum visit. So in 2014 we walked the streets of Paris, ate baguettes, drank wine, and checked-in to quite a few hotels.
[SinglePic not found]
Some of them enchanted us with their dining places—perhaps predictably, in Paris. We loved the charming glass roof and dome (designed by Gustave Eiffel) above the Hôtel Vernet restaurant (photo above) and the quintessentially Parisian bistro of the Hôtel de Nell (below).
[SinglePic not found]
We also experienced the subdued grandeur of the Park Hyatt Paris-Vendôme, which is one of eight official Palace hotels in France ("Palace" is the tourism industry version of the Pulitzer Prize).
[SinglePic not found]
Tucked away in a tranquil residential street near Bir Hakeim bridge in 16e Arrondissement is the red-blooded and sensual SEZZ, a hotel that gave us a sample of the true Parisian joie de vivre.
[SinglePic not found]
Respective photos © Hôtel Vernet, © Hôtel de Nell, © Hyatt Corporation, © Hotel Sezz.
---
4Being excited at new hotel openings
Early in 2014 we came up with the Travel+Style's highly selective list of anticipated hotels, resorts and lodges that qualified as instant entries to our bucket list. A good example is the Sandibe Okavango in Botswana, which we featured when it finally opened—and the verdict is that this safari lodge looks every bit as good as we had anticipated!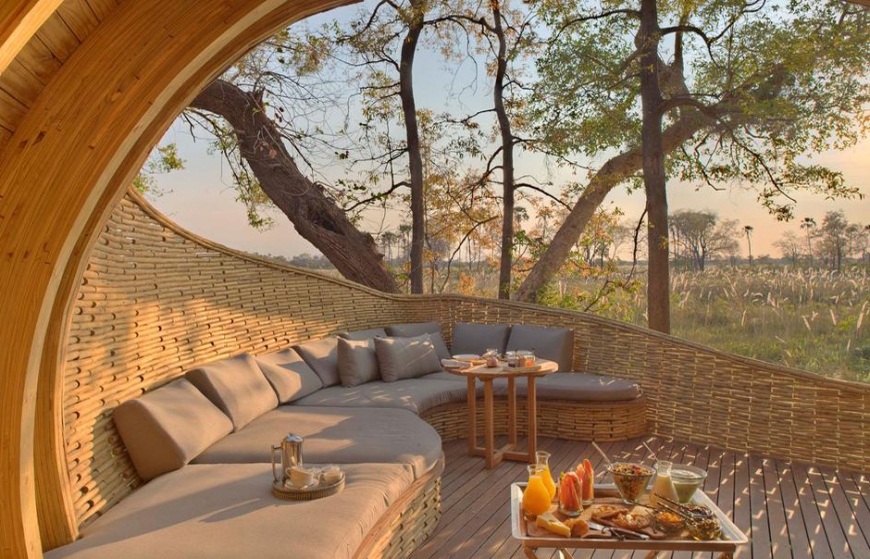 Most excitingly though, we had opportunity to visit one of the new resorts from our list: Como Maalifushi in the Maldives. Here is a photo we snapped when chillaxing on one of the secluded beaches. Check out more of our photography from the resort.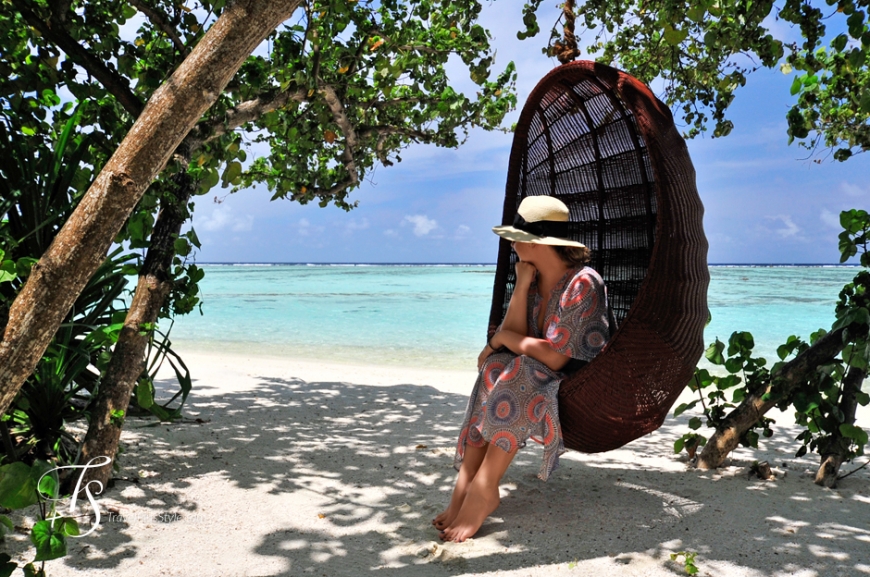 Sandibe photo © &Beyond, Maalifushi photo © TravelPlusStyle.com.

---
5Island Hopping in Maldives
Speaking of which, Maalifushi wasn't the only island we checked out. Island hopping, even if logistically a little challenging, was fun! We arrived at Maalifushi from W Retreat & Spa, which we described in our review as "sexy, seriously indulgent and eminently luxurious" (photo below).
[SinglePic not found]
Then we flew to One&Only Reethi Rah, a beautiful "world unto its own", which wowed us with fabulous style, glamorous atmosphere and a sheer wealth of attractions (and wonderful villas: see leading photo at the top of the page). Finally we went to Huvafen Fushi, which we felt powerless not to describe without travel clichés (photo below).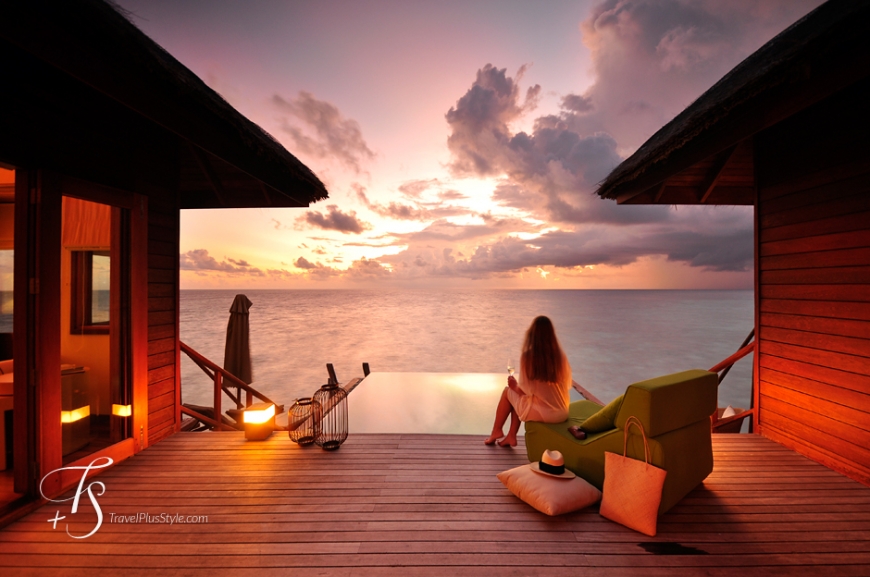 W Retreat & Spa photo © Starwood Hotels & Resorts Worldwide. Photographs from Reethi Rah and Huvaven Fushi © TravelPlusStyle.com.
---
6Staying at the most beautiful villas (in Thailand and Vietnam)
In 2014 not only we returned to Maldives, but we were also in a lucky position to once again visit both Vietnam and Thailand… and to stay at some incredibly beautiful resorts. It is not overstatement to say that the "guest accommodation" was out of this world.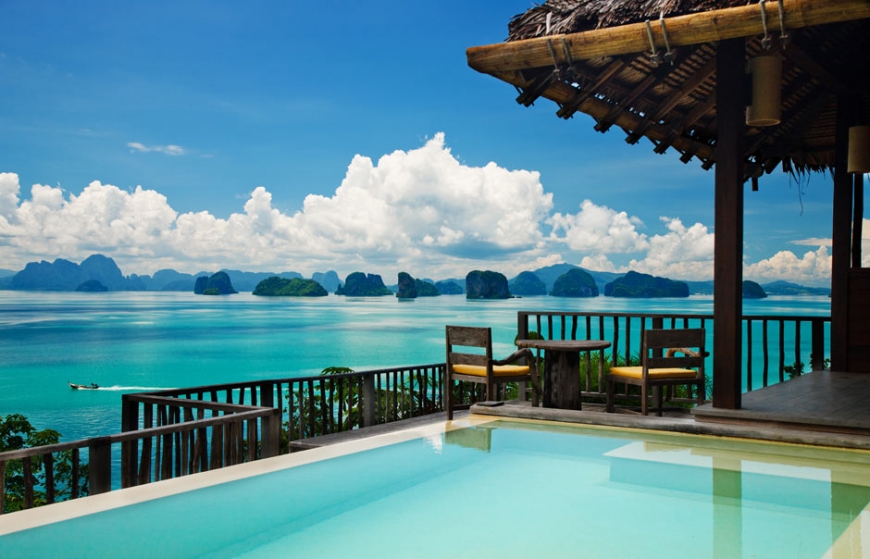 Six Senses Yao Noi in Thailand (photo above), is a resort that found the perfect recipe of making eco chic work with an uncompromising luxury. Also in Thailand is Soneva Kiri (photo, below), which apart from its unique villas had plenty of quirky ideas and a barefoot luxury atmosphere under the "No news, no shoes" mantra.
[SinglePic not found]
But before that we went to Vietnam and checked-in to the new Amanoi, which we loved for the beautiful guest pavilions, equipped with absolutely massive private infinity pools (photo below). You have to check out our review from the hotel. Respective photos © Six Senses Hotels Resorts Spas, © Soneva.com, © Amanresorts.
[SinglePic not found]